July, 31, 2014
Jul 31
4:59
PM ET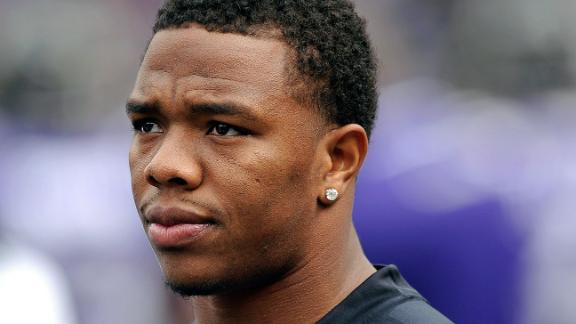 OWINGS MILLS, Md. -- In stark contrast to
Ray Rice
's awkward news conference in May, the
Baltimore Ravens
running back showed Thursday that he finally understood the weight of his actions from the alleged altercation with his then-fiancée in February.
He delivered the correct message, one the NFL failed to do last week with the two-game suspension, by not only apologizing to his wife, Janay Palmer, but also expressing a desire to become an advocate for domestic-violence causes.
Rice was compelling in his contrition, calling it the biggest mistake of his life. He stood in front of the microphone alone, without his wife standing by his side, and took full responsibility for the incident. Perhaps more importantly, Rice actually said the words "domestic violence," which weren't heard in his statement two months ago.
"My actions were inexcusable," Rice said. "That's something I have to live with the rest of my life."
Before anyone pats Rice on the back, this is what he should have said the first time when he broke his silence in May. Instead, Rice nervously fumbled through notes on his phone and apologized to team officials and his sponsors. That debacle of a news conference came across as damage control to his image.
His 17-minute news conference Thursday hit the right tones. He apologized to all women affected by domestic violence. He accepted the blame for losing the respect of fans. Rice came across as genuinely sorry.
"I let my wife down, I let my daughter down, I let my wife's parents down, I let the whole Baltimore community down," Rice said.
Rice's biggest misstep was not talking about what happened in the elevator. He was asked twice about it and declined to answer both times. His stance against domestic violence would have resonated stronger if he had explained his transgressions.
"I'll be honest: Like I said, I own my actions," Rice said. "I just don't want to keep reliving the incident. It doesn't bring any good to me. I'm just trying to move forward from it. I don't condone it. I take full responsibility for my actions. What happened that night is something that I'm going to pay for the rest of my life."
The only way Rice can move forward from this incident and show he's truly sincere is through his actions. It's not by his words. It's not by a hefty donation, which is merely a gesture. It's by proving this will remain a "one-time incident" and by supporting domestic-violence causes.
Thursday represented a small step forward for Rice. But it was an important one.
March, 27, 2009
3/27/09
9:59
AM ET
Posted by ESPN.com's Kevin Seifert
Green Bay agreed to terms Thursday night with free-agent offensive lineman Duke Preston, the Milwaukee Journal Sentinel, Wisconsin State Journal and Green Bay Press-Gazette reported.
Preston started 11 games at center last season for Buffalo and could join the competition between Scott Wells and Jason Spitz at that position. But Packers coach Mike McCarthy said earlier this week Preston could provide depth at guard at well. Daryn Colledge is expected to play left guard, but the right guard position is less settled.
Here's what McCarthy said about Preston earlier this week:
"I was very impressed with Duke. Very bright. I like the way he presented himself. I found it to be a very positive visit. ... He's a big guy. It says 6-5. You watch him on film, then you meet him, and he's a big guy. He's young and I think he's got a lot of good football ahead of him."

Preston joins safety Anthony Smith as the two unrestricted free agents the Packers have signed this offseason. They also matched an offer sheet for defensive back Jarrett Bush, who was a restricted free agent.
Continuing around the NFC North:
Minnesota must decide Friday whether to match the $1.4 million offer sheet that fullback Naufahu Tahi signed last week with Cincinnati, notes Judd Zulgad of the Star Tribune. Coach Brad Childress said earlier this week that the team was in no rush to announce a decision because of salary-cap implications. I'll have a comment on that stance later Friday based on the team's decision.
Rick Morrissey of the Chicago Tribune isn't a big fan of Denver quarterback Jay Cutler: "The central question to any discussion involving the Bears and the possibility of acquiring Cutler is not how much general manager Jerry Angelo would be willing to give up in a trade or how the offensive scheme would have to be tweaked to accommodate all of his considerable talents. It's this: You're going to entrust the Bears' offense to a guy who, at the first indication of 'adversity,' basically quits on his team?"
Quarterback Drew Stanton, a second-round draft pick in 2007, is an afterthought in Detroit's plans for 2009, writes David Birkett of the Oakland Press.