April, 25, 2011
4/25/11
11:45
AM ET
NFC West teams have drafted 22 defensive ends since 2002, a number smaller than I would have anticipated.
An even smaller number -- two! -- start for the teams that drafted them.
One,
Antonio Smith
, starts for another team.
A few notes relating to this latest item in
a series examining various positions
:
Kentwan Balmer appears as a defensive end because the San Francisco 49ers drafted him to play that position. Balmer played defensive tackle in college.
Darnell Dockett does not appear as a defensive end because the Arizona Cardinals drafted him to play defensive tackle. Yes, Dockett plays defensive end in the Cardinals' current scheme, but the NFL lists him as a tackle for Pro Bowl voting and he is not a typical defensive end even by 3-4 standards.
Of the 22, only Chris Long and Calais Campbell are starting for their original teams. Smith is starting for the Houston Texans.
Six of the eight most highly drafted ends since 2002 came from teams most recently affiliated with the ACC.
Long was the only player on the list drafted before the 28th overall choice.
Will Davis and Parys Haralson were listed as defensive ends coming out of college, but both projected as outside linebackers. That is why they do not appear below. Cody Brown also projects at linebacker.
I've used the term "not active" loosely in the charts to describe players who weren't on active rosters during the regular season recently.
Now, on to the charts. I've broken them up with italicized comments representing what NFL teams might have been thinking at corresponding stages of these drafts.
Playing it safe and hoping those NFL bloodlines pay off ...
Defensive linemen are at a premium, and we might find out why ...
The pure pass-rushers are gone by now ...
If these guys don't pan out, it'll be a while before we take another third-round end ...
It's an upset if we find a starter at this point ...
Time to fill out the practice squad, but you never know ...
April, 15, 2011
4/15/11
11:49
AM ET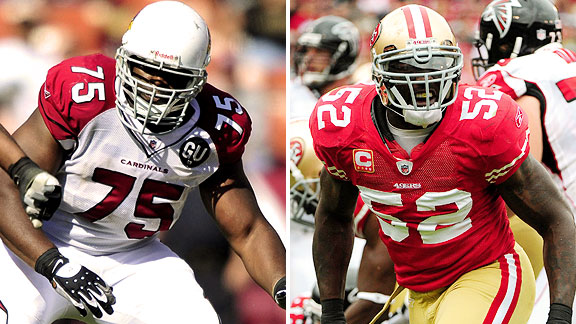 US PresswireOf all the 2007 NFC West draft picks, the Cardinals' Levi Brown and the 49ers' Patrick Willis have started the most games.
JaMarcus Russell
's demise as an NFL player is
back in the news
, shining light upon the perils of investing millions in unproven prospects.
The 2007 NFL draft was about more than Russell, of course.
That draft also produced
Calvin Johnson
,
Joe Thomas
,
Adrian Peterson
,
Patrick Willis
,
Darrelle Revis
and
Lawrence Timmons
among the top 15 choices.
For as much criticism as the
Arizona Cardinals
have taken for selecting tackle
Levi Brown
fifth overall, Brown has started 59 regular-season games, second only to Willis (63) among NFC West draft choices that year. He has also started six playoff games, including a Super Bowl, and coach Ken Whisenhunt
expects good things from him
.
I've put together a couple charts showing what NFC West teams have gotten from their draft choices that year. More on those in a bit.
First, I've taken a team-by-team look at the players selected, whether they remain with their original teams and how many games each has started for his drafted team.
The 49ers had the best draft among NFC West teams. They also had the most draft capital to work with, selecting twice in the first round. The
Seattle Seahawks
had no first-rounder that year thanks to the
Deion Branch
trade, so expectations were lower.
Arizona Cardinals

Total picks:
five
Still with team (4):
Brown (59),
Steve Breaston
(26),
Ben Patrick
(20),
Alan Branch
(3)
No longer with team (1):
Buster Davis
(0)
Comment:
The Cardinals had fewer total selections than any team in the division. Hitting on Breaston in the fifth round was outstanding, but the Cardinals haven't gotten enough from their top three selections that year. Branch never panned out as a second-rounder. Davis, the third-rounder, didn't make it out of camp. Whisenhunt takes pride in making roster decisions with less regard for draft status. He wasn't going to give Davis or anyone a free pass. That's admirable, but in the bigger picture, Arizona still came up short in this draft.
San Francisco 49ers

Total picks:
nine
Still with team (5):
Willis (63),
Joe Staley
(50),
Ray McDonald
(9),
Dashon Goldson
(34),
Tarell Brown
(5)
No longer with team (4):
Jason Hill
(2), Jay Moore (0),
Joe Cohen
(0),
Thomas Clayton
(0)
Comment:
Former general manager Scot McCloughan gets credit for selling former coach Mike Singletary on Willis as an elite prospect. That seems odd given Singletary's background as a Hall of Fame linebacker, but the 49ers got the right guy, so the "how" part matters less. That one selection makes this draft the best in the division for 2007. Staley is the starting left tackle. McDonald has been a solid rotation player. Goldson became a starter. All in all, this was a strong draft.
Seattle Seahawks

Total picks:
eight
Still with team (2):
Brandon Mebane
(53),
Will Herring
(7)
No longer with team (6):
Josh Wilson
(24),
Steve Vallos
(8),
Mansfield Wrotto
(5),
Courtney Taylor
(4),
Jordan Kent
(1),
Baraka Atkins
(0)
Comment:
Not having a first-round selection severely hurt this class' overall potential. Wilson seemed like a solid selection in the second round given the playmaking value he offered, but multiple changes in organizational leadership left him on the outside in terms of fit. Mebane was a solid choice in the third round. Vallos and Wrotto remain in the league elsewhere.
St. Louis Rams

Total picks:
eight
Still with team (1):
Clifton Ryan
(27)
No longer with team (7):
Adam Carriker
(25),
Brian Leonard
(7),
Jonathan Wade
(6),
Dustin Fry
(0), Ken Shackleford (0),
Keith Jackson
(0),
Derek Stanley
(0)
Comment:
This draft was a disaster for the Rams and made worse by massive organizational changes. On the bright side, the Rams might not have been in position to select
Sam Bradford
first overall in 2010 without selecting so many non-contributors in 2007.
Now, on to the charts. The first one takes a round-by-round look at the number of starts each team has gotten from its 2007 selections. I have used dashes instead of zeroes to show when teams did not have a selection in a specific round.
The second chart divides the number of starts by the values of the selections each team held, using the
draft-value chart
.
For example, the value chart said the Seahawks' picks that year were worth 669.2 points, far less than the picks for other NFC West teams were worth. Using this measure, Seattle got more bang for its buck if we valued all starts equally (and we should not value them all equally, but we can still use this as a general guide).
Some of the choices were compensatory and could not be traded, so the chart would not have valued them for trading purposes. I assigned values to them for this exercise, however, because we were not considering the picks for trading purposes.
September, 13, 2008
9/13/08
11:19
AM ET
Posted by ESPN.com's Mike Sando
NFC West teams are carrying 17 players on injured reserve lists. That ranks tied for second with the AFC South by my count, trailing only the AFC North (23).
Seattle has eight players on IR, most in the league. This includes two players I had listed as starters, tied with Jacksonville for most in the league. The Jaguars lost both starting guards.
These figures count only players currently on IR lists. Teams have placed other players on IR, only to waive them once the players became healthy. Some teams have reached injury settlements with players, sparing those players from IR.
Arizona and San Francisco have remained quite healthy so far. The Rams lost key depth at cornerback and along the offensive line. The Seahawks have lost key depth at receiver and on the offensive line.
NFC West teams have no players on their physically unable to perform (PUP) lists. I'm counting 16 players on PUP across the league, including six in the AFC South.
Players on IR get paid. In most cases, they cannot return until the following season.

NFL SCOREBOARD
Sunday, 12/22
Monday, 12/23