October, 18, 2013
10/18/13
4:25
PM ET
May, 18, 2013
5/18/13
6:55
PM ET
Bruce Irvin
's suspension from the
Seattle Seahawks
for the first four games of the 2013 NFL season will force additional shuffling early in the season.
The team was already expected to be without starting defensive end
Chris Clemons
, who is recovering from knee surgery and could miss part of the season. Backup defensive end
Greg Scruggs
could miss the full season after suffering a knee injury more recently.
Seattle was already expected to alter its rotation after adding Cliff Avril, Michael Bennett and Tony McDaniel through free agency, plus defensive tackles
Jordan Hill
and
Jesse Williams
through the draft.
Veteran linemen on the Seahawks' roster combined for 43.5 sacks last season. Clemons (11.5), Irvin (8.5) and Scruggs (2.0) combined for 21.5 of them, or 49.4 percent. At least two and probably all three won't play early in the season.
Seattle's veteran defensive linemen combined to play 4,767 snaps for their teams last season. Players responsible for playing 3,317 of those snaps -- 69.6 percent -- remain available.
The picture changes if we consider only the three players best suited to fill the "Leo" defensive end position in coach Pete Carroll's defense. Avril, Clemons and Irvin are those three players. Clemons and Irvin combined to play about two-thirds of those snaps. The team doesn't necessarily have to play defense exactly the way it played defense last season. At this rate, that might not be an option, anyway.
Seattle's current defensive linemen combined for 16 sacks on third down last season. The currently unavailable Irvin (5.5), Clemons (4.5) and Scruggs (1.0) combined for 11 of them. Bennett (3.0) and Avril (2.0) had the other five.
May, 7, 2013
5/07/13
11:00
AM ET
Sometimes it takes a few years to fully assess an NFL draft class' impact. Imperiled veterans can't afford to wait that long.
Among the NFC West veterans on alert as 2013 rookies arrive for minicamps Friday:
April, 3, 2013
4/03/13
5:10
PM ET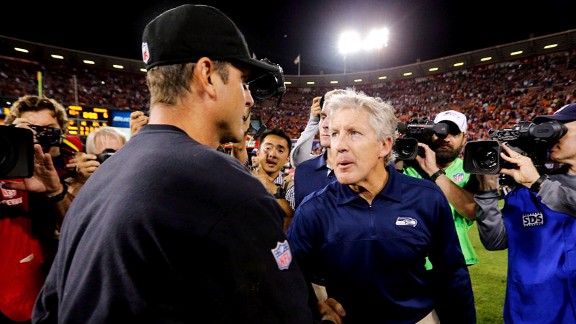 Ric Tapia/Icon SMIPete Carroll's Seahawks and Jim Harbaugh's 49ers have continued their rivalry into the offseason.
The
San Francisco 49ers
' and
Seattle Seahawks
' 2012 battle for NFC West supremacy has turned into
a perceived battle
this offseason.
"It just feels like the Seahawks make a move, then the Niners make a move," former NFL quarterback Damon Huard said Wednesday during
our conversation
on 710ESPN Seattle. "The Seahawks sign
Percy Harvin
, then the Niners go get
Anquan Boldin
. The Niners just signed
Nnamdi Asomugha
, they signed
Colt McCoy
, and now it's the Seahawks' turn to sign a quarterback. It really feels like this competition that was so fun to watch last fall has carried over into the offseason between the Niners and the Seahawks."
That's what it feels like from this angle, too. So, when ESPN's Bill Polian listed 49ers general manager Trent Baalke among his
top six executives


without a mention for Seattle counterpart John Schneider, I knew some Seahawks fans would take offense.
"Schneider should be on there," SamW9801 wrote in commenting on the Polian piece.
I'm going to ratchet up the discussion with
an assist
from Tony Villiotti of draftmetrics.com. Tony identified
ranges of picks
by how frequently teams have found five-year starters within those ranges.
Using those general ranges, displayed at right, I've put together a chart at the bottom of this item comparing the 49ers' and Seahawks' draft choices since 2010.
Baalke took over the 49ers' draft room roughly a month before the 2010 draft. Schneider became the Seahawks' GM that offseason. The 49ers then underwent a coaching change after the 2010 season, at which point Baalke assumed the GM title officially. We might cut Baalke some slack for selecting
Taylor Mays
, a player then-coach Mike Singletary valued. There were surely other times when both GMs followed their coaches' input, for better or worse.
Seattle has drafted 28 players over this period, three more than San Francisco has drafted. The Seahawks had more to work with from a qualitative point as well. Their median choice was No. 130 overall, compared to No. 165 for the 49ers.
It's pretty clear both teams know what they are doing in the draft.
Aldon Smith
,
Anthony Davis
,
Mike Iupati
and
NaVorro Bowman
have earned Pro Bowl and/or All-Pro honors for the 49ers.
Russell Okung
,
Earl Thomas
,
Russell Wilson
,
Kam Chancellor
and
Richard Sherman
have done so for the Seahawks.
Both teams have found franchise quarterbacks after the first round.
Colin Kaepernick
was chosen 36th overall in 2011. Wilson went to Seattle at No. 75 last year.
Neither team has missed in that first category, which includes players taken among the top 13 overall picks. Smith and Okung are elite players at premium positions.
Both teams have unanswered questions in that 14-40 range. The 49ers are waiting on
A.J. Jenkins
to produce. The Seahawks haven't gotten much from
James Carpenter
. But in Iupati and Thomas, the 49ers and Seahawks found players among the very best at their positions. Kaepernick's selection puts this group over the top for San Francisco. Seattle got eight sacks from
Bruce Irvin
as a rookie in 2012, so the Seahawks aren't far behind. It's just impossible to overlook the value a franchise quarterback provides.
Seattle has the edge in the 41-66 range. Mays is long gone from the 49ers. That leaves
LaMichael James
for the 49ers against
Bobby Wagner
and
Golden Tate
for Seattle. Wagner was an instant starter at middle linebacker and a three-down player who commanded consideration for defensive rookie of the year. Tate blossomed with Wilson at quarterback.
The Seahawks also have an edge in that 67-86 range, having selected Wilson.
Seattle holds a 7-3 lead in number of picks used between the 87th and 149th choices, a range producing five-year starters 16 percent of the time, according to Villiotti.
Both teams used picks in that range for players whose injury situations dragged down their draft status:
Joe Looney
in San Francisco,
Walter Thurmond
in Seattle. Both teams found starting linebackers in this range: Bowman to the 49ers,
K.J. Wright
to the Seahawks. Both teams found developmental running backs in that range:
Kendall Hunter
to the 49ers,
Robert Turbin
to the Seahawks. Both teams found Pro Bowl players: Bowman in San Francisco, Chancellor in Seattle.
Sherman, arguably the NFL's best cornerback, gives Seattle an edge in the 150 through 189 range of picks. Both teams found backup tight ends there.
Anthony Dixon
(49ers) and
Jeremy Lane
(Seahawks) have the potential to expand their roles.
The 49ers found starting fullback
Bruce Miller
in the final pick range, which runs from 190 to the end of the draft. Seattle found a projected starting guard there in
J.R. Sweezy
.
Malcolm Smith
is a candidate to start at linebacker for Seattle. Miller and Sweezy both played defense in college. Miller has already successfully transitioned to offense. Seattle thinks Sweezy will do the same.
Summing it up:
Both teams can feel good about their draft performance over the past three seasons. I doubt either team would trade its picks for the other team's picks. That makes sense. Teams draft the players they like best. The 49ers have six projected 2013 starters to show for their choices. The number is eight for the Seahawks, not counting Irvin or Tate. Seattle has had more choices and higher quality choices, and more openings in the lineup to accommodate those players. I think that shows in the results.
December, 2, 2012
12/02/12
12:09
PM ET
Let's sort through what it means.
CHICAGO -- All four NFC West teams are playing early games Sunday. As a result, news regarding inactive players hit all at once.
October, 16, 2012
10/16/12
7:50
PM ET
San Francisco 49ers
fans periodically ask when the team's 2012 draft class might begin contributing on the field.
Like other top teams, the 49ers drafted late in the order. Their roster was already quite strong. That combination has made it tougher for the 49ers' rookies to earn playing time. It doesn't necessarily mean their draft choices are falling short. It just means they're not playing yet.
With an assist from Hank Garguilo of ESPN Stats & Information, I've put together charts showing games played, games started and offensive/defensive snap counts for every 2012 NFC West draft choice through Week 6.
The 49ers are the only team in the league with zero snaps from their 2012 class. The 6-0
Atlanta Falcons
' draft choices have played 25 snaps, the second-lowest total. The 30 remaining teams have gotten at least 215 snaps and an average of more than 700.
Seattle ranks fifth with 1,092 snaps from 2012 draft choices, followed immediately by St. Louis at 988. Arizona ranks 14th with 806. Right tackle
Bobby Massie
has played 424 of those, more than any team has gotten from its fourth-round choices. Seattle leads the league in snaps from seventh-rounders while ranking second in snaps from third-rounders. The Rams are second in snaps from second- and seventh-rounders.
Arizona Cardinals

Quick notes:
Michael Floyd
is getting work as the fourth receiver. He had a 24-yard reception Sunday. He has seven catches for 84 yards and a touchdown. ... Massie is getting valuable experience. He's been a liability in pass protection against some opponents. That was to be expected. ... Cornerback
Jamell Fleming
's playing time has fluctuated based on
Greg Toler
's availability. ...
Ryan Lindley
becomes the No. 2 quarterback behind
John Skelton
now that
Kevin Kolb
is injured. The team could conceivably re-sign
Rich Bartel
in the future. The Cardinals do like Lindlely's potential, however.
Seattle Seahawks

Quick notes:
Bruce Irvin has 4.5 sacks, including one to help preserve a victory at Carolina. ... Second-round choice
Bobby Wagner
has provided a significant upgrade at middle linebacker. He opened the season as a starter and member of the base defense. His has become an every-down player over the past two weeks, with positive results, including when he ran down
Cam Newton
for a loss. ...
Russell Wilson
owns two fourth-quarter comeback victories in his first six starts, two more than Seattle managed last season. He is the first rookie since the 1970 merger to throw winning touchdown passes in the final two minutes of two games. ... Robert Turbin's speed and power have impressed. ... J.R. Sweezy impressed in camp and started the opener, but he wasn't ready. ... Greg Scruggs is healthy again and figuring into the pass-rush rotation.
San Francisco 49ers

Quick notes:
Trenton Robinson has played on special teams, but he has been inactive recently. A.J. Jenkins has been active without playing. The 49ers have established players ahead of him at wide receiver. They also use two backs and/or two tight ends frequently, diminishing opportunities for wideouts to get on the field.
Michael Crabtree
,
Mario Manningham
,
Kyle Williams
and
Randy Moss
are competing for those limited snaps. ... LaMichael James' arrival provided incentive for
Kendall Hunter
, who has met the challenge. Might there be a role for James later in the season? So far, the 49ers haven't even activated veteran
Brandon Jacobs
. ... Joe Looney projects as a potential future starter at guard, but there might not be an opening if
Alex Boone
continues playing well. Boone seized the job while Looney was recovering from foot surgery. ...
Darius Fleming
suffered a knee injury and remains on the physically unable to perform (PUP) list. ... The team released sixth-rounder Jason Slowey. ... Seventh-rounder Cam Johnson is on the practice squad.
St. Louis Rams

Quick notes:
First-round defensive tackle
Michael Brockers
has recovered from an ankle injury well enough to become a big part of the Rams improving run defense. ...
Brian Quick
made a key reception over the middle to help the Rams beat the Seahawks, but fourth-rounder
Chris Givens
has made a bigger impact among the Rams' rookie wideouts. Givens has a reception of at least 50 yards in each of the Rams' last three games. That is a first for any NFL rookie since
Willie Gault
in 1983. ...
Janoris Jenkins
has been a playmaker at cornerback all season. He suffered a significant lapse in coverage at Miami, but overall, Jenkins has shined. ... Fifth-rounder
Rokevious Watkins
reported out of shape and landed on injured reserve. ... Sixth-rounder
Greg Zuerlein
has transformed the Rams' offense with his extended field-goal range, although he struggled some in Week 6. ... Seventh-rounder
Daryl Richardson
has a 5.2-yard average per carry and 246 yards rushing. He has won playing time from second-rounder
Isaiah Pead
, who has not been a factor.
September, 24, 2012
9/24/12
7:33
PM ET
SEATTLE -- Receiver news highlighted the players Seattle and Green Bay named inactive for their Monday night game.
The Packers will have
Greg Jennings
, who had missed the team's most recent game after suffering a groin injury. Seattle will play without
Doug Baldwin
, who had been listed as questionable with a shoulder injury.
Baldwin led the Seahawks in receiving last season, but the Seahawks have targeted him only six times this season, completing three passes for 13 yards.
Sidney Rice
leads Seattle in targets with 13, followed by
Braylon Edwards
with eight.
Golden Tate
returned from a knee injury last week and was targeted four times, catching three passes for 38 yards.
Seattle named Baldwin,
Jaye Howard
,
James Carpenter
,
Byron Maxwell
,
Lemuel Jeanpierre
,
Danny Gorrer
and
Winston Guy
inactive for this game. The Packers' inactive list featured
Jarrett Boykin
,
Sean Richardson
,
Davon House
,
James Starks
,
Terrell Manning
,
Jamari Lattimore
and
Tom Crabtree
.
September, 9, 2012
9/09/12
3:09
PM ET
GLENDALE, Ariz. -- The
Seattle Seahawks
will have running back
Marshawn Lynch
for their regular-season opener despite back spasms that limited him in practice recently.
Lynch is active for the game. Seattle named the following players inactive:
Kregg Lumpkin
,
Byron Maxwell
,
John Moffitt
,
James Carpenter
,
Golden Tate
,
Jaye Howard
and
Greg Scruggs
.
Moffitt was the starting right guard early in camp, but rookie
J.R. Sweezy
took over the job.
Lemuel Jeanpierre
is the primary backup at the interior offensive line spots. He started some last season.
Arizona named cornerback
Greg Toler
inactive. Others:
Ryan Lindley
,
LaRon Byrd
,
William Powell
,
Jamaal Westerman
,
Senio Kelemete
and
Pat McQuistan
.
May, 11, 2012
5/11/12
7:23
PM ET
RENTON, Wash. -- Thoughts and observations after watching the
Seattle Seahawks
open their rookie camp Friday:


First-round pick Bruce Irvin impressed coaches with his ability to grasp defensive concepts. That can be a concern for any rookie and particularly for one with Irvin's unusual background (out of football for two years while living on the streets). Irvin practiced with intensity. He did not get great results immediately and it was easy to see why. Alex Barron, who has practiced against Leonard Little and DeMarcus Ware over the years, was one of the few veterans in camp. While Barron's career has faltered, he remains a first-round talent and it showed in the first practice. The Seahawks are giving him a tryout. Barron, a first-round pick for St. Louis in 2005, is 29 years old and spent last season on injured reserve with New Orleans. He looked healthy and was obviously more talented than the free-agent offensive linemen in camp.
Coach Pete Carroll raved about running back Robert Turbin. He loved Turbin's quickness and feel for the zone running game. Turbin has huge biceps, but his lower body looks like it belongs to a smaller man.
Third-round quarterback Russell Wilson took twice as many snaps as any rookie and made a resoundingly positive first impression. Wilson threaded perfect passes all over the field, hitting receivers and tight ends in stride. Height, not talent, is the concern for the 5-foot-11 Wilson. He did have three passes tipped near the line of scrimmage, by my count. A couple deep balls failed to find their targets, Carroll noted. Wilson is going to get the attention of the veteran quarterbacks, it looks like.
Fourth-round pick Jaye Howard, a defensive tackle from Florida, impressed Carroll with his quickness.
The Seahawks invited draft choices' families to watch practice. All 10 picks had family in attendance on a spectacularly sunny day on the shores of Lake Washington.
Linebacker Korey Toomer, a fifth-round pick from Idaho, appeared athletic. He picked off a batted pass and headed for the end zone with it.
The Seahawks fared well with undrafted receiver Doug Baldwin last season. Phil Bates from Ohio was the undrafted receiver I noticed the most during this practice. He made a leaping grab on a deep ball. He also made a one-handed grab in traffic. He also dropped a pass later in practice. Overall, though, he looked good. Bates is 6-foot-1 and 220 pounds.
Players were wearing helmets, but no pads. It's tough to make lasting judgments from a camp such as this one. First impressions will have to suffice.
April, 28, 2012
4/28/12
7:34
PM ET
The 2012 NFL draft has finished.
I've put together a chart showing all the NFC West picks.
Seattle drafted an NFL-high eight players on defense. One, defensive tackle
J.R. Sweezy
, projects as a guard. No other team drafted more than six defensive players, by my count.
Total draft picks: Rams 10, Seahawks 10,
Arizona Cardinals
7,
San Francisco 49ers
7.
April, 28, 2012
4/28/12
2:17
PM ET
The
St. Louis Rams
used six of the 17 choices for NFC West teams through the first four rounds of the 2012 NFL draft.
I've shaded the Rams' choices for easier identification in the chart.
Note that three of the first five choices used by NFC West teams went for wide receivers.
Player counts so far: Rams 6,
Seattle Seahawks
5,
San Francisco 49ers
3,
Arizona Cardinals
3.
April, 19, 2012
4/19/12
5:35
PM ET
The Falcons, Panthers and Buccaneers all had pre-draft sessions with the media. The
New Orleans Saints
didn't have any media access, but we don't want to leave them out.
So let's turn to two of our in-house draft experts to discuss what the Saints may do in the draft.
Check out this
Insider post

by Steve Muench that lays out a draft plan for the Saints and throws out five potential picks. Muench starts with Virginia defensive end
Cam Johnson
in the third round and also has them taking defensive tackle
Jaye Howard
in the fifth round. Both picks make plenty of sense. The Saints don't have picks in the first two rounds and they obviously have some needs on defense as new coordinator Steve Spagnuolo takes over. Spagnuolo emphasizes the importance of generating a pass rush almost exclusively from the front four. Aside from defensive end
Will Smith
, the Saints don't have a strong pass-rusher. Muench says Johnson has the quickness to develop into a good pass-rusher. Howard also has potential as a pass-rusher in the interior. That could help because defensive tackles
Brodrick Bunkley
and
Sedrick Ellis
aren't known for their pass-rushing skills.
In this
Insider post

, Matt Williamson writes about the four teams with the worst draft situations. As you would expect for a team short on picks, the Saints made his list. Then again, so did the Falcons.
In his analysis of what the Saints need, Williamson is in full agreement with Muench about the importance of adding some help to the defensive front. I think that's pretty much the consensus on where the Saints' biggest needs are.
Let's bounce back to Muench's picks for the Saints. His last one might be the most intriguing. He has the Saints taking Western Michigan wide receiver
Jordan White
in the seventh round. White doesn't have a lot of upside and he'll be a 24-year-old rookie. Once upon a time, 2006 to be precise, the Saints used a seventh-round pick on a receiver who wasn't supposed to have a lot of upside. That wound up working out very nicely. That pick was used on
Marques Colston
.

NFL SCOREBOARD
Thursday, 9/18
Sunday, 9/21
Monday, 9/22
WEEKLY LEADERS