August, 13, 2013
8/13/13
12:00
PM ET
ENGLEWOOD, Colo. -- Live on Colorado's front range long enough, and you live with an unshakable, that's-the-way-it-is truth. That most days, as in 300 or so a year, the sun shines brightly and the skies are blue.
But when the storm clouds come rolling down the mountains, it's an ambush -- they come fast and with menacing intent. And that, really, is the story of the Broncos' offseason.

"Hey, you have to deal with all kinds of things along the way," said Broncos cornerback
Champ Bailey
, now entering his 10th season with the team. "And we've had plenty of things to deal with around here over the years; sometimes we've done a good job with it, sometimes we haven't. I tell the young guys all the time, we'll see how we handle things. We can be good, but we have to get to work, because thinking you're good and being good are always two different things."
The Broncos entered free agency as Super Bowl favorites, then they signed
Wes Welker
to a
Peyton Manning
-led offense that had already been good enough to be No. 2 in scoring in 2012. They drafted well, and filled some other needs with veteran signees
Dominique Rodgers-Cromartie
,
Stewart Bradley
and
Shaun Phillips
.
Yep, football sunshine and blue skies.
Then there was Faxgate and
Elvis Dumervil
's rather messy exit from the team that drafted him in 2006.
Then two high-ranking front-office executives -- director of pro personnel Tom Heckert and director of player personnel Matt Russell -- were arrested on drunken driving charges a month apart. Heckert was eventually suspended a month without pay -- he's due to return to the team Thursday -- and Russell was suspended indefinitely.
Then defensive playmaker
Von Miller
was slapped with a four-game suspension for violating the league's substance abuse policy, a revelation that came with the rather troubling fact that Miller had previously violated the policy to get to the suspension phase.
Miller's appeal will be heard Thursday by league officials, and a decision is expected before the regular-season opener against the Ravens.
Toss in a pile of injuries, especially to the offensive line, and it's clear coach John Fox's task will be to keep a talented team on track as it wrestles with the expectations around it, as well as the pothole-filled road it has already traveled.
"It's been my experience if you don't expect a lot, you don't get a lot," Fox said. "Keep the bar low, and that's where people go. We're going to keep the bar high -- I don't mind expectations -- and I think the guys have had good focus. They know the work that has to be done, and I know they'll do it."
THREE HOT ISSUES
1. Deal with it.
Former Broncos defensive end
Alfred Williams
might have said it best. Williams said the Broncos are the only team in the league "with 20 preseason games."
So true. After a 13-3 finish that included an 11-game winning streak dissolved into a crushing playoff loss to the Ravens, the team's fan base essentially sees the coming regular season as little more than an inconvenience before another postseason chance.
That can be a lot to handle for a team, especially if players and coaches get too focused on the potential lack of appreciation from the outside world for anything that happens along the way. More than one person inside the team's Dove Valley complex has expressed frustration in the past six months over the fact that few folks bring up the 13-3 record, the win streak or the division title, and that it is all Ravens, all the time in any discussion about the 2012 season.
Frustrating indeed, but the Broncos have to find some peace of mind somewhere as they move through the next four months.
[+] Enlarge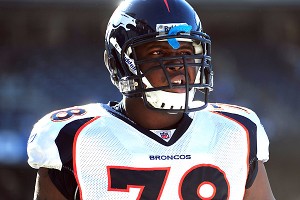 Harry How/Getty ImagesWhile the Broncos wait for star left tackle Ryan Clady to return from shoulder surgery, the team has many questions on the offensive line.
2. Front-line issues.
Left tackle
Ryan Clady
, a newly minted five-year, $52.5 million contract in hand, is still working back from offseason shoulder surgery and is not yet 100 percent.
Center
J.D. Walton
had ankle surgery just before minicamp and isn't expected back in the lineup until late October or early November at the earliest. He was just seen at the Broncos' complex this past week without a walking boot on for the first time since the operation.
Walton's backup,
Dan Koppen
, tore his ACL in the first week of training camp and is done for the year.
It leaves
Manny Ramirez
, who just started his first career game at center in the Broncos' preseason opener in San Francisco, and 31-year-old
Ryan Lilja
, who was signed out of retirement after two surgeries (knee, toe) earlier in the offseason, as the options in the middle.
Given that defensive coordinators routinely believe the best way to pressure Manning is through the middle of the formation, the Broncos will need an answer to protect him.
3. Defense will tell the tale.
We get it, it's a quarterback league. The rulebook essentially begs/demands that people put the ball in the air almost nonstop in any situation. Offense puts people in the seats.
Whatever. Remind me, but wasn't the Super Bowl -- a Super Bowl played by the two teams that ran the ball the most during the playoffs -- won on a goal-line stand when an offense couldn't/wouldn't punch it in from the doorstep?
The Broncos put up 35 points this past January and were sent home to the collective couch. And when you get right down to it, in back-to-back playoff losses, the Broncos have surrendered 694 passing yards and nine passing touchdowns with just one interception and one sack combined against
Tom Brady
to close out the 2011 season and
Joe Flacco
to close out 2012.
So, Manning to Welker,
Demaryius Thomas
and
Eric Decker
looks nice on a magazine cover, but how the guys on the other side of the ball do will have plenty to say about how far this team goes.
REASON FOR OPTIMISM
It's a talented roster with one of the greatest quarterbacks of all time behind center and a remember-when defensive talent bursting with potential in Miller. Denver is a balanced team that finished in the top five in both offense and defense last season with one of the great home-field advantages in the league. Oh, and the guy running the team is a Hall of Fame quarterback who knows a thing or two about what a title-winning locker room should look like.
REASON FOR PESSIMISM
There are some in the league who looked at the Broncos' drama-filled offseason and said they had the tumultuous profile of a team that had won the Super Bowl instead of losing two rounds before the title game. The Broncos have had the infamous fax issues, the off-the-field troubles, a reality show, a looming suspension of a superstar and more than their share of injuries. Maybe when the games count, none of that will matter, but history is littered with teams that put the championship cart before the horse, content to enjoy the fruits of potential rather than the actual title.
OBSERVATION DECK
[+] Enlarge

Marc Piscotty/Icon SMIThere will be plenty of opportunities for Wes Welker in Denver's offense.

Welker's signing is going to work out -- barring injuries, of course -- exactly the way everybody wanted it to, including Welker. He fits the offense. Broncos offensive coordinator Adam Gase will even expand Welker's reach in Denver's playbook compared with what Welker did in New England, and Welker has worked hard to fit in. There has been some hand-wringing both near and far about where the "catches" were going to come from for a guy with five 100-reception seasons. The answer is that the catches are already in the offense. Working mostly out of the slot last season, tight end Jacob Tamme and wide receiver Brandon Stokley combined for 97 receptions, 1,099 yards and seven touchdowns. Those numbers from Welker would fit quite nicely.

The offensive line is an issue to keep an eye on until the Broncos prove it's not. Getting Clady back in the lineup -- he's still on track to start the opener -- will help greatly, but they've struggled to protect the quarterbacks in practice against their own high-end defense, as well as in the preseason opener. If things don't improve, the Broncos will spend an awful lot of time tossing dump-offs to the hot receiver or shallow crosses because they can't protect long enough to go down the field.

Miller's potential and ability are almost limitless. Former longtime Broncos defensive coordinator Joe Collier, the guy who called the shots for the Orange Crush defense, has said Miller has the potential to be the franchise's best-ever defensive player. But Miller, the results of his appeal of his four-game suspension notwithstanding, has to hold up his end of the bargain, both on and off the field, to make that happen. And the Broncos will have to decide over the next season or so -- his contract is up after 2014 -- just how high they'll want to go on an extension and whether the investment will be worth it over the long term.

Folks can wish it were different, especially as they wrestle with their fantasy lineups each week, but every indication on the practice field -- as in EVERY indication -- is that Ronnie Hillman and Montee Ball are going to share the workload in a variety of down-and-distance situations. And Knowshon Moreno and Jacob Hester figure to at least be in the third-down mix as well at times.

Hillman, however, should benefit from Gase's concerted effort to create more impact in the run game outside the hashmarks. The Broncos weren't all that good, or committed, to the outside runs last season. And if Hillman runs with decisiveness and the Broncos can get it done up front -- they brought longtime assistant Alex Gibbs back to help with the zone-run game -- there are some big plays waiting.

The games will ultimately be the gauge, but safety Rahim Moore has had a quality camp in an offseason in which many wondered how he would bounce back from the ill-fated leap in the playoff loss to the Ravens. But the bottom line is Moore played more snaps (1,044) than any other player on the defense last season with substantial improvement over his rookie year in 2011, and if everyone else had played their assignments on the Jacoby Jones touchdown, Joe Flacco wouldn't have even thrown the ball that way in the first place. So, those guys should buy Moore a nice dinner for taking the heat and watch him in the starting lineup again.

Thomas sported a heady 15.3 yards-per-catch average on the way to 1,434 yards receiving last season. But that per-catch average should go up given the choices defenses are going to have to make with Welker in the formation. If defenses double in the short and intermediate area to deal with Welker, the Broncos' tight ends and Thomas can overpower most defensive backs down the field.

Defensive end Robert Ayers has consistently said, since the team made him the 18th pick of the 2009 draft, that he has far more to offer when the opportunity comes. And the opportunity has arrived with Dumervil's departure. Ayers has just 6.5 career sacks in his four seasons and has played for four defensive coordinators along the way, each of whom wanted something a little different from him. But Jack Del Rio is back for a second consecutive year, and Ayers is the starter at rush end. Now's the time.

Reports of Bailey's demise are exaggerated, but he is certainly a 35-year-old entering his 15th season. Or as he put it: "I had some plays in the playoff game I should have made, pure and simple. I didn't, but I can let it drag me down or just get back to it. I still think I can play and I think I have shown I can still play at a high level." The Broncos will pick their spots more when they single him up, but he has been top-shelf throughout training camp while running stride for stride with the Broncos' best receivers.

The Broncos have an awful lot riding on how Gibbs and offensive line coach Dave Magazu get things worked out on the offensive line. If the Broncos can add some pop out of the play-action run game and consistently protect Manning out of a three-wide receiver set, the points should follow.

Some say Welker's presence in the offense means the Broncos will throw more in '13. However, Manning's 400 completions last season amounted to the second-highest total of his career, and his 583 attempts were the third-highest. In a perfect world, the Broncos would like those totals to be slightly lower this time around -- Manning himself has said "we'd like to run it more" -- because it would mean they simply ran the ball to close out games in which they already had the lead.
August, 11, 2010
8/11/10
11:53
AM ET
ESPN.com NFL Power Ranking
(pre-camp): 23
ENGLEWOOD, Colo. -- After he watched one key player after another limp to the training room this summer, Josh McDaniels came to a conclusion: The
Denver Broncos
are going to find a way to get better as a result.
Call it medical motivation.
"Sometimes, when everybody around you thinks the sky is falling because of injuries, it could rally a team," the second-year Denver coach said. "That's what we are doing. We are going to be motivated to show we can withstand what has happened to us. We're not sitting here feeling sorry for ourselves."
McDaniels swears Denver is having a productive training camp despite being the most injured team in the NFL. The biggest hit was the loss of star linebacker
Elvis Dumervil
. He is likely out for the season with a torn pectoral muscle. Other players who have been lost during camp include running backs
Knowshon Moreno
and
Correll Buckhalter
, receivers
Demaryius Thomas
and
Eric Decker
, safety
Brian Dawkins
and linebackers
D.J. Williams
and
Jarvis Moss
. Don't forget that left tackle
Ryan Clady
is out until sometime in September after hurting his knee in the offseason.
Still, McDaniels said it's not a time of despair, because everyone but Dumervil is expected back in the near future.
"It hurts to lose Elvis, but maybe the other injuries are good that they happened now," McDaniels said. "We are not worrying about who is not here. We trust our depth and we're dealing with it."
THREE HOT ISSUES
[+] Enlarge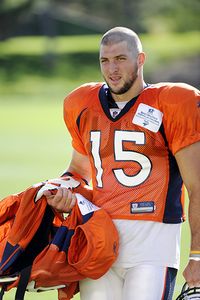 AP Photo/Jack DempseyTim Tebow got a new haircut on Tuesday, replacing the monk haircut from earlier in the week.
1. How will the Tebow factor affect the team?
There is not a rookie in the NFL who is getting the attention that
Tim Tebow
is receiving. From special Nike shoes to a
hideous training-camp haircut
to operating in short yardage situations, the Tebow Watch is in full force.
The question is how his work in camp will affect the team on the field. The former Florida star quarterback has operated in short-yardage situations and he will likely be used in the Wildcat formation and in the red zone. That likely means Denver will keep quarterbacks
Kyle Orton
,
Brady Quinn
and Tebow on the 45-man roster on game days. In June, McDaniels said he was leaning away from that.
But it is clear that Tebow is being groomed to be active as a rookie. Unless Tebow completely leapfrogs Quinn in training camp and in the preseason, Denver could be using three quarterbacks on game days, which will take away from another position.
2. Can this team forget the final 10 games of 2009?
Denver was the most perplexing team in the NFL in 2009. It shocked the league by starting 6-0. However, it suddenly fell apart and lost eight of its final 10 games.
Which team will we see in 2010? McDaniels, of course, won't guarantee anything, but he believes Denver is heading in the right direction because of a strong training camp.
He said the team is making big strides this year because his program is established after 14 years under Mike Shanahan. McDaniels pointed out how much smoother and productive Denver was in its team scrimmage last weekend compared to last year's scrimmage.
"It's night and day," McDaniels said. "Everybody knows the system now and that has helped camp."
[+] Enlarge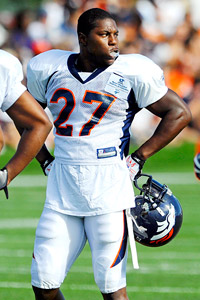 Ron Chenoy/US PresswireKnowshon Moreno, the team's leading rusher last season, is out with a hamstring injury.
3. Can the running backs stay healthy?
Moreno (hamstring) and Buckhalter (back) are supposed to be ready this month. But seeing the top two running backs go down on the first full day of camp had to be scary for Denver. The team has big plans for Moreno and Buckhalter.
Denver brought in veteran
LenDale White
to help in camp and perhaps as a short-yardage runner once he serves a four-game NFL suspension. The team is discussing signing former Oakland tailback
Justin Fargas
, perhaps as soon as Wednesday.
This is still the Moreno and Buckhalter show, but the Broncos have been forced to look at other options. Expect Moreno and Buckhalter to be handled very gingerly for the rest of camp and in the preseason in an attempt to ensure their health for the start of the regular season.
BIGGEST SURPRISE
The Broncos are excited about their receivers.
Brandon Lloyd
and
Matthew Willis
have been outstanding.
Eddie Royal
is playing well in camp and the team hopes he can bounce back from a poor first season under McDaniels. After catching 91 passes as a rookie, Royal had just 37 catches last season.
Add rookies Thomas and Decker and Denver could have a decent receiving crew. That looked shaky after the team sent talented but troubled
Brandon Marshall
to Miami in April.
BIGGEST DISAPPOINTMENT
How can it be anything other than the injury to Dumervil? He is arguably Denver's best player and he just signed a huge, new contract. Denver was looking for him to have a dominant season. Dumervil led the NFL with 17 sacks last season.
Denver will have to find a pass rush elsewhere. A top candidate is 2009 first-round pick
Robert Ayers
. He struggled as a rookie. But he has been good in camp. Ayers will get every chance to turn it on and help make this bad situation workable.
OBSERVATION DECK
[+] Enlarge

Jeff Fishbein/Icon SMIKyle Orton passed for 3,802 yards, 21 touchdowns and 12 interceptions for the Broncos last season.

Orton has quietly been a star in camp. He had a strong offseason and is, by far, the most accurate of three quarterbacks. While the future is Tebow's in Denver, Orton is going to do everything he can to make 2010 special before he hits the free-agency market in 2011.

Quinn, the current No. 2 quarterback in Denver, has been inaccurate often. The Broncos still like Quinn, who was acquired from Cleveland in March. However, with Orton being the immediate starter and Tebow being the future starter, he has his work cut out for him to find a spot in Denver.

Keep an eye out for fifth-round pick Perrish Cox. He's been outstanding in camp. "Every day, I look up and Perrish is making another big play," Royal said. Cox is second at left cornerback behind star Champ Bailey. Cox will likely be the nickel cornerback. He is also dynamic as a return man.

While Cox is ascending, second-year cornerback Alphonso Smith is still not progressing. Smith was the No. 37 overall pick in 2009. Denver gave up its first-round pick for Smith in 2010 (which was No. 14). He floundered as a rookie and he is not showing much improvement in camp as Cox is stealing the show.

Richard Quinn, a second-round pick in 2009, is blocking very well in camp. He still must improve as a receiver, but Denver should feel comfortable with him in double tight-end sets with starter Daniel Graham.

So far, defensive end Ryan McBean is holding off free-agent pickup Jarvis Green. However, the team likes Green and he is very versatile.

Denver likes what it sees in former San Diego defensive tackle Jamal Williams in the early stages. With Dumervil out, a lot of Denver's defensive burst must start from him at nose tackle. That may mean Williams may be on the field more than Denver likes. But he is showing, even at 34 and after missing all but one game in San Diego last year, he could still be a force.

Denver knows it won't all be roses, but it is at terms with rookies J.D. Walton (center) and Zane Beadles (guard) starting. Both players have showed intelligence and toughness in camp. Most importantly, they are big and strong and they are well suited for the power-blocking scheme McDaniels is adopting. Denver is scrapping the zone-blocking scheme used during the Shanahan era. One of the reasons is McDaniels wants a bigger offensive line that can stay fresh throughout the season.

D'Anthony Batiste is doing well at left tackle. The Broncos think he will be a valuable backup when Clady returns from a knee injury in September.

Inside linebacker Joe Mays, acquired from Philadelphia for running back J.J. Arrington less than two weeks ago, is impressing. He has worked some with the first team. He is likely to be a key backup and a special teamer.

Veteran defensive lineman Marcus Thomas is buried on the depth chart. If he doesn't pick up the rest of camp, he could be a candidate to be cut.

Punter Britton Colquitt, the younger brother of Kansas City punter Dustin Colquitt, is doing well and he will likely win the job. He is going unchallenged, but if he falters, Denver could scour the waiver wire. So far, he is showing that may not be necessary.

NFL SCOREBOARD
Thursday, 9/18
Sunday, 9/21
Monday, 9/22
WEEKLY LEADERS