September, 1, 2014
9/01/14
3:28
PM ET
ALLEN PARK, Mich. -- Monday afternoon,
Detroit Lions
coach Jim Caldwell said he would not speak on who some of his starters were until the team released a depth chart.
The Lions have done that, and potentially revealed some opening-game starters. This, however, remains an unofficial depth chart that the Lions media relations staff puts together, not one given out by the coaching staff.
Here are some of the notable things:
April, 10, 2014
4/10/14
9:43
AM ET
ALLEN PARK, Mich. -- The offense will be both old and new to running back
Reggie Bush
. Old in that he has seen all of this before, the Saints' terminology, the Saints' playbook. New in that he is with a different team now, the
Detroit Lions
, and his offensive coordinator, Joe Lombardi, has a New Orleans background but has never called plays.
But the one thing he can anticipate -- probably correctly -- is that the workload for both he and
Joique Bell
will be a little bit different. And Bush is fine with that.
Bush
Bell
"We had a pretty good rotation going last (season), so, you know, we did some pretty special things with that," Bush said. "It can only go up from there, even if the workload is less for both of us, that's only going to help us toward the end of the season, help us to stay healthy and probably play a little bit stronger and better toward the end of the season."
Last season, both Bush and Bell topped 500 yards in rushing and receiving -- the first time two running backs on the same team accomplished that in the same season. Considering the way the New Orleans offense is run, it could happen again in 2014.
Some of that speculation comes from the
New Orleans Saints
history. Under Sean Payton -- and this is the offense Lombardi said his attack will be based on -- the Saints used more running backs in varying rushing and route-running situations than the Lions did last season, when the team primarily used Bush and Bell with small doses of then-rookie
Theo Riddick
.
Last season, no New Orleans running back had more than 150 carries, although four had at least 60. Two,
Pierre Thomas
and
Darren Sproles
, had more than 70 catches. That type of breakdown has been typical of a Saints' offense in recent years.
One of the other differences will be the use of a fullback. Detroit was determined during the offseason to find a fullback, and the team signed
Jed Collins
, who last played in New Orleans, to a one-year deal. They also envision
Montell Owens
, who was on the team last season but injured, as a hybrid fullback/halfback.
Does that change how Bush and Bell will run? Kind of.
"It's just a guy in front of you," Bush said. "The reads are a little bit different because you have to wait on the fullback to make their move and make their block.
"There's a little bit more patience involved when you have a fullback in front of you as opposed to when you're back there by yourself and you can just read the defense and you're just waiting on the offensive line."
This will be one piece of the offense for Detroit, a team that believes it has the personnel in place on that side of the ball to win.
February, 27, 2014
2/27/14
8:00
AM ET
The
New Orleans Saints
have four restricted free agents this year -- fullback
Jed Collins
, receiver
Joe Morgan
, safety
Rafael Bush
and defensive lineman
Tom Johnson
.
Based on the NFL rules for restricted free agents, the Saints will need to make a qualifying offer to each player by March 11 to secure the right to match any other offers the players may sign elsewhere. And if the Saints' qualifying offer is high enough, then other teams will also be required to give up draft picks as compensation to sign the players away.
A league source has already indicated the Saints don't plan to re-sign Johnson. But they will have to make a decision on how much to offer the other three.
Since all four of the Saints' restricted free agents went undrafted out of college, the Saints will essentially have four choices to make with each of them:
Offer a one-year deal worth a projected $2.2 million (which comes with a second-round draft pick compensation if they sign elsewhere).
Offer a one-year deal worth a projected $1.4 million (which comes with no draft pick compensation).
Actually sign the player to a new contract -- which could be for less money or for more (like what the Saints did last year when they signed RFA Junior Galette to a long-term extension).
Don't make any offers, allowing the player to become an unrestricted free agent.
Here's a breakdown of the players:
FB Jed Collins: Age 27. Height/weight: 6-1, 255.
I definitely expect the Saints to keep Collins -- either by offering the second-round tender or by working out a long-term extension that works for both sides. Although the Saints only used Collins on about 40 percent of their offensive snaps last year, they value him in that role. He has played at a high level for New Orleans for the past three years -- as both a lead blocker and occasional pass catcher. He was especially good as a blocker during the second half of last season.
Collins has a total of 39 receptions for 174 yards and four touchdowns over the past three years. Last year, he also ran the ball a career-high 15 times for 45 yards and a touchdown. Before that, he had just four career carries (though two of them went for touchdowns).
Collins found a home in New Orleans after bouncing around with a whopping seven different teams from 2008-2010 as an undrafted free agent out of Washington State, mostly on practice squads.
S Rafael Bush: Age 26. Height/weight: 5-11, 200.
I expect the same thing with Bush -- either the second-round tender or a new long-term extension. The Saints valued him quite a bit last year as a backup safety and a special teams standout. And he could push for an even bigger role this year with
Malcolm Jenkins
' future uncertain.
Bush played about two-thirds of the Saints' defensive snaps when he was healthy last year, since they featured so many three-safety packages. Bush was primarily used as a deep safety. He had a career-high 42 tackles last season. He had an interception and a forced fumble in 2012.
The Saints picked up Bush off waivers during the first week of the 2012 season after he was released by the
Denver Broncos
.
WR Joe Morgan: Age 25. Height/weight: 6-1, 184.
I also think the Saints will try to keep Morgan -- but they may go with the lower tender or try to work out a more affordable contract. Morgan seemed poised for a big year last season as the Saints' No. 3/deep threat receiver. But he missed the entire season after tearing his ACL early in training camp.
The speedy Morgan showed signs of a breakout in a limited role in 2012 with 10 catches for 379 yards and three touchdowns. The Saints could certainly use that kind of dynamic playmaking ability to stretch the field if Morgan proves he can bounce back from his injury this summer. But the Saints may also consider drafting a fast receiver.
DL Tom Johnson: Age 29. Height/weight: 6-3, 288.
The Saints have apparently decided to move on from Johnson because of their young depth at the defensive line (including backups
John Jenkins
,
Glenn Foster
and
Tyrunn Walker
). But Johnson was a solid backup for them over the past three years as both a 4-3 tackle and a 3-4 end. He should definitely get an opportunity elsewhere.
Johnson, whom the Saints plucked from the Canadian Football League's Calgary Stampeders, had 55 tackles, five sacks and a forced fumble in his three years with New Orleans.
February, 21, 2014
2/21/14
2:00
PM ET
The
New Orleans Saints
reportedly aren't planning to make a tender offer to restricted free agent defensive lineman
Tom Johnson
, according
to USA Today's Tom Pelissero
.
Johnson
That's not a huge surprise, since the minimum one-year tender for restricted free agents is projected to be around $1.4 million this year. It's unclear if the Saints will consider bringing back Johnson on a more affordable deal.
Johnson, 29, has been a solid backup at both tackle and end for the Saints over the past three years since they snagged him from the Canadian Football League's Calgary Stampeders. The 6-3, 288-pounder has 55 tackles, five sacks and a forced fumble in his career.
The Saints, however, have some nice young depth at their interior line positions, led by
Cameron Jordan
,
Akiem Hicks
,
John Jenkins
,
Glenn Foster
and
Tyrunn Walker
, in addition to veteran tackle
Brodrick Bunkley
.
The Saints will likely make a stronger push to re-sign their other three restricted free agents -- fullback
Jed Collins
, safety
Rafael Bush
and receiver
Joe Morgan
.
They'll likely use the second-round tender on Collins (meaning a team would have to give up a second-round pick to sign him away). That tender is projected to cost $2.1 million or more. They may need to use the same tender on Bush, since he could move into a starting role for the Saints this year.
Morgan is tougher to predict since he has shown great potential as a deep-threat receiver, but he also missed last season with a knee injury. They could offer the $1.4 million tender, which comes with no draft-pick compensation, or try to work out a deal for less.
RFA tenders must be made before the start of the new league year on March 11.
November, 18, 2013
11/18/13
12:50
AM ET
NEW ORLEANS -- You thought the
New Orleans Saints
proved how dangerous they were last week, when they played a nearly perfect game in a blowout victory over the
Dallas Cowboys
?
Well, the Saints took it up another notch on Sunday with a scrappy, sometimes-ugly
23-20 victory
over the
San Francisco 49ers
.
This was the performance that truly showed the Saints' mettle as Super Bowl contenders.
San Francisco was the team that had given the Saints fits in each of the past two years. This was the style of game New Orleans hadn't been able to win consistently enough, including two weeks ago in a sloppy loss to the
New York Jets
. And it's the style of game they'll have to face again, with looming dates on the road against the NFC-leading
Seattle Seahawks
in Week 13 and two games against the NFC South rival
Carolina Panthers
.
"This is the biggest win up to date, I think, at the start of my career," said fourth-year Saints outside linebacker
Junior Galette
, who highlighted another outstanding performance by New Orleans' defense with a sack with 2:01 remaining.
The Saints stood toe to toe with the physical 49ers on Sunday. They absorbed a few big shots (most of them self-inflicted). And they rallied from a six-point deficit in the fourth quarter for their biggest win of the season to date.
"This game means more, the way that we won it," Saints quarterback
Drew Brees
said when asked which of the past two victories was more rewarding. "These are the ones that just sharpen you, just build confidence."
Not that the Saints needed a confidence boost.
It was especially clear from talking to players after Sunday's game that they had expected to win this game. That belief never wavered, even after three ugly turnovers in the first 33 minutes. The attitude was reminiscent, on a slightly smaller scale, of the confident approach the Saints took into Super Bowl XLIV, and the way they didn't waver after trailing 10-0 in that game.
"We were ready for this team," Saints running back
Pierre Thomas
said Sunday. "Nobody on this team was scared, none of the coaches, nobody on that sideline was scared."
"We knew we had to just keep chipping away, chipping away, chipping away at it, and eventually things would go our way," guard
Jahri Evans
said.
"That game had a little bit of an odd feeling to it, in that I felt like the offense was working efficiently, the defense was playing great, and yet we're losing," Saints offensive tackle
Zach Strief
said. "But Coach [Sean] Payton talked all week about kind of pounding away at the rock, kind of wearing someone down."
Players said Payton remained encouraging on the sideline, saying things like, "Let's stay in this," "Let's deal with this adversity" and "Body language."
The Saints' offense and defense both played well, especially in the areas they had preached about all week: stopping the run, staying balanced with their own rushing game and protecting Brees against a punishing defense.
[+] Enlarge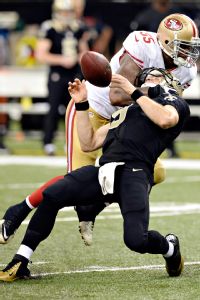 John David Mercer/USA TODAY SportsThis one wasn't easy. Just ask Drew Brees, who was leveled by an Ahmad Brooks clothesline.
The defense was downright dominant, holding San Francisco to 196 yards and notching three sacks. Payton even credited his trust in the defense for an ill-fated decision to go for it on fourth-and-4 early in the third quarter.
"The defense has been playing unbelievable. Each week we gain more and more respect for them," Saints fullback
Jed Collins
said. "They just keep proving they're not only here to benefit the offense, but they're here to win games."
The Saints, however, dug themselves into a hole with three turnovers: a muffed punt return by
Lance Moore
that set the 49ers up for an easy touchdown; an interception return that was fumbled through the back of the end zone by cornerback
Corey White
; and an interception from Brees that set up another easy score for San Francisco.
Eventually, the Saints came up with a game-tying 42-yard field goal by
Garrett Hartley
with 2:06 remaining, a three-and-out by the defense and a game-winning 31-yard field goal by Hartley as time expired.
The rally included a lucky break, when Brees' fumble with 3:18 remaining was nullified by a personal-foul penalty against linebacker
Ahmad Brooks
for clotheslining him on the sack. But there were enough twists and turns and close calls that could have gone either way in this game that the Saints certainly didn't feel like they stole one.
Payton didn't even bother harping on the little things the team did wrong that "could get them beat down the road," as he did in previous games against lesser opponents.
"I just finished telling the guys I'm proud of them, and I thought we fought through some tough breaks," Payton said. "I thought we did all the things we talked about to win this game. … And I just thought they hung in there and deserved to win that game."
Speaking of overcoming adversity, Hartley entered the game on the hot seat after having missed four of his previous six field-goal attempts. But true to his history, he came through in the clutch.
Hartley could have been speaking on behalf of the entire team in his postgame comments when he said, "I would definitely say it tested me. But it was a time to show everyone how thick my skin is."
"We're just on a great level right now," Thomas added. "We have a great attitude. And we're seeing what type of team we can be. And as long as we keep fighting and keep doing what we're doing in practice, we're gonna be a tough out."
November, 3, 2013
11/03/13
9:20
PM ET
EAST RUTHERFORD, N.J. – While former
New Orleans Saints
running back
Chris Ivory
was running wild against them Sunday in the
New York Jets
'
26-20 victory
, the Saints' own running game was practically nonexistent.
The Saints ran the ball well, when they did;
Pierre Thomas
and
Mark Ingram
and fullback
Jed Collins
combined for 50 yards on 11 carries, an average of 4.5 yards per carry. But the Saints (6-2) never stuck with the run game for a handful of reasons.
Ingram
Thomas
For one, the Saints went into Sunday's game with a plan to attack the Jets' secondary, which was a no-brainer since the Jets have struggled to stop the pass, whereas they boasted the NFL's No. 1-ranked run defense. And that plan was mostly successful early, with
Drew Brees
throwing for 230 yards and two touchdowns (and also two interceptions) in the first half.
For another thing, the Saints kept putting themselves into long-yardage situations with too many penalties in the second half (a total of seven offensive penalties for 49 yards).
And lastly, the Saints were forced to play catch-up, down by nine points for much of the second half.
"When we ran it, I thought we did some pretty good things," Saints coach Sean Payton said. "We knew they were going to be a good run front coming in, but I thought we did some things that helped give us some balance. But overall, late in the game, all of a sudden you find yourself [with a first-and-20, a second-and-15 and a second-and-19 on the final three drives]. Those are the types of things that I think just make it difficult. They make it difficult for the quarterback, I know that."
Offensive tackle
Zach Strief
added: "I think, for one, we became one-dimensional because of mistakes that we made."
In hindsight, maybe the Saints wish they had tried a traditional run play when they failed to convert a third-and-1 and fourth-and-1 in the fourth quarter. But the Saints didn't do too much second-guessing on that series of plays.
They actually tried a belly handoff to Collins on third-and-1, which appeared to gain a yard – but the play was nullified when the Jets were awarded a last-second timeout. On the play that counted, the Saints went with a pass to Collins, which also would have worked easily, but Collins dropped the ball.
Then on fourth-and-1, the Saints tried an exotic trick play that failed miserably – an end around to tight end
Josh Hill
that lost 8 yards. Payton and players all defended the play call, saying they installed it this week and felt confident it would work. But they credited the Jets' defense for staying disciplined instead of selling out to stop the run.
"I've been here eight years. I've seen reverses work, I've seen reverses score," guard
Jahri Evans
said. "We tried to just catch then in an aggressive situation, and they made a play."
January, 24, 2012
1/24/12
3:02
PM ET
It was a big year for offense in the NFC South. The
New Orleans Saints
set all sorts of records. The
Carolina Panthers
lit up scoreboards and, when the
Atlanta Falcons
were on, they sometimes were spectacular.
That made for some difficult choices, but here's my All-NFC South offense.
Tackle: Jordan Gross, Panthers.
He's getting along in years, but Gross is still the best tackle in the division.
Tackle: Jermon Bushrod, Saints.
This was a really tough call because Tampa Bay's
Donald Penn
seemed destined for this spot, but his play slipped as the Bucs collapsed and lost their last 10 games. I refuse to put any offensive lineman from Atlanta on this team, so I'm going with Bushrod almost by default. I know he made the Pro Bowl, but I'm not convinced Bushrod is anything more than an ordinary left tackle. But he's better than any other tackle the NFC South had to offer.
Guard: Carl Nicks, Saints.
He might be the best guard in the NFL.
Guard: Jahri Evans, Saints.
If Nicks isn't the best guard in the NFL, then Evans is.
Center: Ryan Kalil, Panthers.
He's becoming a Pro Bowl regular and might be the best center in the league.
Wide receiver: Steve Smith, Panthers.
Rookie quarterback
Cam Newton
came along and revitalized Smith's career. But I also think Smith deserves a lot of the credit for Newton's success.
Wide receiver: Marques Colston, Saints.
I went back and forth on this one between Colston and Atlanta's
Roddy White
and Tampa Bay's
Mike Williams
also got some consideration. I'm joking. Williams didn't get one bit of consideration. White's numbers were slightly better than Colston's in terms of catches and receiving yards. But Colston missed a couple games with a broken collarbone and still had very nice numbers in an offense where there are a ton of other options. White had nice numbers, but he didn't look like the dominant receiver he was a year ago. White led the league in drops.
Tight end: Jimmy Graham, Saints.
This one was easy. Atlanta's
Tony Gonzalez
had a very nice season and is the best tight end in history. But Graham had one of the most prolific seasons ever by a tight end in only his second season. Graham should only continue to get better and, if he stays healthy, he could eventually pass Gonzalez as the best tight end ever.
Fullback: Jed Collins, Saints.
In his first real NFL season (Collins was with Cleveland in 2008), he emerged as a steady role player in the league's best offense. Collins didn't have much in the way of numbers, but his blocking was a key factor in the offenses' success. If Atlanta's
Ovie Mughelli
hadn't gotten injured, he'd be in this spot. But Collins is a worthy replacement.
Running back: Darren Sproles, Saints.
Sproles ended up with an NFL record for all-purpose yards. Out of the backfield, he contributed as a runner and receiver and created enormous matchup problems for opposing defenses.
Running back: Michael Turner.
Yeah, I'm going with two running backs because it's my team, I can want and there are two guys that deserve to be on here. Turner looked slow for most of the second half of the season. But he still rushed for 1,340 yards and 11 touchdowns. That's not a bad season by any measure.
Quarterback: Drew Brees, Saints.
He threw for a league-record 5,476 yards and also passed for 46 touchdowns. Brees has been great for a long time, but he took his game to another level. He's the reason the Saints won 13 games without a defense.