July, 31, 2014
7/31/14
6:15
PM ET
EAST RUTHERFORD, N.J. -- Much of the buzz around
New York Giants
camp has been about the impending enshrinement of Michael Strahan in the Pro Football Hall of Fame this weekend. But while he has plenty of love and respect for that great former Giant, punter
Steve Weatherford
is also enjoying the fact that former Raiders punter Ray Guy is going into the Hall of Fame this weekend. Guy will be the first punter ever enshrined.
Weatherford
"Being a punter, it may sound silly for me to say it, but I think it's about time," Weatherford said before Giants practice Thursday. "He's the best player at his position ever. He deserves it."
Weatherford was a soccer player who took up punting at age 15, and he said Guy was the name everyone knew when it came to punting. So it's not just that a punter is going into the Hall of Fame; it's that it's this particular one.
"He's the guy that everybody thinks of," Weatherford said. "He was the person that made people start to care about that position and think it was more than just a body on the team. Really revolutionized the position, and you can't say enough good things about not only what he was able to do for his franchise, and all the Pro Bowls and records, but really for the position itself."
Weatherford enjoys being a punter at a time when the fans and the game place unprecedented value on the position. He said he encounters Giants fans who still commend him for the brilliant game he had against the 49ers in the NFC championship game three seasons ago and the performance he delivered in the Super Bowl against the Patriots two weeks later. He believes Giants fans have special reason to appreciate the importance of his position.
"Just Jeff Feagles," Weatherford said, invoking the name of one of his close predecessors here. "He wasn't out there hitting 65-yard punts, but he was so good at keeping the ball away from the returner and just a really, rock-solid, steady punter. And this is a really difficult place to punt -- very windy, can get nasty, can get cold. And he just did a great job for an incredibly long time.
"I think he's one of the greats, and they don't really appreciate him until we brought a rookie in here and it really went to show you how difficult a place this is to play. Not only the conditions, but this place, if you don't play well, the fans will eat you up."
The reference there is of course to poor Matt Dodge, the rookie famous for kicking the ball to
DeSean Jackson
at the tail end of the Eagles' miracle comeback over the Giants in December 2010. Dodge lost his job to Weatherford in training camp the following season, and after the Super Bowl victory, the Giants rewarded Weatherford with a five-year, $12.5 million contract, of which about $4 million was guaranteed.
"You've got punters in the NFL now that are making $4 million a year and you've got some running backs on your team that are making less than $1 million," Weatherford said. "That just goes to show you, when you do find a really good punter, you've got to hang onto him. Because you never appreciate the punter until you don't have one that you can trust and depend on."
It's a good time to be a punter in the NFL, and for that reason Weatherford and his brethren will salute Ray Guy when he gets that gold jacket.
July, 27, 2011
7/27/11
3:36
PM ET
NFL teams tend to think they can replace specialists somewhat easily.
Often, they are right.
When they're wrong, the money they saved seems trivial in retrospect.
The
Seattle Seahawks
went through quite a few punters and snappers after letting
Jeff Feagles
and
J.P. Darche
get away years ago. They're taking a risk this offseason after watching kicker
Olindo Mare
agree to
terms with Carolina
on Wednesday. Mare set a franchise record for consecutive field-goal attempts without a miss after then-coach Jim Mora ripped him for an "unacceptable" performance against Chicago.
Mare has made 88.0 percent of his field-goal attempts over the last three seasons, the third-highest percentage among players with at least 20 attempts. Only
Neil Rackers
(90.7) and
Ryan Longwell
(90.0) have higher conversion rates during that time,
according to Pro Football Reference
.
Rackers' appearance atop that list affirms the first sentence of this blog entry. The Cardinals parted with Rackers and came out just fine with
Jay Feely
.
One other consideration:
Mare has been strong on kickoffs, but strong legs might carry less value now that the league has moved up kickoffs to the 35. As Mare told Dave Mahler of Sports Radio 950 AM in Seattle
via Brian McIntyre
, the change should extend careers for kickers.
October, 6, 2010
10/06/10
12:31
PM ET
By
Matt Mosley
| ESPN.com
FALLING
1. Andy Reid, head coach, Philadelphia Eagles:
No matter how you slice it, that was an embarrassing display at the end of the first half. Reid's always had trouble with clock management, but he's apparently too stubborn to do anything about it. If ever a man needed a clock specialist, it's this man. I understand that the officials blew his mind by moving the ball back from the one-foot line, but you still need to have a quicker reaction. It was a clueless moment that contributed to a 17-12 loss to the
Washington Redskins
.
[+] Enlarge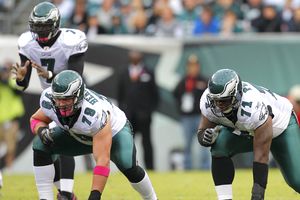 AP Photo/Rob CarrEagles tackle Jason Peters (right) struggled badly against the Redskins.
2. Jason Peters, left tackle, Philadelphia Eagles:
If this man makes the Pro Bowl again, I'm going to boycott the event, which is basically my annual plan anyway. I know
Brian Orakpo
's fast and powerful, but Peters was supposed to be among the best left tackles in the game. Peters was called for two holding penalties -- and there could've been more.
Kevin Kolb
's going to need some help against the 49ers, and I'm not sure Peters is up to the task. I was wrong about this guy big time.
3. Matt Dodge, punter, New York Giants:
Tom Coughlin has shown extreme patience with the rookie, but it's probably time to move on.
Jeff Feagles
spoiled this organization for a lot of years. Right now, Dodge has no clue where the ball's going. The team worked out
Hunter Smith
on Tuesday. I think the Giants should make the change now.
RISING
1. Albert Haynesworth, defensive lineman, Washington Redskins:
I've been highly critical of Haynesworth since the offseason because of his attitude and overall approach. But he made a big contribution to that win Sunday by drawing holding penalties and making plays against the run. I think he's starting to buy into Jim Haslett's defense, and that's a scary thing for opposing offensive coordinators. He still seemed disgruntled about his playing time after the game, but Mike Shanahan won't care as long as his defensive tackle continues to play like this.
2. Ryan Torain, running back, Washington Redskins:
Clinton Portis
might have a difficult time getting his job back when he returns from a groin injury. Torain received the bulk of the carries Sunday against the Eagles and produced 70 yards and a game-changing touchdown. That 12-yard TD on which he ran over
Quintin Mikell
set the tone for an upset win.
1. Donovan McNabb, quarterback, Washington Redskins:
I know he was lousy in the second half, but he still got the job done in a 17-12 win against his former team. You have to admire the way McNabb put aside all the emotion and made big plays in the first half. The deep ball to
Anthony Armstrong
was enormous and the touchdown throw to
Chris Cooley
staked the Skins to an early 14-0 lead. McNabb's 18-yard scramble helped milk the clock late in the game. Something tells me he'll remember to stay in bounds next time he gets that opportunity.
August, 16, 2010
8/16/10
11:27
PM ET
By
Matt Mosley
| ESPN.com
All the ridiculous trash talk for a preseason game was forgotten as blood poured from
Eli Manning
's head in the second quarter.
Brandon Jacobs
thought he was accepting a handoff and Manning appeared to be thinking pass. The result was a bloody mess as the ball popped out and Manning was destroyed by
Calvin Pace
before bumping into safety
Jim Leonhard
with his helmetless head.
[+] Enlarge
Tim Farrell/US PRESSWIREA broken play in the second quarter resulted in a 3-inch gash just below the hairline of Eli Manning.
The Giants said Manning received stitches for a 3-inch gash that appeared to be just below his hairline. If you don't like the sight of blood, don't look too closely at the photos. Manning should be fine after getting 12 stitches, but it was certainly the story of the game. Now, it's time for the Beast to make seven quick observations on tonight's epic battle at New Meadowlands Stadium, which looked nice on TV:
1. Good thing rookie wide receiver Victor Cruz took the field late in the third quarter.
For the most part, the Giants' offense had been awful, but Cruz pushed off with his right arm and then made a remarkable one-handed grab with his left. Maybe it was offensive pass interference, but it was still a thing of beauty. The Giants have no hope of getting this guy to the practice squad now, and they probably don't want to anyway. I'd just written that last sentence when Cruz made another gorgeous adjustment on the ball in the fourth quarter. OK, there's another touchdown. Cruz finished with six catches for 145 yards and three touchdowns. This is getting ridiculous.
Steve Smith
's looking for a helmet.
2. Decent debut for Perry Fewell as the new defensive coordinator, but there were some shaky moments.
The Jets' touchdown in the first half came on a play when the Giants didn't have a clue who was supposed to be on the field.
Mark Sanchez
just lobbed a pass to an uncovered
Brad Smith
for an easy touchdown. Tom Coughlin has to be seething about that play. Otherwise, the Giants did a nice job getting off the field in the red zone. The Jets were forced to settle for three short field goals and a missed attempt by former Cowboys kicker
Nick Folk
. But there's no reason the goal-line defense should have that tough of a time getting on the field. Fewell had to be furious with that result.
3. The Giants need to start looking for a veteran punter.
I know
Matt Dodge
has a big leg, but he was scary bad against the Jets. He didn't get any hangtime and he also had a punt blocked. Now I'd blame that more on the blocking than Dodge, but it still looked like he could've been a bit quicker on his approach. At this rate, Coughlin will have to talk
Jeff Feagles
out of retirement. I'm halfway serious, by the way.
4. A healthy Chris Canty will make a big difference on defense.
Canty is once again playing with confidence from his defensive tackle spot. He was never right physically last season, but he's now disrupting plays at the line of scrimmage. One touchdown run was called back because Canty drew a holding penalty. He'd already drawn another one in the first quarter. He's an enormous presence in the middle of that defense.
5. I know Terrell Thomas has had a nice camp, but he took a poor angle on a short pass to LaDainian Tomlinson on third-and-13.
You have to know what the down-and-distance is and Thomas really looked bad on the play. Perhaps he'd been reading all the stories about how Tomlinson's lost a step. But when you're in that situation, you have to do a better job.
6. Ahmad Bradshaw is the feature running back for the Giants.
He was on the field first Monday, but that doesn't mean a whole lot. The important thing is that he's obviously the team's best back at this point. You saw what he did on that short pass from Manning in the second quarter. He raced for 51 yards and he showed some great balance to avoid tackles and stay in bounds. He's a home-run back who finally seems to be completely healthy. Could be a special season for the former seventh-round pick. I smell 1,100 yards and 8 touchdowns.
7. First-round pick Jason Pierre-Paul will have highs and lows.
In the second quarter, Pierre-Paul was just engulfed by the Jets' offensive line on a few plays. He spent more time on his knees than anything else. But then he raced past veteran
Damien Woody
for a sack on a speed rush. It was impressive to see him lower his right shoulder and turn the corner in a hurry. I was also impressed to see second-round pick
Linval Joseph
come knifing through to make a play in the backfield. There will be growing pains, but both players will be in the rotation from Day 1. One more note:
Santonio Holmes
made former Jackson State standout
DJ Johnson
look really bad at cornerback. Johnson just didn't have a chance against the former Steelers Super Bowl hero. But Johnson kept playing hard and ended up with an interception in the fourth quarter. If anyone's interested,
the Giants won the game, 31-16
.
July, 5, 2010
7/05/10
12:00
PM ET
A weeklong look at current or former players or coaches with Hall of Fame potential in the division.
Chicago Bears:
Brian Urlacher
, middle linebacker
Claim to fame:
Since joining the Bears in 2000, Urlacher has made six Pro Bowl teams and been named an All-Pro four times. He was the NFL's Defensive Rookie of the Year in 2000 and Defensive Player of the Year in 2005.
[+] Enlarge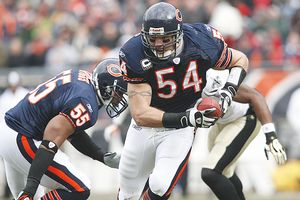 Tom Fluegge/US PresswireExtraordinarily athletic for a linebacker, Brian Urlacher has recorded 17 interceptions and 37.5 sacks in his career.
Case for enshrinement:
Urlacher was the best player on a defense that dominated the league during the middle years of this decade, one that overcame the Bears' offensive woes and led them to the Super Bowl in 2006. As a middle linebacker in the Tampa 2 scheme, Urlacher carried as much responsibility as any defensive player in the game -- calling defensive signals, chasing down ball carriers and covering the deep middle of the field during pass plays.
In that role, Urlacher has been an athletic playmaker unmatched in his prime, notching 17 interceptions and 37.5 sacks, while getting downfield faster than any linebacker in the game.
Case against enshrinement:
Injuries have slowed Urlacher in the past three seasons and he might not have compiled enough Canton-caliber seasons before that point. Detractors also could suggest he benefited disproportionately from the play of defensive tackles
Tommie Harris
and
Tank Johnson
, who kept blockers away from Urlacher more often than not. Hall Of Fame voters haven't been kind to even the best of Bears defenders. Mike Singletary and Dan Hampton are the only Chicago defensive stars from the 1985 Super Bowl team in Canton. Their teammate Richard Dent is now a six-time finalist for Hall of Fame induction but still is waiting for his official invite.
Parting shot:
As we noted last fall
, Urlacher might not stand as the best linebacker of his era.
Ray Lewis
,
Junior Seau
and
Derrick Brooks
might have something to say about that.
Detroit Lions:
Billy Sims, running back
Claim to fame:
He was a dominant runner during the early 1980s. Sims became the Lions' all-time leading rusher even though a knee injury ended his career after 4 1/2 years. (
Barry Sanders
later overtook him.) Sims was a three-time Pro Bowl player, still ranks as the Lions' No. 2 rusher, and has the second-most rushing touchdowns in team history.
Case for enshrinement:
It's obviously a long shot, but it's important to remember how brightly Sims' star shined during his brief career. He rushed for 153 yards in his first NFL game, led the league with 16 touchdowns as a rookie and finished his career with 5,106 yards in 60 career games.
His career ended midway through the 1984 season, at a time when he was averaging a career-high 5.3 yards per rush. There is precedent for acknowledging Hall-worthy careers cut short by injuries. Did you know that Chicago Bears Hall of Fame running back Gale Sayers, forced to retire at age 28, gained fewer career rushing yards (4,956) than Sims in more games (68)?
Case against enshrinement:
Sayers was a special case who was also a dangerous return man. In reality, it's difficult for voters to consider a running back who ranks No. 106 on the NFL's all-time rushing list. But Sims was one of the NFL's top players during the time he spent in the game.
Parting shot:
Sims' impact on the team also should be considered. The Lions were 2-14 the year before he was drafted. In 1980, they improved to 9-7. By 1983, they were division champions.
Green Bay Packers:
Jerry Kramer, guard
[+] Enlarge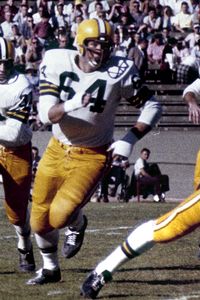 David Boss/US PresswireThe Packers won three NFL Championships and two Super Bowls during Jerry Kramer's career.
Claim to fame:
During an 11-season career from 1958-68, Kramer was a five-time All-Pro. He was named to the NFL's All-Decade Team for the 1960s and was the only guard selected for the NFL's 50th Anniversary team. Every other player on that team has been enshrined in the Hall of Fame.
Case for enshrinement:
As with most successful offensive linemen, most of Kramer's contributions came in a team context.
During his tenure, the Packers rushed for 21,637 yards -- the second-highest total among all NFL teams over that period. Kramer's blocking was one of the reasons fullback Jim Taylor posted five consecutive 1,000-yard seasons. Over that stretch, Taylor rushed for more yards than anyone but Cleveland's Jim Brown. Overall, the Packers made the playoffs eight times in Kramer's career and won three NFL Championships and two Super Bowls.
Case against enshrinement:
Guard isn't usually a highly valued position. In the history of the game, only 11 players who were primarily guards have made the Hall of Fame.
Voters could also be split on the source of the Packers' running success, from Vince Lombardi's coaching to the individual talents of Taylor and running back Paul Hornung.
Parting shot:
Kramer made one of the most famous blocks in history, clearing the way for Bart Starr's quarterback sneak to win the 1967 "Ice Bowl" game.
Minnesota Vikings:
Jim Marshall, defensive end
Claim to fame:
Marshall set a then-NFL record by playing in 282 consecutive games, of which he started 270. He played in two Pro Bowls, four Super Bowls and recovered an NFL-record 29 fumbles.
Case for enshrinement:
If "answering the bell" is one of the main prerequisites for NFL players, then Jim Marshall is one of the greatest of all time. Although some of the stories have been embellished a bit over time, suffice it to say that Marshall battled through enormous pain and legitimate injuries to play for so long and at such a high level.
A punter (
Jeff Feagles
) and a quarterback (
Brett Favre
) have since surpassed his record, but it's doubtful a defensive lineman ever will approach it. It would take 17 seasons of starting 16 games to do it. (Or 15 years if the NFL moves to an 18-game season.)
The longevity mark sometimes overshadows Marshall's skills as a pass-rusher. Although sacks weren't an official statistic then, the Vikings credit him with 127 -- only three fewer than teammate and Hall of Fame tackle Alan Page and 13 more than newly elected tackle
John Randle
.
Case against enshrinement:
Like it or not, one of those 29 fumble recoveries always will haunt Marshall's candidacy. In 1964, he picked up a fumble against San Francisco and ran 66 yards in the wrong direction for what was ruled a safety.
Parting shot:
Another factor that might not be fair but is worth considering: Two members of the Purple People Eaters, Page and Eller, are already in the Hall of Fame. Would voters agree that 75 percent of one defensive line should be enshrined?
February, 18, 2010
2/18/10
11:16
PM ET
The NFL's list
of projected unrestricted free agents for 2010 included one column showing agents and another showing starts.
This made it easy to see which agents had the most projected UFA clients, and how many starts those clients averaged in 2009.
The result is the chart below. Drew Rosenhaus has more than 100 clients across the league, more than any agent. The NFL lists 15 of them on its projected UFA list, including
Terrell Owens
and three NFC West players (Randy McMicahel,
Anthony Becht
and
Olindo Mare
).
Agents Peter Schaffer and Brian Mackler are next on the list with seven projected UFA clients apiece, but no agent with at least four players listed can match Tony Agnone for players with lots of 2009 starts. Agnone's list features 16-game starters
Casey Rabach
,
Kyle Vanden Bosch
and
Bobbie Williams
, plus seven-game starter
Michael Gaines
.
The NFL has no agents listed for
Phillip Daniels
,
Tully Banta-Cain
,
Leigh Bodden
,
Mike Furrey
,
Damion Cook
,
Tank Johnson
and
Matt Ware
.
Jeff Feagles
,
Jeff Zgonina
,
Daunte Culpepper
,
Paul Spicer
,
Clinton Hart
and
Vernon Fox
are listed as representing themselves.
February, 16, 2010
2/16/10
1:00
PM ET
By
Matt Mosley
| ESPN.com
»
AFC Free Agency
:
East
|
West
|
North
|
South
»
NFC
:
East
|
West
|
North
|
South
An early look at the free-agent situation in the NFC East.
Note
: These projected lists reflect notable unrestricted free agents for each team. The NFL will not issue an official list of free agents until the signing period begins March 5.
Dallas Cowboys
Unrestricted free agents:
G
Montrae Holland
Key figures:
The Cowboys don't have a huge interest in retaining Holland, a man who's never really challenged for playing time. But Dallas has a long list of restricted free agents because of the likely scenario of an uncapped 2010 season. Wide receiver
Miles Austin
is obviously the biggest name on the list. The Cowboys would like to get a long-term contract done, but Austin's going to be asking for big money after his breakout season. For now, the Cowboys will likely sign Austin to the highest tender, which would pay him roughly $3 million in 2010. There's also a chance Dallas will try to work something out with restricted free agent
Marcus Spears
. Owner Jerry Jones has been very complimentary of Spears' work in '09, so we'll see if he receives an extension. It will also be interesting to see whether the Cowboys reward safety
Gerald Sensabaugh
for a fine '09 season. He's seeking a multiyear extension. But with the potential of a lockout in 2011, negotiations are up in the air.
New York Giants
Unrestricted free agents:
QB
David Carr
, LB
Danny Clark
, P
Jeff Feagles
, DT
Fred Robbins
[+] Enlarge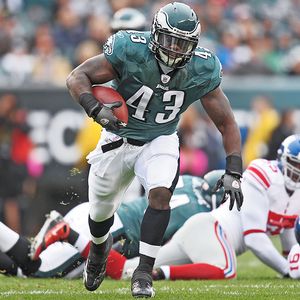 Drew Hallowell/Getty ImagesFullback Leonard Weaver rushed 70 times for 323 yards and two TDs in 2009.
Key figures:
The Giants would like an upgrade at the backup quarterback position, but it's not like there are a bunch of reliable candidates floating around. It will be interesting to see how much progress
Rhett Bomar
makes this offseason. Coach Tom Coughlin loves what Clark brings to the locker room, but the player looked slow in coverage and he's a progress stopper at this point in his career. It's time to let him move on. Feagles can punt until he's 50 -- and he might give it a try. Robbins was benched late in the season, so the writing's on the wall with him. His production has tailed off the past two seasons because he's been asked to stay on the field too much.
Philadelphia Eagles
Unrestricted free agents:
DE
Jason Babin
, S
Sean Jones
Key figures:
The man who's missing a major payday (for a fullback) is
Leonard Weaver
. He was an All-Pro for the Eagles and he would be an unrestricted free agent if not for the uncapped season in 2010. The Eagles now hold the hammer in negotiations -- and they've been known to use it at times. Babin is a decent pass-rush specialist, but he sort of faded down the stretch. Jones is a capable backup, but he should not be in the starting mix. Philadelphia would be wise to work something out with restricted free-agent guard/center
Nick Cole
. He's a versatile player who bailed out Andy Reid when the
Stacy Andrews
experiment didn't pan out in '09. And no matter his status as a restricted free agent, it's time to get something done with
Jason Avant
. He's quietly carved out a very important niche in this offense.
Washington Redskins
Unrestricted free agents:
LS
Ethan Albright
, OT
Levi Jones
, DE
Phillip Daniels
, C
Casey Rabach
, P
Hunter Smith
, G
Mike Williams
, DE
Renaldo Wynn
, P
Todd Yoder
Key figures:
Cornerback
Carlos Rogers
is a restricted free agent, but he's looking for a new destination. It will be interesting to see what Mike Shanahan and Jim Haslett choose to do with Rogers. Will they try to get him back on the right path or see if they can deal him for a mid-round draft pick? This unrestricted list doesn't have a lot of juice. Rabach could certainly help a team at center, but he didn't set the league on fire in '09. It's probably time to move on without aging players such as Wynn and Daniels. I enjoyed the Williams weight loss story, but it's hard to imagine him being part of the rebuilding process at Redskins Park.
This we'll be the dullest free-agency period in years, but we'll be here to cover all the non-action.
August, 24, 2009
8/24/09
12:09
PM ET
Posted by ESPN.com's Matt Mosley
The fact that a free-agent rookie punter for the Titans booted a ball off the super-sized video board at Cowboys Stadium on Friday quickly became one of the biggest stories in the league. The fact that Peter King led his Monday Morning Quarterback column with a punting story over Brett Favre's debut with the Vikings is pretty remarkable in itself.
Jones is one of the most respected owners in the league, but I'm afraid folks on the NFL's competition committee aren't going to give him the benefit of the doubt. I thought the following anecdote from Colts general manager Bill Polian was pretty telling:
"The irony is that our stadium architect (at new Lucas Oil Stadium) wanted to hang the video boards the same way in our stadium," Polian told King. "So we put a metal beam about 90 feet above the ground and had our punter at the time, Hunter Smith, punt the ball up there trying to hit it. He hit it the majority of the time. That's why we put our replay boards on the wall."
The message is clear: If Hunter Smith can reach the 90-foot-high scoreboard, something's wrong. I've read several stories suggesting that Jones should be embarrassed by what happened Friday. Why didn't he do his homework on how high punters kick the ball?
Well, my opinion is that Jones knew this was going to happen. And the man's shameless, which makes it tough to embarrass him. With this controversy, his new stadium has been part of the news cycle for three days now. Fans and reporters alike are fascinated by the implications of having a scoreboard that's in the field of play.
It's like Jones owns a miniature golf course -- and he can't have enough windmills. He had a sly grin on his face Friday as he explained how normal NFL punts shouldn't hit the enormous scoreboard. But I think he had to know this would happen.
The Red Sox have the Green Monster, the Cowboys now have the Blue HD Monster. When Jones dropped the phrase "entertainment value" on me late Friday evening, he wasn't talking about how great the screen looked. He envisions a situation in which punters have to take the scoreboard into account and make sure they kick around it.
In a lot of ways, rookie punter A.J. Trapasso did Jones a huge favor. He gave Friday's debut a memorable sideshow. In the end, I think Jones will be forced to raise the video board about 20 feet. A Cowboys player told me Friday night that he'd heard the Cowboys were already raising the scoreboard in October to make room for U2's giant stage. ESPN's Chris Mortensen backed that scenario up with his report Sunday.
If the Cowboys can raise the scoreboard for Bono, they should extend Jeff Feagles the same courtesy.
January, 6, 2009
1/06/09
2:00
PM ET
| | |
| --- | --- |
| | |
| | Larry French/Getty Images |
| | The Giants and Eagles split their regular-season series, with Philadelphia taking the latest matchup on Dec. 7. |
Posted by ESPN.com's Matt Mosley
The Eagles and Giants will participate in what could be one of the best NFC divisional playoff matchups in years. And that's just one of the reasons I plan to file 67 blog entries on the game before Sunday at 1 p.m. ET.
The Eagles are talking about being the New York Giants of 2007, and they appear to be hitting their stride at the right time. The Giants are also hoping to be the Giants of 2007 -- albeit from a different starting point.
Podcast: Football Today

Jeremy Green talks NFC playoffs

with Matt Mosley, those dangerous wild-card teams with Len Pasquarelli and reacts to the latest coaching news.
In the past, we've staged debates with award-winning writers such as Pat Yasinskas (NFC South) and James Walker (AFC North). For this week's debate, we racked our (immense) brains for the perfect foe. Recognizable names such as Philadelphia Daily News columnist Rich Hofmann and New York Daily News columnist Gary Myers were early candidates, but they didn't have the proper blog software. In the end, we chose the one man at ESPN.com who really seems to get me:
Me.
So let the debate begin:
Will the bye week help or hurt the mighty Giants?
Matt Mosley: The Giants used last season's regular-season finale against the Patriots to jump-start their Super Bowl run. This year, the Giants already knew they would have the bye heading into the last game against the Vikings. Tom Coughlin wisely rested Eli Manning and some of his key players in the second half, so the last-second loss didn't really affect the team's psyche.
Coughlin did a nice job of having some full-speed workouts during the bye week to try to keep the team's physical edge. Mentally, the Week 16 win over the Panthers did wonders for this team. On paper, you see that the Giants have lost three of their past four games. But that's not something they see as an issue. With a healthy Brandon Jacobs, this offense takes on a much more physical identity. He'll give the Giants the edge they didn't have against the Eagles in a loss in the Meadowlands on Dec. 7. This team will come out fresh and the combination of Jacobs and Derrick Ward will be a lot for the Eagles' defense to handle.
Mosley: The Eagles might be the most dangerous team in the playoffs right now. They weren't supposed to be here, and that seems to have a calming effect on the team. Yes, the team is banged up right now, but the players seem to be in a nice rhythm. As Andy Reid was quick to point out Monday, recent trends show that the first-round bye isn't quite as beneficial as we once thought. The Cowboys certainly clocked out early last season and the Eagles are hoping to do that to the Giants.
The Eagles don't have any reason to be tight going into this game. Quarterback Donovan McNabb is playing some of the best football of his career and defensive coordinator Jim Johnson loves facing this offense without Plaxico Burress. And that leads us to our next topic.
| | |
| --- | --- |
| | |
| | NFL.com Video |
| | Relive the Giants' journey to the NFC's No. 1 seed in the playoffs as they look to repeat. |
How much of a role will Plaxico Burress' absence play in this game?
Mosley: Though he might not admit it, Johnson can be a lot more creative with his blitz packages when Burress is out. It allows him to play a lot of man coverage and there's not as much pressure on his short cornerbacks. That played a big role in the Eagles' 20-14 win over the Giants last month. At 6-foot-5, Burress required constant attention from the Eagles, and he'd put up great numbers against them over the past seven or eight games. He had four 100-yard games and was a constant threat in the red zone. Johnson would've put Asante Samuel on Burress and then shaded a safety over the top. He won't need to do that against Burress' replacement, Domenik Hixon.
It also allows Johnson to sell out to stop the Giants' running game. Did you see how they turned everything back inside on Adrian Peterson in the second half last Sunday? Against Brandon Jacobs, they'll try to never let him get a head of steam. And with big Victor Abiamiri possibly returning to the lineup, the Eagles have the type of run defense that can give the Giants problems.
Matt Mosley: The Giants have had plenty of time to adjust to life without Burress. After a shaky start, Hixon has settled down and he's making plays again. Hixon's explosive in his own right, and Eli Manning thinks the Giants can exploit the Eagles' blitz. If the Giants can protect Man
ning, he'll have a chance to make some big plays in the passing game. The absence of Burress also has allowed tight end Kevin Boss to become more of a factor. He was an afterthought early in the season, but now he gives Manning another reliable target in the red zone. Burress wasn't putting up great numbers before he was suspended and put on the non-football injury list. Tom Coughlin doesn't believe in excuses and that's why his team has moved on without Burress.
| | |
| --- | --- |
| | |
| | Evan Pinkus/Getty Images |
| | Brian Westbrook had over 200 total yards and two TDs in the Eagles win over the Giants in December. |
Will the Giants allow Eagles running back Brian Westbrook to exploit them again?
Matt Mosley: When Westbrook exploded for a huge game against the Giants in the Meadowlands last month, Giants linebacker Antonio Pierce was coming off an emotional couple of days. He'd met with the New York police to discuss his role in Burress' accidental shooting, and that had to serve as a distraction. Coughlin said Monday that the Giants simply called the wrong defensive play when Pierce got matched up with Westbrook one-on-one on a little wheel route that resulted in a long touchdown. Defensive coordinator Steve Spagnuolo will make sure that doesn't happen again. He will know where Westbrook is at all times, and you'll see 11 guys running to the ball. Some teams like to allow Westbrook to catch the short ones and then surround him with defenders. You just can't allow one of those screens that helped bring down the Vikings.
Mosley: The Eagles want to get Westbrook at least 25 touches Sunday -- and that's a conservative estimate. He banged away at the Giants' defensive line for 33 carries in that December game. Reid blamed the uncharacteristic game plan on high winds inside Giants Stadium, and I'm sure some Eagles fans are hoping for similar conditions. But both of these teams are used to playing in the elements. It will come down to which team makes the fewest mistakes.
Both quarterbacks do a nice job of limiting their mistakes, although Manning has the edge in that category. And one last thing: This game could come down to a special-teams play. The Giants blocked a David Akers field goal and returned it for a touchdown in the last game. And keep your eye on DeSean Jackson in the return game. The rookie was a huge part of Sunday's win over the Vikings. If Jeff Feagles outkicks his coverage or if the unit allows any type of seam, Jackson will make them pay. The Eagles have the edge on special teams because of Jackson.
How long will it take Andy Reid to abandon the run?

Mosley: Reid at least made a good-faith effort to run the ball against the Vikings. And though the Eagles didn't have a lot of success on the ground, it allowed them to help control clock and keep Adrian Peterson off the field. In the Eagles' nine wins, running back Brian Westbrook has averaged 18.9 attempts and nearly 80 yards per game. He's averaged 4.2 yards per carry and picked up six rushing touchdowns. In the team's six losses (and the tie), Westbrook barely averaged over three yards per carry. And Reid only called 13 runs a game in those losses. It seems pretty simple that more attempts seem to translate to more success, but Reid's a stubborn man. Still, I think he'll be smart enough to stay with the running game in the frigid Meadowlands on Sunday.

Matt Mosley: It's hilarious that people now think Reid's found religion in running the ball. He's still going to end up throwing the ball about 65 percent of the time. In the West Coast offense, he thinks you should aim for a 60-40 pass-to-rush ratio, but that's not Reid. The funny thing is that Reid admitted in an interview with the Philadelphia Inquirer last week that he used to become frustrated as an offensive lineman at BYU when Lavell Edwards refused to run the ball. Now, he's the one causing the frustration. The criticism is that Reid abandons the run if the first three carries or so don't yield any significant yardage. That's actually a fair criticism. But in the Meadowlands last month, Westbrook gained nine yards on his first eight carries. Reid stuck with him and he ended up with 133 yards on 33 carries. Will Reid have that type of patience Sunday? Well, a lot of it will depend on what the wind is doing.
I encourage you to join the debate in the comments section. I'll be in there a little later.
December, 17, 2008
12/17/08
9:24
AM ET
Posted by ESPN.com's Mike Sando

Jim Thomas of the St. Louis Post-Dispatch says the Rams plan to conduct a full coaching search after the season. Interim coach Jim Haslett will be one of the candidates. Expect Billy Devaney to lead the search. Expect Jay Zygmunt to step down. Expect John Shaw to serve as a consultant without direct involvement in the process.
Also from Thomas: A chat transcript featuring his take on ball-hawking Rams safety Oshiomogho Atogwe. Thomas: "I'm not saying he's Ronnie Lott. I'd still like to see him be more consistent in coverage, and do better with open field tackling. But he's pretty good. Playmakers are hard to find. He's a very hard worker. And I think he remains an ascending player."
Bryan Burwell of the St. Louis Post-Dispatch feels like doing the "Electric Slide across the kitchen table" upon hearing that football people will lead the Rams' search for a new coach.
Roger Hensley of stltoday.com polls Post-Dispatch reporters for likely Rams coaching candidates. Thomas points to Titans defensive coordinator Jim Schwartz.
Bill Coats of Around the Horns points to statistics in saying Rams punter Donnie Jones should have made the Pro Bowl over the Giants' Jeff Feagles. I could make a case for either punter, but statistical comparisons can be tricky for punters kicking in vastly different conditions.

Daniel Brown of the San Jose Mercury News says 49ers legend Bryant Young endorses Mike Singletary as the team's coach beyond this season.
Also from Brown: Coaches and players around the league have quickly come to respect 49ers linebacker Patrick Willis, named to his second Pro Bowl in two NFL seasons. Vikings coach Brad Childress once referred to Willis as a "rolling ball of butcher knives." Bengals receiver Chad Johnson called him "Bam Bam" for hitting everything in sight.
Matt Barrows of the Sacramento Bee says the Willis wasn't expecting Pro Bowl recognition this season.

Kent Somers of the Arizona Republic says the Cardinals field their most Pro Bowl selections since the 1977 season.
Darren Urban of azcardinals.com says Adrian Wilson will continue wearing No. 2 instead of his usual No. 24 in practice to remind himself he needs to keep working if he wants to be the best. Wilson is headed to the Pro Bowl for the second time in three seasons.
Mark Heller of the East Valley Tribune says Larry Fitzgerald is the first Cardinals player since Aeneas Williams to appear in back-to-back Pro Bowls.

Clare Farnsworth of the Seattle Post-Intelligencer says Walter Jones passed Cortez Kennedy for most Pro Bowl selections by a Seahawks player.
Also from Farnsworth: Signing Jeff Rowe gives the Seahawks four quarterbacks heading into the offseason.
December, 16, 2008
12/16/08
5:30
PM ET
Posted by ESPN.com's Matt Mosley
Cowboys: TE Jason Witten, C Andre Gurode, G Leonard Davis, DT Jay Ratliff, OLB DeMarcus Ware
Analysis: The Cowboys sent 13 players to the Pro Bowl last season, which was way too much. Witten, Davis, Ratliff and Ware all deserve to be in the Pro Bowl. They should've been joined by Bradie James, who's had an excellent season. He's become an excellent pass-rusher and he's a game-changing player. Gurode might be the most talented center, but hasn't had a great season by his standards. I think Giants center Shaun O'Hara probably deserved the starting nod over Gurode. But the offensive line is where reputation takes over. Bears center Olin Kreutz was starting in the Pro Bowl after his performance had tailed off. Gurode was truly the best center in the conference last season. And that's why he'll keep going to Hawaii unless he starts playing poorly. Left tackle Flozell Adams will probably sneak into the Pro Bowl because of Chris Samuels' season-ending injury. I hope that's not the case, though. Cowboys right tackle Marc Colombo actually deserves it over Adams.
Eagles: CB Asante Samuel, FS Brian Dawkins
Analysis: The Eagles didn't land a starter this year. Brian Westbrook is certainly playing better than Clinton Portis at this point of the year, but injuries kept him out of the Pro Bowl mix. Eagles defensive end Trent Cole has quietly had a solid season, but he doesn't have the sack totals that attract voters. Cole is superb against the run, and he doesn't get enough credit for that. Stewart Bradley has been playing really well at middle linebacker, but he came on too late to catch the voters' attention. And Eagles fans didn't stuff the ballots like the Redskins. I wish right tackle Jon Runyan could get a trip to Hawaii as part of a lifetime achievement award. He's played through a painful knee injury lately and last season he played with a broken tailbone. The Eagles have a top-five sack differential and Runyan's a big part of that. But overall, I don't think there were any significant snubs. I wish DeSean Jackson could make it in some capacity, but we'll put him on our all-rookie team.
Giants: QB Eli Manning, G Chris Snee, C Shaun O'Hara, DE Justin Tuck, P Jeff Feagles, PK John Carney
Analysis: All of the guys on this list deserve to be in Hawaii. O'Hara probably deserves to be starting. I hate it that either Fred Robbins and Barry Cofield were passed over. Robbins had 5.5 sacks right out of the gates and he's an excellent run-stuffer. I think the Giants deserve more respect than they got. And David Diehl deserves to be an alternate despite the fact that he got worked over by DeMarcus Ware on Sunday night. Tuck's become one of the best defensive players in the league. He's often triple-teamed, but he still make plays. I could make an argument for Manning starting over Kurt Warner, but those eight sacks are still dancing in my head. Now that we've seen the Giants without Plaxico Burress, maybe he deserves a spot in the Pro Bowl. And one more thing: Corey Webster has been better than Packers cornerback Charles Woodson and Asante Samuel. By the way, I wouldn't have any problem with Michael Johnson and James Butler showing up in Hawaii as alternates.
Redskins: FB Mike Sellers, RB Clinton Portis, TE Chris Cooley, OT Chris Samuels
Analysis: Glad to see the 33-year-old Sellers finally make it as a starter. He was brilliant blocking for Portis early in the season, and he's continued to play well as the Redskins faded. Portis was headed for an MVP before injuries and poor play by his offensive line brought him back to earth. It's hard to believe that can you leave DeAngelo Williams off the Pro Bowl team. Samuels and Cooley have both been solid. Cooley can't find the end zone but he's been Jason Campbell's most consistent target. I can't imagine how bad this offense would be without him. Leaving London Fletcher off the list is the biggest snub in the NFC East. He's been outstanding this season and he's the heart and soul of that defense. I wish all the people in Washington who rallied around marginal players had focused on Fletcher instead.
NFC Pro Bowlers

Offense

Position
Starter(s)
Reserves
Quarterback
Kurt Warner, Arizona
Drew Brees, New Orleans
Eli Manning, New York Giants
Running back
Adrian Peterson, Minnesota
Michael Turner, Atlanta
Clinton Portis, Washington
Fullback
Mike Sellers, Washington
Wide receiver
Larry Fitzgerald, Arizona
Anquan Boldin, Arizona
Steve Smith, Carolina
Roddy White, Atlanta
Tight end
Jason Witten, Dallas
Chris Cooley, Washington
Tackle
Jordan Gross, Carolina
Walter Jones, Seattle
Chris Samuels, Washington
Guard
Steve Hutchinson, Minnesota
Chris Snee, New York Giants
Leonard Davis, Dallas
Center
Andre Gurode, Dallas
Shaun O'Hara, New York Giants

Defense

Defensive end
Julius Peppers, Carolina
Justin Tuck, New York Giants
Jared Allen, Minnesota
Defensive tackle
Kevin Williams, Minnesota
Jay Ratliff, Dallas
Pat Williams, Minnesota
Outside linebacker
DeMarcus Ware, Dallas
Lance Briggs, Chicago
Derrick Brooks, Tampa Bay
Inside linebacker
Patrick Willis, San Francisco
Jon Beason, Carolina


Cornerback
Charles Woodson, Green Bay
Antoine Winfield, Minnesota
Asante Samuel, Philadelphia
Free safety
Nick Collins, Gree
n Bay
Brian Dawkins, Philadelphia
Strong safety
Adrian Wilson, Arizona

Special teams

Punter
Jeff Feagles, New York Giants
Place-kicker
John Carney, New York Giants
Kick returner
Clifton Smith, Tampa Bay
Special-teamer
Sean Morey, Arizona
November, 20, 2008
11/20/08
12:30
PM ET
Posted by ESPN.com's Matt Mosley
If you've attended a Redskins home game over the past couple of months, you're familiar with the club's aggressive "Vote the Redskins Ticket" Pro Bowl campaign. There are yard signs, bumper stickers, pins (worn by Redskins blogger Matt Terl) and life-sized pictures of Hall of Famers Sonny Jurgensen and Sam Huff. In fact, the campaign has worked so well that the Redskins would have 17 starters if voting ended today -- and coaches and players weren't allowed to vote.
Washington may have the worst punt-coverage unit in the NFL, but that hasn't stopped Ryan Plackemeier from vaulting to No. 1 in the polls. And with all the great defensive ends in the NFC, Andre Carter has made his way to No. 2. As of Nov. 18, here's a look at how NFC East players were doing in the fan voting:
Quarterbacks: 2. Eli Manning, Giants 3. Jason Campbell, Redskins 5. Donovan McNabb, Eagles
Running backs: 1. Clinton Portis, Redskins 3. Marion Barber, Cowboys. 5. Brandon Jacobs, Giants
Wide receivers: 1. Santana Moss, Redskins 4. Plaxico Burress, Giants
Fullbacks: 1. Mike Sellers, Redskins 2. Madison Hedgecock, Giants 3. Deon Anderson, Cowboys
Tight ends: 1. Chris Cooley, Redskins 2. Jason Witten, Cowboys 3. Kevin Boss, Giants
Centers: 1. Casey Rabach, Redskins 2. Shaun O'Hara, Giants 5. Andre Gurode, Cowboys
Guards: 1. Pete Kendall, Redskins 2. Randy Thomas, Redskins 3. Chris Snee, Giants 5. Leonard Davis, Cowboys
Tackles: 1. Chris Samuels, Redskins 2. Flozell Adams, Cowboys 3. David Diehl, Giants 4. Kareem McKenzie 5. Stephon Heyer, Redskins
Defensive ends: 1. Justin Tuck, Giants 2. Andre Carter, Redskins
Defensive tackles: 1. Cornelius Griffin, Redskins 2. Kedric Golston, Redskins 5. Fred Robbins, Giants
Outside linebackers: 1. DeMarcus Ware, Cowboys 2. Jason Taylor, Redskins 3. Marcus Washington, Redskins 4. Rocky McIntosh, Redskins
Inside linebackers: 1. London Fletcher, Redskins 3. Antonio Pierce, Giants 5. Zach Thomas, Cowboys
Cornerbacks: 1. Shawn Springs, Redskins 2. Carlos Rogers, Redskins 4. Asante Samuel, Eagles
Strong safety: 1. Chris Horton, Redskins 5. James Butler, Giants
Free safety: 1. LaRon Landry, Redskins 2. Brian Dawkins, Eagles 4. Michael Johnson, Giants 5. Ken Hamlin, Cowboys
Kickers: 1. Shaun Suisham, Redskins 2. John Carney, Giants 4. Nick Folk, Cowboys
Punters: 1. Ryan Plackemeier, Redskins 2. Jeff Feagles, Giants 5. Sav Rocca, Eagles
Kick returners: 1. Rock Cartwright, Redskins 4. Felix Jones, Cowboys 5. DeSean Jackson, Eagles
Special teamers: 1. Khary Campbell, Redskins 2. Chase Blackburn, Giants 4. Keith Davis, Cowboys
Special thanks to Mike Sando for his Pro Bowl spreadsheet.