September, 27, 2012
9/27/12
1:00
PM ET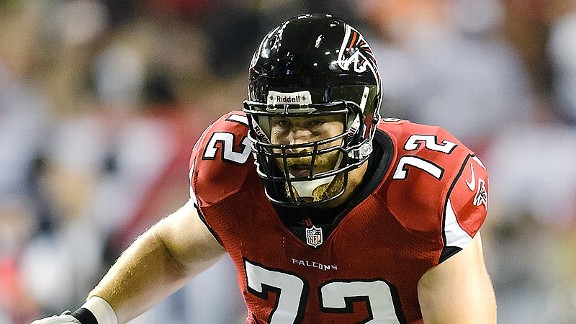 AP Photo/Paul Abell Sam Baker's improved play at left tackle is one reason the Atlanta Falcons are 3-0.
You need to go back to what seemed like the winter of
Sam Baker
's NFL career to fully understand why everything is in full bloom these days.
The left tackle is playing the best he ever has and it's no coincidence the
Atlanta Falcons
are off to a 3-0 start.
It wasn't always like this. In fact, it's never even been close to this for Baker, whose first four seasons were filled with injuries and criticism. It got so bad in a 2011 season in which Baker lost his starting job that he was pretty sure his days in Atlanta were over.
But two intertwined events happened last winter that changed Baker's perspective on life and maybe -- just maybe -- will go a long way toward changing the fortunes of a franchise.
The first came on Christmas. That's the day Baker and wife Antoinette had their first child. That's the day Gunnar Harvey Baker was born.
"All of the sudden, you realize it's not all about you,'' Baker said. "All of the sudden, I realized it doesn't matter if everybody in the world hates me and says I can't play because he was there to love me and he didn't care one bit about football. He needed me and was going to love me no matter what.''
It's ironic because within the next couple of weeks, Baker would get a similar message from someone else. Even with Gunnar around, nothing else was guaranteed for Baker.
Atlanta's season, one in which the Falcons seemingly had gone all-in for the Super Bowl with the draft-day trade to get
Julio Jones
, ended long before anyone expected. It ended with an ugly 24-2 loss to the
New York Giants
in the first round of the playoffs.
"I had struggled and hadn't played well at all,'' Baker said. "I really wasn't sure what was going to happen. I thought I might be gone.''
A lot of people just assumed Baker would be gone. Before the team buses even departed the Meadowlands that day, fans already were talking about how the Falcons needed to go find a new left tackle to protect quarterback
Matt Ryan
's blind side. The Falcons didn't have a first-round draft pick, but maybe they could trade for one. Or maybe they could go out and find one in free agency.
[+] Enlarge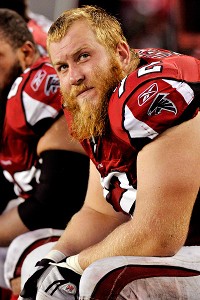 Fernando Medina/US PRESSWIRE"I really wasn't sure what was going to happen," Sam Baker said of his status following last season. "I thought I might be gone."
As the brain trust got settled back into the team's Flowery Branch facility and brought in new offensive coordinator Dirk Koetter and offensive line coach Pat Hill, there were some high-level meetings about Baker's future.
That's when public opinion and reality went in different directions. That's when coach Mike Smith, who often comes across as a father figure to his players, called in Baker and talked to him like a son.
"I told Sam we were sticking with him, but that he needed to get away from football for a bit,'' Smith said. "I told him to go get his body rested up and healthy. The guy has always been tough and resilient, but the fact of the matter is Sam rarely was truly healthy from the day he first got here.''
Baker walked out of the meeting as surprised as fans would be as time went on and they realized they weren't getting a new left tackle.
"To be totally honest, I went in there with a ton of uncertainty on my part,'' Baker said. "I felt honored that they still had faith in me. You don't get a lot of loyalty in the NFL. I decided right then that I needed to listen to him, put my head down and go all out.''
Baker went to his offseason home in California. He spent time with Gunnar and the rest of his family.
"I unplugged mentally,'' Baker said. "My wife had been telling me for years that I needed to unplug once in a while; that I wore it all on my sleeve and took it too hard when things weren't going well.''
There was time for Baker's soul to heal. Same for his body, especially the back and elbow problems that bothered him so much last season. Within a few weeks, Baker began working with some personal trainers.
It wasn't the heavy weightlifting he usually did in the offseason and there wasn't anything focused specifically on football.
"The emphasis was on movement and just getting my body loose,'' Baker said.
The funny thing here is that even though he's 6-foot-5 and 301 pounds, the ability to move fairly well was the one bright spot early in Baker's career. Scouts and coaches said he had remarkably quick feet for a guy his size.
But, as the injuries piled up, Baker couldn't even move well anymore. That's why the Falcons gave his starting job to journeyman
Will Svitek
and briefly -- and unsuccessfully -- tried Baker at guard.
When the Falcons started their offseason program in the spring and Baker returned to Atlanta, he continued working with director of athletic performance Jeff Fish on his movement. When training camp rolled around, Smith noticed a huge difference in Baker. It's carried over into the regular season and Smith said Baker is playing better than ever.
"Absolutely,'' Smith said. "Sam's healthy and that makes a big difference. "You can see that he's moving much more fluidly. He's playing very well and so is our entire offensive line. They're doing a great job protecting Matt and when Matt is able to stay on his feet, he's able to distribute the ball and make a lot of good things happen.''
The way the offensive line is playing brings us back to another story about Gunnar. The Bakers chose his middle name as a way to honor
Harvey Dahl
. He was a guard for the Falcons when Baker first came into the league and the two built a strong friendship. Dahl left Atlanta as a free agent last season and those that weren't blaming Baker for all the offensive line's problems last season were pointing to Dahl's departure as the reason for the downfall.
Dahl, Baker, center
Todd McClure
, guard
Justin Blalock
and tackle
Tyson Clabo
had been together since 2008.
Garrett Reynolds
, who ended up in Dahl's spot last year and remains there, joined the Falcons in 2009.
"When Harvey left and we had some injuries early last year, I think there were some issues with continuity on the line,'' Baker said. "But this is a great group and most of us have been together for five years. We all love each other and you can really see the continuity coming through now.''
Maybe that continuity is shining because the Falcons gave Baker some emotional nurturing and allowed him to grow as a person. And, perhaps most of all, they gave him time to heal and become the player they always thought he could be.
September, 6, 2012
9/06/12
1:00
PM ET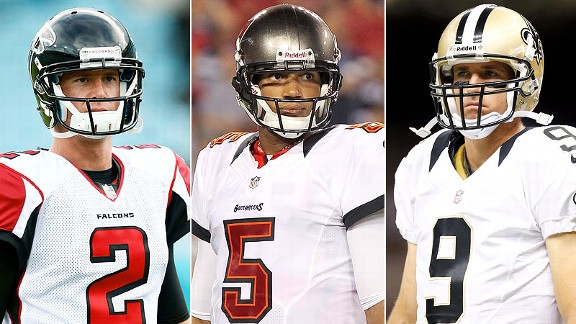 US PresswireMatt Ryan gained weight, while Josh Freeman and Drew Brees lost weight this offseason.
Drew Brees
,
Matt Ryan
,
Cam Newton
and
Josh Freeman
remain the unquestioned faces of their teams.
But take a closer look at the bodies of the four NFC South quarterbacks and you'll see plenty of changes from last season.
Tampa Bay's Freeman has dropped about 20 pounds. Atlanta's Ryan has put on about 10. New Orleans' Brees says he's stayed the same, but he sure looked different on the first day of training camp. And, this just in: Carolina's Newton has grown five inches, added 50 pounds to his bench press, can throw the ball 10 yards further, has trimmed a full second off his time in the 40-yard dash and does it all while wearing a Superman shirt.
I'm just kidding on the Newton stuff -- I think. Newton hasn't really talked about his weight this offseason, but team officials said the quarterback has made a conscious effort to drop somewhere between 5 and 8 pounds from what he carried last season when he was the NFL's Offensive Rookie of the Year.
Let's start with Ryan, since he's bucking the trend of the other three quarterbacks, putting on weight, instead of shedding it or at least tightening it up.
If you were an employee of the Falcons and you saw the look on owner Arthur Blank's face the January day they lost, 24-2, to the
New York Giants
in the playoffs, you instantly might have started to think of ways to make yourself better. Blank looked exactly like what you would expect from a man who has seen his team have four straight winning seasons without a postseason victory. He clearly was angry after his offense was held scoreless.
It wasn't necessarily the look from Blank. But sometime in the days after the Falcons left the Meadowlands, Ryan figured out one thing that was lacking.
"More muscle,'' Ryan said. "It's not like I was looking to put on 25 pounds or something like that. I just wanted to get a little stronger, a little more flexible and position my weight a little bit better on my body. I think I've done that. I worked really hard with (Falcons' director of athletic performance) Jeff Fish developing a program and I stuck to it. I feel really good at this point. I feel strong and in really good shape and I'm excited about it.''
[+] Enlarge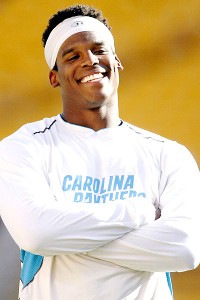 Charles LeClaire/US PRESSWIREEven Cam Newton, according to a team official, has dropped some weight in an effort to become more durable.
Let's be clear and squash one popular theory that's out there on why Ryan hit the weights so hard in the months right after the season. Although there's been a lot of talk about the Falcons waiting to have more of a downfield passing game, Ryan isn't one of those guys that subscribes to the theory that more muscle in your arm will allow you to throw the ball further. In fact, the former high school baseball player believes you can get too muscle-bound and have it limit the way you throw the ball.
Ryan wasn't aiming for increased distance as he put on muscle throughout his body. He was aiming more for endurance.
"Just improving on the field,'' Ryan said. "One of the things I've learned in four years is that durability is key. Being out on the field every week is huge. But being out on the field and feeling good is even more paramount. I wanted to feel better, not Week 1 or 2, but Week 14 or 15. I think I needed to spend more time in there and be more dedicated there in order to feel that way.''
Durability, in the traditional sense, hasn't been much of an issue for Ryan. In four seasons, he's missed two starts, but he admitted he hasn't felt at his best late in previous seasons.
"I think everybody does to a certain extent,'' Ryan said. "That's kind of the nature of the grind of an NFL season. I wouldn't say worn down. But I felt like I could do things differently to feel even better than I was feeling. Mentally, I've always felt sharp. But, physically, I wanted to get my body to where my mind was.''
Maybe the extra conditioning will leave Ryan fresher in January and maybe it will lead to his first postseason victory.
Although Freeman took a different approach, it's fair to say, like Ryan, he was out to make himself a better player.
After the Bucs lost the final 10 games of last season, Freeman made a big decision even before coach Greg Schiano was hired.
"I stopped going to Taco Bell late at night,'' Freeman said.
He also worked with a personal trainer and now looks like he could be an NBA small forward.
"He's a really competitive kid,'' Tampa Bay general manager Mark Dominik said. "I just want him to harness and really channel that into being the best he can be and he said that when he decided to show up at the weight that he's at and start to really get his body in the right shape as a professional athlete and make good choices off the field. That told me he was going to take this the right way and that was before we even hired coach.
"He feels like it's increased his mobility, as well as his flexibility and being able to rotate in his hips and his torso area. That was the main element. Josh can carry the weight he was at and play effectively. But this was something he wanted to do for himself to be looser as an athlete.''
Like Ryan and Freeman, Brees and Newton weren't ordered to change their bodies. Whatever decisions they made were made on their own.
When he showed up for the start of training camp, just after getting a new five-year, $100 million contract, the New Orleans media hadn't seen Brees in some time. Several media members asked Brees if he had lost weight because his face looked thinner.
"I'm 208,'' said Brees, who is listed at 209. He then smiled a bit and said, "I might have moved some weight around a little."
That wouldn't be a surprise. Brees has been a workout warrior throughout his career. Whatever Brees was doing while he was away from the team, it's obvious he was staying very active.
Newton didn't look like he needed to drop an ounce after running for 706 yards as a rookie. But the team official said Newton took it upon himself to drop a little weight and, like Ryan, the goal was more about adding durability not necessarily speed.
"In this league, everybody's infatuated with getting better,'' Ryan said. "I think we all talk to other quarterbacks and we talk to former quarterbacks and it's all about finding different ways to improve. Every offseason, I try to find ways to get better and this was my way to get better this offseason.''
Now we know all about the weight gains, weight losses and readjustments of the four NFC South quarterbacks. We'll find out who was the biggest winner and loser by the end of the season.