NFL Nation:

Jeff Hostetler
January, 21, 2013
1/21/13
9:00
AM ET
Count
@krisaverett
among those wondering how many quarterbacks have started Super Bowls with fewer starts on their résumé than San Francisco's
Colin Kaepernick
possesses.
Jeff Hostetler and Vince Ferragamo are the only ones with fewer than the nine combined regular-season and postseason starts for Kaepernick.
Hostetler had to compete with Phil Simms for the
New York Giants
' starting job after winning the Super Bowl as an injury replacement for Simms. He won the job heading into the next season.
Ferragamo closed the 1979 regular season with five touchdown passes and 10 interceptions after subbing for injured starter Pat Haden. He remained the starter and tossed 30 touchdown passes in 1980 before leaving the NFL to play in Canada.
October, 12, 2012
10/12/12
10:15
AM ET
much to say
about the
San Francisco 49ers
' chances for backing up their 13-3 record from last season.
The 2012 team wouldn't force as many turnovers. It wouldn't stay as healthy. And there was certainly no way quarterback
Alex Smith
would continue throwing interceptions only
1.1 percent of the time
, a historically low figure.
The 49ers are 4-1 and on pace for 13 victories. They could still falter for all the suspected reasons, but to this point, Smith has shown no signs he's about to become an interception machine. He has one interception in 137 pass attempts. His interception rate has fallen to 0.7 percent.
A pattern has developed.
Smith has gone 26 consecutive starts without tossing more than one interception in a game. He's two games behind
Aaron Rodgers
for the longest streak since 1970. Note that Smith's coach, Jim Harbaugh, is also high on the list.
Neil O'Donnell, Jeff Hostetler and Harbaugh are on the list. O'Donnell was the only one of the three to toss more than 12 scoring passes in a season during the streak. O'Donnell topped out at 17, the same number Smith threw last season.
Smith has eight touchdown passes through five games. He leads the NFL in Total QBR and passer rating.
History had
January, 31, 2011
1/31/11
11:13
AM ET
Buffalo Bills
fans will wince at the idea, but I encourage them to check out a Buffalo News package that looks back 20 years on Super Bowl XXV, the first and most heartbreaking of the Bills' four consecutive trips to the NFL championship game.
[+] Enlarge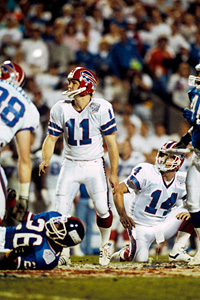 Manny RubioBuffalo's Scott Norwood misses a 47 yard field-goal attempt as time expires in Super Bowl XXV.
Buffalo News columnist Jerry Sullivan, beat reporter Mark Gaughan and editor Greg Connors presented
a compelling retrospective of a bittersweet event
that began with Whitney Houston's moving national anthem and F-16s whooshing overhead.
"Then I remember the Apache gunship flies over," Bills special-teams star Steve Tasker told Sullivan. "They weren't supposed to fly low, but it seemed to me I could see the whiskers on the guy hanging off the sides. It was as though he wasn't just flying for the ceremony. He was watching over us, like, 'Go ahead and play because I'm on guard.' That was awesome."
The game, however, will forever be remembered for how it concluded.
Scott Norwood's 47-yard field-goal attempt sailed wide right. The Bills lost by a point.
The Buffalo News spoke with two dozen members of the team and uncovered intriguing new information.
For instance, holder Frank Reich revealed for the first time that Norwood kept hooking his practice kicks to the left before the game, possibly impacting his fateful kick. Long snapper Adam Lingner told the story of how Norwood's successor, Steve Christie, noticed the laces were not spun to the proper place, suggesting Reich's hold wasn't as good as believed.
Sullivan also wrote about the
brotherhood that was forged and how much the 1990s Bills loved to party
. Another piece laid out all the
"what-if" scenarios that could have made the difference
. The two biggies for me: Bruce Smith's inability to strip Jeff Hostetler on a second-quarter safety and failing to stop Mark Ingram on third-and-13 in the third quarter.
In the style the Buffalo News now handles its Monday coverage of games, Gaughan breaks down Super Bowl XXV with a
quarter-by-quarter report of how the game unfolded
.
Connors added a feature on Van Miller, "the man who will
forever be known as the voice of the Bills
," and his recollections of the Bills' heyday. The story includes Miller's call of Norwood's kick.
June, 22, 2010
6/22/10
11:15
AM ET
By
Matt Mosley
| ESPN.com
Notable players
: RB Joe Morris, LB
Lawrence Taylor
, TE
Mark Bavaro
, T Brad Benson, DE
Leonard Marshall
, NT Jim Burt, LB Harry Carson, QB
Phil Simms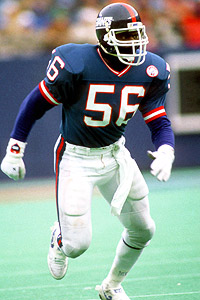 Malcolm Emmons/US PresswireLawrence Taylor was the leader of a dominant Giants defense.
Analysis
: Some longtime members of the organization tried to talk me into the '90 team based on the
Jeff Hostetler
theory, but I held strong. The Giants had the most dominant defensive player in the game with Taylor and Morris still had his legs at that point. Simms was the Super Bowl MVP after he completed a ridiculous 22 of 25 passes.
The '86 team was dominant enough to destroy teams in the playoffs. In the divisional game and the NFC title game, the Giants' defense gave up a combined three points. The '90 and '07 Super Bowl teams were special in their own right, but I believe the '86 team was among the best in league history.
It was during the '86 season that the world took notice of Bill Parcells' Gatorade baths, which were started as a prank by Jim Burt. And after overhearing some of Burt's stories during a Cowboys training camp a few years ago, that's probably not the only prank he pulled.
I would've really enjoyed watching the Jimmy Johnson Cowboys teams of the '90s play against Parcells' Giants teams. They both had the same foundation: A group of relentless pass-rushers who made it almost impossible for opposing quarterbacks to find any rhythm. A lot of folks in the Giants' organization think the fact that Parcells won a Super Bowl with Hostetler playing a large role suggests how strong his supporting cast was. And while I appreciate that argument, I'd still take the '86 Giants.
Most impressive win:
This Giants team reeled off 12 consecutive wins, but the most impressive was against the Redskins in the playoffs. Joe Gibbs had an excellent team, but the Giants beat the Skins twice in the regular season and then shut them out 17 -0 in the playoffs. I loved watching Morris in the playoffs. He didn't have a lot of size, but he kept his legs churning at all times and was a vital part of the '86 Super Bowl team. I think Parcells still feels guilty that he later ran Morris into the ground.
Best player
: Lots of great players on this team, but Taylor, the Hall of Fame linebacker, wins in a rout. The MVP and Defensive Player of the Year had 20.5 sacks in 1986, the fifth-highest total of all time.
Honorable mention
1990
: Simms was injured, but the Giants weren't going to be denied in the playoffs. It was a remarkable season and at that point we thought Parcells would have several more Lombardi trophies in him.
2007
: The
David Tyree
catch never gets old. It was a case of a team catching fire at the right time. But unlike some pundits, I've never used that to take away from what that team accomplished. Now we know how special that pass rush was after watching things disintegrate last season.
2000
: Wait, did that team really play in the Super Bowl? Hey, it was an excellent team. But nowhere close to as dominant as the ones I ranked ahead of it.
March, 30, 2010
3/30/10
2:45
PM ET
Perhaps the perfect spot for University of Florida quarterback
Tim Tebow
is with the
New England Patriots
.
They don't have any glaring holes that can be immediately addressed with their 22nd overall draft choice. They have a secure veteran in
Tom Brady
. They could use another quarterback because they have only two on their roster. Head coach Bill Belichick isn't afraid to take a chance on raw talent. The Patriots also have three second-round picks they could use to trade up to get Tebow if he is on the board a little later.
The Patriots continued their due diligence on Tebow with a visit Monday night and Tuesday, according to ESPN's Adam Schefter. Tebow met with the
Buffalo Bills
on Monday, and Schefter reports visits have been scheduled next week with the
Washington Redskins
and
Cleveland Browns
.
Boston Herald reporter Karen Guregian reports Tebow, who dined with Bills legend Jim Kelly on Sunday night,
had dinner Monday night with Belichick
at Tresca, former hockey star Ray Bourque's restaurant in the North End.
Belichick is close friends with Gators coach Urban Meyer and probably has more inside info on Tebow than most NFL coaches.
At the NFL owners' meetings last week at the Ritz-Carlton Orlando Grande Lakes, where Belichick was spotted wearing a Gators visor and sweatshirt, he didn't sound deterred by Tebow's much-criticized throwing motion, a problem many evaluators point to when projecting him as a pro quarterback.
"Tiger Woods has rebuilt his golf swing twice," Belichick said. "Every quarterback I've ever had or coached has worked on his mechanics and improved them. Phil Simms, certainly [Jeff] Hostetler, Brady ... I can't think of too many that haven't.
"It's part of every player's development. I mean, show me a player who comes into this league at 21 and is a finished product at any position. Show me one guy. They all need work. They all have things they need to work on. Some guys are more coachable than others. Some guys have different things they need to correct, whatever the technique or physical development happens to be. I don't think that's unusual."
December, 13, 2009
12/13/09
9:47
PM ET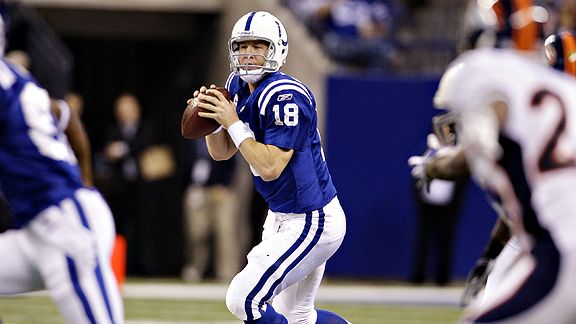 AP Photo/Darron CummingsWill Peyton Manning's chances at a fourth MVP title suffer if the Colts rest him?
INDIANAPOLIS -- His biggest accomplishment is leading his team to a place where he doesn't need to make a major contribution over the next three weeks.
For that distinction,
Drew Brees
,
Brett Favre
,
Chris Johnson
and
Philip Rivers
surely would trade situations with
Peyton Manning
.
But after the
Indianapolis Colts
' 28-16
victory
over the
Denver Broncos
at Lucas Oil Stadium Sunday, we might have seen the last full game of the regular season from Manning.
And if the regular-season final image of Manning depicts him with a dangling earpiece and under a poncho in Buffalo in Week 17 -- helping substitute quarterback
Curtis Painter
cope with the Bills -- how will that affect MVP voters?
Will they reflect upon Manning's accomplishments leading the Colts to a 13-0 start? Will that three-week-old memory have any impact while they're watching, say, Brees cap an undefeated regular season, or Favre carry the Vikings into the playoffs, or Johnson crack 2,000 rushing yards?
When that Associated Press panel submits its MVP votes Jan. 4, could Manning fall victim to omnipresent what-have-you-done-for-me-lately thinking?
"I would say you can't count it against him if he's not out there,"
Dwight Freeney
said. "It's about the team first, nothing else matters. …If it came down to that, it would be a shame."
"The effect that he's had on a team, I don't know how you could match that," said Colts kicker
Matt Stover
, who's played with
Phil Simms
,
Jeff Hostetler
,
Bernie Kosar
,
Vinny Testaverde
and a slew of other quarterbacks in 20 NFL seasons. "What he does in practice, what he's replicated on the field, warrants an MVP to me.
"I have never seen anything like it in my 20 years and that's playing with a lotta, lotta, lotta quarterbacks. To me it's 'What has he done to give his team the best opportunity to win, to get his team to the playoffs?'"
With his play, Manning's helped put the Colts in position to ease up. They are expected to stay true to a long-standing philosophy of resting key starters once playoff position has been secured, a stance honed by former head coach Tony Dungy and expected to be adopted by his successor Jim Caldwell.
No other quarterback has put his team in such a spot so early, so to penalize him for it in any way wouldn't seem fair to me.
Colts executive Bill Polian made his traditional sour face when I asked him if MVP is important. He cares little for things voted on by media members and things he and his team cannot control, at least conversationally. Still, asked to make the case for his quarterback, it came easily.
"If you ask me is it comparable to the seasons that he's won, the answer is yes it is," he said. "Certainly beyond, because of the circumstances, because of the offensive line transition, the offensive line difficulties and the receiver transitions."
Manning has excelled even as the team's projected starters at left tackle and right guard (
Tony Ugoh
and
Mike Pollak
, respectively) were outplayed and replaced by understudies (
Charlie Johnson
and
Kyle DeVan
, respectively). And with Hall of Fame receiver
Marvin Harrison
gone and No. 2 target
Anthony Gonzalez
hurt, Manning's thrown to rookie
Austin Collie
and second-year man
Pierre Garcon
unhesitatingly, helping both become major contributors.
I skipped Manning's news conference after the Broncos game because I knew an MVP question would be fruitless and I'd fare better on this subject in the locker room.
But make no mistake, a fourth MVP would mean a great deal to Manning just as late yards in a blowout win at Tennessee on Oct. 11 meant something to him. Those yards got him over 300 yards for the fifth straight game at the start of the season. The milestone kept him on track to match or surpass the shared record of six, held by
Kurt Warner
and
Steve Young
. (He came up well shy of 300 a week later at St. Louis.)
That doesn't mean Manning is at all selfish or has any priorities out of whack.
I just believe he's acutely aware of the numbers and the history. He takes a great deal of personal pride in getting the first and making the other when he has the chance. None of that makes a second Super Bowl win any less important to him or the team he leads.
A year ago, en route to his third MVP, Manning and the Colts played at Jacksonville in a late-season Thursday night game. The Dec. 18 contest marked the Colts' 15th game. In a 31-24 victory, Manning was a pitcher with no-hitter control -- zipping balls through small windows, lofting them just over defenders' fingertips, throwing them with just the perfect touch.
That 29-for-34 passing for 364 yards and three touchdowns, broadcast nationally on NFL Network, clinched the award for him, I thought.
A week later in a meaningless game against Tennessee he threw early and often, and topped 4,000 yards. He helped get Harrison past Cris Carter into second place for career receptions, and then Manning left the game.
Certainly the Colts have many banged-up guys who need to heal. Some others can get the work they need to stay sharp during practice weeks. But the team's first playoff game isn't until Jan. 16 or 17, more than a month away. A month is too long to expect the engine to idle.

Nobody asked me but… I humbly propose the Colts set Manning loose on the Jaguars again in four days. Kelvin Hayden said even if the team takes its foot off the gas, it doesn't want to drop a game to a loathsome division rival.

Manning will do what he's asked to do. Still, he said he hasn't liked playing a bit and then taking a seat when he's been required to do it in the past. So don't ask him to do it three consecutive weeks while risking the honor that would come with being the league's first four-time MVP.

Let Manning be Manning in North Florida Thursday, with his stable of healthy weapons helping him stake his claim.

If Brees or Favre or Johnson or someone passes him from there as he plays only a couple series against the New York Jets (Week 16) and at Buffalo, so be it. At least the voters will have less time to forget what they should be sure to remember.

September, 1, 2009

9/01/09

11:58

AM ET


Posted by ESPN.com staff

After surveying your team's backup quarterbacking situation, are you skeptical about the franchise's chances if the starting signal-caller is sidelined? No matter how discouraging the depth chart appears to be, keep the faith. Some of the NFL's best quarterbacking jobs were supplied by men who were second-stringers pushed into the spotlight by fate. ESPN Stats & Information compiled our top 10 single-season performances by backup quarterbacks.
Top 10 single-season performances by backup quarterbacks
Player
Team
Year(s)
Comments
1. Tom Brady

New England

2001

The NFL's No. 1 overall pick in 1993, Drew Bledsoe had started 123 of 124 games in New England. Then one hit by Jets linebacker Mo Lewis in Week 2 of the 2001 season pushed a somewhat unknown QB into the starting role. Former Michigan star Tom Brady -- a sixth-round pick in the 2000 draft who did not play his rookie season -- led the Patriots to their first Super Bowl title in franchise history.

2. Kurt Warner

St. Louis

1999

When Trent Green went down with a season-ending knee injury in the 1999 preseason, journeyman Warner -- who had 11 career NFL pass attempts to his credit -- became his replacement. A veteran of the Arena League and NFL Europe, Warner went from football footnote to NFL and Super Bowl MVP that season, throwing 41 touchdown passes.

3. Jeff Hostetler

N.Y. Giants

1990

Phil Simms had been in control of the Giants' offense since 1984, leading the team to a win in Super Bowl XXI. With another title in reach, Giants fans winced as Simms suffered a sprained foot in Week 14 of 1990. In stepped Hostetler, who had started only two previous games. Five wins later, the Giants had a second Super Bowl triumph.

4. Earl Morrall

Baltimore Colts/Miami


1968, 1972

Morrall is the only man on this list with two memorable backup performances. Stepping in for an injured Johnny Unitas in 1968, Morrall proceeded to lead the Colts to a 13-1 record, an NFL championship and a berth in Super Bowl III. He earned NFL MVP honors along the way. In 1972 with the Dolphins, Morrall took over for the injured Bob Griese and was at the helm for 11 wins during the Perfect Season.

5. Doug Williams

Washington

1987

In 1987, Doug Williams made only two regular-season starts for the Redskins, losing both. But he came on in relief three other times, winning all three games. Before the playoffs, he replaced Jay Schroeder as the team's starter and led Washington to Super Bowl XXII. Despite missing two plays with a knee injury, Williams was named MVP with a then-Super Bowl record 340 pass yards.

6. Jim Plunkett

Oakland

1980

In the 1971 NFL draft, the New England Patriots made former Stanford star Jim Plunkett the first overall selection. But by 1980, Plunkett had been let go by two teams and was sitting on the bench for the Raiders. In the fifth game of the year, starter Dan Pastorini suffered a broken leg. Plunkett won nine of his 11 regular-season starts, then led the Raiders to a win in Super Bowl XV, the first for a wild-card team.

7. Trent Dilfer

Baltimore

2000

After six years with the Tampa Bay Buccaneers, five as a starter, Trent Dilfer signed with the Ravens as a free agent in 2000. But four weeks without a touchdown in the middle of the season forced Ravens coach Brian Billick to sit Tony Banks and insert Dilfer. Dilfer lost his first start, but won the next 11, including Super Bowl XXXV.

8. Jake Delhomme

Carolina

2003

Former NFL Europe QB Delhomme enjoyed some success with the New Orleans Saints before signing with the Panthers as a free agent in 2003. After Rodney Peete proved ineffective in the first half of the season opener, Delhomme took over in the second half trailing 17-0. Not only did he lead the Panthers to a comeback win in that game, he won the starting job. His Cinderella season ended with the Panthers' first Super Bowl berth, a last-minute loss to the New England Patriots.

9. Vince Ferragamo

L.A. Rams

1979

The Los Angeles Rams were unable to find two things for most of the 1970s: playoff success and quarterback stability. In 1979, Pat Haden started the first 10 games, going 5-5 before breaking a finger on his throwing hand. Starting the final five games of the season, Vince Ferragamo went 4-1, and then won two playoff games to lead the Rams to their first Super Bowl appearance.

10. Norm Van Brocklin

L.A. Rams

1951

With two eventual Hall of Famers, it's no wonder the 1951 Rams sought to get both Bob Waterfield and Norm Van Brocklin into games. As the season progressed, Waterfield was starting the games, including the 1951 NFL Championship. But in that one, it was Van Brocklin who supplied the game-winning 73-yard touchdown pass to Tom Fears.
March, 3, 2009
3/03/09
12:00
PM ET
| | |
| --- | --- |
| | |
| | Greg M. Cooper/US Presswire |
| | The Denver Broncos are reportedly still considering trading Jay Cutler. |
Posted by ESPN.com's Kevin Seifert
Jeff Hostetler. Steve Bono. Tommy Maddox. From a historical perspective, at least, those three names serve as the ceiling for Minnesota's quarterback position if newcomer Sage Rosenfels wins the starting job.
Most starts after turning 30, with fewer than 10 previous starts*
Player
After 30
Before 30
Jeff Hostetler
79
4
Steve Bono
33
9
Tommy Maddox
32
4
Kelly Holcomb
21
3
Damon Huard
21
6
Jim Miller
21
6
*Since the start of the Super Bowl era
Source: Elias Sports Bureau
NFL history offers a short list of success stories for quarterbacks who followed the same path as Rosenfels during the early part of their careers. ESPN Research's Keith Hawkins worked with the Elias Sports Bureau to develop the chart to your right, which tracks the development of quarterbacks who started fewer than 10 games before turning 30. (Rosenfels, who turns 31 on Friday, has started 12 NFL games, including five last season for Houston.)
Only Hostetler became a long-term starter after turning 30. Bono and Maddox each started the equivalent of two full seasons.
Does that mean Rosenfels would fail as a full-time starter for the Vikings? Of course not. But here's what we can say: As currently configured, the Vikings must hope for either a historical aberration (Rosenfels) or significant improvement from a previously shaky youngster (Tarvaris Jackson) to upgrade their long-standing deficiency at the game's most important position.
Which is why the Vikings would be foolish -- even after trading a fourth-round pick last week for Rosenfels -- to ignore the potential availability of Denver's 26-year-old starter, Jay Cutler.
I wrote Monday that Cutler makes sense for three NFC North teams -- Minnesota, Chicago and Detroit -- and I still believe that. But of those three, the Vikings might be the most serious suitor.
Already, there are some preliminary signs that the Vikings are investigating the situation. The Denver Post reported that Minnesota was included in talks on a three-way trade that fell through last weekend, and the Star Tribune reported Tuesday that the Vikings were having "ongoing" discussions Monday about Cutler.
In NFL terms, there is a vast gap between due diligence and serious trade discussions. And there is no indication that Denver is willing to part with Cutler after losing out to Kansas City on acquiring Matt Cassel. But it's time for the Vikings to end their middling approach to the quarterback position and start applying the aggressive, big-thinking philosophy that has netted them proven -- and, in some cases, dominant -- players at almost every other position.
Minnesota's financial outlays since 2006
Pos.
Player
Contract
QB
Sage Rosenfels
Two years, $9 million
WR
Bernard Berrian
Six years, $43.4 million
TE
Visanthe Shiancoe
Five years, $18.2 million
TE
Jim Kleinsasser
Three years, $9 million
OL
Bryant McKinnie
Seven years, $48.5 million
OL
Steve Hutchinson
Seven years, $49 million
OL
Anthony Herrera
Five years, $15 million
RB
Chester Taylor
Four years, $14.1 million
FB
Jeff Dugan
Five years, $4.35 million
DE
Jared Allen
Six years, $74 million
DT
Kevin Williams
Seven years, $50 million
DT
Pat Williams
Three years, $22 million
LB
E.J. Henderson
Five years, $25 million
LB
Ben Leber
Four years, $20 million
S
Madieu Williams
Six years, $33 million
PK
Ryan Longwell
Five years, $10 million
P
Chris Kluwe
Six years, $8.3 million
LS
Cullen Loeffler
Five years, $3.1 million
Total: $455.95 million. QB: 1.9 percent.
Note: Figures include incentives, only includes players on roster
Take a look at the chart to your right, which breaks down the financial outlay Minnesota has made since coach Brad Childress and vice president of player personnel Rick Spielman came aboard in 2006. The list represents only players currently on the roster, but here is the upshot: The Vikings have signed 18 veterans at 16 different positions to contracts that total nearly $456 million. But less than two percent of that sum is devoted to the quarterback position.
That is an irreconcilable dichotomy for a team with annual designs on a division title and beyond. Why devote so many resources to proven players at other positions while taking a chance at the most important one?
At the scouting combine last month, Spielman noted there are only a "handful" of NFL quarterbacks who truly scare defenses. That dearth of talent and skill causes some teams to reach for quarterbacks beyond their true value.
Cutler, however, has a chance to be one of the NFL's elite quarterbacks after earning a Pro Bowl berth in 2008. At the very least, he has proved far more competent than Jackson during their first three seasons.
Childress seemed adamant last month that Jackson and a veteran, who turned out to be Rosenfels, would compete for the starting job in training camp. He left open the faint possibility of a future big-name acquisition but said, "Right now I would be honest with you and tell you I wouldn't know who that person would be."
At the time, few people knew that Broncos coach Josh McDaniels would pursue Cassel to replace Cutler. Childress seemed to be covering for that possibility when he said, "I wouldn't open or close the door on anything."
| | |
| --- | --- |
| | |
| | NFL.com Video |
| | Highlights of the best moments from Jay Cutler in 2008. |
Circumstances, as they say, have changed. "Faint" has elevated to "bright." The si
tuation is similar to the one the Vikings encountered last year, when they pursued several free-agent defensive ends to improve their pass rush before Kansas City made 2008 sack leader Jared Allen available. The Vikings surrendered three draft choices and signed Allen to a $74 million contract, a move that helped improve their pass rush from the bottom of the NFL's rankings to No. 18 overall.
Cutler could be this season's Jared Allen, only more impactful because of the position he plays. Not only was he the NFL's third-most productive passer last season, but he has spent three years in a West Coast scheme that has the same roots as the Vikings' offense. He could be the missing piece of a puzzle that includes the league's top running back (Adrian Peterson), a proven deep threat (Bernard Berrian) and a rapidly improving tight end (Visanthe Shiancoe).
The Rosenfels trade was consummated before the Cutler imbroglio began. The Vikings would be wise to overlook the timing and think big once again.
NFL SCOREBOARD
Sunday, 2/2
WEEKLY LEADERS