July, 18, 2014
Jul 18
11:00
AM ET
Examining the
Green Bay Packers
' roster:
Quarterbacks (3)
The Packers have not kept three quarterbacks on their opening-day roster since 2008, but they might be inclined to do so this season in order to avoid a situation like last year, when Rodgers broke his collarbone. Coach Mike McCarthy is high on Tolzien, who made two starts last season, but Flynn has proved he can win as a backup in Green Bay.
Running backs (4)
The return of Harris, who missed all of last season because of a knee injury, gives the Packers insurance behind Lacy and Starks. Kuhn is valuable both as a fullback and on special teams. It's possible they'll keep a fourth halfback, but the loss of
Johnathan Franklin
to a career-ending neck injury has left them without a strong in-house candidate for that spot.
Receivers (6)
The Packers often keep only five receivers, but given that they drafted three -- Adams (second round), Abbrederis (fifth round) and Janis (seventh round) -- there's a good chance they will keep six. Abbrederis and Janis will not only have to show they're better prospects than second-year pros
Myles White
and
Chris Harper
, but they also could help themselves if they can return kicks.
Tight ends (4)
McCarthy likes tight ends (he has kept five before), and the wild card is undrafted rookie
Colt Lyerla
.
Offensive linemen (8)
The Packers typically only activate seven offensive linemen on game day, so they can get away with keeping just eight on the roster. Barclay's ability to play all five positions also allows them some freedom.
Lane Taylor
could be the ninth lineman if they go that route.
Defensive line (7)
Worthy and Guion have work to do to make the roster, but there's room for them if you count
Julius Peppers
and
Mike Neal
among the outside linebackers, which is where they lined up more often in the offseason.
Linebackers (8)
There will be some tough cuts here. Second-year pros
Nate Palmer
and
Andy Mulumba
both played last year as rookie outside linebackers. It also may be tough for highly touted undrafted rookie
Adrian Hubbard
to make it.
Cornerbacks (6)
Hayward's return from last season's hamstring injury means he likely will return as the slot cornerback in the nickel package, a role played last year by
Micah Hyde
(who may primarily play safety this year).
Safeties (4)
The major question here is whether Hyde or Clinton-Dix will be the starter alongside Burnett.
Chris Banjo
, who played primarily on special teams last season, might be the odd man out.
Specialists (3)
There's no competition at any of these spots.
June, 7, 2014
Jun 7
8:00
AM ET
Each week, I will ask for questions via Twitter with the hashtag #PackersMail and then will deliver the answers over the weekend.
May, 30, 2014
May 30
5:55
PM ET
GREEN BAY, Wis. -- Remember the days when first-round draft picks would sometimes miss the start of training camp because of contract disputes?

Clinton-Dix
It wasn't all that long ago that
B.J. Raji
missed nearly three weeks of his rookie training camp while his agent negotiated with the
Green Bay Packers
.
There's no such angst anymore.
The Packers signed first-round pick
Ha Ha Clinton-Dix
on Friday, less than a month after they drafted him 21
st
overall and nearly two months before training camp opens.
Clinton-Dix's four-year contract is expected to be worth $8,338,496 (including a $4,384,364 signing bonus).
The only remaining unsigned rookies are second-round receiver
Davante Adams
and third-round tight end
Richard Rodgers
.
Here's a look at the contract status for the Packers' entire draft class:
First round:
S Ha Ha Clinton-Dix, signed Friday.
Second round:
WR Davante Adams, unsigned.
Third round:
DT
Khyri Thornton
, signed a four-year, $2,833,252 contract (including a $563,252 signing bonus) May 19; TE Richard Rodgers, unsigned.
Fourth round
: OLB
Carl Bradford
signed a four-year, $2,649,300 contract ($429,300 signing bonus) on May 16.
Fifth round:
C
Corey Linsley
, signed a four-year, $2,405,000 contract ($185,000 signing bonus) May 15; WR
Jared Abbrederis
, signed a four-year, $2,364,560 contract ($144,560 signing bonus) May 14.
Sixth round:
CB
Demetri Goodson
, signed a four-year, $2,323,152 ($103,152 signing bonus) May 16.
Seventh round:
WR
Jeff Janis
, signed a four-year, $2,271,392 contract ($51,392 signing bonus) May 14.
May, 11, 2014
May 11
1:00
PM ET
GREEN BAY, Wis. -- The best answer to how the
Green Bay Packers
did in the draft is this: Ask me in three years.
But there's a place for instant analysis to be taken with a giant block of salt.
With that in mind, it's still interesting to see what the analysts' initial thoughts were on a team's draft class. Following his marathon TV duties, ESPN draft expert Mel Kiper Jr. broke down
how each team did during the three-day selection process

.
Let's start with the fact that Kiper clearly liked the Packers' draft. He gave it a grade of a straight "B." Only eight teams earned higher marks.
Now let's back up and let Kiper explain his grading process.
He wrote:
The story of the draft is the acquisition of talent, but the story of NFL success is talent development. I know I can't grade a draft class regarding performance for at least a few years, which is a reason why I audit old drafts. But what I do here is assess three main things:
" How much overall talent did a team add based on board position?
" How effectively did they address key personnel needs?
" How efficient were they in maneuvering on the draft board?
And remember: I have to use my player grades as the prism. I'm well aware all NFL teams see players differently -- I have many debates with GMs throughout the year about players. I might have a high grade on a linebacker many teams see as a late-round pick. That's the reality of player evaluations.
Kiper further broke down his grades into two parts: needs and value.
Here's how he graded the Packers on both:
Need
: B-minus
Value
: B-plus
Now, let's dig further into what Kiper thought of the some of the Packers' nine selections.
On first-round pick safety Ha Ha Clinton-Dix
: "An easy call at No. 21. I thought he'd be off the board by then, potentially to Dallas or Baltimore, so Green Bay got a good value there, and he addresses a need at free safety, where the Packers didn't have much."
On drafting three receivers
: "
Davante Adams
isn't explosive, but he catches everything and will flourish with
Aaron Rodgers
(This tends to happen with good receivers catching passes in Green Bay lately.) I really thought they needed a WR or two in this draft, and I loved the additions of
Jeff Janis
and
Jared Abbrederis
. If you saw Abbrederis simply steal
Bradley Roby
's lunch money in Columbus, you know he can battle NFL-level athletes, and Janis is a major physical talent for a seventh-rounder. He dropped on hand size and competition level coming out of D-II."
On outside linebacker Carl Bradford
: "Carl Bradford is a player I really like, and I'll be interested to see if they move him around a little bit. I thought inside linebacker was a big need even though that's typically something you can address later, but they didn't touch it."
On the Packers' draft overall
: "There's not a point where you feel like the Packers flat out got a steal, but aside from the question at ILB, there's not much not to like."
---
May, 11, 2014
May 11
7:00
AM ET
GREEN BAY, Wis. -- Here is a look of what the
Green Bay Packers
did on the third and final day of the NFL draft:
Fourth round
Carl Bradford, OLB, Arizona State (No. 121 overall):
A pass-rusher who played mostly with his hand on the ground in college but will stand up in defensive coordinator Dom Capers' scheme. Had 21.5 sacks in three seasons, including 20 in his final two years. Ran a 4.76 40-yard dash and had a 37.5-inch vertical jump at the combine.
Fifth round
Corey Linsley, C, Ohio State (No. 161):
Will get the chance to compete with second-year pro
JC Tretter
for the starting center job, which will be the fourth different starter for Aaron Rodgers in as many seasons. Strong player who did 36 reps on the bench press, tied for second most among the 12 centers at the combine.
Jared Abbrederis, WR, Wisconsin (No. 176):
The first UW player drafted by the Packers since guard Bill Ferrario in 2001 (fourth round), the former walk-on will also get the chance to return kicks and punts. Played almost exclusively on the outside in college, but likely will move inside and play in the slot for the Packers.
Sixth round
Demetri Goodson, CB, Baylor (No. 197):
Played three years of basketball at Gonzaga (2008-11), where he started 68 of 69 games at point guard in his final two seasons. As a freshman, he hit the game-winning shot to beat Western Kentucky in an NCAA tournament gme. Played three years of football at Baylor, where he had four interceptions. Also has some kick return experience.
Seventh round
Jeff Janis, WR, Saginaw Valley State (No. 236)
: The third receiver among the Packers' nine picks, following second-round choice
Davante Adams
and Abbrederis. Like Adams, he had a 100-catch season. Janis' came in 2012 with 106 receptions for 1,635 yards and 17 touchdowns. At the combine, only three receivers ran the 40-yard dash faster than his 4.42 seconds.
May, 10, 2014
May 10
7:30
PM ET
»
NFC wrap-ups
:
East
|
West
|
North
|
South
»
AFC
:
East
|
West
|
North
|
South
GREEN BAY, Wis. -- A wrap-up of the
Green Bay Packers
' draft.
Click here
for a full list of Packers draftees.
[+] Enlarge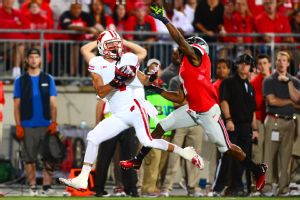 Andrew Weber/USA TODAY SportsReceiver Jared Abbrederis is the first Wisconsin player drafted by the Packers since guard Bill Ferrario (fourth round) in 2001.
Best move
: Even though much of the pre-draft focus was on improving the defense -- something general manager Ted Thompson did by taking Alabama's
Ha Ha Clinton-Dix
in the first round (No. 21 overall) -- he did not ignore the other side of the ball. He wisely added depth to the receiving core with the highly productive
Davante Adams
of Fresno State in the second round (No. 53) and later local product
Jared Abbrederis
of Wisconsin in the fifth round (No. 176), and the small-school
Jeff Janis
from Saginaw Valley State in the seventh (No. 236). He then took a shot with developmental tight end
Richard Rodgers
of Cal in the third round (No. 98) and brought in competition for the starting center job with
Corey Linsley
of Ohio State in the fifth round (No. 161).
Riskiest move
: Defensive tackle
Khyri Thornton
. Taking him in the third round (No. 85 overall) seemed too high. Even he didn't think he would be drafted on Day 2. "Khyri was an interesting one, kind of came up later in the process," said Packers director of college scouting Brian Gutekunst. "But he had so much twitch, so much upside, it was something we couldn't pass on. The way he's able to run, a 4.9 guy for a 312-pound man, the kid can run. He's got a lot of upside. We felt fortunate to get him." You could also call Baylor cornerback
Demetri Goodson
a risk, although it's less of one in the sixth round (No. 197). Goodson will turn 25 years old next month and was out of football for five years. He played three seasons of basketball at Gonzaga before he transferred to Baylor in 2011 and played three years of football.
Most surprising move
: For the first time in 10 drafts as the Packers general manager, Thompson did not make a single trade. He picked at his spot all nine times. By the time the draft reached the fifth round, it became clear this was going to be a different draft strategy for Thompson. He had never before made it that far into a draft without making a trade. Perhaps equally surprising was the fact that he picked a player from the University of Wisconsin -- and it wasn't linebacker
Chris Borland
, a player many thought might interest the Packers. Instead, he took Abbrederis, making him the first UW player drafted by the Packers since guard Bill Ferrario (fourth round) in 2001.
File it away
: Next year, when Thompson tells you he doesn't draft for need, remember this: Among his first six picks were a safety (Clinton-Dix), a receiver (Adams), a tight end (Rodgers) and a center (Linsley). Not coincidentally, the Packers had an opening for a starting free safety, lost a receiver (
James Jones
) and a center (
Evan Dietrich-Smith
) in free agency, and have not re-signed last year's starting tight end (
Jermichael Finley
).
February, 24, 2014
Feb 24
1:30
PM ET
Speed isn't everything at receiver, where route-running and hands and quickness matter quite a bit as well. But speed does help, especially if you're a team trying to add a little more and stretch the defense -- such as the
Washington Redskins
. So I thought I'd check out the 10 fastest receivers, based on their 40-yard dash times, to see how they produced in the NFL and where they project. Among the receivers not on the list?
Marqise Lee
,
Mike Evans
,
Davante Adams
,
Jarvis Landry
,
Kelvin Benjamin
,
Robert Herron
and
Josh Huff
-- all are included among Mel Kiper's Top 10 receivers. That's why speed is good, but it's not everything.
Regardless, here are the top 10 when it comes to 40-yard dash times:
Brandin Cooks
College:
Oregon State
Size:
5-10, 189
Time:
4.33 seconds
College production:
Was named the Biletnikoff winner, given to the nation's best receiver. He also was a first-team All-American after setting Pac-12 records for receptions (128) and receiving yards (1,730).
Projection:
Possible first-round pick; likely an inside receiver with the ability to move outside.
John Brown
College:
Pittsburg State (Kansas)
Size:
5-10, 179
Time:
4.34
College production:
Dominated Division II the past three years; was named an AP Little All-American three times as an all-purpose player, including a first-teamer in 2012. Finished his three-year career with school records in catches (185) and touchdowns (32). Averaged 32.4 yards per kickoff return as a senior.
Projection:
Slot receiver/returner. Mid- to late-round pick.
Donte Moncrief
College:
Mississippi
Size:
6-2, 221
Time:
4.40
College production:
Finished his three-year career No. 3 on his school's all-time list for receptions 9156), receiving yards (2,371) and receiving touchdowns (20). His nine 100-yard games ranked second on the school's all-time list.
Projection:
Outside receiver. Second-third round.
Paul Richardson
College:
Colorado
Size:
6-0, 175
Time:
4.40
College production:
After missing all of 2012 following a torn ACL, Richardson started all 12 games and was Colorado's leader in catches (83), receiving yards (1,343) and receiving touchdowns (10).
Projection:
Outside receiver. Second-third round.
Martavis Bryant
College:
Clemson
Size:
6-4, 211
Time:
4.42
College production:
In three seasons, Bryant (a former high school teammate of Doug Williams' son), caught 61 passes for 1,354 yards and 13 touchdowns.
Projection:
Outside receiver/red zone target. Third round.
Jeff Janis
College:
Saginaw Valley State
Size:
6-3, 219
Time:
4.42
College production:
Dominated Division II, earning first-team AP Little All-American honors the past two seasons. He caught 83 passes for 1,572 yards and 14 touchdowns in 2013. He had 4,175 receiving yards the past three seasons combined.
Projection:
Outside receiver/red zone target. Late-round pick.
Odell Beckham
College:
LSU
Size:
5-11, 198
Time:
4.43
College Production:
Set an LSU record with 2,315 all-purpose yards thanks in part to his return ability.
Projection:
Slot receiver/returner. First-second round.
Sammy Watkins
College:
Clemson
Size:
6-1, 211
Time:
4.43
College production:
Was second-team All-American receiver as a senior and first-team all-purpose player as a freshman. Watkins established school records in catches (240) and receiving yards (3,391).
Projection:
Outside receiver. Top-10 pick.
Albert Wilson
College:
Georgia State
Size:
5-9, 202
Time:
4.43
College production:
Averaged 190.2 all-purpose yards, though it's not as if his returns were stellar. He averaged 23.5 on kickoffs and 8.5 yards on punts this past season. Finished career with 6,235 all-purpose yards, including 3,190 as a receiver.
Projection:
Slot receiver/returner. Late-round pick.
Jalen Saunders
College:
Oklahoma
Size:
5-9, 165
Time:
4.44
College production:
After transferring from Fresno State, Saunders caught a combined 123 passes for 1,558 yards the past two seasons. He returned 20 punts for 308 yards and two touchdowns this past season.
Projection:
Inside receiver/return man. Late-round pick.
January, 24, 2014
Jan 24
10:00
AM ET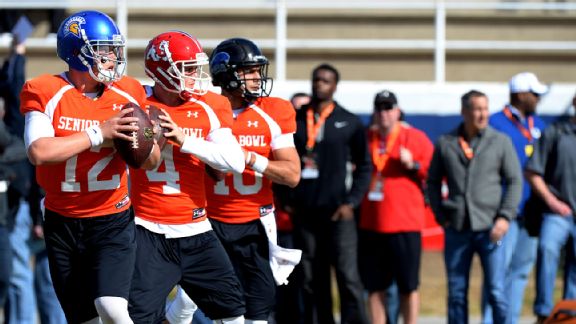 John David Mercer/USA TODAY SportsThe Senior Bowl gives players a taste of what February's NFL combine will be like.
MOBILE, Ala. -- One of the first things the players did at the Senior Bowl this week was get their official height and weight recorded.
It happened on a stage in an exhibit hall at the Mobile Convention Center in front of hundreds of scouts, NFL personnel people and executives, and members of the media in chairs and bleacher seating. The players stood behind a curtain until their name was called and then walked onstage, wearing nothing but their underwear.
The rest of the week was only slightly less weird.
There were interviews with scouts, team executives, the media, agents and their representatives, vendors and PR reps. Former NFL players wandered around. People with "business opportunities" tried to latch onto players.
It's a hectic, tumultuous experience for the players participating in the Senior Bowl, but it's also great training for what they're going to experience at the NFL combine in Indianapolis next month. This week has given them a taste of what to expect.
"This is a good precursor for the combine," Jaguars general manager David Caldwell said. "They get the interviews. They get their first interaction with coaches and scouts and really kind of digging into their background or family life and everything that they do. It'll school 'em up for the combine a little bit."
As each player's height and weight is announced, heads dip in unison as the hundreds in attendance diligently record the numbers on handouts that already include each player's hand width, arm length, and wingspan. That's not so bad considering what they'll experience at the combine, when they can be examined by the doctor of each of the NFL's 32 teams.
"We got into the big auditorium in the back and it's dead quiet and it's just the players back there, so we're like, 'Ah, there's no one. There's a couple people out there,'" offensive lineman
Brandon Linder
said. "And I guess someone got a picture on their phone of what was out there and they started showing around. It was an amphitheater of people. But it wasn't a big deal.
"It was pretty cool, walking across all serious, you get your height and weight and you walk off trying not to trip."
At least that doesn't require much thought. The interviews, however, are another matter. Some are planned, but others are pretty much spontaneous. After team meetings, practices and meals, players have to walk through the lobby and second-floor Senior Bowl headquarters of the team hotel, where at any moment a scout, agent, vendor, PR rep or member of the media can appear and ask for a few moments.
The meetings with the scouts and team officials are obviously the most important and most are pretty straightforward.
"It was very chaotic at the hotel and it still is," offensive lineman
Jon Halapio
said in the middle of the week. "I was used to interviews and stuff at Florida, but it was always about the games and stuff, but this was the first time I've had an interview asking about who I am as a person, about my personal life and stuff like that. It made me feel like, wow, this is an actual interview for a job."
And, as in any job interview, some of the questions are a bit unusual.
The
Cleveland Browns
, for example, dropped this one on some of the players they interviewed: Name as many uses as you can for a brick in one minute.
"I named a couple things," offensive lineman
Cyril Richardson
said. "I named paperweight, counter-balance, and stuff like that.
"Somebody warned me about it. I was like, 'Really?'"
Unusual for sure, but certainly less shocking than being asked if your mother is a prostitute as Dez Bryant was in an interview with the
Miami Dolphins
.
Players can expect the interviews at the combine to be even more intrusive. Each will meet with a representative from every team but the top players will often meet with the general manager and head coach as well. By then teams will have done more research on the players' pasts and will probe for answers about character issues, off-the-field issues, and any other potential red flags.
"I know it's a little bit more intense at the combine -- a lot more intense -- but this kind of gives you a taste and a feel for what you're going to get," San Jose State quarterback
David Fales
said.
One of the more infamous parts of the combine is the Wonderlic test, which is a timed 50-question test given to each player to assess their aptitude for learning and problem-solving ability. The players aren't given that test in Mobile, but they do take some similar exams.
One of the questions on this year's test was to determine to which of five people a fish belongs. Players were given clues.
"Those [tests] are a little off-the-wall," said receiver
Jeff Janis
, who admitted he didn't get the correct answer to the fish question. "I'm not sure what they're for, but I just filled them out and did my best."
While this week is a good trial run for the combine, it's particularly beneficial for small-school players who have not been exposed to this kind of environment. Players from LSU, Oklahoma, USC and Wisconsin have dealt with intense media coverage and have had numerous NFL scouts on their campus and at practice.
That's not the case for a guy like Janis, who played at Division II Saginaw Valley State, or cornerback
Pierre Desir
, who played at Lindenwood University in Missouri, another Division II school.
"It's been a crazy experience, something I'm going to remember forever," said Janis, who received his combine invitation a month ago. "I've just kind of been soaking everything up. This isn't something that happens very often where I'm from. I'm just trying to learn from everybody and take in as much as I can.
"It's different, but I realize that it's part of the game. I just kind of sit back and just enjoy it and have fun with it."

NFL SCOREBOARD
Thursday, 9/4
Sunday, 9/7
Monday, 9/8