February, 20, 2013
2/20/13
12:00
PM ET
A look at the NFC West's best and worst from the past five NFL drafts, one team at a time.

Seattle Seahawks
Best choice:
Russell Wilson
, QB, 2012 third round. Wilson went from springtime curiosity to surprise opening-day starter to Pro Bowl quarterback in eight months. Seattle has hit big on some other draft choices during the Pete Carroll-John Schneider era, but Wilson stands apart from the rest. No rookie in the 36-year history of the organization has impacted the team as dramatically as Wilson did in 2012. That is a bold statement, but one that required about 30 seconds of verification. Wilson is the first QB draft choice in Seahawks history to succeed with the team. None of the other 15 came close (Mike Teel, David Greene,
Seneca Wallace
, Jeff Kelly, Josh Booty, Brock Huard, Rick Mirer, Dan McGwire, John Gromos, Sammy Garza, David Norrie, John Conner, Sam Adkins, Steve Myer and Chris Rowland). The 26 touchdown passes Wilson threw during the regular season exceed the Seattle career totals for every one of those other 15 drafted QBs except Mirer, who had 41 touchdowns over four seasons with the team.
Worst choice:
Aaron Curry
, LB, 2009 first round. The Seahawks thought they were making the surest choice of the 2009 draft when they made Curry the fourth overall choice. Instead, a franchise that had used top-10 picks for defensive stars Cortez Kennedy and Kenny Easley got an all-time bust. Curry had 5.5 sacks, 12 passes defensed and four forced fumbles while starting 28 of 30 games for the Seahawks over two seasons. Something wasn't right, however, and by Curry's third season, the team had seen enough. Seattle essentially bought out Curry's expensive rookie contract to facilitate a trade to Oakland.
Lawrence Jackson
was a distant second for this distinction.
Verdict pending:
James Carpenter
, OL, 2011 first round. Wilson's selection in 2012 offsets lingering regrets from the Seahawks' decision to draft Carpenter over
Andy Dalton
a year earlier. Still, Seattle cannot feel good about how Carpenter's career has unfolded. Carpenter was struggling in pass protection at right tackle before a severe knee injury convinced Seattle that Carpenter's future would be at left guard, next to tackle
Russell Okung
. The conversion did not go well last season because the knee injury continued to limit Carpenter's mobility. The coming season appears pivotal for Carpenter.
Related:
2011 draft rewind
.
January, 31, 2011
1/31/11
5:21
PM ET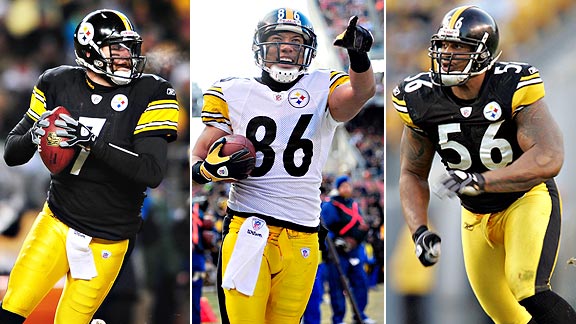 US PresswirePittsburgh's Ben Roethlisberger, Hines Ward and LaMarr Woodley are all playing in Super Bowl XLV, but could they have ended up in the NFC West coming out of college?
FORT WORTH, Texas -- The
Pittsburgh Steelers
appeared loose and comfortable during their first Super Bowl 45 media session.
They've been in big games before, and frequently, thanks largely to shrewd drafting.
This is the Steelers' third Super Bowl appearance in the last six seasons.
The team made available
James Farrior
,
Flozell Adams
,
Hines Ward
,
Brett Keisel
,
Ben Roethlisberger
and
LaMarr Woodley
during its initial media session Monday -- just the opportunity I needed to produce an item corresponding to the one titled, "
Draft hindsight: Aaron Rodgers and beyond
".
The idea: to examine a Super Bowl team's featured players -- in this case, the ones made available Monday -- with an emphasis on draft status and the decisions NFC West teams made in the same rounds. Not every team held a choice in every featured round.
The
Arizona Cardinals
had a shot at Steelers quarterback Ben Roethlisberger, but they came out OK.
Here goes ...
1997 Draft: James Farrior, LB, Virginia
Round:
First (eighth overall, by the
New York Jets
)
NFC West spin:
Farrior is a two-time Pro Bowl choice, but the NFC West offers no apologies for passing over him.
Orlando Pace
and
Walter Jones
became perennial Pro Bowl tackles. Jones became the best player in Seahawks history, in my view.
Shawn Springs
made one Pro Bowl trip and picked off 33 passes during a 13-year career. The Cardinals had no shot at Farrior. They chose Tommy Knight one pick later. He started 54 games in six NFL seasons. Rumor says the 49ers selected a quarterback in the first round of this draft.
First-round selections in the division:
1998 Draft: Flozell Adams, T, Michigan State
Round:
Second (38th overall, by Dallas)
NFC West spin:
Adams became a five-time Pro Bowl choice with Dallas. His career appeared finished, or close to it, until injuries led the Steelers to call on him this season. Arizona passed on Adams twice. Safety
Corey Chavous
, chosen five spots before Adams, went to a Pro Bowl with Minnesota. He was a productive player for roughly a decade. Tackle
Anthony Clement
, chosen two spots before Adams, started more than 100 games for three teams.
Second-round selections in the division:
1998 Draft: Hines Ward, WR, Georgia
Round:
Third (92nd overall, by Pittsburgh)
NFC West spin:
The Rams and Seahawks found Pro Bowl-caliber players when they passed over Ward in the third round. Seattle gave up on
Ahman Green
prematurely, however, after coach Mike Holmgren grew weary of early fumble problems. The 49ers missed on tackle
Chris Ruhman
three choices before Ward went to Pittsburgh. Ruhman played in six games with the 49ers, starting none. He played in 11 NFL games with two starts overall. The 49ers passed on Ward even though
Jerry Rice
had suffered a devastating knee injury in the 1997 opener.
Third-round selections in the division:
2002 Draft: Brett Keisel, DE, BYU
Round:
Seventh (242nd overall, by Pittsburgh)
NFC West spin:
The 49ers drafted longtime starting guard and center
Eric Heitmann
three spots before the Steelers found Keisel. Pittsburgh could use Heitmann this week after the Steelers' starting center,
Maurkice Pouncey
, suffered a severely sprained ankle during the AFC Championship Game. Keisel became a Pro Bowl choice for the first time this season, distinguishing him from 2002 NFC West seventh-rounders. The Rams found their mainstay snapper in this draft. Keisel was gone when the 49ers found guard
Kyle Kosier
, who started 29 games for them and remains a starter with Dallas.
Seventh-round selections in the division:
2004 Draft: Ben Roethlisberger, QB, Miami of Ohio
Round:
First (11th overall, by Pittsburgh)
NFC West spin:
The Cardinals passed over Roethlisberger and came away with a potential Hall of Fame receiver. No complaints there, even though quarterbacks are more valuable than receivers. None of the other NFC West teams had a shot at Roethlisberger. Seattle and St. Louis were set at quarterback, anyway.
First-round selections in the division:
2007 Draft: LaMarr Woodley, OLB, Michigan
Round:
Second (46th overall, by Pittsburgh)
NFC West spin:
The Cardinals could certainly use Woodley now, and badly, but they had already invested millions in the position heading into the 2007 draft. Free-agent additions
Chike Okeafor
and
Bertrand Berry
had combined for 14.5 sacks during the 2006 season. Unfortunately for the Cardinals, they haven't gotten enough from their second-round investment in
Alan Branch
.
Second-round selections in the division:
OK, all done, and just in time. ESPN.com teammates Mike Reiss, Kevin Seifert and I are heading out to the Packers' media session next. Seifert is driving and he doesn't wait for anyone. Gotta jam.