December, 12, 2013
12/12/13
3:35
PM ET
EDEN PRAIRIE, Minn. -- Since Sunday's 29-26 loss to the
Baltimore Ravens
,
Minnesota Vikings
special-teams coordinator Mike Priefer has thought about
Jacoby Jones
' 77-yard fourth-quarter kick return touchdown "a thousand times."
What he's come to, he said Thursday, is that the Vikings won't use their coverage scheme from the "mortar kick" to Jones again.
[+] Enlarge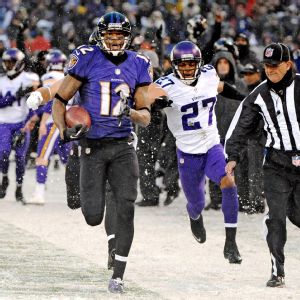 Kenneth K. Lam/Baltimore Sun/MCT via Getty ImagesThe Ravens' Jacoby Jones burned the Vikings with a 77-yard kickoff return for a TD late in the fourth quarter last Sunday.
The Vikings had contained Jones all day when
Blair Walsh
lined up to kick off after
Toby Gerhart
's touchdown run with 1:27 left. But they had done the same thing with
Devin Hester
the week before, and Hester returned a kickoff 57 yards in the fourth quarter, setting up the
Chicago Bears
' 66-yard field goal try as time expired in regulation. The kick missed, and Priefer ordered a mortar kick in overtime, which
Michael Ford
-- not Hester -- fielded at the Bears 22.
"The one thing I was concerned about is that we had kicked one out of bounds the play before, the kickoff before," Priefer said. "We could've put it on the ground again, but I wasn't sure. I got a little nervous. I didn't want to give them the ball at the 40-yard line. So that was going through my head, and I figured that we had been covering them well, but I flashed back to the week before -- we had covered Hester well the entire game until the one kick. I thought the best course of action would be to kick the mortar kick. That's what I recommended to our head coach, and that's what he went with. Obviously, it didn't work out for us."
The problem, Priefer said, was that the Ravens diagnosed the mortar kick when they saw Walsh's short approach, and told Jones to start inching up to field a short kickoff. Walsh needed to see that and go to a different plan, Priefer said, and on the return, the Ravens sealed off an alley for Jones to race down the left sideline.
"They read it perfectly. They did a good job. I got outcoached on that play, unfortunately," Priefer said. "We didn't execute it well enough. We had guys over there. We had, I think, two of them got pinned inside. He hit that seam full-speed. It was not a very good call on my part, and it was not schemed up well on my part. I've got to give credit to them. They did a nice job, and got the ball in their best playmaker's hands."
If there was an encouraging development on Sunday for Priefer, it was how well Walsh and punter
Jeff Locke
performed in the snowy weather. Walsh hit two field goals, and Locke averaged 44.1 yards on nine punts. That kind of a performance could come in handy with the Vikings moving outdoors to the University of Minnesota's TCF Bank Stadium the next two seasons.
"I knew pregame we had a chance to be real successful on punts and kickoffs because the way our young guys, those two young kids, approached the game," Priefer said. "They were, like, 'This is going to be fun.' I mean, I have a kid from Arizona that went to UCLA and a kid from Florida that went to Georgia. They went out there and did a fantastic job for us, and I was real proud of them. There were a lot of positives for us in that game, but it came down to one play. Again, that's the one that hurt us."
August, 16, 2013
8/16/13
10:15
PM ET
Reviewing Friday night's events at Ralph Wilson Stadium:
Buffalo Bills 20, Minnesota Vikings 16
Preseason record:
0-2

Of interest:
The evening began with left tackle
Matt Kalil
getting beat for a sack by Bills defensive end
Jerry Hughes
, and it didn't get much better, at least for a Vikings offense that again played without tailback
Adrian Peterson
. Coaches got quarterback
Christian Ponder
five series of work, but he took two sacks and was jumpy enough to complete only 5-of-12 passes for 53 yards. He led a 62-yard scoring drive, ending in a
Blair Walsh
's 36-yard field goal, but otherwise the Vikings gained a total of 20 yards on his other possessions. (Walsh earlier missed from 49 yards.) The Bills' rush was active, and center
John Sullivan
launched an early shotgun snap to scuttle one play, but all quarterbacks face adversity during the season. Ponder needed to react better and at times quicker Friday night. If you were hoping for an anxiety-relieving performance from him, this wasn't it. … Three of Ponder's completions went to tight end
Kyle Rudolph
, who also dropped an easy third-down pass. … The Vikings' defense played well against an equally underwhelming performance from Bills quarterback
Kevin Kolb
. Safety
Jamarca Sanford
intercepted a pass tipped by cornerback
Xavier Rhodes
, and linebacker
Desmond Bishop
showed up several times in extensive playing time -- albeit mostly with the third team. But he was also the closest defender on
Brad Smith
's 4-yard touchdown pass from
EJ Manuel
in the third quarter. … Punter
Jeff Locke
dropped three punts inside the 20, two of which were downed by special-teams hopeful
Bobby Felder
. … No. 3 quarterback
McCleod Bethel-Thompson
's 10-of-17 performance was, if nothing else, a nice showing to put on tape if the Vikings elect to keep two quarterbacks. … Receiver
Jarius Wright
suffered a concussion and did not play after halftime.
Up next:
Aug. 25 at
San Francisco 49ers
.
July, 1, 2013
7/01/13
10:30
AM ET
Here is an interesting tidbit to keep in mind and impress your friends with: On their roster, the
Minnesota Vikings
have arguably the top kickoff men from both the NFL and college football last season.
We all know
what
Blair Walsh
did in 2012, leading the league in average kickoff distance and ranking second in touchback percentage. As it turns out, rookie punter
Jeff Locke
-- a fifth-round draft choice from UCLA -- tallied an even higher percentage of touchbacks during his senior season. The chart provides the details.
Locke's value here is mostly from a contingency standpoint. There is no reason to adjust Walsh's routine and responsibilities after an All-Pro rookie season, and Locke said last month at minicamp that the Vikings hadn't worked him at all on kickoffs.
If anything, Locke offers the Vikings flexibility if Walsh were injured or otherwise unavailable. Most punters can handle kickoffs in an emergency situation, but presuming Locke could provide a more credible performance over a longer term, the Vikings could make a decision on Walsh's replacement based purely on potential field goal accuracy rather than a side concern about kickoffs.
May, 7, 2013
5/07/13
4:00
PM ET
This week,
NFC West colleague Mike Sando
posted the NFL's little-known rules for rookie participation in offseason programs. The key portion for our consumption: Draft picks and college free agents can't participate in organized team activities until after final exams at their respective schools.
K. Long
That isn't an issue on most campuses, where finals occur in early May. But there are at least four NFC North players, all from Pac-12 schools, who apparently will miss all or most of their team's OTAs this spring because of a later academic calendar.
Atop the list is
Chicago Bears
first-round draft pick
Kyle Long
of Oregon, a guard who figures to compete for an immediate starting job. The Bears' OTAs will take place between May 13 and June 6, but Oregon's final exams
don't end until June 14
. Long is eligible for this weekend's rookie minicamp but not the Bears' veteran mandatory minicamp June 11-13. (
*Update:
An earlier version of this post said Long was eligible for veteran mandatory minicamp. Upon review, that is not the case.)
The same is believed to be true for a trio of UCLA players who were drafted by NFC North teams.
Green Bay Packers
running back
Johnathan Franklin
, along with
Minnesota Vikings
punter
Jeff Locke
and
Jeff Baca
, appear ineligible for OTAs until after June 14. The Packers and Vikings are both scheduled to have OTAs wrap up on the same day.
Franklin would not be eligible for the Packers' veteran mandatory minicamp, which is scheduled for June 4-6. Locke and Baca would be able to participate because the Vikings' mandatory minicamp is scheduled to start June 18. (
Update:
Frankin's eligibility status has also been revised.) Packers defensive end
Datone Jones
, also of UCLA, is eligible for OTAs because he has already graduated from school.
How critical will these absences be? Repetitions are the key to learning, but most rookies are swimming when they arrive at training camp regardless of their offseason participation. But in Long's case, for one, it stiffens the learning curve required for him to compete effectively for a Week 1 starting job, as many have projected he will.
April, 29, 2013
4/29/13
11:05
AM ET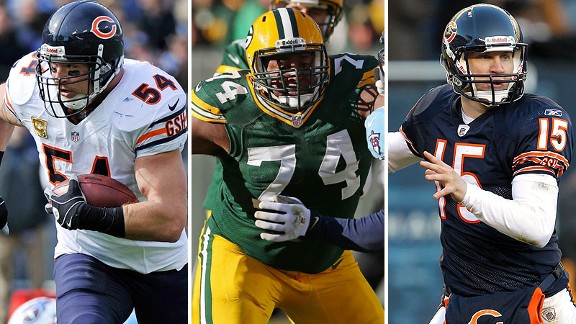 Getty ImagesFollowing the 2013 NFL draft, the futures for Brian Urlacher, Marshall Newhouse and Josh McCown appear unclear.
NFC North teams added dozens of intriguing young players over the weekend. They filled glaring holes and added to already-established strengths. Some areas remain weak, of course, while other selections created new storylines we hadn't anticipated.
So here's my post-draft plan. We'll use this post to lay out the unfilled holes and new storylines and then circle back over the next days and weeks as needed. I'll also sprinkle in some interesting and/or offbeat stories that emerged from the draft but would have been buried if I had posted them over the weekend.
Issue:
The
Green Bay Packers
continued signaling potential change at left tackle.
Analysis:
Coach Mike McCarthy said in March that the team needed better play from its left tackle position, manned last season by
Marshall Newhouse
. Then the Packers went out and drafted Colorado's
David Bakhtiari
and Cornell's
J.C. Tretter
in the fourth round. Bakhtiari has played left and right tackle; Tretter played tackle as well but might project as a guard. Saturday, McCarthy left all options open at the position -- including moving right tackle
Bryan Bulaga
back to the position he played at Iowa. McCarthy also said
he is "really counting"
on
Derek Sherrod
, the Packers' top pick in 2011 who hasn't played since breaking his leg late that season, to compete for the job.
Don Barclay
, who started four games last season at right tackle (plus another two in the playoffs), is also in the mix. Suddenly, the Packers have six legitimate possibilities to compete for the left and right tackle spots if they want. Moving Bulaga isn't as easy as it sounds, and there is something to be said for leaving him at a position he has excelled at. But it's telling that the Packers are even considering it.
Issue:
The Packers drafted 11 players, but none of them were safeties.
Analysis:
General manager Ted Thompson said afterwards that he has faith in incumbents
M.D. Jennings
and
Jerron McMillian
, who will compete to play alongside
Morgan Burnett
. We'll see if the Packers feel compelled to kick the tires on a veteran.
Among those available
are
Quintin Mikell
,
Kerry Rhodes
and
Gerald Sensabaugh
. Historically, the Packers' approach has been to evaluate younger incumbents first before seeking veteran replacements elsewhere.
Issue:
None of the
Minnesota Vikings
' nine draft choices play middle linebacker.
Analysis:
We should note that the Vikings used a seventh-round pick on Penn State's
Michael Mauti
, who has been projected as a middle/inside linebacker by some. But Mauti is recovering from his third career ACL tear and can't be counted on to fill any sort of significant role. Internal candidates include
Erin Henderson
, the strong-side linebacker whom the Vikings have said could play inside if needed, and 2012 seventh-round pick
Audie Cole
. The elephant in the room is veteran
Brian Urlacher
, who was reported at one point this spring to have
had conversations with Vikings officials
. Urlacher isn't
anything close to the profile of the player
general manager Rick Spielman typically brings in, but this is an extenuating circumstance. Remember, the Vikings
used their nickel defense on 58.9 percent of their snaps last season.
Whomever plays middle linebacker for the Vikings could be off the field for two of every five snaps.
Issue:
The Vikings used a fifth-round pick to make
Jeff Locke
the first punter drafted.
Analysis:
In the past five years, four punters have been selected with a fifth-round pick or higher. All four became their team's primary punters in their rookie seasons. There is every reason to believe the Vikings plan for Locke to replace veteran
Chris Kluwe
, perhaps as soon as they get a look at him during their rookie minicamp this summer. I know that Spielman said Locke was
brought in "to compete" for the job
, but that competition will be short and one-sided. NFL teams don't use draft picks on specialists unless they are certain they want to make a change.
Issue:
The
Detroit Lions
didn't draft an offensive tackle after the departure of both 2012 starters.
Analysis:
Riley Reiff
, the Lions' top draft choice in 2012,
will start at left tackle
. The Lions' right tackle could be
Jason Fox
or
Corey Hilliard
. That still leaves the Lions thin along the line, especially at right guard if rookie
Larry Warford
isn't ready to step in right away. Regardless, Lions general manager
Martin Mayhew
made clear the Lions need to add more depth. "We're really young there so we'll look at some veteran guys there I think over the next few weeks."
Issue:
The Lions didn't draft a receiver until the sixth round (Virginia Tech's
Corey Fuller
), but they almost….
Analysis:
According to
Ian Rapoport of the NFL Network
, the Lions told Michigan's
Denard Robinson
that they planned to draft him with the No. 136 overall pick. Mayhew had spoken before the draft about Robinson's potential as a "slash" player from the backfield and/or slot receiver position. Robinson, however, was selected at No. 135 by the
Jacksonville Jaguars
. Eventually the Lions used the No. 166 overall pick to select Notre Dame's
Theo Riddick
, who is not as explosive as Robinson but is a good receiver out of the backfield in his own right. Ultimately, the Lions finished this draft thin at the traditional receiver position given the injury rehabilitations of
Nate Burleson
and
Ryan Broyles
.
Issue:
The
Chicago Bears
did not draft a quarterback, seemingly leaving
Josh McCown
as the primary backup to
Jay Cutler
.
Analysis:
The Bears
figured to be a candidate to draft a quarterback
in part because of coach Marc Trestman's expertise in developing them and in part to end the cycle of searching for a veteran backup each year. In the end, the Bears couldn't justify drafting one given their limited number of picks. (They started with five and through trades finished with six.) Said general manager Phil Emery: "Things would have to line up perfect to take a quarterback with five picks." McCown was relatively impressive during a two-start stint to end the 2011 season, but overall he has played in a total of six games over the past five seasons. I wouldn't call this the Bears' most pressing need, and the Bears signaled as much with their draft results.
Issue:
The Bears feel better about their tight end situation than most draft pundits.
Analysis:
Many draft analysts
thought the Bears would draft
Notre Dame tight end
Tyler Eifert
if they had a chance, but they passed him up Thursday night in favor of offensive lineman
Kyle Long
. Eifert went one pick later to the
Cincinnati Bengals
. It's true that Eifert would have been a luxury pick given the free-agent acquisition of tight end
Martellus Bennett
, but in the larger sense he would have been another weapon for quarterback Jay Cutler's make-or-break season.
April, 27, 2013
4/27/13
3:59
PM ET
It appears that two NFC North teams will have highly-regarded rookie punters in 2013.
We noted earlier
that the
Minnesota Vikings
drafted UCLA's
Jeff Locke
with the No. 155 overall pick Saturday afternoon, a move that will probably prompt the release of veteran
Chris Kluwe
.
Eleven spots later, the
Detroit Lions
drafted Appalachian State punter
Sam Martin
. The move provides what the Lions hope will be a long-term solution after their initial decision to part ways with
Nick Harris
after the 2010 season. The Lions ran through two other punters before bringing back Harris early last season, but Martin is a strong-legged youngster who might also handle kickoffs for the Lions.
His arrival will complete the Lions' offseason overhaul of specialists. Earlier this month, place-kicker
Jason Hanson
retired and was replaced by veteran
David Akers
.
April, 27, 2013
4/27/13
3:38
PM ET
This one you could see coming a mile away.

A year after drafting a place-kicker to replace their veteran incumbent, the
Minnesota Vikings
appear to have done the same at their other specialist position. They just made UCLA's
Jeff Locke
the first punter taken in the 2013 draft, at No. 155 overall in the fifth round, and that probably means the end of
Chris Kluwe
's eight-year run with the team.
Kluwe might be the best punter in Vikings history, but his inconsistent performance and diverted attention
clearly gnawed at special-teams coordinator Mike Priefer last season
. Priefer criticized Kluwe publicly for attaching a handwritten note on his game jersey promoting Ray Guy's candidacy for the Pro Football Hall of Fame, and then expressed frustration that Kluwe wouldn't have listened if he had tried to admonish him. When a coach admits a player won't listen to him, you can assume that something will eventually shake loose there.
General manager Rick Spielman
refused to discuss Kluwe's future in an interview
in March, and it became clear early this month that the team was working out
most of the draft's top punters
. Locke was one of several the Vikings worked out; he is a left-footed punter who averaged 44.2 yards per punt at UCLA and also led the nation in touchback percentage as a kickoff man.
Teams rarely use draft picks on kickers, so you can rest assured the Vikings didn't devote one Saturday just to provide Kluwe with competition. Last year, they released place-kicker
Ryan Longwell
days after rookie
Blair Walsh
's reassuring performance in the Vikings' post-draft rookie minicamp.
Kluwe is entering the final year of a deal that would pay him $1.45 million in 2013. He would not count against the Vikings' salary cap at all if he were cut because the maximum five-year pro-ration of his contract is over. If and when that happens, we'll have a more thoughtful discussion about the impact -- or lack thereof -- that Kluwe's public activism might have had on the decision.
Via Twitter
, Kluwe responded with what I think is a reference to the movie "Dodgeball:" "That's a bold move Cotton. Lets see how it plays."
I wouldn't have expected anything less.
NFL SCOREBOARD
Sunday, 2/2
WEEKLY LEADERS