January, 29, 2014
Jan 29
12:00
PM ET
PHILADELPHIA -- The NFL is facing stiff competition -- from itself.

As television screens get larger and clearer and more lifelike, and as viewing options allow the home viewer to follow multiple games at once, the in-stadium experience has suffered a bit in comparison.

That's one reason the Eagles announced a partnership with Panasonic to replace the enormous video boards in Lincoln Financial Field with what the team says are the highest-resolution screens in the NFL. The deal, part of a stadium revitalization project that includes improved wireless capability, will include large monitors and LED ribbon boards throughout the stadium.

"Our fans deserve the ultimate experience every time they step foot into Lincoln Financial Field," Eagles owner Jeffrey Lurie said in a prepared statement. "One of our top priorities during this revitalization project was to enhance that experience by providing them with the highest quality HD video boards and LED ribbon boards."

Lurie may have another goal in mind. He made some news last summer by saying he wanted to try to bring a Super Bowl to Philadelphia. At the time, the first cold-weather, open-air Super Bowl at the Meadowlands was six months away.

Now, it is a few days away. And while the whole New York/New Jersey Super Bowl idea has been controversial and endlessly debated, it is starting to look as if the NFL will get away with it.

Yes, it has been well below freezing in the Northeast this week. But there is snow and ice on the ground in such "warm-weather" former Super Bowl host cities such as Atlanta and Jacksonville. And from personal experience, let me just say that the absolute worst weather for the pregame activities has been in Dallas and Atlanta.

Lurie said last summer that his chances of making a serious bid depended on the Meadowlands Super Bowl going well. That hasn't happened yet, obviously, but it is getting closer. And if it does work out, the Linc will be in better shape than ever for the selection committee (of which Lurie is a member) to consider.
December, 9, 2010
12/09/10
2:30
PM ET
By
Matt Mosley
| ESPN.com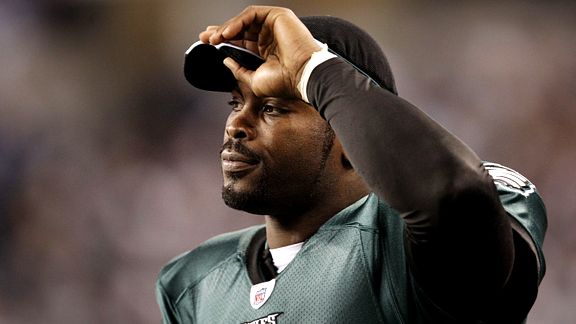 Jamie Squire/Getty ImagesMichael Vick played sparingly in last season's playoff loss to the Cowboys. He figures to have a much greater role when the two teams meet Sunday night.
IRVING, Texas -- The
Philadelphia Eagles
would have made some changes after the 2009 season even had they not been thoroughly embarrassed in back-to-back losses to the
Dallas Cowboys
at the end of the season. But those beatings in Cowboys Stadium -- by a combined score of 58-14 -- prompted the Eagles to turn their roster upside down.
Coach Andy Reid tried to downplay the three losses to the Cowboys last season, but all it takes is one look at this Eagles defense to see the impact the defeats had on the organization. When I made a trip to Philadelphia this past offseason, I stopped by new general manager Howie Roseman's office and saw just how obsessed this team was with closing the gap with the Cowboys. Like most general managers, Roseman had his team's two-deep chart in a prominent spot on the wall. But next to it was the Cowboys' depth chart.
I certainly didn't see the Giants' and Redskins' charts anywhere in the office, so it was obvious what was happening. Reid and Roseman made their biggest move when they traded quarterback
Donovan McNabb
to the Redskins on Easter, but that was only the tip of the iceberg. The Eagles have released or traded 21 players from last year's playoff roster. They addressed a ridiculous situation at safety by spending the second-round pick they acquired for McNabb on the University of South Florida's
Nate Allen
. He has responded by locking down a starting role and placing himself in the conversation for defensive rookie of the year.
Reid won't admit it publicly, but the Eagles were humiliated by the way the Cowboys dominated them at the line of scrimmage in those last two games. Then-Cowboys offensive coordinator Jason Garrett hadn't been known for his balanced game plans, but the Cowboys rushed for 377 yards in those games and
Tony Romo
threw for 523. Even without starting right tackle
Marc Colombo
, the Cowboys' offensive line manhandled the Eagles' defensive line and neutralized the pass rush. When Roseman started moving all over the draft board to acquire more picks, it was with the Cowboys in mind. On Wednesday, Reid was asked whether those back-to-back losses to the Cowboys crystallized his decision to overhaul the roster.
"I wouldn't say that. I would be slamming the guys that were here and I wouldn't do that," Reid said. "I will tell you, though, we were blessed to have that many picks. Whether those guys were here or weren't here. Then we created some trades, but we had this good nucleus of picks that, if we did it right, we felt like we could bring in some young guys to add to the roster. I thought we needed that. Howie thought we needed that, and that's kind of the direction that we went there."
Owner Jeff Lurie joked with me this past offseason that it was basically the same roster that had finished the 2008 season by beating the Cowboys 44-6, but he knew the changes needed to be made. Eagles fans view the Cowboys in much the same way the Red Sox view the Yankees, which is to say there's some hatred involved. The fact that Philadelphia entered the last regular-season game of 2009 with an 11-4 record meant nothing two weeks later.
Now the Eagles will encounter a team in a far different situation. The Cowboys have rallied under Garrett, but they still have a 4-8 record and are in the unfamiliar spoiler role. Cowboys owner Jerry Jones still thinks he has the makings of a playoff contender, but it obviously won't happen this season. But the Cowboys could gain a measure of redemption if they were to beat the Eagles in front of a national television audience Sunday night.
Safety
Gerald Sensabaugh
told me Wednesday that the players are motivated to try to secure the jobs of Garrett and interim defensive coordinator Paul Pasqualoni. And he also tried to put his finger on why the Cowboys were superior to the Eagles at the end of last season.
"I think there's something to be said for knowing your opponent really well," Sensabaugh said. "We had a good idea of when they were going to take shots in certain areas. And it probably helped us that those receivers are a little undersized. But with
Michael Vick
back there, it's a different situation."
And more than any of the moves made on draft day, it is Vick who has given the Eagles their identity. When he's on the field, there's a belief among the players and coaches that no one can stop them. And unfortunately for the Cowboys, Vick has a pretty good memory of what happened at Cowboys Stadium last season.
"If you can't get motivated by that, then I don't know what will motivate you," Vick told reporters
during a conference call Wednesday
. "I wasn't even on the field playing and it hurt me deeply, so I can imagine what the guys who were out there are feeling now. You know it's not a get-back game, it's a game we've just got to come back out and win."
When you spend an entire offseason trying to catch up with one of your rivals, I think it's more than a "get-back" game. The Eagles are looking for validation Sunday night in Dallas. And with Vick at the helm, I like their chances.
November, 19, 2010
11/19/10
12:41
PM ET
By
Matt Mosley
| ESPN.com
Michael Vick
made a fool out of
Atlanta Falcons
owner Arthur Blank. The owner not only made Vick the highest paid player in the game, but he treated him like a son. That relationship came crashing down when Vick was convicted for orchestrating a dogfighting ring and sent to prison for two years.
Vick
Now, another owner is smitten with Vick and his remarkable comeback story. No matter how you feel about the man's crime, it's impossible to deny his brilliance on the field this season. And that's why
Philadelphia Eagles
owner Jeffrey Lurie will look past all the baggage and make Vick an incredibly wealthy man -- even after the quarterback pays off his enormous financial debt.
Lurie talked about Vick on Thursday for the first time since he'd been named the starting quarterback. He declined to address Vick's contract status (he's a free agent after the season), but it's pretty easy to read between the lines:
"The biggest thing I learned about Michael was what a dedicated worker he has become,"
Lurie told the Inquirer's Ashley Fox
. "We always knew he was extremely talented, but watching the Falcons, I never thought he put it all together because there were inconsistencies. There were weaknesses in his game.
"He is so dedicated to harnessing that amazing, God-given talent in a much-better way now. So the hard work and the dedication and what a great teammate he is, that's kind of what I've learned. And you just have to take it week by week, month by month, and watch him evolve. It's a great thing to see."
And who can blame Lurie for crowing a little bit over his decision to sign Vick to a contract when teams weren't exactly standing in line for his services. I don't think Lurie is as close to Vick as Blank was, but he certainly is a huge fan. With a potential lockout looming, it will be interesting to see how the Eagles handle negotiations with Vick.
President Joe Banner and GM Howie Roseman have been very proactive with star players in the past, although you might not want to run that statement past
DeSean Jackson
right now.
Eagles' former star quarterback
Donovan McNabb
has a brand new contract. I think their current star won't be that far behind.
July, 28, 2010
7/28/10
12:15
PM ET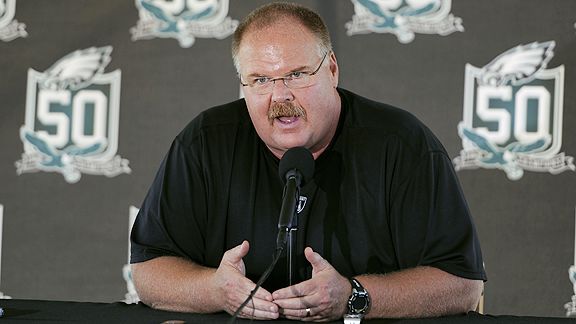 Howard Smith/US PresswireThere are plenty of new faces on Andy Reid's roster heading into the 2010 season.
BETHLEHEM, Pa. -- In the NFL's often unforgiving circle of life,
Philadelphia Eagles
head coach Andy Reid has been handed a rare second opportunity -- a chance to hit the refresh button on his team and his career.
And there he was on the first day of training camp at Lehigh University, in his usual command position on the practice field, about 50 yards behind the middle linebacker, all alone, looking at his own reincarnation.
Gone was
Donovan McNabb
-- Reid's first training camp in his 12-year head coaching career without the quarterback he drafted in the first round in 1999.
Gone was
Brian Westbrook
-- the veteran running back who provided much of the late-game heroics and pyrotechnics that often bailed out the Eagles and their head coach.
And there were all the new faces, including
Kevin Kolb
, who will have the fewest career starts -- just two -- of any prospective starting quarterback in the NFC this year. In all, the Eagles jettisoned 14 players from their 2009 roster -- more than any team in the league.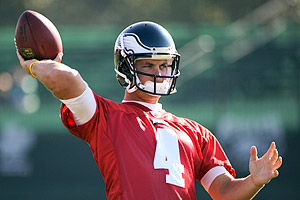 Howard Smith/US PresswireKevin Kolb takes over at quarterback for the departed Donovan McNabb.
When the veterans arrive on Thursday, there will be 32 new players in camp.
How green are these Eagles? The training camp roster boasts only one non-kicker over the age of 30, the fewest in the NFL.
"There's a little bit of unknown, which I kind of like," said Reid of his new team, average age 24.1 years old. "I like that."
Now, there is a first. The NFL's head coaches -- among the planet's greatest control artists -- rarely embrace the unknown, or at least admit it in public.
Assessing his rebuilt roster, Reid called it "a great challenge." What might be more challenging is convincing his championship-starved fan base that this roster overhaul can work. In Philadelphia, with McNabb now playing for the division-rival
Washington Redskins
, and so much inexperience wearing midnight green this season, there is little love of the unknown created by Reid.
More like fear.
And that translates into one thing: a whole lot of pressure on Reid. Yes, the head coach was given a three-year contract extension in December. But now failure to bring a Super Bowl title to Philadelphia can no longer be blamed on McNabb's shortcomings, Westbrook's injuries or aging veterans such as
Brian Dawkins
who are long gone.
It's on Reid now.
"There are some big-name players that have been proven players on this football team that aren't here," said Reid. "It's important that the young guys step up and they go."
If they don't, it will be difficult to try to peddle to Eagles fans that the team was victimized by inexperience. Going young was the franchise decision.
March, 25, 2010
3/25/10
2:27
PM ET
By
Matt Mosley
| ESPN.com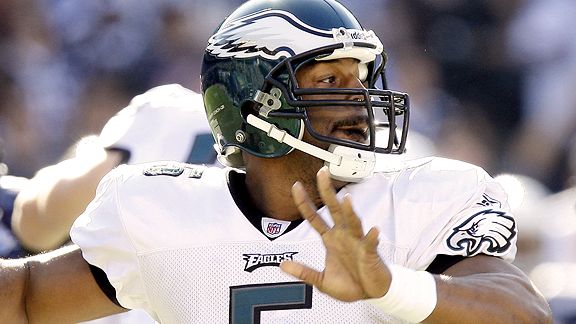 Jody Gomez/US PresswireMight quarterback Donovan McNabb be on the move? The Eagles are said to be entertaining offers.
ORLANDO, Fla. -- If you were hoping the
Donovan McNabb
era would officially end in Philadelphia, Tuesday and Wednesday provided watershed moments. Andy Reid, perhaps McNabb's biggest defender, said he's all ears if someone wants to trade for the veteran quarterback.
Reid's statement after the season that McNabb would be his starting quarterback in 2010 was left dangling in the wind, although we're reviewing tapes to see if his fingers were crossed. I've had the sense for the past two months that club president Joe Banner and new general manager Howie Roseman were leaning toward moving McNabb, but it was hard to imagine Reid getting on board.
On Tuesday in a Ritz-Carlton restaurant, Reid sounded the retreat. He told a Philadelphia Inquirer columnist the Eagles were "entertaining" offers on all three quarterbacks, but McNabb was obviously the headliner. Despite the infamous '08 benching in Baltimore, Reid and McNabb have remained close over the past decade. But apparently someone in the building has convinced Reid that he should at least be open to the idea of moving McNabb while he still holds some trade value.
On Tuesday afternoon, while other head coaches rushed off to tee times, I saw Reid, owner Jeff Lurie, Banner and Roseman huddle for several minutes in a breezeway outside the hotel. About 30 minutes later, Reid was uncharacteristically spilling his guts to a Philadelphia newspaper. At 7 o'clock the next morning, Reid attempted to temper some of his remarks.
"I'm listening," said Reid. "I'm not saying I'm doing anything, but I'm keeping my ears open, which we do on every player. This is no different. ... I mean, Donovan's our No. 1 quarterback, and
Kevin [Kolb
]'s our No. 2 quarterback, and
Michael [Vick
]'s our No. 3 quarterback. That's how I feel."
So this is no different than, say, trading for linebacker
Will Witherspoon
during the regular season? No, this is
way
different than any trade Reid's been involved with. He's openly admitting that the one player his coaching career is most intertwined with is being shopped. And the point that some folks are missing is that Reid's also showing immense trust that the 25-year-old Kolb can hit the ground running as the franchise quarterback. (Try not to think about the fact the Eagles will enter 2010 with major questions at center and right guard, Kevin.)
December, 9, 2009
12/09/09
10:08
AM ET
By
Matt Mosley
| ESPN.com
As of this morning, Andy Reid has a new contract to coach the Eagles
through the 2013 season
. The organization has been up front with its plans to extend Reid's old contract, which expired at the end of this season. And there really wasn't any reason to wait on this deal.

Reid
Reid has led the Eagles to five NFC title games and a Super Bowl appearance. The one enormous hole in his résumé is the lack of a Super Bowl win. But the fact that the Eagles have been one of the most successful and consistent organizations in the league overrides that factor when it comes to Reid's contract.
Reid now has more offensive weapons than at any time during his 11 seasons with the Eagles. There was no point in waiting to see how this season finishes before doing the contract. Quarterback
Donovan McNabb
and Reid have been together for a decade now, but it now looks like Reid will probably outlast the player with the organization.
I'm sure Reid will appear somewhat uncomfortable at the news conference this morning. He's in the middle of preparing for the
New York Giants
, but owner Jeff Lurie isn't going to let him skip this gathering.
March, 1, 2009
3/01/09
10:45
AM ET
| | |
| --- | --- |
| | |
| | Hunter Martin/Getty Images |
| | Philadelphia's decision to let Brian Dawkins go may leave the team with a void in team leadership. |
Posted by ESPN.com's Matt Mosley
The problem with making the Eagles the villain in safety Brian Dawkins' surprising departure is that they were following a successful blueprint. Since Andy Reid became head coach a decade ago, the Eagles have rarely succumbed to sentimentality when it comes to negotiating contracts.
Players such as Troy Vincent and Jeremiah Trotter learned that lesson the hard way. Other teams might offer lifetime achievement contracts, but the Eagles are always asking, "What can you do for us tomorrow?" If the answer's not much, the Eagles quickly move on.
But the team's rabid fan base could get over Vincent and Trotter because it was obvious they were declining players. At age 35, Dawkins was coming off a season in which he revitalized his career. After some shaky moments early in the season, he helped ignite the Eagles' late-season run and was named the NFC's defensive player of the month in December. More importantly, he was the heart and soul of this team. No one cared as much as Dawkins, and his raw emotion rubbed off on teammates.
Donovan McNabb is the face of the franchise, but he's always seemed a bit distant, even aloof at times. Dawkins was completely transparent. When he was talking, you never had to read between the lines. He embodied this city's lunch-pail spirit -- and fans loved him for it. Even when Iverson was in town, Dawkins was the city's most beloved athlete.
That's why the Eagles may have taken for granted Dawkins staying with the team. Why offer a lot of guaranteed money to a guy not interested in leaving? On Saturday, that laid-back approach backfired on the Eagles. They allowed a man who had a vice grip on the locker room to finish his career in orange.
The Eagles owed it to themselves to bring Dawkins back. It seems odd to release the best leader on the team when you were minutes away from appearing in the Super Bowl. And what will McNabb think of this? If you believe recent reports, he's basically taking a wait-and-see approach on his future based on what the Eagles do in the offseason.
On Saturday, the Eagles took the whole Brotherly Love thing to a new level with the addition of Shawn Andrews' big brother, Stacy. But Shawn still sounded distraught about Dawkins.
"It's definitely a loss to the team and a loss to me personally," Andrews said. "There's nothing like talking to a guy who's helped you out along the way with things, and kind of mentors you, and an overall leader. If I had to pinpoint one guy since I've been in Philadelphia that I respect as a husband, a father, an athlete, a football player, it would be Dawkins. He will be dearly, dearly missed."
According to various reports, Dawkins will receive $7.5 million in guarantees from the Broncos. The Eagles weren't in the same ballpark, which is too bad. They were in the best position to know how much Dawkins was worth -- and they got it wrong. I don't think anyone in Philly begrudges Dawkins for accepting a tremendous deal with the Broncos.
But Eagles management will draw plenty of criticism. Being fiscally responsible might be en vogue right now, but losing a civic hero never seems appropriate.
February, 28, 2009
2/28/09
4:41
PM ET
Posted by ESPN.com's Matt Mosley
Eagles fans are still in a state of shock about safety Brian Dawkins signing with the Broncos. Philadelphia has always been willing to cut ties with beloved players such as Jeremiah Trotter, but Dawkins was different. He may have been the most beloved Eagles player since Randall Cunningham. Chairman/CEO Jeff Lurie and coach Andy Reid just released statements regarding Dawkins' departure:
Lurie:
Brian Dawkins has been one of the pillars of this franchise for 13 years. He helped lead us to five NFC Championship games and one Super Bowl. Brian embodies everything you look for in a professional athlete and human being. I have been fortunate to witness his impeccable character, his passion for the game of football and his commitment to being the best player he could be. I look forward to continuing a close relationship with him once his playing days are over. His legacy as an Eagle will last forever and will ultimately land him in Canton as a Hall of Famer."
Reid:
Brian is one of the best players in franchise history and one of the most popular players to ever play in the city of Philadelphia. The Eagles organization, as well as the entire fan base, will miss him not only as a player but as a tremendous person. This is the toughest part of my job, no question. He gave this city 13 years of emotional, energetic football. We wish Brian and his family nothing but the best as he continues his career in Denver.
November, 14, 2008
11/14/08
11:06
AM ET
Posted by ESPN.com's Matt Mosley
Eagles coach Andy Reid and quarterback Donovan McNabb have spent a decade together in Philadelphia. Over that period of time, the Eagles have been a dominant team in the NFC East and made one Super Bowl appearance.
| | |
| --- | --- |
| | |
| | G. Newman Lowrance/Getty Images |
| | Has Andy Reid's offense become too predictable? |
But as Philadelphia Inquirer columnist John Gonzalez points out, it seems like things have grown stale. On almost a weekly basis, Reid makes a baffling decision in the red zone, and his explanations never make any sense.
"Like the dinner guest who stays too long, it's time for Reid to go," writes Gonzalez. "Someone over there should thank him for coming and for bringing something to the table. Then they should politely show him the door."
Well, I think we can all agree that owner Jeff Lurie isn't going to show Reid the door. He's earned the right to leave on his own terms -- unless he keeps posting .500 records. On Wednesday, the NFC Beast talked to a Pro Football Hall of Fame writer who thinks there's a good chance Reid will take a sabbatical after this season. Like Bill Cowher, he might take some time to recharge his batteries and then think about making a return.
Reid has had an excellent run in Philly, but it feels like he's lost his edge to some extent. He makes bone-headed challenges and then he blindly defends his quarterback no matter how poorly he plays. I thought it was really telling that a Redskins player told me after a recent game that the Eagles' first 15 scripted plays gave the Washington defense a lot of trouble. After that, he said, the Redskins knew everything that was coming.
We also heard about Tiki Barber sitting in a TV studio predicting play after play for the Eagles. That's not the type of feedback an offensive-minded head coach wants to hear. The Eagles still have time to make a playoff push, but it's probably time they get started
NFL SCOREBOARD
Sunday, 2/2
WEEKLY LEADERS