November, 25, 2013
11/25/13
2:55
AM ET
FOXBOROUGH, Mass. --
Denver Broncos
kicker
Matt Prater
owns the best field goal percentage from 50 yards and beyond of any player in league history who started his career after the league's AFL-NFL merger in 1970.
Prater
He's also never missed a kick of at least 50 yards in overtime in his career -- he's 4-of-4.
But on a frigid, blustery night in New England, the Broncos passed on a potential 54-yard game-winning field goal attempt in overtime Sunday night. Facing a fourth-and-8 from the Patriots' 37-yard line with 5:01 remaining in overtime, the Broncos passed on giving Prater a chance and had punter
Britton Colquitt
punt it away instead.
Prater would have had to kick into the stadium's open end on a night when the wind battered kicks to the ground for both teams. Interim head coach Jack Del Rio said he asked Broncos special teams coordinator Jeff Rodgers if it was in Prater's range.
"I asked Jeff 'Are we in range?' and he said 'No,'" Del Rio said following the
34-31 overtime loss
. "I even said, 'Field goal here?' and he said 'No, I really don't think we can make this kick here.' It was tempting, because it was close."
Prater had made a 48-yarder in pre-game warm-ups in the open end of the stadium, but did not attempt any longer kicks before the game, when he routinely kicks 50-yarders and even a 60-yarder or two when the weather is better.
Prater has also been standing out in the elements for several hours by the time overtime was played. He had just one touchback on a kickoff to that end of the stadium in the game -- late in the fourth quarter, after the Broncos had tied the game 31-31, but even that kick didn't go very deep into the end zone.
September, 1, 2013
9/01/13
12:00
PM ET
There was a time or two during training camp when the guy behind the wheel of the John Deere pulling a mobile goal post toward a drill was none other than Broncos special-teams coordinator Jeff Rodgers.
As he'd drive from one field to the other, he'd simply say "the more you can do.''
And the phrase is a common one throughout the league, said sometimes with more than a tinge of irony about doing the task that is presently at hand. But when the Broncos rolled out their first 53-man roster of the season, there were some more-you-can-do guys in there that affected some of the other decisions they made.
[+] Enlarge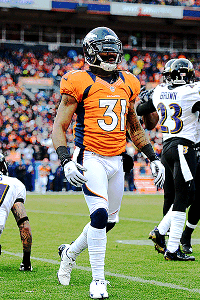 Mark J. Rebilas/USA TODAY SportsWith his versatility, Denver is expecting DB Omar Bolden to make a significant impact in 2013.
Second-year defensive back
Omar Bolden
was one. He spent his rookie season at cornerback in 2012 and the Broncos liked the way he handled his business, his mental toughness and the way he battled in man coverage. He fully expected to be at cornerback this year, especially when as the players went through check-out day last January, he promised he would compete for far more playing time on the outside.
He got it half right, at least the playing time part, anyway. Roughly two weeks ago Bolden started to show up at safety at times in practice. A snap here, a snap there and in the preseason finale Bolden started at safety against the Cardinals and finished with six tackles.
At 195 pounds he fits the mold of a coverage safety in these pass-happy times, and after watching Bolden's work on special teams the Broncos believed he was a player who can match up on a receiver or tight end down the field, but one who showed himself to be willing to stick his nose in run defense as well. The Broncos feel they could use him at either position in any of their defensive packages.
That swing job was supposed to be Quentin Jammer's when camp opened, but Jammer is now solely a corner, having never looked all that comfortable at safety, while Bolden has snagged the cornerback/safety gig and the potential playing time that will come with it.
The Broncos will likely spend almost 70 percent of their defensive snaps this season in something other than their base defense, so they will feature more than two safeties in the formation for plenty of snaps, especially in the dime.
"We're looking for flexibility at safety,'' is how executive vice president of football operations John Elway put it. "Omar was a guy that does a tremendous job on special teams, so we wanted to look at him at [safety]. And also, with Jammer going back and getting a look at corner, we felt that Quentin is better at corner than he is at safety. So we wanted to look at Omar who has flexibility and is great on fourth down, so we looked at him at safety.''
In the defensive line,
Malik Jackson
's versatility has increased his value as
Derek Wolfe
's backup in many of the defensive packages. Jackson, a fifth-round pick in 2012, can play at end on both run downs and pass-rush packages. Jackson also moved inside to defensive tackle in some of the Broncos nickel and dime looks as well.
Jackson played 113 plays on defense last season with 20 of those coming Dec. 2 against Tampa Bay, but he should up that total at least some this time around.
Kick returner
Trindon Holliday
showed enough at wide receiver in the preseason for the Broncos to go a little light at the position. They kept just five on the current roster, including Holliday. That, and an extra defensive back or two, likely cost rookie wide receiver Tavarres King, a fifth-round pick this past April, a spot. On talent alone, King was/is worthy of a slot on the Broncos roster, but he did not maintain his early momentum in camp and the team's decision-makers didn't believe he was consistent in his day-to-day work habits. King was signed to the team's practice squad Sunday, just before practice began.
And running back
Jacob Hester
, who had played in most any situation in the backfield when needed, was initially kept on the team's 53-man roster for his multi-tasking as well. He could be featured as a runner, work in the passing game, play fullback and special teams. But with just six linebackers and
Von Miller
suspended for six games, the Broncos released Hester Sunday morning and brought in linebacker
Adrian Robinson
.
"That is kind of what you live by, the more you can do,'' coach John Fox said. "This league is about adjustments and the guys who give you options are always going to be valuable to your program.''
August, 24, 2013
8/24/13
11:18
PM ET
DENVER -- While
Peyton Manning
's night was done at halftime, the
Denver Broncos
took most of their starters into the third quarter of Saturday night's preseason meeting with the
St. Louis Rams
and came away with the same questions they carried into the contest -- turnovers on offense and special-teams play that is changing games in the wrong direction. The Broncos did, however, come away with a
27-26 victory
.

Some things to consider:
The Broncos kick-started the offense by going big. They opened the night in a three-wide-receiver set, their preferred look, but after Rams rookie linebacker Alec Ogletree broke free in the middle of the formation on a third-and-4 on Denver's first possession, the Broncos beefed things up a bit. They lined up in a two-tight-end look on 29 of the next 35 plays, including all 12 in a drive that ended with a blocked field goal. It is a versatile formation for the Broncos, one that forces defenses to decide whether to put a linebacker or safety on Jacob Tamme. In all, the Broncos put up 174 of their 290 yards in the first half out of the two-tight-end look. But for a team that signed Wes Welker in the offseason, it shows there is some work to be done. Welker was not in uniform Saturday because of an ankle injury and Andre Caldwell played as the third receiver with the starters.
Special teams have gone from a hey-there-is-time dilemma to a full-blown, what's-the-deal affair. The Broncos surrendered a 107-yard kickoff return for a score to go with a 33-yard punt return against the Seahawks a week ago. Saturday night, Tavon Austin took the Broncos' first punt 81 yards and added a 23-yarder in the second quarter; the Rams also blocked a field goal. Jeff Rodgers' units were consistently a strength in the 13-3 campaign of 2012, and more of the same was expected this season. Yet the Broncos are giving up lanes in the return game when they don't show the discipline they had last season and they aren't getting off enough blocks.
[+] Enlarge

AP Photo/Jack DempseyRonnie Hillman saw this second-quarter carry end with Alec Ogletree ripping the ball away and returning it for a touchdown.

For the second consecutive game, Broncos running back Ronnie Hillman saw one of his fumbles returned for a touchdown. Last week, it was Seattle's Brandon Browner who went 106 yards when Hillman fumbled into the end zone in Seattle. Against the Rams, Hillman committed a cardinal sin for a running back -- turning his back to the defender when his forward progress had been stopped. Ogletree ripped the ball out as Hillman was falling, back to the ground and ball exposed; Ogletree scooped up the loose ball and returned it 13 yards for the score. The Broncos have lost four fumbles in three preseason games, including Hillman's two. Hillman went back into the game to start Denver's next possession, so it hasn't affected his playing time … yet.
Knowshon Moreno, whose roster spot looked shaky early on in camp, has carved out some playing time in passing situations because of his reliability in protection. He got some snaps with the starters in the first half and more on the Broncos' first possession of the second half when all of the offensive starters, except for Manning, were in the game.
The Broncos figured out a way to get Von Miller into the game and still work in the linebackers who will have to replace him during his six-game suspension to open the regular season. Broncos coach John Fox said this past week he would play Miller in the final two preseason games, including the finale Thursday against Arizona -- a game most, or all, of the Broncos regulars are expected to sit out. With Robert Ayers (ankle/Achilles) and Derek Wolfe (neck) out of the lineup, the Broncos played Miller at defensive end, with Shaun Phillips in the base defense. That put Nate Irving in Miller's usual strongside spot in the base look, with Wesley Woodyard in the middle and Danny Trevathan on the weak side. Miller also stayed at end in the nickel and dime looks, which is where he normally plays in those packages.
Denver offensive coordinator Adam Gase has promised to push the pace at times, especially in the elevation of the team's home stadium, to see if defenses can keep up. The mistake-filled first half against the Seahawks camouflaged the fact that the Broncos ran 40 plays on offense for 209 yards. Saturday night, they made that look positively tortoise-like. Against the Rams, the Broncos ran an astounding 30 plays in the opening quarter and 49 for 290 yards in the first half. Hillman's fumble and an interception from Manning in the two-minute drill tempered the output, however. But it shows opposing defenses that they will have to be ready for that kind of pace.
Manning showed he has regular-season awareness when he caught the Rams with 12 men on the field with a quick snap, which drew a penalty flag.
Wide receiver Eric Decker had one catch for 10 yards in the first two preseason games combined. He was targeted eight times in the first half and finished with six catches for 66 yards. With Welker out, Decker worked out of the slot plenty.
Cornerback Dominique Rodgers-Cromartie, who left Thursday's practice after taking a knee to his lower back, started the game and played with the first-team defense through the first half.
And in the what-a-difference-starters-can-make department: With the majority of the first-team offense still in the game, Brock Osweiler opened the second half under center for the Broncos. On the second possession, the second-year player led the Broncos on an 11-play, 79-yard touchdown drive. With time to look things over, he showed a power arm, going 5-for-6 for 58 yards on the march. Playing behind backup linemen, Osweiler had been sacked seven times in the first two preseason games. Saturday, he was sacked on his first drop-back after the starting offensive line left the game, and he tossed an interception in the fourth quarter.
Left tackle Ryan Clady made his first preseason start and played into the second quarter. Clady, who had offseason shoulder surgery, had practiced more with the starting offense this past week. Chris Clark, Clady's replacement, was flagged for holding on his first play after entering the game for Clady. But Clady's return should settle things down up front, and the Broncos will be able to push the help in pass protection to the middle of the field.