NFL Nation:

Jeremiah Masoli
August, 16, 2011
8/16/11
11:03
AM ET
The
San Francisco 49ers
were the only NFC West team to play just two quarterbacks in their first preseason game.
They are the only team in the division looking for a third quarterback.
How much quarterbacks play during preseason can mean more than how well they seem to play under what are often unusual circumstances with little application to the regular season.
Preseason snap counts are especially precious during this abbreviated NFL offseason. That helps explain why
St. Louis Rams
coach Steve Spagnuolo indicated he might
schedule his starters to play longer
in the second preseason game, making up for time lost. That might also explain why the 49ers weren't going to waste preseason snaps on quarterbacks not yet in their immediate plans.
The charts break out quarterback participation by NFC West team, including non-penalty snaps, quarters, drives and drive results.
The
Arizona Cardinals
'
Kevin Kolb
drove his team to the Oakland 1, where the Raiders stuffed
Beanie Wells
on a fourth-and-goal play.
The second chart breaks down participation for No. 2 quarterbacks in preseason openers. Columns remain ordered by team (Rams, 49ers, Seahawks, Cardinals) for easier comparison with the other charts.
The third chart covers third-string quarterbacks (Rams, 49ers, Seahawks, Cardinals).
Cardinals fourth-stringer
Max Hall
also played in the first week of preseason. He took five snaps and led one touchdown drive.
I've included the final chart breaking down snap percentages by quarterback for those wondering whether their team's starter played too much, too little or the right amount in the opening week.
My impression watching the Seahawks was that Tarvaris Jackson, having played only two series, needed a little more time to get going. While he did play the lowest percentage of his team's snaps among NFC West starters, he logged one more snap than Kolb. Seattle quarterbacks ran more snaps overall, strengthening the perception that Jackson was hardly out there at all.
August, 8, 2011
8/08/11
10:11
PM ET
SANTA CLARA, Calif. -- A few thoughts after watching the
San Francisco 49ers
practice in pads for most of their three-hour afternoon session Monday:
This was the crispest, most efficient practice I've seen while visiting NFC West camps over the past week. Coach Jim Harbaugh was everywhere, including deep inside the offensive huddle. The 49ers practiced with purpose. Harbaugh called this the best 49ers practice since camp opened. There was frequent give-and-take between offense and defense. Newly signed receiver Braylon Edwards dominated at times in the red zone. Fans in attendance cheered his every move, no matter how ordinary. Edwards' overhead touchdown grab against cornerback Tramaine Brock was a highlight.

[+] Enlarge

Kelley L Cox/US PresswireBraylon Edwards was a fan favorite at 49ers practice on Monday.

First-round pick Aldon Smith looks the part. Does anyone in the NFL have longer arms? He might be able to adjust his knee-high football socks without leaning over. Smith didn't do much in the limited one-on-one pass-rush drills I watched. He ran into double-team blocks during a team session. The sample size was small.

Fans groaned audibly whenever quarterback Alex Smith or receiver Ted Ginn Jr. messed up. Fans also cheered when Smith rolled right and threw a long touchdown pass for Ginn with Patrick Willis nearby in coverage. Also, Ginn caught the ball cleanly time after time while fielding tricky punts in windy conditions.

This wouldn't have been a 49ers practice without Smith finding tight end Vernon Davis for a long touchdown over the middle.

Linebacker Thaddeus Gibson repeatedly won battles during one-on-one pass-rush drills. He beat rookie Donovan Edwards twice in a row, then beat starting right tackle Anthony Davis to the inside. Davis won the rematch. Gibson later came up short in coverage against speedy tight end Delanie Walker. Ahmad Brooks beat Davis for a would-be sack in team drills.

Rookie cornerback Cory Nelms got his hands on the football in coverage, including when he jumped a pass from Jeremiah Masoli to receiver Kevin Jurovich, picking off the ball. Jurovich also dropped a deep ball, as did rookie receiver Ronald Johnson. Nelms nearly picked off rookie quarterback Colin Kaepernick, but he couldn't hold onto the ball.

One of the biggest collisions involved Willis and running back Frank Gore meeting on a running play up the middle. This was a draw.

Receiver Kyle Williams, sidelined by a toe injury early last season, was limping at times during practice after appearing to take a wrong step while running a route. He was clearly frustrated but managed to fight through whatever was bothering him. He finished practice.

Kaepernick showed off his speed on a bootleg that fooled the backup defense for a touchdown. More thoughts to come on Kaepernick after watching him over the next couple days.
One more note: Harbaugh plans for his starters to play 20-plus snaps against New Orleans in the exhibition opener Friday. The 49ers are back on the practice field Tuesday at 8:45 a.m. PT.
January, 12, 2011
1/12/11
5:16
PM ET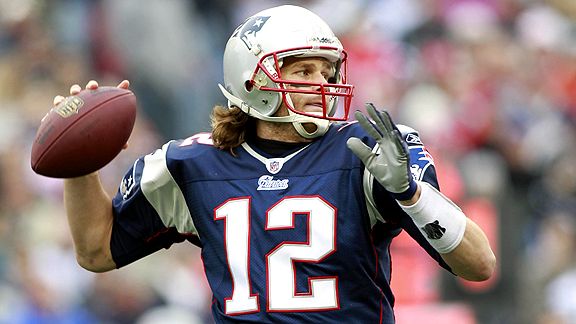 Greg M. Cooper/US PresswireQuarterback Tom Brady has thrown 36 touchdown passes and only four interceptions this season.
Tom Martinez might've known in the summer what kind of season
Tom Brady
was about to have.
Martinez is the man who taught Brady how to pass. They've been together for about half of Brady's life, since before his first junior varsity start.
As usual, they got together during the offseason in Southern California to hone Brady's mechanics. Martinez identified a few areas to tweak.
"By the end of it all, I'd never seen him better," Martinez said from his home in Menlo Park, Calif.
"It was hard to stand there and watch it. You've got to shake your head that you're really looking at what you think you are. He was so precise. You go, 'Holy mackerel. He's got to throw some balls away.' It was unbelievably impressive."
Even with that knowledge, Martinez was surprised to see Brady's remarkable season unfold the way it has. The numbers Brady has posted in his MVP-worthy season can't be chalked up merely to refined mechanics.
With a diminished supporting cast that features rookies, castoffs and injury replacements, Brady posted the fifth-highest passer rating in NFL history, led the league in touchdown passes, threw the fewest interceptions and broke records for turnover efficiency.
"To watch him play is like watching Pavarotti," Martinez said. "He's in total command."
The big man who coaches the
New York Jets
sounds like he's trying to disrupt Brady's virtuosity.
Rex Ryan has been belting out news-conference arias
in advance of Sunday's playoff game against the Patriots. Jets cornerback
Antonio Cromartie
took
a less subtle approach to insulting Brady
.
Brady's response: "We're just going to do our talking on the field."
The Patriots have performed impeccably all season. This year's production is more remarkable than what they accomplished in 2007, when they set the NFL record with 589 points and went 18-0 before losing in the Super Bowl.
The Patriots scored 518 points this season, seventh most in league history.
But the season becomes more incredible when you consider New England traded receiver
Randy Moss
, didn't have
Wes Welker
at full speed, relied on rookie tight ends
Rob Gronkowski
and
Aaron Hernandez
, didn't have Pro Bowl left guard
Logan Mankins
for half the season, lost right guard
Stephen Neal
after eight games and lost right tackle
Nick Kaczur
in training camp.
"Those two running backs," Martinez said of
BenJarvus Green-Ellis
and
Danny Woodhead
, "might not make some of the teams in the league."
And yet Brady made it all work, guiding the Patriots to 14 victories despite a transitional defense that used four rookies in the starting lineup some weeks.
Brady has worked with Martinez since he was 15 years old. Brady's father took him to see Martinez, then head coach at the College of San Mateo, for pointers. Brady became Martinez's star pupil.
Much like a highly sought session musician, Martinez has worked with players on an individual basis but never joined a team. His pre-draft tutelage famously helped
JaMarcus Russell
turn into the No. 1 overall draft pick. This year, he will work with Iowa's Ricky Stanzi and Mississippi's Jeremiah Masoli.
Most amazing about Brady's stat line are his four interceptions, the fewest from any quarterback with at least 300 attempts in NFL history. He hasn't thrown an interception since Week 6, a streak of 335 consecutive attempts.
Martinez chalks up that number to happenstance more than anything else. He claimed it's not necessarily indicative of Brady's excellence.
"That's like Joe DiMaggio's 56-game hitting streak," Martinez said. "He couldn't do that again if he lived to be 580 years old. There's a series of things that have to happen to keep that kind of a string going. When they all go together, you break the records.
"He could go back and play the season over again and throw 15 interceptions."
From Martinez's perspective, Brady's dominance can't be found in any box score.
"The key to me is that he's in total command both physically and mentally of what he's doing," Martinez said. "If you really study their offense, he's going to the open guy probably 85 percent of the time.
"If you go to the right guy, chances are you're not going to throw interceptions because that's the guy that's got single coverage, or that's the guy that gets open in the zone. He's not throwing into double coverage. He's not forcing balls. He knows who to go to, and he has the mechanics to make the throw."
Martinez also said Brady is thriving with the aggressive offense called by quarterbacks coach Bill O'Brien. The Patriots are no longer running what Martinez calls "dead plays," conservative calls that do little more than burn time off the clock.
The Patriots have scored at least 31 points in eight straight games, tying the NFL record held by the 2007 Patriots and 2000
St. Louis Rams
.
"What they're doing now is they're constantly attacking, and he's getting them into the correct play," Martinez said. "They don't run many dead plays where you ask: 'What are they running that for?' They're constantly attacking."
Deion Branch
was a Patriots receiver from 2002 through 2005 and was traded back Oct. 12. Branch was asked Tuesday what has been the biggest difference he has noticed in Brady and specifically mentioned Brady's deep ball.
"Early in his career, that was a weakness," Martinez said. "But that was such a part of Randy's game that [Brady] had to step his part of it up because Randy was outrunning the throws. That was one of his goals. Because he didn't throw them that often, mechanically they weren't thrown well."
That's one way Moss made Brady a more complete quarterback. When the Patriots traded Moss three games into the season, Martinez figured they would suffer.
"When Randy was gone, I don't think anybody predicted this," Martinez said. "I thought that Randy stretched the defense, which allowed all the other guys to run underneath stuff. With Welker doubled and Moss gone, it was hard to see them throwing it all over the yard."
Any yet Brady has compiled his most extraordinary season.
He'll be the consensus MVP. He'll almost certainly be voted first-team All-Pro for only the second time of his career. His name dots the record books even more.
And none of that will count if Brady doesn't remain in command like he has up until now and win the Super Bowl.
"The funny thing is, no matter what has happened to this point, this is one and done," Martinez said. "Somebody blocks a punt or picks one off and runs it back and all of a sudden you lose and didn't have that good a year.
"You're walking a fine line between being awesome and not getting it done."

NFL SCOREBOARD
Thursday, 9/18
Sunday, 9/21
Monday, 9/22
WEEKLY LEADERS