NFL Nation:

Jeremy Newberry
January, 31, 2011
1/31/11
5:21
PM ET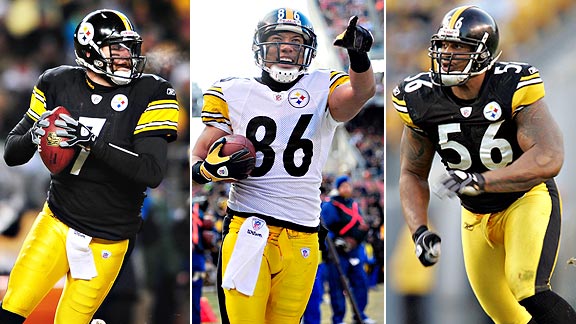 US PresswirePittsburgh's Ben Roethlisberger, Hines Ward and LaMarr Woodley are all playing in Super Bowl XLV, but could they have ended up in the NFC West coming out of college?
FORT WORTH, Texas -- The
Pittsburgh Steelers
appeared loose and comfortable during their first Super Bowl 45 media session.
They've been in big games before, and frequently, thanks largely to shrewd drafting.
This is the Steelers' third Super Bowl appearance in the last six seasons.
The team made available
James Farrior
,
Flozell Adams
,
Hines Ward
,
Brett Keisel
,
Ben Roethlisberger
and
LaMarr Woodley
during its initial media session Monday -- just the opportunity I needed to produce an item corresponding to the one titled, "
Draft hindsight: Aaron Rodgers and beyond
".
The idea: to examine a Super Bowl team's featured players -- in this case, the ones made available Monday -- with an emphasis on draft status and the decisions NFC West teams made in the same rounds. Not every team held a choice in every featured round.
The
Arizona Cardinals
had a shot at Steelers quarterback Ben Roethlisberger, but they came out OK.
Here goes ...
1997 Draft: James Farrior, LB, Virginia
Round:
First (eighth overall, by the
New York Jets
)
NFC West spin:
Farrior is a two-time Pro Bowl choice, but the NFC West offers no apologies for passing over him.
Orlando Pace
and
Walter Jones
became perennial Pro Bowl tackles. Jones became the best player in Seahawks history, in my view.
Shawn Springs
made one Pro Bowl trip and picked off 33 passes during a 13-year career. The Cardinals had no shot at Farrior. They chose Tommy Knight one pick later. He started 54 games in six NFL seasons. Rumor says the 49ers selected a quarterback in the first round of this draft.
First-round selections in the division:
1998 Draft: Flozell Adams, T, Michigan State
Round:
Second (38th overall, by Dallas)
NFC West spin:
Adams became a five-time Pro Bowl choice with Dallas. His career appeared finished, or close to it, until injuries led the Steelers to call on him this season. Arizona passed on Adams twice. Safety
Corey Chavous
, chosen five spots before Adams, went to a Pro Bowl with Minnesota. He was a productive player for roughly a decade. Tackle
Anthony Clement
, chosen two spots before Adams, started more than 100 games for three teams.
Second-round selections in the division:
1998 Draft: Hines Ward, WR, Georgia
Round:
Third (92nd overall, by Pittsburgh)
NFC West spin:
The Rams and Seahawks found Pro Bowl-caliber players when they passed over Ward in the third round. Seattle gave up on
Ahman Green
prematurely, however, after coach Mike Holmgren grew weary of early fumble problems. The 49ers missed on tackle
Chris Ruhman
three choices before Ward went to Pittsburgh. Ruhman played in six games with the 49ers, starting none. He played in 11 NFL games with two starts overall. The 49ers passed on Ward even though
Jerry Rice
had suffered a devastating knee injury in the 1997 opener.
Third-round selections in the division:
2002 Draft: Brett Keisel, DE, BYU
Round:
Seventh (242nd overall, by Pittsburgh)
NFC West spin:
The 49ers drafted longtime starting guard and center
Eric Heitmann
three spots before the Steelers found Keisel. Pittsburgh could use Heitmann this week after the Steelers' starting center,
Maurkice Pouncey
, suffered a severely sprained ankle during the AFC Championship Game. Keisel became a Pro Bowl choice for the first time this season, distinguishing him from 2002 NFC West seventh-rounders. The Rams found their mainstay snapper in this draft. Keisel was gone when the 49ers found guard
Kyle Kosier
, who started 29 games for them and remains a starter with Dallas.
Seventh-round selections in the division:
2004 Draft: Ben Roethlisberger, QB, Miami of Ohio
Round:
First (11th overall, by Pittsburgh)
NFC West spin:
The Cardinals passed over Roethlisberger and came away with a potential Hall of Fame receiver. No complaints there, even though quarterbacks are more valuable than receivers. None of the other NFC West teams had a shot at Roethlisberger. Seattle and St. Louis were set at quarterback, anyway.
First-round selections in the division:
2007 Draft: LaMarr Woodley, OLB, Michigan
Round:
Second (46th overall, by Pittsburgh)
NFC West spin:
The Cardinals could certainly use Woodley now, and badly, but they had already invested millions in the position heading into the 2007 draft. Free-agent additions
Chike Okeafor
and
Bertrand Berry
had combined for 14.5 sacks during the 2006 season. Unfortunately for the Cardinals, they haven't gotten enough from their second-round investment in
Alan Branch
.
Second-round selections in the division:
OK, all done, and just in time. ESPN.com teammates Mike Reiss, Kevin Seifert and I are heading out to the Packers' media session next. Seifert is driving and he doesn't wait for anyone. Gotta jam.
March, 25, 2010
3/25/10
12:43
PM ET
Any poker player could relate to the 49ers.
They started with what seemed like a promising hand. They placed a significant amount of chips toward the center and stuck it out even when the hand appeared less promising. They finally realized there was little sense in folding based on how much they had already invested and how little more they stood to lose.
[+] Enlarge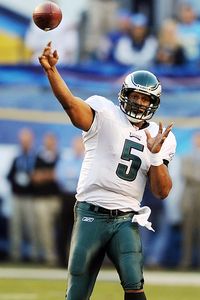 Christopher Hanewinckel/US PresswireA quaterback with Donovan McNabb's career record (92-49-1) would be a refreshing change in San Francisco.
They were pot-committed.
Quarterback
Alex Smith
is that once-promising hand. There's little sense in folding at this point. If anything, the odds for success improved after Smith finished last season with 18 touchdown passes and 12 interceptions playing basically half the season.
But what if the 49ers could ditch this hand in favor of a more proven one? What if the price were not prohibitive? What if they could acquire
Donovan McNabb
from the Eagles for, say, a second-round choice in the 2010 draft?
The 49ers already have two first-round choices. They could draft the offensive tackle they need and still get a potential starter at another position. The Eagles already have an extra third-round choice. An additional second-rounder would leave them with five choices in the first three rounds, tied with the Browns for the most in the league.
Let's look at this deal from an NFC West perspective. Would the Cardinals, Seahawks and Rams rather face the 49ers with McNabb or the 49ers with Smith and whichever player San Francisco drafted in the second round? I think they'd rather take their chances with Smith and the 2010 second-rounder.
Take a look at the last 10 players the 49ers have drafted in the second round:
Chilo Rachal
,
David Baas
,
Justin Smiley
,
Shawntae Spencer
,
Anthony Adams
,
Jamie Winborn
,
John Engelberger
,
Jason Webster
,
Jeremy Newberry
and
Marc Edwards
.
Some became good players. None could affect games the way good quarterbacks affect games.
Some Eagles fans are tired of McNabb. They think Philadelphia has gotten as far as McNabb can take them. They're ready for a change. The 49ers can have no such complaints. They haven't been a playoff team since 2002. They would gladly "settle" for multiple playoff appearances and a quarterback with a 92-49-1 (.651) regular-season starting record, according to Pro Football Reference.
July, 23, 2009
7/23/09
11:30
AM ET
Posted by ESPN.com's Pat Yasinskas
Atlanta Falcons
Training camp site: Flowery Branch, Ga.
Campfires: The offense is pretty much set with last year's starters virtually intact and the addition of tight end Tony Gonzalez. That's going to put the focus of camp on a defense that overachieved last year and will have five new starters.
The hottest battles will be in the secondary, where the Falcons have to replace safety Lawyer Milloy and cornerback Domonique Foxworth. Atlanta's coaching staff is hoping second-round pick William Moore can step in and start at safety, but second-year pro Thomas DeCoud provides a decent fallback option if Moore's not ready. DeCoud had a strong showing throughout the offseason and isn't going to give up the job without a fight.
Cornerback might be the most intriguing spot to watch in camp. The Falcons are set with Chris Houston on one side, but it's a wide-open competition for the other starting spot and the nickelback job. The plan is to throw Brent Grimes, Von Hutchins, Chevis Jackson and rookies Christopher Owens and William Middleton out there and see who rises up. Keep an eye on Jackson, who came on strong in the second half of his rookie season last year.
Camp will be a downer if ... there are any injuries on the offensive line. The Falcons have a starting five that probably played over its head last year and very little depth. Veteran Todd Weiner retired after last season and the Falcons tried to replace the flexibility he gave them by signing veteran Jeremy Newberry. But Newberry retired earlier this week because of knee problems.
| | |
| --- | --- |
| | |
| | Paul Abell/Getty Images |
| | Tony Gonzalez gives quarterback Matt Ryan another target in the Falcons' passing game. |
Coach Mike Smith is very good at mixing up the tempo of his practices, but he may have to be more cautious with his offensive line. Left tackle Sam Baker had back problems last year and center Todd McClure has wear and tear on his 32-year-old body. If some young linemen don't step up -- and there aren't many likely candidates -- the Falcons may have to keep an eye on the waiver wire for some depth.
Camp will be a success if ... quarterback Matt Ryan masters the offense he looked so good in as a rookie. That's a strong possibility. Although he already was very good, Ryan looked noticeably better in minicamp practices in the spring.
The Falcons didn't hold back much of the playbook from Ryan last season, but they're going to expand it significantly this year. The addition of Gonzalez suddenly gives the Falcons the pass-catching tight end they lacked last year. That should only help receivers Roddy White and Michael Jenkins, who blossomed with Ryan last year. And don't forget second-year receiver Harry Douglas. He showed some promise last year, but looked ready to take on a bigger role in offseason workouts.
The Norwood factor: One player to keep an eye on in camp and preseason games is running back Jerious Norwood. The Falcons realize they put a very heavy load on starter Michael Turner last season and they don't want him approaching 375 carries again. Offensive coordinator Mike Mularkey has to find a way to give Norwood some of Turner's carries. That's not as simple as just swapping them out. Turner i
s a power runner and Norwood is a speed guy. The Falcons need to put in some wrinkles to take advantage of Norwood's skills.
---
Carolina Panthers
Training camp site: Spartanburg, S.C.
Campfires: The Panthers are returning 21 of 22 starters from a team that went 12-4. But the disastrous playoff loss to Arizona means that Carolina can't be complacent. Coach John Fox never has been able to put together back-to-back winning seasons and he needs to if he wants to stay off the proverbial "hot seat."
| | |
| --- | --- |
| | |
| | Paul Spinelli/Getty Images |
| | Jake Delhomme and the Panthers need to put last season's playoff loss to Arizona behind them. |
Fox needs to revitalize a defense that collapsed down the stretch last season and much of that responsibility will fall to new coordinator Ron Meeks. Barring injury or upset, the only new starter will be cornerback Richard Marshall, who will replace Ken Lucas. A lot of fans are wondering if Marshall is ready to be a starter. The coaching staff wouldn't have let Lucas go if Marshall wasn't ready. He's been a very good nickelback the past couple of years and should do fine opposite Chris Gamble.
The bigger question might be who's going to replace Marshall at nickelback? The Panthers seem to have rookie Sherrod Martin ticketed for that spot. That may seem a little risky, but Fox has a pretty good track record when it comes to playing rookie cornerbacks quickly. Marshall and Ricky Manning Jr. were able to step in and contribute as rookies.
Camp will be a downer if ... Steve Smith pulls a repeat of last year. Early in camp, Smith punched out Lucas, who was kneeling on the sideline. That led to a two-game suspension for Smith. The incident may have helped pull the team together in some ways, but the Panthers can't endure something like that again.
Things tend to get hot in Spartanburg, but Fox and his staff need to keep the ultra-competitive Smith cool. Smith's nasty streak is a big part of what makes him such a great receiver. But he needs to save that for the regular season and let the team get through camp peacefully.
Camp will be a success if ... the Panthers can put the Arizona playoff loss behind them. Losing badly at home was a terrible end to what had been a very nice season, and Fox has to eliminate any hangover from that. One of Fox's strengths is his ability to motivate and he's got to convince this team it can win big games when it matters most.
Fox has been adamant about sticking with quarterback Jake Delhomme, who had a disastrous outing against Arizona. That's a strong show of confidence from the coach. But Fox may have to spend part of camp convincing the rest of the team that the move is a result of confidence and not stubbornness.
It starts up front: Early in Fox's tenure, his defensive line was dominant and the team was built around the front four. That hasn't been the case in recent years. The back seven is very good, but it can become great with more production up front.
Although end Julius Peppers is the only big name on the line, the Panthers have the ingredients to be good up front. They didn't draft Everette Brown to spend his rookie season on the bench. He'll join in a rotation with Peppers, Charles Johnson and Tyler Brayton. If Peppers can play at a level close to his $17 million franchise tag, there could be a lot of sack opportunities for Brown, Johnson and Brayton.
---
New Orleans Saints
Training camp site: Metairie, La.

Campfires: As far as pure numbers, the Saints have the most legitimate position battles in the NFC South. That competition should be a good thing for a team that underachieved, particularly on defense, last season.
General manager Mickey Loomis and coach Sean Payton did a nice job of creating competition with a bunch of offseason moves geared at making the defense better. Last year's biggest problem area was in the secondary and that's where the best camp battles will be. The Saints paid free-agent cornerback Jabari Greer big money and that probably makes him a starter.
| | |
| --- | --- |
| | |
| | Crystal LoGiudice/US Presswire |
| | Rookie cornerback Malcolm Jenkins will battle for one of the starting cornerback spots. |
But the battle for the other starting cornerback spot should be intense. The Saints used their first-round pick on Malcolm Jenkins, who probably has the most physical talent of any rookie on the roster. But Jenkins truly will have to earn the starting job because the Saints think very highly of Tracy Porter, who got off to a strong start before suffering an injury in his rookie season. Porter brings a high level of confidence and he's not going to give up a starting spot very easily. If the Saints open the season with Jenkins as their nickelback, they'll have far more depth than they've had in recent years.
Camp will be a downer if ... it's anything like last season. A rash of injuries started in last year's training camp and the plague continued through the regular season. That was a major reason why the Saints missed the playoffs. Even with added depth, they can't endure another season like last year. Payton ran the NFC South's most-intense camp last season and he may have learned from it.
The Saints have moved their camp back to their practice facility and a look at their schedule shows a large amount of afternoon practices in the indoor facility. There also are a fair amount of days where the Saints will practice only once. That should help keep the team fresh and cut down on the injuries. That's hugely important for a team that will open the season witho
ut starting defensive ends Will Smith and Charles Grant, who are suspended for the first four games.
Camp will be a success if ... Gregg Williams' defensive system takes hold quickly. Coordinator Gary Gibbs took the fall for last season's defensive failures and the Saints went out and spent big money to bring in Williams. Once viewed as one of the league's top defensive minds, Williams is looking for redemption after recent struggles in Jacksonville and Washington.
There will be some changes in the defensive scheme. But, more importantly, he'll be trying to install a mindset. Williams is known for having high-motor, aggressive defenses. The Saints haven't had anything that resembled that throughout Payton's tenure. There is plenty of talent in place and the defense showed signs it was developing an aggressive attitude in minicamp. If that continues, the Saints could have the one thing that's separated them from the playoffs the past two seasons.
Who will run the ball? That remains a huge question for a team whose passing game is pretty close to perfect. Payton's not going to take the ball out of the hands of quarterback Drew Brees, but the coach has made it clear he wants to develop a running game that's more consistent than last season.
With Deuce McAllister gone, the Saints have made it clear they plan to go with the tandem of Pierre Thomas and Reggie Bush. Payton will use camp and the preseason games to experiment with their roles and try to put Bush and Thomas in spots that play to their strengths.
---
Tampa Bay Buccaneers
Training camp site: Tampa, Fla.

Campfires: Fans are going to need rosters for this training camp. Derrick Brooks, Joey Galloway, Jeff Garcia and Warrick Dunn are gone. Tampa Bay's youth movement, which starts with new coach Raheem Morris, is in full swing as the Bucs truly look for a new identity.
Starting jobs are open all over the place, particularly on defense. The Bucs have moved safety Jermaine Phillips to Brooks' old spot at weakside linebacker and are putting Sabby Piscitelli in Phillips' old spot. If either of those moves fail, the Bucs could always move Phillips back to safety, but the team is planning on this switch working out. It better because the Bucs have plenty of other questions elsewhere. Is veteran cornerback Ronde Barber still capable of playing at a high level? Is defensive end Gaines Adams finally ready to play up to his potential?
| | |
| --- | --- |
| | |
| | J. Meric/Getty Images |
| | Play him or sit him? That's the decision the Bucs face regarding rookie quarterback Josh Freeman. |
But the biggest question of all -- and the one most fans will be watching -- is at quarterback. Tampa Bay used its first-round pick on Josh Freeman and Morris already has dubbed him as the franchise quarterback. The Bucs initially threw out all sorts of hints that Freeman, who left college a year early, would sit as a rookie. But he came on faster than expected in minicamp and that could change the thinking. The Bucs probably will enter the preseason looking to start either Luke McCown or Byron Leftwich. But it's not out of the question that Freeman could outshine both veterans. If that happens, the Bucs would have to speed up their plan.
Camp will be a downer if ... none of the quarterbacks steps forward. The rest of the offense is pretty solid, but this team won't go anywhere without a quarterback who can make the passing game work. There are reasons why McCown has never been a true starter and why Leftwich has gone from being a franchise quarterback in Jacksonville to being just a guy.
McCown has enough athleticism to make you believe there's upside, and Leftwich still throws the ball very nicely at times. But nothing is certain with either of these guys. If Freeman plays like a rookie in camp, the Bucs may have to settle on a quarterback by attrition. That's not a great situation because if McCown or Leftwich starts slowly, fans will be screaming for Freeman before he's ready.
Camp will be a success if ... the new schemes catch on. The Bucs aren't going to look anything like Jon Gruden's Bucs. New offensive coordinator Jeff Jagodzinski is installing a power running game and a vertical passing game. New defensive coordinator Jim Bates is going away from the famed Tampa 2 defense and going with a system that relies heavily on pressure from up front.
The Bucs are young in a lot of ways, but they'll need new leaders like Barrett Ruud, Derrick Ward, Kellen Winslow and Antonio Bryant to step up and lead this team through the transition process.
Whatever happened to Michael Clayton? After a brilliant rookie year, the wide receiver spent the past few seasons buried in Gruden's doghouse. A lot of people were stunned when the new regime handed Clayton a big contract, instead of letting him walk as a free agent. There's a reason for that.
The new regime believes Clayton can be a productive starter. Forget all the talk about what a good blocker Clayton is in the running game. Sure, that will help. But Clayton isn't getting big money just to block. He got paid because Morris, general manager Mark Dominik and Jagodzinski think he can be a solid No. 2 receiver.
Trey Wingo, Cris Carter and Marcellus Wiley preview the NFC South.
July, 8, 2009
7/08/09
2:30
PM ET
Posted by ESPN.com's Mike Sando
Former Rams receivers Torry Holt and Isaac Bruce commanded spots on my NFC West all-decade team after leading one of the most-dynamic offenses in NFL history.
Larry Fitzgerald also seemed worthy after posting three 1,400-yard seasons and staking the Cardinals into a late lead with a dramatic 64-yard touchdown reception in Super Bowl XLIII.
With at least three worthy candidates for two spots -- and with receivers Anquan Boldin, Bobby Engram and Terrell Owens more deserving than any of the available tight ends -- something had to give.
"I'm hard pressed to come up with [a tight end] better than Vernon Davis," wrote regular blog contributor Mind of no mind. "But if there is nobody better, then maybe we should drop the TE from the team and go with 3 WR with Bruce."
Done deal.
Holt, Bruce and Fitzgerald became the receivers. That made more sense than adding Davis, Eric Johnson, Jerramy Stevens, Itula Mili or some other relatively unaccomplished tight end to the squad.
Such was the give and take as I sifted through nominations left on the blog and on my Facebook page. One request I couldn't quite accommodate: finding a spot for the legendary Kim Il Zong, a ka The Zonger.
A position-by position look at my NFC West all-decade team follows. Thanks to Adam from Mesa, Ariz., for getting the conversation started (download his suggested team here).
February, 26, 2009
2/26/09
5:46
PM ET
Posted by ESPN.com's Bill Williamson
San Diego general manager A.J. Smith held a 45-minute press conference to address the team's status heading into free agency. There were several interesting developments. Of course, the most important part of the press conference centered around a situation that is still unresolved.
Smith said talks on restructuring LaDainian Tomlinson's contract were ongoing, but he wouldn't go into specifics about the situation. If Tomlinson, who is due more than $6.7 million this season, doesn't take a restructured deal to reduce his 2009 pay, he will likely be cut.
The talks could last several days. There is no hard deadline. The fact that the talks, which began in earnest Sunday, are taking this long could be a sign of difficulty. However, both sides want Tomlinson to remain in San Diego so the talks will continue.
Meanwhile, San Diego cut linebacker Anthony Waters, who was a third-round pick in 2007. The team had high hopes for Waters last season but he was injured and never made an impact when he was healthy. Still, it is a bit surprising the team gave up on him so early in his career.
Smith said the team will not pursue any of its four remaining unrestricted free agents: defensive lineman Igor Olshansky, guard Mike Goff, linebacker Marques Harris and center Jeremy Newberry. That proclamation is not surprising.
The team wasn't pleased with Olshansky's and Goff's play last season and Harris and Newberry are role players. The Chargers re-signed guard Kynan Forney on Wednesday and he could take Goff's place. Smith said the team would monitor movement in free agency but wouldn't say how much of a player the team would be. The Chargers will likely sign one or two players but not be particularly busy.
Also, Smith said left tackle Marcus McNeill had knee surgery three weeks ago but he is expected to be ready for training camp. McNeill was hampered by a neck problem last season.
September, 22, 2008
9/22/08
9:07
PM ET
Posted by ESPN.com's Bill Williamson
SAN DIEGO -- Philip Rivers just made one of his first mistakes of the season.
And it hurt the Chargers badly.
On San Diego's third play of the game, New York cornerback David Barrett stepped in front of a pass intended for tight end Antonio Gates and picked it off for an easy score. Barrett read the pass easily.
The pass, Rivers' first of the game, was ill-fated from the start. Rivers bobbled the shotgun snap from center Jeremy Newberry before quickly unloading.
August, 31, 2008
8/31/08
10:11
AM ET
Posted by ESPN.com's Mike Sando
Kent Somers of the Arizona Republic
gives an overview of the Cardinals heading into the season. A line about Antrel Rolle stood out to me: "Rolle has moved from corner and looks like he'll be a solid player at the other [free] safety spot."
Also from Somers: The Cardinals' coordinators single out Tim Hightower, Clark Haggans and Travis LaBoy as players to watch this season.
More from Somers: Travis LaBoy starts over Bert Berry. Deuce Lutui starts over Elton Brown. Reggie Wells and Elton Brown are candidates to play center if something happens to Lyle Sendlein before Al Johnson returns from injury.
And this from Somers: optimism abounding in Tempe.
Darren Urban of azcardinals.com checks in with Kurt Warner after the Cardinals named him their starting quarterback. On a related topic, Matt Leinart was unavailable to reporters.
Mike Tulumello of the East Valley Tribune circles the Cardinals' Nov. 16 game at Seattle as one that could send Arizona on its way.
Clare Farnsworth of the Seattle Post-Intelligencer says Craig Terrill and Josh Wilson will likely replace Rocky Bernard and Jordan Babineaux during the season opener. Bernard and Babineaux will be serving suspensions.
Frank Hughes of the Tacoma News Tribune expects Deion Branch back on the field for the Seahawks sooner rather than later. Otherwise, Branch might have landed on the physically unable to perform list.
Jim Thomas of the St. Louis Post-Dispatch revisits the exhibition season to see what the Rams learned about themselves. Improved red-zone defense was evident.
Also from Thomas: No surprises among the Rams' roster cuts. That in itself is no surprise. Most cuts around the league could have been predicted five or six weeks ago.
And this from Thomas: Chris Long faces a difficult adjustment going from a 3-4 scheme in college to a 4-3 scheme in the NFL. Long: "The overwhelming thing is not the physicality of it. It's the technique. You have to work on that every day. I'm doing OK. I've just got to keep chipping away every day."
Bill Coats of the St. Louis Post-Dispatch
says Nick Leckey will open the regular season as the Rams' starting center.
Daniel Brown of the San Jose Mercury News says Ashley Lelie has the highest yards-per-catch average of any active NFL receiver. That didn't mean much in the training room.
Tom FitzGerald of the San Francisco Chronicle channels Frank Gore's sheer delight at the 49ers' offensive capabilities this season. The realist in me expects mixed results. I expect to see weeks when the offense flourishes, and others when little goes right.
Kevin Lynch of Niner Insider blames former 49ers center Jeremy Newberry, now with San Diego, for injuring current 49ers defensive lineman Aubrayo Franklin.
Matt Maiocco of Instant 49ers provides Mike Nolan's reasoning for various cuts. He also notes that Jeff Ulbrich remains the starting "Ted" linebacker ahead of Takeo Spikes. The 49ers would like another receiver, but they viewed Ashley Lelie as a durability issue. I wonder if they'll feel so strongly after the opener, when teams can re-sign veterans without guaranteeing their salaries for the season.
Also from Maiocco: Gone are the days when the 49ers ran low on defensive backs. The team kept 11 on the initial cut to 53 -- 12 if you count return man Allen Rossum.
Tony Bizjak of the Sacramento Bee tells a tragic story of a 49ers fan killed at Candlestick Park when a runaway police horse named "Seattle" ran over him. Eugene "Bud" Caldwell was 78 and had recently overcome a severe heart attack. Caldwell was a longtime 49ers season-ticket holder.