NFL Nation:

Jermaine Wiggins
December, 29, 2011
12/29/11
2:30
PM ET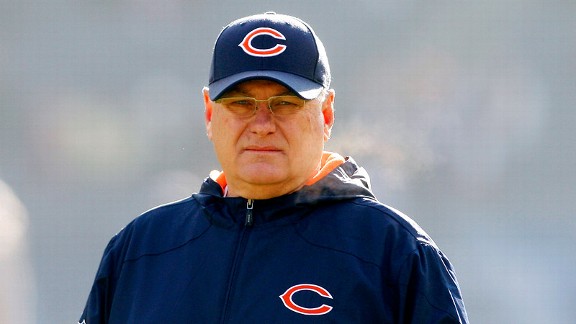 Jerry Lai/US PresswireMike Martz might not return to Chicago when his contract expires after this season.
Chicago Bears
coach Lovie Smith turned down two opportunities this week to support offensive coordinator Mike Martz, once in a teleconference with Minnesota reporters and a second time when queried by Chicago-area media. Smith, in fact,
angrily questioned
why the topic was germane before the season ends.
Smith's rare loss of public composure suggests Martz's status is a sensitive subject, both for him and within the Bears organization. I suppose it's possible that Smith hasn't begun the process of evaluating Martz, whose contract expires after the season. But generally speaking, it's not a good sign for an assistant coach when his boss won't say anything comforting about his future.
So as the Bears presumably mull a future without Martz, they'll have to weigh his performance versus the value of continuity. They'll need to decide which is more important, and if there is a way to maintain what they did well this season even while hiring a new coordinator.
As rumors of Martz's demise swirled this season,
I wrote several times
about the collateral damage of regularly swapping offensive coordinators. The value of continuity within a scheme is reflected annually in the NFL's best teams. As the chart shows, eight of the nine teams who have qualified for the 2011 playoffs have employed the same offensive coordinator and/or used the same scheme for at least the past three seasons.
Martz has certainly displayed some pocks since the Bears hired him in 2010, most notably by opening each season with a skewed pass-run ratio that needed substantial adjustment by midseason. Would Martz's well-known stubbornness outweigh the detriment of starting over? Remember, the Bears' offense was humming in November before quarterback
Jay Cutler
suffered a season-ending thumb injury.
In a subsequent interview
, Cutler made clear he doesn't want to start over.
"If you look at the offenses around the league that are really good -- Green Bay, the Patriots, the Saints -- there is consistency there," Cutler said. "They've been in the same system. They've had the same offensive coordinator. They've had the same receivers, tight ends, guys around them that have grown up in the system.
"If you want to be an elite offense in this league, that's what you have to do. You can't keep shipping guys in and out. You can't keep doing different offensive coordinators left and right. It's hard on quarterbacks and it's hard on everyone to learn that kind of stuff."
Cutler offered the quintessential argument for maintaining continuity, and the Bears have had enough success under Martz to make it a reasonable possibility. But if Smith and general manager Jerry Angelo decide to hire a new offensive coordinator, is it possible to maintain most of their scheme?
[+] Enlarge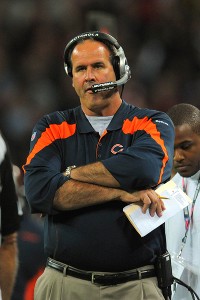 Kyle Terada/US PresswireIf the Bears needed a new coordinator, offensive line coach Mike Tice could be a strong internal candidate.
The answer is maybe, with several caveats and an acknowledgement that I don't know how interested the candidate would be. But if the Bears elevate offensive line coach Mike Tice, they'll have a chance to build off their midseason success in 2011 and minimize the teardown that usually occurs in coordinator transitions.
Tice and Martz have much different personalities and personal histories, but their football backgrounds aren't as dissimilar as you might think. They both have roots in the Don Coryell "three-digit" offense, a scheme Tice learned while playing for ex-
Washington Redskins
coach Joe Gibbs. Similar to Martz, Tice likes to throw downfield and isn't interested in the shorter passing routes featured in West Coast offenses. With Tice as their offensive coordinator, the Bears could build off the terminology and scheme they have installed over the past two years.
And if his time as the
Minnesota Vikings
' head coach is any indication, Tice also values some of the adjustments the Bears have made in the past two seasons: Balance with the running game and more liberal use of tight ends to block and provide important outlet receivers against pressure.
Over four seasons with the Vikings, Tice's teams produced 8,140 rushing yards, an average of 2,035 per season. And in half of those years, Tice's leading receiver was tight end
Jermaine Wiggins
, who caught a combined 140 passes in 2004 and 2005.
Based on Cutler's public request for more balance, quicker drops and better protection, my guess is that he would be on the same philosophical page as Tice. And after being on the same team for the past two years, they should have at least some level of personal acquaintance and be ahead of where a coordinator from outside the building would start.
And now, the caveats. Tice was a quarterback at the University of Maryland, a tight end for 14 seasons in the NFL and has been a long-time offensive line coach. But despite that pedigree, he has never been an offensive coordinator and has never been the primary playcaller of a team. That's not to say he couldn't do it. It's just that after 15 years as an NFL coach, he hasn't done it yet. (We should note that the same was true for current Bears defensive coordinator Rod Marinelli when he was installed in 2010.)
Second, Tice has restored his reputation over the past two years as an exceptional offensive line coach. Elevating him to offensive coordinator almost certainly would rob the Bears of that drill-by-drill expertise. It's difficult, if not impossible, to do both jobs. They would have to hire a new offensive line coach to replace him.
The
Tennessee Titans
were prepared to offer Tice their offensive coordinator job last offseason. The Bears denied the Titans' request for an interview, giving Tice a new contract instead. For that reason alone, I would imagine the Bears would at least discuss Tice as a possibility if they let Martz go. It wouldn't be a slam-dunk hire, but it would fall well short of starting over. That alone would make Tice worth careful consideration.
April, 19, 2010
4/19/10
12:26
PM ET
Some quick thoughts about Detroit's role in a
three-way trade
that sent linebacker
Ernie Sims
to Philadelphia and brought the Lions tight end
Tony Scheffler
from Denver.
Being a cynic, the first thing you wonder is if the Lions are more concerned about the health of Brandon Pettigrew than we thought. Pettigrew tore his anterior cruciate ligament on Thanksgiving Day, and the Lions have said he is on track to be ready to practice around the start of training camp. I'm not aware of any setback in that regard. But after the retirement of Casey Fitzsimmons, the Lions aren't exactly deep at the position. And offensive coordinator Scott Linehan loves using two tight ends; in Minnesota he made it work well with Jermaine Wiggins and Jim Kleinsasser. So I think this move was independent of Pettigrew's long-term status.
Scheffler is a pure playmaker at the position; he caught a combined 89 passes and eight touchdowns in 2007-08. Last year, however, he ran into two obstacles with the Broncos: Coach Josh McDaniels doesn't have a big need for a pass-catching tight end, and McDaniels wasn't always a fan of prominent players from the regime of former coach Mike Shanahan. A Michigan native who played at Western Michigan, I would imagine Scheffler will appreciate this fresh start.
This deal had a Martin Mayhew special buried in it. As reported by ESPN's Chris Mortensen, the Lions also got a seventh-round pick from the Broncos. Mayhew always scraps for extra assets.
Sims had been penciled in as the Lions' weakside starter, but I emphasize that projection was in pencil only. The Lions originally drafted him as a linebacker perfectly suited for the Tampa 2 defense. At 230 pounds, if that, Sims didn't seem to fit squarely into the scheme the Lions are using under coach Jim Schwartz, one that emphasizes size as much as speed. The trade marks the dangers of drafting purely for scheme, as well as the inability of most teams to flex their scheme to the strengths of diverse players.
It's going to take some time to sort out who will replace Sims. One thing I feel pretty confident about: It won't be DeAndre Levy. I asked Schwartz about Levy last month at the NFL owners meetings, specifically about whether he was locked in at middle linebacker. Schwartz obviously didn't know this trade was coming, but he couldn't have been more affirmative in saying Levy would remain in the middle. I don't think there's an obvious weakside answer on the roster, so it will probably be an open competition unless the Lions acquire a veteran in some other fashion. As of right now, I'm guessing Jordon Dizon, Zack Follett and perhaps free-agent signee Landon Johnson are all in the mix. The Lions could draft at least one additional participant later this week.
June, 19, 2009
6/19/09
7:44
AM ET
Posted by ESPN.com's Kevin Seifert
For those of you who are interested, here is the full list of the inaugural draft for the United Football League, which starts play in the fall and hopes to serve as something of a incubation league for players who wouldn't have made an NFL team but could provide midseason depth if needed.
A few NFC North-related highlights:
Former Minnesota coach Dennis Green, who now coaches the UFL's San Francisco franchise, selected Marshall receiver Marcus Fitzgerald, who had a tryout earlier this year with the Vikings. Fitzgerald is the younger brother of Arizona receiver Larry Fitzgerald, whom Green drafted when he was the coach of the Cardinals in 2004. Both Fitzgeralds grew up in the Twin Cities.
Green also drafted running back "Femi" Ayanbadejo, whom he once coached in Minnesota, as well as Harvard quarterback Liam O'Hagan -- a Twin Cities native who is the son of longtime coaching agent Gary O'Hagan.
Orlando drafted former Wisconsin and Minnesota quarterback Brooks Bollinger. It also selected safety Mike Doss, who spent 2007 with the Vikings, and former Vikings tight end Jermaine Wiggins. Former Green Bay defensive tackle Fred Bledsoe was also on Orlando's list.
Las Vegas grabbed safety Adam Archuleta, who played for Chicago in 2007, and former Lions receiver David Kirkus.
Continuing around the NFC North:
NFL SCOREBOARD
Thursday, 11/27
Sunday, 11/30
Monday, 12/1