NFL Nation:

Jermale Hines
September, 1, 2012
9/01/12
4:00
PM ET
The Colts picked a favorite player at three spots of need off the waiver wire, adding former Patriots safety
Sergio Brown
, former 49ers offensive tackle
Mike Person,
and former Jets defensive tackle
Martin Tevaseu
.

To create room for the waiver claims, Indianapolis cut safety
Jermale Hines
, cornerback
DJ Johnson
and offensive tackle
Ty Nsekhe
.
Brown has appeared in 26 games (three starts) and has totaled 34 tackles (25 solo) and one interception. Last season, he played in 15 games with three starts and made 26 tackles (18 solo) and one interception. He played collegiately at Notre Dame.
Person (6-foot-4, 299 pounds) was originally selected in the seventh round (239th overall) of the 2011 NFL Draft by the
San Francisco 49ers
. Last year, he was inactive for all 16 regular season and two preseason games.
Tevaseu (6-2, 325 pounds) bounced between the Jets' practice squad and roster last season, seeing action in five games and totaling three tackles.
The Colts still have the No. 1 slot in the waiver claiming order and could continue to grab people as the rest of the league makes moves.
September, 25, 2011
9/25/11
2:44
PM ET
The
St. Louis Rams
can use all the hard-nosed, physical players they can get heading into their game against
Ray Lewis
and the
Baltimore Ravens
.
Running back
Steven Jackson
, sidelined since the early going of a Week 1 defeat to Philadelphia, is one of the players St. Louis needs the most. The team did not list him among its inactive players Sunday, meaning Jackson will be available to them.
Jackson's first carry of the season went for 47 yards and a touchdown, but he suffered a strained quadriceps on the play. He returned for one more carry and has not played since.
The Rams will be without receiver
Danny Amendola
, safety
Jermale Hines
, receiver
Greg Salas
and defensive end
C.J. Ah You
.
September, 19, 2011
9/19/11
7:29
PM ET
EAST RUTHERFORD, N.J. -- The
St. Louis Rams
and
New York Giants
have submitted their inactive lists for their Monday night matchup.
Rams: receiver Danny Amendola, running back Steven Jackson, receiver Austin Pettis, safety Jermale Hines, linebacker Jabara Williams, tight end Stephen Spach and defensive end C.J. Ah You. Jackson tested his strained quadriceps during warmups, but was never expected to play. Amendola is recovering from a dislocated elbow. Rookie defensive end Robert Quinn is active after sitting out the opener. Ah You underwent wrist surgery recently. Right tackle Jason Smith, who suffered an ankle injury in the opener, is active.
Giants: receiver Jerrel Jernigan, cornerback Prince Amukamara, running back Da'Rel Scott, tight end Travis Beckum, guard Mitch Petrus, defensive end Osi Umenyiora and tackle James Brewer. Umenyiora and fellow Pro Bowl defensive end Justin Tuck missed the opener with injuries. Tuck is active and, if sufficiently healthy, will likely present matchup problems for the Rams, particularly when lined up against Smith.
We're about an hour from kickoff. I'm seeing Rams fans wearing
Eric Dickerson
and Jack Youngblood jerseys, and another with a
Sam Bradford
jersey. The stadium remains mostly empty at this time, however.
May, 31, 2011
5/31/11
10:07
AM ET
The
Arizona Cardinals
' running game should perk up this season if
Beanie Wells
revisits the hard-charging form
he flashed
during his rookie season two years ago.
The passion Wells showed Monday in defending his former college coach wouldn't hurt, either.
Wells, one of 11 NFC West players from Ohio State, took
Jim Tressel's scandal-induced resignation
hard. The third-year Cardinals runner called Tressel a "
great man
" who imparted life lessons upon his players. The way Wells sees things, if Tressel lied about his players' roles in the scandal, he did so only
out of honor
.
Wells punctuated his tweets with exclamation points, making good on his promise to "
go off
" while criticism against Tressel piled up.
"It's not his fault at all that he had a few go stray out of hundreds!!!"
Wells wrote
. "U check the success rate of the people that have been around him!!!!"
According to Wells, Tressel
stepped up
to help players from disadvantaged backgrounds, becoming
more than just a coach
to them.
Wells is among 10 current NFC West players from Ohio State, but the only one playing for the Cardinals.
All but
St. Louis Rams
linebacker
Na'il Diggs
and
San Francisco 49ers
cornerback
Nate Clements
played for Tressel. The NFC West players from Ohio State: Clements,
Troy Smith
,
Ted Ginn
Jr.,
Alex Boone
and
Thaddeus Gibson
from the 49ers;
Jay Richardson
from the
Seattle Seahawks
; Diggs,
Jermale Hines
,
Larry Grant
and
James Laurinaitis
from the Rams.
Laurinaitis reportedly used the term "
sad day
" to describe the events Monday. Smith was once
suspended for accepting money
from a booster when Tressel was coach.
May, 11, 2011
5/11/11
12:30
PM ET
The
Seattle Seahawks
were on the clock with the 99th overall choice in the 2011 NFL draft when the
Minnesota Vikings
called to inquire about a trade.
Coach Pete Carroll and general manager John Schneider had a decision to make. The team wanted to add more picks, so sliding back into the Vikings' spot at No. 106 carried some appeal. But the Seahawks had not addressed defense to that point in the draft, and Mississippi State outside linebacker
K.J. Wright
was a player they had been targeting.
Seattle decided to
stand pat at No. 99
.
"It is rare that you would find a linebacker with that much length (6-foot-4) and 4.6 speed,"
Carroll said after the draft
. "We need that flexibility."
[+] Enlarge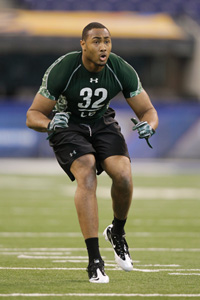 AP Photo/Michael ConroyK.J. Wright, who was drafted by the Seahawks with the No. 99 pick, was the last 4-3 strongside linebacker drafted.
This seemed a bit improbable. After all, teams selected 24 more linebackers over the remaining 155 selections. Surely one of them could have provided what the Seahawks wanted from Wright, right? Not necessarily. The more I studied those selections, the more I understood what Carroll was talking about. Wright was the fourth and final 4-3 strongside linebacker selected in the draft. All were gone among the top 100 selections.
The NFL has become so specialized, particularly on defense, that players are increasingly difficult to categorize. Seeking fresh perspective on the 2011 draft, I reclassified the 254 players chosen into 20 positional categories, based largely on how teams plan to use them. The process was imperfect because teams view players differently, and some players transcend easy categorization. But patterns that emerged were helpful in bringing the big picture into clearer focus.
Breaking down linebackers into five categories across 3-4 and 4-3 schemes was particularly helpful.
Teams selected one 4-3 strongside linebacker in each of the first four rounds, but none thereafter. They selected 12 4-3 weakside linebackers -- none in the first two rounds, five in the sixth and three in the seventh. That position carried less value relative to others based on when the players came off the board.
Nine of 11 4-3 defensive tackles went in the first three rounds, affirming how much teams value that position. Teams selected five 4-3 defensive ends in the first two rounds, then none until taking one in the fifth and four more in the seventh. Teams selected four five-technique defensive ends in the first round and one in the second, but none over the next four rounds.
I ultimately divided players into percentiles based on where they were selected in relation to other players from the same positional categories. Three NFC West players were the first players chosen at their specific positions. They were in the top percentile for their positions. Three, including Wright, were the last players chosen at their specific positions. They were in the bottom percentile.
The percentiles say nothing about whether individual players will succeed in the NFL. In some cases, players with lower percentiles probably carried more value at that moment in the draft based on how few prospects remained available at their positions.
Without categorizing players more specifically, we might not have any idea.
Overall, this draft featured 37 cornerbacks; 28 wide receivers; 24 running backs; 21 interior offensive linemen; 20 offensive tackles; 16 safeties; 13 tight ends; 12 quarterbacks; 12 4-3 weakside linebackers; 11 4-3 defensive tackles; 10 4-3 defensive ends; 10 3-4 outside linebackers; eight five-technique defensive ends; seven 3-4 inside linebackers; seven fullbacks; six 4-3 middle linebackers; four 4-3 strongside linebackers; four nose tackles; and two specialists. Two defensive linemen -- Kansas City's
Allen Bailey
and Baltimore's
Pernell McPhee
-- qualified as nickel pass-rushers.
And now, a look at all 35 NFC West draft choices, listed by how early they were drafted in relation to other players at their specific positions:
First quarter: 75th percentile and higher
Patrick Peterson
, CB,
Arizona Cardinals
: First of 37 cornerbacks selected
Aldon Smith
, OLB,
San Francisco 49ers
: First of 10 3-4 outside linebackers
Robert Quinn
, DE,
St. Louis Rams
: First of 10 4-3 defensive ends
Ryan Williams
, RB, Cardinals: Second of 24 running backs, putting him in the 91.7 percentile for the position (FBs excluded)
Lance Kendricks
, TE, Rams: Second of 13 tight ends (84.6)
James Carpenter
, T, Seattle Seahawks: Fourth of 20 offensive tackles (80.0)
Chris Culliver
, CB, 49ers: Eighth of 37 cornerbacks (78.4)
Rob Housler
, TE, Cardinals: Third of 13 tight ends (76.9)
John Moffitt
, G, Seahawks: Fifth of 21 interior offensive linemen (76.2)
Second quarter: 50th to 74th percentile
Anthony Sherman
, FB, Cardinals: Second of seven fullbacks (71.4)
Austin Pettis
, WR, Rams: Eighth of 28 wide receivers (71.4)
Kendall Hunter
, RB, 49ers: Tenth of 24 running backs (58.3)
Bruce Miller
, FB, 49ers: Third of seven fullbacks (57.1)
Kris Durham
, WR, Seahawks: 12th of 28 wide receivers (57.1)
Daniel Kilgore
, C, 49ers: 10th of 21 interior offensive linemen (52.4)
Sam Acho
, OLB, Cardinals: Fifth of 10 3-4 outside linebackers (50.0)
Colin Kaepernick
, QB, 49ers: Sixth of 12 quarterbacks (50.0)
Greg Salas
, WR, Rams: 14th of 28 wide receivers (50.0)
Third quarter: 25th to 49th percentile
Richard Sherman
, CB, Seahawks: 24th of 37 cornerbacks (35.1)
Mark LeGree
, S, Seahawks: 11th of 16 safeties (31.3)
Quan Sturdivant
, ILB, Cardinals: Fifth of seven 3-4 inside linebackers (28.6)
Byron Maxwell
, CB, Seahawks: 27th of 37 cornerbacks (27.0)
David Carter
, DE, Cardinals: Sixth of eight five-technique defensive ends (25.0)
Jermale Hines
, S, Rams: 12th of 16 safeties (25.0)
Fourth quarter: Zero to 24th percentile
Colin Jones
, S, 49ers: 13th of 16 safeties (18.8)
Jabara Williams
, LB, Rams: 10th of 12 4-3 weakside linebackers (16.7 )
Ronald Johnson
, WR, 49ers: 24th of 28 wide receivers (14.3)
Mikail Baker
, CB, Rams: 32nd of 37 cornerbacks (13.5)
Pep Levingston, DE, Seahawks: Seventh of eight five-technique defensive ends (12.5)
Mike Person
, C, 49ers: 19th of 21 interior offensive linemen (9.5)
Malcolm Smith
, LB, Seahawks. Eleventh of 12 4-3 weakside linebackers (8.3)
Jonathan Nelson
, S, Rams: 15th of 16 safeties (6.3)
K.J. Wright, LB, Seahawks: Fourth of four 4-3 strongside linebackers (0.0)
DeMarco Sampson
, WR, Cardinals: 28th of 28 wide receivers(0.0)
Curtis Holcomb
, CB, 49ers: 37th of 37 cornerbacks (0.0)
May, 1, 2011
5/01/11
4:42
PM ET
Mel Kiper Jr. gave the
St. Louis Rams
a
B grade
for their efforts in the 2011 NFL draft.

Everything looks better with a young, ascending quarterback in place.
The Rams used three of their first four picks on weapons for
Sam Bradford
. All three fit the mold for new coordinator Josh McDaniels, who
prefers big receivers
. All three should help the Rams
improve in the red zone
, where they struggled badly last season.
First-round choice
Robert Quinn
added pass-rush help to a defense that wasn't hurting in that area, but still had longer-term concerns. Kiper thought Quinn could have been a No. 1 overall selection on raw talent. Quinn went later after serving a one-year suspension in 2010. A benign brain tumor was another potential concern.
The Rams' calculated gambles went beyond Quinn. Receivers
Austin Pettis
and Greg Salas do not seem to add the speed element the Rams could use on the outside. General manager Billy Devaney cautioned against overvaluing speed at the expense of finding good players. Those warnings are fair. Also, the most dynamically talented receivers tend to go earlier in the draft. Receivers available after the first round tend to have holes in their games. The Rams went for bigger, physical, more reliable targets. They weren't going to get
A.J. Green
or
Julio Jones
.
Later in the draft, the Rams took chances with players carrying injury histories. Seventh-rounders Mikail Baker and
Jonathan Nelson
come to mind. There are no perfect prospects in the seventh round, of course. Teams are making educated guesses and hoping for some luck.
The Rams still have work to do, but it's low-pressure work. While division rivals search for quarterbacks, the Rams can target free agents at defensive tackle, guard and possibly linebacker. Oh, and there's always the now-annual search for a complementary running back. They took tight end
Lance Kendricks
at No. 47, nine spots before McDaniels' former team, New England, took running back
Shane Vereen
. They took Pettis, the receiver, five spots after New England selected another running back,
Stevan Ridley
.
Eleven running backs came off the board between the Rams' fourth- and fifth-round selections.
"It was probably close a couple of times and we didn't force it," Devaney told reporters. "There were running backs that we were thinking about taking and they went before our next pick came up. But we didn't react by saying, 'OK, we lost the back, now we've got to drop down in value in this round and take a back no matter what [even] if he doesn't warrant going there.' It didn't work out."
That was true for teams across the league. The Rams weren't going to fill every need.