NFL Nation:

Jermelle Cudjo
December, 30, 2014
12/30/14
8:10
PM ET
While the
Detroit Lions
waited to hear about the immediate future of star defensive tackle
Ndamukong Suh
, the team also spent part of the day working out some defensive tackles.
The Lions worked out
Jermelle Cudjo
and
Ogemdi Nwagbuo
on Tuesday, according to ESPN Insider Field Yates. The team also signed former Boston College wide receiver
Ifeanyi Momah
to a reserve/futures deal.
The 6-foot-7 Momah was briefly on the Lions' practice squad this season, during the week the team went to London. He worked out at wide receiver and tight end during his short time with Detroit. He's spent time in camp with Philadelphia and was on the Cleveland and Detroit practice squads. His size makes him an intriguing prospect.
Now to the workout guys, both of whom were veterans who might have been insurance in case Suh's suspension was upheld:
DT Jermelle Cudjo:
He went undrafted in 2010 and eventually signed with St. Louis, where he spent four seasons. He played in 38 games, making 44 tackles and having 1.5 sacks. He signed with Kansas City last offseason but was cut before the year.
DT Ogemdi Nwagbuo:
The former Michigan State defensive tackle went undrafted in 2008. He has bounced around the NFL since then, including a very brief stint with the Lions in 2012, when he appeared in one game and didn't make a tackle. In all, he's played in 36 games, making 44 tackles with 1.5 sacks. He was last with Cincinnati during the playoffs last season.
March, 19, 2014
3/19/14
1:15
PM ET
EARTH CITY, Mo. -- Despite showing interest in a handful of free agents, the
St. Louis Rams
have yet to make any moves on the open market aside from re-signing two of their own.
Eventually, the team will likely add at least one outside free agent, but it's interesting to note the players the Rams have showed interest in during the first eight days of free agency. There's been a veteran quarterback (
Shaun Hill
), a pair of offensive linemen (
Davin Joseph
and Daryl Colledge) and a wide receiver (
Kenny Britt
).
But there's one position where the Rams seem most intent on adding depth and it's not one that ranked high on most outside pre-free agency lists: defensive tackle.
The Rams have expressed interest in, hosted visits for or both for potential defensive tackle options
Henry Melton
,
Antonio Smith
and
Alex Carrington
. Melton completed his free-agent tour Tuesday in St. Louis before deciding to sign with the
Dallas Cowboys
. Smith was supposed to visit St. Louis but the
Oakland Raiders
didn't let him leave without signing a deal.
Carrington remains on the market though it's still unclear if he'll visit the Rams. He's had interest from Pittsburgh, Cleveland and Oakland and though there have been reports that he would visit St. Louis, it has yet to happen.
Regardless of how things play out with Carrington, it's obvious from some of the players the Rams are vetting that they are looking to upgrade their depth on the interior of the defensive line and they believe they can find a veteran bargain to provide it.
The interest in interior help on the defensive line might have some wondering what it means for the future of starter
Kendall Langford
, but all indications from the team are that any additional help coming in would be as part of the rotation behind Langford and fellow starter
Michael Brockers
. Langford has been better than given credit for since arriving in St. Louis and really seemed to settle into his new spot -- he played end in a 3-4 for Miami before signing with the Rams -- the second half of the 2013 season.
Langford
Although Langford carries a $6 million cap number into the 2014 season, the Rams have showed no signs of wanting to part ways with him. And they shouldn't, given Langford's performance. He posted 49 tackles and five sacks last year and was a key in the team's improved efforts against the run in the final eight games.
Instead, added help on the interior would serve as a chance to improve over current backup defensive tackles
Jermelle Cudjo
and
Matt Conrath
. Cudjo had a strong enough 2012 to earn a contract extension last offseason but followed with 11 tackles and not much else in his 209 snaps in 13 games in 2013. Conrath got opportunities to contribute last year as well, playing eight games and 129 snaps with seven tackles and a sack.
Defensive ends
William Hayes
and
Eugene Sims
actually proved better as options inside behind Brockers and Langford. And though the Rams had plenty of success with the four defensive ends look on third down, the belief here is that they'd like to find ways to lessen the need for Hayes and/or Sims to spend so much time inside and allow them to provide more breathers for
Chris Long
and
Robert Quinn
on the edge.
The NFL draft will provide plenty of chances for the Rams to fill some but not all needs. From the looks of things, defensive tackle is one the Rams would prefer not to wait on.
August, 14, 2013
8/14/13
11:07
AM ET
EARTH CITY, Mo. -- Rams tight end
Lance Kendricks
estimates that he's about two weeks from returning to practice from a torn meniscus in his knee.
But when the Rams opted to take Kendricks (along with defensive tackle
Jermelle Cudjo
) off the active physically unable to perform list Tuesday afternoon, it served as a reminder of how important a cog he is to their offense.
"If you're on active PUP you're really not permitted to do anything with the team, so we felt like both of them are getting closer," coach Jeff Fisher said. "So, take them off and that way they can at least participate in walk-throughs and get the benefit of walk-through reps. So, that's where we are. Neither one of them is ready to come out and practice yet, but we just want to take advantage of the walk-through reps, and that's what we've done."
[+] Enlarge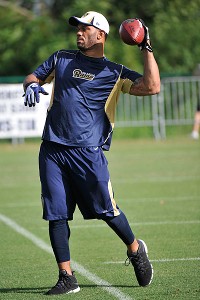 AP Photo/G. Newman LowranceRams tight end Lance Kendricks plans to be used in a variety of roles again this season.
The timing of the move makes sense considering the preseason is nearly halfway through. It's around this time of training camp where teams begin installing game plans for the opener, and Kendricks figures to play a large role in how the Rams approach things offensively.
Even with the addition of
Jared Cook
in the offseason, the chance to pair the athletic, downfield-oriented Cook with the versatile skills of Kendricks would seem to be a likely staple in the offense.
"That's huge," quarterback
Sam Bradford
said. "That's really big for us. I think it's going to be really exciting to see Kendricks and Cook on the field at the same time. When we go '12' (personnel set) with those two guys out there, there is a lot of speed on the field. And obviously everyone knows Lance's ability to catch, but also to be a very good blocker in the pass game and in the run game. So, it's going to be exciting. It'll be interesting to see just all the things we can do with those two on the field together."
Kendricks was one of the Rams' busiest players in 2012, his second season in the league. After bouncing back from a rough rookie season plagued with drops, Kendricks took a step forward in his second season.
Offensive coordinator Brian Schottenheimer clearly appreciated what Kendricks brought to the table, and by the end of the season Kendricks had played 80.7 percent of the team's snaps, fifth among offensive players and third among returning Rams.
Kendricks' involvement in the offense varied in many ways as he lined up attached to the line, in the backfield as a de facto fullback, in the slot, and just about any other way you could think of to use a tight end.
According to Pro Football Focus, Kendricks nearly split his time evenly between running routes and run-blocking. All told, he ran 407 pass routes, served as a run-blocker 394 times, and pass-blocked 74 times.
Upon his return, Kendricks fully expects to continue to serve as a sort of Swiss Army Knife for the offense.
"It will be very similar to last year, playing in the backfield, point of attack as far as runs like always," Kendricks said. "And I'll get my share of routes, too, just like everybody else, but like you said, there's a lot of balls to go around."
Somewhat quietly, Kendricks improved his pass-catching in 2012 with 42 catches for 519 yards and four touchdowns. In the process, he chopped his dropped passes from nine to five and seemed to clear whatever mental hurdle hampered his hands as a rookie in 2011.
Although Kendricks wasn't sure what type of tight end Cook was when the team signed him, Kendricks said the duo has developed an easy rapport where they help each other out.
"Obviously there are a lot of different types of tight ends," Kendricks said. "It turns out he's a great downfield threat and all around good player. So just being next to him will be a plus for me."
Before that happens, Kendricks has to complete his recovery from the knee injury that kept him out of Organized Team Activities and training camp thus far. He suffered the meniscus tear while working out in the team's indoor facility just before OTAs began.
When Kendricks went to have the knee scope, the medical staff discovered the issue was more serious and he had a complete meniscus repair.
Watching the Rams' offense begin anew during this camp has been difficult for Kendricks, who has regularly had to remind himself to not push too hard for fear of re-injury.
"It can be frustrating, but it's a long healing process," Kendricks said. "The main thing is to let it heal correctly so I don't have to do it again. It's pretty much fully healed now. I'm just trying to take it day by day and just get back into shape and be ready for Game 1."
In the meantime, Kendricks considers himself fortunate to be returning to an offense he knows well after playing such a prominent role in 2012. He's been a regular in meetings and followed along closely in practice to ensure he's as up to speed as possible as the offense evolves in his absence.
"It's been great watching these guys run around, and it's motivation for me to get back out there," Kendricks said. "I have been doing as much as I could up until now. Now I am able to do a little bit more."
August, 10, 2013
8/10/13
8:10
PM ET
EARTH CITY, Mo. -- Working as the color analyst for Cleveland's preseason television broadcast, former Browns quarterback
Bernie Kosar
did not hold back with his observations and opinions during Thursday night's game against the
St. Louis Rams
.
Through the course of the broadcast, Kosar was regularly critical of the Rams, focusing much of his ire on the team's wide receivers and backup quarterback
Kellen Clemens
.
[+] Enlarge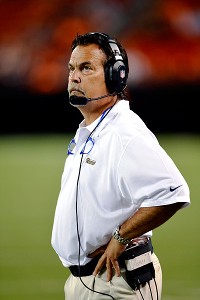 AP Photo/G. Newman LowranceJeff Fisher said he isn't fretting over the high amount of penalties that his Rams committed during the preseason.
Asked about it on Saturday, Rams coach Jeff Fisher first noted that he believes the Browns to be a "first-class organization" before making it clear he was none too pleased with Kosar's idea of color commentary.
"I guess I'm a little disappointed," Fisher said. "I feel bad for them that they had someone doing the broadcast who would feel the need to speak that way about players, specifically on our team, and coaches for that matter. I'm just surprised that Bernie has such a lack of respect for players and for this game. So I lost a lot of respect for him."
Kosar didn't waste much time in trashing the Rams, and did so repeatedly throughout the evening.
After an incomplete pass intended for
Tavon Austin
: "I really think that he didn't overthrow him and that Austin has to make that catch in the NFL. I see why Sam [Bradford] has been struggling watching how bad these receivers have been for him."
After
Nick Johnson
dropped a pass: "This is actually not a bad throw. These St. Louis receivers are horrible. That's a drop there."
When play-by-play man Jim Donovan asked Kosar what he'd think if he knew that some of the Rams receivers' parents were watching, Kosar said he "would be embarrassed."
Kosar then turned his attention from to receivers coach Ray Sherman.
"I'm checking through the itinerary here of guys and coaches to see who the receivers coach is to make sure I don't know who this guy is because he's not doing very good either," Kosar said.
[+] Enlarge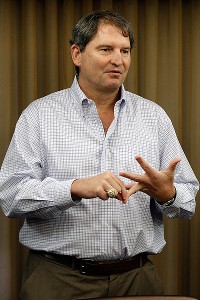 AP Photo/Mark DuncanA former quarterback, Bernie Kosar said particularly harsh things about Rams QB Kellen Clemens.
Kosar did offer praise to Rams quarterback
Sam Bradford
, but he didn't feel the same way about Clemens. In fact, many of Kosar's comments came off as though he held a personal vendetta of some sort against Clemens. When Donovan told Kosar, who had been asking for the use of a telestrator throughout the evening, that he might get one if he were on his best behavior, Kosar responded with a seemingly out-of-nowhere shot at Clemens.
"I must not be because the next quarterback in, me and him haven't done too well with each other, too," Kosar said.
Clemens wasn't in the game at the time.
Later, when Clemens entered the game, Donovan relayed a story about Clemens giving an autograph to Pope Benedict XVI. Kosar said he didn't think he'd ever want it, and then took another shot at Clemens.
"Bless me, Father, for I have sinned," Kosar said. "I have to watch him the whole fourth quarter."
On Saturday, Fisher said he didn't believe Kosar had studied the Rams well enough to be making such sweeping generalizations.
"I didn't think they were justified," Fisher said.
Some notes from practice:
July, 26, 2013
7/26/13
7:59
PM ET
Two of the NFC West's top receivers,
Michael Crabtree
and
Percy Harvin
, headline a list of players declared physically unable to perform (PUP) as training camps gain momentum.
PUP designations carry different meanings at different times of the year. With that in mind, now is a good time to freshen up on the implications.
Players on PUP lists entering camp continue counting against the 90-man roster limit. They cannot practice while on the list. However, their teams can activate them from the list at any time before the mandatory roster reduction to 53 players, provided the players pass a physical exam.
This year, teams must reduce to 53 players by 6 p.m. ET on Aug. 31.
Players remaining on PUP lists at the reduction to 53 players must remain on the list for their teams' first six games. They do not count against the 53-man roster limit during that time. After six games have passed, players on PUP have a three-week window to resume practicing. Once a player begins practicing within that window, the team has another three weeks to activate the player from the PUP list onto the 53-man roster.
In effect, a player on the PUP list at the reduction to 53 players could return after his team's sixth game or as long as six weeks after that. The NFL had discussed expanding the three-week window for practicing by two weeks. I'm checking on the status of that proposal, which would have required collaboration with the NFL Players Association.
Update:
The window has indeed been extended from three weeks to five weeks, according to the NFL.
Thirteen players from the NFC West are on PUP lists. Five others are on non-football injury (NFI) lists. The rules for NFI mirror those for PUP, the difference being that players on NFI lists suffered injuries unrelated to football. For example, the
San Francisco 49ers
recently activated defensive lineman
Lamar Divens
from the NFI list. They did not disclose the source of his injury, but teammate
Ahmad Brooks
had struck him in the head with a bottle in June, according to authorities.
Separately, the 49ers have also activated linebacker
Darius Fleming
and receiver
Kyle Williams
from their PUP list.
October, 12, 2012
10/12/12
4:42
PM ET
Larry Fitzgerald
, the
Arizona Cardinals
' best player and an all-around
swell guy
by all accounts, has incurred an NFL fine for unnecessary roughness.
It was the right call, too.
Fitzgerald grabbed
St. Louis Rams
cornerback
Janoris Jenkins
by the facemask while preventing Jenkins from picking off a pass in Week 5. It was a smart move by Fitzgerald, but he'll have to pay the minimum $7,875 fine amount for first-time violators, Darren Urban of azcardinals.com
notes
.
Also fined
from the Cardinals-Rams game:
Robert Quinn
($15,750) for a helmet-to-helmet hit on Cardinals quarterback
Kevin Kolb
, and
Jermelle Cudjo
($7,875) for pulling off Kolb's helmet.
December, 2, 2011
12/02/11
3:23
PM ET
News
that
Sam Bradford
remained limited,
Chris Long
did
not practice
and
Darian Stewart
still had not passed concussion testing hung over the
St. Louis Rams
on Friday.

Bradford, as the starting quarterback, ranks high on the team's list of most important players. Long has 10 sacks and ranks as one of the team's best players on defense. Stewart, though inconsistent, has provided a physical presence with his hitting at safety.
Bradford's ankle injury is threatening to prevent him from getting sufficient work in the offense and with receiver
Brandon Lloyd
. But with so many problems throughout the roster, including along the offensive line, perhaps there's little to gain by putting Bradford on the field against the
San Francisco 49ers
' defense in Week 13.
To review, the Rams' injured reserve list already features:
Just about every NFL team has a chance against every opponent. The Rams should not concede the game. But if that ankle is preventing Bradford from practicing much, why play him?
December, 26, 2010
12/26/10
11:53
AM ET
ST. LOUIS -- The
St. Louis Rams
and
San Francisco 49ers
offered no surprises Sunday when they named players inactive 90 minutes prior to kickoff at the Edward Jones Dome.
Defensive end
Chris Long
(thigh) and right tackle
Jason Smith
(ankle) are both active and expected to start for the Rams despite their injuries. Tight end
Mike Hoomanawanui
, given only an outside shot at returning this week, was among the Rams' inactive players.
Also inactive for the Rams: safety
Michael Lewis
, cornerback
Justin King
, linebacker
David Nixon
, linebacker
Curtis Johnson
, guard
John Greco
, receiver
Mardy Gilyard
and defensive tackle
Jermelle Cudjo
.
The 49ers will play without third tight end
Nate Byham
(ankle), who was named inactive along with cornerback
Tramaine Brock
, cornerback
William James
, safety
Chris Maragos
, defensive tackle
Will Tukuafu
, tackle
Joe Staley
and tackle
Alex Boone
.
David Carr
is the third quarterback.
Staley made the trip, as did former starting center
Eric Heitmann
, who is on injured reserve. They were walking laps around the field during early warm-ups. The 49ers could get Staley back from a broken fibula as early as Week 17.
Barry Sims
will start in his place again Sunday.
December, 5, 2010
12/05/10
3:09
PM ET
GLENDALE, Ariz. -- The
St. Louis Rams
and
Arizona Cardinals
named some healthy contributors inactive Sunday.
The Rams sat down fullback
Mike Karney
for a second consecutive week even though Karney was available to them.
Brit Miller
is getting some snaps at fullback in the base offense. Miller also offers more on special teams. The Rams have sometimes moved a tight end into the backfield for blocking help, although their preferred choice in that role, Mike Hoomanwanui, is inactive with an ankle injury.
The Cardinals named defensive lineman
Gabe Watson
inactive after their defensive front struggled badly against the
San Francisco 49ers
last week. Defensive end
Calais Campbell
, inactive with an ankle injury last week, is active Sunday. Watson had been active for the previous three games.
Also inactive for Arizona: receiver
Max Komar
, cornerback
A.J. Jefferson
, safety
Hamza Abdullah
, cornerback Marshay Green, linebacker
Reggie Walker
and center
Ben Claxton
.
John Skelton
is the third quarterback.
Also inactive for the Rams: safety
Michael Lewis
, cornerback
Jerome Murphy
, linebacker
Bryan Kehl
, guard
John Greco
and defensive tackle
Darell Scott
. Scott has been injured. Defensive tackle
Jermelle Cudjo
, inactive against Denver, is active for this game.
September, 12, 2010
9/12/10
3:18
PM ET
ST. LOUIS -- The
St. Louis Rams
named receivers
Brandon Gibson
and
Dominique Curry
inactive Sunday, leaving only four on their 45-man game-day roster.
Think they might want to run the ball with
Steven Jackson
?
Gibson was a potential starter following
Donnie Avery
's season-ending knee injury, but the Rams' move to acquire
Mark Clayton
from Baltimore altered plans. Gibson missed much of camp with a hamstring injury. He was not on the injury report this week, suggesting he has ground to make up before becoming part of the rotation -- particularly if the Rams are going to keep only four receivers active.
Curry's special-teams ability had given him a shot at the active roster, but the Rams probably weren't going to consider him much as a receiver at this stage.
Also inactive for the Rams: cornerback
Jerome Murphy
, tight end
Fendi Onobun
, offensive lineman
John Greco
, defensive end
Eugene Sims
and defensive tackle
Jermelle Cudjo
.
Thaddeus Lewis
is the third quarterback. If a third quarterback plays, the first two quarterbacks cannot re-enter the game.
Onobun's chances for the game-day roster appeared strong early in camp, but fellow rookie
Mike Hoomanawanui
impressed during exhibition games.
Murphy will probably factor as a nickel corner this season, but
Kevin Dockery
or
Justin King
will fill that role Sunday. Dockery appears most likely to serve as the nickel, but I'm not certain at this point. Veteran safety
James Butler
, listed as probable with a knee injury, is active.
September, 8, 2010
9/08/10
2:21
PM ET
Roster turnover is a leading topic for discussion in Seattle following the release of
T.J. Houshmandzadeh
in particular.
I've addressed the subject in depth across the division -- first
May 26
and again
July 30
-- and it's worth another look now that teams have reduced to 53 players for the regular season.
This time, I'm going to break down the changes by position, listing players no longer on the active roster at each main position group (with new players in parenthesis). Departures outnumber replacements because some players finished last season on injured reserve, meaning they were not part of the 53-man roster.
Some players no longer on the active roster remain with the team (they could be suspended, deemed physically unable to perform or part of the practice squad).
St. Louis Rams (34 off roster)

Defensive back:
Eric Bassey
,
Quincy Butler
,
Danny Gorrer
,
Clinton Hart
, Cordelius Parks,
David Roach
,
Jonathan Wade
(added
Kevin Dockery
,
Jerome Murphy
,
Darian Stewart
)
Defensive line:
Victor Adeyanju
,
Adam Carriker
,
Leger Douzable
,
Leonard Little
,
LaJuan Ramsey
,
James Wyche
(added
Jermelle Cudjo
,
Fred Robbins
,
George Selvie
,
Eugene Sims
)
Linebacker:
K.C. Asiodu
,
Paris Lenon
(added
Na'il Diggs
,
Josh Hull
)
Offensive line:
Roger Allen
,
Alex Barron
,
Ryan McKee
,
Mark Setterstrom
,
Phillip Trautwein
,
Eric Young
(added
Renardo Foster
,
Hank Fraley
,
Rodger Saffold
)
Quarterback:
Kyle Boller
,
Marc Bulger
,
Keith Null
,
Mike Reilly
(added
Sam Bradford
,
A.J. Feeley
,
Thaddeus Lewis
)
Running back:
Samkon Gado
,
Chris Ogbonnaya
(added
Keith Toston
)
Special teams:
Ryan Neill
Tight end:
Randy McMichael
(added
Mike Hoomanawanui
,
Fendi Onobun
)
Wide receiver:
Donnie Avery
,
Keenan Burton
,
Brooks Foster
,
Jordan Kent
,
Ruvell Martin
(added
Mark Clayton
,
Dominique Curry
,
Mardy Gilyard
)
---
Seattle Seahawks (33 off roster)

Defensive back:
Jamar Adams
,
Deon Grant
,
Ken Lucas
,
Josh Wilson
(added
Kam Chancellor
,
Kennard Cox
,
Nate Ness
,
Earl Thomas
,
Walter Thurmond
)
Defensive line:
Lawrence Jackson
,
Patrick Kerney
,
Cory Redding
,
Nick Reed
,
Darryl Tapp
,
Craig Terrill
(added
Kentwan Balmer
,
Raheem Brock
,
Chris Clemons
,
Dexter Davis
,
Junior Siavii
,
E.J. Wilson
)
Linebacker:
Leroy Hill
,
Lance Laury
,
D.D. Lewis
(added
Matt McCoy
; note that Hill is suspended for the first regular-season game)
Offensive line:
Trevor Canfield
,
Brandon Frye
,
Walter Jones
,
Damion McIntosh
,
Rob Sims
,
Steve Vallos
,
Ray Willis
,
Mansfield Wrotto
(added
Stacy Andrews
,
Evan Dietrich-Smith
,
Ben Hamilton
,
Russell Okung
,
Chester Pitts
,
Tyler Polumbus
)
Quarterback:
Mike Teel
,
Seneca Wallace
(added
Charlie Whitehurst
)
Running back:
Justin Griffith
,
Louis Rankin
,
Tyler Roehl
,
Owen Schmitt
(added
Quinton Ganther
,
Michael Robinson
,
Leon Washington
)
Special teams:
Kevin Houser
,
Jeff Robinson
(added
Clint Gresham
)
Tight end:
John Owens
(added
Chris Baker
,
Anthony McCoy
)
Wide receiver:
Nate Burleson
, T.J. Houshmandzadeh (added
Golden Tate
,
Mike Williams
)
---
Arizona Cardinals (24 off roster)

Defensive backs:
Ralph Brown
,
Bryant McFadden
,
Antrel Rolle
(added
A.J. Jefferson
,
Trumaine McBride
,
Brandon McDonald
,
Kerry Rhodes
)
Defensive line:
Jason Banks
(added
Dan Williams
)
Linebacker:
Monty Beisel
,
Bertrand Berry
,
Cody Brown
,
Karlos Dansby
,
Gerald Hayes
,
Chike Okeafor
,
Pago Togafau
(added
Paris Lenon
,
Cyril Obiozor
,
Joey Porter
,
Daryl Washington
; Hayes can return from the physically unable to perform list after six games)
Offensive line:
Mike Gandy
,
Herman Johnson
,
Reggie Wells
(added
Alan Faneca
,
Rex Hadnot
)
Quarterback:
Matt Leinart
,
Brian St. Pierre
,
Kurt Warner
(added
Derek Anderson
,
Max Hall
,
John Skelton
)
Running back:
Justin Green
,
Dan Kreider
(added
Jerome Johnson
)
Special teams:
Neil Rackers
(added
Jay Feely
)
Tight end:
Anthony Becht
(added
Jim Dray
)
Wide receiver:
Anquan Boldin
,
Sean Morey
,
Jerheme Urban
(added
Andre Roberts
,
Stephen Williams
)
---
San Francisco 49ers (24 off roster)

Defensive backs:
Dre' Bly
,
Walt Harris
,
Marcus Hudson
,
Mark Roman
(added
Phillip Adams
,
Tramaine Brock
,
William James
,
Taylor Mays
)
Defensive line:
Kentwan Balmer, Derek Walker
Linebacker:
Scott McKillop
,
Jeff Ulbrich
,
Matt Wilhelm
(added
NaVorro Bowman
,
Travis LaBoy
)
Offensive line:
Tony Pashos
,
Chris Patrick
,
Cody Wallace
(added
Alex Boone
,
Anthony Davis
,
Mike Iupati
)
Quarterback:
Nate Davis
,
Shaun Hill
(added
David Carr
,
Troy Smith
)
Running back:
Thomas Clayton,
Glen Coffee
,
Brit Miller
, Michael Robinson (added
Anthony Dixon
,
Brian Westbrook
)
Special teams:
Shane Andrus
,
Ricky Schmitt
Wide receiver:
Arnaz Battle
,
Isaac Bruce
,
Jason Hill
,
Brandon Jones
(added
Ted Ginn Jr.
,
Kyle Williams
,
Dominique Zeigler
)
---
The first chart shows how many players are back -- at least for now -- from Week 17 rosters and injured reserve lists. Seattle has the fewest number back with 26.
The second chart shows how many players each team has shed since Week 17 last season. This counts players who were on injured reserve. Teams with lots of players on injured reserve had more players to lose.
May, 2, 2010
5/02/10
11:42
AM ET
The SEC, ACC, Big Ten, Big 12 and Pac-1o rule NFL rosters -- in that order -- outside the NFC West.
Not so within the division.
The chart
shows NFC West teams favoring players from the Pac-10, Big Ten, SEC, ACC and Big 12 -- in that order -- after filling out their rosters with draft choices and undrafted free agents.
My totals reflect NFL roster counts after 27 of 32 teams, including all four NFC West teams, signed undrafted free agents (all teams will sign them, but signings aren't official in some cases).
The Seahawks clearly favor the Pac-10. They have 26 of the division's 51 players from the conference coach Pete Carroll called home from 2001 through 2009. The 49ers and Rams seem to favor the Big 12 more than the Seahawks or Cardinals. All four teams tap into the Big Ten close to equally.
Seattle has led the NFL in players from the ACC over the past few years. The Rams have closed ground. The Rams also have the division's only five players from the Division II Lone Star Conference (quarterback
Keith Null
, linebacker
K.C. Asiodu
, linebacker
Freddie Harris
, defensive tackle
Jermelle Cudjo
and defensive end
Eugene Sims
).
The chart names every conference with at least five players in the NFC West. The Cardinals have an additional 15 players from other conferences, most in the division. Seattle has the division's only three players from Independent programs (
Julius Jones
,
Golden Tate
and
John Carlson
, all from Notre Dame).
All conference listing reflect current affiliations. Totals count signed players, unsigned franchise players and unsigned restricted free agents.