NFL Nation:

Jerry Fontenot
December, 8, 2013
12/08/13
8:00
PM ET
GREEN BAY, Wis. -- Before
Jermichael Finley
's season-ending neck injury, fellow
Green Bay Packers
tight end
Andrew Quarless
marveled at Finley's penchant for breaking tackles and dragging defenders.
"When he left, I really wanted to match his intensity," Quarless said Sunday. "That's one of the things I told him in the hospital that day. I said he was playing with such intensity."
Before Sunday, though, Quarless was all talk.
In the first six games that followed Finley's injury against the
Cleveland Browns
on Oct. 20, the Packers new starting tight end combined for just 13 catches for 102 yards without a touchdown.
That changed on Sunday. Quarless set career bests with six catches and 66 yards, including the go-ahead touchdown on a 2-yard back-shoulder catch with 12:01 left in a much-needed 22-21 victory over the
Atlanta Falcons
at Lambeau Field.
Quarless' performance came only days after his position coach, Jerry Fontenot, said he needed more from the fourth-year tight end, who has finally recovered from the 2011 knee injury that kept him out of all last season. Quarless had just one catch for 7 yards in the Thanksgiving loss at the
Detroit Lions
and also needed to improve as a blocker.
"Coming out of the last game on Thanksgiving, one of my biggest things me and him talked about was finishing," Quarless said. "I'm usually a good guy off the line but it takes four, five seconds every play, so you've really got to play every play all out. That was my approach, just really finishing. That was my biggest thing this week was to finish, and we finished with a win, thankfully."
That quarterback
Matt Flynn
went to Quarless on third-and-goal from the 2-yard line in the fourth quarter spoke volumes about the tight ends' role in Sunday's game plan.
"Andrew played a great game," said Flynn, who had 10 of his 24 completions to the tight ends. "When you've got teams that are locking on [receiver] Jordy [Nelson] and things like that, you've got to really utilize your tight ends. So, we gave them a chance to make plays, and they did it."
It wasn't just Quarless.
Brandon Bostick
caught two passes for 28 yards, including a 19-yard catch and run down the sideline in the second quarter.
Ryan Taylor
caught two passes for 7 yards.
As a position group, the Packers tight ends combined for 10 catches, 101 yards and a touchdown against the Falcons. In the previous six games, they had just 20 catches, 206 yards and one touchdown.
"Jermichael's a hell of an athlete, a hell of a player, and it's tough to replace a guy like that," Taylor said. "But we have the talent in our room that we can put together a full game, and we can make an impact as a group. I don't know how many balls we caught today as a room -- I know I had two, Andrew had five or six, Bostick had two. If one tight end was catching 10, 11 balls, that would be a heck of a day."
October, 25, 2013
10/25/13
5:50
PM ET
GREEN BAY, Wis. -- It may be weeks or even months before any decision is made about the future of
Green Bay Packers
tight end
Jermichael Finley
, but some sense of normalcy has returned for him.
Finley
A day after he was
released from a local hospital
, which included one night in the intensive care unit at Bellin Hospital, Finley returned to Lambeau Field for the first time since he was taken off on a stretcher during the fourth quarter of Sunday's game against the
Cleveland Browns
.
"I saw Jermichael this morning; he looks good," Packers coach Mike McCarthy said after Friday's practice. "Looked like a dang movie star walking in there with sunglasses. It was good to see him. [He had a] big smile on his face. It's great to have him back in the building."
Finley, who sustained a spinal bruise that led to a four-night hospital stay, is expected to undergo additional tests to determine whether he can return to the field. For now, Finley remains on the active roster although he has been ruled out of Sunday's game at the
Minnesota Vikings
.
"That information is being sent to the specialist, and then we'll have to make a decision at a certain time," McCarthy said.
The injury hit the Packers hard. Tight end
Andrew Quarless
, who was the first player to reach Finley after he went down, said he shed a tear when he realized Finley could not move shortly after the hit. Receiver
Jordy Nelson
had trouble speaking to reporters after the game without his eyes moistening.
"Just seeing [Finley] walk in here today, I think is what everybody needed to see," McCarthy said.
Finley did not make an appearance in the locker room while it was open to reporters.
The Packers did not have an issue with the hit, delivered by Browns safety
Tashaun Gipson
, and neither did the NFL. A league spokesman confirmed Friday that Gipson was not fined for the play, although he was penalized for what referee Jeff Triplette said was a helmet-to-helmet hit even though it appeared Gipson hit Finley with his shoulder.
"I thought it was clean," Packers tight ends coach
Jerry Fontenot
said. "It looked like the safety that was coming in to make the hit really did his best to keep his head out of it and it almost looked like, I couldn't tell what happened right there at that moment, but looking back at the tape, it looked like he almost turned his back to Jermichael and Jermichael's crown on his helmet hit the safety on the back of the shoulder. To me, it wasn't maliciously intended. He was just trying to make a play."
October, 24, 2013
10/24/13
6:55
PM ET
GREEN BAY, Wis. – Jerry Fontenot spent the last five seasons coaching from the press box on game days, far removed from the action. This season, though, the
Green Bay Packers
' tight-ends coach moved down to the sideline, where he's able to do more hands-on coaching during games.
Yet he felt equally helpless on Sunday, when he walked to the middle of Lambeau Field during the fourth quarter of the game against the
Cleveland Browns
and saw Packers tight end
Jermichael Finley
unable to move after the hit he took from safety
Tashaun Gipson
.
"By that point, they had already taken off his facemask, so I knew it probably wasn't good," Fontenot said Thursday. "Again, I just tried to console him as best as I could in that moment. Anybody that knows Jermichael, he's very a competitive and extremely enthusiastic person, and he was a little shaken by the whole thing."
[+] Enlarge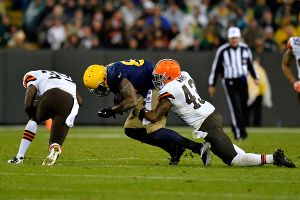 Brian Kersey/Getty ImagesJermichael Finley's injury has left the Packers wanting to help him and his family, but also needing to replace him on the field.
Finley, who sustained a spinal contusion and faces an uncertain future, was
released from the hospital
on Thursday.
Fontenot, who has been Finley's position coach the last two seasons, played 16 NFL seasons as an offensive lineman. He was in the same draft class (1989) with Dennis Byrd and Mike Utley, both of whom sustained career-ending neck injuries that left them paralyzed. Byrd learned to walk again. Utley did not.
"Unfortunately you get visions of injuries like that occurring and it's always tough to see," Fontenot said. "Whenever it's one of the guys in your family, it's really hard. We'll all be here and be supportive, and hopefully there's a gold pot at the end of the rainbow here. Sometimes through hardships good things come out of it."
Fontenot might have the toughest job on the Packers' coaching staff these days. He wants to be around Finley – and he has done that, visiting him in the hospital, where Fontenot said Finley "could laugh and joke and we would break down and cry a little bit" – and Finley's wife, Courtney, who he said was "obviously very shaken" but "really did a great job; the whole family [did] supporting Jermichael."
But Fontenot also is charged with preparing the remaining tight ends to play Sunday against the
Minnesota Vikings
– and beyond.
Fourth-year pro
Andrew Quarless
likely will step into Finley's starting role, but the Packers don't have another tight end on their roster with the kind of dynamic athleticism Finley possesses. The 6-foot-5, 247-pound Finley ranked third on the team with 25 receptions for 300 yards and three touchdowns.
Sunday's performance against the Browns was one of his most impressive. He caught five passes for 72 yards and a touchdown. On his 10-yard scoring play, he caught a short drag route and broke four tackles on his way to the end zone.
"All week long we talked about the most important thing that we are in control of is yards after the catch and yards after the contact," Fontenot said. "And you know, obviously he was on pace to do some really big things."
As for Quarless, he showed some flashes in 2010 after Finley sustained a knee injury. As a rookie that season, Quarless caught 21 passes for 238 yards and a touchdown. His playing time decreased in 2011 before he blew out his knee, an injury that kept him out all of last season.
"I told [Finley] the way he was playing, I was inspired and that was one of the things I told him that night in the hospital, 'the way you've been playing the last couple of games really inspired me,'" Quarless said. "All I can really do as far as that is just try to match what he was doing for my teammates, for him, just for everybody, really try to match that intensity. The way he was playing was amazing, so I'm just going to try to match that."
The remaining tight ends – Quarless,
Brandon Bostick
,
Ryan Taylor
and
Jake Stoneburner
– have combined for six catches and 39 yards this season. Taylor isn't expected to play this week because he is still recovering from knee surgery.
The 6-3, 250-pound Bostick, a former college receiver, is perhaps most like Finley in terms of body type and athletic ability.
"I view myself as like a younger Jermichael, but I don't try to mimic him," Bostick said. "I just try to do the best that I can do. I don't try to match his game. I just try to be the best Brandon Bostick I can be."
October, 21, 2013
10/21/13
8:45
PM ET
GREEN BAY, Wis. -- Behind
Jermichael Finley
, the
Green Bay Packers
have four other tight ends on their roster.
But none of them comes close to matching the skill set that the 6-foot-5, 247-pound Finley possesses.
Finley has 25 catches (third on the team) for 300 yards (fourth on the team) and three touchdowns (second on the team).
With Finley's future in doubt after
the neck injury he sustained
in Sunday's 31-13 win over the
Cleveland Browns
, the Packers will likely have to change how they use their tight ends.
While they may have tight ends who are better blockers than Finley, they don't have one with the natural athleticism and skill to step into his role as a receiver and can cause matchup problems for opposing defenses.
"It's important to define roles for those guys and make sure that we have a clear understanding," Packers coach Mike McCarthy said Monday. "You never want to put too much on a young guy's plate."
With that in mind, here's a look at the other four tight ends on the roster:
Quarless
Andrew Quarless
: In terms of size, the 6-4, 252-pound fourth-year pro most resembles Finley.
He almost certainly will take over as the starter.
"That's not even something I really want to think about it," Quarless said on Sunday. "Playing time is irrelevant right now."
Quarless is a better blocker than Finley but not as polished or skilled as a receiver. He has four catches for 28 yards this season.
However, he has the most experience even though he missed the entire 2012 season while recovering from his 2011 knee injury. Quarless might be better suited to play on the line of scrimmage rather than in the slot or split out wide -- where Finley combined to play nearly half of his snaps.
Bostick
Brandon Bostick
: After spending last season on the practice squad, the former small-college receiver added weight and strength in the offseason and is viewed as a promising prospect at 6-3, 250.
But he has played only 11 snaps on offense all season, and eight of those came on Sunday against the Browns.
The Packers probably won't ask Bostick to do a lot of in-line blocking, but they might try to take advantage of his background as a receiver and perhaps use him on the seam routes that Finley often ran. He comes closest to rivaling Finley in the athleticism department, but he also might be the most raw of the tight ends.
"I feel confident that whatever we're asking him to do, he'll do well," tight ends coach Jerry Fontenot said last week. "He has made some strides from training camp until now in his run blocking. He's made strides in taking care of his body and holding weight and just being more of a presence out there. To me, he looks a little bit faster than he did last year, when he was lighter, and he looks really solid."
Taylor
Ryan Taylor
: The third-year pro has been almost exclusively a special teams player and a situational blocker.
He's not a strong candidate to pick up much of Finley's production in the passing game.
His status for Sunday's game at the
Minnesota Vikings
remains uncertain. He underwent arthroscopic knee surgery last Wednesday after he was injured on Oct. 13 against the
Baltimore Ravens
.
"Ryan Taylor is pushing, coming back strong," McCarthy said. "So we'll see what he gives us potentially this week."
Jake Stoneburner:
The undrafted rookie from Ohio State was promoted last week from the practice squad and played mostly on special teams against the Browns.
He saw only two snaps on offense.
He looked like a strong candidate to make the roster coming out of training camp until he fumbled during a preseason game.
The 6-3, 249-pounder also has a background as a college receiver before converting to tight end.
"He's a good route runner," Fontenot said. "He's a smart kid. He knows leverages and coverages. He works at his game, and he's going to do whatever's asked of him. He's got good speed. He can run block. He can pass protect. He's pretty well-rounded."
October, 17, 2013
10/17/13
7:15
PM ET
GREEN BAY, Wis. -- There was a time not all that long ago when
Jermichael Finley
wanted to be treated like a wide receiver both on the field and at the negotiating table.
In 2011, the
Green Bay Packers
' 6-foot-5 tight end slimmed down in order to play like a receiver.
Then, when it appeared general manager Ted Thompson might use the franchise tag on Finley following that season, Finley and his agent were prepared to argue that he should be paid as a receiver and not a tight end. The difference in tags for a tight end and a receiver was about $4 million.
Though it never came to that because Finley agreed to a two-year, $14-million contract, he would have had a good argument given that he lined up in the slot (21.1 percent of his snaps) or split out wide (25.3 percent of his snaps) almost half the time that season, according to ProFootballFocus.
Considering that the Packers will be without slot receiver
Randall Cobb
(fractured fibula) for at least the next eight weeks, it's worth wondering if coach Mike McCarthy is planning to turn Finley back into more of an off-the-line tight end.
"The way we organize our offense and the way we scheme defenses is that we want the best matchups possible," tight ends coach Jerry Fontenot said Thursday. "Regardless of who's on the field, we feel like having a big body and a fast body running across the middle is advantageous to our passing game, and a guy that can run block as well. It's kind of hard to say if there's been a trend because we really try not to. We try to use him in as many different positions as possible."
The Packers have actually used him in the slot more often this season -- 32.7 percent of his snaps, according to PFF -- than in 2011 (21.1 percent) or 2012 (25.7 percent), but less split out wide (13.1 percent this season compared to 25.3 percent in 2011 and 15.1 percent in 2012).
"I look at myself as a playmaker, period," Finley said. "Not a receiver, not a tight end. Wherever they put me I'm going to try to make plays."
Finley said he would not ask to play more off the line of scrimmage, nor did he think the Packers would do so.
Still, they are going to need to replace the threat that Cobb gave them over the middle of the field. Receivers
James Jones
and
Jordy Nelson
have played the majority of their snaps on the outside. Of the two, Nelson would be more likely to move into the slot.
Jarrett Boykin
, who has played sparingly this season, also is more of an outside receiver.
The loss of Cobb makes it more likely that defensive coordinators will try to double team Finley.
"You know that teams are going to be scheming on me, trying to take away the middle and get our outside receivers working," said Finley, who has 20 catches for 228 yards and two touchdowns this season.
Said Fontenot: "I would think that whatever Jermichael gets, they're going to try to disrupt the flow of him running routes. That's not a secret. I think that most teams in the NFL, if you tried to shut down any one receiver, that's probably how you're going to do it -- disrupt the flow of how they run their routes. And double teams is a good way to do that. Putting your best defender on that player can be another way to do it. But again, there are tools to beat those things, so that's what we're focused on."
July, 11, 2011
7/11/11
4:00
PM ET
We've mentioned
but
not obsessed
over the possibility of a training camp competition for the
Green Bay Packers
' starting tailback job. Our general assumption is that veteran
Ryan Grant
would resume his role as the team's primary runner, with the likely tweak of a true(er) rotation with a deep list of backups headed by
James Starks
.

Starks

Grant
Grant appears to be of the same mindset, but he said all the right things during a recent interview with WSSP-1250. Here is how Grant described the situation, as transcribed
by sportsradiointerviews.com
:
On keeping his starting role

Ryan Grant: "I would think so. I don't know. From what I've heard, that's the conversation that was told to me. ... I was told that by [former running backs coach Edgar Bennett], initially. Jerry [Fontenot, the new position coach] didn't tell me that anything changed. Jerry told me that, as of right now, I'm still the leader of the backfield and the expectations won't change. ... I do believe there will be competition, which is fine. I'm all for that."

On whether he wants to start

RG: "Of course. Why would you not want to? Who doesn't want that? But I do want to win, more importantly. And I do feel like what I bring to the table and what I do on the field is very direct to me. ... I'm looking forward to whatever happens regarding all that and I'm just going to take care of what I can."

On if he was asked to be a backup

RG: "If it was in the best interest of the team, I'm all for it."
Everything is contingent on Grant returning in full health from an ankle injury that cost him 15 regular-season games and all of the postseason in 2010. But it would be easy for coach Mike McCarthy to keep Grant in a nominal starting role. What will be more interesting, however, is the extent to which McCarthy spreads carries between Grant, Starks, and rookies
Randall Cobb
and
Alex Green
. McCarthy might also have to factor in veterans
John Kuhn
and
Brandon Jackson
, who are pending free agents but could re-sign.
Grant was the Packers' unquestioned starter during the 2008 and 2009 seasons. McCarthy handed him the ball 312 times in 2008 and 282 in 2009. No other running back got more than 45 carries in either of those seasons. You would think those numbers will move closer together in 2011. How much closer? That will be the interesting part.
February, 25, 2011
2/25/11
5:19
PM ET
INDIANAPOLIS -- I have to admit being surprised Friday when the
Green Bay Packers
made
Edgar Bennett
their receivers coach. Bennett was a tailback in his playing days and has coached the position for the past six years.
My next thought: Bennett is a coach who has a chance to go places.
Already, Bennett has the good fortune to coach for a high-profile offense that just won Super Bowl XLV. That association, combined with a presumably successful transition to a new position, would make Bennett a hot offensive coordinator candidate in the next year or two.
I don't think that was the primary reason for the change, but coach Mike McCarthy said Bennett "jumped through the door" when he learned of the opportunity.
"Going back to his personal development, it definitely increases here," McCarthy said during a break at the NFL scouting combine. "I think Edgar Bennett is someone that will be looked at like a potential coordinator candidate in the future. It's like anything. You coach running backs, any position, it's easy to get into that box and stay in it. When you're not coaching the other parts of the offense, you know it but you don't know it.
"It's one thing to know the plays and know the adjustments. But when you're coaching every day, it's totally different. This a great opportunity for Edgar personally, but this isn't about personal opportunity. This is about what's best for our offense, and we're going to be better for it."
Bennett replaces receivers coach Jimmy Robinson, who left to take a similar job with the
Dallas Cowboys
. Jerry Fontenot, who has spent the past four years as an assistant offensive line coach, will take over as running backs coach.
In reality, it's silly to presume that playing a position is a prerequisite to coaching it. McCarthy pointed out he was a tight end in college but wound up coaching quarterbacks in the NFL. If Bennett is as good of a coach as advertised, he'll have no trouble with the transition.
"I've seen that story written before," McCarthy said. "Edgar Bennett will do a hell of a job. It's a good opportunity for him. It will give him a chance to broaden his horizons and develop as a coach. This is an opportunity that he jumped through the door for. He wanted to do it."
NFL SCOREBOARD
Sunday, 2/2
WEEKLY LEADERS