NFL Nation:

Jerry Glanville
December, 31, 2012
12/31/12
5:10
PM ET
Arizona Cardinals
in 2007, had outlasted all but eight NFL head coaches when the team fired him Monday.
Bill Belichick, Marvin Lewis, Tom Coughlin, Mike McCarthy, Gary Kubiak and Sean Payton were hired by their current teams no later than 2006. Lovie Smith and Andy Reid were also in place before 2007. Both were fired Monday.
Whisenhunt, Pittsburgh's Mike Tomlin and San Diego's Norv Turner remained from the 2007 hiring class until Monday, when Turner joined Whisenhunt among the ranks of former coaches.
As Jerry Glanville put it years ago, NFL means, "Not For Long."
Ken Whisenhunt, hired by the
June, 29, 2011
6/29/11
6:15
PM ET
In this
Insider post

, Football Outsiders takes a look at the 10 biggest oversights in NFL history. Basically, they're looking at guys that started out with one team, didn't do much of anything there and went on to greatness elsewhere.
Favre

Young
Well, guess what? The No. 1 and No. 2 guys on the list come from teams that are now part of the NFC South.
Brett Favre
came in at No. 1 and
Steve Young
is No. 2. Yep, I know it's ancient history, but Favre and Young each spent a little time with teams now in the NFC South.
Favre was drafted by Atlanta and spent a year with the Falcons. It's easy to look back and say the Falcons and then-coach Jerry Glanville made a huge mistake in trading away a guy who's sure to be in the Hall of Fame. But that's not really a fair way of looking at it. Fact is, Favre was wild in those days and has admitted he was out of control.
There are stories about the Falcons posting a security guard at his door so he wouldn't sneak out the night before a game. There's also the legendary story about Favre missing practice and telling Glanville it was because he was in a car accident.
Glanville's response: "You are a car accident."
Favre put things together when he got Green Bay. But things were never going to work in Atlanta if Favre had stayed on the same path.
Saying the Bucs were flat-out wrong in giving up on Young after two ugly seasons isn't right either. It just wasn't the right place or the right time for Young to even have a chance. In the late 1980s, the Bucs were as dysfunctional a team as you'll ever see. Young spent most Sunday's running for his life because the Bucs couldn't protect him.
They gave up on him and traded him to San Francisco, where he prospered after serving some time as Joe Montana's backup. Tampa Bay turned around and drafted
Vinny Testaverde
as the franchise quarterback. Testaverde also had enormous talent, but could never get things going with the Bucs because there was so little talent.
February, 5, 2011
2/05/11
7:31
PM ET
His nickname, "Prime Time," alone suggests style over substance. But those who witnessed the early NFL years of
Deion Sanders
insist the flashy cornerback had at least as much substance as style.
"He was Deion Sanders six days out of the week,'' said
Atlanta Falcons
senior director of media relations Frank Kleha, who was with the team throughout the Sanders years. "He was Prime Time on the field on Sundays. He wasn't a brash talker in locker room or anything close to it. He wasn't just good teammate in the locker room. He was great teammate in the locker room.''
[+] Enlarge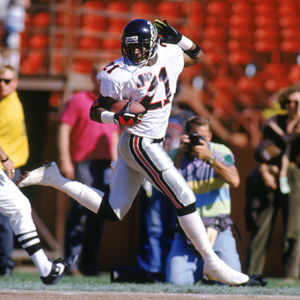 Otto Greule Jr/Getty ImagesIn a 14-year career Deion Sanders played in 188 games, had 53 interceptions for 1331 yards, and scored 19 return touchdowns.
Now, Sanders is headed for the ultimate locker room of greatness. He was elected to the Pro Football Hall of Fame on Saturday and will be inducted to the shrine in Canton, Ohio this summer. He'll be remembered as a flamboyant guy who did great things with the
Dallas Cowboys
and
San Francisco 49ers
, had stops with the
Washington Redskins
and
Baltimore Ravens
and also played Major League Baseball. (Here's a
photo gallery chronicling

Sanders' NFL career.)
But Sanders' time with the Falcons was hugely significant for the player and the franchise and should not be forgotten. Although the Falcons have had some other Hall of Famer players pass through for a year or two, the franchise was without a true Hall of Famer -- until now.
Sanders becomes the first player drafted by the Falcons to be elected to the Hall of Fame. As the fifth overall pick in the 1989 draft, Sanders didn't arrive quietly. He was playing for the New York Yankees as he waited for a contract to get done with the Falcons. Just a matter of days before the deal was agreed to, Sanders hit a home run for the Yankees. He arrived in Atlanta on a Wednesday and that Sunday made his NFL debut.
In a game at the old Fulton County Stadium against the Los Angeles Rams, Sanders attempted to field a punt, dropped it and then scooped up the ball and took off down the right sideline for a touchdown. That was just the start of spectacular things to come.
There was the 1990 game against the Houston Oilers in which Atlanta coach Jerry Glanville was going against his former team in a high-profile game. Sanders picked off Hall of Fame quarterback
Warren Moon
and returned it for a touchdown. As best as anyone can recall, that's the play where Sanders began his tradition of high-stepping into the end zone.
And there was the final game ever at Fulton County Stadium in 1991, when
Tim McKyer
intercepted a
Dave Krieg
pass and lateraled the ball to Sanders, who cut his way through virtually the entire Seattle offense on his way to a touchdown.
Sanders spent five seasons with Atlanta, the same amount of time he spent in Dallas, where he drew even more attention. But Sanders' Atlanta days were a memorable ride. He came along at a time when the franchise was down and didn't have any stars.
Sanders gave them instant star power. Almost exclusively due to Sanders' presence, the Falcons started getting some nationally-televised games. Wait, make that "Prime Time'' games.
NFL SCOREBOARD
Sunday, 2/2
WEEKLY LEADERS