February, 10, 2014
Feb 10
4:55
PM ET
Michael Sam is a potential 3-4 outside linebacker who happens to be gay, and potentially the first openly gay player in the NFL.
But come draft time the Redskins need to ask themselves one question: Can he help them?
He's a potential 3-4 outside linebacker who would need time to develop based on the descriptions of his play. Sam posted big numbers at Missouri this past season as a defensive end: 11.5 sacks; SEC Defensive Player of the Year; first-team All-American. Clearly he has talent.
What the Redskins need are good, young pass rushers. Do they have enough? He would be a project, like any player who must make the transition from college left end to 3-4 outside linebacker. That means being able to play in space and drop into coverage. He's listed at 6-foot-2 and 260 pounds. By comparison,
Ryan Kerrigan
and
Brian Orakpo
, the Redskins' starting outside linebackers both are 6-foot-4 (as is top reserve
Rob Jackson
) and weigh around 260 pounds as well.
Sam most likely is a mid-round draft choice at best, based on scouting reviews before his recent news.
Sam's play at the Senior Bowl received mixed reviews. But Falcons linebackers coach Bryan Cox said to reporters during the week about Sam that he had "Good athleticism. You know what he was in college in terms of big plays that he made for Missouri. And you look at the [Cotton] bowl game when he had the big strip at the end of the game to win it for the team. So you know that he has some pass-rush ability
"You're looking for his versatility; kind of showcase his ability to play linebacker as well as playing the defensive front. He's just trying to showcase who he is. He's a very talented guy."
Would the organization want to draft an openly gay player? Consider the history: A former Redskin, Dave Kopay, was the first ex-NFL player to reveal his sexual orientation.
General manager Bruce Allen's father, George, coached former Redskin Jerry Smith. George Allen later sent a letter to Smith after he learned he had contracted AIDS.
In A Football Life: Jerry Smith, Bruce Allen read parts of the letter, "You not only were the very best tight end the Redskins ever had, you also were the toughest. Like we always said, no matter how many setbacks you have had keep fighting. I want you ready for my next team. That one will be called the Over the Hill Gang."
And the Redskins alumni invited Smith's sister and her son to a recent homecoming game.
Allen also said on the show, "He's in our ring of honor and has been there for a number of years. His contributions to the
Washington Redskins
on the field and off the field will never be forgotten."
Not that this has anything to do with the team now.
Doug Williams was just hired Monday as a Redskins personnel executive. So it's not as if he speaks for the entire organization. But I'd be surprised if others differed with what he said.
"We have to take our hats off to the young guy," Williams said. "He did something that takes a lot of courage. I'm sure he thinks it could hurt his draft status. It could help. But the locker room is what it is. For five years this guy has been in a locker room and [his teammates] put their arms around him and had a heck of a season, which means it wasn't a big deal to them. At the NFL level the bottom line is where does he rate as a player.
Russell Wilson
won the Super Bowl and nobody talked about him being black. Eventually we have to get to that point when we talk about people's sexuality.
"We all understand there will be some knuckleheads out there. That won't ever change. But you have to understand society has changed enough over the last 10 to 15 years and you have to accept people for what they are."
January, 10, 2011
1/10/11
9:35
PM ET
For those of you unfamiliar with what Cookie Gilchrist was all about, Paul Maguire has a story to share.
It was December 1964. While snow was being cleared from Fenway Park's field, the Buffalo Bills waited anxiously in a spartan locker room for their game against the Boston Patriots to start. They normally would've whiled away this time with card games or other diversions to ease the mood. Not on that day.
The Bills had to win to host the AFL Championship game six days later. The atmosphere was tense, the room quiet.
"Cookie stood up," Maguire recalled, "and said 'I'm going to tell you something. If we don't win this game, I'm going to beat the s--- out of everybody in this locker room.' "
Just then, Bills head coach Lou Saban and assistants Joe Collier, Jerry Smith and John Mazur unwittingly walked into their star fullback's escalating fury.
[+] Enlarge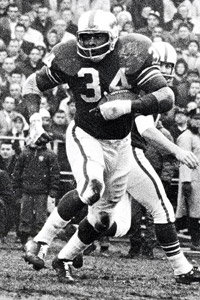 AP PhotoFormer Buffalo Bills star Carlton Chester "Cookie" Gilchrist died Monday morning in Pittsburgh. He was 75.
Maguire continued: "Cookie pointed and said, 'And I'm going to start with you, Coach. I'm going to kick your ass first.' I just sat back in my locker. I knew he meant it."
On the first play of the game, Gilchrist took a handoff from Jack Kemp and trucked helpless Patriots safety Chuck Shonta.
"Cookie ran right over his ass," said Maguire, the Bills' popular linebacker and punter. "Then he went up to Bob Dee, who was the defensive end, and says 'You're next.' Kemp came over the sideline and said 'We've got to get him out of there. He's going to kill somebody.' "
The Bills pummeled the Patriots and then shocked the San Diego Chargers to win their first of back-to-back AFL titles.
"He had so much character he brought out the best in all of us," Bills tight end Charley Ferguson said. "If there's ever such a thing as 110 percent, that's what you got from Cookie. There was no such thing as not being ready."
Carlton Chester "Cookie" Gilchrist died Monday morning in a Pittsburgh assisted living facility.
Cancer finally caught him at 75 years old, but not before he broke another tackle.
Gilchrist's hospice nurse found him dead in a chair Saturday. She phoned his great nephew with the somber news. Thomas Gilchrist arrived and saw his uncle slumped over. Nurses prepared Cookie's bed for him to be laid down one last time. Thomas carried his uncle's 140-pound body from the chair.
And then Cookie woke up.
"He was dead in the chair," Thomas Gilchrist said. "And 30 minutes later he was drinking a root beer with me."
Cookie Gilchrist's family and teammates were laughing at the thought Monday. It was symbolic of how he was: rugged, stubborn and usually unbeatable.
Gilchrist often is overlooked among the game's great running backs because his career was brief and his relationships strained.
Ferguson, who also played with Jim Brown and O.J. Simpson, called Gilchrist "one of the greatest backs to ever play the game."
"These young guys didn't have more of an opportunity to learn about Cookie and see him in action," Ferguson said while mourning at former Bills teammate Booker Edgerson's home in suburban Buffalo. "They may have heard something, may have heard very little, but if they ever had that kind of opportunity it would have meant something to them."
Gilchrist went straight from Har-Brack High School in the Pittsburgh area to the Canadian Football League, where he starred for six years. He played fullback, linebacker and kicked field goals for Hamilton, Saskatchewan and Toronto before he returned stateside with Buffalo.
He played only six seasons in the AFL, but they were brilliant. He's the fullback on the all-time AFL team. In 1962, he became the first AFL back to rush for more than 1,000 yards and also kicked eight field goals and 14 extra points for Buffalo. In each of his first four seasons, he was an All-Star and led the league in rushing touchdowns.
He spent three years with the Bills and one with the
Miami Dolphins
sandwiched between year-long stays with the
Denver Broncos
.
"He was so impressive," Maguire said. "He was the biggest fullback in the game and could run and block. When he first came to the Bills he was the wedge buster.
"On the football field, he was one of the nastiest sons a bitches I ever met in my life. There was absolutely no fear in that man."
Gilchrist's 31 rushing touchdowns (in just three seasons) still rank third in Buffalo behind only Simpson and Thurman Thomas. Gilchrist set single-game records with 243 yards and five touchdowns against the
New York Jets
in 1963.
Gilchrist was a battering ram on the field, but so headstrong that he gave coaches and administrators headaches.
He engaged in several disputes with Saban and Bills owner Ralph Wilson. One of the pivotal moments came in Buffalo's first game against Boston in 1964, a War Memorial Stadium shootout between Kemp and Babe Parilli that didn't involve much running.
"The offense got the ball and he didn't go into the game," former Bills tight end Ernie Warlick recalled. "Saban asked 'Hey, Cookie, why aren't you out there?' He said 'They're not giving me the ball, so why the hell should I play?' So he sat on the bench and told his backup [Willie Ross] to go in."
The Bills placed Gilchrist on waivers after that episode, but Kemp brokered a reconciliation. The club pulled him back for the rest of the campaign. The Bills traded him to Denver in the offseason for Billy Joe.
"He jumped off the curb every once in a while," Warlick said, "but he was with them team almost 100 percent."
Gilchrist was among a group of black players who boycotted the AFL All-Star game over racist treatment in New Orleans. The game was moved to Houston.
He turned down induction into the CFL Hall of Fame, citing bigotry.
"He was very outspoken," said Edgerson, a Bills cornerback for eight seasons. "He understood the economics and the monetary value of a player. He expressed himself, and that got him in trouble a lot.
"But the things he did back in the 1960s was mild compared to what these guys do today. There is no way in the world he would be considered a bad boy today."
The Bills waived Gilchrist during the 1964 season because of his contract demands.
"I wanted a percentage of the hot dog sales, the popcorn, the parking and the ticket sales," Gilchrist said in a
2007 interview with the Pittsburgh Tribune-Review
. "[Saban] said that would make me part owner of the team. I was a marked man after that."
Those familiar with the selection process claim Wilson has long refused to consider Gilchrist for the team's Wall of Fame. Gilchrist and Wilson didn't mend their fractured relationship until a phone conversation last week, Thomas Gilchrist said.
Wilson also had a lifelong feud with Saban, the only coach to win a championship for Buffalo, let alone two.
Saban, who died in March 2009, isn't on the Wall of Fame either
.
"It's very sad that it couldn't be patched sooner," said
Edgerson, added to the Wall of Fame in October
. "It doesn't make any difference whose fault it is, or who didn't come to the table. Obviously, it was bad blood because they have not been put up on the Wall, and everybody believes that they should have been regardless."
Said Warlick: "It is a shame that those two guys are not even considered to go on the Wall. It's really too bad because they both should be there."
What makes Gilchrist's absence on the Wall of Fame even more disappointing is that players such as him -- stars that burned brightly but briefly -- aren't properly appreciated, particularly by younger generations.
Those who watched Gilchrist play know how special he was.
"Anybody from that era would never forget him," Maguire said. "He was that kind of a guy. When you went on the field with him, you never even doubted that you were going to win because he wouldn't let you think any other way."
Gilchrist is survived by sons Jeffrey and Scott and daughter Christina Gilchrist and two grandchildren.
Calling hours will be held Wednesday at Ross G. Walker Funeral home in New Kensington, Pa. Funeral services will be Thursday.
Thomas Gilchrist asked that any regards be sent to 322 Mall Blvd. Suite 164, Monroeville, Pa. 15146.
December, 25, 2009
12/25/09
4:04
PM ET
»
NFC Final Word
:
East
|
West
|
North
|
South
»
AFC
:
East
|
West
|
North
|
South
Five nuggets of knowledge about Week 16: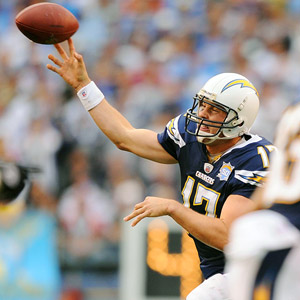 Christopher Hanewinckel/US PresswirePhilip Rivers may find increased success with short passes underneath against the Titans.
Chargers quarterback Philip Rivers throws deep well
, but shorter stuff might be more effective Friday night at Tennessee. The Titans and the Lions allow the highest completion percentage on balls thrown 10 yards or less -- 74.5. Much of that is by design. Jeff Fisher and his team are willing to give up small gains. But break a tackle against a defense with two young linebackers (
Gerald McRath
and
Colin Allred
) subbing for
Keith Bulluck
and
David Thornton
, and a short gain could be a long one. One aside: The Titans lost their first two home games this season by a cumulative score of 65-40. They've won their past five at LP Field by a combined score of 165-78.
Dallas Clark's next 100-yard receiving game
will be the eighth of his career, which will match Hall of Fame Colt John Mackey's total. Clark's got the most tight end TDs in the NFL since 2007 with 27, leading
Antonio Gates
by four.
Peyton Manning
and Clark have connected on 41 touchdowns. They trail only two duos in history: Sonny Jurgensen and Jerry Smith of the Redskins (43) and
Drew Bledsoe
and
Ben Coates
of the Patriots (45).
Matt Schaub can thank his sure-handed wide receivers
for the career year he's having. Among wide receivers who have been targeted on at least 45 passes this season, nobody has caught a higher percentage than
David Anderson
(80.4), while teammate
Kevin Walter
is third on the list at 77.4. The Texans are third in the league with an on-target/drop percentage of 5.3, according to ESPN Stats & Information. It's also a testament to Schaub's accuracy.
The Jaguars' interior line play hasn't been great
this season in protecting
David Garrard
from the rush, but it must be doing something right when
Maurice Jones-Drew
gets the ball. He should get a good deal of carries up the middle at Gillette Stadium Sunday. Stats & Info says Jones leads the NFL in rushes and yards up the middle this season. New England's interior run defense has been suspect this season. MJD has 202 of his 278 carries up the middle this season for 834 yards and seven touchdowns. The Patriots allow 4.3 yards per carry up the middle, and that number's been 5.9 in their past two games.
The Jets blitz a bunch.
Manning doesn't flinch when teams send extra rushers. According to Stats & Info, the Jets send at least five players after the quarterback on 55.7 pct of passing plays, by far the highest percentage of any team in the league. But Manning is completing 70 percent of his passes against the blitz this season and has a passer rating of 106.8 against five or more rushers. Jets' opponents have completed 49.6 percent of their passes against blitzes, while Manning's hit on 69.9.

NFL SCOREBOARD
Thursday, 9/25
Sunday, 9/28
Monday, 9/29
WEEKLY LEADERS