NFL Nation:

Jerry Sullivan
December, 10, 2013
12/10/13
10:00
AM ET
JACKSONVILLE, Fla. -- Speed and quickness are what got
Ace Sanders
drafted.
It's his intelligence that's getting him on the field.
The Jaguars have had Sanders line up outside, in the slot, and in the backfield. That's a tough spot for any receiver, but for a rookie to handle the multiple roles and become a key part of the offense is remarkable.
"He really did better early than I thought he would do for the type of situation he was in," receivers coach Jerry Sullivan said. "Then there was a lull in there where nothing much was happening for him and then all of a sudden we began incorporating him a little bit more and he began to respond. The game slowed down a little bit for him now."
[+] Enlarge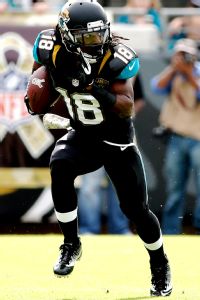 Photo by Sam Greenwood/Getty ImagesRookie receiver Ace Sanders has 23 catches for 215 yards in his past four games.
It's not easy for rookie receivers to make an impact in the NFL. But to do it at multiple spots is a testament to Sanders' football IQ. Rookies have to learn to read keys to identify coverages before the snap and adjust routes accordingly and learn the proper technique to run routes correctly and consistently. Now add shifts and motion, beating press coverage, and figuring out who to block if it's a running play or screen (which depends on the coverage).
That's just for, say, the slot receiver, which is Sanders' natural position and where he spent most of preseason. He also had to do that for playing outside, which he was forced to do because
Justin Blackmon
was suspended for the first four games of the season for violating the league's substance abuse policy.
That's a lot of work for someone who was only expected to return punts this season.
But Sanders handled it pretty well. He caught 14 passes for 162 yards in the first four weeks of the season, an average of 11.6 yards per catch.
When Blackmon returned, Sanders went back to the slot, but he has played inside and outside after Blackmon was suspended indefinitely for another violation of the substance abuse policy. Blackmon's return coincided with a mini-slump as Sanders adjusted to being back in the slot again. He caught just two passes for 20 yards in four games and missed a game with a concussion.
In his last four games, though, Sanders has 23 catches for 215 yards.
"I feel way more comfortable," Sanders said. "I'd be in my second season if this was still college, so definitely have had some time to get used to the game speed and I'm just finally starting to find my way."
That lull in which he wasn't doing much was actually beneficial, Sanders said. It helped him reflect and refocus after a hectic first half of the season.
"I actually hit my rookie wall a little earlier than most people just because with us being down players early in the season I had to do more stuff than expected," Sanders said. "I just had to realize that you're going to be a big part of this team. You're going to have to help. You've got to buckle down and really get in your playbook and just figure out a way to make it work."
He is a big part of the team. In addition to his 39 catches (second only to
Cecil Shorts
' 66) for 397 yards, Sanders has carried the ball twice after lining up in the backfield, and he threw a 21-yard touchdown pass to
Jordan Todman
on a trick play against Houston last week.
Next year he may be an even bigger part, Sullivan said.
"Going into next year he'll be much more experience in terms of the multiplicity [of playing different positions]," Sullivan said. "The only thing that's not fast in the NFL is the commercials. Everything else is fast. Fast timeouts, and the speed of the game in pro football is fast. That's a transition not a lot of young guys [can handle]."
June, 11, 2013
6/11/13
6:21
PM ET
JACKSONVILLE, Fla. -- Offseasons and minicamps are loaded with stories of second chances.
One good one in the AFC South belongs to
Mohamed Massaquoi
, the former
Cleveland Browns
receiver who looked to add depth for the team behind
Cecil Shorts
and
Justin Blackmon
.
Now with Blackmon slated to miss the first four games of the regular season due to a suspension for violating the NFL's substance abuse policy, Massaquoi looks to be an opening day starter opposite Shorts in a two-receiver base offense.
[+] Enlarge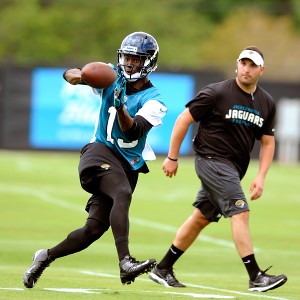 AP Photo/Stephen MortonThe Jaguars will rely on Mohamed Massaquoi to start while Justin Blackmon serves his four-game suspension.
"We're careful of saying, 'Now we need more from him,'" coach Gus Bradley said. "We always want more. Regardless of Blackmon's situation, we're challenging him. We think that he's got a high level, a high standard, and we're pushing him to max out."
Chosen in the second round, 50th overall, in 2008 out of Georgia, Massaquoi hardly lit it up for the Browns. In four years, he pulled in 118 catches for 1,745 yards, a 14.8-yard average and seven touchdowns.
The new Jaguars regime still saw upside in a 6-foot-2, 207-pound receiver.
Bradley said he thought Massaquoi was a little bit shocked by the Jaguars' early tempo in organized training activities (OTAs).
"There was a little bit of surviving going on," Bradley said. "I think he has stepped it up now.
Massaquoi is settled in and more comfortable. Regular observers say he's not stood out in Jacksonville's spring work in a negative or positive way.
I liked the addition and expect him to be a contributor, as I think Jerry Sullivan is an excellent receivers coach who can find a way to get the most out of guys.
"I absolutely love Gus, love Coach Sullivan, love their approach to it, love learning from them," Massaquoi said. "I'm working hard relearning things …
"Missing Justin is definitely a huge thing, he's definitely a talented guy. For me coming in, even before the situation, I wanted to come in and learn as much as I could from Sullivan and refine my game as much as possible, put the best product on the field that I can."
For a fifth year and a second act, he wants to do more and seems confident that he will. Blackmon is getting plenty of work now. At some point in training camp the Jaguars will have to taper that to ensure they are ready to play four games without him.
In the first quarter of the season, Massaquoi should find a big chance to produce.
"Cleveland didn't go exactly the way that I envisioned it," he said. "So whenever you do get a second chance at anything, a new opportunity, you embrace it and you attack it wholeheartedly and you go out there to do the best you can learning from the mistakes of the past."
January, 10, 2013
1/10/13
11:16
AM ET
The
Jacksonville Jaguars
just issued a news release announcing Mike Mularkey has been fired as their head coach.
"I informed Mike today that he will not return as head coach of the Jaguars," new general manager David Caldwell said in a statement. "I know Mike well and do not want anyone to misinterpret the rationale behind my decision. Mike is an excellent coach and I am sure he will succeed in his next stop in the NFL. However, I must do what I believe is best for the Jacksonville Jaguars and immediately explore every avenue possible to turn our football team around. For that to happen as seamlessly as we want, and as quickly as our fans deserve, I feel it is in everyone's best interests for an immediate and clean restart."
Added owner Shad Khan: "Mike Mularkey is leaving our organization with my utmost respect. Mike gave the Jaguars everything he had on and off the field, and his efforts as our head coach will always be appreciated. Mike will land on his feet soon. Until then, I wish nothing but the best for Mike and his family."
San Francisco 49ers
offensive coordinator Greg Roman is regarded as
one likely candidate
to replace Mularkey. He and Caldwell went to college together and worked together early in their careers with the
Carolina Panthers
.
Mularkey is a good coach who didn't have a very good year with a bad roster. He got caught up in bad timing with the Jaguars. While he tends to be too conservative, he's a quality offensive coordinator candidate.
His assistants were told recently they were free to look for other work. But if they don't find it, perhaps the best of them will be considered for spots on the new staff. I consider receivers coach Jerry Sullivan and linebackers coach Mark Duffner the best of the assistants.
January, 4, 2013
1/04/13
3:42
PM ET
Shad Khan and the Jacksonville Jaguars are doing the right thing.

Khan, the franchise owner, wants his new GM to be able to decide on the fate of coach Mike Mularkey and his staff. In most circumstances, a new GM wants to bring in his own coach.
In case that's the scenario that plays out down the road, the Jaguars have told members of Mularkey's staff that they are free to pursue other opportunities if they so desire. That comes
via tweet
from Adam Schefter.
If the best ones go -- like linebackers coach Mark Dufner or receivers coach Jerry Sullivan -- it will actually make Mularkey less attractive to the new guy.
It's an unfortunate consequence of being in position where you need a new GM just a year after he helped you hire a coach.
But there is just no getting around it. So kudos to Khan for doing the honorable thing.
People who've worked hard for you don't deserve to be handcuffed to you if it may only be temporary.
September, 7, 2012
9/07/12
1:30
PM ET
»
NFC Final Word
:
East
|
West
|
North
|
South
»
AFC
:
East
|
West
|
North
|
South
Five nuggets of knowledge about Week 1:
Debuting as linebackers:
Longtime Colts defensive ends
Dwight Freeney
and
Robert Mathis
debut as outside linebackers in Chicago in new coach Chuck Pagano's 3-4. In nickel situations they'll probably look a lot like they always have. But on early downs they'll be moving around and far less predictable than they've been in the past. They have the most favorable matchups of anyone on defense for the Colts in this game -- Bears tackles
J'Marcus Webb
and
Gabe Carimi
are unproven pieces of a line that needs to offer better protection for quarterback
Jay Cutler
. (Here is Kevin Seifert
on the matchups
.) Pagano is going to find ways to attack those guys. The Bears should counter by getting the Colts into nickel and looking to attack nickelback
Justin King
and strong safety
Tom Zbikowski
until they prove they can slow the pass.
[+] Enlarge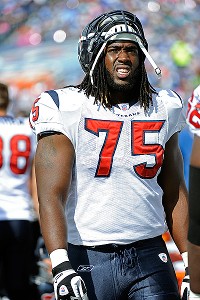 AP Photo/Frederick BreedonRight tackle Derek Newton is part of a revamped right side of Houston's offensive line.
New right side:
The Texans spent the preseason sorting out the right side of the offensive line after guard
Mike Brisiel
left for Oakland as a free agent and
Eric Winston
was released in a cost-cutting move. Enter guard
Antoine Caldwell
and the surprise winner of the right tackle job,
Derek Newton
. Per ESPN Stats and Info, the Texans averaged 5.1 yards per rush to the right side last season -- the NFL's sixth-best average to that area. Caldwell played 210 plays at right guard last season, and Newton logged 11 plays at right tackle.
Crafty vs. crafty:
Titans nickel cornerback
Alterraun Verner
is looking forward to going against
Wes Welker
. There are some things in which
Tom Brady
and Welker are virtually unstoppable. But Verner has a knack for staying on top of short, underneath stuff out of the slot and is good at trusting the coverage help a defensive call will provide. He said that although Welker is typically cast as crafty, he's crafty too. Verner said that after this matchup, everything else will seem easier. How he holds up against the league's most productive inside receiver will be a big piece of the Titans' defensive story Sunday.
Revealing an offense:
Mike Mularkey said early in training camp that the Jaguars' offense won't just be what we saw him call with Atlanta as offensive coordinator. Rather, he and his staff -- with guys like coordinator Bob Bratkowski, quarterbacks coach Greg Olson, receivers coach Jerry Sullivan and running backs coach Sylvester Croom -- sat down and pieced together an offense that combines elements from all of their backgrounds. The first-team offense performed well in the preseason, so we didn't spend a lot of time talking about its being vanilla. But I expect we'll see some surprises on offense against the Vikings as we see what, exactly, Mularkey and his staff have constructed.
Questions to be answered:
What's the rotation at outside linebacker look like for Houston, and how much does first-rounder
Whitney Mercilus
get on the field to offer
Connor Barwin
a rest? ... Will receiver
Austin Collie
, not far removed from a concussion, play for the Colts? ... Does rookie linebacker
Zach Brown
get on the field for the Titans in packages with an emphasis on slowing the Patriots' tight ends? ... With
C.J. Mosley
starting beside
Tyson Alualu
at defensive tackle for the Jaguars, how much will
Terrance Knighton
get on the field?
June, 28, 2012
6/28/12
11:42
AM ET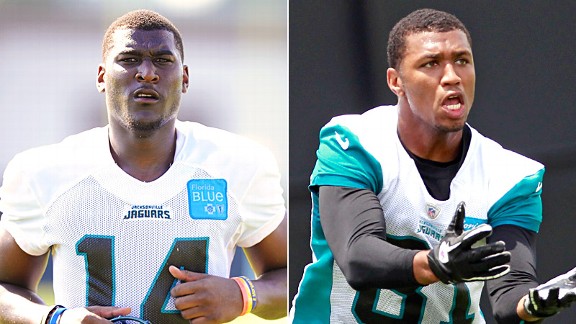 Getty Images/AP PhotoJustin Blackmon, left, and Laurent Robinson will learn from one of the most experienced receiver coaches in the game.
Jerry Sullivan spent the position period of the Jaguars' offseason practices running slow-motion routes.
Put your foot in the ground, like this. Drop your hips, like this. Don't round the corner, like this.
Although free-agent addition
Laurent Robinson
and No. 5 overall draft pick
Justin Blackmon
are the most visible guys the Jaguars brought in to fix some serious problems at wide receiver, the guy who is coaching them in a show-don't-tell style may prove just as significant.
Mike Mularkey had Sullivan atop his wish list for the job, but didn't even call him. Sullivan, who will turn 68 on July 14, was retired.
"I didn't reach out to him, he actually reached out to me," Mularkey said. "I thought he was retired. Gene Smith and I discussed him initially and I said, 'I think he's out of the loop.' Just by chance I was driving home one of those first weekends after I was hired here and there's a text: 'Hey Mike, I'd like a chance to work with you and Brat [offensive coordinator Bob Bratkowski] -- Jerry S.'
"So I called Gene and said, 'I don't know if this is the Jerry S. you and I talked about, but I am going to call and find out.' And it was. He had a couple other options, too, and I am glad he chose this one."
A year earlier, when Mularkey interviewed in Tennessee but lost out to Mike Munchak, Mularkey had texted Sullivan about wanting him if he got the Titans' job. The link was set.
This time, Sullivan was in Atlanta training
Brian Quick
for the scouting combine. Sullivan sent that text, got invited to interview and after about three hours said it was easy for him to sign up to be part of Mularkey's staff despite an opportunity in Arizona, where he could have worked with another receiver he's close with from work during the lockout,
Larry Fitzgerald
.
The year before, with little job security as he formulated his final staff, Jack Del Rio wound up with an under-qualified receivers coach in 2011.
Things were such a struggle for Johnny Cox that when Del Rio was fired and Mel Tucker took over as interim coach, he fired Cox and shifted quarterbacks coach Mike Sheppard to receivers.
During the lockout, Robinson worked with Sullivan in Minnesota.
[+] Enlarge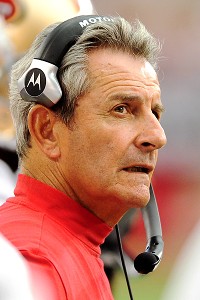 Mark J. Rebilas/US PresswireJerry Sullivan is looking forward to the challenge of developing Jacksonville's receiving corps.
"He kind of helped me get over the hump and get into my breakout year [in Dallas]," Robinson said. "Having the opportunity to learn from him every day is going to be huge for me and the other wide receivers. He's a great coach, probably the best receiver coach in the NFL. He felt like he could contribute and help turn this thing around."
Sullivan may be approaching 70, but he carries the energy of a far younger man onto the practice field, where he's exacting. As he instructs his guys, he leaves little to the imagination, banging home points he's clearly hit in the meeting room and addressed on the field before.
In May, not having spent long with his new charges, he already seemed to have a feel for who needed pushing and who needed stroking, offering different things to different players.
He'll be expected to squeeze production out of Robinson and Blackmon. He will also try to rebuild
Mike Thomas
, who ranked too high a year ago but can be a good third guy. He will attempt to help promising second-year man
Cecil Shorts
get over what appears to be game-day stage fright. He will aim to develop a gem or two -- perhaps undrafted rookie
Mike Brown
from Liberty.
"I like the challenge that belies me, I'll put it that way," Sullivan said. "I look forward to it. We've got a lot of young guys who've got a lot to learn, but I'm excited about their attitude and we've just got to put one foot in front of the other going up the mountain. Some days you slide a step. Some days you gain two steps. ...
"It'll be a well-rounded group if everybody gets to where they need to be. We've got a ways to go. That's a common phrase around the league, I know. Nobody wants to put themselves out there. My whole thing is the group needs to improve to be NFL caliber to win games."
His biggest message in the offseason may have been this: When you run routes against NFL cornerbacks, you're in control or they are.
"You're either hearing elevator music, or you're hearing Guns & Roses," Sullivan said. "If you're hearing Guns & Roses, you're probably not going to be successful. You want to be nice and smooth and calm and in control of how you do it."
In helping the Jaguars' receivers, Sullivan will be helping quarterback
Blaine Gabbert
, and that's the biggest job for everyone connected to this offense.
"They can be more confident in that he knows what they are going to do and how they are going to do it," Sullivan said. "I think that's huge. I think he's a young kid that's got a nice arm. He's obviously been maligned, unfairly I think. If we do our job and play at a good NFL level, we'll help him be better and we'll help the team be better.
Said Gabbert of Sullivan: "His knowledge of the game is going to help not only the wide receivers, but the quarterbacks, the offense and the entire team."
Thomas got a lot of attention early in the offseason when he said Sullivan was super-regimented and the group probably needed that.
The new assistant certainly endorsed the signing of Robinson and the drafting of Blackmon.
If they are good, we could be back here saying he's as important of a new position coach who has landed in the division.
"Jerry's been everything I thought he'd be with these guys: very detailed, very demanding," Mularkey said. "Plus, being a former coordinator, I always like to have those kind of guys in the room.
"His drive is still there. There is no way he could sit at home in the living room."
May, 23, 2012
5/23/12
12:19
PM ET
JACKSONVILLE, Fla. -- Did the players really win much when they reduced offseason workout obligations in the new collective bargaining agreement?
Sure, less work is better in some ways, and a bigger offseason is certainly an upgrade for a lot of players in a lot of ways.
Sure, parameters need to be spelled out and restrictions put in place to keep teams from abusing players' time or making them feel they need to be doing things they don't really have to.
But a scene from Tuesday at the Jaguars' OTA session was telling.
These light, two-hour practices end promptly at 1 p.m. with three short blasts of a horn.
But Monday, running backs coach Sylvester Croom and
Rashad Jennings
were lingering. It's what a lot of coaches and players do after practices during the year. Stay after a bit to go over something, to get a question answered or to make a correction.
"I turned around and I didn't even realize they were still on the field after 1 p.m.," coach Mike Mularkey said. "I'm like, 'You can't be out here!' I had to pull them off and I hope my gesture of 'get-off-the-field' was big enough that the cameras saw me."
Props to Mularkey for being a stickler on the rules.
He said he's had to pull Croom and receivers coach Jerry Sullivan off the field that way so far, because by force of habit coaches work with guys after practice and players ask for such time.
Now the Jaguars' new head coach has to monitor such things.
In "concessions" the players "won" from owners in the negotiations that produced a 10-year labor agreement, did they really want to ensure a running back who wanted to couldn't spend an extra minute with his coach before leaving the field on May 23?
April, 28, 2012
4/28/12
8:12
PM ET
»
NFC draft analysis
:
East
|
West
|
North
|
South
»
AFC
:
East
|
West
|
North
|
South
Despite talk of grabbing the best player available, it's funny how often needs and picks seem to line up.
Of 31 picks, I count four that don't technically qualify as addressing needs: Jaguars fifth-round linebacker
Brandon Marshall
, Titans fifth-round tight end
Taylor Thompson
, Jaguars sixth-round cornerback
Mike Harris
and Colts seventh-round quarterback
Chandler Harnish
.
We saw the Texans replenish at outside linebacker, on the offensive line and at kicker and add to their options at receiver. The Colts loaded up on help for No. 1 overall pick
Andrew Luck
-- seven of their other nine picks bring offensive players to Indianapolis . Jacksonville addressed its big needs right out of the chute, then made a couple of odd selections. Tennessee didn't take two players at the same position.
BEST MOVE
[+] Enlarge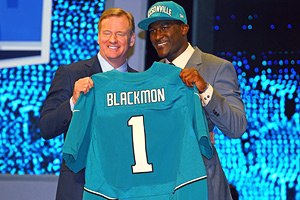 Al Bello/Getty ImagesJustin Blackmon is the premier playmaker the Jaguars' offense sorely needed.
The Jaguars came into the offseason in dire need of upgraded weaponry for
Blaine Gabbert
. They started last season with wide receiver
Jason Hill
as a starter, and he was cut before the season ended.
Mike Thomas
was miscast as a top-of-the-group guy when he should be a No. 3.
Cecil Shorts
showed he needs a lot of time to develop.
Mike Mularkey hired a solid receiver coach, Jerry Sullivan. He's a tremendous upgrade from Johnny Cox, who was quickly fired after Jack Del Rio was dismissed during the 2011 season. Free agency brought
Laurent Robinson
, who should help, and
Lee Evans
, who'd be gravy if he can revive his career.
The Jaguars successfully sold pundits on the idea they'd be trading down, then only gave up a fourth-rounder to move up from No. 7 to No. 5 to draft Oklahoma State's
Justin Blackmon
. He's a dynamic receiver who can catch balls outside his frame and cause matchup problems.
Outside of Luck, no team in the division got a player who can cure an ill better than Blackmon can fix what ails the Jacksonville offense. Now it's on Gabbert to show he can effectively get the ball to the new star receiver.
RISKIEST MOVE
The Titans didn't touch a defensive end until
Scott Solomon
in the seventh round, and they didn't add an offensive lineman at all. And pass rush and run blocking were two areas that qualified as weaknesses at the end of last season.
Tennessee hosted
Scott Wells
,
Chris Myers
,
Jeff Saturday
and
Dan Koppen
and saw all four sign elsewhere. On Saturday, coach Mike Munchak made those meetings sound like information-gathering get-togethers rather than courtships, a stance that's pretty insulting to veterans who wouldn't waste time making visits without the possibility of a contract.
The defense of incumbent starters on the interior --
Eugene Amano
and
Leroy Harris
-- has entered a new round now. Munchak said the team felt no "dire need there" and that "we have guys we can win with." Still, watch for a key undrafted addition or free agent or two.
The Titans added one big piece this offseason to its insufficient pass rush in the form of free-agent end
Kamerion Wimbley
, who was a cap casualty in Oakland. He may provide a big boost but also probably shouldn't be on the field for every play. Tennessee's only attempt to bolster itself on the edges came with the 211th pick, end
Scott Solomon
from Rice.
The Titans face a pretty good slate of quarterbacks this season. Those passers may have a lot of time to throw.
MOST SURPRISING PICK
We
hit it hard
Saturday night, but the Jaguars' selection of
Bryan Anger
in the third round was a baffler. Yes, the team will benefit from a big leg and stands to gain field position.
But Jacksonville overrated special teams' impact by deciding to draft Anger so early rather than addressing other needs where it could have selected a player with a chance to play.
The Jaguars have a recent history of messing up at the position, and teams that struggle with stability at a spot are prone to overreach in an effort to correct it.
I believe that's a good piece of what happened here. They could have gotten him or a punter who still would have been a big upgrade later.
The Jaguars found
Terrance Knighton
,
Derek Cox
and
Will Rackley
in the third round in Gene Smith's previous three drafts. They are all starters who affect games more than a punter can.
They can rationalize this pick. And we can stridently disagree.
FILE IT AWAY
Six receivers came into the division -- Blackmon,
Kendall Wright
in Tennessee,
T.Y. Hilton
and LaVon Brazill in Indianapolis and
DeVier Posey
and
Keshawn Martin
in Houston. That's two first-rounders, two third-rounders, a fourth-rounder and a sixth-rounder.
The countermeasures?
Just two incoming cornerbacks -- Titans fourth-rounder
Coty Sensabaugh
and Jaguars sixth-rounder Harris.
Secondary depth could be severely tested by good quarterbacks and receivers, especially when the division faces the NFC North and the high-powered passing offenses of Green Bay, Detroit and Chicago.
The Colts have no proven corners beyond
Jerraud Powers
. The Texans lost
Jason Allen
, who played a reasonable amount. The Titans need to unearth a new nickelback now that
Cortland Finnegan
is gone. Only the Jaguars have fortified the spot, adding two-time Super Bowl winner
Aaron Ross
, presumably getting Cox and
Rashean Mathis
back healthy and drafting Harris.
The AFC South is a big running back division, but it's become more equipped to sling it and may not have the people needed to cover offenses with a lot of downfield weapons.
"It tells you that this is a wide-open league, the offensive focus is on scoring points probably more than ever," Titans general manager Ruston Webster said. "It's becoming more of a quarterback-wide receiver league probably every day."
June, 30, 2011
6/30/11
11:45
AM ET
Player-organized workouts would be much better with actual NFL coaches offering input.
The
Arizona Cardinals
'
Larry Fitzgerald
realized this when he reached out to his former position coach, Jerry Sullivan, who was most recently with the
San Francisco 49ers
.
Sullivan has joined Cris Carter and others in helping Fitzgerald and various players at the workouts Fitzgerald is organizing this offseason. Fitzgerald puts together such camps each offseason. This one takes on more significance than others because the lockout is preventing players from preparing at their teams' facilities.
Fitzgerald and Carter addressed these and other issues in the video that follows.
June, 7, 2011
6/07/11
12:42
PM ET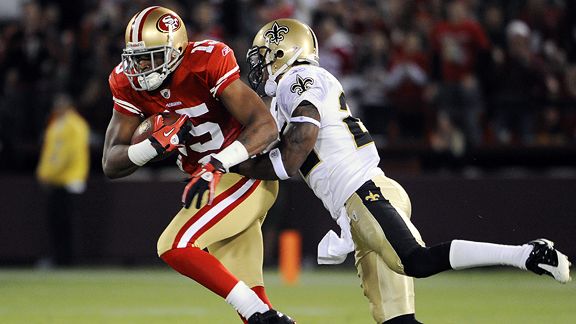 Thearon W. Henderson/Getty ImagesMichael Crabtree joined teammates for informal workouts for the first time Monday, when offensive players began a four-day "minicamp" at San Jose State.
What to know when putting into perspective where receiver
Michael Crabtree
stands heading into his third season with the
San Francisco 49ers
:
This season is critical. Crabtree has shown flashes of excellence on the field. He led the team's wide receivers in touchdown receptions last season. Like quite a few young and supremely talented players, Crabtree needs strong guidance in becoming a professional. This team lacks a top veteran wideout for Crabtree to pattern himself after. The team's decision to hire recently retired receiver Bobby Engram as a quality control coach could come into play in that regard. Also, new receivers coach John Morton must reach Crabtree in ways his grizzled predecessor, Jerry Sullivan, did not.

Structure has been lacking. Crabtree went from relative unknown to superstar quickly during his college career at Texas Tech. He was wise beyond his years in football instincts, but also young and immature. Crabtree also lacked solid support structure. Remember his adviser, the controversial bail bondsman? Who else has had Crabtree's ear? Deion Sanders, one of the all-time greats on the field and someone so talented that the normal rules did not apply to him. Once the 49ers drafted Crabtree, the longest rookie contract dispute in 49ers history ensued. Now, a lockout is keeping the 49ers' new coaching staff from providing the structure and guidance Crabtree obviously needs.

The fast start hurt him. When Crabtree finally did report to the 49ers as a rookie, he succeeded right away despite having no training camp or minicamps. Veteran teammates were impressed. Crabtree appeared to be on his way to great things. Did the success go to his head? When Crabtree encountered the difficulties that await all NFL players -- recall his rough outing against Seattle in the 2010 opener, when passes intended for him resulted in interceptions -- he did not take ownership. By then, Crabtree had already rankled teammates, notably tight end Vernon Davis.

The Troy Smith factor. Crabtree's production picked up last season when an injury forced Alex Smith out of the lineup. Backup Troy Smith immediately developed a rapport with Crabtree, on the field and in the locker room. They meshed well. During one stretch, Troy Smith found Crabtree for gains of 12, 13, 28 (touchdown), 9, 15, 21 and 16 (TD) yards with only one incomplete pass along the way. Something to keep in mind when Crabtree tempers his support for Alex Smith.

Alex Smith has tried to reach out. The quarterback told reporters he had been in touch with Crabtree this offseason and unable to get the receiver to show up for practices. Why wasn't Crabtree there? "Good question," Smith said. "Asking the wrong guy." The implication was clear. When Crabtree finally did show up this week, he wouldn't even acknowledge that Smith was the likely starter heading into the season. These guys obviously aren't on the same page.

The subplot thickens. Meanwhile, Davis has continued to praise Smith's leadership and overall goodness. You'll recall that Davis and Crabtree had to be separated during practice last year when Davis took issue with the young receiver's overall approach. Said Davis at the time: "I hope he got the message. I think he did, I strongly believe, but if anything I see that I feel is wrong or that needs to be addressed, then I'm going to say something. I don't really have any frustrations with Michael. He just did some things during that time that I didn't like. That's all. ... It was basically taking ownership."

There's a pattern here. By his actions, Crabtree risks coming off like a player who has been catered to, and expects it to continue. He appears unwilling to meet people halfway. The 49ers' contract offers were not enough. The 2010 exhibition season wasn't important enough for Crabtree to play through lingering neck soreness. Alex Smith isn't good enough to command public acknowledgement from him. Player-organized workouts aren't worth his time even though he had been working out in the Bay Area for weeks. These are the perceptions. Is Crabtree going to change them?
The latest developments on the Crabtree front bear monitoring as the 49ers head toward what remains an uncertain 2011 season. When the lockout finally does end, coach Jim Harbaugh needs to move quickly and decisively in seeing if there's a way to help Crabtree take the next step.
September, 27, 2009
9/27/09
1:02
PM ET

Posted by ESPN.com's Mike Sando
MINNEAPOLIS -- The Vikings would like a new stadium to replace the Metrodome.
The flavor here isn't so bad, though, particularly from the press box.
Former Vikings coach Jerry Burns is chatting up former referee Jerry Seeman and former Vikings tight end Stu Voigt directly over my left shoulder. There's no glass separating the press box from the rest of the stadium, so there's a good feel for the environment.
I can see a few dozen fans in 49ers jerseys behind the team's bench directly across the field. And there's a guy wearing a Jerry Rice jersey walking down to his seat directly below. I saw several conflicted couples before the game, one wearing 49ers stuff and the other wearing Vikings gear.
The teams have gone back into their locker rooms one final time before kickoff.
Jerome Boger is the referee for this game. I ran across him this morning and said hello, then went back through my records to see his history with the 49ers. He has worked one of their games, a 33-30 overtime victory over the Seahawks at Qwest Field last season. Nothing too eventful to that game from an officiating standpoint.
I'll be watching the punt-return units for these teams.
Allen Rossum
nearly had a 75-yard touchdown return against Seattle in Week 2 (a penalty negated the return). The Vikings have allowed a 67-yard punt return for a touchdown this season. They are allowing 19 yards per punt return (while averaging a healthy 18 yards on their own returns). Perhaps a big return will shape this game.
NFL SCOREBOARD
Thursday, 10/16
Sunday, 10/19
Monday, 10/20
WEEKLY LEADERS