February, 8, 2012
2/08/12
10:01
AM ET
The
Dallas Cowboys
didn't see
Laurent Robinson
coming last summer, but thanks to
Miles Austin
's hamstrings and the speed with which he and
Tony Romo
developed a red zone rapport, Robinson became an important part of Dallas' offense. Now, he's an unrestricted free agent, and the team faces a difficult decision on what to do about him.
In the third installment of their position-by-position look at the Cowboys, ESPNDallas.com tackles the
wide receivers
. Bryan Broaddus acknowledges Robinson's contribution but "would not be surprised if the front office allows Robinson to walk."
He's made it clear that he wants to return to Valley Ranch and has indicated that the Cowboys wouldn't necessarily have to be the top bidders to keep him. What the Cowboys would be willing to pay for a No. 3 receiver who has proven he can be a quality fill-in starter isn't clear. If the Cowboys don't re-sign Robinson, they'll need to find another third receiver, whether it's in the draft or another free-agency bargain.
I remember No. 3 receiver being a concern for the Cowboys last August in training camp, and I remember talking to Bryan about this issue. At the time, we agreed that it was a small concern, in part because there was always a chance they could find a decent No. 3 wideout on the street (as they did) if they didn't like their internal options, and in part because of tight end
Jason Witten
's abilities as a receiver.
Witten this past season posted his lowest reception and yardage totals since 2006. I believe part of that was due to the emergence of Robinson, especially as a red zone option. I also think it had something to do with the Cowboys' offensive line struggles, which may have required Witten to spend more time as a pass-protector than a pass-catcher. It's entirely possible that, should the Cowboys let Robinson go, they can replace his production by throwing to Witten as much as they did in prior seasons. And if that's the case, internal options such as
Jesse Holley
or
Raymond Radway
might be sufficient replacements. Or they could find next year's Robinson in the free-agent bargain bin again.
The Cowboys need to spend money to upgrade the line and the secondary, and they could stand to spend some on a pass rush. If Austin and
Dez Bryant
can stay healthy, their concerns at wide receiver are small compared to those in other areas. So if Robinson wants more than No. 3 wide receiver money, or if he wants a long-term commitment, I'm with Bryan in that I wouldn't be surprised to see them let him go.
September, 22, 2011
9/22/11
6:21
PM ET
It occurs to me that (a) there are about a billion things going on with the
Dallas Cowboys
today and (b) I haven't posted on them yet. So here you go, with a whole links post dedicated to Cowboys news of the day:

Todd Archer is reporting that
Tony Romo
had
a CT scan
to check on how well his punctured lung is healing. Romo did not practice Thursday, but remember, the Cowboys don't play until Monday night, so he gets an extra day to heal and figure all of this stuff out. But the indicators aren't as positive for Romo's Sunday status as they are for, say, the Eagles'
Michael Vick
. And if there are still questions about the speed with which the puncture in Romo's lung is healing tomorrow and Saturday, it might start to make sense to sit him out a week and roll with
Jon Kitna
.
For his part, Kitna
doesn't expect that to happen
.
Whoever plays quarterback will have a hard time finding experienced wideouts to whom to throw the ball.
Miles Austin
and
Dez Bryant
also sat out Thursday's practice with injuries. It sounds as if Austin's hamstring will keep him out of the next two games, and while Bryant's thigh injury hasn't worsened since it happened in the Week 1 game against the Jets, it's not getting better either, and Bryant
hasn't practiced since that game
. It's possible that
Kevin Ogletree
and
Jesse Holley
could be the starting wide receivers for the Cowboys on Monday night.
The Cowboys are getting healthier on defense, as starting cornerback
Terence Newman
looks
set for his first game action
of the year. That should only help a Rob Ryan defense that has looked a lot better so far than I and many others expected it to look in the early part of the season.
Oh, and the Cowboys don't seem to have too much of an issue with what Redskins cornerback
DeAngelo Hall
said about
going after Romo's ribs
, though Virginia alum Ogletree used it as an opportunity to get in a dig at Hall's school, Virginia Tech.
So there you go. Your Cowboys update for this evening. I hope that gets you up to date
September, 18, 2011
9/18/11
7:46
PM ET
Thoughts on the
San Francisco 49ers
'
27-24 overtime defeat
to the
Dallas Cowboys
at Candlestick Park in Week 2:


What it means:
The 49ers joined the NFC West-rival
Arizona Cardinals
in blowing an opportunity to take an early lead in the division with a 2-0 record. This defeat will hurt because the 49ers were leading through much of the game. Their long-running problems in pass defense are back in the spotlight after San Francisco made
Miles Austin
and even
Jesse Holley
appear unstoppable. In the bigger picture, the 49ers picked up where they left off in 2010, losing another close game. The team went 1-4 in games decided by three or fewer points last season.
What I liked:
Quarterback
Alex Smith
found
Delanie Walker
and
Kyle Williams
for touchdowns, showing the 49ers can spread around the ball. The run defense was strong for a second week in a row.
Ray McDonald
had another sack.
Patrick Willis
and
Justin Smith
forced fumbles.
Tramaine Brock
and
Donte Whitner
picked off passes. The 49ers' defense roughed up Cowboys quarterback
Tony Romo
, knocking him from the game briefly.
What I didn't like:
Smith took a sack in overtime to kill the 49ers' opening drive of the period. Cowboys outside linebacker Demarcus Ware appeared to catch the 49ers off-guard by dropping into coverage, preventing Smith from throwing a quick outlet pass against pressure. The sack set up third-and-11, and the 49ers would have to punt. Smith tossed an interception earlier in the game.
Frank Gore
struggled gaining much on the ground for a second week in a row. The 49ers' pass defense, largely untested in Week 1 until Seattle struck for two second-half touchdown passes, too often had no answer for Austin and
Jason Witten
. Austin caught three scoring passes. Both players went over 100 yards for the game. The 49ers sought to improve their pass defense this season. Allowing Holley's 77-yard reception to set up the decisive field goal in overtime was a killer.
What's next:
The 49ers visit
Manny Lawson
,
Taylor Mays
and
Nate Clements
and the
Cincinnati Bengals
in Week 3.
August, 27, 2011
8/27/11
10:29
PM ET
Yeah, I know the game's not over yet. And I want to see DeMarco Murray as much as the next guy does. But I'm in New Jersey and I'm not sure how much longer the power will stay on. So I thought it made some sense to get something down now, rather than later, about the Dallas Cowboys' preseason game Saturday night in Minnesota.


First off, everybody's going to want to talk about the defense, which gave up 216 yards to Adrian Peterson, Donovan McNabb and the Vikings in the first half. Peterson looked unstoppable, which he often does against many teams. The Vikings' offensive line beat up the Dallas defensive line in the run game, and Peterson cashed in for 69 yards on 11 carries. Safeties Gerald Sensabaugh and Abram Elam got burned on a long touchdown pass to Bernard Berrian, and it's very easy to come out of that first half saying the Dallas defense looks like more of the same from last season, when only the Broncos gave up more points.
But I'm not sure Cowboys fans should be so quick to get so down about this, and for a number of reasons.
First, and most importantly, it's only preseason. I'm constantly preaching here that you can't make sweeping predictions or evaluations about team performance in preseason, because you don't know what you're watching. Some teams game plan, others don't, and sometimes plays get called for the express purpose of identifying how a certain player will do in a certain matchup. To say the Cowboys' defense is in trouble because they gave up a bunch of yards in the first half Saturday night is a classic overreaction.
[+] Enlarge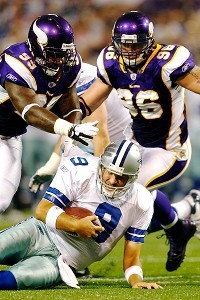 AP Photo/Andy KingThe Vikings pressured Tony Romo for much of the first half, but Romo still managed to amass 141 yards and was 15-of-20 passing.
Secondly, they did do some good individual things. Cornerback
Orlando Scandrick
had a couple of nice pass breakups in big spots against Berrian.
Jason Hatcher
got his hand on a McNabb pass and Sensabaugh made a nice diving interception before the ball hit the ground. I thought
Anthony Spencer
was very active and busy around the ball, whether it was pressuring McNabb (he sacked him once) or making a play or a tackle in coverage. Overall, the tackling (which was a major issue for the Cowboys last year) was fine. Peterson had a couple of chances to break very long gainers and didn't. So while they didn't do a good job containing him at the point of attack, they did manage to keep him from completely destroying them.
Finally, the Cowboys are not at full strength on defense. They're still missing starting cornerbacks Mike Jenkins and Terence Newman, and starting defensive end Marcus Spears. And those who are playing have only had a month's worth of practices in new defensive coordinator Rob Ryan's new system. It's perfectly understandable if frustration from last season's defensive performance leaks into this season. But it's unfair to assume based on preseason games that it won't be better. It's a work in progress, getting healthier and more comfortable. And considering how strong the Cowboys' offense should be, remember: The defense doesn't have to be one of the best in the league to make them a contender. It only has to improve from the back of the pack to somewhere near the middle.
As for that offense, there were quite a number of highlights, which I'll hit as I mention some other things I saw:
1. Tony Romo looks great. He was pressured early up the middle (remember, they were starting a third-string center) but held up fine and threw with impeccable accuracy and confidence all night. He was 15-for-20 for 141 yards in the first half, and even some of his misses were well thrown. The near-touchdown on which Kevin Ogletree couldn't get his second foot in bounds was a perfect throw. The throw just out of Dez Bryant's reach at the goal line shortly before Felix Jones' touchdown run was in a place where Bryant was the only one who would have even had a chance to catch it. Romo's accuracy is his greatest strength, and it was on display Saturday.
2. Bryant is a physical beast. He can overpower defensive backs to make a catch. When he makes a catch, he's hard to bring down. He's 6-2, 225 with great hands and great instincts. Once defenses have Miles Austin to worry about as well as Bryant, Romo is only going to look better.
3. Jones continues to impress. But while Jerry Jones is out there saying Tashard Choice needs to play better on special teams to make the roster, Choice looked good on a couple of runs while spelling Felix. Murray was also set to play at some point Saturday (and I'll update with stuff on him if the storm allows), and as great as Jones has been this preseason, it's good for the Cowboys to see what their other options are for giving him a break and helping to keep him healthy.
4. Jesse Holley is working hard to make the team. Made a couple of very nice third-down catches, missed a tackle on a kick return ... mixed bag kind of a first half for Holley, but if Romo's comfortable throwing to him and he's making the catches when he does, that's got to help his case.
5. The offensive line got better as the game went along. As mentioned, there were some issues early with the Vikings getting pressure up the middle. Rookie Bill Nagy still looks like he needs to add strength, and Tyron Smith looked as though he was struggling with his footwork again on the first offensive series. But things tightened up as the first half moved along, and they were able to keep Romo clean and allow him to make his plays. On the sack, left tackle Doug Free got beaten by Jared Allen, who forced Romo up in the pocket where Christian Ballard got off a Nagy block to bring Romo down. I wonder if Nagy's supposed to hold that block longer, or if I'm watching the rookie too closely.
6. Shayne Graham should be the kicker. Dan Bailey and Graham each hit a mid-range field goal (37 and 38 yards, respectively) at this writing, but given Graham's track record I have to think he gets the job as long as he doesn't miss kicks in the preseason. He didn't look great on kickoffs, but the new rules make that less important this season.
Again, more later if I'm still online. But that's what I have for now.
October, 20, 2010
10/20/10
1:01
PM ET
By
Matt Mosley
| ESPN.com
»
NFC Stock Watch
:
East
|
West
|
North
|
South
»
AFC
:
East
|
West
|
North
|
South
FALLING
1. Joe DeCamillis, special-teams coach, Dallas Cowboys:
DeCamillis convinced head coach Wade Phillips that he needed Jesse Holley on special teams, and then the former reality TV show star flopped at a crucial moment. With
Brett Favre
and the Vikings' offense struggling throughout much of the first half,
Percy Harvin
opened the second half with a 95-yard kickoff return for a touchdown. DeCamillis had vowed that something like that wouldn't happen again following a 73-yard return by the Titans the previous Sunday. Then a nice return by
Dez Bryant
was wiped out in the second half because of a holding penalty on
Alan Ball
. The special teams for the Cowboys have been awful this season.
2. Mike Jenkins, cornerback, Dallas Cowboys:
He's supposed to be an elite player in the league, but he's being exposed on a weekly basis. He grabs a fistful of jersey when there's no need. And it looks like opposing teams are starting to target him. We were probably too quick to move Jenkins past veteran
Terence Newman
in the pecking order.
3. Graham Gano, kicker, Washington Redskins:
I don't want to let the Skins' secondary off the hook, but that miss from 48 yards at the end of the first half was a huge momentum killer. If you're down a touchdown at the half instead of 10 points, there's a totally different mindset. Gano's had his moments this season, but that wasn't a good one.
RISING
[+] Enlarge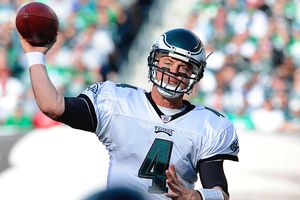 Barbara Johnston/US PresswireKevin Kolb had a quarterback rating of 133.6 against the Falcons.
1. Kevin Kolb, quarterback, Philadelphia Eagles:
He was 23-of-29 for over 300 yards and three touchdowns. Kolb has completed 73.3 percent of his passes over the past two games. He's running Andy Reid's West Coast offense to perfection, and that's why the coach will have an interesting decision to make once
Michael Vick
's healthy. For now, though, Kolb is one of the hottest quarterbacks in the league.
2. Jeremy Maclin, wide receiver, Philadelphia Eagles:
When
DeSean Jackson
had to leave the game following that devastating hit, Maclin took over the game. He and Kolb have had an excellent rapport the past two games. I could see Maclin going off against the Titans on Sunday.
3. Osi Umenyiora, defensive end, New York Giants:
I'm not sure how Osi Umenyiora's remarkable season is sort of flying under the radar. He already has eight sacks and a stunning seven forced fumbles. New defensive coordinator Perry Fewell has put Umenyiora in position to succeed, and he's obviously responded. And when
Mathias Kiwanuka
went down with a neck injury, Umenyiora lifted his game even more. Umenyiora and Tuck are a lethal combination right now.
October, 17, 2010
10/17/10
3:45
PM ET
By
Matt Mosley
| ESPN.com
MINNEAPOLIS -- If you want to know how poorly Cowboys wide receiver
Kevin Ogletree
has played on special teams this season, just
take a peek at the inactives list for today's game
. He's been replaced on the 45-man active roster by former reality TV star Jesse Holley, who was brought up from the practice squad Friday.
The Vikings made a late decision to make cornerback
Chris Cook
inactive to make room for running back
Toby Gerhart
. They also made
Jon Cooper
the starting center for today's game over
John Sullivan
, who will be in uniform. Take a long look at that matchup between Cooper and
Jay Ratliff
. That's one the Cowboys should definitely win. I'd be surprised, though, if Cooper's left in many one-on-one situations against Ratliff.
September, 2, 2010
9/02/10
11:45
PM ET
By
Matt Mosley
| ESPN.com


The
Dallas Cowboys
rested their starters against the
Miami Dolphins
, but there were still some interesting developments Thursday evening. Third-team quarterback
Stephen McGee
won't make it to the practice squad after going 27-of-42 for 304 yards and a touchdown. If the Cowboys want to keep him, they'll have to hold a spot for him on the 53-man roster.
Here are some observations from the Cowboys' 27-25 win.
Apparently the Cowboys wanted to get left guard Montrae Holland a little more work in the preseason. From what I'm told, he has a 50 percent chance of starting against the Redskins with starter Kyle Kosier trying to return from a right MCL sprain. On an early third-and-1, the Cowboys' offensive line didn't get any push and Tashard Choice was tackled at the line of scrimmage. Holland was called for two false starts on the second drive of the game. The Cowboys need Kosier to return in a hurry.
I liked how outside linebacker Victor Butler pursued the running game from the backside. He came racing from the backside to knock down Ronnie Brown after a short gain. Butler also made some nice plays in coverage. Of the young backup linebackers, Butler's playing with the most confidence. On the Dolphins' first scoring drive, it was Butler who forced the field goal attempt by batting down a Chad Henne pass. Perhaps he's fired up about his alma mater Oregon State playing at Cowboys Stadium on Saturday.
Rookie safety Akwasi Owusu-Ansah appeared to bust coverage against Davone Bess in the first quarter. It was an easy throw for Chad Henne on third-and-long. Owusu-Ansah was fortunate to hop to his feet following a clothesline from Tim Dobbins on a punt return early in the game.
Tashard Choice was the Cowboys' best offensive player Thursday. Watching him take a short pass and turn it into a 34-yard play was pretty remarkable. Choice couldn't find any holes in the running game. It's time for the Pat McQuistan era to end. The reserve guard doesn't play with any power and he doesn't move his feet very well in pass protection.
It's obvious that Stephen McGee and Martellus Bennett have some nice chemistry. Bennett does a really nice job of getting separation downfield. If his head is in the game, he could help this team in a big way. I was really impressed with a play that McGee made late in the first quarter to find Manuel Johnson. He extended the play with his legs and did a nice job of throwing on the run. On the next play, McQuistan was beaten badly off the snap. He has really awful balance. And on the next play, Alex Barron was beaten on a speed rush by linebacker Cameron Wake.
Rookie linebacker Sean Lee is having trouble shedding blockers. On the long run by Ricky Williams at the end of the first quarter, Lee got sealed by wide receiver Marlon Moore. It looked like defensive end Jason Hatcher was trying to come up the middle on a stunt and he got stoned by the center. Beautiful play by the Dolphins, but Lee has to be more physical than that. But he fought back and had a fumble recovery to end the same drive. Butler took over the game in the first half against the Dolphins' starters. Nice strip-sack of Henne early in the second quarter.
That was a gorgeous throw from McGee on the 43-yard touchdown pass to Sam Hurd. Hurd did a really nice job of accelerating when the ball was in the air. Cornerback Sean Smith had good coverage until just before the ball arrived. Going to be tough to cut Hurd after watching that play.
Second-year linebacker Jason Williams tried to cover a running back on a wheel route late in the first half and he never attempted to play the ball. Williams was called for pass interference.
Big confidence booster for David Buehler to nail the 51-yard field goal at the end of the half. Wade Phillips gave special teams coach Joe DeCamillis a fist bump and appeared to shout, "Yeah baby!" Really good night for Buehler. He also made a 45-yard field goal. I still want to see what he does in the regular season, but this was an excellent tuneup for him.
After tonight's game, I feel like Butler can give the Cowboys between seven to 10 plays per game and he could fill in nicely if someone gets injured. It looked like DeMarcus Ware loved watching Butler fly around Thursday evening.
Sean Lee showed some excellent closing speed to sack Tyler Thigpen in the third quarter.

I liked the way Manuel Johnson fought for the football tonight. The former Oklahoma receiver probably doesn't have a spot on this team but he gave some other teams something to think about. Speaking of other teams, I know a couple of scouts from around the league who are very interested in Cowboys rookie cornerback Bryan McCann. He'll get scooped up if the Cowboys try to sneak him through to the practice squad. Early in the fourth quarter, McCann didn't take away the inside against Marlon Moore and was burned for the touchdown. Terence Newman met McCann on the sideline to explain what he should've done.
Quite a battle between Hurd and Jesse Holley on Thursday. Hurd had the big touchdown catch, but it was Holley who made play after play in the second half.
Herb Donaldson might be a good practice squad candidate. He had some nice runs in the second half.
I thought reserve cornerback Cletis Gordon had a rough night. He was beaten for a long pass by Roberto Wallace late in the third quarter and he just seemed a step slow in this game. And late in the game, Wallace reached up and caught one over Gordon's head. He just didn't make plays on the ball at all. And this is after he had a ton of interceptions in training camp. Really nice second half for Wallace. He beat rookie cornerback Jamar Wall on a back-shoulder route on the goal line.
August, 22, 2009
8/22/09
10:38
AM ET
Posted by ESPN.com's Matt Mosley
ARLINGTON, Texas -- Make no mistake, Friday night was all about new Cowboys Stadium. But the Cowboys did manage to dominate the Titans in a 30-10 victory. Here are some things that caught my eye:
Quarterback Tony Romo was superb Friday, going 18-of-24 for 192 yards. And when he felt pressure, he made sure to secure the football with both hands. That's something that coaches have been harping on for years and it's a good sign that he's apparently listening. His best throw of the evening was a 19-yard pass to Jason Witten that set up the Cowboys' first touchdown. Romo bought himself some extra time and then dropped in a beautiful pass to Witten.
Cowboys nose tackle Jay Ratliff is on the verge of being a perennial Pro Bowl player. He's simply too quick for most centers and guards. He shot the gap between center and right guard to stop running back Chris Johnson at the line of scrimmage on the Titans' first series.

Special-teams coach Joe DeCamillis was supposed to improve the coverage units in a dramatic way. But Titans running back Javon Ringer took a kick back 51 yards on his first opportunity. Gerald Sensabaugh didn't help things when he was flagged 15 yards for a late hit.
The Cowboys held the ball for 22 minutes, 13 seconds in the first half. They dominated the Titans at the line of scrimmage. The Titans finally put a drive together late in the second quarter that was capped by Justin Gage's 17-yard touchdown catch.

Rookie cornerback Mike Jenkins appeared to point a finger at safety Ken Hamlin on Gage's touchdown. Jenkins lined up on Gage but then tried to pass him off to Hamlin, who was late coming over. I still think it looked like Jenkins' fault.

Former University of Houston basketball player turned tight end Rodney Hannah made an excellent catch on a 22-yard touchdown pass from Stephen McGee. Hannah's probably a practice squad candidate at best, but he has excellent size at 6-foot-6, 260 pounds and his hands have really improved. If I were the Eagles, I'd be waiting to sign Hannah if he's released.

Sam Hurd didn't come up with a catch he should have had on a back-shoulder throw, but he came back and made the catch of the night on a ball that was thrown behind him. Hurd reached back and hauled in the pass with one hand. He told me after the game that he still talks to his mentor Terrell Owens at least twice a week. "He taught me how to have patience," Hurd said of T.O. "Whether that was running routes or getting off press coverage." Hurd then emptied his locker to show me what books he's been reading. By the way, Hurd might be the best blocking receiver on the team.
Cowboys reserve linebacker Bobby Carpenter made an excellent open-field tackle on Vince Young in the third quarter. I thought Young would beat him to the outside, but Carpenter grabbed his legs and made a really good tackle.
Loved listening to crew chief Walt Anderson during Friday's game. At one point he made the following announcement into his mike: "False start on everyone but the center." And later he apologized to the crowd when he blew his whistle into a live mike.

Running back Felix Jones is one of the most exciting players in the NFC East. What he did to Titans safety Tuff Harris on a 42-yard reception in the first half was embarrassing. Jones is a threat to go all the way every time he touches the ball.

I saw a guy named Derreck Robinson force a poor throw late in the game. The defensive end out of Iowa probably won't make the team, but he was one of the few players to pressure the quarterback. Wade Phillips appears to be keeping it pretty basic at this point.
Kudos to the entire offensive line -- except for the false start on Marc Colombo and the holding call on Flozell Adams. Jason Garrett showed a lot of confidence in the line when he chose to run the ball in the end zone with five seconds left in the first half.

Looks like this offense could be pretty explosive. Pretty much everyone got involved -- even the guy from "4th and Long," Jesse Holley.
August, 7, 2009
8/07/09
11:37
AM ET
| | |
| --- | --- |
| | |
| | AP Photo/Eric Gay |
| | The Cowboys rid themselves of players who had been distractions in the past and built a more "Romo friendly" team this offseason. |
Posted by ESPN.com's Matt Mosley
SAN ANTONIO -- If you can believe it, the Cowboys have actually lost their swagger heading into the 2009 season. And owner Jerry Jones thinks that's a good thing.
Last year in Oxnard, Calif., the Cowboys spent time mugging for the "Hard Knocks" cameras and basking in the glow of 13 returning Pro Bowlers. The regular season seemed like an afterthought as everyone talked about fast-forwarding to the playoffs. We all know what happened next.
The Cowboys once again imploded in December and missed the playoffs with a 9-7 record. Based on the team's high expectations, it may have been the biggest flop in franchise history. Jones has talked about the "embarrassment" of last season several times in this camp, and he thinks his team can use that as motivation in '09.
One of the biggest sideshows in professional sports, Terrell Owens, was banished in the offseason. And Adam "Pacman" Jones and Tank Johnson were also sent packing. Jerry Jones has provided numerous reasons for T.O.'s departure, but his son, Stephen, probably came up with No. 1: Quarterback Tony Romo couldn't be the leader he needed to be with a divisive force such as T.O. in the locker room.
This offseason and this training camp have been all about making the Cowboys a "Romo friendly" team. The quarterback has played that concept down, but the elder Jones says it involves several facets, including a stronger all-around defense and a running game the team can lean on throughout the season.
Fantasy Football: 32 Questions
AJ Mass wonders if Tony Romo can continue to be a top-10 fantasy QB with Terrell Owens out of the mix. Story

Romo, who once again made TMZ headlines by breaking up with Jessica Simpson, has relished the fact that this camp is all about football. The team's only held 14 practice sessions to this point, but it's apparent that Romo's having fun again. On Wednesday, he kept the ball on a naked bootleg and raced down the sideline with a huge grin on his face before accidentally hitting the field judge in the head with the football. More than 8,000 fans inside the Alamodome roared with approval.
Most people (including me) think the Cowboys are the third-best team in the NFC East -- and it's a role they seem to relish. At least for now, the sense of entitlement that derailed the '08 season seems to be missing.
"In the last few years, this is probably the first time that we feel, not that we're being overlooked, but some of you guys have decided to take other teams in the division or in the conference and things of that nature," said Romo. "That's a different role, playing that kind of role -- not that that serves you good or bad. It's just a little different in that regard. That might be the only thing I see as a little different."
Despite his humble beginnings, Romo pretty much relinquished his underdog status when he received a $30 million signing bonus during the '07 season and showed up on the celebrity dating scene. But perhaps he can channel his Eastern Illinois roots and imagine that he's sneaking up on teams.
With the additions of safety Gerald Sensabaugh, defensive end Igor Olshansky and linebacker Keith Brooking, the defense could be the strength of the team. The Cowboys need to cause more turnovers and help give the offense short fields. I don't know if DeMarcus Ware, perhaps the game's best defensive player, will have another 20-sack season, but he will be a force at outside linebacker. The next step for him is to elevate everyone else along the line. And I think you'll see that with linebacker Anthony Spencer and nose tackle Jay Ratliff, who's on his way to becoming one of the team's best Day 2 picks in the last 20 years. Now let's take a closer look at what's going on inside the Alamodome:
Key Questions
| | |
| --- | --- |
| | |
| | AP Photo/Eric Gay |
| | Jason Witten will be key in filling the void left by Terrell Owens' departure. |
How will the Cowboys replace T.O.'s production in the passing game?
No matter where you stand when it comes to T.O., it's impossible to ignore the gaudy stats he put up during his three seasons with the Cowboys. You keep hearing all this talk about addition by subtraction, but what does that actually look like? For starters, Jason Garrett has spent a lot of time coming up with ways to use his talented tight ends, Jason Witten and Martellus Bennett.
In his second year, Bennett seems to be taking a much more mature approach -- at least on the practice field. I wouldn't be surprised if the Cowboys line up in a two tight end formation 50 percent of the time. Obviously, teams are going to worry about Witten the most, which should open things up for Bennett, a former basketball player who has superb athleticism to go along with above-average blocking skills. There's a chance that Bennett's the third-leading receiver on this team.
Garrett could also help himself by striving for more balance in the offense. He has three talented backs, including an all-out burner in Felix Jones. Before he went down with an injury last season against the Cardinals, Jones had displayed his explosiveness. He needs to have at least 12 to 15 touches per game, and it's Garrett's job to make sure that happens. Marion Barber is about five pounds lighter in this camp and he's actually shown some nice acceleration. Tashard Choice has been one of the most impressive players in camp. He slipped into the fourth round of the '08 draft because of his lack of speed. But he ripped off several long plays last season, and he has left defenders in his wake throughout camp.
What happens if the Cowboys have an injury on the offensive line?
The Cowboys may have one of the most overrated offensive lines in the league. They go to a lot of Pro Bowls, but you saw what happened when they had to protect an immobile quarterback such as Brad Johnson. That's when they needed to elevate their games. Romo's ability to keep plays alive helped the line's image for a couple of years. Pro Bowl right guard Leonard Davis weighs less (352 pounds) than at any time in his NFL career. He's moving around better than ever, and I think he'll improve as a run-blocker this season.
But the scary part is the Cowboys' lack of depth along the line. They've done a poor job drafting and developing offensive linemen over the years, which has caused them to sign players such as Marc Colombo, Kyle Kosier and Davis via free agency. I guess Doug Free would have to step in and play left tackle if Flozell Adams were injured, and that's a dicey proposition. Maybe that's why the Cowboys have been giving Davis some reps at left tackle in some drills.
It's not like other teams have great players at backup spots along the offensive line, but the Cowboys appear to be particularly vulnerable. If you see Pat McQuistan or Free on the field for an extended amount of time, it will be a really bad sign.
Can Wade Phillips handle his new role as head coach/defensive coordinator?
I've spent a little time with Phillips during camp and I think he's truly enjoying his new role. He's spending more time in meetings, and several players have bragged about how much all the communication is helping them. Phillips' biggest strength is that he's able to put players in the best positions to have success. This could be the year that Anthony Spencer breaks through with a nine- or 10-sack season. And I think Phillips' familiarity with inside linebacker Keith Brooking from his Atlanta days will pay dividends. Brooking has been a passionate defender of Phillips, and he totally buys into the Phillips 3-4 scheme. You can already tell that Brooking and Bradie James have excellent chemistry as the inside 'backers. Last year, it took Zach Thomas at least five or six games to find a place Brooking has already reached.
Market watch
Reserve wide receivers Miles Austin and Sam Hurd are having an excellent camp. Austin's a burner who's learning how to be more patient in his routes, according to Phillips. In the past, Austin's simply raced down the field trying to use his elite speed. Now, he's slowing down and finding soft spots in the secondary. He's just a really smooth-looking player right now. Nothing seems rushed. With Hurd and Austin, you have to watch for injuries. They have a tendency to break down, but maybe they can get away from that this season.
Hurd's a San Antonio native who has thrilled the hometown fans with a series of acrobatic catches. He's sort of flying under the radar, but at this rate, he'll be impossible to keep off the field. Patrick Crayton's had a very steady camp. Nothing spectacular, but according to receivers coach Ray Sherman, he's still a starter. We'll see if that stands up when Coach Jones weighs in later in camp.
| | |
| --- | --- |
| | |
| | James D. Smith/Icon SMI |
| | Rookie outside linebacker Victor Butler has looked sharp in camp. |
Newcomer to watch
As I flip through my steno pad, No. 57 keeps appearing. That's the number of rookie outside linebacker Victor Butler out of Oregon State. He's been incredibly active in this camp, and I love the fact that you rarely see any hesitation from him. He and fellow outside linebacker Brandon Williams have had productive camps. Williams, the former Texas Tech Red Raider, is a very instinctive pass-rusher who simply needs to add more bulk to his frame. The team's top overall pick, inside linebacker Jason Williams, is really struggling. He's nowhere close to being able to help this defense right now. Does former first-round pick Bobby Carpenter count as a newcomer? He's actually having a pretty strong camp.
Observation deck
I still think former fifth-round pick Orlando Scandrick is a better player than former first-round pick Mike Jenkins at cornerback -- at this point in their careers. But Scandrick will probably begin the season as the nickel corner. He's a fearless player and the Cowboys need more like that ... Ratliff has dropped down to 296 pounds after playing at 302 last season. But it looks like he's been able to retain his power while becoming even quicker. At this point, Ratliff's hands down the second-best defensive player behind DeMarcus Ware ... Speaking of Ware, he's still waiting on a contract. He told me Thursday that it's not something he's worried about -- and I believe him. I'm thinking somewhere in the $40 million guaranteed range ... There's a free-agent rookie named Kevin Ogletree who might make the team as a fifth receiver. He's made some difficult catches in traffic and has good speed ... For fans of "4th and Long," I regret to tell you that Jesse Holley's not going to make this team. But he could sneak on the practice squad. Good hands, but not enough speed ... Rookie quarterback Stephen McGee's really struggling right now. Maybe he can shine in the preseason, but right now he's thinking way too much. Just release the ball already ... Romo made some nice throws on the move in red zone drills Thursday. And Jon Kitna still has a strong arm. He's been deadly accurate at times ... Reserve guard/center Montrae Holland is always on the ground. Not good. Cory Procter is better as a reserve lineman ... Rookie kicker David Buehler is putting everything in the end zone on kickoffs. He obviously has a monster leg. And the Cowboys are also working him in on kickoff returns and punt coverage ... Rookie safety Michael Hamlin has excellent ball skills. He's a former high school receiver who has worked to improve his hands. I've watched him on low throws and he has the hands of a shortstop. He doesn't lunge at anything. He just scoops up the ball. Of all the rookies, I think he'll be the first to make an impact on defense...On Wednesday and Thursday, the Romo-to-Roy Williams connection finally clicked.
July, 30, 2009
7/30/09
11:15
PM ET
Posted by ESPN.com's Matt Mosley
SAN ANTONIO -- The second day of Cowboys training camp was much more physical. Running back Marion Barber punished anyone who tried to take him on and a rookie linebacker by the name of Victor Butler was all over the field. I'm prepared to touch on some of the position battles and other things that are going on inside the Alamodome, home to the poorest lighting in sports.
| | |
| --- | --- |
| | |
| | AP Photo/Eric Gay |
| | Marion Barber and the other Cowboys running backs have looked dangerous early on in camp. |

I've been as impressed with second-year running back Tashard Choice as anyone in camp. Running backs coach Skip Peete told me Wednesday that Choice was one of the most complete backs in the nation when he was at Georgia Tech, but there were questions about his speed. On Thursday, he used his acceleration to race away from linebackers and safeties. If I had to pick a player who's performed the best after three practices, I'd have to go with Choice. After talking to Peete for a while, I think Choice is a guy who could play three or four series per game -- especially if he gets hot.
Marion Barber appears to be lighter, in part, because he actually dropped five pounds. He's still administering punishment to linebackers, but he appears to have a little more wiggle than I recall at this point in camp. If you're wanting to get excited about something, let me suggest this team's three running backs. Felix Jones is showing that he could have a big impact in the passing game. He didn't catch the ball a lot at Arkansas, but he has pretty good hands from what I've gathered. For those of you who keep asking, I haven't seen any Wildcat formation plays to this point in camp.

I want to see more of Victor Butler, the fourth-round player out of Oregon State. He had 12 sacks his senior season at Oregon State, and he was all over the Cowboys' quarterbacks in Thursday's morning practice. He appears to be pretty quick off the edge and he actually showed some nice versatility in dropping back in coverage to make plays. In the morning practice, Butler was the guy constantly catching my eye.
After observing three practices, I'm convinced the Cowboys could be in big trouble if any of their offensive linemen go down with injury. Pat McQuistan looked completely helpless through much of Thursday's practices. And the worst part is that he got worse with each rep. He freaked out when DeMarcus Ware lined up over him and had a false start. Doug Free, a former third-round pick, looked a little better in the one-on-one drills I watched, but he's not ready to step in for left tackle Flozell Adams if something happens. Cory Procter's a guy that can get you through a couple of games at center or guard, but he needs to stay in that role. This team has done a very poor job of drafting and developing offensive linemen. They took Andre Gurode out of Colorado in the second round in 2002. They've been striking out ever since.
NFL SCOREBOARD
Sunday, 2/2
WEEKLY LEADERS