NFL Nation:

Jets-Patriots 112209
November, 23, 2009
11/23/09
6:40
PM ET
The
New York Jets
' season has gotten away from them, but at least they're not the
Cleveland Browns
.
[+] Enlarge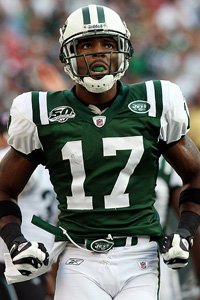 Jim McIsaac/Getty ImagesBraylon Edwards has had to endure a lot of losing this season.
Jets receiver
Braylon Edwards
arrived in a Week 5 trade with the Browns. He wasn't able to enjoy the atmosphere when the Jets started 3-0. He personally has gone 1-9 in his two stops this season.
"I think frustration lies in the fact that I know what is here," Edwards said. "I know what this team has. Coming from Cleveland, where -- I love those guys to death over there, the players -- but they are not a good team right now. They are not in a good situation.
"So leaving that situation, I knew what it was like to be in a bad situation. Coming here, I saw a team that was focused, playing well together, coached by a great man and have a lot of role players and coaches. There is a lot of positive energy in here."
The Browns lost all four of the games Edwards played in. The Jets have gone from a No. 5 position in ESPN's Power Rankings to losing five out of their six games since the trade.
Edwards has 17 receptions for 281 yards and two touchdowns for the Jets. The
New England Patriots
held him to one catch for 10 yards Sunday in Gillette Stadium. Jets quarterback
Mark Sanchez
completed three times as many passes to Patriots cornerback
Leigh Bodden
.
"We have the potential to be a good team, but potential is nothing without reality," Edwards said. "We haven't met that potential since I've been here. We've been up and down and inconsistent. That is why we lose.
"What we have to do, it gets repetitive. I've been making this speech for five years for me. We have to find a way to come out and finish games. Start fast, maintain and then finish. We have to find a way to do that.
"It has to happen now. It had to happen last week, it didn't. Who knows what will happen these next six games. We need to take it a game at a time. We have Carolina coming up and that's our focus. We have to get it together somehow."
November, 22, 2009
11/22/09
11:28
PM ET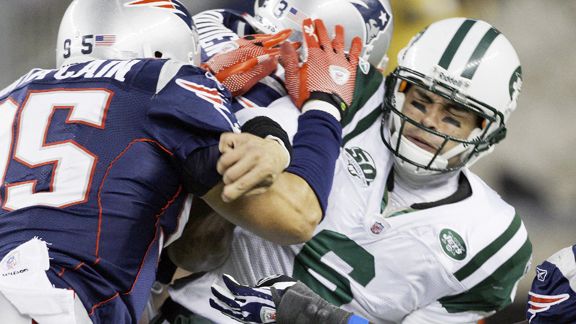 AP Photo/Charles KrupaNew England picked off four of Mark Sanchez's passes. Sanchez also lost a fumble.
FOXBOROUGH, Mass. -- The
New York Jets
squeezed tears out of their coach, but they couldn't squeeze production out of their rookie quarterback.
A quick scan of the box score will suggest the reason the
New England Patriots
won Sunday was
Wes Welker
's sublime performance. Maybe your eye will pick up
Tom Brady
's numbers, or the gargantuan discrepancy in first downs, total yards or time of possession.
But the problem that doomed the Jets, what eliminated any chance they had of winning in Gillette Stadium, sweeping the season series and keeping their playoff hopes from flatlining was
Mark Sanchez
.
What a donkey performance Sanchez turned in. He threw four interceptions. He committed three turnovers -- two picks and a fumble -- in the fourth quarter alone.
The Patriots converted Sanchez's giveaways into two touchdowns and a field goal.
They won 31-14
.
Patriots cornerback
Leigh Bodden
intercepted Sanchez three times, returning the first one 53 yards for a touchdown about nine minutes into the game. The play cast a pall over the rest of the game, and aside from a brief stretch in the third quarter where Sanchez appeared to collect himself, the Jets had no legitimate shot.
"They scored 17 points off of four turnovers by the quarterback, and that's how we lose," Sanchez said.
The Jets are 4-6, three games behind the Patriots and one game better than the last-place
Buffalo Bills
in the AFC East.
The tone surrounding the Jets' season has gone from inspiring to depressing, and their quarterback's performances have been corollary. He played like a veteran in the first few games yet has seemingly regressed.
After the game, Sanchez could be heard softly singing a song to himself as he buttoned up his dress shirt at his locker stall.
And maybe Jets coach Rex Ryan was whistling in the graveyard when he insisted he won't consider inserting veteran backup
Kellen Clemens
to give the rookie a break from what has turned into an unremitting series of disheartening displays.
"I don't think he's going to get any better sitting on the sideline," Ryan said of this year's fifth-overall draft pick. "Without question, he made a lot of mistakes today. There were some other guys that made a lot of mistakes as well. But he's got to learn from them.
"You can visualize all you want, watch tape and all that kind of stuff, carry a clipboard. But unless you get on the field, you're not going to get any better."
Sanchez has committed at least four turnovers three times this year.
He threw three interceptions (one for a touchdown) and lost a fumble (for a touchdown) in a 14-point loss to the
New Orleans Saints
in Week 4. He threw five interceptions in a sudden-death loss to the Buffalo Bills in Week 6.
Over the seven-game stretch in which the Jets have won one measly game and crumbled from Super Bowl contenders to AFC flotsam, Sanchez has thrown 14 interceptions and lost two fumbles.
That's more giveaways than a feel-good Oprah show. Of course, she leaves her audience giddy. Sanchez makes Jets fans queasy.
"I just tell him to pick his head up and keep playing football," Jets fullback
Tony Richardson
said, "because, obviously, he is very talented and can help this football team win.
"We are going to follow him 100 percent because he is the leader of this football team. When we watch the film, all of us could have done something to help win this ballgame. It's not just him."
Sanchez didn't have many answers Sunday. He said the first two interceptions were proper reads, but bad throws. He said the last two were the result of trying to do too much on plays that didn't work.
"Sometimes you just need to say 'Uncle' and end the play and be smart with the football," Sanchez said.
But he claimed he was prepared, said he was coming off his best practice week all year and threw only one incomplete pass Friday.
"I was feeling good about the gameplan," Sanchez said. "I knew it frontwards and backwards. But when you miss, a great defense like this will make you pay, and when you get down and try to create too much then they'll make you pay again.
"I've just got to progress and play smarter and not put the ball at risk."
Progress has been undetectable to anyone outside the organization.
"Would I say he's regressed? It's easy to say that when you compare to Week 2, but I think he's getting better," Ryan said.
Sanchez managed the Jets to a victory the first time they played the Patriots. He completed 14 of 22 attempts for 163 yards and one touchdown with zero interceptions at the Meadowlands in Week 2. He posted a 101.1 passer rating.
On Sunday, he was 8 of 21 for 136 yards and one touchdown -- a gorgeous, arcing 29-yard throw to
Jerricho Cotchery
. But those four interceptions left Sanchez with a 37.1 passer rating. His first half stat line was atrocious: 2 of 9 for 15 yards and two interceptions for a 0.0 rating.
"I'm learning a lot," Sanchez said. "It's hard to say by the stats that 'This kid's really improving,' but ... I've just got to take it one game at a time and then at the end of the season just look back at my performances and how I'm going to improve for next year."
Ryan admitted after the game he, offensive coordinator Brian Schottenheimer and quarterbacks coach Matt Cavanaugh might have to reassess their approach with Sanchez.
"Obviously, we've got to look at what we're asking him to do," Ryan said. "We've got to look in the mirror and see what we can do to help this guy.
"He's got all the tools. I think everybody sees that. We've just got to be patient with him. I think he's going to be an outstanding quarterback. I don't believe he's regressed to point where I would even consider ever benching him. He's our quarterback for the future, and he's our quarterback now."
November, 22, 2009
11/22/09
9:21
PM ET
FOXBOROUGH, Mass. -- With 30 seconds left in the game and ahead by 17 points, the
New England Patriots
tried to deliver a sucker punch.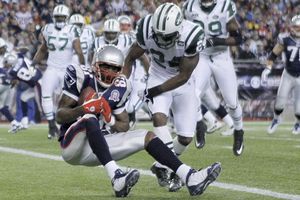 AP Photo/Charles KrupaAside from a 4-yard touchdown grab, Bills cornerback Darrelle Revis was successful in defending Patriots receiver Randy Moss.
Tom Brady
loaded up and fired a bomb toward
Randy Moss
down the left sideline. The intention was clear. They wanted to sting
New York Jets
cornerback
Darrelle Revis
.
Revis, as he had throughout the game, was in Moss' back pocket. The pass fell incomplete.
"We know the Patriots don't quit," Revis said with a laugh. "They want to keep on adding points up on the board. I knew it. I was ready to go. It's just a play, and I did my job on that play."
The Patriots won Sunday's game
31-14 in Gillette Stadium, but Revis won the hotly anticipated rematch with Moss.
In Week 2, Revis limited Moss to four catches for 24 yards at the Meadowlands. Moss made some dismissive comments afterward about Revis having coverage help. Revis insisted he stopped Moss one-on-one.
Moss on Friday
said Revis better put up or shut up.
Brady targeted Moss 11 times Sunday. Moss caught four passes for 28 yards and was called for an offensive pass interference penalty with Revis guarding him.
"Randy is a great receiver," Revis said. "I give him a lot of respect. When me and him battle, it's great battles."
Moss did beat Revis for a touchdown on a nearly indefensible 4-yard timing pattern in the first quarter and caught a 6-yard pass with cornerback
Drew Coleman
covering.
"Revis did a great job on Randy Moss, just like he did the last time," Jets coach Rex Ryan said. "That's one guy that actually won his battle."
The Patriots tried to surprise Revis with a flea-flicker early in the first quarter. Revis didn't bite. That pass also hit the ground.
"Moss tried to catch me sleeping," Revis said. "That's football. They bring the best out in you. I enjoy the competition. I'm expecting the ball to come my way when you're covering a guy like Randy Moss."
Moss didn't speak to reporters afterward, but Ryan was quick to declare Revis the victor for that individual matchup, at least.
"We got the best corner in football," Ryan said. "He's going against Randy Moss. This is one heck of a football player in his own right, a Hall of Famer, the best vertical receiver in the game. Revis never flinched one bit.
"Out of 11 one-on-one matchups, we know we got that one. But we've got to worry about the other guys, too. It's unfortunate to have that kind of effort from Revis and come up short."
November, 22, 2009
11/22/09
7:31
PM ET
FOXBOROUGH, Mass. --
New York Jets
head coach Rex Ryan cried for his team this week. They
had to
jolt the
New England Patriots
again if they wanted to stay in the playoff hunt. Anything less than victory was unacceptable.


The Jets failed to come through.
The Patriots totally outclassed them on offense and defense, cruising to
a 31-14 triumph
Sunday in Gillette Stadium.
The Patriots bounced back from last week's debacle in Indianapolis to reassert their dominance in the AFC East. They're 7-3, two games ahead of the second-place
Miami Dolphins
and three ahead of the Jets.
The Jets have lost six of their past seven games, with their lone success against the woeful
Oakland Raiders
nearly a month ago.
Star cornerback
Darrelle Revis
won his showdown with
Randy Moss
, but that and a 103-yard rushing performance from
Thomas Jones
were about the only things that went well for the Jets. Moss made five receptions for 31 yards, but a couple plays were against other defenders. He did beat Revis on a timing play for a 4-yard touchdown in the first quarter.
Patriots quarterback
Tom Brady
minced the Jets' defense with
Wes Welker
instead. The slot receiver had the best yardage day of his career, catching 15 passes for 192 yards.
Patriots running back
Laurence Maroney
carried 22 times for 77 yards and two touchdowns.
New England has scored at least 27 points in five straight games.
The anti-star of Sunday's game was Jets rookie quarterback
Mark Sanchez
. He committed five turnovers. Patriots cornerback
Leigh Bodden
snagged three of Sanchez's four interceptions and returned one of them 53 yards for the game's first score. Sanchez also lost a fourth-quarter fumble.
Sanchez did make a beautiful 29-yard pass to
Jerricho Cotchery
, who made an even prettier catch in the end zone. That was the Jets' lone offensive score. The other touchdown came on a blocked punt.
November, 22, 2009
11/22/09
6:16
PM ET
Matt Lyon from ESPN Stats & Information passed along an interesting stat from the first half of Sunday's game that shows how important
Wes Welker
is to the
New England Patriots
' offense.
Welker didn't play when the
New York Jets
beat the Patriots in Week 2, but he's all over the place in the rematch, catching eight passes for 139 yards and rushing once for 11 yards.
That has helped
Tom Brady
immensely.
When the Patriots lost at the Meadowlands, Brady was 12-of-30 for 122 yards, no touchdowns and one interception when the Jets rushed one or more extra defenders. He had a 38.5 passer rating in those situations. Against standard pressure, he was an uninspiring 11-of-17 for 94 yards and no touchdowns or interceptions for a 79.0 rating.
Through the first two quarters in Gillette Stadium, Brady was 9-of-14 for 100 yards and no touchdowns or interceptions for an 85.4 passer rating against added pressure.
When he faced standard pressure he went 9-of-12 for 127 yards and a touchdown for a 136.5 passer rating.
November, 22, 2009
11/22/09
6:02
PM ET
FOXBOROUGH, Mass. -- We've seen athletes and coaches cry when they're in the moment.
Charlie Weis was feeling sentimental Saturday
before Notre Dame's final home game. Mike Schmidt blubbered like a baby during his retirement speech.
But it's not often you hear of somebody getting worked up when separated from the event like Rex Ryan did Monday. He was speaking to his team about the rest of the season and got overly emotional.
I didn't write about it this week (wish I had), but the story reminded me of the time I attended a boxing news conference in Las Vegas. Peter McNeeley bawled two days before he was about to fight Eric "Butterbean" Esch.
The wise guys immediately started working the phones to plunk down as much money as they could on Esch. They figured it would be a slaughter. It was a first-round technical knockout.
We're witnessing a similar annihilation through two quarters Sunday in Gillette Stadium, about 14 miles from McNeeley's hometown of Medfield, Mass.
The
New England Patriots
are pulverizing the Jets 24-7 at halftime. The Jets' playoff hopes are on the ropes. A
Laurence Maroney
fumble and a blocked a punt for a touchdown 50 seconds before intermission have made the game interesting, but the Jets haven't put up much of a fight so far.
Total yardage from scrimmage? Patriots 272, Jets 34.
Tom Brady
has completed 18 of 26 passes for 227 yards and a touchdown to
Randy Moss
. Slot receiver
Wes Welker
has eight catches for 139 yards already.
Jets cornerback
Darrelle Revis
has done a good job on Moss. The 4-yard touchdown was
virtually impossible to defend
. Moss, who also has been guarded by
Drew Coleman
here or there, has four catches for a modest 24 yards.
Jets quarterback
Mark Sanchez
has been overwhelmed. He is 2 of 9 for 15 yards and two interceptions, one of which cornerback
Leigh Bodden
returned 53 yards for a touchdown.
November, 22, 2009
11/22/09
3:33
PM ET
FOXBOROUGH, Mass. -- What a dreary Sunday afternoon in Gillette Stadium. Skies are gray. It's about 47 degrees. A few
New York Jets
and
New England Patriots
are walking around the turf with their hands stuffed into their mufflers.
Action should be plenty heated when the rivals kick off at 4:15 p.m. The Patriots want to avenge that Week 2 loss at the Meadowlands and are coming off a foul-tasting defeat to the
Indianapolis Colts
. The Jets need a victory to salvage their drain-circling season.
The Patriots have some interesting inactives. Left tackle
Matt Light
remains out, but right guard
Stephen Neal
will join him because of the head injury he suffered in Indy. Running back
Sammy Morris
will be held out again after speculation he would play.
Most notably scratched for the Jets is outside linebacker
Vernon Gholston
, the sixth overall pick in last year's draft. Gholston has been benched for two straight games.
All of Sunday's inactives are below:
New York Jets
New England Patriots
November, 22, 2009
11/22/09
12:13
PM ET
FOXBOROUGH, Mass. -- The presumption is the
New England Patriots
will smash the
New York Jets
on Sunday afternoon in Gillette Stadium.
Las Vegas has the Patriots pegged by two scores.
Morning headlines in the New York newspapers include references to what a Jets loss will mean for head coach Rex Ryan. The New York Daily News used the phrases "embarrassing themselves" and "a sob story."
We've been reminded all week, as we usually are after a Patriots loss, they rarely lose two straight (not since November 2006) and even less frequently get swept by division opponents (not since 2000).
Few think the Jets can defeat the Patriots again this year. A sweep will be more difficult for all of the reasons you've considered this week:
Tom Brady
is more at ease in the pocket;
Wes Welker
will play;
Randy Moss
' back doesn't hurt;
Jerod Mayo
is in;
Kris Jenkins
and
Leon Washington
are out.
But let's stop for a moment and consider what would happen if the Jets pull off the road upset.
The AFC East standings wouldn't look so obvious anymore. The Patriots were two minutes from running away with the division last Sunday, but falling to the Jets not only would give the Patriots two losses in a row, but maybe three. They will visit the
New Orleans Saints
next week in the Superdome.
A Patriots setback on Sunday would put the Jets and
Miami Dolphins
only one game back with six to play. Because of how the conference is sorting itself out, it would appear the only way for an AFC East team to get into the playoffs would be to win the division.
The Dolphins would appear to have the inside track on the Jets because of momentum and remaining opponents, but the Dolphins' hopes are tempered by mounting injuries.
The Jets, considered all but dead because they've lost five of their past six games, can get back in the hunt with a big surprise in Gillette Stadium.
That probably won't happen, but it sure would make the rest of the season more interesting if it did.
November, 20, 2009
11/20/09
4:08
PM ET
»
NFC Final Word
:
East
|
West
|
North
|
South
»
AFC
:
East
|
West
|
North
|
South
Five nuggets of knowledge about Week 11:
[+] Enlarge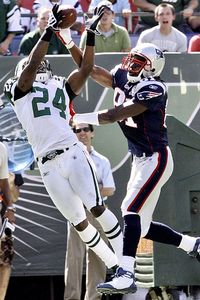 AP Photo/Frank Franklin IIIn the first meeting of the season, Jets cornerback Darrelle Revis held Patriots receiver Randy Moss to four catches for 24 yards.
Forget the percentages, the fourth-down call Bill Belichick made makes no sense to me.
If you type my name into the search field on Pro-Football-Reference.com, you'll notice I've neither coached nor played in the NFL. So who cares what I think about a coaching decision? Apparently, dozens of readers, who have been calling me a
New England Patriots
homer because I didn't demand Belichick be summarily executed for not punting on fourth down from his own 28-yard line against the
Indianapolis Colts
.
I've repeatedly said I disagreed with the decision, but since there seems to be confusion over my stance, here are some other options I would have considered about as long: an 89-yard field goal attempt, the fumblerooski, intentionally miss the front end of a one-and-one and hope for the putback,
Laurence Maroney
throwing a halfback pass to
Nick Kaczur,
a quintuple reverse, and an onside punt.
Unless the Buffalo Bills want to make a point by refusing to play him, we haven't seen the last of Trent Edwards.
I find it difficult to believe
Ryan Fitzpatrick
, with his 49.4 completion percentage and 49.8 passer rating, will take over the starting job and run away with it. Maybe he'll experience a quarterbacking epiphany. And maybe the next time I sit down at a piano I will play Chopin.
The Bills' offense has been a disaster under Fitzpatrick or Edwards. Seven games is too much time to endure watching one quarterback continually look less than mediocre. Unless Fitzpatrick morphs into a different player than we've seen, Edwards will get another shot.
New York Jets cornerback Darrelle Revis will have a tougher time shutting down Randy Moss compared to Week 2.
There has been much talk this week about whether Revis received help in holding Moss to four catches for 24 yards. Revis said he was one-on-one. Jets defensive coordinator Mike Pettine admitted Wednesday that Revis had downfield assistance.
Either way, it's going to be more difficult to limit Moss for a few reasons.
Tom Brady
is much more comfortable now than he was then.
Wes Welker
didn't play in Week 2. Third receiver
Joey Galloway
, who short-circuited many plays because of his inability to get on the same page as Brady, has been cut. And, maybe most importantly, Brady and Moss would love to shut Revis up. If Revis wins this battle convincingly, he'll cement an All-Pro honor.
Don't expect Ricky Williams to carry the Miami Dolphins into the playoffs.
As vital as Williams will be down the homestretch, the most critical contributor will be quarterback
Chad Henne
. The second-year pro, pressed into service sooner than the Dolphins preferred when
Chad Pennington
's shoulder came apart, quietly has evolved into an effective game manager.
Henne's 77.7 passer rating is 25th in the league, but he has thrown only one interception in the past four games, helping the Dolphins win three of them. His touchdown output is low, but the Dolphins have leaned upon two of the NFL's better goal-to-go backs. Henne will need to do increasingly more over the final six games to make sure Williams doesn't get worn out in
Ronnie Brown
's absence.
The Bills will need to put 12 defenders in the box to stop Maurice Jones-Drew from repairing his fantasy relationships.
Jones-Drew snuffed the Jets last Sunday by brilliantly kneeling on the goal line to run down the clock for a game-winning field goal rather than score a touchdown. Jones-Drew apologized to his fantasy owners afterward.
Those owners shouldn't bench him for Sunday. Jones-Drew is going against the NFL's worst run defense. What's more, the Bills announced Friday run-stopping (theoretically) defensive tackle
Marcus Stroud
won't play because of a knee injury. And that's not all. Buffalo's other starting defensive tackle,
Kyle Williams
, is on the injury report with a knee injury. Williams has missed the past three games.

NFL SCOREBOARD
Thursday, 8/28
WEEKLY LEADERS