NFL Nation:

JFK Remembered
November, 22, 2013
11/22/13
2:40
PM ET
By
ESPN.com staff
| ESPN.com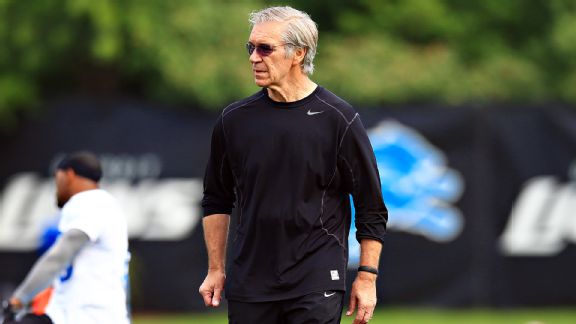 Andrew Weber/USA TODAY SportsGunther Cunningham worried about the immediate consequences of President Kennedy's assassination.
Detroit Lions defensive coordinator Gunther Cunningham, who was born in Munich, Germany, in 1946, reflects on the 50-year anniversary of the assassination of President John Fitzgerald Kennedy:
"I was outside the physical education building getting ready to go to football practice and I'll never forget it. I stood there in shock. I remember it was a gray loudspeaker that the principal was on and he told the tale of what happened. It's funny, I've talked to people lately and it's on the 22nd of November and I knew that weeks ago that it was coming up. We don't watch TV [now], obviously, we don't have time.
"I came from Germany, so it was really an impact on my life to see all that happen. I watched it all on television as I remember correctly. Then. I try not to watch things like that anymore. The world's tough enough without having to go back and have nightmares come to you.
"I was probably 17, something like that. My dad, he was in the military. The only thing I can really recall is all the turmoil, listening to it, watching it. And being outside that gym and hearing that and wondering, 'What are we going to do now?'
Young kids and all my friends, we all thought the war was coming and we were just about ready to be 18, so we paid attention. At that time, it was the Cold War and the Russians. All kinds of things went through your mind and it was monumental. We all sat in front of televisions. I can't even tell you if we played the game or not, but I can tell you the event. It has stuck through my whole lifetime. Whenever November 22nd comes around, I remember.
"I do. A lot. That something like that could happen. I was fortunate enough when I was at Kansas City as a coach, [President] George W. Bush visited us to watch practice in River Falls, Wisconsin, in preseason and it was one of the greatest things to ever happen to me, to meet the President of the United States and not grow up here. So anything that happens in that area, my stepdad was in the military for over 30 years and I have all kinds of flags at home that were sent to me by different guys.
"The last incident, after 9/11, I got really involved with writing a lot of emails and things to the guys overseas and I got a flag one day at Kansas City. I can't even tell you the kid's name anymore, I know his first name was Jim, but I wrote him many, many times when he was over in Afghanistan and he passed away and his father brought me a flag.
"Then a pilot from Kansas City flew a helicopter gunship, a Cobra gunship into Fallujah and they always put American flags in their belly. The guy hand-delivered it to me and the other one to George W. Bush. So I felt like I arrived.
"And when I got to Detroit, I became a citizen, finally, after 50-something years. I've always been, I love this country and how many kids get a chance to come here and become an NFL football coach. It's been a great ride. I wouldn't change anything."
-- Gunther Cunningham, 67, as told to ESPN.com Lions reporter Michael Rothstein.
November, 21, 2013
11/21/13
7:05
PM ET
Frank Ryan followed his usual pregame routine on Nov. 24, 1963.

The Cleveland Browns quarterback always strolled the field a few hours before kickoff, before the crowd arrived.

"I would see what an empty stadium looked like," said Ryan, 77, recently from his home in Vermont.

That day, two days after the assassination of John Fitzgerald Kennedy in Dallas, Ryan said his stroll took him around the field and ended when he found himself sitting on the edge of the bench.

"Wondering about life," Ryan said.

Then he looked and saw a phone on the bench. Whether it was the emotion of the week and the moment, or whether it was impulse, Ryan cannot say. But he reached for the phone and convinced the stadium operator to put a call through to his wife, Joan.

"She wouldn't have quite left yet," Ryan said. "The operator challenged me a bit for calling from the bench, but she put it through.

"Joan was watching TV, and when I called, she had just witnessed the assassination of the person [Lee Harvey Oswald] who shot the president."

Ryan wondered what was happening in the world. His feelings were the same as everyone's that weekend -- a combination of shock and grief and near disbelief. Those emotions carried both players from Friday through Sunday, a game Jim Brown described as "very strange" and nearly surreal.

Adding to the atmosphere was the fact the Browns were playing the Dallas Cowboys, the team almost embarrassed to be identified with the city where the horrible event had happened.

A bellhop refused to carry the Cowboys' bags at the team hotel the night before, and the Dallas players were reluctant to even admit they were from Dallas when they ate dinner in small groups.

Browns owner Art Modell had urged Pete Rozelle not to play the games two days later, but Rozelle went ahead. Modell hired as many off-duty police officers as he could to provide extra protection.

"The game was certainly subdued," Ryan said. "There's always a certain amount of noise when things are happening, but that game definitely didn't have the sort of zing it normally would have."

A crowd of 55,096 was present, but that was small for the Browns, who defeated the Cowboys 27-17. Modell made sure the stadium announcer never referred to the Cowboys as "Dallas." Introductions were bypassed, though Joan Ryan remembered the Cowboys being booed a little more lustily than normal.

But Brown, 77, also can't say he would have preferred not to play.

"Sitting around wouldn't have made a difference to me," Brown said. "I respected the president. That was within me. It wasn't to be demonstrated. I went with the decision."

The conflicting emotions of two teams were stark. Dallas players have always said they played a game with their minds completely elsewhere. The Browns shared the grief of a nation, but they played. Because they had to.

"All I can say," Brown said, "is it was a very difficult week."
November, 21, 2013
11/21/13
7:04
PM ET
By
ESPN.com staff
| ESPN.com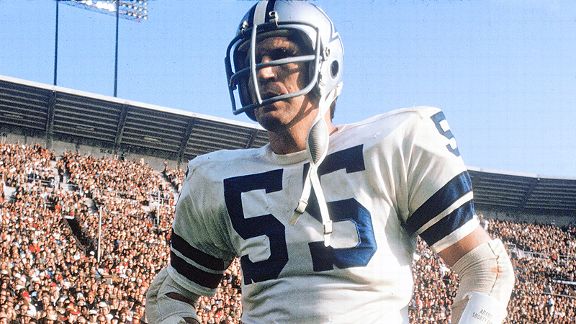 James Flores/Getty ImagesFormer Cowboys linebacker Lee Roy Jordan was a rookie at the time of President Kennedy's death.
The former Cowboys linebacker reflects on the 50-year anniversary of the assassination of President John Fitzgerald Kennedy:
"I came out and got in my car that morning and started to go to the training room and it was all over the news. They're chasing Lee Harvey Oswald downtown. He shot the president. It was just an unbelievable shock and feeling that you had when you hear something like that. I wasn't at [the facility] yet because I had been injured two or three weeks before and I was just going in for rehab and stuff. I was on my way to the training room to get rehab work done on my body. I had punctured a kidney two or three weeks before and was out for the rest of the season.
"Everybody was just in shock that it could happen. Coach [Tom] Landry was the same way. He just couldn't believe this could happen in our country, much less our city.
"We were all so caught up with the tragedy. That's what it was. We were all just in shock I think through the meetings and through practice also. Coach Landry was very calm but I think he was very stressed out by this thing happening here in the city of Dallas. I think emotionally he was disturbed by it but he was calm, which is what you would expect from Coach Landry.
"I didn't make the trip to the game. I had to stay here. I watched it on television but we kept thinking that it would be canceled or they would cancel the entire schedule that week, but that didn't happen. I think there were mixed emotions. Maybe, well, if we go on it might take people's minds off the bad thing that happened here. I still don't know if it was a bad or good thing. I think the commissioner [Pete Rozelle] thought later on he wished he had not made the decision to play that weekend.
"I don't remember them having not talked about it on television. I'm sure it was mentioned that the president had been shot in the city of Dallas, but he was already dead and Jack Ruby, I guess he shot Lee Harvey Oswald by then. It all happened so quick.
"The next few years when we played out of the state in Philadelphia or New York or Los Angeles, they treated us like we had done the assassination. Some not-so-pretty things we had to listen to, the name-calling going on in the stadiums as we'd go on the field and come back with the people at the overhangs of the tunnel. They weren't nice to the Dallas Cowboys. They blamed the city of Dallas and the Cowboys and everything with it. I think once we started winning in '65, '66 and '67, I think it started to take some of that energy out of those people and get them back. Maybe they were like, 'They're not only a good football team, but we need to give them a little respect for that, too.'
"I still think it's such a tragedy and we had to deal with it. I guess we all wished we would've been somewhere else in another state when it happened. That wasn't the case. We couldn't opt out and say we wanted to be somewhere else. We had to go on being with the Dallas Cowboys and living in Dallas and raising our families in Dallas. That was important. We all stuck together and worked hard to overcome the stigma Dallas had for the assassination of the president.
"It was a tough situation. I was a rookie, but I had some really good friends and some really good teammates, so we were able to share it together and not let anyone deal with it alone."
--Jordan, 72, as told to ESPN.com Cowboys reporter Todd Archer
November, 21, 2013
11/21/13
7:04
PM ET
By
ESPN.com staff
| ESPN.com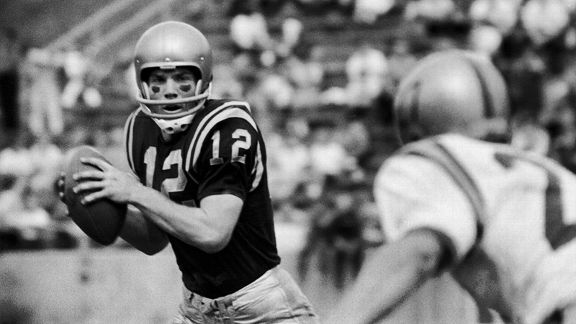 AP PhotoRoger Staubach reflects on the 50-year anniversary of the assassination of President Kennedy.
The former Cowboys Hall of Fame quarterback and Naval Academy Heisman Trophy winner reflects on the 50-year anniversary of the assassination of President John Fitzgerald Kennedy:
"We had a very good connection. We met him [President Kennedy] when he would go up to Nantucket. We used to train at Quonset Point and he would come up in the helicopter, and he was a Navy guy, PT 109, so I think he liked us better than Army. But he couldn't say that. He switched sides.
"He was at the '62 Army-Navy game. That was one game I played and it was a really great Army-Navy game for Navy, and he was there and he was going to be at the '63 game. Obviously, the game was played on his behalf, and it was very emotional -- heck of a game actually. The Army quarterback, Rollie Stichweh, was fantastic. We've become good friends. Rollie and I talked about that game and what it meant to the country, just to see the servicemen and women at the game. Honoring the president at our game is what took place. That's why it was such a big deal, the '63 game. The family asked the game to be played on his behalf, so it was a special game.
"My mother heard I was going to be on the cover of Life that week. They destroyed most of them and brought them back and redid the whole cover. I was getting ready to go to class, a thermal dynamics class, and when I got to class, I found out he was killed. The game was supposed to be a week from that Saturday, but it was delayed another week. It was just a lot of circumstances that are related to that football game and the president's death. It's hard to believe it's been 50 years. Time flies."
-- Staubach, 71, as told to ESPN.com Cowboys reporter Todd Archer and ESPNDallas.com reporter Calvin Watkins
November, 21, 2013
11/21/13
7:03
PM ET
By
ESPN.com staff
| ESPN.com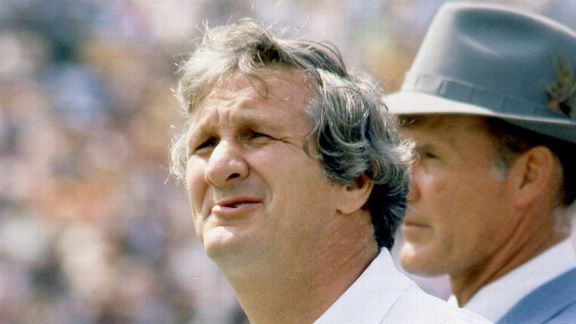 AP Photo/NFL PhotosFormer Cowboys vice president of player personnel Gil Brandt remembers Tom Landry's leadership.
The former Cowboys vice president of player personnel reflects on the 50-year anniversary of the assassination of President John Fitzgerald Kennedy:
"We were in the office working because the draft that year, I think it was maybe Dec. 2. We were trying to do it the Monday after the Army-Navy game, so I was in the office and we had the scouts in there and we had what at that time was our board up. That's what we were trying to do. And Tex Schramm's office is right next to mine and he came in and says, 'The President has just been assassinated. I've got a call into Pete Rozelle now to see what we're going to do.' A little while later he came back and said, 'I talked to Pete and he has talked to [Pierre] Salinger, who was his roommate at the University of San Francisco, and he's going to talk to Bobby Kennedy and find out what Bobby thinks.' A little while later he returns and says, 'We're going to play on Sunday. Bobby says with all of the problems we're experiencing in the country, he would want us to play.' So we played. That's what happened.
"Now, did we have nine Secret Service guys or anything like that? Honest to gosh, I don't remember anybody on the airplane going to Cleveland other than the usual crew is what it was. Then when we got there, we had a list of dos and don'ts and one was don't go out and say you're from Dallas. Everybody went out in small groups to eat but it was not the Dallas Cowboys. If anything, it was the Cowboys but not the Dallas Cowboys. Then on Sunday, the only difference we did was we used to travel with three buses -- two for the players and let's say that left at 12 o'clock, one we called the deadhead bus. That was for [Tom] Landry's wife or Schramm's wife and the flight attendants would be on there, coming from the hotel to the game before they would go out to the airplane. Instead of the usual procedure where the deadhead bus would leave 30 minutes after the players' bus, in this case, we all went at the same time. There was no staggering of the buses.
"When we got to the stadium, there were no boycotts or anything like that, Go home Dallas, or anything like that that I can remember. We went out to warm up and in Cleveland you had to go through the dugout. So we come back and go through the dugout and then went upstairs. Outside the locker room on a chair they had this security person. We'd gone out and came back in for that 20-minute or so period where everybody got re-taped and so forth. About 10 minutes before we leave to go on the field, Tom's starting to write the first play. It's going to be 'slant' and this security guy opens the door and says, 'Coach, the guy that shot the President, they just killed him in the jailhouse.' Landry is his unflappable self and said, 'Thank you,' and, 'Let's not worry about this. I'm sure the powers that be are deciding what to do.' I think we started maybe 10 minutes late is what we did.
"... We were fortunate in that we had somebody like Tom there and somebody like Tex there that's not running scared and would be proactive. I think Tom and Tex did a good job informing everybody of what was going on and I think Tom did a good job of telling the players why."
--Brandt, 80, as told to ESPN.com Cowboys reporter Todd Archer
November, 21, 2013
11/21/13
7:02
PM ET
By
ESPN.com staff
| ESPN.com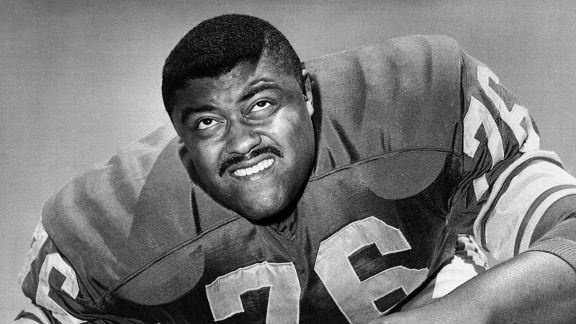 AP PhotoFormer Rams defensive tackle Roosevelt Grier remembers how he felt the day President Kennedy died.
The former Los Angeles Rams defensive tackle and bodyguard for Robert F. Kennedy reflects on the 50-year anniversary of the assassination of President John Fitzgerald Kennedy:
"I was in San Fernando Valley with the Rams. We were at practice running around and [coach] Harland Svare came out and blew the whistle. We all ran over thinking we were going to get our assigned area to work. We go out there and he says, 'I've got some bad news.' He said, 'Our president has been shot.'
"It was like dead silence fell over the field. Everyone was thinking. And we had one guy who always said something. He said, 'They got another one.' I look at him and I thought he didn't understand the seriousness of our president being shot because there was such joy in our country and there was such hope in our country. We had a man who could take us to new heights in terms of the nation. I went down to the other end of the field and I cried. I cried for his family. I cried because of him being a father and brother and a leader of our nation. I cried. And I thought, 'How could this be?'
"Yet, here we were. We were facing one of the most devastating things that I've ever been a part of and there we were. It was a tremendously difficult time for all of us. All the media was talking about this assassination. I sat and I watched and I watched the family and I didn't see anyone crying. I saw everyone standing up and being a Kennedy. I thought it represented something for all of us that when tragedy comes -- and it does come -- you can't stop. You have to keep going because the race is still going and there's work to be done to make us better, to open our eyes to see that there is danger and each person is responsible to respond to that danger and sometimes it costs you the very life that you live.
"When practice was over, I went home and just sat. You go to practice and you listen to the radio and you read the newspapers and everyone is talking about it. It was a constant, constant dialogue on how it happened, who did it and why and all of that. My feeling was for the family and what it meant for the family.
"There was absolutely nothing I could do but think about the family. At that particular time, I wasn't the minister that I am [now] but I was a believer but I didn't know the power of prayer. I learned about prayer later that these are areas of our lives that we need to know the power of prayer and how to comfort the family through prayer and even though you don't really know them, you admire them.
"The thing that goes through my mind [thinking about it today] is how did we miss this? We all thought everyone was happy and everyone was enjoying it. But we never realized that there are people that hate us. Suddenly, you wake up and realize that regardless of what you do good, people still don't like you for it. I became aware and I began to be very watchful of people. I would no longer allow people to say derogatory remarks about other people when I was around them. I was very cognizant of the way athletes behaved themselves when they were in the public eye when other people were measuring their actions. I began to speak up. Quietly, I would say to that person or that group that we have a responsibility to be better representatives of the light.
"I just would like to say to the Kennedys that they gave a lot for this country and this country owes them a lot, not because of what they did, but because they stood and they represented what was good about our country and they got involved in issues that sometimes were controversial but they got involved to make our nation better."
-- Grier, 81, as told to ESPN.com Rams reporter Nick Wagoner
November, 21, 2013
11/21/13
7:01
PM ET
By
ESPN.com staff
| ESPN.com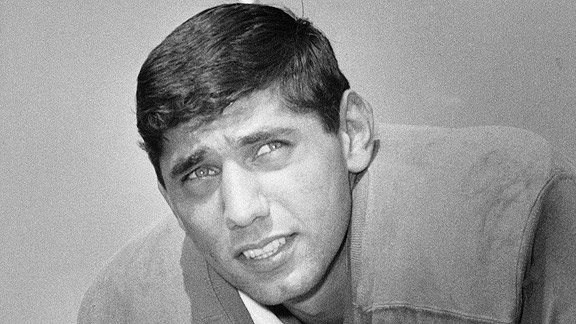 AP PhotoJoe Namath remembers what he was doing at Alabama when he heard the news.
The former New York Jets Super Bowl-winning quarterback reflects on the 50-year anniversary of the assassination of President John Fitzgerald Kennedy:
"I know exactly where I was and exactly how I felt, and who I shared it with. I was a junior at Alabama, in my dorm room, catching a nap before practice. A buddy of mine from Youngstown, Ohio, Frank Cicatiello, came in and woke me up and told me President Kennedy had been shot. I wasn't even standing up yet. I got up and there was confusion in the dorm, not believing it could actually happen.
"It was an athletic dorm, just a bunch of players, a couple of hours before practice. Everybody was shaking their head, not knowing what the hell to do. Frank and I went to church -- St. Jude. We said some prayers and went to the athletic facility. We got together with Coach [Bear] Bryant, and we all stood still. We called off everything -- practice, everything. We absorbed the shock and talked about it as a group.
"It was awful, just awful. You get the wind knocked out of you without anyone laying a hand on you. For young guys like us to be so stunned and feel such emptiness ... none of us had ever experienced anything like that before. There was things going on in society and history, and there was a suddenness to it. It knocked all of us down.
"I remember walking across campus to the practice area, but I don't think everyone had heard the news. We didn't carry radios around, like a boom box and stuff like that. There were only three TV networks at the time, and we didn't have TV sets everywhere. When we got to the facility, there weren't any TVs. We didn't have radio. It was all word of mouth.
"I can still hear Coach Bryant. What he said still resonates with me. He said it was something we couldn't do anything about except stay together and share our feelings, and believe that something good would come out of it. He told us not to get caught up in the down side of things.
"We didn't play that Saturday. I don't remember if it was a bye week or they canceled the game. I just know we didn't play. It would've been tough, but we would've done it. You have to do what you have to do. The world doesn't stop because of a tragedy, but when it's your president and your leader ...
"It shocked the country. Whether you liked Kennedy or not, your leader went down. Somebody did something to your leader. It was awful. Hopefully, it brought us together and made us a better country. As a 20-year-old, you're stunned. I didn't know something like that could happen. The only thing in history we knew about was Abraham Lincoln.
"It's frozen in time. I've had older folks tell me about where they were at the time President Kennedy was shot, the time Muhammad Ali knocked out Sonny Liston, the time Bill Mazeroski hit the ninth-inning home run to beat the Yankees, where they were when the Jets beat the Colts in the Super Bowl. Those were happenings, things that stand out in your mind's eye that we personally experienced. I can see it in my mind's eye, hearing Frank Cicatiello. I can see it to this day."
-- Namath, 70, as told to ESPN.com Jets reporter Rich Cimini
November, 21, 2013
11/21/13
7:01
PM ET
By
ESPN.com staff
| ESPN.com
The New York Giants head coach reflects on the 50-year anniversary of the assassination of President John Fitzgerald Kennedy:

"I was a senior in high school at Waterloo [N.Y.] Central High School. I remember how it started. You know how you start hearing stuff when you're walking in between classes and you're going to your locker and you hear this 'shhhh …' Finally somebody told me, and it was the shock of shocks, because at that point in time as a kid, the mystique of John Fitzgerald Kennedy was incredible. It was his rise, and when you looked at him and listened to him, he was going to be the savior. He was.

"It was a little bit unsettling even as a high school senior to think about, 'What does this mean? What's the significance of it? What are my mother and father thinking? Are we all safe? Is something going to happen?' But it was incredible how the morale of the country went like this, just dropped. And you weren't interested in really doing much except going home and being with your family and listening to what else was being said on the television and what your mother and father were doing. And all you could keep thinking about was Walter Cronkite in those black glasses, taking them off, looking at the clock and telling you, choking up with emotion himself and telling you that President Kennedy has died.

"We had a basketball game that night and it was canceled. Football was over, it was basketball season and we had a basketball game and they canceled it. We watched it all on television. The swearing in of [Lyndon] Johnson, it was all on the black-and-white television."

-- Coughlin, 67, as told to ESPN.com Giants reporter Dan Graziano
November, 21, 2013
11/21/13
7:00
PM ET
By
ESPN.com staff
| ESPN.com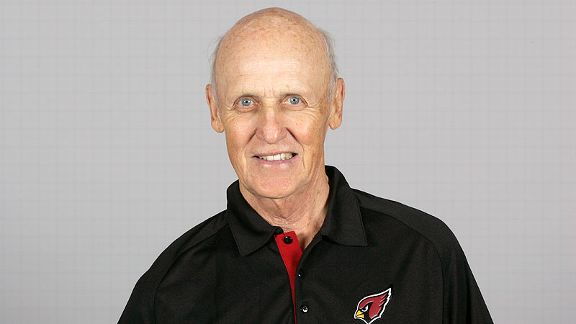 AP PhotoCardinals pass-rush specialist Tom Pratt was in his first year of coaching in Kansas City.
The Arizona Cardinals pass-rush specialist reflects on the 50-year anniversary of the assassination of President John Fitzgerald Kennedy:
"Well, I was in Kansas City with the Chiefs. That was my first year of coaching in professional football. And we had just finished our meetings on a Friday morning and we were kind of milling around, and all of a sudden, we got the word that he had been assassinated, had been shot. Of course, right away, we didn't know if he was dead or not.
"I mean, it was a shock that went through everybody because, particularly, we had so many former players that were from Dallas because we had moved the team from Dallas that year. It was the first year of the Chiefs in Kansas City.
"I can just remember the empty feeling, and we just kind of got our way through and we did practice that afternoon just because we were getting ready to play the Jets in New York, so it was a road trip. And so we practiced and then came in and said, 'Well, we don't know what's going to happen,' because they were talking about canceling that week, which [the AFL] eventually did. So it was a shock for all of us.
"There were so many of the guys who had just come from Dallas, there was even more concern there that there was more going on than actually what happened."
-- Tom Pratt, 77, as told to ESPN.com Cardinals reporter Josh Weinfuss
November, 21, 2013
11/21/13
7:00
PM ET
By
ESPN.com staff
| ESPN.com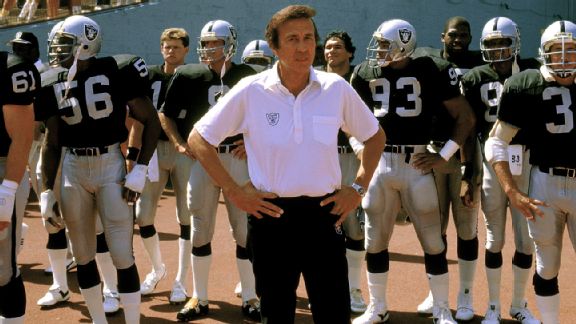 Bernstein Associates/Getty ImagesTom Flores, former Raiders QB and coach, remembers being at practice when hearing the news.
The former Oakland Raiders quarterback and Super Bowl-winning coach reflects on the 50-year anniversary of the assassination of President John Fitzgerald Kennedy:
"No question, I remember it vividly. It was a Friday morning and we were at a public park in Berkeley working out. That's where we practiced when Al [Davis] first came to us, a public park, and it was kind of our area in the park but people were looking through the fence and all over the place. It was interesting. The facilities were nothing; they were just sparse. Spartan at best. That was his first year with us [as our head coach]. We had a game in two days against the Denver Broncos, in Denver. So we would have been traveling the next day.
"So it was going to be a light practice, just walking through things, special teams, things like that. Then, just before practice was to begin, Al came out and you could see there was something wrong with him. He knew before we did, obviously. Visibly, he was shaken. It was so raw when he gathered us and told us what happened. We were just shocked. And he said, 'I don't know about you guys, but I won't be there [at the game] on Sunday.'
"And then later that day, they called off the weekend games, all the AFL games, Joe Foss [AFL commissioner] did. So a bunch of us, since we were off until Monday, we just got together that night with our wives. It was a very somber thing and we went to different places just to be with other people. My wife and I went to church. They had a special mass on Saturday for John, for the President and we were shocked. I mean, this was a big thing in our lives.
"And then, that Sunday, we came back as a team and afterwards, obviously, it was tough getting adjusted after what had just happened, but life went on after that. Still, that was a pretty traumatic weekend. I didn't even turn on the TV. I didn't watch the NFL at all. They were playing, not me. It wasn't important."
Flores, 76, as told to ESPN.com Raiders reporter Paul Gutierrez
November, 21, 2013
11/21/13
7:00
PM ET
By
ESPN.com staff
| ESPN.com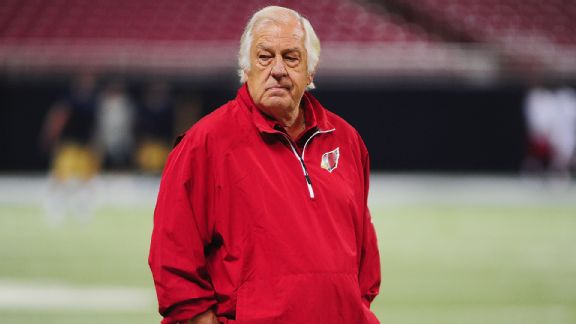 Michael Thomas/Getty ImagesAssistant head coach Tom Moore was serving in Korea at the time he heard the news.
The Arizona Cardinals assistant head coach/offense reflects on the 50-year anniversary of the assassination of President John Fitzgerald Kennedy:
"I was in Korea in the Army. I was coaching a post football team and I was listening to the radio. I woke up about 4:30 Saturday morning [Nov. 23, 1963] and it [radio] said that Kennedy had been assassinated. So the general called me, 'Should we play the game or shouldn't we play the game?'
"Well, we played the game.
"They felt since we were away from home to keep their minds right and stuff. We didn't have families and stuff, and I think the generals just felt like it was better to get it off the mind and have something to do instead of just thinking."
-- Moore, 75, as told to ESPN.com Cardinals reporter Josh Weinfuss
November, 21, 2013
11/21/13
6:59
PM ET
By
ESPN.com staff
| ESPN.com
The Minnesota Vikings' trainer from 1961 to 1998, who still works as the official team historian, reflects on the 50-year anniversary of the assassination of President John Fitzgerald Kennedy:

"At that time, we used to practice over at Midway Stadium -- not the Midway Stadium that's there now. Old Midway was east of there on Snelling Avenue, and I can remember leaving there, going to Montgomery Ward's on University Avenue. I remember pulling into the parking lot when the first news report came out from Dallas. We didn't know the severity of the shooting, but there were a lot of reports coming in, and then we heard the president was pronounced dead. It was kind of a gray, overcast day. It was so shocking, I don't know if we realized what the hell was going on.

"We played the Detroit Lions that weekend. They had beaten us earlier in the year, but we could see very early they were not with it. I don't think there were any doubts [whether we were going to play]. It was not really discussed whether we were going to play or not, and I didn't know until years later, when Rozelle said it was the biggest mistake he ever made, that it was even a question. We were a generation where you didn't question. Whether it was too hot, too cold, Thursday, Sunday, you just played. It was called trained obedience.

"We won the game [34-31, the first time the Vikings ever beat the Lions]. I don't know that there was a lot of jubilation after the game. We only won three games that year, so a win was a big deal, but I can't say there was a lot of celebration.

"Monday was the players' day off back then, so not everybody was around the day of the funeral -- just the injured guys getting treatment. We had a television in the equipment room, and players would come in and see us watching it. They didn't say a word. Here was a man that was a father, a husband, and he was taken away from us. He really had a lot of charisma. He was a good-looking guy. That was a big shock to the nation. Football players at that time, they were raised by dads who came from the 'Greatest Generation' -- they were World War II veterans, taught not to show any emotions. There weren't a lot of tears externally, but from me, there were a lot of tears internally. Especially seeing the president's son salute the casket -- god dammit, it gets to you."

Zamberletti, 81, as told to ESPN.com Vikings reporter Ben Goessling
NFL SCOREBOARD
Thursday, 10/23
Sunday, 10/26
Monday, 10/27
WEEKLY LEADERS