NFL Nation:

Jim Druckenmiller
January, 22, 2013
1/22/13
9:15
AM ET
With
Tony Gonzalez
leaning toward
retirement
after 16 NFL seasons and 1,242 receptions, I turned back the clock in my mind to 1997, the year San Francisco tried to draft the tight end from California.
The 49ers were in a wheeling and dealing mode in that 1997 draft. They came away with three players --
Jim Druckenmiller
,
Marc Edwards
and
Greg Clark
-- after trading away all picks in the fourth through seventh rounds.
"While they rated [Jim] Druckenmiller as the best player available at the 26th pick, the 49ers tried to trade up for Miami's No. 15 in order to take Cal tight end Tony Gonzalez,"
John Crumpacker wrote
at the time in the San Francisco Chronicle. "Alas, Kansas City moved up to 13 in a trade with Houston and tabbed the Golden Bear."
Alas, indeed.
Druckenmiller would play in six NFL games, starting one. Edwards, a fullback the team envisioned in the
Tom Rathman
mold, started 82 of the 134 regular-season games he played. Clark, a tight end, started 39 of the 55 games he played.
As for Gonzalez? He has 237 starts in 254 games and ranks second to
Jerry Rice
on the NFL's list for all-time receptions. His total for receptions is 50 percent greater than the career total for any tight end.
Shannon Sharpe
is second with 815 receptions.
The chart ranks 1997 draft choices by most Pro Bowl appearances. Two NFC West players,
Walter Jones
and
Orlando Pace
, made the list. Also in 1997, the
Arizona Cardinals
drafted cornerback Tommy Knight with the ninth overall choice.
April, 6, 2011
4/06/11
10:08
AM ET
John Clayton's take
on whether the
Philadelphia Eagles
should trade
Kevin Kolb
describes as "good" the chances of an NFC West team acquiring the quarterback.
"While it seems unlikely the Eagles can get a first-round pick in 2011 because the time is running out to get a CBA done before the draft, a first-round pick in 2012 still works," Clayton wrote.
For trading purposes, a first-round pick in 2012 would be worth less than a first-round choice in the current year. Teams interested in trading for Kolb could benefit if a lockout extended past the draft because the Eagles wouldn't be able to command a 2011 draft choice in return.
Matt Williamson of Scouts Inc. previously said he would
part with the 25th overall choice
for Kolb if he were the
Seattle Seahawks
.
OK, but what about using that choice for a quarterback in the draft?
Teams selecting quarterbacks in that range have struggled to find good ones.
Aaron Rodgers
(24th in 2005) and
Dan Marino
(27th in 1983) stand out as exceptions. The last 10 quarterbacks selected in the 20s:
Tim Tebow
,
Brady Quinn
, Rodgers,
Jason Campbell
,
J.P. Losman
,
Rex Grossman
,
Jim Druckenmiller
,
Tommy Maddox
, Todd Marinovich and current
San Francisco 49ers
coach Jim Harbaugh.
February, 11, 2011
2/11/11
10:48
AM ET
With
labor unrest
and a
Super Bowl seating fiasco
, the NFL has more important things to worry about than reseeding the playoffs to prevent another losing team from getting a home playoff game as a division winner.
Making significant changes to the existing structure would stand as an overreaction, anyway. The Seattle Seahawks were, after all, the first team in NFL history to win its division with a losing record. This was the exception, not the rule.
I could see it happening periodically in the future, however.
Realignment into four-team divisions for the 2002 season increased the likelihood. As the NFC West proved this past season, a division needs only four teams in transition to produce a champion with a losing record.
Between 1990 and 2001, divisions produced four losing teams four times. The difference then was that divisions had more than four teams.
A quick look back at the "offending" divisions -- those with at least four losing teams -- from 1990 through this past season ...
.
The 2001 AFC Central featured the defending Super Bowl champion Baltimore Ravens and a Pittsburgh Steelers team that went 13-3 with Kordell Stewart at quarterback.
The 1997 San Francisco 49ers went 13-3, including 1-0 with Jim Druckenmiller as the starting quarterback. The rest of the NFC West that season? Not so good.
Eric Pegram and Bam Morris carried the rushing load for the 1995 AFC Central champion Steelers. The Cincinnati Bengals went 7-9 that season despite getting 28 touchdown passes from Jeff Blake.
The 1990 Chicago Bears won the NFC Central with quarterback Jim Harbaugh posting a 10-4 starting record. Harbaugh finished that season with 10 touchdown passes and four more scores on the ground.
January, 31, 2011
1/31/11
5:21
PM ET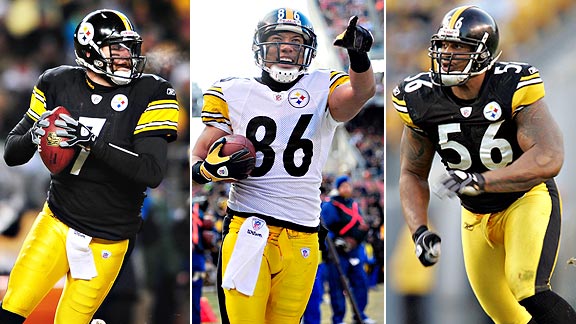 US PresswirePittsburgh's Ben Roethlisberger, Hines Ward and LaMarr Woodley are all playing in Super Bowl XLV, but could they have ended up in the NFC West coming out of college?
FORT WORTH, Texas -- The
Pittsburgh Steelers
appeared loose and comfortable during their first Super Bowl 45 media session.
They've been in big games before, and frequently, thanks largely to shrewd drafting.
This is the Steelers' third Super Bowl appearance in the last six seasons.
The team made available
James Farrior
,
Flozell Adams
,
Hines Ward
,
Brett Keisel
,
Ben Roethlisberger
and
LaMarr Woodley
during its initial media session Monday -- just the opportunity I needed to produce an item corresponding to the one titled, "
Draft hindsight: Aaron Rodgers and beyond
".
The idea: to examine a Super Bowl team's featured players -- in this case, the ones made available Monday -- with an emphasis on draft status and the decisions NFC West teams made in the same rounds. Not every team held a choice in every featured round.
The
Arizona Cardinals
had a shot at Steelers quarterback Ben Roethlisberger, but they came out OK.
Here goes ...
1997 Draft: James Farrior, LB, Virginia
Round:
First (eighth overall, by the
New York Jets
)
NFC West spin:
Farrior is a two-time Pro Bowl choice, but the NFC West offers no apologies for passing over him.
Orlando Pace
and
Walter Jones
became perennial Pro Bowl tackles. Jones became the best player in Seahawks history, in my view.
Shawn Springs
made one Pro Bowl trip and picked off 33 passes during a 13-year career. The Cardinals had no shot at Farrior. They chose Tommy Knight one pick later. He started 54 games in six NFL seasons. Rumor says the 49ers selected a quarterback in the first round of this draft.
First-round selections in the division:
1998 Draft: Flozell Adams, T, Michigan State
Round:
Second (38th overall, by Dallas)
NFC West spin:
Adams became a five-time Pro Bowl choice with Dallas. His career appeared finished, or close to it, until injuries led the Steelers to call on him this season. Arizona passed on Adams twice. Safety
Corey Chavous
, chosen five spots before Adams, went to a Pro Bowl with Minnesota. He was a productive player for roughly a decade. Tackle
Anthony Clement
, chosen two spots before Adams, started more than 100 games for three teams.
Second-round selections in the division:
1998 Draft: Hines Ward, WR, Georgia
Round:
Third (92nd overall, by Pittsburgh)
NFC West spin:
The Rams and Seahawks found Pro Bowl-caliber players when they passed over Ward in the third round. Seattle gave up on
Ahman Green
prematurely, however, after coach Mike Holmgren grew weary of early fumble problems. The 49ers missed on tackle
Chris Ruhman
three choices before Ward went to Pittsburgh. Ruhman played in six games with the 49ers, starting none. He played in 11 NFL games with two starts overall. The 49ers passed on Ward even though
Jerry Rice
had suffered a devastating knee injury in the 1997 opener.
Third-round selections in the division:
2002 Draft: Brett Keisel, DE, BYU
Round:
Seventh (242nd overall, by Pittsburgh)
NFC West spin:
The 49ers drafted longtime starting guard and center
Eric Heitmann
three spots before the Steelers found Keisel. Pittsburgh could use Heitmann this week after the Steelers' starting center,
Maurkice Pouncey
, suffered a severely sprained ankle during the AFC Championship Game. Keisel became a Pro Bowl choice for the first time this season, distinguishing him from 2002 NFC West seventh-rounders. The Rams found their mainstay snapper in this draft. Keisel was gone when the 49ers found guard
Kyle Kosier
, who started 29 games for them and remains a starter with Dallas.
Seventh-round selections in the division:
2004 Draft: Ben Roethlisberger, QB, Miami of Ohio
Round:
First (11th overall, by Pittsburgh)
NFC West spin:
The Cardinals passed over Roethlisberger and came away with a potential Hall of Fame receiver. No complaints there, even though quarterbacks are more valuable than receivers. None of the other NFC West teams had a shot at Roethlisberger. Seattle and St. Louis were set at quarterback, anyway.
First-round selections in the division:
2007 Draft: LaMarr Woodley, OLB, Michigan
Round:
Second (46th overall, by Pittsburgh)
NFC West spin:
The Cardinals could certainly use Woodley now, and badly, but they had already invested millions in the position heading into the 2007 draft. Free-agent additions
Chike Okeafor
and
Bertrand Berry
had combined for 14.5 sacks during the 2006 season. Unfortunately for the Cardinals, they haven't gotten enough from their second-round investment in
Alan Branch
.
Second-round selections in the division:
OK, all done, and just in time. ESPN.com teammates Mike Reiss, Kevin Seifert and I are heading out to the Packers' media session next. Seifert is driving and he doesn't wait for anyone. Gotta jam.
March, 31, 2010
3/31/10
1:00
PM ET
»
NFC History
:
East
|
West
|
North
|
South
»
AFC
:
East
|
West
|
North
|
South
»
Draft Watch
:
Biggest needs
(2/17) |
Busts/gems
(2/24) |
Schemes, themes
(3/3) |
Recent history
(3/10) |
Needs revisited
(3/17) |
Under-the-radar needs
(3/26) |
History in that spot
(3/31) |
Draft approach
(4/7) |
Decision-makers
(4/14) |
Dream scenario/Plan B
(4/21)
Each week leading up to the NFL draft (April 22-24), the ESPN.com blog network will take a division-by-division look at key aspects of the draft. Today's topic: History in that spot.

St. Louis Rams
The Rams' decision at No. 1 will likely come down to quarterback
Sam Bradford
or defensive tackles
Ndamukong Suh
and
Gerald McCoy
.
NFL teams have taken three quarterbacks first overall in the past five years.
Alex Smith
(49ers, 2005) has been mostly disappointing, although he has showed signs of progress lately.
JaMarcus Russell
(Raiders, 2007) is looking like a flat-out bust.
Matthew Stafford
(Lions, 2009) hasn't played long enough for anyone to know.
The Rams won't find much comfort in analyzing defensive tackles taken first overall lately. NFL teams haven't drafted one first overall since the Bengals selected "Big Daddy" Dan Wilkinson in 1994.
Nine of the last 15
top picks were quarterbacks. Four were linemen. One was a running back. One was a receiver.

Seattle Seahawks
The sixth overall choice is high enough for Seattle to select the top-rated player at one of the less important positions. That's what the Redskins did when they drafted safety
LaRon Landry
sixth in 2007 and what the 49ers did when they chose tight end
Vernon Davis
sixth a year earlier.
The alternative could be selecting the second-rated player at one of the marquee positions.
Andre Smith
(Bengals, 2009) was the second offensive tackle selected in his class.
Vernon Gholston
(Jets, 2008) was the second defensive end in his class, though he became a 3-4 outside linebacker in the NFL.
It's also possible the Seahawks could find the first offensive tackle or defensive end available at No. 6. The probably won't look for a cornerback that early. Adam "Pacman" Jones (Titans, 2005) was the last corner taken sixth overall.
The Seahawks also hold the 14th overall choice. Three of the last five players taken in that spot were defensive backs, including the Jets' sensational
Darrelle Revis
. The Bears found the third-rated tackle at No. 14 when they drafted
Chris Williams
in 2008, but Seattle probably will not have that option in this draft. Too many teams ahead of the Seahawks could be targeting tackles. It's one reason Seattle could take one sixth.
San Francisco 49ers

The 49ers could use an offensive tackle. The 13th overall choice hasn't been particularly lucky at the position. The Saints'
Jammal Brown
, chosen 13th in 2005, is the only offensive lineman selected in the spot since the Houston Oilers drafted Brad Hopkins in 1993.
Relatively few offensive linemen have gone between the 11th and 16th picks during that time.
The last four picks at No. 13: defensive end
Brian Orakpo
(Redskins, 2009), running back
Jonathan Stewart
(Panthers, 2008), defensive lineman
Adam Carriker
(Rams, 2007), defensive end
Kamerion Wimbley
(Browns, 2006). Orakpo and Wimbley are 3-4 outside linebackers. The 49ers could use another one of those.
San Francisco also holds the 17th overall choice. Guard
Steve Hutchinson
(Seahawks, 2001) was the last true star taken in that slot. More recently, defensive ends
Jarvis Moss
(Broncos, 2007) and
David Pollack
(Bengals, 2005) haven't panned out. Moss reportedly contemplated retirement amid struggles adapting to a 3-4 scheme last season. A neck injury forced Pollack into retirement before he had a chance to develop.

Arizona Cardinals
The Cardinals could use another linebacker and they could do much worse than finding a player as good as
Clay Matthews
, who went to Green Bay at No. 26 last year.
The 26th spot, which also produced potential Hall of Famers
Alan Faneca
and
Ray Lewis
years ago, hasn't been as kind to other teams recently.
Tackle
Duane Brown
(Texans, 2008), defensive end
Anthony Spencer
(Cowboys, 2007), defensive tackle
John McCargo
(Bills, 2006), center
Chris Spencer
(Seahawks, 2005) were 26th overall picks.
The Cardinals can't do much worse than the 49ers have fared at No. 26. San Francisco drafted tackle
Kwame Harris
(2006) and quarterback Jim Druckenmiller (1997) in that spot.
March, 10, 2009
3/10/09
12:00
PM ET
| | |
| --- | --- |
| | |
| | Allsport and Getty Images |
| | According to a formula measuring college performance, Matthew Stafford, right, scored between NFL first-round busts Akili Smith and Cade McNown. |
Posted by ESPN.com's Kevin Seifert
The experts are hedging. The fans are sweating. The team is making clear it is considering all of its options.
There are 47 days remaining until the 2009 NFL draft, giving the Detroit Lions some 1,125 hours before they are required to make the No. 1 overall pick. The Lions might need every minute of that span, especially if their internal discussion at all reflects the raging public debate on Georgia quarterback Matthew Stafford.
A classically built, strong-armed quarterback, Stafford has not yet caught on as the consensus No. 1 pick. ESPN.com draft analyst Todd McShay, for example, said recently the Lions face a "nightmare" decision because Stafford is "not mentally ready" to take on the pressures of being the No. 1 overall pick. McShay said that scouts from at least 10 teams agreed with that assessment and added: "I just don't feel great about building my organization around him."
| | |
| --- | --- |
| | |
| | NFL.com Video |
| | Find out which QBs impressed scouts with their performance at the combine. |
NFL Network draft analyst Mike Mayock told a Detroit radio station that "there are some things about him that bother me," and even Stafford's biggest supporter advocates with a negative argument. Yes, Mel Kiper Jr. said the Lions should select Stafford primarily because "there is nobody else to take."
Even fans are getting into the act. On the day the Lions announced they were playing host to Baylor offensive tackle Jason Smith, Jim of Cincinnati wrote:
Matthew Stafford? Why are people thinking he is a good fit for an 0-16 team? I have seen Stafford play. He gets rattled easily. His arm is ok but his leadership skills lack. Next year they can get a much better QB. This year they need to fill in the holes on defense and on the line.
Why all of this generalist hate against Stafford, who by all accounts offers fine character as well as the draft's strongest arm?
Our friends at ESPN Research have developed a method for fleshing out the debate with statistical analysis. Using time-honored performance standards to predict future success for "blue-chip" quarterbacks, the formula placed Stafford between Akili Smith and Cade McNown in a category reserved for busts.
Does this mean Stafford is guaranteed to crash and burn? Of course not. But this evaluation documents in specific fashion the previously ill-defined criticisms of Stafford, helping to explain why there is so much disagreement about him with the draft little more than six weeks away.
The formula takes into account three statistics: Career starts, completion percentage and touchdown-interception ratio. The theory is that experience, accuracy and production versus mistakes can provide substantive indicators for college quarterbacks.
Formula Explanation
ESPN Research developed this formula to measure quarterbacks relative to a baseline completion percentage of 60 and a touchdown-interception ratio of 2.25. The multipliers allow each figure to have equal weight with career starts, which provides an important measure of experience.

The total score is the sum of the three adjusted figures.

The separate parameters for BCS and non-BCS quarterbacks help level the statistical playing field. They are based on the assumption that NFL-caliber quarterbacks playing against non-BCS opponents are going to have inflated numbers.
For those mathematically inclined -- it took me 10 readings to get it after having nightmare flashbacks to eighth-grade algebra -- below is the formula itself. (Note: This is the updated, corrected version of the original post.)
For BCS quarterbacks
(Career Starts x 0.5) + [(Career completion pct. - 60)x5] +[(Career touchdown-INT ratio - 2.25)x10]

For non-BCS quarterbacks
(Career Starts x 0.5) + [(Career completion pct. - 60)x2.5] + [(Career touchdown-INT Ratio - 2.25)x5]
(For a complete explanation of the formula, see the text box on your right.)
To test the formula, ESPN Research plugged in the 31 quarterbacks taken in the first round over the past 12 drafts, dating back to 1997. The results are below.
You'll see the quarterbacks broken into three categories. If their college statistics translated into a value of 20 or more, there was a strong likelihood for success. (Alex Smith and Tim Couch notwithstanding.) A value between 1 and 19 essentially meant "iffy."
But the most revealing category were those quarterbacks who finished with a value of 0 or less. Every one of them failed as NFL quarterbacks. Take a look:
Stafford scored a -4.45, putting him in unflattering surroundings to say the least. You never want to be on a list that includes Jim Druckenmiller and Akili Smith. Stafford's career completion percentage of 57.1 percent and his touchdown-interception ratio of 1.55 were primarily responsible for his poor showing. That left him rated well below USC quarterback Mark Sanchez and slightly behind Kansas State's Josh Freeman.
Scores for 2009 Likely First-Round Quarterbacks
Player
School
Score
Mark Sanchez
USC
32.63
Josh Freeman
Kansas State
1.94
Matthew Stafford
Georgia
-4.55
Stafford's numbers were dragged down by a freshman season in which Stafford completed 52
.7 percent of his passes and threw 13 interceptions against seven touchdowns.
When McShay, Mayock and Jim from Cincinnati express their concerns about Stafford, it's primarily for these reasons: College quarterbacks don't typically improve their accuracy in the NFL. If his decisions were at all suspect against SEC opponents, then it's reasonable to wonder how he will react to professional defenses.
Throw in the state of the Lions, who are coming off an 0-16 season and might feel pressure to start him immediately behind an offensive line that needs help, and you understand the genesis of the Stafford debate. Where will it lead? Luckily, we have 47 days to find out.
August, 23, 2008
8/23/08
10:17
AM ET
Posted by ESPN.com's Mike Sando
Mike Tulumello of the East Valley Tribune takes a comprehensive look at Cardinals quarterback Matt Leinart, on and off the field. The party-boy pictures that emerged in the spring had a "devastating" impact on Leinart, coach Ken Whisenhunt said. Leinart: "I've learned a lot in the last couple of years. You grow up. You become a father."
Darren Urban of azcardinals.com recalls Leinart's previous visit to Oakland, where a 7-year-old showered him with vulgarities.
Tom FitzGerald of the San Francisco Chronicle quotes 49ers coach Mike Nolan as describing the decision to start J.T. O'Sullivan as a "unanimous" choice involving Nolan, general manager Scot McCloughan, offensive coordinator Mike Martz and quarterbacks coach Ted Tollner.
Bruce Jenkins of the San Francisco Chronicle compares Alex Smith to Barry Zito and says the 49ers should trade him right now. Jenkins: "Both men are smart, well-spoken and endearing. Each arrived in San Francisco with a handsome track record and a ton of promise. Unfortunately, each has reached the point where even their most ardent fans can hardly bear to watch. Anything but to witness a good man take another hit to his reputation."
Cam Inman of the Contra Costa Times applies the "bust" label to the 49ers' Smith. "Oh, that could change," Inman allows, "if he turns up down the road as the next Jim Plunkett instead of the next Jim Druckenmiller."
Danny O'Neil of the Seattle Times says rookie first-round choice Lawrence Jackson has impressed Seattle veterans with a mind open to learning. Patrick Kerney: "Rushing the passer, it's a chess game. There's so much that goes into it. And Lawrence has that, I think. That philosophy, if you will."
Clare Farnsworth of the Seattle Post-Intelligencer says Seahawks linebacker Lofa Tatupu is slowly warming to the idea of wearing the radio headset during games. Linebackers coach Zerick Rollins: "The big thing for Lofa, he really doesn't like to have anybody in his ear on game day. So, for the first couple of times, I've just tried to give him the call and let him get used to it." Tatupu is a smart, instinctive player. I'm not sure how much better he'll be stopping to process what a coach might be saying.
Eric D. Johnson of the Tacoma News Tribune says Seahawks quarterback Matt Hasselbeck probably won't even travel to San Diego for the final exhibition game Monday night. Hasselbeck is resting a sore back. The Seahawks want him ready for the regular season.
Scott Johnson of the Everett Herald checks in with Seattle players likely to receive their release in the not-too-distant future. The players say they appreciate the opportunity no matter what -- not that they're in position to say anything else.
Also from Johnson: Seattle's starting offensive line hasn't been on the field together for a single practice during training camp.
Jm Thomas of the St. Louis Post-Dispatch says the Rams are looking for quarterback Marc Bulger to improve upon shaky play this exhibition season. Thomas lists extenuating circumstances behind Bulger's problems, but the bottom line is this: "Through two preseason games, Bulger has a passer rating of only 14.1, completing 10 of 23 passes for 85 yards with three interceptions and no touchdowns."
Bill Coats of the St. Louis Post-Dispatch checks in with Rams defensive lineman Victor Adeyanju, and before I continue, let me recommend clicking on the link to check out the ridiculous cast/wrap Adeyanju is wearing on his right hand. As Adeyanju, the Rams' best run-defending lineman, put it: "It feels like you're carrying a baby."