January, 31, 2015
Jan 31
9:10
PM ET
MINNEAPOLIS -- For years, former
Minnesota Vikings
center Mick Tingelhoff had waited for his Pro Football Hall of Fame chance, without so much as an opportunity to be discussed by voters as a finalist. That's despite the fact Tingelhoff had in his favor a ringing endorsement from one of the greatest coaches of all time.
Legendary
Green Bay Packers
coach Vince Lombardi, whose teams played against Tingelhoff during the first six seasons of his career, routinely praised Tingelhoff, calling him one of the toughest centers he'd ever seen after the Vikings became one of the two teams to beat the 1966 Packers, winners of Super Bowl I. As Minneapolis Star Tribune columnist Sid Hartman wrote in his 2007 book, Tingelhoff had played that game with a broken ankle.
The accolades from Lombardi -- as well as Hall of Fame coach Bud Grant -- finally have reverberated. Now, Tingelhoff is headed to Canton.
[+] Enlarge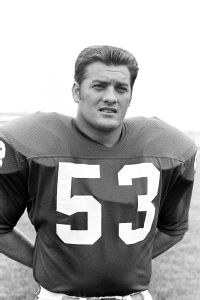 AP PhotoMick Tingelhoff was selected for the Pro Football Hall of Fame in his 32nd year of eligibility.
The 74-year-old was selected to the Hall of Fame
on Saturday evening in his 32nd year of eligibility, as the lone nominee from the senior committee. Tingelhoff joins an eight-member class that officially will be enshrined in the Hall of Fame on
Aug. 8
.
Tingelhoff is the 16th former Vikings player to reach the Hall of Fame, and the 11th who spent at least a majority of his career in Minnesota. Grant, former coach Norm Van Brocklin and former general manager Jim Finks are also in the Hall of Fame.
Tingelhoff, who was the anchor of the Vikings' offensive line on four Super Bowl teams, is the fourth former Viking to reach Canton in the past six years, following defensive tackle John Randle in 2010, defensive end Chris Doleman in 2012 and wide receiver Cris Carter in 2013. He becomes the sixth player from Grant's teams -- which played in four Super Bowls from 1969 to 1976 -- to be selected.
The undrafted free agent started 240 consecutive games in 17 seasons, playing through myriad injuries that never caused him to miss so much as a practice. At the time of his retirement, Tingelhoff's consecutive starts streak was the second longest in NFL history, behind teammate Jim Marshall. In fact, the three longest streaks in NFL history were all set by players in Vikings uniforms -- Brett Favre, Marshall and Tingelhoff.
"Mick was a catalyst for our team and one of the most respected players on those teams," Grant said. "I have no doubt that had he not played center, he would have been a Hall of Fame linebacker. He played center with the mentality and tenacity of a linebacker. Mick's intangibles were the thing that made him so great. He was a captain the whole time I coached him and guys looked at him as an example of how to do things."
Tingelhoff was named a first-team All-Pro every year from 1964 to 1970, and was selected to the Pro Bowl each season from 1965-70. Tingelhoff was part of Vikings teams that won 10 division titles in 11 years from 1968-78, played for five NFL/NFC Championships and went to three of their four Super Bowls from 1973-76.
March, 29, 2012
3/29/12
11:29
AM ET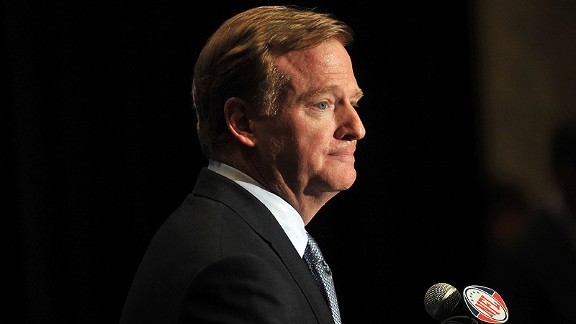 Steve Mitchell/US PresswireRoger Goodell levied unprecedented punishments on the Saints, but he didn't bury the franchise.
Since he took over as NFL commissioner in 2006, Roger Goodell has been so consistent that he's become predictable.
Cross the line on anything that involves player safety or his precious "integrity of the game'' and you're going to pay a steep price. Mess with anything that jeopardizes "the NFL shield'' Goodell loves to talk about and you're going to feel his wrath.
Oh, and be sure never to lie to the commissioner because that's only going to make matters worse.
Any or all of the above have brought suspensions or hefty fines in Goodell's era. Think
Michael Vick
,
Donte' Stallworth
and
Plaxico Burress
to name a few.
Now, it seems like Goodell's becoming even more of a moral stickler. The punishments for the New Orleans Saints' bounty program are severe and unprecedented. Goodell has suspended coach Sean Payton for a year, general manager Mickey Loomis for the first eight games of the 2012 season, assistant head coach Joe Vitt for the first six games and banned former defensive coordinator Gregg Williams indefinitely. He's also hit the Saints with a $500,000 fine and taken away their second-round draft picks for 2012 and 2013. The league also has said 22 to 27 players were involved and discipline for them will come soon.
No question this is severe, but has Goodell really intentionally destroyed the franchise, like so many New Orleans fans seem to think? No, he hasn't and anyone that thinks that simply is shooting the messenger -- the guy who had the nerve to tell them that their beloved head coach and team weren't quite as perfect as they had been made out to be.
If you really think about it, Goodell is just doing what New Orleans owner Tom Benson should have, but didn't. Shouldn't Benson have been the one to suspend or fire people once he found out his team was out of control? Or shouldn't Benson have been the one who stepped in and stopped things before they got totally out of hand? After all, there were lots of warning signs and warnings from the league.
But they went unheeded by the Saints, who turned around and lied to Goodell. Lots of people are saying that the lies are the main reason Goodell is burying the Saints. Yeah, there's no doubt the lies added to the severity of the punishments. But I disagree with anyone who says Goodell has crushed the Saints.
If he really wanted a franchise that's been among the league's most successful since 2006 to fade back into the type of mediocrity and obscurity that came with most of its earlier history, Goodell could have barred the door and sealed it up tight. Instead, he's left more than enough cracks to help allow the Saints to still be very competitive in 2012.
[+] Enlarge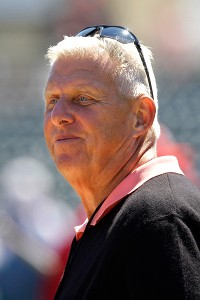 AP Photo/Carlos OsorioBill Parcells is reportedly interested in coaching the Saints during Sean Payton's suspension.
He's left it possible for them to perhaps get one of the best coaches in NFL history in Bill Parcells. No deal is done yet and it's even possible the Saints could be talking to another former head coach or two. Stick Parcells or some other currently unemployed coach out there with quarterback
Drew Brees
and an offensive system that coordinator Pete Carmichael knows as well as Payton and the Saints aren't going to fall straight to the bottom of the NFC South. Yeah, new defensive coordinator Steve Spagnuolo is going to face some major challenges, especially if multiple defensive players have to serve suspensions, but he would have faced some of those even if none of this happened. No matter how things shake out with the head-coaching spot, the Saints are going to be competitive.
Goodell didn't have to allow that, but he did. If Goodell really wanted to make life impossible for the Saints, he would have made Payton's suspension take hold immediately and not let Loomis continue to manage all the offseason moves when he announced the penalties last week.
Instead, Goodell made April 1 the date Payton's suspension starts (it's possible that date could be pushed back if Payton decides to appeal) and Loomis' suspension doesn't start until right before the opening game of the regular season. Loomis can keep on signing free agents, oversee a draft in which the Saints don't have a lot of picks and sign those rookies.
Loomis also can sign more players if he finds out some of his own will miss time because of suspensions and he can make roster tweaks all through training camp and the preseason as injuries pile up. Most importantly of all, Loomis has time to work out a long-term contract with Brees, who is carrying the franchise tag for now and will have to carry the franchise through the season.
I also find it more than a little curious that Goodell has left enough time and wiggle room for Payton and Loomis, the two men in the center of the controversy (along with Williams), to appear to be the ones making the decision on the coaching situation. Goodell keeps saying that decision is ultimately up to Benson and there might be a few grains of truth in that because the owner is the one who will pay the new coach.
But Benson's not the one who's really running this show or putting in a plan for the season. With Goodell's blessing, Benson is catching a huge break. Benson never has fancied himself a football guy or been a hands-on owner. Before hiring Payton in 2006, the last good football move Benson made was putting his team into the hands of coach Jim Mora and general manager Jim Finks back in the 1980s. Oh, and you could state pretty accurately that Benson didn't really hire Payton. Loomis was the one who ran the coaching search and Benson simply signed off on what Loomis wanted.
Since then, Benson has left the franchise exclusively in the hands of his "football guys'' -- Payton and Loomis. That brought a Super Bowl championship and a lot of victories. It also brought a lot of shame.
But when reports surfaced that Loomis and Payton were meeting with Parcells earlier this week, it become obvious that this franchise is still being run by the "football guys." All indications are Payton and Loomis will put Parcells or someone else in front of Benson and he'll sign off on whatever they recommend. Anybody out there think that if Payton and Loomis weren't allowed to handle this that Benson, a true non-football guy, could go out and get Parcells or any coach close to that level on his own? I don't.
There's more than a little irony in all this. In the scorching report that announced the Saints' punishments and thoroughly detailed their violations, one of the things Goodell criticized Payton for was telling his assistants to "get their ducks in a row'' as they attempted to cover up the bounty program.
That, no doubt, played a role in how harsh the punishments were. But the funny thing here is that Goodell now has allowed Payton and Loomis time to get their ducks (or their Parcellses) lined up. That's not part of the punishment.
That's what I would call showing the Saints some mercy.
May, 25, 2011
5/25/11
1:00
PM ET
Examining the most crucial event in the history of every team in the division.
The most important moment in the history of the
New Orleans Saints
, maybe even in the history of the entire NFC South, might have come when a coach and a quarterback went for a ride and got totally lost.
Drew Brees
and his wife, Brittany, for a ride that seemed misdirected at the time, but turned out to be a drive to destiny. While touring the area, Payton got off Interstate 10 at the wrong exit and started driving on streets he'd never seen before.
"I finally admitted to Drew, 'I have no idea where we are right now,''' Payton wrote in his book, "Home Team.''
It's worth a laugh now. But at the time, Payton, Brees, the Saints and the entire New Orleans region really had no idea where anything was. This was a few months after the devastation of Hurricane Katrina and the Saints didn't even know if they'd be able to stay in New Orleans for the long term.
Brees' future was just as cloudy. He wasn't being brought back by San Diego because he was coming off a major shoulder injury and the Chargers were handing things over to
Philip Rivers
. There was interest from Miami, but the Dolphins weren't sure about Brees' shoulder. Neither were the Saints.
But Payton and general manager Mickey Loomis decided to take a gamble. They offered Brees a big contract and a couple of days after being hopelessly lost, he accepted. The Brees signing was the big winner for the Saints in our Flash Points polls about the make-or-break moment in the history of each NFC South franchise.
Forty-six percent of more than 50,000 voters (the highest of all the NFC South precincts) chose the signing of Brees as the biggest moment in team history. Winning Super Bowl XLIV finished second at 36 percent and the hiring of Payton was third at 17 percent.
No argument here. Hiring Payton was significant, but signing Brees is the biggest reason why the Saints went on to win a Super Bowl and make themselves more a part of the New Orleans fabric than ever before.
Let's turn to a couple of loyal readers for affirmation.
Richard in Ann Arbor, Mich., wrote:
"Signing Drew Brees has to trump all. When you take into account everything that Drew has done off the field since his arrival, winning the Super Bowl may be the least important thing that he has done for the city of New Orleans.''
Fred in New Orleans wrote:
"As much as I would like to say our turning point was hiring Jim Finks or Jim Mora or maybe even Sean Payton, I think the Saints' turning point was actually made by another team -- when the Dolphins refused to make an offer to Drew Brees. If they make a hard push for him who knows what happens next?''
PANTHERS: Jake Delhomme's arrival game
Appearing in Super Bowl XXXVIII was the winner of the popular vote as the Flash Point for the
Carolina Panthers
. That loss to New England drew 42 percent of the vote, and advancing all the way to the NFC Championship Game in only the second season of an expansion franchise finished second at 28 percent.
Rodney Peete
and the Panthers just kept winning all the way to the Super Bowl. I was covering the Panthers on a daily basis as a beat writer at that time and as I think back, Delhomme's emergence in that game was one of the most magical moments I've seen in sports.
Let me add that a vocal group of readers made a strong case that Delhomme's debut should have been on the ballot because that was actually the moment that sparked the whole Super Bowl run. I thought about that for a couple of minutes and decided they were right. So let's hear from a few convincing readers.
Brian in Charlotte wrote:
"Jake Delhomme's halftime entrance into the game versus Jacksonville seems to represent the best of Panthers history. The team marched to an appearance in the Super Bowl that year and, while we may not have had back-to-back winning seasons, provided the Panthers with both stability and leadership at the quarterback position for the next few years.''
Evan in Charlotte wrote:
"Carolina rode on that momentum to eventually go to the Super Bowl. That whole season was Carolina's defining moment, but it all began at that game. Everything about the Carolina Panthers changed at that moment.''
Brian and Evan, you're absolutely right.
BUCCANEERS: Dungy turned the tide
In the closest contest of all our polls, readers voted Tampa Bay's victory against Oakland in Super Bowl XXXVII as the defining moment in Buccaneers' history. That got 39 percent of more than 31,000 votes. The hiring of coach Tony Dungy in 1996 finished a close second at 37 percent and the trade for Jon Gruden, the coach who actually won Tampa Bay's lone Super Bowl, was third at 21 percent.
Tampa Bay is a land of transplants and history sometimes gets lost. But I happened to be a beat writer covering the Buccaneers when Dungy was hired (heck, I was part of a media stakeout outside Bern's Steakhouse as Dungy and ownership were inside sealing the deal).
You have to understand what the Bucs were like before Dungy arrived. They were the joke of the NFL for more than a decade. Former owner Hugh Culverhouse was despised by fans, players and the people who worked for him. The Bucs had gone for more than a decade without a winning season and good coaches such as Ray Perkins and Sam Wyche came to Tampa Bay and became horrible coaches.
Dungy (supported by new owner Malcolm Glazer) quietly changed the entire culture of the Bucs. They began winning and changed uniform colors and logos. Everything changed. Raymond James Stadium was built and filled up every week. The Bucs became consistent winners.
It's true Dungy couldn't get Tampa Bay over the final hump. He was stubborn and conservative on offense and that got him fired. But he had the Bucs built into such a great defensive team that Gruden was able to come in, tweak the offense and win the Super Bowl in his first season. None of that would have been possible without Dungy's contributions. He made the Bucs consistently relevant for the first time in their history.
Let's turn to a couple comments from readers.
Darryl in Springfield, N.J., wrote:
"The hiring of Dungy was huge as he helped to instill a culture of winning. However, I think another important step was drafting
Warren Sapp
and
Derrick Brooks
in 1995 (the moves were made by Wyche and former general manager Rich McKay). Beyond their contributions on the field, Brooks was the heart of the Bucs, and Sapp brought a public swagger to a downtrodden franchise. The history of Sapp and Brooks in Tampa might be different without Dungy, but I think you could also argue that the history of Dungy might be very different without Sapp and Brooks."
Tim in Clearwater, Fla., wrote:
"Sam Wyche drafted two first-ballot Hall of Fame players in Warren Sapp and Derrick Brooks. Without these players, Dungy's tenure in Tampa Bay would likely not have been as long or as successful.''
True, but Sapp and Brooks didn't do much in their one season with Wyche. When Dungy and defensive coordinator Monte Kiffin arrived, they put Sapp and Brooks into a defense that became dominant. In my eyes, it all started with Dungy.
FALCONS: Matt Ryan brought consistent winning
When it came time for Atlanta fans to weigh in on the Falcons' Flash Point, they went with the drafting of quarterback
Michael Vick
. That move won the vote at 39 percent, while the drafting of Ryan in 2008 came in second at 31 percent.
That was at the end of the 2007. A few months later, the Falcons drafted Ryan. Guess what? Since that moment, the Falcons have had three straight winning seasons. Before Ryan's arrival, the franchise never even had back-to-back winning seasons. Atlanta went 13-3 last season before a disappointing playoff loss to Green Bay.
But the Falcons are built around Ryan and he's not going anywhere for a long time. In fact, I think the Falcons are right on the cusp of huge success. Let's turn to a reader for perspective.
Reid in Atlanta wrote:
"The true 'defining moment' for the Falcons is not on your list of choices. It was when Arthur Blank purchased the team from the Smith family, who oversaw a comedy of errors and bad personnel choices for decades. Blank may be responsible for the Petrino fiasco, but otherwise his moves have been solid, and a welcome contrast to what preceded him.''
No argument that Blank has done some great things and made the Falcons more competitive than they ever have been. But I think the best move Blank made was drafting Ryan. That's when things really turned for the Falcons.
May, 17, 2011
5/17/11
12:30
PM ET
Examining the most crucial event in the history of every team in the division.
The most important moment in
Green Bay Packers
history was nearly scuttled by an unlikely source. Shortly after Vince Lombardi accepted the Packers' job as head coach/general manager in 1959, his wife was "distraught," according to historian David Maraniss.
Marie Lombardi approached
New York Giants
owner Wellington Mara, who owned Lombardi's contract as a Giants assistant coach. As Maraniss writes in "
When Pride Still Mattered
," Marie begged Mara to block her husband's move.
[+] Enlarge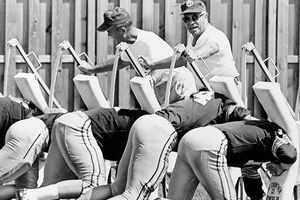 AP PhotoCoach Vince Lombardi (upper right) led the Packers to five championship wins in seven seasons.
Mara declined, knowing Vince was ready to be a head coach. Marie stood by her husband. And the rest, as they say, is Packers history.
Lombardi's arrival in Green Bay was your overwhelming choice
as the Packers' Flash Point
, and it received a higher percentage of votes (69 percent) than any individual event offered in last week's series of polls. Lombardi won his first NFL title in 1961 and collected four more before giving up the job in 1967, building an unmatched legend and painting the franchise in gold mystique for generations to come.
Some of you made impassioned arguments for Curly Lambeau's push to sell stock and make the franchise a non-profit organization in 1923, a short-term fundraising effort that embedded a structure still in operation today. "How can it not be Curly?" wrote
mallow420
. "If Curly doesn't save the Packers then there's no Packers to hire Lombardi."
Hadessniper
allowed that "Lambeau making the Packers public is more important for the Packers, as without that there is simply no way Green Bay keeps a team." But, wrote hadessniper, "Lombardi is probably more important for the NFL as a whole. The NFL was gaining popularity, but Lombardi gave the game a legend. Without Lombardi the NFL wouldn't be what it is today."
Timarquardt
was more direct: "Get back to me when someone else wins five championships in seven years. That's Lombardi's legacy and with all due credit to Curly, he did it when there was a bunch of good teams. Curly saved the franchise, obviously important, but without those Lombardi years the team never would have had the following through the dark years of the '70s and '80s to be successful."
What's fascinating to me is that Lambeau actually wanted Lombardi's job in 1959, a decade after an internal power struggle led to Lambeau's ouster. As Maraniss recounts, Lambeau flew to Green Bay during the interview process and launched a campaign to capture at least the general manager position that Lombardi ultimately filled. Dominic Olejniczak, president of the Packers board of directors, resisted the urge to hire him despite heavy public support.
The Flash Point mandate was less clear for the NFC North's other three teams. Let's sort through them in alphabetical order:
BEARS: A hero of 1985
About half of you
voted for the arrival
of defensive coordinator Buddy Ryan, the architect of the 46 defense that led the Bears to a championship in 1985.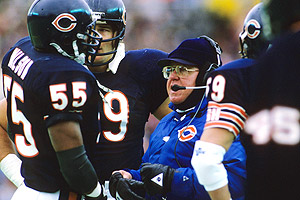 Ronald C. Modra/Sports Imagery/Getty ImagesBuddy Ryan's 46 defense formed the identity of the 1985 Super Bowl-winning Bears team.
Lewie21982
was livid and wrote: "Who are these people voting?? Are you just idiot baby boomers, hippies, or the '80s mullet crowd??? I was born in the '80s and clearly know the decision of drafting Red Grange or instituting the T-Formation was the most significant thing the Bears have ever done. The Bears have nine championships and eight of them were before Buddy Ryan, Mike Ditka, or the 46 defense ever came around!!"
I hear ya, Lewie21982. Red Grange made the Bears an early heavy hitter in pro football, and George Halas' schematic innovations led to the golden age in franchise history -- four world titles in seven years between 1940-46. But I understand where the baby boomers, hippies and mulleteers were going.
The 1985 Bears were the best team in franchise history and one of the most dominant of the NFL's post-merger era. With all due respect to Ditka and running back Walter Payton, Ryan's 46 defense was the biggest reason. It's impossible for a single moment to spawn something so impactful, and I heard a suggestion for ex-general manager Jim Finks acquiring many of that team's stars. But without Buddy Ryan, the 46 defense doesn't exist and the 1985 Bears as they were known never come to be.
LIONS: Forgetting yesteryear
The
Detroit Lions
' Flash Point vote
got more action
than any team in the division, garnering more than 53,000 votes. On that, we can agree.
[+] Enlarge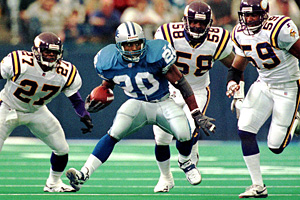 JEFF KOWALSKY/AFP/Getty ImagesBarry Sanders had a Hall of Fame career but couldn't get the Lions a championship.
But did the decision to draft running back
Barry Sanders
have more impact than any other event in franchise history? About 60 percent of you thought so, although the comments reflected a wider disparity.
I'm not on board, and neither was
j_sleik83
. We agree that quarterback Bobby Layne brought the Lions what Sanders never did. J_sleik83: "Bobby Layne in combination with the Hall of Fame defensive backfield the Lions had during the entirety of the '50s IS their defining era. Barry Sanders didn't lead them to the promised land, Layne did."
I mean no disrespect to Sanders, who forged a Hall of Fame career on some otherwise undermanned teams. But with Layne behind center, the Lions won NFL titles in 1952 and 1953. He contributed to a third in 1957, and upon his subsequent departure, Layne placed a (possibly apocryphal) 50-year curse on the franchise. (For that reason,
DWargs
thought trading Layne away is the defining moment in franchise history: "Haven't gotten close to a championship since.")
Several of you pointed to the ownership of the Ford family as the primary reason for that dubious run. Regardless, I understand that Lions history is defined more by failure than success. But on an otherwise desultory landscape, the Lions once had a brilliant run. Bobby Layne was the single biggest reason why.
VIKINGS: Varied opinions
I did either an excellent or terrible job of
choosing options
for the
Minnesota Vikings
' Flash Point: All four possibilities received between 19 and 32 percent of the vote. Assembling the "Purple People Eaters" had the highest percentage, but its total was hardly a mandate among the 38,000 or so votes cast.
[+] Enlarge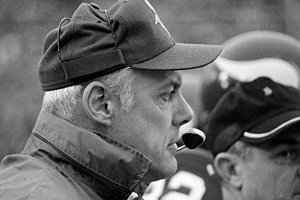 AP Photo/Jack ThornellBud Grant won 152 games as coach over 18 seasons.
Scanning the comments, it was clear that you agreed on only one thing: A Vikings Flash Point needed to reflect a long history of dysfunction.
Even looking beyond the obvious,
Ymacdaddy
offered this litany: "Herschel Walker, Metrodome [collapse], Gary Anderson, Dimitrius Underwood, too many in huddle, big-game chokers, etc. How about Darrin Nelson before Marcus Allen?"
The 1989 Walker trade, in which the Vikings ultimately gave up five players and six draft choices, received multiple mentions. So did Gary Anderson's shocking field goal miss in the 1998 NFC Championship Game.
BuckeyeVikes80
is "still reeling from that 12 years later."
Dbatten1
noted
Dallas Cowboys
quarterback Roger Staubach's Hail Mary pass to Drew "Push" Pearson in the 1975 playoffs.
TampaPacMan
's moment was the final play of the 2003 season, when the Vikings lost the NFC North title and a playoff berth by giving up an improbable touchdown to
Arizona Cardinals
receiver Nathan Poole. It was "the signature moment in a franchise history littered with failures!" wrote TampaPacMan.
If it were up to me, Bud Grant's arrival would rank as the most significant moment in Vikings history. Many of us would agree that Grant has made the single-biggest impact in this franchise's 50 years. But what do I know? I just work here.
May, 10, 2011
5/10/11
1:00
PM ET
What key event significantly changed the fortunes of the Vikings -- for better or worse? Give us your take and we'll give you our definitive moment on May 17.
The
Minnesota Vikings
, founded in 1961, are the relative expansion team of the NFC North. Their early history was marked by a golden age of four Super Bowl appearances, more than the
Chicago Bears
and
Detroit Lions
over that span. More recently, they've offered an entertaining and drama-filled timeline of off-field shenanigans.
Behind coach Bud Grant, hired in 1967, the Vikings appeared in four Super Bowls in a seven-year span. General manager Jim Finks, who would later play a part in the Bears' renaissance, plucked Grant out of the Canadian Football League.
Finks and Grant assembled a defensive line that changed the game and served as the franchise's anchor. Two of its members, Alan Page and Carl Eller, are enshrined in the Pro Football Hall of Fame. A third, Jim Marshall, played in a then-record 270 consecutive games.
The decision to draft receiver
Randy Moss
in 1998 was transformative, elevating the Vikings from a team that couldn't sell out the Metrodome to one that has sold out every game since. Ultimately, however, the Vikings failed in their efforts to build a championship team around him.
Finally, the Vikings' humiliating performance in the 2000 NFC Championship Game -- they appeared to give up at halftime of a 41-0 loss to the
New York Giants
-- sparked a downswing that lasted for most of the decade. It took eight seasons to win another division championship and 10 seasons to return to the NFC Championship Game.
Use the module in this post to cast your vote. If you vote Other, give us your suggestion in the comments area below.