December, 7, 2010
12/07/10
3:50
PM ET
The
Denver Broncos
have to get out of the firing business.
This team hasn't been to the playoffs since the 2005 season and there has been an avalanche of change in Denver since. The team has been in a firing frenzy. That trend was started by former coach Mike Shanahan, who was famous for firing people if the Broncos ever slipped. But owner Pat Bowlen has continued that trend after he fired Shanahan.
Denver has to find the right people for the job and it extends past the head coach. The Broncos must find the right person to replace Josh McDaniels, who was fired 23 months after taking over for Shanahan, who lasted 14 years on the job.
[+] Enlarge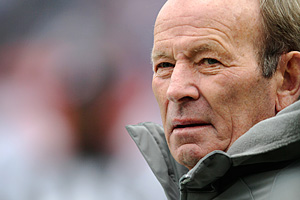 AP Photo/Joe MahoneyBroncos owner Pat Bowlen needs to establish some continuity within the organization.
The following is a look at some key firings in Denver and how they are still affecting this floundering franchise:
Head coach
Firing history:
McDaniels clearly wasn't the right man to replace Shanahan. Now, after going almost a decade and a half with the same coach, Bowlen has to start a coaching search for the second time in less than two years.
Current state:
The Broncos have quickly gone from one of the most stable NFL franchise to being one in disarray. Two years ago, this was perhaps the most attractive job in the league because Shanahan left it in pretty good shape. With a stripped talent base and lack of an identity, this has the look of a team whose reconstruction could take awhile.
Defensive coordinator

Firing history:
The defense has been a mess for several years in Denver. The beginning of the end of the Shanahan era was when Shanahan fired defensive coordinator Larry Coyer after the 2006 season. Shanahan was looking for a scapegoat after a late-season collapse. Coyer was the victim. What a mistake. Coyer, now the defensive coordinator in Indianapolis, is one of the best defensive coaches in the league. All stability on that side of the ball left with Coyer. It began a parade of one-year failures. Jim Bates, Bob Slowik and Mike Nolan all lasted one season in Denver. Nolan and McDaniels mutually decided to part ways after last season. Nolan did a fine job in Denver. McDaniels blew it by not making it work with Nolan, who is now in Miami.
Current state:
Don Martindale will, in all likelihood, be the latest one-year Denver defensive coordinator, meaning Denver will have six defensive coordinators in six seasons. There is little chance Martindale will be kept by the new head coach. Another coaching change could potentially mean the Broncos could move back to the 4-3 base defense that Shanahan used.
Front office
Firing history:
Another underrated loss was when Shanahan fired general manager Ted Sundquist. Shanahan had more power than Sundquist and he got rid of him. It was a mistake. Sundquist was a good personnel man who was detailed-oriented and who built the bottom of Denver's roster very well. The Broncos' roster was always deep when Sundquist was around. The team has gotten thin since he left. After Sundquist -- who is still without a job and who would likely jump at the chance to return to the Broncos -- was fired, Shanahan promoted the father-son team of Jim and Jeff Goodman. When Shanahan was gassed, the Goodmans stayed and were part of the group that hired McDaniels. They were abruptly fired less than two months after McDaniels was hired. This was a bad sign. McDaniels played a role in firing two people who were part of the decision-making team that just hired him. He had too much power for a 32-year-old first-time head coach.
Current state:
Brian Xanders is the general manager, but McDaniels had more control over the team than Xanders. His future with the team is unclear. The Broncos need experienced help in the personnel department and a strong general manager would help.
Whatever happens, Denver has to stop this string of mistakes and settle on the right people at several positions.
January, 5, 2010
1/05/10
10:16
PM ET
Now that the long-awaited hiring of Mike Shanahan in Washington
has been completed,
expect our nation's capital to become Denver D.C. Shanahan, who coached the Broncos from 1995-2008, probably will bring a strong Denver flavor with him to the NFC East.
Coaches are usually comfortable with people they have worked with in the past.
As Shanahan builds his staff in the next few weeks and his roster in the next several months, look for him to reunite with some former coaches and players.
Coaches on the Broncos' staff who could join Shanahan -- if they are interested and if Denver allows them to leave -- include offensive line coach Rick Dennison and running backs coach Bobby Turner, both former longtime Shanahan assistants.
Jim and Jeff Goodman, the father-son personnel team fired in Denver shortly after Shanahan, also could resurface in Washington.
Any Denver free agents from the Shanahan era will be candidates to join their former coach as well. Little-utilized tight end
Tony Scheffler
and running back
Peyton Hillis
could leave if Denver is open to letting them go. Scheffler probably is going to be a restricted free agent.
Of course, the free-spending Redskins also have to be considered a possible landing spot for disgruntled receiver
Brandon Marshall
.
In short, if Shanahan worked with someone in Denver and they are available, there could be an upcoming reunion in Washington.
February, 20, 2009
2/20/09
9:01
PM ET
Posted by ESPN.com's Bill Williamson
New Denver coach Josh McDaniels met with the media Friday at the NFL combine in Indianapolis.
Here are some highlights of his session:
McDaniels likes some parts of his roster but he thinks it needs to improve in all three phases.
Josh McDaniels: I think there's a lot of good pieces in place. We've got some productive players that are coming back on both sides of the ball. I think our focus now on the roster as it currently stands is that we're going to try to improve every phase of our team. There's a big focus on the defense, but to me, every player that we bring in is going to help us in some capacity. Our offense needs to improve. Our defense needs to improve. Our special teams needs to improve, and we need to improve, and we need to improve significantly in all three areas. We didn't make the playoffs, and there is always a reason for that. It's not all the players' fault, but we're going to try to mold the roster and make it the most competitive we can at every spot. It's not just one side of the ball or the other.
McDaniels said the team will be active in free agency.
JM: As aggressive as we need to be. We're interested in a lot of things and we have areas that we can improve on. We have, obviously, like every team, needs and holes to fill, you know, if there's a player out there that will feel that, then we're going to be aggressive and pursue him.
McDaniels said he and new general manager Brian Xanders will have no problem working together.
JM: We're going to get it right, and we're going to work together. That's part of the process. At the end, you have to decide on somebody, and maybe that means who yells loudest, but that's what we're going to do, and the final decision will come down, and we'll make sure we're on the same page.
McDaniels said he was consulted before the firing of executives Jim and Jeff Goodman last week.
JM: I was definitely part of the conversation. I think that's the only way to do it. If you're going to make a decision like that, you want to make sure everyone in the organization, in particular the head coach, is on board with what we're doing. We're going to move forward and we're going to get right.
McDaniels explained the teams' plans for moving to a 3-4 defensive scheme.
JM: I don't think there's a timeline on it. It could be quicker. It could be a little longer into the future. We gave up 450 points last year doing it one way, and I think the goal is to get something in place that's going to be consistent, and we can adapt to it, and we can adapt to it based on the players we have in the system. We're not going to tie our hands and do one thing or the other. Whatever we have and whatever we feel best about when we get to September, that's what we'll play on defense. And it's going to be the same way on offense, the same way in the kicking game, because to me, that's the way you win. You don't win by saying this is what we do, and no changing. Because if you don't change in this league, somebody will figure out a way to beat you doing what you think is best if you're never going to move. We're going to make moves and try to get people in we feel can handle our system the best, and then we're going to adapt as we go and try to be as competitive as we can once September hits.
McDaniels also expressed excitement about his relationship with his new quarterback, Jay Cutler.
JM: I wasn't worried about it. I met with him several times. I'm confident in what I can do and what our staff can do and how good we can be, and Jay's going to be a big part of that. My focus is on telling him how he's going to be better. We all can improve, and certainly that's our goal. That's what my communication with him has been, to get him up to speed and you know to talk to him about how I feel next year and going forward it's going to different than the years he's played here in Denver already. I think we have a good relationship now. I think it's on the right track, and I'm looking forward to working with him this year.