April, 20, 2011
4/20/11
9:27
PM ET
SANTA CLARA, Calif. -- Roughly 45 NFL prospects with Bay Area ties spent Wednesday afternoon running through drills at
San Francisco 49ers
headquarters.
Their local pro day wasn't the story.
For the first time since Jim Harbaugh took over as the 49ers' head coach in early January, his staff was on the field directing actual football players through actual football drills. What a concept.
[+] Enlarge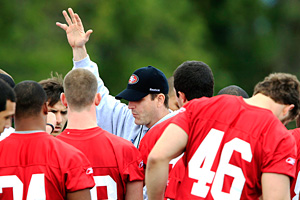 AP Photo/Paul SakumaJim Harbaugh got a chance to run football drills for the first time as the head coach in San Francisco.
Harbaugh stood behind the quarterbacks while they threw passes to receivers running three-step slants first, then other routes.
Down the field, receivers coach John Morton showed himself as one of the more vocal staffers, criticizing and encouraging players' techniques at a decibel level high enough to carry clearly for 30 yards on a blustery day.
"I want to see you come off the ball!" Morton shouted.
Offensive coordinator Greg Roman, a stout man from New Jersey with a background as a defensive lineman at John Carroll University, took the lead in running tight ends through receiving drills. With Roman operating the drills, tight ends coach Reggie Davis pulled players to the side for individual instruction.
Harbaugh chatted with various staffers during breaks in the action. He stood between Roman and offensive line coach Tim Drevno for a while. Later, Harbaugh and general manager Trent Baalke appeared comfortable joking with one another. The atmosphere was loose and it was clear everyone was happy to finally get onto the field.
The three-plus months without organized on-field sessions seemed much longer for a staff eager to get going. NFL rules governing the ongoing lockout prevent coaches and players from interacting over the phone, let alone on the field. But the period of forced separation could help in some ways.
"One thing this lockout has done that has been positive for us as an offensive staff is just being able to get the trust with the coaches and know each other and comb through our systems and really take advantage of each coach's talent before you present it to the players," Harbaugh said after three hours on the field.
Special-teams coach Brad Seely has a presence more commanding than I had anticipated. He looks like a former offensive lineman and he is one, having played at South Dakota State in the 1970s.
The 49ers ran punt prospects through a drill I hadn't seen before. Each return man held a football in his hands as a punted ball approached from about 40 yards away. The returner would throw the ball he was holding into the air, catch the punted ball and then catch the ball he'd thrown aloft.
Results were comical at times, with footballs bouncing off players.
Linebackers coach Jim Leavitt stood out among defensive staffers. He took the lead in demonstrating drills requiring players to run through padded obstacles, flip their hips as they rounded a corner, backpedal to another corner, maneuver sideways while crossing one leg over the other and then sprint toward a finish line where they started.
Harbaugh watched these drills with great interest and enthusiasm, cheering on some of the 15 players he knew from his days coaching them at Stanford.
Laughter broke out when quality control coach Ejiro Evero, a former player at UC Davis and camp invite with the
Oakland Raiders
, slipped and fell on the natural grass practice field while trying to keep pace with one of the prospects.
Defensive coordinator Vic Fangio isn't known as a yeller and that was evident. I heard him offering instruction a couple times, but others stood out more.
Harbaugh paid attention to the quarterbacks, and to the small stuff. He asked offensive line coaches if they were finished occupying an area he sought to open up for passing drills. He instructed equipment staffers to relocate a water station he thought stood too close to an agility drill's finish line.
Some of the bigger-name college invites didn't participate. Cal defensive lineman Cam Jordan did not attend. Eastern Washington running back
Taiwan Jones
, having already helped his stock by running blazing 40-yard times, attended but did not participate.
Nebraska's
Roy Helu
and Cal counterpart
Shane Vereen
competed hard and evenly drills for running backs. Harbaugh said he would have to watch the video to see which one came out ahead.
"I loved it, I absolutely loved it," Harbaugh said. "Those guys are highly thought of running backs that are going to go high in the draft. For them to come out here and compete, you could see they joy they had in competing, getting in the one-on-ones, getting in the seven-on-sevens, that got me fired up."
October, 14, 2010
10/14/10
3:09
PM ET
By
Matt Mosley
| ESPN.com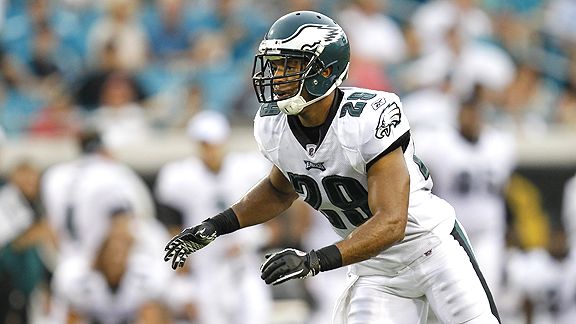 AP Photo/Brian GarfinkelRookie starting safety Nate Allen is making a smooth transition to the NFL for Philadelphia.
The
Philadelphia Eagles
gambled and lost when they allowed
Brian Dawkins
to walk following the '08 season. An organization that had the reputation of knowing when to fold'em with veteran stars was exposed at Dawkins' old position in '09, which helped contribute to a first-round exit in the playoffs.
The Eagles responded by selecting free safety
Nate Allen
with the 37th overall pick in the draft. No matter what we heard about former Colts cornerback
Marlin Jackson
, this was Allen's starting job to lose from the start. Oh, and that 37th pick just happened to be the compensation from the
Washington Redskins
in the historic
Donovan McNabb
trade.
Fortunately for the Eagles, Allen seemed almost amused by all the McNabb talk. He quickly bought into defensive coordinator
Sean McDermott
's philosophy that he was "1/11th" of the defense and didn't need to be a hero.
Allen, the former University of South Florida star who grew up in the Land of
Deion Sanders
(Fort Myers), has quickly carved out his own reputation as a playmaker in the Eagles defense. He was named the NFC's Defensive Rookie of the Month for September and he now has three interceptions through only five games. The last Eagles rookie to have three interceptions in a season was none other than Dawkins in 1996. And to thicken the plot, Allen intercepted McNabb in the second half of the Eagles' loss.
"I didn't really think about it when we were on the field," said Allen. "But when I got to the locker room and the media started talking about it, it was pretty cool."
Everything about this former high school quarterback seems pretty cool. He looked the part of an NFL starter from his first day on campus. He told me via phone Thursday that being baptized by fire against a loaded
Green Bay Packers
offense in Week 1 helped speed the maturation process.
"Seeing
Aaron Rodgers
, [Greg] Jennings,
Jermichael Finley
and
Donald Driver
on the same field was one of those early wake-up calls," said Allen. "These are some of the top guys in the league we're talking about."
[+] Enlarge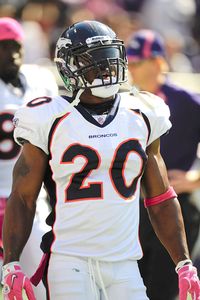 AP Photo/Jim MahoneyIn 2009, the Eagles missed the presence of Pro Bowl safety Brian Dawkins, who is now with Denver.
Allen has never met or talked to Dawkins, but he's studied him for years. Deion Sanders,
Barry Sanders
,
Emmitt Smith
and Dawkins were his favorite NFL players. And when asked what he liked about Dawkins' game, Allen sounded like a kid.
"I can't remember which game, but Dawkins picked up a receiver and suplexed him on the sideline," said Allen. "And when they were playing the Giants one time, he dove to tackle a receiver on the sideline and it looked like he was flying. He did a lot of things like that. He was a beast."
For the record, I think Allen was referring to a suplex that Dawkins put on former Redskins receiver
James Thrash
based on my exhaustive Google research. Eagles fans are hoping Allen can carry on that tradition. Veteran safety
Quintin Mikell
was asked to do too much last season while lining up next to rookies. You can tell that he's much more comfortable this season.
"He's been my guy," Allen said of Mikell. "He always has the answer when something comes up, and he's made this transition so much easier."
Allen's teammates at South Florida called him "Golden Boy" because he was one of the only players who avoided the fiery head coach Jim Leavitt's ire (Leavitt was eventually fired for allegedly striking a player). I don't think Allen's reached that status with Andy Reid, but he might be headed that way.
"They said I was the coach's favorite," Allen said sheepishly. "I thought I got my fair share of criticism, but my teammates didn't agree with me."
Allen attributes his maturity to his parents, Jackie and Darlene Allen. Jackie, 6-8 according to his son, played professional basketball in France and now coaches basketball and heads up security at a middle school in Fort Myers. Darlene is a business and typing teacher at Allen's alma mater, Cape Coral High School.
"I was raised in a Christian home and I was taught to put the Lord first in everything," said Allen. "They told me to know what my priorities were from an early age."
Allen writes his favorite Bible verse, Philippians 4:13, on his wrist tape before every game. But Allen actually carries two good books with him on road trips. Folks in the Eagles organization have said it's almost comical how often Allen studies his playbook.
"I'd go back to my room during training camp at 9 [p.m.] or 9:30 and try to study until 11," he said. "It's pretty remarkable how complex it is compared to what we did in college, so I needed to put in the time."
And so far, final exams are going pretty well.
NFL SCOREBOARD
Thursday, 10/16
Sunday, 10/19
Monday, 10/20
WEEKLY LEADERS