June, 24, 2010
6/24/10
9:00
AM ET
Notable players:
Charley Trippi, Elmer Angsman, Paul Christman, Pat Harder, Stan Mauldin, Chet Bulger, Billy Dewell, Mal Kutner, Boris "Babe" Dimancheff, Jeff Burkett, Marshall Goldberg
[+] Enlarge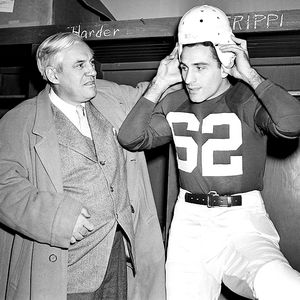 AP PhotoCharley Trippi, right, signed a four-year contract to play for Jimmy Conzelman before the season began.
Analysis:
The Pro Football Hall of Fame describes Jimmy Conzelman as a "newspaper publisher, playwright, author, orator, actor" -- and the only head coach to win an NFL championship with the Cardinals. (The team was based in Chicago from 1920-59. It played in St. Louis from 1960-87.)
Conzelman's brilliance as a coach shined through before and during the Cardinals' 28-21 victory over the
Philadelphia Eagles
in the 1947 NFL championship game. Conzelman initially refrained from reporting the Eagles for illegally filing down their cleats to better cope with the icy conditions at Comiskey Park. Conzelman instead reported the Eagles on a player-by-player basis, and only after Philadelphia had made significant gains. Officials wiped out the gains and penalized the Eagles, forcing players to leave the field to replace their equipment.
The Cardinals had addressed the footing issue by changing into sneakers before the game. Angsman scored twice on 70-yard runs. Trippi scored on a 44-yard run and 75-yard punt return.
Conzelman's resourcefulness reflected his varied background. His playing career included stints with Decatur, Rock Island, Milwaukee, Detroit and Providence. He had even owned the Lions for a couple of seasons in the 1920s, supposedly paying $100 for the franchise before returning it to the league. He retired as a player in 1930 and returned as a coach a decade later. But his record in three seasons with the Cardinals was only 8-22 when he stepped away following the 1942 season. The Cardinals brought back Conzelman four years later and he rewarded them by winning 27 of 37 games, counting playoffs and the only league title in franchise history.
The 1947 season produced tragedy in addition to triumph. A plane crash killed punter Jeff Burkett as he tried to rejoin the team following an appendicitis. Charles Bidwill, the team's owner since 1933, had died in April before the season.
Most impressive win:
The 1947 team needed a victory over the
Chicago Bears
in the final regular-season game to win the Western Division title. The Cardinals picked off Bears quarterback Sid Luckman four times in the 30-21 victory, but the offense might have provided the most important contribution. Christman's touchdown pass to Dimancheff on the first play of the game set a winning tone for the Cardinals. Dimancheff had missed every practice during the week while tending to his expectant wife, preventing him from practicing a play Conzelman was eager to run. No matter. The Cardinals isolated Dimancheff against Bears linebacker Mike Holovak, a speed mismatch Dimancheff used to his advantage.
Free-spending Cardinals:
The team landed Trippi before the season with a four-year contract worth a then-staggering $100,000. Trippi had been a Maxwell Award winner and Rose Bowl MVP at the University of Georgia, which retired his No. 62 jersey after a college career that later
landed Trippi a spot
on ESPN's list of 25 greatest college players. The move helped put the Cardinals over the top in 1947. Trippi ranked second on the team that season with 641 yards from scrimmage.
Honorable mention
2008:
The Cardinals came within a defensive stop of winning the Super Bowl against Pittsburgh after
Kurt Warner
found
Larry Fitzgerald
for the go-ahead touchdown pass late in the game. This team delighted in disproving skeptics and redefining an organization known for decades of futility.
1948:
A defeat in the championship game prevented this Cardinals team from challenging and probably overtaking the 1947 team as the best in team history. The 1948 team went 11-1 during the regular season as Trippi became a bigger threat.
1975:
Coach Don Coryell produced an 11-3 record thanks to an offense featuring Pro Bowl players in quarterback Jim Hart, receiver Mel Gray, running back Terry Metcalf, fullback Jim Otis and offensive linemen Dan Dierdorf and Conrad Dobler.
January, 3, 2010
1/03/10
7:13
PM ET
CHARLOTTE, N.C. -- I happened to run into
Carolina Panthers
personnel executive Mark Koncz in the press box late in Sunday's game.
Koncz had a very good question.
"Hey, has a running back ever not led his team in rushing yardage and gone to the Pro Bowl?'' Koncz asked.
It fits because that's the situation the Panthers are in. Starting running back
DeAngelo Williams
is going to the Pro Bowl. But backup
Jonathan Stewart
, partly because of injuries, finished the season with more rushing yards. Stewart isn't going to the Pro Bowl. Stewart finished with 1,133 yards and Williams with 1,117. They are the first pair of teammates to rush for 1,100 yards in the same season.
I didn't know the answer to Koncz's question, but I've got the resources to get it. I called our research people and they consulted with the Elias Sports Bureau and came up with the answer.
It has been done before, but there are some qualifiers involved. Since 1975, it's happened a handful of times and the most recent involves a guy who really wasn't a running back.
Tampa Bay's Mike Alstott, who wasn't truly a fullback either, made the Pro Bowl in 2002, 2000 and 1998. Alstott made it as a fullback and Warrick Dunn led the Bucs in rushing in 1998 and 2000 and joined Alstott in the Pro Bowl in 2000. In 2002,
Michael Pittman
led the Bucs in rushing.
The other instances came in 1993 when Pittsburgh's Barry Foster was selected over Leroy Thompson, in 1988 when James Brooks made it over Ickey Woods for the Bengals and in 1980 when Kenny King went over Mark Van Eeghen for Oakland.
You can also throw in St. Louis in 1975 -- sort of. Terry Metcalf first was selected to the Pro Bowl and Jim Otis was not. But Otis later was added to the Pro Bowl roster.
April, 6, 2009
4/06/09
9:10
AM ET
Posted by ESPN.com's Mike Sando

Lowell Cohn of the Santa Rosa Press-Democrat says Jay Cutler would have been "all wrong" for the 49ers. Cohn: "He is not a winner, has a losing career record: 17-20. Did you know that? You don't build a winner around a loser. He has a big mouth and he sulks. He has a reputation for being undisciplined and for coming unglued precisely when a quarterback is supposed to stay glued. Say what you will about [Shaun] Hill's limitations, he is supremely poised -- poise is his main virtue. The Broncos gave up on Cutler precisely because he's immature bordering on goofy and unstable."
David Fucillo of Niners Nation wonders if Dashon Goldson will stay healthy long enough to realize his potential as the 49ers' free safety.

Darren Urban of azcardinals.com checks in with the Cardinals' cheerleading tryouts because, hey, someone has to do it. This handy photo gallery is probably setting an NFC West offseason record for page views.
Revenge of the Birds' Andrew602 looks at some of the greatest fullbacks in Cardinals history. Ernie Nevers, Ollie Matson, Jim Otis and Larry Centers are part of the conversation.

Bernie Miklasz of the St. Louis Post-Dispatch says the Rams made a smart move in signing Kyle Boller as a backup quarterback. Looking ahead to the draft, Miklasz sees evidence the Rams will select an offensive tackle with the No. 2 overall choice. At the same time, can they really go into the season with Keenan Burton as a starting receiver?
Jim Thomas of the St. Louis Post-Dispatch says Boller's deal with the Rams, initially reported as a two-year contract, is really for one season.
Turf Show Times' Tackle Box examines the Rams' running backs while looking at available free agents and potential late-round draft prospects. The conclusion? "So, at this point, I really want the Rams to take a strong and long look at Warrick Dunn. I think with him in the fold, the Rams' offense becomes absolutely powerful. Plus, adding him takes away from our lack of experience at the WR position since you'd have the possibility of Steven Jackson, Warrick Dunn, and Randy McMichael running routes which would definitely keep defenses honest and should free up Donnie Avery deep."

Dan Arkush of Pro Football Weekly says Seahawks defensive line coach Dan Quinn is "very excited" about the team's versatility at defensive tackle. Arkush echoes the general feeling that Seattle will not seriously consider a defensive tackle with the fourth overall choice in the draft. The Seahawks have not drafted a defensive tackle among the top 20 overall choices since selecting Sam Adams eighth in 1994. The team has drafted five defensive linemen in the top 10: Steve Niehaus (1976), Jacob Green (1980), Jeff Bryant (1982), Cortez Kennedy (1990) and Adams. All but Niehaus played in at least 167 regular-season NFL games.