January, 15, 2014
1/15/14
8:25
PM ET
DETROIT --
Detroit Lions
president Tom Lewand said he would do something almost sacrilegious when it comes to someone who graduated from Michigan.
Tressel
If it meant the Lions would win, he would tattoo a "buckeye" on his forehead. As in an Ohio State Buckeye. The questions, of course, came in response to whether he would be fine with former Ohio State coach Jim Tressel on a potential Lions staff.
"If it helps us win, I will tattoo a Buckeye on my forehead," Lewand said.
New Lions coach Jim Caldwell had no staff announcements Wednesday afternoon during his introductory press conference and declined to speak about specific potential hires when meeting with the media afterward as well.
But Tressel's name has been linked to Caldwell since he became a plausible candidate for the Detroit job, especially since the two worked together during his time in Indianapolis when he was a replay-review consultant during Caldwell's final year with the team.
He didn't rule out hiring Tressel but didn't make it sound likely, either. Tressel is working as an executive vice president for student success at his alma mater, Akron.
"I'm not going to talk about staff, but I did say I think Tressel's perfectly happy doing what he's doing right now," Caldwell said. "Even though he worked with us in Indy, good friend as well, but I do think he's really pleased with where he is at this stage."
While Caldwell wouldn't discuss names of candidates or coordinators, Baltimore defensive backs coach Teryl Austin has been mentioned as a possible defensive coordinator and Rutgers offensive coordinator Ron Prince has been mentioned as an offensive assistant.
Lewand said Caldwell will meet with Detroit's current staff Thursday to discuss their futures. The goal is to have as many assistants in place as possible before next week's Senior Bowl in Mobile, Ala.
"It's an ongoing process right now," Caldwell said. "At this particular point in time, we're working and some things will start to take shape here shortly."
January, 15, 2014
1/15/14
12:05
PM ET
Jim Caldwell is the new
Detroit Lions
coach, and though there has been a lot of consternation about the hire, the Lions will succeed or fail based upon his decisions and his ability to develop players, notably quarterback
Matthew Stafford
.
Caldwell will meet with the media for the first time Wednesday, and based on what I've heard and been told about his interview on Jan. 3, he has a detailed plan for how he is going to fix both the Lions and Stafford.
Those are his two most important tasks as Detroit's head coach. If he is unable to do that, he'll join the line of Marty Mornhinweg, Steve Mariucci, Rod Marinelli and Jim Schwartz as coaches who couldn't quite reach the level the team wanted.
[+] Enlarge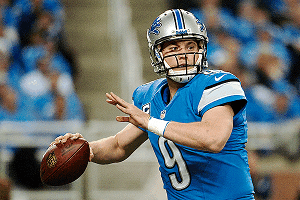 Tim Fuller/USA TODAY SportsDeveloping Matthew Stafford is one of the most important tasks facing new Lions coach Jim Caldwell.
If he can succeed, he'll have a chance to do something only one coach in the Super Bowl era, Wayne Fontes, has even come close to doing with the Lions: turn the team into a consistent winner.
Here's a look at five things Caldwell will have to do early in his tenure with the Lions.
1. Hire a competent staff:
He could have some names as early as his introductory news conference, but Teryl Austin is a name I've been told multiple times as a likely defensive coordinator. Bill Lazor was a name for offensive coordinator, but h has been hired by Miami. If Caldwell doesn't put together a strong staff, that will be an issue early on. Former Ohio State coach Jim Tressel also could end up on Caldwell's staff.
2. Make smart decisions about free agents with GM Martin Mayhew:
Dominic Raiola
and
Brandon Pettigrew
are two of the bigger free agents for the Lions. Raiola is a strong presence in the locker room, and it might be smart to bring him back for continuity on an offensive line that was one of the best in the league last season. Pettigrew could be interesting. He is an important cog, as was
Dallas Clark
, Caldwell's tight end in Indianapolis and with the Ravens this season. Of course, Clark is also a free agent, so Caldwell might push to get him to Detroit.
3. Matthew Stafford:
Part of the reason Caldwell was hired was to work with Stafford, with whom the coach met on his interview. Stafford, according to receiver
Kris Durham
, seemed to like Caldwell. That relationship will be critical to any success Caldwell has in Detroit. He believes he has a plan to fix Stafford -- both
Joe Flacco
and
Peyton Manning
are high on Caldwell's ability to help quarterbacks -- and the coach will have to be able to implement that plan as soon as possible.
4. Keep at least two current assistants:
This goes with the first point. John Bonamego did a really good job with special teams almost all season, including finding strong gunners in
Don Carey
and
Jeremy Ross
. Jeremiah Washburn turned an offensive line with two rookies on the right side into one of the top groups in the NFL, and players seemed to really like him. Jim Washburn and Kris Kocurek did a good job with the defensive line, and Matt Burke was strong with the linebackers. Consider at least some of them to keep some continuity.
5. Get out in the community:
This might sound silly, but Caldwell is not a popular hire with the Detroit fan base. By all accounts, he is a good, well-intentioned man, so by doing a lot of community outreach early on, he could turn some people who are currently not pleased about the hire. Of course, the best way to do that is to win games, but getting out in the community would be a strong start.
January, 14, 2014
1/14/14
9:01
AM ET
Another coach goes by the wayside for the
Cleveland Browns
.
It's impossible to know how seriously Ken Whisenhunt was considering the Browns or how serious a candidate he was in the team's eyes, but the bottom line is he accepted the
Tennessee Titans
job. The Browns either did not offer him the job, he did not take it or he didn't think it was worth waiting to see what happened.
A lot of signs seem to be pointing to the team badly wanting to talk to Denver offensive coordinator Adam Gase. They've interviewed several folks, are putting the word out they will be patient and Gase was the first person they requested permission to interview.
Gase has put off all interview decisions until Denver is out of the playoffs, and the Broncos play in the AFC Championship Game on Sunday. Even then, there's no certainty he'll interview. Gase's stock won't sink as long as he has
Peyton Manning
throwing passes.
Gase is 35 and has spent one year as a coordinator. His hiring is a risk, but at this point any hire would be a risk.
In the Browns coaching search Josh McDaniels has withdrawn from consideration and now Whisenhunt -- the most viable candidate with experience -- has chosen Tennessee. (The ripple effect from Whisenhunt's hiring could be that defensive coordinator Ray Horton joins him in Tennessee, although Whisenhunt could take another run at prying Keith Butler out of Pittsburgh.)
The Browns did interview Mike Munchak on Monday, and he is a take-charge kind of leader. But he had a mediocre record in Tennessee, and if the Browns choose to hire him they'd be hiring the guy Whisenhunt replaced.
Yes, the NFL world turns oddly sometimes.
Nobody has flat out turned the Browns down (that we know of). Gus Malzahn's name won't go away, Bob Stoops chose to stay at Oklahoma. Jim Tressel is sitting in Akron sounding like he'd love a chance.
Where does this leave the Browns as they search for a coach?
Same place they've been since the day the 2013 season ended: Looking.
January, 10, 2014
1/10/14
1:44
PM ET
When people ask why the
Cleveland Browns
aren't interviewing Jim Tressel to be the team's next coach, I give a simple answer: I have no idea.
There really is no reason
not
to interview Tressel.
Tressel
Unless you have eliminated winning coaches who have proven they can win at several different levels who grew up in the city where the Browns' facility is located.
No reason those credentials should be included. #sarcasmfont
Tressel gave an interesting interview to a Columbus radio station on Wednesday, during which he admitted being interested in coaching in the NFL, and saying you never know what might happen. Tressel did his usual thing of circling around a question and saying something interesting while not really answering it directly, so it made the interview a little quirky. But interesting just the same.
He works at the University of Akron, where Luis Proenza is retiring as president in the spring.
Tressel said he has had no contact with the Browns, and the word has leaked that the Browns will not interview him. Early in the search, that might be understandable, but at this point it's almost illogical not to consider him.
Tressel has won national championships at every level he's coached. He has never been in the NFL, but he spent a year in Indianapolis soaking things up. He fits the qualification of "proven winner" stated by Jimmy Haslam far better than some of the assistant coaches the Browns have interviewed.
In fact, remove the names from the resumes, and Tressel's would blow some of the others away.
Tressel grew up in Berea, Ohio. Lived there when his Dad coached Baldwin Wallace. That doesn't mean he would succeed, it just shows the connection between him and the Browns and their fans. He remains beloved at Ohio State and in the state of Ohio, even if an NCAA investigation cost him his job.
In Cleveland, he would bring some things the Browns badly need right now: Excitement, and credibility. There would be instant buy-in from the fans. That doesn't make a team a winner, but a guy who brings smarts, organization, leadership and wins might mean something. He also has an incredible sideline demeanor that oozes confidence and belief, and that matters.
The risk with interviewing Tressel is that if they don't hire him, the Browns become the organization that turned him down. That could be more negative PR.
But at this point, given the list of candidates and given Ken Whisenhunt is on the short list in Detroit, there is little reason to pretend Tressel doesn't exist.
He's right down the road for crying out loud.
January, 9, 2014
1/09/14
4:26
PM ET
Jim Tressel finally addressed the
Cleveland Browns
' head coach opening, and while he said he has had no contact with the team he also said: "It doesn't mean that I don't have any interest in the NFL."
Tressel, the former wildly popular and successful Ohio State coach, is a vice president at the University of Akron. The Browns have not contacted him, and have shown no interest in doing so. A quick rumor last week that Tressel would interview was quickly defused.
[+] Enlarge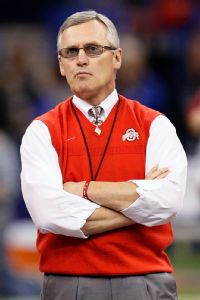 Kevin C. Cox/Getty ImagesJim Tressel coached 10 seasons at Ohio State and won a national title in 2002.
But that hasn't stopped fans who still like and respect Tressel from wishing he were a candidate for the Browns.
Tressel spoke on the Bishop & Rothman show on 97.1 The Fan in Columbus to promote an autograph appearance he will make at a Memorabilia Show called the Midwest Sports Spectacular.
"I have not had discussions with Cleveland," he said. "It doesn't mean that I don't have any interest in the NFL or anything. I don't want to paint that picture. But at this point in time I have not."
Tressel grew up in Berea, where the Browns train. He coached Youngstown State to four national titles before going to Ohio State, where he won one national title and played for two more. He left in the wake of an NCAA investigation and spent one year working for the
Indianapolis Colts
as the team's "replay coach" in the booth.
"I really did enjoy that year I spent at Indianapolis ... " he said. "I had never really experienced NFL from the inside. I always looked at it being from the college sector that it was different and maybe you couldn't have the impact on the young people like you could in college and whatnot. And really I learned that good coaches like Jim Caldwell and a lot of folks in the league not only win games and draw Xs and Os, but they really do a good job of helping people in the early portions of their lives. I enjoyed it."
Tressel talked about living in the moment and being happy at Akron, but also said he watches bowl games and the NFL playoffs avidly.
"I don't know if you love football how your blood couldn't boil if you're watching football at this time of year," he said.
He concluded his Browns-related discussion by saying there were plenty of job changes in college and the NFL.
"I think it's going to be an interesting time here in the next few weeks, next month," he said, "and I wouldn't count anything out."
The Browns have focused their search on NFL assistant coaches and coordinators. But the fans are well aware that Browns owner Jimmy Haslam talked about wanting to hire a "proven winner."
Those same have not forgot Tressel's 106-22 record at Ohio State,
especially these three.
June, 26, 2013
6/26/13
2:35
PM ET
Getting some questions, in light of
today's news
about
Philadelphia Eagles
coach Chip Kelly and the NCAA discipline decision regarding him and his former employer, the University of Oregon. Some people want to know whether Kelly might face discipline from the NFL, in light of the fact that former Ohio State quarterback
Terrelle Pryor
was suspended by the league at the start of his career due to lingering issues from his college career; Pryor's former Ohio State coach, Jim Tressel, was made to sit out some NFL games, too.
The short answer is: I doubt it.
The parallels simply aren't exact. Pryor was suspended five games by the NFL in 2011 for what commissioner Roger Goodell called "a deliberate manipulation of our eligibility rules." Goodell believed that Pryor willfully engaged in conduct that would render him ineligible for college football so that he could become eligible for the supplemental draft and circumvent an NCAA-imposed five-game suspension. So Goodell decided it was only fair to honor the NCAA's suspension and suspend Pryor for five games.
Tressel, who ended up resigning from Ohio State as a result of the eligibility scandal that involved Pryor and others, was hired by the
Indianapolis Colts
as a consultant prior to the 2011 season. But it was the Colts who decided to postpone Tressel's employment with the team until the seventh week of that season out of respect to the suspensions being served by the Ohio State players he left behind. The NFL announced that it approved of the Colts' decision, but it was the Colts' decision, not the league's.
Since neither Kelly nor any players have been suspended as a result of what went on at Oregon, the Pryor comparison does not apply. And since there's no chance the Eagles will suspend Kelly, the Colts' comparison does not apply either. Pryor and Tressel got suspended because of NCAA suspensions that had already been imposed, and decisions made by the NFL and one of its teams to respect those. There are no suspensions to respect in this case. I could be wrong, and the NFL has yet to comment, but my guess is Kelly's in the clear.
October, 27, 2011
10/27/11
12:06
PM ET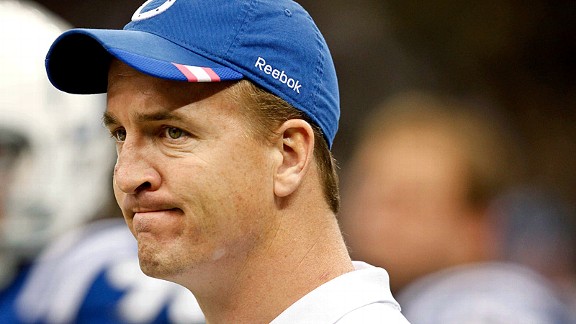 Derick E. Hingle/US PresswireThe Colts were clearly ill-prepared for life without star quarterback Peyton Manning.
It's ugly in Indianapolis.
At 0-7, the Colts are talking about sticking together, improving and giving themselves a chance to win.
But as they prepare for a trip to Nashville for a Sunday meeting with the Titans at LP Field, they are a severely broken team. Where they
would be
with
Peyton Manning
is an interesting hypothetical question, but we're dealing with realities. And those realities are the sort that will test the franchise's stitching -- seamwork that might not hold together when this is all over.
Who's at fault? Everyone's got a hand in it, but let's look at the Colts from a couple different angles.
A big cover-up:
It's not a secret that Manning has helped cover up a lot of flaws and allowed the franchise to under-address certain areas.
The Colts during the Manning era have never been much concerned with size, always valuing speed and instincts more. They've never worried about stocking special teams with any veteran backups, in part because they spend their money on stars, or adding a high-quality return man. They've settled for being below average running the ball. And they've won despite a general inability to stop the run.
Without their four-time MVP running the offense, all of those things are magnified in ways they've never been before.
It shouldn't be a surprise. They're built to have Manning at the controls, and he's been there all the time from the very beginning in 1998 until opening day this season.
There are maybe two teams and markets in the league that would not trade for what the Colts have done since 1999. Twelve consecutive playoff seasons followed by one complete dud? Where do I sign up for that?
[+] Enlarge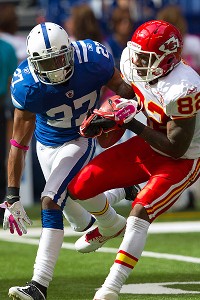 Michael Hickey/US PresswirePersonnel decisions by the Colts put cornerback Jacob Lacey, 27, in a prominent role in a secondary that has struggled this season.
Construct questions:
That said, regardless of a serious neck surgery to the star quarterback, what exactly was the plan in the secondary? Is an evaluation that leaves
Jacob Lacey
,
Terrence Johnson
,
Kevin Thomas
and
Chris Rucker
as cornerbacks No. 2 through 5 good enough? Absolutely not.
The Colts get credit for adding a couple outside veterans this season -- linebacker
Ernie Sims
and defensive ends
Jamaal Anderson
and
Tyler Brayton
. But the drafting has dropped off.
Set aside the most recent class, as it's too early to judge.
The Colts drafted 41 players from 2005 through 2010. I count one star, safety
Antoine Bethea
, and two guys who can become stars, linebacker
Pat Angerer
and receiver
Austin Collie
(if he's working with Manning). Running back
Joseph Addai
is a good fit who does more than people think. And receiver
Pierre Garcon
and cornerback
Jerraud Powers
have been pretty solid starters.
Sure, the Colts drafted higher in the five years before. Still, those classes produced five guys who rank among the best players of their generation at their positions: tight end
Dallas Clark
, defensive ends
Dwight Freeney
and
Robert Mathis
, safety
Bob Sanders
and receiver
Reggie Wayne
. The next tier provided steady starters on the offensive line (
Jake Scott
,
Ryan Diem
) and linebacker (
David Thornton
).
That list is more than a third of a starting team, a big-time core. As those guys age or disappear, I'm not seeing a core in waiting.
Colts president turned vice chairman Bill Polian said recently on his radio show that they needed to have done better recently, particularly at defensive tackle and cornerback.
And there is a domino effect to the problem. Find Tarik Glenn's ultimate replacement at left tackle in 2007, and then you don't need to use your top pick in 2011 on
Anthony Castonzo
. Hit on
Donald Brown
in the first round in 2009, and
Delone Carter
might not be necessary in the fourth round in 2011.
The Polians:
Bill Polian has been pulling back and yielding responsibility to his son, GM Chris Polian. (Chris politely declined to be interviewed for this piece.)
We don't yet have much tape on Chris Polian, so to speak. Bill Polian is a good talent evaluator who's had success in three NFL stops and has done well to build a team Manning has won with. But Bill Polian has also overseen those recent draft drop-offs.
His strong-willed personality is part of what has made him good at his job, and his big-picture assessment of important league issues is as intelligent as anyone's. He's got clout and influence that extends beyond Indianapolis.
Stylistically, he's a stubborn and demanding boss. There are indications from within that, without the steady stream of personnel hits he provided earlier in his tenure, some inside the building are tiring of the way things are run.
Polian talked recently about how
Curtis Painter
's play vindicates the team for having faith in him, but failed to mention that the faith was so strong that the team signed
Kerry Collins
to a $4 million contract shortly before the season started and handed him the starting job.
I suspect Bill Polian's got the backing of owner Jim Irsay for as long as he wants it. That would ensure safety for Chris Polian, too.
Bill Polian made the Manning-over-Ryan Leaf call in 1998. Because of the way Leaf busted, people forget that was a coin flip at the time, that Leaf was regarded as a big-time prospect just as much as Manning was. Polian called it correctly, built a team that's been to two Super Bowls and won one, got a new stadium built and greatly enhanced the value of Irsay's franchise.
Cryptic messages:
Further complicating things is Irsay, who clearly gets a kick out of being the center of NFL attention in the Twitter-verse but has undermined some of his people with it.
He announced
the team added Collins while coach Jim Caldwell was conducting his daily news conference. It did Caldwell no favors, as he appeared completely out of the loop.
Most recently, following the 62-7 loss in New Orleans on Sunday night, Irsay provided this gem:
"Titanic collapse, apologies 2 all ColtsNation...problems identifiable;solutions in progress but complex in nature/ better days will rise again"
A day later, he added:
"Just because you perceive problems on the horizon,and you possess solutions..doesn't mean they are avoidable and implementation is instant"
Solutions in progress, but complex in nature. That sounds to me like what would be written in big silver letters on the lobby wall of a consulting company on a TV show. Or a clever, but far-too-long name for a band.
It also sounds like change is going to come.

Caldwell
Coaching questions:
While Bill Polian recently said that adding Jim Tressel to the staff as a replay consultant was
Caldwell's idea
, it's a weird looking move that's made some of us wonder if a bigger role awaits the former Ohio State coach.
Caldwell does a nice job managing personalities, looking at things philosophically and staying on message. I believe he's a good teacher and his patient, quiet style is generally healthy for a team with a good share of veteran stars.
But he's got blind spots, too, and is hardly a strategy master. There are bound to be significant changes at the conclusion of what's sure to be a dreadful season, and he'll be at the front of the line.
If he does the best job we can remember at holding a terrible, ineffective team together, is that enough? I'd guess not.
Injuries:
This team gets hurt too much. There is a huge element of bad luck to it, of course. But is there something bigger at work as well?
Last season as quality players went down, Manning helped some role players like tight end
Jacob Tamme
and receiver
Blair White
emerge. This season, guys like linebacker
Gary Brackett
and safety
Melvin Bullitt
were lost for the season early, and there's been a revolving door on the offensive line because of injuries.
The Colts are constantly testing their depth and shuffling the back end of their roster. There is only so much shuffling a depth chart can handle.
I believe they need to attempt some change that might have a positive effect on their overall health -- whether it be adopting new training philosophies, altering how they evaluate prospects or changing personnel philosophies.
It's easy to ask them to figure out why they tend to suffer so many injuries and hard to find an answer. But some sort of shift is due, even as we know it comes with no guarantee of better health.
When the current approach is failing, it's OK to try something else. It's not admitting some sort of failure, it's merely part of a necessary process of evaluating and revising operations.
Suck for Luck:
Given a chance to draft Stanford quarterback Andrew Luck, I think the Colts would. Bill Polian can give Chris Polian the guy expected to be the NFL's next great quarterback, and Chris Polian's legacy would be built on a fantastic cornerstone.
But there is no losing on purpose to get in position for Luck. You think Wayne or Mathis is interested in such a master plan?
Said veteran center and team tone-setter
Jeff Saturday
: "'I'll steal a Robert Mathis quote: I ain't sucking for anybody."
September, 5, 2011
9/05/11
12:22
PM ET
Here is the statement on Peyton Manning's status from the Colts' communication department:
During the last week, the rate of improvement in Peyton's rehabilitation process slowed. Over the weekend Peyton experienced soreness in his back. It was originally thought to be a normal reaction to his rehabilitation regimen. When the soreness persisted, the Colts medical team decided to initiate diagnostic tests and to consult with a number of specialists around the country who have been involved in Peyton's case from the outset. That process continues. As a result of the most recent development the doctors have decided that Peyton will not practice. His participation therefore, in Sunday's game versus Houston will likely be doubtful. We will update his playing status as required by NFL policy as the week goes on.

At the conclusion of the diagnostic process, if there are any new developments in the prognosis which we outlined for Peyton at the start of training camp we will report them. As of now Peyton continues to deal with a complicated neurological recovery, the end date of which is unpredictable.

As was stated at the outset, it serves no useful purpose to speculate about hypothetical outcomes. When and if there are concrete medical facts to report we will do so.
Colts vice president Bill Polian released a statement regarding coach Jim Tressel:
After the announcement of Coach Jim Tressel's agreement to join the Colts as a game day consultant, questions were raised with respect to the equity of his appointment as opposed to suspensions being served this season by present and former Ohio State players.

Over the weekend Coach Tressel, Mr. Irsay, Coach Caldwell and I had a discussion of the issue. In addition, we had a conversation with league officials to apprise them of the details of Coach Tressel's employment and the issues we were reviewing.

At Coach Tressel's suggestion, and with Mr. Irsay's concurrence and support, we have decided to begin Coach Tressel's employment effective with our seventh regular season game. We have informed the league office of our decision and expect that they will be supportive of it.

We are very happy Coach Tressel will be joining us.
June, 3, 2011
6/03/11
11:02
AM ET
A couple days ago, we took a gander at whether an AFC East club would be interested in grabbing besieged Ohio State quarterback
Terrelle Pryor
in the supplemental draft.
Chances would be slim anybody would want him at quarterback.
But ESPN analyst Todd McShay offered
another perspective: What about as a wide receiver
?
McShay isn't convinced Pryor could develop NFL-level passing accuracy or interpretive skills despite tremendous speed and elusiveness. We saw how far that combination took
Pat White
.
But Pryor is 6-foot-6 and 233 pounds and is athletic enough to become a decent target.
McShay wrote for ESPN Insider:
Because of his size, I still think Pryor is a better prospect at wide receiver than quarterback at this point, and he would have been the No. 8 quarterback on my board -- behind Blaine Gabbert, Cam Newton, Jake Locker, Andy Dalton, Christian Ponder, Ryan Mallett and Colin Kaepernick -- had he chosen to enter the 2011 draft.

Pryor carried a third-round grade following last season (and remains in that area now) based mostly on his potential to move to receiver if he does not make significant progress as a quarterback early in his NFL career, and the odds are stacked heavily against him doing so.
As a couple readers mentioned, maybe Pryor could evolve into the type of player
Brad Smith
was for the
New York Jets
, a versatile player who can take snaps out of a pistol formation, return kicks or line up at receiver.
May, 31, 2011
5/31/11
4:00
PM ET
Living in Ohio since 2003, I had a chance to cover Ohio State football and former head coach Jim Tressel several times while working for the Columbus Dispatch. Although that's not enough to be an expert on Ohio State football, I probably have a better feel for Tressel than I do for any other college coach.
So as
Tressel resigned from Ohio State
this weekend following NCAA violations for players receiving illegal benefits, I wondered how he would fit in the NFL. After some thought and consulting with people who know the program better than I do, I came to the conclusion that Tressel wouldn't be a good fit.
[+] Enlarge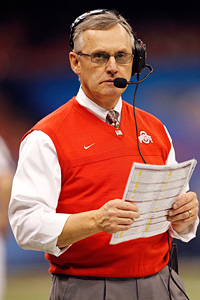 Matthew Stockman/Getty ImagesJim Tressel's coaching style may not be a fit for the NFL.
For starters, college head coaches rarely make a successful jump to the NFL. Bobby Petrino, Nick Saban, Butch Davis and Steve Spurrier are recent examples of failed attempts. It's a different game and a very different culture in the pros where coaches are more so facilitators than dictators. Many college coaches struggle not having that same power. You can't yank a player's scholarship and threaten to send them home, and many NFL players make more money than the coaches, often making the coach expendable.
One of Tressel's biggest assets -- recruiting -- also would be taken away. Ohio State was able to annually land some of the top talent in the country because Tressel and his staff were very good recruiters. Having better players than 90 percent of college football programs played a big role in Tressel's 106-22 record at Ohio State. The NFL playing field is much more balanced. The only recruiting that takes place is during free agency, and usually that comes down to which team is willing to pay the most money.
On the field Tressel was a conservative play-caller. Ohio State's offenses lacked imagination most seasons, despite Tressel having some dynamic players during his 10 years in Columbus. Tressel often described the punt as the most important play in football. In the pass-happy NFL, which is
shifting toward high-scoring offenses
, that philosophy could be a disaster waiting to happen.
Tressel is a great college football coach. But based on his track record, his style of coaching doesn't translate well to the NFL.
There is a good chance colleges will avoid Tressel for now until this most recent scandal fades. So if Tressel wants to immediately get back into coaching, and his only option is the NFL, his best fit would probably be as a position coach and not at the head of the team.
May, 31, 2011
5/31/11
10:07
AM ET
The
Arizona Cardinals
' running game should perk up this season if
Beanie Wells
revisits the hard-charging form
he flashed
during his rookie season two years ago.
The passion Wells showed Monday in defending his former college coach wouldn't hurt, either.
Wells, one of 11 NFC West players from Ohio State, took
Jim Tressel's scandal-induced resignation
hard. The third-year Cardinals runner called Tressel a "
great man
" who imparted life lessons upon his players. The way Wells sees things, if Tressel lied about his players' roles in the scandal, he did so only
out of honor
.
Wells punctuated his tweets with exclamation points, making good on his promise to "
go off
" while criticism against Tressel piled up.
"It's not his fault at all that he had a few go stray out of hundreds!!!"
Wells wrote
. "U check the success rate of the people that have been around him!!!!"
According to Wells, Tressel
stepped up
to help players from disadvantaged backgrounds, becoming
more than just a coach
to them.
Wells is among 10 current NFC West players from Ohio State, but the only one playing for the Cardinals.
All but
St. Louis Rams
linebacker
Na'il Diggs
and
San Francisco 49ers
cornerback
Nate Clements
played for Tressel. The NFC West players from Ohio State: Clements,
Troy Smith
,
Ted Ginn
Jr.,
Alex Boone
and
Thaddeus Gibson
from the 49ers;
Jay Richardson
from the
Seattle Seahawks
; Diggs,
Jermale Hines
,
Larry Grant
and
James Laurinaitis
from the Rams.
Laurinaitis reportedly used the term "
sad day
" to describe the events Monday. Smith was once
suspended for accepting money
from a booster when Tressel was coach.
July, 28, 2008
7/28/08
8:51
AM ET
Posted by ESPN.com's James Walker
Here is your one-stop shopping around the AFC North:
Morning take: Palmer thought he was looking forward to the USC-Ohio State game on Sept. 13 before. Now he probably cannot wait until it's over.
Ed Bouchette of the Pittsburgh Post-Gazette writes Steelers nose tackle Casey Hampton failed his running test Sunday and was placed on the training camp physically unable to perform list.
Morning take: This is not a good sign. There already is growing concern for Pittsburgh's aging defensive line, and now its longtime anchor comes into camp out of shape. Hampton becomes yet another Steelers lineman to watch closely this summer.
Aaron Wilson of the Carroll County Times provides Sunday's recap of the Baltimore Ravens' quarterback derby.
Morning take: Kyle Boller is showing his experience by playing it safe the first week of training camp. He doesn't take many chances, but Troy Smith and Joe Flacco have. It will be interesting to see if that strategy lands Boller the job.
According to Steve Doerschuk of the Canton Repository, Browns head coach Romeo Crennel believes defensive coordinator Mel Tucker is a rising star.
Morning take: That's high praise coming from Crennel, who has seen many coaches come and go. Tucker has a unique way of displaying high energy without being overbearing, and most importantly, players want to give Tucker their maximum effort.
July, 25, 2008
7/25/08
9:31
AM ET
Posted by ESPN.com's Mike Sando
Jim Thomas of the St. Louis Post-Dispatch has the good news for Rams fans: Pro Bowl left tackle Orlando Pace has been cleared to practice. That means Pace won't open camp on the physically unable to perform list, as coach Scott Linehan had suggested he might. Pace is coming off shoulder surgery and two injury-shortened seasons. I think the Rams are a potential playoff team if Pace plays a full season at a high level.
Bill Coats of the St. Louis Post-Dispatch has the latest on contract talks for Rams running back Steven Jackson, who was not immediately in camp. Jackson should be in good position to command a new deal given what new offensive coordinator Al Saunders thinks about him. Saunders knows what Jackson means to the offense. Jackson is scheduled to earn $1.7 million in 2008, the final year of his contract.
Doug Lesmerises of the Cleveland Plain Dealer tells how Ohio State coach Jim Tressel used his relationship with former 49ers owner Eddie DeBartolo Jr. to bring in Jerry Rice, Ronnie Lott, Joe Montana and Roger Craig as motivational speakers. What, no Elvis Grbac?
Danny O'Neil of the Seattle Times takes roll heading into Seahawks camp. Rookies Lawrence Jackson and John Carlson remain unsigned and absent. O'Neil also has a chart showing the length of recent contract disputes involving Seattle rookies.
Dave Boling of the Tacoma News Tribune breaks down the issues Seattle faces heading into camp, noting that the big ones sound quite familiar. Marcus Tubbs, the offensive line, etc. Boling's conclusion: "The Hawks have been to the playoffs nine times in their history & and six of them have been under Holmgren, including the last five straight. That's an example of redundancy that fans can live with." Full disclosure: Dave was best man in my wedding.
Brian McIntyre of the Scout.com network provides a pre-camp Seahawks roster breakdown in the format I used for years as a beat reporter. You might see similarly conceived roster analyses here.
Kent Somers of the Arizona Republic breaks down Anquan Boldin's beefs with the Cardinals. Says Boldin: "At this point, I'm not even interested in a contract. For me, it's been going on two years, and especially after last year, I was promised a deal would get done before the season. But the season's here and obviously that hasn't happened. I don't want a deal. People may think I'm being funny or saying that just to say it. But, for me, I'm just tired of it. Washed my hands of the whole situation. My agent has direct orders not to negotiate. So that's how I feel about it."
Scott Bordow of the East Valley Tribune thinks the Boldin impasse could negatively affect the Cardinals' season, given Boldin's role as heart and soul of the team. Bordow also says we shouldn't discount the possibility of an agreement if the Cardinals were to up their offer at some point in the future. I tend to agree only because Boldin has three years remaining on his deal, and much can change in three NFL seasons.
Mike Tulumello of the East Valley Tribune breaks down Steve Breaston's push for the No. 3 receiving job. We'll have a better idea how the race will shake out once third-round receiver Early Doucet puts on the pads at camp. I'll judge Doucet more by how he fares in exhibition games than how he fares in practices, particularly early in camp.
Tom FitzGerald of the San Francisco Chronicle was there when 49ers rookie Kentwan Balmer broke down in tears (of joy) after signing his rookie contract. I don't know much about Balmer, but this has to be a good sign. The guy obviously cares.
Clare Farnsworth of the Seattle Post-Intelligencer puts the 80-man roster limits in perspective, going beyond the obligatory comments from coaches lamenting the reductions. Farnsworth digs deep into his notes to recall a 1989 conversation with defensive end Jacob Green, who knew what smaller roster limits could mean for veteran players. Projecting ahead, I don't see the limits affecting Seattle as much as they might affect teams run by hard-nosed defensive coaches. Mike Holmgren already tends to limit the amount of contact in the interests of keeping players healthy.
Thomas Bonk of the Los Angeles Times reminds us how some were picking the 49ers as a sleeper team last season. Not this season, and that's a good thing for the 49ers. They need to prove it to themselves before the rest of us buy in.
Jamie Griswold of MyNorthwest.com provides a link to a Matt Hasselbeck interview featuring a telling quote from the Seattle quarterback regarding new line coach Mike Solari: "He's really done a nice job of bringing our running game together." Seattle fans should be encouraged when Hasselbeck directs optimistic thoughts toward a specific area, particularly when that specific area is the much-maligned Seattle ground game.
NOTE: Please drop additional links into the comments section if you think I've missed some good ones. I'm an RSS fiend but still can't get to everything.