NFL Nation:

Jimmy Buffett
June, 30, 2011
6/30/11
1:00
PM ET
»
Best of NFC
:
East
|
West
|
North
|
South
»
AFC
:
East
|
West
|
North
|
South
As part of Best of the NFL Week on ESPN.com, here are five bests for the AFC East:
Best tailgating, Ralph Wilson Stadium:
The crowd outside Sun Life Stadium provides the best scenery for male fans, but that's not what we're breaking down here. I know people who have no intention of walking through the turnstile for
Buffalo Bills
games but show up to tailgate with their friends in the same lot spaces they've occupied for years. The festivities start early and last all day.
[+] Enlarge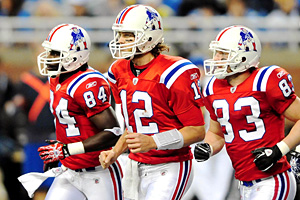 Andrew Weber/US PRESSWIREWith the Bills out of the picture this season, the Patriots have the division's top throwback.
Best mascot, Pat Patriot:
Slim pickings here. The
Miami Dolphins
have T.D. the Dolphin. The Bills have Billy Buffalo. The
New York Jets
have, uh, Fireman Ed, I guess? None of them is inspiring. But at least Pat Patriot is the team's classic helmet character come to life. And that leads us to ...
Best throwback uniforms, New England Patriots:
In past years, I would select the Bills and their standing red buffalo on the white helmet -- such a clean and classic look. But the Bills announced last week that they wouldn't use throwbacks in 2011 because they want to wear their new uniforms every game. The Patriots' retro duds are a close second in my book anyway. So they leapfrog to the front. I would appreciate seeing the green Jets' helmets for a game or two, though.
Best celebrity fans, Dolphins limited partners:
The Dolphins have a star-studded board room: Marc Anthony, Venus and Serena Williams, Fergie and Gloria Estefan. Jimmy Buffett couldn't get as involved because he has casinos in his business portfolio, but he was behind Land Shark Lager sponsoring the stadium in 2009. Other teams might have more famous fans, but none of them has a piece of the club.
Best team facility, New York Jets:
The Jets spent $75 million for their headquarters in Florham Park, N.J. It's by far the nicest stand-alone facility in the division and stacks up favorably around the league. The Patriots are the only AFC East club that makes its home within its home stadium. So I guess I could've subtracted points from the Jets for not having 69,000 seats. But their facility is stand-alone remarkable.
January, 1, 2010
1/01/10
4:06
PM ET
»
NFC Final Word
:
East
|
West
|
North
|
South
»
AFC
:
East
|
West
|
North
|
South
Five nuggets of knowledge about Week 17:
[+] Enlarge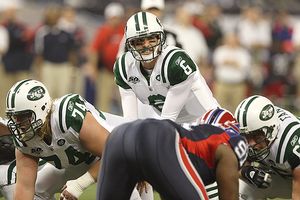 Al Pereira/Getty Images)The Jets don't want to rely on Mark Sanchez's arm to win against Cincinnati.
The more invisible Mark Sanchez is, the better he will be Sunday night.
With a victory over the Bengals, the Jets are in the playoffs. The more Jets head coach Rex Ryan and offensive coordinator Brian Schottenheimer can limit Sanchez's impact, the better. The Jets must run well because if Sanchez needs to throw to keep them in the game or come from behind, then they're going to be in trouble. The Sunday night forecast for East Rutherford, N.J., is for temperatures in the low 20s with 15 mph winds. Those are less-than-ideal conditions, especially for an erratic, interception-prone rookie from Southern California.
The Jets can send their fans home intoxicated with a victory.
As wrong as it was for the NFL to schedule the Jets at home for the Giants Stadium finale, at least the game will be meaningful. Because of the do-or-die implications for the Jets, the game was flexed to 8:20 p.m. for NBC's "Sunday Night Football." The combination of a late start and the significance of the farewell event have led the Jets to turn off the taps. No alcohol will be served inside the stadium to prevent fans from tearing the place apart in hopes of walking out with a souvenir.
The Patriots can afford to hang loose Sunday.
The Patriots won 11 games last year and couldn't qualify for the playoffs. This year, they can sit on 10 wins if they choose and not worry one bit about what else happens around the league. The Patriots clinched the AFC East last week and have very little to play for Sunday against the Texans. The Patriots cannot earn a first-round postseason bye and know they'll play host a wild-card team in Gillette Stadium next weekend.
Tom Brady
has declared he prefers to play the whole game, but there's a chance he and some others might not even make the trip to Houston. They might remain at the facility and get an early jump on preparations for a playoff game that could take place Jan. 9.
It would take a monster day, but Bills running back Fred Jackson could reach 1,000 yards.
Jackson's journey from Division III afterthought to NFL feature back is a remarkable one regardless of his final stat line. But a milestone season would be a nice finishing touch for one of the game's most underrated players. Jackson needs to rush for 150 yards against the Colts to hit quadruple digits. That's doable. Jackson rushed for a career-high 163 yards against the
Tampa Bay Buccaneers
in Week 2, and the Colts, who likely will be resting some key players, rank 21st in rushing defense.
Dolphins fullback Lousaka Polite didn't get snubbed for the Pro Bowl.
Maybe it's appropriate Jimmy Buffett is involved with the front office because Dolfans have turned into Parrotheads, involuntarily chirping Polite's name for the Pro Bowl. Polite had a fine season, but to say he got robbed is silly. Dolfans and some local media members are the only ones complaining. Polite has been waived or cut five times in six NFL seasons. He'll need to do more than have one good season for his peers to consider him. Meanwhile, Jets fullback
Tony Richardson
was part of the NFL's No. 1 rushing offense and blocked for his eighth 1,000-yard rusher since 2001. Richardson didn't make it either, and I don't hear anybody screeching over that.
September, 21, 2009
9/21/09
7:07
PM ET

Posted by ESPN.com's Tim Graham
MIAMI -- The stars and the humidity will be out at Land Shark Stadium.
Temperatures will be in the sticky mid-80s for the
Miami Dolphins
' home opener against the
Indianapolis Colts
on "Monday Night Football."
Dolphins owner Stephen Ross doesn't dare infringe on Bill Parcells' work in football operations, so Ross has concentrated on trying to gussy up the Dolphins' image with celebrity partnerships.
He has sold pieces of the team to singer Marc Anthony and wife Jennifer Lopez, singer Gloria Estefan and tennis stars Venus and Serena Williams (I wonder if Serena will give the pregame locker room speech?). They struck a deal with Jimmy Buffett's company for stadium naming rights.
The stars will arrive at the game and walk down an orange carpet along with famous Dolphins alums such as Dan Marino and Bob Griese.
We'll see if it helps energize the atmosphere for the Dolphins, who would be thrilled to knock off the Colts.
The Dolphins are coming off an uninspired season-opening loss to the
Atlanta Falcons
in the Georgia Dome. They committed four turnovers, gave up sacks and scored a late, meaningless touchdown.
The significance of a Dolphins victory would be greater than the disappointment of a loss. True, Tony Sparano's boys would begin their season an unappealing 0-2, but they did the same last year. That can be coped with.
But a victory over
Peyton Manning
and
Dwight Freeney
would do wonders for the Dolphins and kick start their season much more than any half-baked ideas to glitz up the front office.
August, 28, 2009
8/28/09
4:01
PM ET
Posted by ESPN.com's Mike Sando
News that the NFL is temporarily changing rules to accommodate the Cowboys' stadium design flaws raised a question: What if, say, the Cardinals had made a similar design mistake?
The jokes and slights would be flowing. "Only the Cardinals ..."
But when you think about it, the Cardinals aren't suffering from such problems. While they play on a state-of-the-art retractable field in a beautiful stadium, the flagship Steelers have waded around in muck after high schools use their field regularly each week.
While the Cardinals have managed bruised egos, advancing to the Super Bowl despite Anquan Boldin's complaints, the Broncos, led by esteemed owner Pat Bowlen, lost a Pro Bowl quarterback in his prime. Almost before the door could hit Jay Cutler on the way out, the Broncos transitioned into crisis mode with their best remaining offensive player, Brandon Marshall.
A couple years ago, it was the Eagles, another front-line organization, asking star player Brian Westbrook to return a few million bucks after an accounting error paid him twice.
Imagine if the Cardinals entered into an eight-month naming-rights deal with Jimmy Buffett. The Dolphins, another premiere organization, did just that.
Only the Cardinals? Not so fast.
May, 9, 2009
5/09/09
8:52
PM ET
Posted by ESPN.com's Tim Graham
Buffalo News reporter Jerry Zremski writes Jack Kemp's memorial service "was a vast coming together of Kemp admirers ranging from tourists to the Washington power set of the 1980s and 1990s."
Sports Illustrated's Don Banks predicts the Bills will be one of six new playoff teams in 2009.
NFL SCOREBOARD
Thursday, 10/2
Sunday, 10/5
Monday, 10/6