October, 9, 2013
10/09/13
12:15
PM ET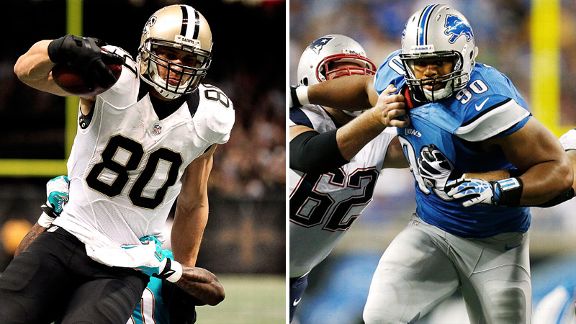 Getty ImagesUnlikely candidates Jimmy Graham, left, and Ndamukong Suh make their MVP Watch list debut.
Before you start, don't even start. The Watch doesn't know what to tell you. This week's list came out a weird mess, with pass-rushers and tight ends thrashing around in spots that always go to quarterbacks. Blame it on
Peyton Manning
, who's been raising the bar too high for some uber-reliable usual suspects to touch on their tippy-toes and has been making spots 2 through 10 feel irrelevant.
The Watch is aware that linebackers and tight ends and cornerbacks can't win the MVP award, but there are too many good-team quarterbacks playing poorly (see spots 8 and 10), and too many of the truly brilliant individual performances are happening on losing teams.
J.J. Watt
,
LeSean McCoy
,
Philip Rivers
: Bravo, but you're not making this list if your team has lost more games than it's won. And don't you even start,
Tony Romo
. Don't. Even. Start.
Yes, there are two Saints. There were actually three considered, because
Cameron Jordan
is playing defense as well as anyone and this was the week defense invaded the Watch. Down the road, someone will say to the Watch, "Remember that week when you had three defensive players, a tight end and two running backs on the list?" And the Watch will laugh, just once, then point excitedly over that person's left shoulder and run away really fast while his head is turned.
CMP: 150
ATT: 198
PCT: 75.8
YDS: 1,884
TD: 20
INT: 1
ANALYSIS
He threw an interception! It took five games and 20 touchdown passes, but Manning finally turned one over, in a close game against the Cowboys. And you know you were thinking, "He's cut! The Russian is cut!" And hearing the "Rocky" music in your head and picturing Paulie and the guy who used to train Apollo screaming and slapping their hands on the ring and Sylvester Stallone wrapped in the American flag shouting, "If I can change ... and you can change ... everybody can change!!!!" ... And then Romo threw the pick and nothing changed.
CMP: 140
ATT: 201
PCT: 69.7
YDS: 1,722
TD: 12
INT: 4
ANALYSIS
Brees is on pace to throw for 5,510 yards this season, which would be really special if not for the facts that (A) Manning is on pace for 6,029, and (B) Brees' pace would break his career high by only 34. Basically, Brees is every bit as awesome as always but still can't see Manning from where he is. This could explain those Super Bowl XLIV retrospective DVDs that keep showing up anonymously in Manning's mailbox every day with Metairie, La., postmarks and complimentary Tide to Go pens.
CMP: 97
ATT: 156
: 62.2
YDS: 1,144
TD: 7
INT: 2
ANALYSIS
The Watch remembers the quaint, old-timey 2012 debates about Luck versus RG III and Luck versus Colin Kaepernick and Luck versus Russell Wilson. The Watch will tell its grandwatches about them someday. The grandwatches will ask whether Robert Griffin III is any relation to Jackie Griffin, the first woman to quarterback an NFL team to the Super Bowl, and the Watch will say, "Yes, he is her father. He was Rookie of the Year in 2012. Drafted one pick after Andrew Luck." And the grandwatches will say, "Andrew Luck? You mean the guy they named the NFL MVP award after?" And the Watch will say, "Yep."
TACK: 22
AST: 1
SACK: 8.5
FF: 1
FR: 2
PD: 3
ANALYSIS
The Chiefs' defense is an MVP candidate convention, and Houston is the keynote speaker. Dontari Poe and Tamba Hali deserve mention, and Poe was on this list at one point this year. But Houston has 8.5 sacks for a total of 55 lost yards. He has three passes defensed, a forced fumble and two fumble recoveries. He reminds Andy Reid of what Trent Cole used to be like before Reid lost his mind and made an offensive line coach his defensive coordinator, dooming Cole to a midcareer bout of confused mediocrity. It's all better now for Andy, and Houston is a big reason why.
CMP: 101
ATT: 152
PCT: 66.4
YDS: 1,331
TD: 9
INT: 3
ANALYSIS
He is the only person on this list whose team does not have a winning record. He gets his spot because the Watch believes the Packers will have a winning record, and that when they do, it'll be because they were inspired watching Rodgers put out the candles on Bart Starr's birthday cake one at a time by throwing 80 footballs at them from a distance of 40 yards without leaving even one mark on the cake, and then an 81st football fixing the part where the bakery mistakenly wrote "Happy Birthday, Bert" in green icing.
TACK: 14
AST: 2
SACK: 2.0
FF: 1
FR: 0
PD: 1
ANALYSIS
Matt Stafford has been here, and so has Reggie Bush, but Calvin Johnson's absence from the Lions' offense Sunday made it clear that the real MVP of the Lions' offense is Calvin Johnson. The Lions are a good enough team to warrant a reach for an MVP candidate, and Suh is not even really a reach. He's one of the most fearsome individual defensive forces in the NFL today and a heck of a nice guy who gets a bad rep because of all the people who keep leaving their necks right there on the ground while he's stomping his foot way too aggressively after the play.
REC: 37
TGTS: 54
YDS: 593
AVG: 16.0
LNG: 56
TD: 6
ANALYSIS
Did you know Graham is leading the NFL in receiving yards? Serious, you can go look it up. Or you can take the Watch's word for it, because the Watch wouldn't lie to you about something like this. And besides, it's not real surprising because Brees throws everything to him. If you have Marques Colston in fantasy, you've been waking up some nights screaming from nightmares in which a cackling Brees keeps stealing your shoes and your iPad and your newborn son and throwing them to Jimmy Graham because nobody can cover him and it's just too much darn fun to stop.
ATT: 96
YDS: 410
AVG: 4.3
LNG: 43
TD: 3
ANALYSIS
The earlier reference in the Luck blurb notwithstanding, the Watch loves Russell Wilson and thinks he's a winner of the highest order. And if the Seahawks finish with the NFC's best record, Wilson is almost certain to be their MVP. But Wilson is in timeout this week because his numbers aren't MVP numbers and the Seahawks lost, and Lynch is the kind of guy who should get mentioned on a list like this because he's a dirty-work monster who can make his cuts off either leg and can't be killed with conventional weapons.
ATT: 78
YDS: 376
AVG: 4.8
LNG: 34
TD: 3
ANALYSIS
Let the record show that the 49ers' season turned around when they remembered they were one of the few teams in the league that's supposed to run more than it passes, and Gore was only too happy to help out. His yards-per-carry average is higher than those of Lynch, Adrian Peterson, Jamaal Charles, Matt Forte and C.J. Spiller, among others. And if you thought he was done, you can take comfort in the knowledge that, for the first couple of weeks, so did Jim Harbaugh. Now, though, they're humming.
TACK: 12
AST: 3
FF: 1
INT: 4
YDS: 12
TD: 0
ANALYSIS
Tom Brady is in timeout, too, as he really embarrassed himself the other night when the Watch caught him standing on Rob Gronkowski's lawn in a trench coat holding up a boom box that was blaring Peter Gabriel's "In Your Eyes." Gronk is back this week, which likely means Brady is back on this list soon. But Mike Reiss likes Talib for this spot after Talib wore out Vincent Jackson, Julio Jones and A.J. Green the past three weeks. Talib has four interceptions, and Reiss doesn't kid about these things, so it's Patriots defense for the No. 10 spot because it's allowing only 14 points per game, and what the heck, it's a Week 6 world gone mad.
.

NFL SCOREBOARD
Thursday, 9/4
Sunday, 9/7
Monday, 9/8