March, 18, 2014
Mar 18
3:00
PM ET
MINNEAPOLIS -- It's probably somewhat appropriate that
Toby Gerhart
's departure from the
Minnesota Vikings
came in relative obscurity, in the form of a three-year, $10.5 million deal the running back signed with the
Jacksonville Jaguars
last Tuesday while the Vikings were busy landing
New York Giants
defensive tackle
Linval Joseph
. Gerhart toiled behind
Adrian Peterson
for four seasons in Minnesota, and it became obvious last season that he was itching for a bigger role somewhere else.
His exit, though, is not insignificant. Gerhart saw time as the Vikings' third-down back the last several seasons, as the team was more comfortable using him as a pass-blocker than Peterson, and he stood out in two games toward the end of last season, as Peterson was either injured or hurting to the point the Vikings decided it would be wise to use both backs. Gerhart gained 91 yards on eight carries in the Vikings' Nov. 24 tie with the
Green Bay Packers
, and posted 89 yards on 15 carries in a Dec. 8 loss to the
Baltimore Ravens
, when he strained his hamstring on a 41-yard fourth-quarter touchdown that turned out to be his last carry in a Vikings uniform.
[+] Enlarge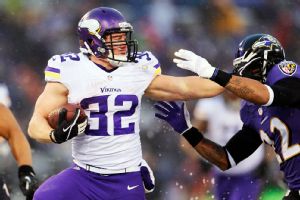 AP Photo/Damian StrohmeyerToby Gerhart is an insurance policy the Minnesota Vikings no longer have at their disposal.
While Gerhart likely would have never gotten the role he'd hoped for in Minnesota, he might have carved out a bigger role in the Vikings' offense next season. Peterson turns 29 on Friday and the Vikings could entertain the idea of dropping his workload slightly, with hopes of keeping him fresh and healthy.
Matt Asiata
, who saw 44 carries in the Vikings' final two home games with Peterson and Gerhart out, seems like the top candidate to slide into the No. 2 running back role at the moment. The exclusive rights free agent signed a one-year, $570,000 deal with the Vikings at the beginning of the month, and his agent, Ken Vierra, was optimistic about Asiata's prospects for 2014. The 5-foot-11, 229-pound back is built similarly to Gerhart and could be useful for some of the dirty work Gerhart was doing in Minnesota.
General manager Rick Spielman said last Friday the Vikings would look at running backs on the free-agent market and in the draft, too, and it might make sense for them to add another running back to the roster at some point. They still have practice-squad member
Joe Banyard
, and they re-signed training camp favorite
Bradley Randle
to the practice squad at the end of last season. Both could be effective in the passing game, where new offensive coordinator Norv Turner wants to use his running backs more, and Randle, who ran a 4.38 40-yard dash at Nevada's pro day last year, could be especially interesting as a change of pace. If the Vikings don't address the position from the outside, they might have a couple viable options already in their building.
They'll need to replenish their depth at running back on their active roster, though. Gerhart gave them a nice insurance policy for Peterson, and with the franchise player entering his eighth season in the league, a backup plan might be more vital than ever.
December, 22, 2013
12/22/13
6:30
PM ET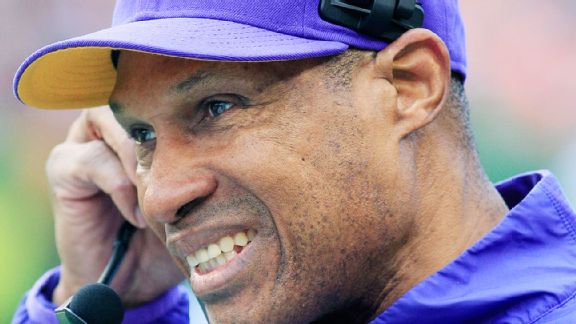 AP Photo/Tom UhlmanA 42-14 loss to the Bengals didn't help Leslie Frazier's case to remain the Vikings' head coach.
CINCINNATI -- The
Minnesota Vikings
had just finished their
10th and most lopsided loss of the season
, falling by four touchdowns to the
Cincinnati Bengals
at a time when such a shot could prove fatal to the chances of coach Leslie Frazier keeping his job. Running back
Adrian Peterson
-- who had said on Friday he looked forward to playing for Frazier "for the rest of my career," was even more pointed in his support of Frazier on Sunday.
After the season, Peterson said, he planned to communicate that support directly to ownership.
"I'm definitely not an individual that's looking for dramatic change. It would hurt if he leaves," Peterson said. "I try to say what I think, but there's a time and place for everything. With the season getting wrapped up, that time is coming. I'm going to give my input, see what they have to say and we'll go from there."
By that time, it might be too late for Peterson or anyone else looking to stump for Frazier. The Vikings need wins more than words to make that case, and instead of following up a blowout of the
Philadelphia Eagles
with another win over a playoff contender on Sunday, they got steamrolled, 42-14, by the Bengals in a game that guaranteed Frazier will have more seasons with double-digit losses (two) than double-digit wins (one) to his name as the Vikings' coach.
The loss, as much as anything, highlighted the glaring deficiencies on the Vikings' roster. Frazier can do little about his quarterback situation, where the inconsistent
Matt Cassel
has looked like the best of a weak bunch, and on Sunday, the coach's list of healthy cornerbacks included a converted safety (
Robert Blanton
), an undrafted free agent (
Marcus Sherels
), two practice-squad additions (
Shaun Prater
and
Robert Steeples
) and former second-round pick
Chris Cook
, who's been so unreliable that the Vikings were rotating him with Prater and Sherels on Sunday. That situation hangs more on general manager Rick Spielman than it does Frazier, but in light of how much the Vikings have apparently been doing their homework on coaching candidates, Frazier's fate might be sealed.
Citing multiple sources, ESPN NFL insider Adam Schefter reported on Sunday that Vikings ownership has told others around the league that it is planning to make a head coaching change after this season, though one team source was adamant that nothing has been decided yet. Vikings ownership has told others that it believes it presides over an attractive opportunity, one that will have another premium draft pick, along with the promise of a new stadium coming. The Vikings already have been doing their due diligence on potential replacements for Frazier, and their wish list is said to include Vanderbilt head coach James Franklin and Penn State head coach Bill O'Brien, among others.
I'd heard rumblings of candidates putting out feelers for the Vikings job as early as November, when the team was 1-7, and in reality, Frazier was in a tough spot last January, when ownership decided not to offer him a contract extension after a 10-6 season, choosing instead to pick up his 2014 option and effectively forcing him to repeat a season where the Vikings enjoyed a soft schedule, good fortune with injuries and the singular brilliance of Peterson during his 2,097-yard march on Eric Dickerson's record.
The odds of doing that were slim when the Vikings had so much uncertainty at possibly the two most important positions in the NFL -- quarterback and cornerback -- and while Peterson insisted after the loss that the Bengals weren't better than the Vikings, Frazier almost sounded at a loss for what he could do with his young secondary racked by injuries and not only Peterson, but backup
Toby Gerhart
trying to play through injuries.
"It's been tough, now. I'm not going to sit here and sugarcoat that," Frazier said. "Where we are in the secondary, and where we were today, having to get [running back]
Joe Banyard
up with Toby going down [after re-injuring his hamstring on the Vikings' first series], we tried our best to maximize the roster. ... The good thing about Joe Banyard, about Shaun, all those guys is, they're playing as hard as they can and giving you everything they have. But some of those matchups can be difficult, for sure."
Frazier said this week he was just making a "general comment" in a Sirius XM Radio interview when he praised the Rooney family for their patience with the
Pittsburgh Steelers
' coaches, but it's hard to believe he wasn't uttering the remarks without an eye toward his own situation. His status looked as bleak as ever on Sunday, when his players could only offer statements of support while the results pushed Frazier to the brink.
"We'll have some internal discussions, but I've got one more game in this season," Frazier said. "I'm looking forward to hopefully coaching that final game and getting us a win at Mall of America Field as we close out the [Metrodome]. That's where my focus will be."
December, 14, 2013
12/14/13
3:20
PM ET
MINNEAPOLIS -- The
Minnesota Vikings
hadn't made a decision on
Adrian Peterson
or
Toby Gerhart
's status as of Saturday afternoon, according to a source with knowledge of the situation, and it's possible the team will work out one or both injured running backs before Sunday's game against the
Philadelphia Eagles
. But of the several roster moves the Vikings made on Saturday afternoon, one could be an indicator they're expecting they could be thin at running back.
They activated running back Joe Banyard from the practice squad, giving them two healthy running backs before Sunday's game. The Vikings typically have three running backs (Peterson, Gerhart and
Matt Asiata
) and a fullback (
Jerome Felton
) active on game days, and in a worst-case scenario, they'd at least have Asiata and Banyard on Sunday.
Peterson and Gerhart both did some light work on Friday, and coach Leslie Frazier was particularly encouraged by how Peterson -- who sprained his right foot last Sunday against the
Baltimore Ravens
-- looked in practice on Friday. He said Peterson's gait looked good, adding the reigning NFL MVP was able to run and cut in some of the things the Vikings asked him to do. Peterson also said he felt he could manage his current level of pain in a game, but it remains to be seen whether the Vikings will risk further injury to Peterson as they're 3-9-1 and eliminated from the playoffs.
Gerhart, who replaced Peterson and strained his right hamstring on a 41-yard touchdown run last Sunday, said he felt good on Friday, though Frazier said the Vikings hadn't seen if Gerhart could accelerate quickly yet.
If the Vikings were left with Asiata and Banyard, they'd have the same running back tandem they did in their final preseason game. Asiata ran for 32 yards and a touchdown that night, while Banyard surpassed 100 rushing and receiving yards. The Vikings also signed diminutive running back Bradley Randle -- who had been with them in training camp -- to their practice squad this week.
As expected, the Vikings activated safety
Harrison Smith
from injured reserve on Saturday, and put cornerback
Josh Robinson
on IR to make room for Smith. Robinson, who has a fractured sternum, will see his season end after struggling early in the year as
Antoine Winfield
's replacement at slot cornerback.
The Vikings also signed cornerback Robert Steeples from their practice squad for some extra secondary depth with
Xavier Rhodes
doubtful and
Chris Cook
questionable for Sunday's game, and waived tackle
Mike Remmers
.
December, 10, 2013
12/10/13
11:05
AM ET
MINNEAPOLIS -- Ordinarily, Monday night's news that
Adrian Peterson
will
likely miss Sunday's game
against the
Philadelphia Eagles
wouldn't short circuit the
Minnesota Vikings
' offense. They have a capable No. 2 running back in
Toby Gerhart
, who ran for more than 500 yards in 2011 when Peterson tore his ACL on Christmas Eve and helped the Vikings to the brink of victory with a 41-yard touchdown run on Sunday in Baltimore.
But Gerhart strained his hamstring on that touchdown run and could be challenged to make it back for Sunday's game. Coach Leslie Frazier said on Monday that the Vikings would continue to be a run-first team, even if Peterson and Gerhart are both out or limited by injuries, but the situation could put the ball in the hands of some unfamiliar names.
Third-string running back
Matt Asiata
would be the first candidate to get more carries. Asiata beat out Joe Banyard for the final running back spot in training camp, partially because of his contributions on special teams, but he also played well in the Vikings' preseason finale against the
Houston Texans
. Asiata carried eight times for 32 yards and a touchdown that night, starting the game at running back and showing some power between the tackles. Banyard, who is still on the practice squad, could also be a candidate for some work against the Eagles; he posted 116 rushing and receiving yards in the final preseason game against the Texans.
The other name to keep an eye on might be fullback
Jerome Felton
, who's fond of reminding Peterson how much he carried the ball as a running back in college. He left Furman with the school's touchdown record, and has logged 42 NFL carries -- though he's never taken a handoff with the Vikings.
"Obviously [we have] Matt Asiata. Joe Banyard, he's on the practice squad right now, so I don't know if they'll bring him up or what," Felton said. "Myself, I've had experience running the ball in this league, and if I'm called upon I'll be ready."
We also saw receiver
Cordarrelle Patterson
take a handoff 32 yards for a touchdown on Dec. 1 against the
Chicago Bears
, so he could see a few carries against the Eagles. It's interesting to hear Frazier say the Vikings won't change from their run-first philosophy, even if their personnel is as limited as it appears it could be this week. But the Vikings also have a decision to make at quarterback with
Christian Ponder
cleared to return from a concussion;
Matt Cassel
threw for 265 yards in the snow on Sunday, but Frazier wouldn't announce a starter on Monday.
They haven't been the kind of team to lean heavily on their passing game, and with all the uncertainty the Vikings have at quarterback, they might not start this week. The alternatives, though, appear to be hoping Gerhart heals quickly or turning to an unusual set of options.
December, 9, 2013
12/09/13
4:45
PM ET
EDEN PRAIRIE, Minn. -- While
Minnesota Vikings
running back
Adrian Peterson
had reason to believe he'd avoided a serious foot injury on Monday, coach Leslie Frazier was dealing with plenty of other injury news, not all of it good.
The team placed tight end
Kyle Rudolph
on injured reserve with a fractured foot, ending his season five weeks after he got hurt against the
Dallas Cowboys
on Nov. 3.
John Carlson
, who has 32 catches this season and had done a solid job as Rudolph's replacement, sustained a concussion on Sunday in Baltimore.
Tight end wasn't the only position where the Vikings found themselves without much depth. Running back
Toby Gerhart
strained his hamstring on his 41-yard touchdown run on Sunday, and could be out or limited against the
Philadelphia Eagles
. If Peterson and Gerhart can't go, the Vikings would be left with third-string halfback
Matt Asiata
, fullback
Jerome Felton
or practice squad running back Joe Banyard.
The Vikings also lost cornerback
Xavier Rhodes
to a sprained right ankle; Rhodes was on crutches for the second straight day on Monday. The team is still trying to decide whether to activate safety
Harrison Smith
from injured reserve, though Smith seemed optimistic last week he could return from turf toe, and cornerback
Josh Robinson
is still out because of a fractured sternum. Depending on how many players the Vikings have missing from their secondary, they could add a defensive back from their practice squad or sign one this week.
Right guard
Brandon Fusco
also strained his knee on Sunday, and the Vikings decided to keep wide receiver
Greg Childs
on the physically unable to perform list for the rest of the season. Childs had torn the patellar tendons in both knees during training camp in 2012, and while he "did a good job in his returns, did some things we were glad to see," Frazier said, the Vikings decided not to risk bringing him back for the final three games of the season.
In one piece of good injury news for the Vikings, quarterback
Christian Ponder
has passed the NFL's concussion protocol and is ready to return this week. Frazier said the Vikings' coaching staff would make a decision on a starting quarterback for Sunday's game later this week.
Matt Cassel
started in relief of Ponder on Sunday, throwing for 265 yards in the loss to the Ravens.
August, 30, 2013
8/30/13
2:00
AM ET
The
Minnesota Vikings
got their first win of the preseason on the night they used their starters the least, in a
24-23 win
over the
Tennessee Titans
on Thursday night.
Christian Ponder
,
Adrian Peterson
,
Jared Allen
and others watched from the sideline, but
Marcus Sherels
returned the second-half kickoff 109 yards for a touchdown and
McLeod Bethel-Thompson
led an eight-play, 71-yard drive to set up
Blair Walsh
's deciding field goal with 1:38 left.

Minnesota finished the preseason 1-3.
Here's a rundown of the rest of the night:
In a short night of work, backup quarterback Matt Cassel looked as sharp as he has all preseason, directing an 11-play, 80-yard scoring drive in his only action of the night. Cassel was 3-for-3 for 48 yards on the drive, connecting with Rodney Smith on a long pass and hitting John Carlson over the middle for 19 yards. Cassel finished his preseason 22-of-40 for 317 yards, a touchdown and an interception.
Matt Asiata and Joe Banyard each helped themselves in their push for one of the Vikings' last roster spots, both scoring a touchdown. Asiata ran with purpose and physicality, carrying eight times for 32 yards and a 1-yard score, while Banyard played most of the second half and surpassed 100 all-purpose yards, posting 62 on the ground and another 54 through the air. If the Vikings are looking for a running back who could give them a change of pace, Banyard might find a spot on the roster. But let's not kid ourselves here: The Vikings aren't exactly in the market to give many carries to anyone other than Peterson, and with the reigning MVP on the roster, third-string running backs have to be able to do other things. That might be why Asiata sticks in the end; he has proven himself on special teams. The Vikings could try to stash Banyard on the practice squad, where he was last season.
Desmond Bishop probably had his best night of the preseason in his third game back from a torn hamstring, making seven tackles and pulling down two Titans players in the backfield on Tennessee's first drive. It's worth noting that Marvin Mitchell, who has started at weak-side linebacker all through training camp, didn't play on Thursday night, as the Vikings treated him more like a starter than a player who has much to prove. But Bishop might have done enough to guarantee himself a roster spot, at the very least.
While Sherels stole the show for the Vikings, Bobby Felder had a night he'd probably rather forget, spraining his ankle while defending a 50-yard pass in the third quarter. X-rays on Felder's ankle were negative, but he probably would have liked to finish his preseason with a stronger impression after playing well early.
Fullback Zach Line, who didn't have to do much lead blocking in college, provided a nice example of it on the Vikings' drive for the go-ahead field goal. He and DeMarcus Love combined on a nice kick-out block on Banyard's 19-yard run. Line didn't show the pass-catching skills he'd displayed early, but he's probably done enough that the Vikings would at least consider using a practice-squad spot on him.
Speaking of Love, he had one of the odder moments of the game in the fourth quarter, when he caught a tipped pass, stretched the ball forward as he dove and got up to signal first down after getting the ball to the marker. Considering Love is set to serve a three-game suspension for violating the league's performance-enhancing drug policy, Thursday night could have been his last game with the Vikings.
Playing most of the game, Bethel-Thompson finished 19-of-26 for 187 yards, a touchdown and an interception.
The Vikings will make their final roster cuts before Saturday's deadline, and they open the regular season on Sept. 8 in Detroit.
August, 29, 2013
8/29/13
11:51
PM ET
Observations and thoughts on the Tennessee Titans' 24-23 loss Thursday to the Minnesota Vikings at Mall of America Field:
Running backs Chris Johnson and Shonn Greene didn't play, which allowed for Jackie Battle to carry the load with the first-team offense. He was prominent in a game-opening drive that covered 70 yards and 18 plays, eating up 8:59 of the clock. Battle had 10 carries for 38 yards on the march, including a fourth-and-1 conversion where left guard Andy Levitre pulled and opened a hole on the right side of the line. Tennessee got only a field goal out of it all, but it did well to keep building the offensive-line-centered identity. That was it for the first-teamers on offense.
A couple other key players beside CJ did not play: receiver Nate Washington, cornerback Jason McCourty and defensive end Derrick Morgan. Nine others with at least minor injuries didn't play, either, including receivers Kendall Wright and Kenny Britt, running back Greene, linebackers Akeem Ayers and Zach Brown, defensive tackles Jurrell Casey and Sammie Hill, and safety Bernard Pollard.
Tommie Campbell's missed tackle on a third-down play inside the 5-yard line was a 4-point play, as running back Joe Banyard turned a screen pass into an 11-yard touchdown. Campbell also gave up a red zone catch to Rodney Smith and was flagged for defensive holding, which was declined. Nothing there gave Campbell any better claim to the starting job he has spent camp and the preseason trying to take away from Alterraun Verner.
Tight end John Carlson made a nice, 19-yard catch on the Vikings' first touchdown drive on the kind of play that gives the Titans trouble. Linebackers sucked up on a play-action fake, and Carlson found room between middle linebacker Moise Fokou and free safety Michael Griffin.
The second-team offensive line was, left to right, Byron Stingily, Fernando Velasco, Brian Schwenke, Chris Spencer and Mike Otto. At least one of those guys will be cut by Saturday evening. It's not going to be Schwenke or Otto, and it's probably not going to be Velasco.
Blidi Wreh-Wilson's had a pretty quiet preseason, but the third-round rookie cornerback showed something on the 109-yard kickoff return for a touchdown by Minnesota's Marcus Sherels. Wilson did well in late pursuit, and his dive for Sherels' feet just missed.
Jack Doyle had a bad third-down drop two weeks ago and was more sure-handed in this game in terms of being certain he had the ball before he even thought about running. He caught a sliding 2-yard touchdown in the back of the end zone from Ryan Fitzpatrick. But he also got nailed early in the second half as he ran with a pass and coughed up a fumble. He's a promising guy, but the Titans are going to be stretched with players they'd like to keep at receiver, on the offensive line and by their desire to keep a third quarterback. Doyle seems more like a practice-squad guy to me.
We've thought for a good while that if Darius Reynaud makes the team it will be as a returner, not as a running back/returner. His 11 carries for 56 yards look better than they were. It all came in the second half, against guys at the very back of Minnesota's depth chart. Battle and Jalen Parmele are looking better ahead of him, as they have throughout the preseason.
The Titans have depth issues after their top three safeties. Seventh-round safety Daimion Stafford collected two turnovers in the third quarter. He intercepted a really bad pass from McLeod Bethel-Thompson. Later, as two defenders jarred the ball free from tight end Chase Ford, Stafford scooped it up and ran with it for 39 yards.

NFL SCOREBOARD
Sunday, 2/2
WEEKLY LEADERS