August, 6, 2010
8/06/10
11:15
AM ET
By
Matt Mosley
| ESPN.com
ASHBURN, Va. -- As I walked around Redskins Park on Thursday, I kept bumping into folks who were headed to Canton, Ohio to attend Russ Grimm's induction to the Hall of Fame. For a team that leaned so heavily on its running game in the '80s and early '90s, it's amazing that it took so long for a member of those offensive lines to get elected.
[+] Enlarge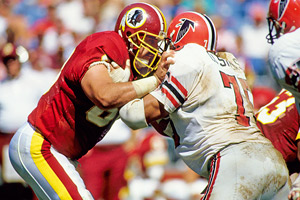 Manny Rubio/US PresswireRuss Grimm is the first member of the famed "Hogs" to be inducted into the Hall of Fame.
But Grimm was the correct choice to represent the beloved Hogs. He was one of the more colorful players in Redskins history and a dominant offensive lineman. I've had a lot of talks with Cowboys Hall of Fame defensive tackle Randy White over the years, and invariably a lot of those discussions involve the great rivalry with the Redskins. Most teams were forced to double-team White, and the Skins were no exception. But Grimm was one of the few players in the league who could neutralize White (at times) on his own.
There's a great story about how offensive tackle Mark May used to taunt White. It apparently frustrated Grimm to no end because he was primarily responsible for blocking White. According to fellow Hog Joe Jacoby, Grimm had finally heard enough and he lit into May in the huddle.
"I know you've got a stiff over there, but you keep it up, and I'm coming after
your
ass," Jacoby recalled Grimm saying.
Grimm was apparently referencing Cowboys defensive end John Dutton as the "stiff." But Grimm had immense respect for White, and he didn't want May to give him any added incentive.
Washington went to four Super Bowls in an 11-year span with coach Joe Gibbs, and the Hogs played an enormous role in that run. Gibbs wasn't the most colorful quote in the game, but he truly appreciated having memorable characters on his team. Some of the stories about the Hogs would have made coaches cringe in this era, but Gibbs knew better than to try to curb their appetite for fun.
Here's a story that Gibbs recently told
former running back John Riggins:
"The one thing I'll always remember about Russ and Joe and that crew, they would always get away from us a little bit in those afternoons when we had those Wednesday scrimmages in Carlisle [Pennsylvania]," said Gibbs. "And I got in the huddle one night, and I mean, the smell of beer was so strong that I backed out of there after calling the play.

"And in between plays, I turned to [offensive line coach Joe] Bugel and I said I've got to tell you something right now, somebody in there has had some beers, OK? And Bugel went and got those guys. I don't know if you remember this, I kind of turned my back and walked off for a few minutes, he got everybody in the huddle and said this better be the best practice of your life or you guys are gonna be running wind sprints for the rest of your life. So Russ goes: 'I plead guilty.'"
Those linemen embraced the "Hogs" nickname because it suited their reputation for not taking themselves too seriously. But when they stepped on the field, there wasn't a more dominant group in the NFL. It took too long for a representative to be voted into the Hall, but now that it has happened, Grimm's the perfect choice. And in a lot of ways, all of the Hogs will be enshrined during Saturday's ceremony.
And if you see White cringe when Grimm's delivering his speech, you'll know he's thinking about that "50 Gut" play from the NFC title game in 1983.
February, 10, 2010
2/10/10
11:16
AM ET
By
Matt Mosley
| ESPN.com
With former Redskins guard Russ Grimm being voted into the Hall of Fame last Saturday, we've heard a lot of great stories about him. But Redskins blogger Matt Terl pulled back the curtain on the voting process Tuesday
by visiting with Grimm's presenter, David Elfin
.
[+] Enlarge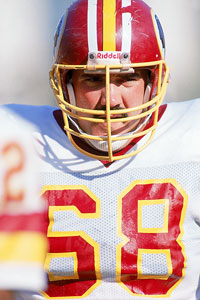 Bernstein Associates/Getty ImagesRuss Grimm received some lofty praise from former opponents.
The former Skins beat writer for the Washington Times (when it still had a sports section) was refreshingly honest about what led to Grimm finally making the final cut. And he talked about how difficult it is to quantify an offensive lineman's worth to a team. Elfin set out to talk to coaches and players who had faced Grimm over the years. And obviously the strategy paid off:
"What I chose to do this year was go to people who opposed Russ. I don't mean the voters, I mean the people who played and coached against him," said Elfin. "Because if they had good things to say, that would be more decisive than anything [Joe Bugel] or [Joe] Gibbs or anybody on the Redskins could say.
"And Randy White said that Russ Grimm was one of the best guards he ever faced. Bill Parcells said that Mike Munchak was the only one that he's ever seen in his time who was better than Russ -- and he was on the Patriots when they had John Hannah.
"Harry Carson said that Russ always gave him a headache and was the glue that held the Hogs together. And Matt Millen said basically that he was the smartest offensive lineman he had ever seen. So that was the basic gist. Those four people, I think, were pretty decisive."
Terl also asked Elfin to talk about who's next for the Redskins in the Hall of Fame:
"For me, if you wanted to name Redskins who are deserving, Chris Hanburger is number one," says Elfin. "Nine Pro Bowls, there's no question. I would say Len Hauss is second, with, like, seven Pro Bowls. And then you'd probably throw [Dave] Butz into the group with Jake and Pat Fischer and Larry Brown and ... off the top of my head, those'd be the lead guys."
The one name missing from that group in my mind is wide receiver Gary Clark. Who's next in your minds? As hard as this is to believe, defensive end Dexter Manley only went to one Pro Bowl. But he was named to the All-Pro team twice and had 103.5 sacks. That sack total is higher than Charles Haley's. Defensive end Charles Mann went to four Pro Bowls but he only finished with 83 career sacks, 82 with the Redskins. But he did play on three Super Bowl-winning teams.
November, 9, 2009
11/09/09
7:33
PM ET
Posted by ESPN.com's Matt Mosley
If you've watched ESPNEWS at all Monday, you've seen the footage of Redskins cornerback
DeAngelo Hall
on the Falcons' sideline surrounded by players and coaches during a confrontation. Hall, who says he arrived on the sideline to help teammate
LaRon Landry
, has accused Falcons coach Mike Smith of
coming "over there to put his hands on [Hall] in a harmful way."
The NFL is reviewing the altercation and I'm sure we'll be hearing about some fines this week. It all started when Landry was flagged for hitting quarterback
Matt Ryan
out of bounds. In a matter of moments, Hall arrived on the sideline and was surrounded by Falcons. After the game, he told reporters that he intended to contact NFL commissioner Roger Goodell to tell his side of the story.
On Monday, Redskins coach Jim Zorn had Hall's back, saying the video footage seemed to back up the cornerback's version of the events.
"I read what he said, and it looked to me on video it's exactly what happened," Zorn said. "We were penalized, and what he was trying to do was get LaRon off the sideline and LaRon was going and he got grabbed. I think there was emotion involved because their player just got hit out of bounds, the quarterback. That's a tough deal in itself. The emotion rose, and he was the only guy in there. I was really actually proud of DeAngelo for keeping his composure."
This Redskins team has been surrounded by controversy throughout the season. At least this gives them something to talk about other than their 2-6 record. I watched most of the first half of the Falcons game Sunday and that's as poorly as I've seen an offensive line play. Good for offensive line coach Joe Bugel for getting in his players' faces at halftime and inspiring them to have a better second half. It would've been easy to roll over in the second half, but the Redskins actually made a game of it.
It was a heroic effort by banged-up quarterback
Jason Campbell
, who's basically auditioning for other teams right now. I can't help but wonder how good Campbell could be if he worked under someone such as the Falcons' Mike Mularkey or the Chargers' Norv Turner.
October, 9, 2008
10/09/08
10:22
PM ET
Posted by ESPN.com's Matt Mosley
| | |
| --- | --- |
| | |
| | Rob Tringali/Getty Images |
| | Chris Samuels has made five Pro Bowl appearances. |
Just as the Pacman story was breaking Wednesday evening, I had the opportunity to spend 30 minutes on the phone with Washington Redskins left tackle Chris Samuels. Now in his ninth season out of Alabama, Samuels has played for five different head coaches.
He's been to the Pro Bowl five times, which is the second most for an offensive lineman in club history. Samuels credits Jim Zorn for not allowing the Redskins to lose their confidence after a miserable season opener in the Meadowlands.
"The Giants actually dominated us for four quarters," said Samuels. "Everyone had pretty much written us off. But coach Zorn's one of those people who never gets too low and never gets too high. He provided outstanding leadership during a tough time."
In the days following the 16-7 loss to the Giants, running back Clinton Portis was critical of the play calling and the offensive line's performance. Samuels said he and Portis were able to laugh about the criticism because "he didn't really mean it."
He said the turning point in the Redskins' season came when Jason Campbell connected with Santana Moss on a 67-yard touchdown pass in the fourth quarter against the Saints.
"Ever since then, we've been clicking and rolling," Samuels said.
Posted by ESPN.com's Bill Williamson
The latest on the Lane Kiffin situation in Oakland?
More of the same. The wait continues.
The word from Oakland is that Kiffin was in the Raiders building this morning and he was meeting with his staff. There is no official word on his firing. Yet.
But this is a minute-to-minute situation.
If Kiffin does get fired this week, he will go down as the second worst coach in recent Oakland history, in terms of wins and losses. From the fine ESPN research department, here is a look at the coaches with the worst winning percentage in Oakland since the AFL-NFL merger.

| | | | |
| --- | --- | --- | --- |
| Season(s) | Coach | Record | Win % |
| 1997 | Joe Bugel | 4-12 | .250 |
| 2007-08 | Lane Kiffin | 5-14 | .263 |
| 2004-05 | Norv Turner | 9-23 | .281 |
| 1988-89 | Mike Shanahan | 8-12 | .400 |
Still, Kiffin's team has made progress in the past two weeks despite the firestorm involving him. The Raiders are playing hard for him and Kiffin has strong fan support in Oakland.
All that matters, though, is when Oakland owner Al Davis decides if and when to make a coaching move.
August, 22, 2008
8/22/08
1:56
PM ET
Posted by ESPN.com's Matt Mosley
"Toward the end of the year last year, they were playing as well as any safety tandem in the league," safeties coach Steve Jackson said of LaRon Landry and Doughty. "The fortunate part is in the meeting room they are used to communicating with each other, so it's not like they don't see each other or talk to each other or communicate. ... One guy likes to talk and the other guy likes to listen. Fortunately, the one guy who likes to listen (Landry) is the one with the best hearing."
"Everybody is so close," Gibbs said. "At this time of the year, Coach Bugel is probably spending more time with the football team than he does with his own family, and so it's like family, you have two families . . . . The thing that you have there is that you get real comfort from all that are around you who care about you."