January, 10, 2011
1/10/11
9:35
PM ET
For those of you unfamiliar with what Cookie Gilchrist was all about, Paul Maguire has a story to share.
It was December 1964. While snow was being cleared from Fenway Park's field, the Buffalo Bills waited anxiously in a spartan locker room for their game against the Boston Patriots to start. They normally would've whiled away this time with card games or other diversions to ease the mood. Not on that day.
The Bills had to win to host the AFL Championship game six days later. The atmosphere was tense, the room quiet.
"Cookie stood up," Maguire recalled, "and said 'I'm going to tell you something. If we don't win this game, I'm going to beat the s--- out of everybody in this locker room.' "
Just then, Bills head coach Lou Saban and assistants Joe Collier, Jerry Smith and John Mazur unwittingly walked into their star fullback's escalating fury.
[+] Enlarge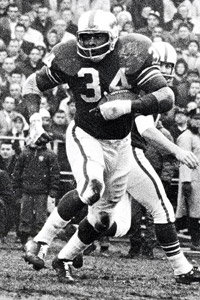 AP PhotoFormer Buffalo Bills star Carlton Chester "Cookie" Gilchrist died Monday morning in Pittsburgh. He was 75.
Maguire continued: "Cookie pointed and said, 'And I'm going to start with you, Coach. I'm going to kick your ass first.' I just sat back in my locker. I knew he meant it."
On the first play of the game, Gilchrist took a handoff from Jack Kemp and trucked helpless Patriots safety Chuck Shonta.
"Cookie ran right over his ass," said Maguire, the Bills' popular linebacker and punter. "Then he went up to Bob Dee, who was the defensive end, and says 'You're next.' Kemp came over the sideline and said 'We've got to get him out of there. He's going to kill somebody.' "
The Bills pummeled the Patriots and then shocked the San Diego Chargers to win their first of back-to-back AFL titles.
"He had so much character he brought out the best in all of us," Bills tight end Charley Ferguson said. "If there's ever such a thing as 110 percent, that's what you got from Cookie. There was no such thing as not being ready."
Carlton Chester "Cookie" Gilchrist died Monday morning in a Pittsburgh assisted living facility.
Cancer finally caught him at 75 years old, but not before he broke another tackle.
Gilchrist's hospice nurse found him dead in a chair Saturday. She phoned his great nephew with the somber news. Thomas Gilchrist arrived and saw his uncle slumped over. Nurses prepared Cookie's bed for him to be laid down one last time. Thomas carried his uncle's 140-pound body from the chair.
And then Cookie woke up.
"He was dead in the chair," Thomas Gilchrist said. "And 30 minutes later he was drinking a root beer with me."
Cookie Gilchrist's family and teammates were laughing at the thought Monday. It was symbolic of how he was: rugged, stubborn and usually unbeatable.
Gilchrist often is overlooked among the game's great running backs because his career was brief and his relationships strained.
Ferguson, who also played with Jim Brown and O.J. Simpson, called Gilchrist "one of the greatest backs to ever play the game."
"These young guys didn't have more of an opportunity to learn about Cookie and see him in action," Ferguson said while mourning at former Bills teammate Booker Edgerson's home in suburban Buffalo. "They may have heard something, may have heard very little, but if they ever had that kind of opportunity it would have meant something to them."
Gilchrist went straight from Har-Brack High School in the Pittsburgh area to the Canadian Football League, where he starred for six years. He played fullback, linebacker and kicked field goals for Hamilton, Saskatchewan and Toronto before he returned stateside with Buffalo.
He played only six seasons in the AFL, but they were brilliant. He's the fullback on the all-time AFL team. In 1962, he became the first AFL back to rush for more than 1,000 yards and also kicked eight field goals and 14 extra points for Buffalo. In each of his first four seasons, he was an All-Star and led the league in rushing touchdowns.
He spent three years with the Bills and one with the
Miami Dolphins
sandwiched between year-long stays with the
Denver Broncos
.
"He was so impressive," Maguire said. "He was the biggest fullback in the game and could run and block. When he first came to the Bills he was the wedge buster.
"On the football field, he was one of the nastiest sons a bitches I ever met in my life. There was absolutely no fear in that man."
Gilchrist's 31 rushing touchdowns (in just three seasons) still rank third in Buffalo behind only Simpson and Thurman Thomas. Gilchrist set single-game records with 243 yards and five touchdowns against the
New York Jets
in 1963.
Gilchrist was a battering ram on the field, but so headstrong that he gave coaches and administrators headaches.
He engaged in several disputes with Saban and Bills owner Ralph Wilson. One of the pivotal moments came in Buffalo's first game against Boston in 1964, a War Memorial Stadium shootout between Kemp and Babe Parilli that didn't involve much running.
"The offense got the ball and he didn't go into the game," former Bills tight end Ernie Warlick recalled. "Saban asked 'Hey, Cookie, why aren't you out there?' He said 'They're not giving me the ball, so why the hell should I play?' So he sat on the bench and told his backup [Willie Ross] to go in."
The Bills placed Gilchrist on waivers after that episode, but Kemp brokered a reconciliation. The club pulled him back for the rest of the campaign. The Bills traded him to Denver in the offseason for Billy Joe.
"He jumped off the curb every once in a while," Warlick said, "but he was with them team almost 100 percent."
Gilchrist was among a group of black players who boycotted the AFL All-Star game over racist treatment in New Orleans. The game was moved to Houston.
He turned down induction into the CFL Hall of Fame, citing bigotry.
"He was very outspoken," said Edgerson, a Bills cornerback for eight seasons. "He understood the economics and the monetary value of a player. He expressed himself, and that got him in trouble a lot.
"But the things he did back in the 1960s was mild compared to what these guys do today. There is no way in the world he would be considered a bad boy today."
The Bills waived Gilchrist during the 1964 season because of his contract demands.
"I wanted a percentage of the hot dog sales, the popcorn, the parking and the ticket sales," Gilchrist said in a
2007 interview with the Pittsburgh Tribune-Review
. "[Saban] said that would make me part owner of the team. I was a marked man after that."
Those familiar with the selection process claim Wilson has long refused to consider Gilchrist for the team's Wall of Fame. Gilchrist and Wilson didn't mend their fractured relationship until a phone conversation last week, Thomas Gilchrist said.
Wilson also had a lifelong feud with Saban, the only coach to win a championship for Buffalo, let alone two.
Saban, who died in March 2009, isn't on the Wall of Fame either
.
"It's very sad that it couldn't be patched sooner," said
Edgerson, added to the Wall of Fame in October
. "It doesn't make any difference whose fault it is, or who didn't come to the table. Obviously, it was bad blood because they have not been put up on the Wall, and everybody believes that they should have been regardless."
Said Warlick: "It is a shame that those two guys are not even considered to go on the Wall. It's really too bad because they both should be there."
What makes Gilchrist's absence on the Wall of Fame even more disappointing is that players such as him -- stars that burned brightly but briefly -- aren't properly appreciated, particularly by younger generations.
Those who watched Gilchrist play know how special he was.
"Anybody from that era would never forget him," Maguire said. "He was that kind of a guy. When you went on the field with him, you never even doubted that you were going to win because he wouldn't let you think any other way."
Gilchrist is survived by sons Jeffrey and Scott and daughter Christina Gilchrist and two grandchildren.
Calling hours will be held Wednesday at Ross G. Walker Funeral home in New Kensington, Pa. Funeral services will be Thursday.
Thomas Gilchrist asked that any regards be sent to 322 Mall Blvd. Suite 164, Monroeville, Pa. 15146.
August, 21, 2008
8/21/08
3:13
PM ET
Posted by ESPN.com's Bill Williamson
| | |
| --- | --- |
| | |
| | Al Messerschmidt/Wireimage.com |
| | The Raiders won two Super Bowls while Gene Upshaw was anchoring the offensive line. |
Before he wore a suit every day and became a champion for NFL players' rights, Gene Upshaw played the game himself.
Upshaw liked to remind folks about that once in a while in recent years, when former players took shots at him during the firestorm over former players' rights.
How could we forget?
The sight of No. 63 in the silver and black uniform, standing next to No. 78, Art Shell ...
Gene Upshaw was Oakland Raiders football of the 1970s. He and Shell were the face of the tough, gritty Raiders and major figures in the team's rivalry with the Kansas City Chiefs and Denver Broncos in the old, wild AFC West days.
Indeed, long before he was the executive director of the NFLPA, Gene Upshaw was a Raider. Eugene Thurman Upshaw Jr., who died suddenly following a bout with pancreatic cancer this morning at the age of 63, was a Pro Football Hall of Famer.
"I hope people remember that," said former Minnesota Vikings defensive end Carl Eller, himself a Hall of Famer. "Gene was the pilot of that great offense."
The Raiders selected Upshaw out of Texas A&I with the 17th overall pick of the first AFL-NFL draft in 1967. The Robstown, Texas, native became an immediate fixture on Oakland's offensive line until he retired in 1981. Six years later, he was inducted into the Pro Football Hall of Fame in Canton, Ohio. Upshaw was an 11-time All-Pro selection. He won two Super Bowls while with Oakland -- Super Bowl XI against Minnesota and Super Bowl XV against Philadelphia.
Because he was an end, Eller was never responsible for lining up directly opposite Upshaw, but they ended up in the same scrum plenty of times. Eller recalls prior to the Vikings' Super Bowl game against the Raiders that Upshaw was a constant mention in Minnesota's defensive game-plan meetings. Beating Upshaw was the key to beating Oakland and winning the elusive Super Bowl ring in Minnesota. The Purple People Eaters couldn't beat Upshaw, and the Vikings couldn't beat the Raiders.
"Gene was a nightmare for us," Eller said. "I remember Jim [Marshall] complaining about him all the time. He was a tough, rugged guy to play against."
The Vikings were lucky. They didn't have to play against Upshaw very often. It was the Raiders' AFC opponents who had to tussle with Upshaw on a regular basis.
In the 1970s, one of the Raiders' greatest rivalries was against the Broncos and their Orange Crush Defense. They were a menacing bunch. They crushed everyone. But Upshaw was a different story. The architect of the Orange Crush defense, Joe Collier, to this day says Upshaw was one of his team's toughest opponents. Collier calls Upshaw one of the greatest guards ever to play in the NFL.
"Gene was a load to play against," Collier said." The Raiders had a great running team back then and Gene and Art Shell were the reason for it. You knew the play was going to that left side. All you had to do was stop it. But rarely could you stop it. In a critical part of the game, they were going right over Gene and Art and they'd always get the first down. We had some knock-out, drag-outs with Gene over the years. He was a great player."
Upshaw and Shell will always be connected. Their coach, John Madden, called them Highway 63 and Highway 78. Shell's representative, Danny More, said that Shell and his family are devastated by the news. More said Shell last talked to Upshaw a couple of weeks ago and the two friends were making plans to get together.
"This is a friendship that has lasted more than 40 years," More said. "Art is crushed. When you think of Gene, you think of Art and vice versa."
More said the true measure of Upshaw's ability as a player was the lasting impression he made on his great opponents. More said legendary former Kansas City Chiefs coach Hank Stram told him that he used to draft defensive linemen simply based on if he thought they could hang with Upshaw and Shell. More also said former Pittsburgh great "Mean" Joe Greene told him that the Steelers knew their greatest challenge getting to the Super Bowl was to get through Upshaw and Shell.
"Joe said no matter how good the Steelers were their great worry was that Oakland offensive line," More said. "Gene was the best. It's simple as that."
NFL SCOREBOARD
Sunday, 2/2
WEEKLY LEADERS