August, 27, 2012
8/27/12
10:40
AM ET
Five rookies are scheduled to start at quarterback in Week 1 this season.
The NFL has previously had no more than two rookie starters at QB on opening day since the 1970 merger, ESPN Stats & Information notes.
Seattle's
Russell Wilson
isn't quite the same as the other rookies scheduled to start in 2012.
Andrew Luck
,
Robert Griffin
III,
Ryan Tannehill
and
Brandon Weeden
were drafted in the first two rounds. Wilson lasted until the third, presumably because teams were skeptical about his relative lack of height.
Wilson will become only the sixth rookie since the merger to make an opening-day start at quarterback after entering the NFL as a draft choice taken in the third round or later. That note comes from Elias Sports Bureau. Wilson stands out from that list as well in that he won the job outright, unlike most of the others.
A quick look at Wilson and the other rookie quarterbacks since 1970 to start in Week 1 as third-round-and-later picks:
The chart breaks out Wilson and the five others for a quick look at their combined 20-36-1 record as rookie starters
November, 17, 2011
11/17/11
11:00
AM ET
The
Denver Broncos
have a key game against the visiting
New York Jets
on Thursday night. Denver has won three out of the past four games under new quarterback
Tim Tebow
. The Broncos have gone from a serious contender to win the Andrew Luck sweepstakes to a 4-5 team that is one game off the pace in the AFC West. Let's look at what Denver must do against the 5-4 Jets, who are 1-4 in the past five road games in the regular season:


Keep your options open:
Perhaps the Broncos are bringing the 1950s back, but as long as they continue to win with the option offense, it will continue to be used. Denver has been using the option (it even broke out the triple option Sunday at Kansas City) well under Tebow. It will be challenged Thursday night because New York coach Rex Ryan is known as a creative defensive coach. Still, Denver will give Ryan plenty of chances to stop it. According to ESPN Stats & Information, the Broncos gained 95 yards on 16 rushes at Kansas City. Tebow kept the ball four times for 31 yards while using the option. Tebow ran the ball nine times and passed it just eight times at Kansas City. According to Elias, Tebow became the first quarterback with more rushes than passes in a game in which the quarterback threw every pass for his team since 1974 when Buffalo's Joe Ferguson threw twice and ran 10 times in a game that was affected by high winds. According to ESPN Stats & Information, Tebow dropped back to pass on 14.3 percent of the Broncos' plays at Kansas City. It's the lowest percentage of drop backs by a team in a game since the start of 2008. Don't expect Denver to suddenly change course on a short week and have Tebow unleash 40 passes. The option offense should continue.
Keep on running:
Tebow's presence has made Denver a great running offense. It his averaging more than 200 yards on the ground in the past five games and has led the NFL in rushing in that time span. For the season, Denver is second in the NFL in rushing, averaging 158.2 yards per game. The presence of Tebow has enhanced the Broncos' running backs.
Willis McGahee
, who is enjoying a career resurgence at the age of 30 and in his first season in Denver, had 640 yards this season. He suffered a hamstring injury at Kansas City. But the Broncos hope he can be a factor. With
Knowshon Moreno
out for the year with a torn ACL, new backup
Lance Ball
will be given a chance to continue to impress. He had 96 yards on 30 carries against the Chiefs. Expect the Broncos to try to ram the ball down the Jets' throats. The Jets are giving up 116 yards on the ground per game, which is 15th in the NFL.
Doing it Fox's way:
This game will give the Broncos a chance to show a national audience they are improved under first year John Fox. He deserves a lot of credit for this turnaround. The Broncos are starting to play just the way Fox likes -- by running the ball and by stopping the run on defense. Denver's ownership has to be thrilled with the work Fox is doing with this young roster that is still very much rebuilding.
Hit Mark Sanchez:
The Broncos have become a strong pass-rushing team in recent games with
Elvis Dumervil
finally becoming healthy. Dumervil and rookie
Von Miller
are a nasty pass-rushing duo. Denver had four sacks and constantly harassed Kansas City quarterback
Matt Cassel
(who suffered a serious hand injury in the game) Sunday. Watch for the Broncos to try to unleash Dumervil and Miller -- who has eight sacks and who is a legitimate defensive rookie of the year candidate -- on Sanchez.
Secret weapon:
Denver punter
Britton Colquitt
has become a strong weapon for the Broncos in his second full season with the team. He has become particularly solid in pinning opponents inside their own 20-yard line. He pinned the Chiefs between their own 7- and 15-yard line four times in Week 10. Putting New York in poor field position will be critical in this game.
June, 24, 2011
6/24/11
8:37
PM ET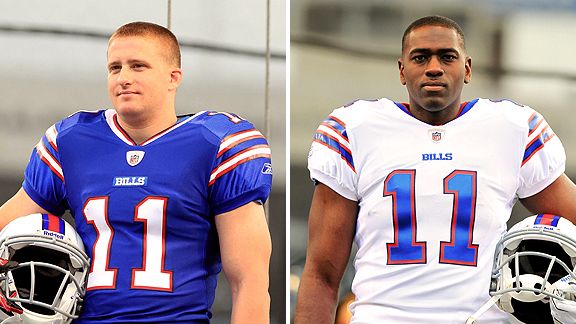 Kevin Hoffman/US PresswireArmy specialist Nick Stone (left) and Marine staff sergeant James McClendon modeled the new home (blue) and away jerseys during an unveiling ceremony.
The
Buffalo Bills
confirmed this week the reason they switched to red helmets in 1984 was
because quarterback Joe Ferguson was color blind
.
To curtail an interception rate that was soaring into the stratosphere, the Bills tried to separate themselves in a division rife with white helmets. Although the
New York Jets
were green at the time, the
New England Patriots
,
Miami Dolphins
and
Indianapolis Colts
all had white helmets.
"I always joke with Joe about that helmet change," Bills equipment manager Dave Hojnowski told BuffaloBills.com writer Chris Brown. "After he had left and gone to play for Detroit I told him, 'Boy, you left just in time because the next modification for the helmets was we were going to push a flashing yellow light on top.' Joe always thought that was really funny."
The Bills had some good memories in those uniforms, which were worn by a few future Pro Football Hall of Famers in four straight Super Bowls. But they have switched back to a uniform similar to those worn by Ferguson before they turned redheads.
In an unveiling ceremony Friday night in Ralph Wilson Stadium, the Bills officially introduced their new uniforms. They accidentally had been
leaked in April through an online trailer for the "Madden NFL 12"
video game.
"We'll definitely look good in them," Bills running back
Fred Jackson
told me a few weeks ago. He'd already seen the new uniforms. "It'll be a good change for us. I haven't met a guy on the team that was real enthused about the uniforms we did have. I can't think of one guy on our team that's not going to like the new ones.
"I'm looking forward to putting them on. Out with the old, in with the new. Let's start some new traditions."
November, 22, 2010
11/22/10
12:33
PM ET
Nearly 17 years ago, the
Buffalo Bills
pulled off the greatest comeback in NFL history. That's not just my opinion. The
Pro Football Hall of Fame
and
the NFL Network
have declared what transpired in January 1993 as the most epic rally the league has seen.
The Bills beat the Houston Oilers despite trailing by 32 points at halftime.
The stakes weren't nearly as high and the deficit not quite as deep Sunday. But the Bills pulled off a victory almost as astonishing in Paul Brown Stadium.
The
Cincinnati Bengals
led the Bills by 21 points early in the second quarter and 17 points at halftime. Then the Bills morphed into another team in the second half, scoring 35 unanswered points to turn a blowout defeat into a rout.
Some facts and figures pertaining to another epic Bills comeback:
Elias Sports Bureau notes it was the first time in NFL history a team at least seven games under .500 came back from a 21-point deficit to win on the road.
Also from Elias, the 18-point victory was the largest margin in NFL history by a team that trailed by at least 21 points.
It was the third time in franchise history the Bills won after falling behind by 21 points.
The 24 points Buffalo allowed in the second quarter were the third-most in club history. The 21 points Buffalo scored in the fourth quarter were sixth-most.
For the ninth time in Bills history, they had a 300-yard passer (Ryan Fitzpatrick), 100-yard receiver (Steve Johnson) and a 100-yard running back (Fred Jackson).
For only the fifth time, a Bills quarterback has two four-TD games in one season. Jim Kelly did it three times, Joe Ferguson once.
Buffalo's 49 points were their second-most of the past 19 years.
The last seven times the Bills have scored at least 40 points, it has happened on the road.
Strange stat to me: The Bengals haven't beaten the Bills since 1988.
Another strange stat: Even with all the great receivers Buffalo has had (Andre Reed, James Lofton, Jerry Butler, Eric Moulds), Johnson's three touchdown receptions put him only two behind the club record for most in a season. Bill Brooks had 11 in 1995.
"There's no quit in this team," Fitzpatrick said. "You really saw that in the second half. When you get that first win, then you start learning how to win, and everything starts falling into place. What a great team effort."
May, 19, 2010
5/19/10
1:39
PM ET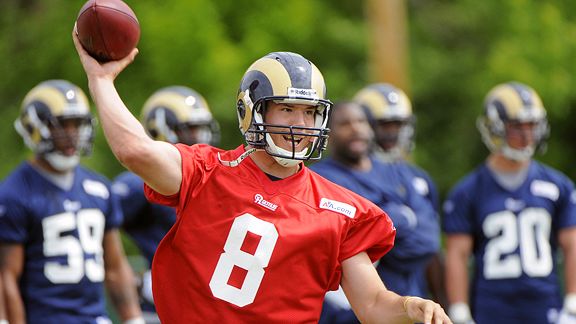 G. Newman Lowrance/Getty ImagesIt remains to be seen how the Rams will handle quarterback Sam Bradford during his rookie season.
The
St. Louis Rams
need not look far to see what can happen when an overmatched NFL team mishandles a quarterback drafted first overall.
The division-rival
San Francisco 49ers
are still trying to recoup their investment in 2005 first overall choice
Alex Smith
.
The Rams probably will not change offensive coordinators every year for the next five seasons, as the 49ers improbably did in Smith's first five, but they still need to be careful with rookie No. 1 overall choice
Sam Bradford
.
Early indications suggest the Rams would like to follow the plan Philadelphia took with
Donovan McNabb
back in 1999, when Rams offensive coordinator Pat Shurmur was coaching the Eagles' tight ends. Doug Pederson opened as the Eagles starter that season, allowing McNabb to ease into the starting role. McNabb got some reps off the bench before taking over as the starter in November.
In setting expectations for Bradford, I looked at production by rookie quarterbacks since 1970. The list featured several older players, some with experience in the CFL or USFL. I filtered out those players by focusing only on quarterbacks who were 25 or younger as NFL rookies. A quick look at them by games started:
16-game starters
There were only five, in part because the NFL season spanned only 14 games until 1978.
Peyton Manning
,
Matt Ryan
,
Joe Flacco
, Rick Mirer and
David Carr
pulled it off. All but Flacco, chosen 18th overall by Baltimore in 2008, were drafted among the top three overall choices in their class.
The ones who took the most sacks as rookies -- Carr (76) and Mirer (47) were the only ones to absorb more than 32 -- had the poorest careers. That might suggest the players had a hard time recovering from the beatings they took early in their careers. It also might reveal something about the quarterbacks' ability to process information quickly enough to get rid of the football before trouble arrives.
Offensive lines tend to take disproportionate blame for sacks, in my view. Quarterbacks are often responsible for them as well.
11- to 15-game starters
None in this group threw even 20 touchdown passes in a season (Manning and Dan Marino are the only rookie quarterbacks since 1970 to reach that barrier as rookies).
We should expect modest production from Bradford even if he starts most of the Rams' games.
Ben Roethlisberger
was a rarity among this group by completing at least 60 percent of his passes, but rookie completion percentage wasn't a reliable indicator for career success overall.
Some quarterbacks ranking lower played when teams ran higher-risk offenses and rules made it tougher to complete passes.
6- to 10-game starters
Hall of Famers Marino, John Elway, Terry Bradshaw and Dan Fouts fell into this group.
This group featured a solid middle class headed by McNabb,
Eli Manning
, Bernie Kosar, Jim McMahon, Neil Lomax, Steve Beuerlein, Pat Haden, Doug Williams and Rodney Peete.
There were a few disappointments -- Ryan Leaf, Cade McNown,
Kyle Boller
and the 49ers' Smith, who still has a shot at redemption -- but this seems like a reasonable number of starts for a quarterback drafted early.
Matthew Stafford
and
Josh Freeman
fell into this category last season.
3- to 5-game starters
Some high picks fell into this category, including Bert Jones, Vinny Testaverde, David Klingler, Tony Eason,
Rex Grossman
, Akili Smith,
Jay Cutler
, Tommy Maddox, Jim Everett and 1984 supplemental choice Steve Young.
This group produced relatively few true stars, however. Young was an obvious exception. Boomer Esiason was a good value.
In looking at the list, though, my sense is that a really good quarterback -- particularly one chosen early -- will start more than five games if he gets a chance to start at all in his first season.
2 or fewer starts
Hundreds of rookie quarterbacks failed to start a game and
69 did not attempt a pass
. The latter group featured
Tony Romo
and in-the-news quarterbacks
Kevin Kolb
and
Charlie Whitehurst
, but
Daunte Culpepper
, the 11th player chosen in 1999, stood out as a rare high draft choice among the group.
Unlike
Carson Palmer
, who sat out his rookie season as a high choice in Cincinnati, Bradford is going to play as a rookie unless he gets hurt.
It's reasonable to expect Bradford to start at least half the games, putting up modest numbers. He'll probably struggle some, and that is OK, but it's a bad sign if the Alex Smith comparisons apply by season's end. Smith tossed one touchdown pass with 11 interceptions as a rookie. He wasn't ready and his supporting cast gave him little chance. That's a bad combination.
November, 10, 2009
11/10/09
11:00
AM ET
»
NFC Stock Watch
:
East
|
West
|
North
|
South
»
AFC
:
East
|
West
|
North
|
South
Posted by ESPN.com's Mike Sando
Falling
1. Anquan Boldin, Cardinals WR.
The Pro Bowl wideout nearly overshadowed the Cardinals' victory Sunday by essentially calling out his head coach for not being "man enough" to tell him about his deactivation in person. On the field, Boldin is as manly as any wide receiver to play the game. In this instance, Boldin should have been man enough after the game to take his case directly to Ken Whisenhunt instead of reporters crowding around him in the locker room at Soldier Field. Don't get me wrong: I've got nothing against players popping off after games. It's good blog fodder. It's also bad form, particularly for a player with Boldin's credentials. The Cardinals had just improved to 4-0 on the road while taking a two-game lead in the NFC West. Their offense had just played its best game. That wasn't the time for an inactive player to hog the spotlight.
2. Alex Smith, 49ers QB.
Let the record show that Smith played a good game against the Titans. That was the word from coach Mike Singletary, anyway. The bottom line, of course, is that the 49ers lost another game with Smith as their starter, and the other team caught three of Smith's passes. The 49ers have lost both of his starts this season and seven of his last nine. When they needed Smith to rally them in the fourth quarter Sunday, Smith locked onto receiver
Josh Morgan
without enough regard for safety
Chris Hope
, who picked off the pass. Smith needs a victory over the Bears on Thursday night for Singletary's words of support to resonate with fans.
3. Jim Mora, Seahawks coach.
Seattle's performance in falling behind the Lions by 17 points at home suggested Mora's harsh words for the team failed to gain traction following a blowout defeat at Dallas a week earlier. That seems like a bad sign. Yes, Seattle is learning new systems on both sides of the ball. Yes, the team has dealt with significant injuries this season. That's life in the NFL. The Lions are also learning new systems. They are even breaking in a rookie quarterback (the Lions probably would have won that game if
Daunte Culpepper
had been the quarterback). The Seahawks were as healthy for this game as they've been all season. Falling behind 17-0 at home to the laughable Lions is simply inexcusable. Perhaps this is the week Seattle responds to Mora's challenges.
Rising
1. Kurt Warner, Cardinals QB.
With five touchdown passes against the Bears, Warner passed Ken Stabler, Steve DeBerg, Joe Ferguson, Bobby Layne, Norm Snead and Ken Anderson on the all-time list. He needs two more to reach 200 touchdown passes for his NFL career. Warner's fifth and final scoring pass against the Bears killed any chances for a Chicago comeback. Whisenhunt had prematurely handed over the offense to
Matt Leinart
, whose interception helped fuel a Bears rally. The Cardinals were on their heels when Whisenhunt sent Warner back into the game. Warner immediately connected with
Larry Fitzgerald
for a 13-yard gain. A penalty for leg whipping against left tackle
Mike Gandy
negated the play, but Warner had nonetheless proved his head remained in the game.
2. David Hawthorne, Seahawks LB.
Lofa Tatupu
's legacy as a middle linebacker remains secure in Seattle. He was a three-time Pro Bowl choice and the key addition to a defense that helped the Seahawks reach Super Bowl XL following the 2005 season. Hawthorne has somehow outperformed Tatupu when given chances this season. That's a tremendous credit to Hawthorne. With Tatupu on injured reserve, Hawthorne picked off two passes against the Lions. He had two sacks against Dallas the previous week. He had a 16-tackle game against the Bears earlier in the season. The Seahawks will need to find a place for Hawthorne beyond this season if he builds on what is already an impressive start to his career.

3. Cardinals tight ends.
You know the Cardinals' offense is functioning at a high level when tight ends
Anthony Becht
and
Ben Patrick
are catching touchdown passes in the same game. The Arizona passing game goes through Fitzgerald and the other wide receivers, but the tight ends could get more chances as the Cardinals embrace two-tight end personnel groups. The Cardinals averaged 6.3 yards per rushing attempt against the Bears when playing with one back and two tight ends. Similar groupings could become more common in the longer-term future if Boldin talks his way out of Arizona -- particularly if the tight ends show they can catch the ball.
NFL SCOREBOARD
Sunday, 2/2
WEEKLY LEADERS