May, 22, 2013
5/22/13
5:45
PM ET
The season-altering and potentially season-ending injury
Michael Crabtree
suffered Tuesday leaves the
San Francisco 49ers
with question marks at wide receiver.
Anquan Boldin
becomes the most productive healthy receiver available to the team.
Mario Manningham
and
Kyle Williams
are coming off injury-shortened seasons.
Marlon Moore
, signed from the
Miami Dolphins
, is the only other wideout on the roster with a reception to his credit last season.
Boldin (65 receptions), Manningham (42), Williams (14) and Moore (six) combined for 127 receptions last season. The chart compares their regular-season totals to the ones Crabtree produced.
Having Manningham and Williams healthy would change the dynamic. Second-year receiver
A.J. Jenkins
' development also becomes more important. He wasn't needed much last season and failed to catch a pass in three appearances. Coach Jim Harbaugh has expressed high hopes for
Ricardo Lockette
, who must prove his prodigious physical gifts can translate to consistent in-game performance.
Rookie fourth-round choice
Quinton Patton
is another option.
Chad Hall
and
Joe Hastings
are the other receivers on the 49ers' roster.
Crabtree has already undergone surgery for a torn Achilles' tendon suffered in practice Tuesday, according to ESPN's Chris Mortensen.
The 49ers have a couple roster-related options for Crabtree.
They could place him on the physically unable to perform (PUP) list when training camp opens, then leave him there while Crabtree rehabilitates. Crabtree would have to miss at least the first six games, which seems like a given anyway. From there, Crabtree could return to game action as late as Week 15 under
recently tweaked PUP rules
.
Teams have until following their sixth through 11th games to activate players to their 53-man rosters from their PUP lists, or else the players are lost for the season. Once activated, the player can practice for as many as three weeks before returning to game action. That route would seem to have appeal for the 49ers if they thought Crabtree could recover in time for a playoff push.
The 49ers could also place Crabtree on injured reserve, ending his season. Teams can designate IR players for returning later in the season if those players suffered major injuries after the start of training camp. In those cases, the players become eligible to practice after six weeks and play after eight.
March, 29, 2013
3/29/13
12:00
PM ET
»
NFC Eight in the Box
:
East
|
West
|
North
|
South
»
AFC
:
East
|
West
|
North
|
South
How does each team look at wide receiver and what still needs to be done?

Arizona Cardinals:
Larry Fitzgerald
,
Andre Roberts
and
Michael Floyd
comprise a solid top three.
LaRon Byrd
and
Kerry Taylor
are the only other receivers on the roster. First-year coach Bruce Arians has said receiver is one position he doesn't worry about. Floyd's continued development after an encouraging finish to the 2012 season will be important. The former coaching staff envisioned moving Roberts to the slot, with Fitzgerald and Floyd on the perimeter. That could still happen. Arians also plans to move Fitzgerald around the formation the way he moved
Reggie Wayne
in Indianapolis last season. Drafting a receiver for depth would make sense, but there's no need to chase one early. The Cardinals released veteran
Early Doucet
, who struggled with drops last season.

St. Louis Rams:
Chris Givens
,
Brian Quick
and
Austin Pettis
are the top three.
Nick Johnson
and
Raymond Radway
are the only other receivers on the roster. The Rams are eager to develop young players. Givens had five receptions of at least 50 yards during his 2012 rookie season, matching the combined total for wide receivers from every other team in the division. Pettis made a difference around the end zone. The Rams still must add to the position after letting
Danny Amendola
and
Brandon Gibson
leave in free agency. Having two first-round picks should give the Rams an opportunity to consider a highly rated prospect at the position. It's clear the team is committed to youth regardless. We should remember, too, that recently added tight end
Jared Cook
lines up at receiver quite a bit. He made all but six of his 42 receptions from the slot last season.

San Francisco 49ers:
Michael Crabtree
and
Anquan Boldin
are clearly the top two receivers.
Mario Manningham
is coming off ACL surgery, took a pay reduction recently and might not figure prominently this season. The 49ers, like the Rams, could use more contributions from a receiver drafted early in 2012.
A.J. Jenkins
, chosen 30th overall and three spots before the Rams selected Quick, did not catch a pass during his rookie season. What's ahead for him? The 49ers aren't saying much. No one is quite sure. Coach Jim Harbaugh recently sounded more excited about former practice-squad wideout
Ricardo Lockette
, whose size-speed combination sets him apart from most prospects. Lockette flashed ability with Seattle previously, but his career never took off with the Seahawks.
Kyle Williams
,
Chad Hall
,
Joe Hastings
and
Marlon Moore
are the other receivers on the roster.

Seattle Seahawks:
The addition of
Percy Harvin
changed the outlook for the position quite a bit. He and
Sidney Rice
appear to be the top two receivers, but
Golden Tate
is gaining momentum heading into his contract year. Rice and Tate each caught seven touchdown passes last season. Both averaged 15-plus yards per reception.
Doug Baldwin
needs improved health to factor as a slot receiver. Even then, opportunities could be scarce. The team thinks
Phil Bates
and former Cardinals receiver
Stephen Williams
have the potential to become contributors.
Bryan Walters
,
Charly Martin
and
Jermaine Kearse
are the other receivers on the roster. Drafting for the position would help for long-term planning given Tate's contract situation. Also, injuries have limited Harvin, Rice and Baldwin at times in recent seasons. Rice did stay healthy last season, however.
January, 23, 2013
1/23/13
10:00
AM ET
One year ago,
San Francisco 49ers
wide receiver
Michael Crabtree
voiced frustration over the opportunities available to him during an overtime defeat to the
New York Giants
in the NFC Championship Game.
Crabtree had finished that game with a single reception for 3 yards. No other 49ers wide receiver caught a pass that day.
"Sometimes you just gotta move the ball, man," Crabtree said from the losing locker room at Candlestick Park. "You gotta make plays. You gotta give people a chance to make plays."
Crabtree seemed to be blaming the play calling and/or quarterback
Alex Smith
. Mostly, he was frustrated after the most difficult defeat San Francisco had suffered in many years.
At the time, I blamed Crabtree's struggles more on the coverage Giants cornerback
Corey Webster
applied than on anything systemic. The way Crabtree has flourished recently with
Colin Kaepernick
at quarterback supports other theories.
Crabtree has 15 receptions for 176 yards and two touchdowns in two playoff games this season. He had five receptions for 28 yards and one score in two playoff games last season.
The chart compares San Francisco's overall production when targeting wide receivers in these playoffs versus the playoffs last season.
Having a more legitimate No. 2 receiver in
Randy Moss
has probably helped Crabtree. Injuries left the 49ers with Crabtree,
Kyle Williams
,
Brett Swain
and
Joe Hastings
as their only receivers in the NFC title game a year ago.
Having Kaepernick in the lineup seems to be working in Crabtree's favor. Crabtree has averaged an additional 29 yards receiving per game in Kaepernick's nine starts.
The 49ers' Super Bowl opponent, Baltimore, has been tough on opposing wideouts during the playoffs.
Andrew Luck
,
Peyton Manning
and
Tom Brady
completed 53.2 percent of their passes with three touchdowns, four interceptions and a 64.3 NFL passer rating when targeting wide receivers against the Ravens this postseason.
August, 16, 2012
8/16/12
1:35
PM ET
SANTA CLARA, Calif. -- One school of thought says the
San Francisco 49ers
got the most they'll ever get from quarterback
Alex Smith
last season.
What if last season was only the beginning?

That question ran through my mind while watching Smith fire passes on time and on target during a recent three-day stay at 49ers training camp. The answer became clearer every time Smith connected with newcomers
Randy Moss
and
Mario Manningham
, which was frequently. He appeared more accurate, more confident and more in command than I can ever recall seeing Smith during a training camp -- or any other time, for that matter.
"He's letting the ball go, he's making the right decisions and he's not afraid," tight end
Vernon Davis
said. "He's playing ball, he's having fun."
Of course, it figures a quarterback would look better throwing to proven targets than when operating without them.
Michael Crabtree
,
Kyle Williams
,
Brett Swain
and
Joe Hastings
were the only wideouts available to Smith in the NFC Championship Game last season. Williams, now fighting for a roster spot, ranked second among the 49ers' wide receivers with 20 catches during the regular season.
[+] Enlarge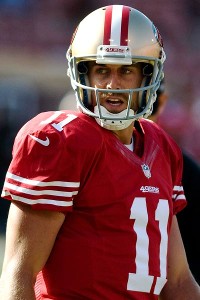 Ed Szczepanski/US PresswireThe 49ers brought in more weapons for Alex Smith to work with on offense.
Life for Smith is better now.
"If you watch our team last year, we were kind of one-dimensional as far as offense," left tackle
Joe Staley
said. "The passing game went through Vernon and Crabtree. The running game was Frank [Gore] and Kendall [Hunter]. We've added a lot of talent. The more weapons you have, the more versatile you can be. Our coaches are very creative."
Smith proved last season he could be a trusted extension of the 49ers' coaching staff. He threw five interceptions in 445 pass attempts, playing to the team's strengths on defense and special teams.
Smith has what offensive coordinator Greg Roman calls a "unique" ability to grasp a game's dynamics in real time for the purposes of managing risks. On the surface, that sounds like a creative way to avoid slapping the dreaded "game manager" label on a quarterback with limited skills. The 49ers don't see it that way at all. They think Smith has demonstrated all the intangibles great quarterbacks should possess: mental and physical toughness; an off-the-charts football IQ; a level head no matter the circumstances; a passion for preparation; and the ability to perform in the clutch. They see him leading an offense that wasn't as bad as advertised, one that should only get better.
"Without an offseason here, we finished 10th in the NFL in scoring [actually 11th] and fourth in time of possession," Roman said. "That is in spite of being poor on third down, which is pretty remarkable.
"We're going to be opportunistic, strike when we feel it's time to strike," he said. "The other part of it is, when we make decisions on offense, it's big picture. The offense, defense and special teams are all intertwined. But we have an offseason under our belt now and are working through our second camp together. We certainly expect a lot of ourselves this year."
THREE HOT ISSUES
1. Crowded offensive backfield.
Frank Gore
is going to get his carries.
Kendall Hunter
,
Brandon Jacobs
and
LaMichael James
will be competing for what's left over. Their roles haven't solidified, but Hunter has enjoyed a tremendous camp. He caught my attention this week by hauling in a deep pass up the sideline, the type of play running backs rarely make. Hunter is going to play. James, as a rookie, figures to need time.
Jacobs, signed from the
New York Giants
, has been getting work in short-yardage situations, an area in which
Anthony Dixon
struggled in the postseason.
After collecting two Super Bowl rings in five seasons with Kevin Gilbride as his coordinator, Jacobs has been blown away by Roman's ability to showcase each player's individual strengths. That is a recurring theme among 49ers players.
"That is what this staff does the best," Jacobs said. "'G-Ro' is a genius, man. I've seen it, mainly these last couple days, we started doing some different things on offense, things out of different formations and basically putting the defense in sets he wants them to be in, versus what they want to be in."
Based on what he's seen, Jacobs said he thinks Gore would have six or seven Pro Bowl appearances by now, instead of three, had this 49ers staff been in place the whole time.
[+] Enlarge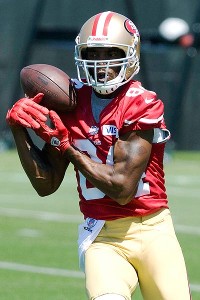 Ed Szczepanski/US PresswireAfter sitting out for a season, Randy Moss joined a revamped 49ers receiving corps.
2. Role for Randy Moss.
The passing game went through Crabtree and Davis last season. Both are in the primes of their careers. Neither figures to see his role diminish appreciably. With Manningham joining the mix and rookie first-round choice
A.J. Jenkins
lurking, a rotational role for Moss appears likely.
The sentiments Jacobs expressed regarding Roman and the 49ers' coaching staff could be important to keeping Moss from growing frustrated. Moss never has been one to suffer fools, even perceived ones, especially if the ball stopped coming his way. He did buy into "the New England way" when the Patriots' offensive staff was at its best and the team was winning. Moss also was catching balls left and right from an all-time great quarterback back then, circumstances the 49ers will not replicate.
The question then becomes whether Moss, 35 years old and coming off an idle season, will put team goals ahead of personal ones no matter what.
Davis, probably the most emotionally authentic player on the team, said he "loves" Moss for having "a great heart" and being a selfless teammate.
"Not only has he extended some knowledge to me, he has shown me that being great requires you to work even when you've had tons of success, with people saying you're a potential Hall of Famer, first ballot," Davis said of Moss.
3. Potential sophomore slump.
Aldon Smith
has incurred a DUI arrest, suffered stab wounds at a party and been carted off the Candlestick Park field with a preseason hip injury since setting a franchise rookie record with 14 sacks last season. That sounds like a sure-fire recipe for a sophomore slump.
Smith has been getting around slowly with the help of a forearm crutch. Hip injuries can be terribly painful. Athletes as lean as Smith have so little padding in that area. On the positive side, Smith has bounced back quickly from injuries in the past. He missed three games after suffering a cracked fibula during the 2010-11 season at Missouri.
The 49ers are asking Smith to transition from situational pass-rusher to full-time outside linebacker. Missed practice reps could slow that transition in the short term.
REASONS FOR OPTIMISM
The 49ers brought back all the important players from a team that finished 13-3 and reached the NFC Championship Game last season. They added weapons at receiver and running back after falling short offensively.
Both sides of the ball figure to benefit from a full offseason after scrambling to learn new schemes on the fly following the lockout.
The progress Davis showed late last season comes to mind as an extreme example. Adapting to yet another offense was tough in the beginning, but once he grasped the concepts more fully, there was no stopping him (10 receptions, 292 yards and four touchdowns over two playoff games).
Finishing 13-3 again would
break from precedent
, but all signs point to the 49ers as NFC West favorites.
Much will hinge on whether the offense improves, and to what degree.
The line appears in position to take a step forward. Four of the five starters played at least 92 percent of the offensive snaps last season. The new starter, right guard
Alex Boone
, is entering his third season with the team. The best offensive lines play together for years. This one increasingly has continuity. There's talent, too, with first-round choices in three of the five spots.
REASONS FOR PESSIMISM
Niners fans should be familiar with the warning labels by now.
Injuries: The 49ers were unusually healthy last season. Alex Smith took a league-high 44 sacks and somehow started every game. He started 16 games in a regular season for the first time since 2006 and the second time in his career. The defense suffered very few meaningful injuries in 2011-12, but the hip bruise Aldon Smith suffered last week highlighted the implausibility of a repeat on that front.
Turnovers: History says San Francisco's plus-28 turnover differential will be unsustainable.
Targets on backs: The 49ers are going from hunters to hunted. Opponents will be gunning for them. Opponents will also have fuller, more accurate reads on the schemes Jim Harbaugh and staff brought to the NFL from Stanford. The unconventional shifting and personnel combinations San Francisco unleashed on opponents might not have the same effect a second time around. That might have begun to happen last season, when the 49ers proved
far less dominant
when facing opponents a second time.
OBSERVATION DECK
Tarell Brown has been the best cornerback in camp. Teammates say he puts in the prep time. It shows when the 49ers do situational work. The more specific the situation, the better Brown seems to fare. Brown is also probably the 49ers' best corner in press coverage, an asset in short-yardage situations, whereas the other starting corner, Pro Bowl choice Carlos Rogers, tends to prefer off coverage.

Jacobs has run effectively in short-yardage situations. I did notice rookie linebacker Kourtnei Brown rocking Jacobs twice in one-on-one pass-rush drills during the team's recent Fan Fest practice.

When the 49ers enter their locker room from the practice field, a sign meets them with a list of five points: work hard, stay loose, stay focused, be accountable and take care of one another. The sign greeting them as they leave the locker room reads, "You are getting better or getting worse. You never stay the same."

Versatile corner Perrish Cox is making a strong push to unseat Chris Culliver in the nickel role. No matter what happens, Cox figures to play this season. He's made an impact on special teams as well. Seeking continued improvements in the secondary was additionally important with Aaron Rodgers, Matthew Stafford, Eli Manning, Jay Cutler, Drew Brees and Tom Brady on the schedule this season.

While Harbaugh has defended Jenkins from premature and unfair criticism, all indications point to a gradual assimilation for the receiver San Francisco selected in the first round. Veteran safety Donte Whitner: "When he gets there, I would compare him to a guy like Robert Meachem. He's not really big in stature, but he has a lot of speed. He has some quickness."

Safety Michael Thomas could be an undrafted free agent to watch for the 49ers this season. He knows the defense after playing for coordinator Vic Fangio at Stanford. Whitner: "If I was a betting man, at the end of the season, he'll be somewhere around this football team, whether it be on practice squad or on the 53[-man roster] because he wasn't drafted, he's not the biggest guy, not the fastest guy, but he has football instincts and he has football smarts. He's around the football in practice."

The 49ers do a good job maximizing roster spots. They used nose tackle Isaac Sopoaga at fullback in power packages last season. Staley and Sopoaga caught passes. Bruce Miller successfully converted from college defensive end to starting fullback. Defensive lineman Demarcus Dobbs is the latest project. He's working as a blocking tight end and could conceivably push Nate Byham for the third roster spot at that position. Harbaugh: "He's definitely far enough along. We still don't know what that ceiling is yet."

The defense has a firmer grasp of Fangio's playbook entering a second season together. The team had 42 defensive calls installed when this week opened. That's not an unusual number, but Fangio should be able to call more of them with confidence.

Every player I spoke with -- Alex Smith, Davis, Williams, Jacobs, Staley and others -- mentioned putting team goals before individual ones. Harbaugh and staff have ingrained that mindset in players. It's a storyline to watch now that the 49ers have additional offensive weapons, a strong personality in Moss and higher expectations overall.
March, 22, 2012
3/22/12
8:01
PM ET
Ted Ginn
Jr.'s return to the
San Francisco 49ers
on a one-year contract, announced by the team Thursday, restores experience and breakaway speed to the return game.
The 49ers badly missed Ginn when an injury sidelined him during the playoffs last season.
The chart ranks the 49ers' current wide receivers by games started last season.
.
March, 18, 2012
3/18/12
12:59
AM ET
Mario Manningham
scored go-ahead touchdowns against the
San Francisco 49ers
in Week 10 and again in the NFC Championship Game.

If those plays did not get the 49ers' attention, Manningham's clutch 38-yard reception to sustain the winning touchdown drive in Super Bowl XLVI surely did.
The 49ers' contract agreement
with Manningham came as the receiver market was drying up Saturday. It also kept Manningham from signing with an upcoming 49ers opponent. Manningham, 25, visited the
St. Louis Rams
after meeting with the 49ers.
San Francisco has now added
Randy Moss
and Manningham to a position that had subtracted
Josh Morgan
. The 49ers now have
Michael Crabtree
, Moss, Manningham,
Kyle Williams
,
John Matthews
,
Joe Hastings
,
Dontavia Bogan
and
Kyle Nelson
at the position.
Adding Moss and Manningham gives the 49ers flexibility heading into the draft. They should face less pressure to add a receiver in the first round.
The Scouts Inc. report on Manningham heading into the 2011 season said he "runs well but is quicker than fast and gets separation out of his break points with great burst and agility. ... He isn't a physical blocker but is effective at walling off on the perimeter. Manningham is a good, young receiver with big-play ability."
The 49ers will presumably have the 6-foot, 185-pound Manningham work on the blocking part. Morgan was a ferocious blocker for years. Crabtree developed into one last season.
Manningham agreed to a two-year deal. That indicates the 49ers got him at a reasonable price. Most big-money deals run longer, allowing teams to spread out the salary-cap impact.
March, 13, 2012
3/13/12
9:38
PM ET
Ten thoughts as NFL free agency moves through its sixth hour:
Now, on to the chart showing 49ers wide receivers with the team currently or in the recent past ...
March, 11, 2012
3/11/12
10:43
AM ET
File
Randy Moss
' scheduled workout with the
San Francisco 49ers
under the "no stone left unturned" category.
ESPN's Adam Schefter says the workout will
take place Monday
.
The 49ers nearly ran out of healthy wideouts late last season. The position remains one of great need heading into the free-agent signing period, which begins Tuesday.
Michael Crabtree
,
Kyle Williams
,
Ted Ginn
Jr.,
Josh Morgan
,
Braylon Edwards
,
Brett Swain
and
Joe Hastings
were among the wide receivers
Alex Smith
targeted last season. Signing Edwards to a modest deal before the season showed a willingness to take on a higher-profile receiver.
Moss, who recently turned 35, is eligible to sign with any team before free agency. That is because he was not under contract to any team in 2011. He caught nine passes for New England, 13 for Minnesota and six for Tennessee during the 2010 season. He recently revealed intentions to come back for the 2012 season.
Moss does not appear to have strong ties to the 49ers' offensive staff. The 49ers' special-teams coordinator and assistant head coach, Brad Seely, provides one known connection. He and Moss were together in New England.
The 49ers could be interested in gathering information on all the available receivers before free agency begins. The workout could help give them a feel for Moss' expectations and physical condition.
January, 22, 2012
1/22/12
5:26
PM ET
SAN FRANCISCO -- The
San Francisco 49ers
' injury situation featured tradeoffs Sunday.
Receiver
Ted Ginn
Jr., a dynamic threat in the return game when healthy, will miss the NFC Championship Game with a knee injury. The injury limited him last week.
Tight end
Delanie Walker
is back, however, and he'll play for the first time since breaking his jaw during a freak collision with
Leroy Hill
's knee at the
Seattle Seahawks
in Week 16. Walker led the 49ers with six receptions for 69 yards when the 49ers defeated the
New York Giants
in Week 10. His presence should help San Francisco in the rematch.
Michael Crabtree
,
Kyle Williams
,
Joe Hastings
and
Brett Swain
are the receivers active for San Francisco.
Veteran fullback
Moran Norris
is inactive, leaving
Bruce Miller
as the only fullback, with Walker and fellow tight ends
Vernon Davis
and
Justin Peelle
giving the 49ers options when they go to heavier personnel groupings. Tackle
Alex Boone
and nose tackle
Isaac Sopoaga
also help out as blockers at times. Defensive end
Justin Smith
recently came onto the field as a blocker as well.
I suspect we're going to see quite a bit of
Frank Gore
and fellow running back
Kendall Hunter
in this game. We'll see greater versatility within the two-tight end packages now that the speedy, athletic Walker is available. Walker also helps on special teams.
But with Ginn out, the 49ers will be trusting the much less experienced Williams and Hunter in the return game amid wet, potentially windy conditions.
January, 14, 2012
1/14/12
3:17
PM ET
SAN FRANCISCO — The
San Francisco 49ers
and
New Orleans Saints
offered no surprises when declaring which players would be inactive for their NFC divisional playoff game Saturday.


Niners tight end
Delanie Walker
(broken jaw) and Saints receiver
Lance Moore
(hamstring) will not play. The Saints ruled out Moore on Friday. The 49ers did not officially rule out Walker at that time, but coach Jim Harbaugh had previously said Walker would almost certainly miss the game.
Also inactive for the 49ers: quarterback
Scott Tolzien
, receiver
Joe Hastings
, cornerback
Shawntae Spencer
, guard
Daniel Kilgore
, guard
Mike Person
and nose tackle
Ian Williams
.
For the Saints: cornerback
Leigh Torrence
, linebacker
Nate Bussey
, guard
Eric Olsen
, tight end
Tory Humphrey
, tight end
John Gilmore
and defensive end
Turk McBride
.
The 49ers will have receivers
Ted Ginn
Jr. and
Kyle Williams
after both missed late-season games with injuries. Their presence upgrades the 49ers on special teams as well. Walker's absence makes the 49ers' less dynamic in their two-tight end personnel packages. Walker was also a solid contributor on special teams.