February, 7, 2012
2/07/12
4:15
PM ET
Tuesday's news that
Baltimore Ravens
running back
Ricky Williams
is
retiring
comes with a bit of an NFC South angle.
Williams once was the biggest thing to ever hit the
New Orleans Saints
. Remember the 1999 draft, when the Saints traded away all their picks from that year, plus a couple more for the following year, for the right to draft Williams?
Yeah, it made headlines all over the place because it was one of the most daring trades ever -- we're talking way more daring and dangerous than what the Falcons gave up to get
Julio Jones
or what the Saints gave up to get
Mark Ingram
in the 2011 draft.
It was the biggest deal coach Mike Ditka made and (along with a 3-13 record that season) it led to the end of his coaching career.
When coach Jim Haslett arrived the next season, Williams had some success. He had two 1,000-yard seasons, but there were issues. Williams was a unique personality. He didn't interact a lot with teammates and often conducted interviews behind the shield of his helmet.
"Ricky's just a different guy," former New Orleans receiver
Joe Horn
once said. "People he wanted to deal with, he did. And people he wanted to have nothing to do with, he didn't. No one could understand that. I don't think guys in the locker room could grasp that he wanted to be to himself -- you know, quiet. If you didn't understand him and didn't know what he was about, it always kept people in suspense."
Haslett was in suspense or, at the very least, never quite could figure out Williams. That's part of the reason
Deuce McAllister
was drafted. By the end of the 2001 season, in which Williams rushed for 1,245 yards and caught 60 passes, Haslett was pretty clear that Williams didn't fit his long-term plans.
In the spring of 2002, the Saints traded Williams to the
Miami Dolphins
. They were able to get back some of what they initially gave up for Williams by getting four draft picks, including two first-round choices, in return.
Williams' career would go on to have all sorts of twists and turns. He had success at times in Miami. He also retired from football in 2004, only to return in 2005. Williams was suspended by the NFL in 2006 and wound up playing for Toronto in the Canadian Football League.
Williams returned to the Dolphins in 2007. He finished his career with Baltimore and ended up with 10,009 rushing yards and 74 total touchdowns (66 of them on the ground).
Not a bad career, especially when you consider all the interruptions.
Would it have somehow worked out better if things had been handled differently and Williams spent his entire career in New Orleans? It's impossible to say for sure.
Williams' track record suggests he might have encountered some of the same, or different, problems if he had been with the Saints the entire time. Things worked out all right for him. They also worked out for the Saints, aside from the initial price tag to get Williams. McAllister ended up having a very nice career.
Reggie Bush
came in and did some nice things at certain times. Along the way, the Saints also added
Pierre Thomas
and
Darren Sproles
, who have done some pretty nice things at running back.
December, 16, 2011
12/16/11
1:30
PM ET
»
NFC Final Word
:
East
|
West
|
North
|
South
»
AFC
:
East
|
West
|
North
|
South
Five nuggets of knowledge about Week 15:
Time for a comeback?
Before things got out of hand over the past couple of months, Tampa Bay quarterback
Josh Freeman
had built a reputation for leading his team to fourth-quarter comebacks. The Bucs might not be capable of that these days, but there is some encouraging news on this front. The Cowboys have lost three games this season after leading by at least 12 points in the fourth quarter. In the 51 seasons prior to this one, Dallas had lost only twice after leading by 12 or more points in the fourth quarter.
[+] Enlarge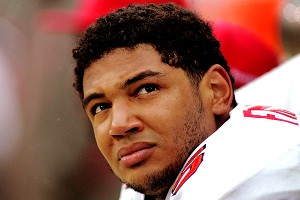 Jake Roth/US PRESSWIRETampa Bay quarterback Josh Freeman's 18 interceptions leads the NFL.
On a record pace.
Freeman had thrown 18 interceptions to lead the league. That's triple his total from the 2010 season. He has a chance to join an infamous club. Since 1990, only two Tampa Bay quarterbacks have thrown at least 20 interceptions.
Brad Johnson
had 21 in 2003 and
Craig Erickson
had 21 in 1993.
On a record pace II.
New Orleans tight end
Jimmy Graham
has a streak of five games in which he has had at least five receptions. Graham is on pace for 98 catches and 1,355 receiving yards.
Marques Colston
set the team record with 98 receptions in 2007. The franchise record for receiving yards in a season is 1,399, set by
Joe Horn
in 2004.
Chasing Manning.
Carolina quarterback
Cam Newton
already has thrown for 3,573 yards. He needs 167 more yards to break the rookie record that was set by
Peyton Manning
in 1998.
Coughing it up.
Tampa Bay running back
LeGarrette Blount
fumbled twice last Sunday and lost one. Blount now has five fumbles for the season. That ranks him No. 2 in the league among running backs. Only Jacksonville's
Maurice Jones-Drew
(six) has more fumbles.
October, 1, 2010
10/01/10
12:49
PM ET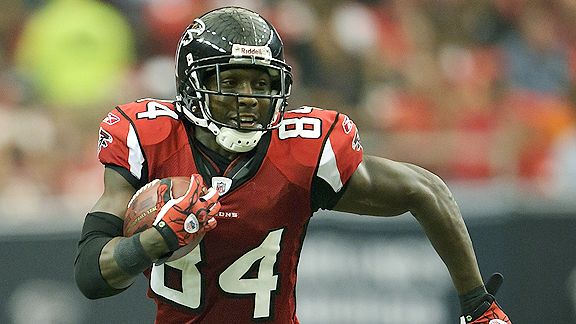 AP Photo/Paul Abell Roddy White struggled early in his career, but can smile now as the NFC South's top receiver.
Before we start pondering how it happened or the precise moment it took place, let's go ahead and throw out the obvious. Atlanta's
Roddy White
is the best wide receiver in the NFC South and one of the best in the NFL.
There, I've said it, and the more I thought about it, the more I realized this has been the case for quite some time. You're welcome to try to pinpoint the exact date that a guy who once seemed headed to being a bust became the best receiver in the NFC South. I couldn't do it and, when I asked White, neither could he.
Fact is, White has just kind of grown into the role as some other guys have been backed off their claims. Narrow the time frame down from 2007 until today and White has been steadily surging while Carolina's
Steve Smith
has been weighed down by a series of quarterback problems.
Joey Galloway
and
Antonio Bryant
came and went in Tampa Bay. New Orleans'
Marques Colston
has had to share Drew Brees' passes with all those other targets the Saints have.
[+] Enlarge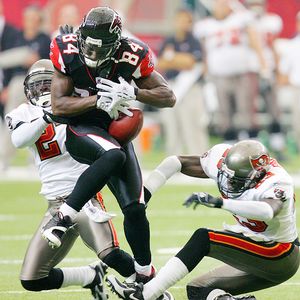 AP Photo/Ric FeldRoddy White struggled during his first two years in the league until he "just finally grew up,'' White said.
There is only one NFC South wide receiver who has caught passes for 1,000 yards in each season starting with 2007. That's White, and he's at it again. Through three games, he's second in the league with 25 catches, which has resulted in 258 yards, two touchdowns and a 2-1 start by the Falcons.
"Roddy White is the complete wide receiver,'' Atlanta quarterback
Matt Ryan
said moments after the Falcons recorded one of the bigger regular-season wins in franchise history Sunday with a 27-24 overtime victory against the Saints in the Superdome. "He's big, he's strong and he's fast. He runs great routes. He works hard. You couldn't ask for more in a wide receiver.''
Funny, because once upon a time, there were people around the league who thought White was going to go down in history as one of the biggest receiver busts ever. Taken out of the University of Alabama-Birmingham in the first round (27th overall) in 2005, White was seen as a raw talent.
One person who worked for the Falcons at the time White first arrived admitted the brass in Flowery Branch had a huge case of buyer's remorse after they saw White in his first training camp and through most of his first two seasons. That person said there was a moment during White's rookie season when an assistant coach stood up in a meeting and said White simply wasn't good enough to play in the NFL and there was no argument in response.
But a strange thing happened after White bumbled his way through a rookie season that featured 29 catches and a second season in which he improved to 30 catches, but zero touchdowns. As the
Michael Vick
saga was casting a sad shadow over the Falcons and Bobby Petrino was about to do the same, White suddenly became a legitimate NFL wide receiver.
That may be the single bright spot to emerge from a very dark time in franchise history. The more you look at where White is now, the brighter that spot gets. As the world around the Falcons seemed to be crumbling, a convergence of events were taking place that would shock everyone and put White's career on a good path.
"I guess the easiest way to put it was that I just finally grew up,'' White said.
That's the simple way to put it, but White is quick to point out that it was much more complex than that. He's even quicker to point out that he had some help.
"I'd gone through life just getting by on being a good natural athlete,'' White said. "That's the way I approached it my first two years and, in the NFL, it's not good enough to just be an athlete.''
As Vick was going and Petrino was coming, two other subtle moves took place that would forever change White's career for the better. Perhaps the only good move Petrino made in his short stint as the head coach of the Falcons was hiring his younger brother, Paul, to coach wide receivers.
"When coach [Jim] Mora and his guys were here, I was eating a lot of cheeseburgers and going at about 215 [pounds],'' White said. "When Paul Petrino came in, he sat me down and said, 'You need to get back to where you were in college.' I got back to around 205 to 208 and I suddenly realized I was moving faster and jumping higher. But it wasn't just that. Paul Petrino worked me so hard and pushed me to string together good practices, go out there and do it every day.''
Paul Petrino got some help from another source. In 2007, the Falcons brought in veteran wide receiver
Joe Horn
, in large part because they weren't sure if White could play. But Horn ended up being part of the reason White has been playing so well in recent years.
[+] Enlarge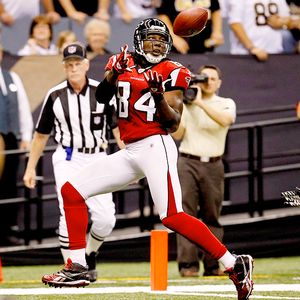 Derick E. Hingle/US PresswireRoddy White has 25 catches for 258 yards and two touchdowns this season.
"Playing with Joe was the best thing to ever happen to me,'' White said. "He was a guy who had been to Pro Bowls and he took me under his wing and really taught me what this league is all about. He's the one who made me realize what's expected of you if you're going to be a good pro. He's the one who taught me that you have to prepare mentally every day and you have to go out and practice hard every day. He's the one who showed me that this game takes so much more effort than I was putting into it.''
The results were pretty much instant. In a 2007 season in which the Falcons went through several quarterbacks with little success, White somehow emerged with 83 catches for 1,202 yards and six touchdowns.
The next year, coach
Mike Smith
arrived and promptly drafted Ryan, who clicked with White right from the start. White had 88 catches for 1,382 yards and seven touchdowns in 2008 and 85 catches for 1,153 yards and 11 touchdowns in 2009.
"It was somewhat of a gradual process, but there was a good chemistry between Roddy and me right from the start,'' Ryan said. "It just keeps getting stronger because Roddy's a guy that works very hard and he's always where he's supposed to be.''
White's been to the Pro Bowl the last two seasons and there's no reason to think he won't be there again.
"The thing with Matt is, he came in from the beginning and was asking what kind of routes I liked running and where I liked getting the ball and things like that,'' White said. "When you do that, you're both sort of volunteering ways to get better.''
In their third season together, Ryan and White have the Falcons off to a fast start. In the past two games (victories against Arizona and New Orleans), the running game has clicked, the passing game has clicked and the rebuilt defense has a faster, more aggressive look.
"The sky really is the limit for this team,'' White said.
It's kind of funny that the guy the Falcons once thought couldn't play is leading the way. He's soaring on the field and he has become a leader in the locker room. Before every game, there's a little reminder of the past and how White got to where he is now.
"Before every game, Joe Horn sends a text,'' White said. "It's pretty simple. He just says, go out, play hard, play physical and play smart.''
That's what White has been doing, and that's the other strange twist to all this. The guy who once couldn't go past fast-food restaurants on the way home or stay out of the nightclubs is taking on the role Horn once did.
"You know, it's hard to find a guy that will share information with you when we're all competing for jobs,'' White said. "But Joe did that with me and now I try to do it with
Harry Douglas
. I look at Harry like my little brother, but I also look at him as what I used to be before Joe came along. I'm always on Harry about working hard every day. The most important thing Joe taught me was that you have to put the game first.''
White's been doing that since 2007 and that's what has put him among the best receivers in the NFL.
February, 3, 2010
2/03/10
5:42
PM ET
By
Pay Yasinskas
| ESPN.com
MIAMI – If you've read this blog for any real length of time, you've probably seen me make reference to the
personality profile
of wide receivers done by Dr. Arnold J. Mandell back in the 1970s.

Colston
Mandell characterized receivers as being selfish and egotistical prima donnas and I think he pretty much nailed it. Think about
Terrell Owens
,
Randy Moss
,
Chad Ochocinco
, etc. In the NFC South,
Steve Smith
,
Antonio Bryant
,
Muhsin Muhammad
and
Keyshawn Johnson
and
Joe Horn
a few years ago all fit the profile perfectly. Atlanta's
Roddy White
also has a touch.
But the guy who might be the best wide receiver in the NFC South doesn't have the traits that so many wide receivers do. That's New Orleans'
Marques Colston
. He's humble and he's quiet.
"That's just my nature,'' Colston said. "I just like to go out and handle my business and do what I'm supposed to do. It just so happens that this is the biggest stage probably in the world that day. Hopefully people will get the opportunity to see exactly what I can do."
Maybe his background – coming out of Hofstra in the seventh round – plays a role, but Colston said he doesn't follow the attitude that he's got to go out and draw attention to himself.
"That's fine with me,'' Colston said. "For me, it's all about being respected by my peers. I think as long as I continue to work and do the things that I'm doing, I'll earn that respect."
July, 23, 2009
7/23/09
7:00
AM ET
Posted by ESPN.com's James Walker
Here are several links Thursday in the AFC North:
Morning take: But with a civil case filed, the Steelers still have a cloud looming over the team until the issue is resolved. It will be interesting to see how the defending champs handle its first major distraction of the 2009 season.
Morning take: This is one of the most talented teams Lewis has had in his seven years in Cincinnati. Everyone is curious to see what Lewis does with this group.
Morning take: Horn is 37 and has been out of football since 2007. He would have to prove to the Ravens he still has it in order to replace Derrick Mason if Mason retires.
Morning take: As a public service announcement, there's a lot of construction going on in Berea, Ohio. I would allot some extra travel time accordingly to get to the site.
March, 5, 2009
3/05/09
12:32
PM ET
Posted by ESPN.com's Pat Yasinskas
As the Terrell Owens saga takes another turn with his release by Dallas, I'm reminded of a fascinating psychological profile of wide receivers I stumbled across a few years ago.
The profile actually goes back way earlier than that, but it holds remarkably true. In 1973, Arnold J. Mandell worked as a team psychiatrist for the San Diego Chargers. Coach Harland Savard asked Mandell to come up with personality profiles for the different position groups.
Mandell took a unique approach. He collected handwriting samples from all the Chargers and the entire class of rookies around the league in 1973. He worked with a handwriting analyst and also observed players closely. Mandell came up with personality profiles for every position group and I can see some truths in every one of them.
But Mandell especially nailed it in his personality profile on wide receivers.
"The wide receiver is a very special human being," Mandell wrote. "He shares many features with actors and movie stars. He is narcissistic and vain and basically a loner."
Yeah, you never want to stereotype. But think about that a little bit. Every great wide receiver fits to some degree.
Owens, Chad Johnson, Randy Moss, Steve Smith, Joe Horn, Keyshawn Johnson? They've all got it. Think even further back to guys like Michael Irvin, Otis Taylor, Mark Clayton and Mark Duper. They had it, too. You can argue about guys like Marvin Harrison and Jerry Rice. But talk to people who've been around them and they'll tell you they've got a touch of the wide receiver traits, but they're just better at hiding them. It's also part of what makes them great.
November, 7, 2008
11/07/08
12:03
PM ET
| | |
| --- | --- |
| | |
| | Howard Smith/US Presswire |
| | Roddy White has gone from obscurity to being the Atlanta's No. 1 WR. |
Posted by ESPN.com's Pat Yasinskas
There was a time when a large percentage of McDonald's employees in greater Atlanta would see Roddy White and automatically push a button.
"I had them trained," White said with a laugh. "The No. 2 combo, always the No. 2 combo -- Quarter-Pounder with cheese, large fries and a Hi-C. Every day. Sometimes, two or three times a day. Sometimes, at 3 or 4 in the morning."
This is the story of how White went from the No. 2 combo to being the No. 1 wide receiver for the Atlanta Falcons and, perhaps, one of the best in the NFL. It's about slimming down and growing up. More than anything, it's a story about learning to take care of others and, in the process, taking care of yourself.
If the people at McDonald's could see White now -- and they haven't in quite some time -- they wouldn't recognize him. These days, White's home early most evenings. He's eating (and making) dinners that are heavy on fruits and vegetables. If he goes out, it's to watch the kids -- his kids, essentially -- play high school football.
Tyrone Moore, 15, is White's brother. Ali White, 17, is his cousin. They play football at and attend Mill Creek High School, which is just a few miles away from the Falcons' practice facility in Flowery Branch. They live with White, 27, who has taken on the role of parent for both boys.
It happened almost overnight. It happened before the 2007 school year began and it happened at just about the same time White made a bunch of other decisions that probably saved his career. It's a long and complicated story, but, when you look at the end result, it's no coincidence that all these good things happened at the same time.
August, 28, 2008
8/28/08
9:30
AM ET
Posted by ESPN.com's James Walker
Here are the most interesting story lines in the AFC North:
Morning take: First Chad Johnson, and now Boller. But this will be a much tougher injury to overcome for a quarterback, especially to the throwing shoulder. Our guess is Boller eventually decides to shut it down.
Morning take: We are a little surprised, too, with how poorly this unit has played this summer. It's hard to see where this unit's strength is, especially if the secondary fails to cover anybody.
Morning take: Horn would be a good fit, but the Browns don't seem interested in adding a third receiver. Cornerback is the team's most pressing need for now.
Morning take: The Steelers should play it safe with backup Charlie Batch, who should be ready to return from a broken collarbone around late September. Putting Batch on the physically unable to perform list (PUP) would save a roster spot for six games and buy Batch a few more weeks to make sure he's 100 percent.
August, 19, 2008
8/19/08
6:25
PM ET
Posted by Scouts Inc.'s Tag Ribary
Now that the Atlanta Falcons have granted WR Joe Horn's wish and released him, we turn our attention to where he might land. Age and injuries have taken their toll on Horn but it is possible he could still help a team in need.
Pros
Horn can still get off press coverage with good hand use and footwork. His acceleration and burst are descending, but he has a knack for setting up his breaks by selling routes in the route stem. Good receivers are able to get defenders to open their hips versus off-coverage, and Horn can still do this as well.
He is no longer the go-to receiver on third down that he used to be, but he can still make the tough catches because he adjusts well to the ball and has good hands. The fact that his speed is descending means an offensive system in need of a possession receiver makes the most sense at this point in his career.
Yes, the fact that he is 36 will scare off a lot of clubs, but consider some of the older receivers who are expected to play big roles for their teams this season: Joey Galloway is also 36; Marvin Harrison, Bobby Engram, Isaac Bruce and Muhsin Muhammad are 35; Terrell Owens is 34.
Cons
Horn's health is the first red flag teams will investigate. He has yet to play in the preseason due to an ongoing hamstring problem, and durability has been a problem for Horn in recent years as he has not played a full 16-game schedule since 2004.
He has also complained about his role and had been asking for his release or a trade for several weeks now, and many will wonder whether Horn will eventually bring the same attitude to a new team should he end up behind younger receivers on the depth chart.
Wide receivers don't really fit into particular schemes in the NFL -- with the possible exceptions of guys who are pure vertical threats or who play primarily in spread schemes -- so a possession receiver with Horn's skill set would fit in pretty much any system. Here's a look at teams that might have some interest:
Dallas Cowboys: There has been a lot of discussion about the Dallas receiving corps beyond Owens. Patrick Crayton is back in the fold this year, but the team recently lost Miles Austin to a knee injury that could take several weeks to heal.
Seattle Seahawks: The Seahawks are temporarily depleted at this position while Deion Branch (knee) and Bobby Engram (fractured shoulder) get healthy. They have some interesting young backups but there isn't a lot of experience in the group while Engram and Branch sit.
Minnesota Vikings: The possible turf toe injury to Bernard Berrian could be damaging. The severity of the injury is not yet known, but any type of toe injury is bad news for a wideout.
Kansas City Chiefs: The Chiefs have Dwayne Bowe, with Devard Darling penciled in opposite him. While there is a lack of experience among the backups, Horn might not be a good fit on a rebuilding team.
Denver Broncos: Brandon Marshall is currently suspended for the first three games.
San Francisco 49ers: Arnaz Battle, Jason Hill, Ashlie Lelie and Bryant Johnson have all been paying regular visits to the training room.
Miami Dolphins: The Dolphins don't have a real strong WR group and have already entertained the possibility of adding former Cowboy Terry Glenn if he can get healthy.
Philadelphia Eagles: Reggie Brown has a hamstring injury and a previous Achilles injury that could affect his availability.
Jacksonville Jaguars: Matt Jones has legal issues. Jerry Porter had hamstring surgery this summer and will miss the entire preseason. Troy Williamson has already missed a lot of practice time with groin and hip flexor issues.
Scouts Inc. watches games, breaks down film and studies football from all angles for ESPN.co
August, 19, 2008
8/19/08
5:17
PM ET
Posted by ESPN.com's Matt Mosley

Horn
In case you missed it, the Atlanta Falcons honored veteran wide receiver Joe Horn's request to be released earlier Tuesday. The club had hoped to receive compensation for Horn, but there wasn't much interest in a 36-year-old coming off a 27-catch season.
Horn appeared on "The Michael Irvin Show" on 103.3 FM ESPN Radio soon after being released and acknowledged that he was interested in playing for the Packers, Giants or Cowboys. Horn's agent told AFC South blogger Paul Kuharsky that the receiver was also interested in the Titans and Jaguars.
"It's all conjecture now," Horn's agent Ralph Vitolo told Kuharsky.
Yeah, and it sounds like Horn's responsible for most of it. The Giants are banged up at receiver, but they're expecting Plaxico Burress, Amani Toomer and Steve Smith to be ready for the season-opener Sept. 4. And plus, Domenik Hixon had three touchdowns in the first quarter of Monday's 37-34 preseason win over the Browns.
The Cowboys will probably be without third-receiver candidate Miles Austin (knee) for at least the first three or four games, so it would make sense to bring in a veteran. Horn better hope that teams aren't calling Saints head coach Sean Payton for a letter of recommendation. Horn was highly critical of Payton on his way out of New Orleans, and then Payton fired back after a "Monday Night Football" game in December.
When Horn was asked why his numbers tailed off so dramatically after the 2004 season, he blamed it on offensive coordinators and coaching changes.
Irvin spent most of his show Tuesday trying to identify a wide receiver for the Cowboys. He also talked to Cardinals wide receiver Anquan Boldin for 40 minutes, but despite Jerry Jones' best efforts, there's no way Arizona's going to trade Boldin before the season.
August, 19, 2008
8/19/08
4:43
PM ET
Posted by ESPN.com' s Bill Williamson
Among the teams newly released wide receiver Joe Horn has an interest in playing for includes the San Diego Chargers and Denver Broncos. His agent, Ralph Vitolo, said he plans to talk to both teams.
"If they are interested in us, we'd be interested in them," Vitolo said of the Chargers and the Broncos.
Of course, Vitolo is not limiting his search for a new home for Horn, who was just cut by Atlanta, to just the AFC West. There are several teams Vitolo and Horn have identified as good fits.
Connections play a key role in San Diego and Denver being on Horn's list. Jimmy Raye is the Chargers' director of pro personnel. Raye's father has a long history with Horn. Denver's assistant general manager, Brian Xanders, worked with Horn in Atlanta.
Connections aside, would either San Diego or Denver have an interest in Horn? He'd be a reserve in both places.
The Chargers have Legedu Naanee and Buster Davis backing up starters Chris Chambers and Vincent Jackson. The Chargers like both players.
Denver has several backup receivers behind young starters Brandon Marshall, who will miss at least the first two games of the season while serving an NFL suspension, and rookie Eddie Royal. They include Brandon Stokley, Darrell Jackson and Keary Colbert. Denver coach Mike Shanahan has a history of signing veteran receivers.
While the Chargers and the Broncos have Horn interested, we'll see if the feeling is mutual.
August, 19, 2008
8/19/08
3:48
PM ET
Posted by ESPN.com's Paul Kuharsky
| | |
| --- | --- |
| | |
| | Scott Cunningham/Getty Images |
| | Joe Horn had 27 receptions for 243 yards and one touchdown for the Falcons last season. |
The Titans and Jaguars are two of the teams receiver Joe Horn is interested in, his agent said Tuesday afternoon. The question is whether the two AFC South teams are interested in Horn, who was released by Atlanta.
Agent Ralph Vitolo said he had conversations last week with both Mike Reinfeldt, the Titans' GM, and James Harris, the Jaguars' personnel chief. Each said at the time that he wasn't interested, but that's when the Falcons were looking for trade compensation and trying to move a player with a $2.5 million guaranteed base salary. Now he can sign for the veteran minimum.
"It's all conjecture now," Vitolo said.
He said Horn's interested in six teams including Tennessee, Jacksonville and Dallas.
My colleague, Bill Williamson, has a blog post that says Horn is also interested in San Diego and Denver.

But the Titans quickly indicated they have no interest in the 36-year-old.
The Titans are counting on Justin Gage and Justin McCareins as starters and have young, unproven players fighting for roles after that.
Jacksonville is waiting on Reggie Williams to return from knee surgery and Jerry Porter to come back from hamstring surgery.
Vitolo said Horn likes the possibility of joining a team with a young, up-and-coming quarterback and group of receivers.
He played in 12 games for Atlanta last season, catching 27 passes for 243 yards and a touchdown.
I'd be surprised if either the Titans or Jags made a move for him now.
August, 19, 2008
8/19/08
1:55
PM ET
Posted by ESPN.com's Pat Yasinskas
There have been rumblings for about a month, but now it's official: Joe Horn no longer is with the Atlanta Falcons.
The veteran receiver was released Tuesday in a move that surprises no one and probably should have come before training camp. The Falcons held onto Horn this long because they were worried about the possibility of having injuries to their other receivers and there was also some hope another team might approach them about a trade for Horn.
Neither scenario played out and the performance of the other receivers in camp only made Horn more expendable. The Falcons are set with Roddy White, Laurent Robinson and Michael Jenkins as their top three receivers. Third-round pick Harry Douglas is going to stick. There's probably only one other roster spot available and that will come down to veteran Brian Finneran and Adam Jennings, who is a return man.
Horn still can contribute and will end up somewhere in the league. Gee, a 36-year-old player with a big name ... think Tampa Bay might be interested?
But Horn didn't fit in Atlanta's rebuilding process. He knew it and he previously asked to be set free. The Falcons agreed and, now, they've got to hope there are a bunch of team's interested in Horn. The Falcons owe Horn $2.5 million in guaranteed money, but, if he signs elsewhere, they would be off the hook for whatever salary he earns.