NFL Nation:

Joe Jurevicius
November, 16, 2010
11/16/10
3:00
PM ET
»
NFC High Energy
:
East
|
West
|
North
|
South
»
AFC
:
East
|
West
|
North
|
South
A look at a player who gave his team a significant boost in Week 10.
Matt Hasselbeck
couldn't wait to get back on the field after a concussion sidelined him for the
Seattle Seahawks
' humiliating 41-7 defeat to the
New York Giants
.
[+] Enlarge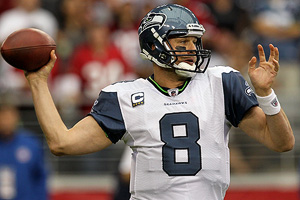 Stephen Dunn/Getty ImagesMatt Hasselbeck had his most productive game of the season in Sunday's win over Arizona.
It showed Sunday during a potentially pivotal 36-18 victory over the
Arizona Cardinals
.
Hasselbeck's presence and overall strong play energized a Seattle offense that hadn't exceeded 164 yards in either of its previous two games.
The Seahawks finished with 490 yards, easily a season high. Hasselbeck passed for 333 yards, his highest total since 2007 and tied for the 10th-highest total of his career. He averaged 9.8 yards per attempt, his highest average in a game since 2005.
"When I look back at this game, the thing that stands out the most is really Matt's performance," coach Pete Carroll told reporters Monday.
Before this season, Hasselbeck had almost never played with a wide receiver possessing
Mike Williams
' combination of size and strong hands. Most of Hasselbeck's throws relied more on timing than exploiting physical mismatches in the secondary. The one time Hasselbeck did have a super-sized target at wide receiver, in 2005, he helped Joe Jurevicius set a career single-season high for receptions.
Williams has allowed Hasselbeck to throw more aggressively without risking interceptions. The two connected 11 times Sunday for 145 yards.
Seattle's offense dropped off when Hasselbeck left the game after suffering two cracked bones in his left wrist. Hasselbeck found Williams four times for 54 yards after returning in the second half. The Seahawks expect him to start against New Orleans in Week 11. As Hasselbeck showed Sunday, they'll need him.
June, 24, 2010
6/24/10
10:00
AM ET
Notable players:
LT
Walter Jones
, LG
Steve Hutchinson
, C
Robbie Tobeck
, RB
Shaun Alexander
, QB
Matt Hasselbeck
, FB
Mack Strong
, MLB
Lofa Tatupu
, RCB
Marcus Trufant
, WR
Bobby Engram
, WR
Darrell Jackson
, WR
Joe Jurevicius
[+] Enlarge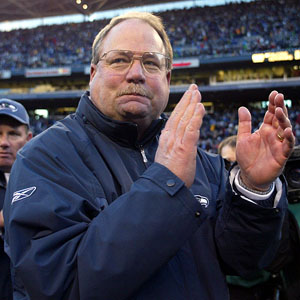 AP Photo/John FroschauerMike Holmgren's 2005 Seahawks were the only team in franchise history to make the Super Bowl.
Analysis:
The 2005
Seattle Seahawks
were the only team in franchise history to win more than 12 regular-season games. They were the only Seahawks team to appear in a Super Bowl, the only one to lead the NFL in points per game or to place more than two offensive linemen in a Pro Bowl.
This was the best team in franchise history by the critical measures. It had a Pro Bowl-caliber quarterback, the best offensive line in the NFL, the league MVP at running back and a defense that played its best where it mattered -- in the red zone. Rookie middle linebacker Lofa Tatupu brought direction to a defense lacking leadership.
Coach Mike Holmgren always said he needed his best players to be at their best for a team to approach its potential. This team had that, but clutch contributions from role players sent the 2005 squad on its way.
Receiver Joe Jurevicius added toughness at receiver while catching 10 touchdown passes, offsetting injuries to Darrell Jackson and Bobby Engram.
On defense, backup cornerback
Jordan Babineaux
made a season-altering play by picking off
Drew Bledsoe
with 14 seconds remaining during a 13-10 victory over the
Dallas Cowboys
in Week 7. Seattle had lost two of its first four games that season. Beating the Cowboys heading into the bye was important, but the matter in which Seattle won the game proved transforming.
"My hope is that every time you can win a game like this where it looked a little grim for a while but they you pull it out, it really helps you down the road," Holmgren said afterward. "It really helps your confidence. Organizations need to win games like this at some point."
The Seahawks had tied the score with 46 seconds remaining on Hasselbeck's 1-yard touchdown pass to backup tight end
Ryan Hannam
(after another backup, receiver
Jerheme Urban
, made a 22-yard reception at the 2-minute warning). Babineaux returned Bledsoe's pass 25 yards, getting out of bounds in time for
Josh Brown
to kick the winning field goal as time expired.
Most impressive win:
The 2005 team was at its dominant best during a 34-14 victory over the
Carolina Panthers
in the NFC title game.
Advanced chemistry:
Teams release injured backups regularly without repercussions, but veteran players protested when management released Urban instead of placing him on injured reserve following a foot injury in November. Urban had made an impression on teammates while catching seven passes for 151 yards. Management gave in to Seattle's veteran leadership, rescinding Urban's release and placing him on IR. The unusual move reflected the strength of the Seattle locker room during a special season.
Honorable mention
1984:
This was the only team in franchise history to rank among the NFL's top five in points scored and points allowed. Kenny Easley was the NFL's defensive player of the year. Steve Largent and Daryl Turner combined for 22 touchdown receptions. Defensive ends
Jeff Bryant
and Jacob Green combined for 27.5 sacks.
1983:
Other Seattle teams had better regular-season records, but the 1983 team recorded two playoff wins, including an upset shocker in Miami. The 2005 Seahawks were the only other Seattle team with more than one victory in the same postseason.
2007:
Losing Hutchinson during the previous offseason hurt, but Hasselbeck set a career high with 28 touchdown passes. Alexander topped 100 yards rushing in an overtime road defeat at eventual NFC champion Chicago in the divisional round.
October, 7, 2009
10/07/09
1:00
PM ET

Posted by ESPN.com's James Walker
BEREA, Ohio -- If the winless
Cleveland Browns
are willing to trade former Pro Bowl receiver
Braylon Edwards
, they can trade just about anyone.
"I'm definitely surprised," Browns linebacker D'Qwell Jackson said.
That was the resounding reaction Wednesday in a shocked locker room after Cleveland's
blockbuster deal
to send Edwards to the
New York Jets
.
Browns head coach Eric Mangini reiterated that personal conduct is very important. Through trading Edwards, Mangini's message was clear: Get with the program or get out.
"That's been the message since he got here," Browns Pro Bowl left tackle
Joe Thomas
said. "You're going to do things the way you're coached to do it and the way you're told to do it. If you're not, then we'll find somebody else."
Mangini added that, contrary to popular belief, he had trade talks with teams other than the Jets.
But in the end, New York once again provided the best package for Edwards. Cleveland in return gained receiver
Chansi Stuckey
, special-teams ace
Jason Trusnik
and two draft picks in 2010. It was the second trade in six months between those two teams.
Moving forward, it's still to be determined who Cleveland's starting receivers will be Sunday against the
Buffalo Bills
. Rookie
Mohamed Massaquoi
will take one spot, while fellow rookie
Brian Robiskie
,
Josh Cribbs
and
Mike Furrey
will compete for the other starting job. Stuckey is out of the running for now as he has to learn the playbook.
Every pass-catcher from the high-powered offense of the Browns in 2007 is now gone. Edwards and tight end
Kellen Winslow
Jr. were both traded in 2009 and
Joe Jurevicius
was released last offseason.
"There's just times where you just move forward and we got to get better," said Browns quarterback
Derek Anderson
, who was also surprised by the move. "The 11 guys that we put out there, we got to find a way to get it done and execute the plays no matter who those guys are."
Posted by ESPN.com's James Walker
BEREA, Ohio -- The Cleveland Browns continue to surprise with their picks by taking Ohio State receiver Brian Robiskie in the second round (No. 36 overall).
Robiskie was a coveted receiver moving up the draft boards. But similar to their first-round pick, Cal center Alex Mack (No. 21), the Browns may have reached early in the second round.
The Browns certainly have a need for receiver following the release of veteran Joe Jurevicius and pending legal trouble with Donte Stallworth. Robiskie could help. He also spent part of his youth in Cleveland as a ball boy with the Browns as his father, Terry, was a former assistant.
"I would have to say it's like coming home," Terry Robiskie said over the phone.
"I feel so blessed to have the opportunity," Brian Robiskie added.
The Browns have two more picks in the second round.
April, 15, 2009
4/15/09
1:01
PM ET
| | |
| --- | --- |
| | |
| | Paul Spinelli/Getty Images |
| | After being traded to Tampa Bay and signing a new, hefty contract, Kellen Winslow will be one of the most prominent faces of the Buccaneers' new regime. |
Posted by ESPN.com's Pat Yasinskas and James Walker
When head coach Eric Mangini and general manager George Kokinis took over in Cleveland and head coach Raheem Morris and general manager Mark Dominik were hired in Tampa Bay, the four men instantly began re-shaping their franchises.
No move was bigger for either team than the deal the Browns and Buccaneers made for tight end Kellen Winslow at the start of free agency. In exchange for a second-round pick this year and a fifth-round choice in 2010, the Bucs got Winslow and the Browns got rid of him.
There are two ways to look at this deal. Cleveland got rid of a potential headache because Winslow was looking for a new contract and might not have fit with the new regime. On the flip side, he might be a perfect fit in Tampa and the Bucs already have turned around and given Winslow a new six-year contract worth $36.1 million.
The trade comes with potential positives and negatives for both teams. James Walker and Pat Yasinskas take a look at who might be the winner in the Winslow trade.
Why didn't Winslow fit with Cleveland? How does he fit in Tampa?

James Walker: When the Browns changed regimes, the writing was pretty much on the wall for Winslow. Mangini and Kokinis wanted to start over -- completely. Cleveland quickly went on a purge where it traded or released veterans such as Winslow, receiver Joe Jurevicius and offensive tackle Kevin Shaffer. The Browns also didn't retain in-house free agents such as safety Sean Jones and veteran linebackers Andra Davis and Willie McGinest. To put it bluntly, there aren't many players on Cleveland's current roster that Mangini is enamored with, because he wants to win or lose with his players. Winslow had trade value so the Browns didn't pass up the opportunity. He was also in his sixth year and wanted a new contract, so that played a factor as well. Winslow's skill sets could have fit with the Browns on the field, so I doubt this particular move had much to do with talent. But in terms of personalities, Winslow is not shy about speaking his mind, while Mangini often likes his team shrouded in secrecy. This oil-and-water combination probably would not have worked anyway. So this was a good separation for both sides.

Pat Yasinskas: Tampa Bay is starting over, too, and one team's trash is another's treasure. The new contract should make Winslow happy and he's landing in an offense that's going to be built largely around his skills. Offensive coordinator Jeff Jagodzinski will build a downfield passing game around Winslow and wide receiver Antonio Bryant. While Winslow's outspoken nature caused him some problems in Cleveland, that shouldn't be an issue with the Bucs. Morris is only 32 and excels at relating to players. Morris also isn't one of those coaches who tries to control his players' actions and words at all times. He lets them be individuals and Winslow will be allowed to be himself. The change of surroundings also give Winslow a fresh start and that could help more than anything. Although there will be lofty expectations because of the contract, he won't be under the microscope as much as he was in Cleveland. Tampa Bay fans are intense, but this isn't a situation like Cleveland, where Winslow's high draft position meant anything less than perfection was failure.

How will the Browns replace him and how will the Bucs use him?

| | |
| --- | --- |
| | |
| | Jerome Davis/Icon SMI |
| | The Browns will attempt to replace Winslow with a committee of tight ends, including free-agent signee Robert Royal. |
James Walker: The Browns no longer have a tight end with 80-catch potential on their roster. So they are hoping to replace Winslow's production by committee. Cleveland signed former Buffalo Bills tight end Robert Royal, who could be a serviceable starter but never had more than 33 catches in a season. The Browns also have veteran Steve Heiden returning from a serious knee injury and second-year player Martin Rucker, who is still learning but has some potential. If the three tight ends can contribute a combined total of 50-60 receptions next season, I think Cleveland's coaching staff would be happy with that type of production. The tricky thing is Winslow's ability to create mismatches in the middle of the field would have made life much easier for Cleveland's quarterbacks, particularly Brady Quinn, who often likes to check down to his short and intermediate options. If Quinn is the starter, I think he is going to miss Winslow's presence the most. Winslow has tremendous hands and was one of the few consistent weapons in Cleveland's offense the past few seasons who showed up ready to play every week. So how will Winslow be utilized in Tampa's offense, Pat?

Pat Yasinskas: James, while Cleveland is going away from having a pass-catching tight end as a big part of the offense, the Bucs are going in the exact opposite direction. Tight end wasn't a big part of the offense in former coach Jon Gruden's system, but it will be with Morris and Jagodzinski. They've scrapped Gruden's West Coast offense and will go with a system that is supposed to balance the run and the pass. The Bucs don't yet know if Luke McCown or Byron Leftwich will be their quarterback. But they do know they want the quarterback throwing often to Winslow and Bryant. The Bucs have plenty of depth at tight end with Alex Smith, John Gilmore and Jerramy Stevens on the roster. Those other three tight ends will get some playing time and they'll be asked to take on some blocking duties in the running game. But Winslow wasn't brought in here to be a blocker. He'll line up at tight end, but he'll also get some snaps in the slot and out wide. It's a pretty safe guess that the Bucs will be looking to get somewhere around 80 catches out of Winslow.
Did the Bucs overpay with the $36.1 million contract extension?

Pat Yasinskas: There's no doubt Tampa Bay went overboard in giving Winslow a new six-year deal that makes him the highest-paid tight end in history. In theory, that kind of contract should go to the league's best tight end. Winslow hasn't qualified as that -- yet. But the Bucs based this deal on his enormous potential. Yes, it's true he hasn't ever fully reached his potential.

The Bucs are banking Winslow can stay healthy and be the best tight end in the league. They're going to make him a focal point of the offense and his acquisition was the first big move by Dominik and Morris. The contract is a further statement about how huge a role the Bucs want Winslow to play.
James Walker: After watching Winslow the past three seasons, I think he's going to do well in Tampa, and the change of divisions will help his production to the point where fans could forget the extension.

Nothing against your NFC South, Pat. But Winslow had to face the top-flight defenses of the Pittsburgh Steelers and Baltimore Ravens four games a year and still put up very good numbers. He had tremendous battles with Steelers safety Troy Polamalu and Ravens safety Ed Reed, and those two players often said Winslow was one of their toughest matchups annually. I would guess Winslow is licking his chops looking at some of the safeties and linebackers in the NFC South, compared to the personnel he had to face earlier in his career. As you mentioned, Pat, health is the only question.

As far as your contract theory, contracts are relative to the current market. Two years ago Daniel Graham of the Denver Broncos was the highest-paid tight end. Last season it was Dallas Clark of the Indianapolis Colts. And those are not the league's two best tight ends. A year from now someone else likely will become the highest paid at the position, because that's how the market works.
How will this trade work out?


Kellen Winslow
TE
Tampa Bay Buccaneers


2008 STATS
REC
YDS
TD
AVG
LNG
43
428
3
10.0
30
Pat Yasinskas: After firing Gruden and releasing Derrick Brooks, the Bucs were lacking star power. The Glazer family, which owns the team, likes star power and they got some flash in Winslow. He instantly gives the team a big name and his personality should help liven up a locker room that didn't have a true spirit last season. Yes, the price tag was steep and there are plenty of other needs the Bucs could have filled if they kept their second-round pick. But they would not have gotten an instant star in the second round. They get that in Winslow and, for better or worse, he'll be one of the front men for this new regime.

James Walker: For the Browns, they will probably use the additional second-round pick (No. 50 overall) on either a receiver or a running back. Cleveland's offense was abysmal and ranked No. 31 out of 32 teams in the NFL in 2008. The Browns used four different quarterbacks and couldn't get anything established on the ground or through the air. So help at running back or receiver makes the most sense. This is particularly the case if the Browns trade No. 1 receiver Braylon Edwards. There have been talks involving at least one team in the New York Giants. The Philadelphia Eagles also are a possibility. In addition, Donte Stallworth's legal situation makes the receiver position a priority. The Browns need all the help they can get. So there is some pressure on Cleveland to select the right player with this pick, particularly since the team gave up one of its best players.


| | |
| --- | --- |
| | |
| | NFL.com Video |
| | Kellen Winslow speaks to the media after being traded from Cleveland to Tampa Bay. |
Who got the most of this trade?

Pat Yasinskas:
Things could change in the long term if the Brown
s hit big with their draft picks. But there's no question the Bucs are the winner in the short term. They got a very good player, who still has the potential to become great. If he does, the price tag won't be that big a deal. I've always thought NFL general managers treat draft picks too preciously and are too hesitant to part with them. I'm glad Dominik broke that tradition because I believe that any pick beyond the first round is just a guess anyway. There's no guessing with Winslow. We already know the guy is good. Yes, he had some injury problems and has been a little controversial at times. But there's no question he's one of the most talented tight ends in the league. Now, he'll get his chance to produce.


James Walker:
Although I have no problem with Cleveland starting from scratch, I do also believe Tampa got the most of this trade. It will pay immediate dividends for the Buccaneers, because they get a proven commodity. No tight end Tampa would have drafted this year comes with the game-breaking ability of Winslow, particularly if they chose to draft a tight end in the second round or lower. The Browns now have two second-rounders (No. 36 overall and No. 50) to plug an additional hole. But as I mentioned, they have to nail the pick first to get value in return for this trade. With a first-year general manager leading his first draft, there certainly are no guarantees. A fifth-rounder in 2010 is pretty much a non factor. It won't help Cleveland next season, and statistically there is a little probability a fifth-round pick could ever significantly help unless the Browns found a gem. This is a "win-now" league and Tampa helped itself the most to win in 2009. The Browns might be able to help themselves with this trade down the road. Maybe.
April, 13, 2009
4/13/09
11:02
AM ET
Posted by ESPN.com's James Walker
Team needs: Linebacker, receiver, defensive line
| | |
| --- | --- |
| | |
| | Scott Boehm/Getty Images |
| | Because it's unlikely Aaron Curry will be on the board, the Browns should consider defensive lineman Brian Orakpo (above). |
Dream scenario
: Cleveland would love for Wake Forest linebacker
Aaron Curry
to fall into its lap at No. 5. Curry is considered by some to be the best player in the draft. Last month, the Browns desperately needed help at linebacker but figured Curry would be gone, so the team signed former
New York Jets
linebackers
Eric Barton
and
David Bowens
to fill the needs. Barton and Bowens are over 30 and will be stopgap players in Cleveland for a couple seasons. Landing Curry would give the Browns a franchise defensive player to possibly build around for the next decade.
Plan B: If Curry is off the board, the Browns could turn their attention to Texas linebacker/defensive end hybrid Brian Orakpo. New head coach Eric Mangini needs versatile players for his 3-4 defense. Orakpo also brings a pass rush, which was a major weakness last season in Cleveland. Do not completely rule out Cleveland looking at receiver. It recently released receiver Joe Jurevicius and starter Donte Stallworth is facing legal woes that have put his career in jeopardy. With top receiver Braylon Edwards a big name on the trading block, Cleveland will need someone to throw to in '09.
Scouts Inc. take: "Their needs are many. Going across their offense, the Browns need receivers now. I think receiver all of a sudden is a huge need and Michael Crabtree might be a great pick for them. They need a running back-in-waiting. But they really need a pass-rusher. Their pass rush is atrocious, so Orakpo makes sense for them, putting him on the other side of Kamerion Wimbley. I think Wimbley has proven that he is not a No. 1 pass-rusher. He could be OK as a complementary guy. But he's been disappointing when the attention is rolled in his direction. So Orakpo or Crabtree makes the most sense, but they need a lot." -- Matt Williamson, Scouts Inc.
PollCenter: On the Clock

What is the Cleveland Browns' biggest positional need? VOTE
Who has final say: Contractually, first-year general manager George Kokinis has final say on the 53-man roster. But based on the team's moves in free agency -- acquiring four Jets last month -- it's clear that new coach Eric Mangini is pulling many of the strings behind the scenes. The company line is that both Mangini and Kokinis will work together as an equal tandem.
Now on the Clock: Seattle Seahawks.
Previous On the Clock: Cincinnati Bengals. The team-by-team series.
March, 13, 2009
3/13/09
9:55
AM ET
Posted by ESPN.com's Mike Sando

Matt Bowen of National Football Post analyzes trade prospects for Cardinals receiver Anquan Boldin. Bowen: "This guy is for real. I played against him during my career, and I can tell you that he's the last receiver you want to see in the open field with the ball in his hands. Yes, Randy Moss might strike the most fear in NFL players when he lines up before the snap, but once Boldin catches the football, he's the scariest thing on the field."
Revenge of the Birds' Hawkwind summarizes recent reports about Boldin. Hawkwind: "I won't go as far as guaranteeing that he'll be a member of the 2009 Arizona Cardinals but the team seems to be loading up for a championship run with Warner at the helm and Boldin is more valuable, in the short term, than two or three extra draft picks."
Kent Somers of the Arizona Republic quotes Cardinals general manager Rod Graves as saying the team hasn't changed its approach to a potential Boldin trade. I would expect the Cardinals to maintain that stance.
Rebekeh Sanders of the Arizona Republic says the Cardinals are raising lower-level ticket prices while leaving upper-level prices unchanged. Team vice president Mark Dalton: "We're really proud of the product we have not only on the field but also the atmosphere in the stadium. We think it's among the best, if not the best, in the league. In order to compete successfully on the field, we have to have a certain price point."
U.S. Army Sgt. Emily Suhr, writing for the Arizona Republic, checks in with Cardinals receiver Larry Fitzgerald during his USO tour stop in Iraq. Rams linebacker Will Witherspoon is also among those present. Said Sgt. Donald Zeitler of Orting, Wash.: "Who I wanted to see the most was probably Larry Fitzgerald because there's kind of a rivalry between the Seahawks and the Cardinals and I've watched them play a lot. He's really fun to watch play."

PCarn of Turf Show Times likes the way the Rams have upgraded their inside running game with fullback Mike Karney and center Jason Brown.
Bill Coats of the St. Louis Post-Dispatch asks Rams running back Steven Jackson for his thoughts on Karney's addition. Jackson: "I've seen the holes that he's opened up. He's someone I'm looking forward to working with." Jackson also said he liked the Rams' direction so far this offseason.
Also from Coats: Utility offensive lineman Adam Goldberg paid a free-agent visit to the Browns. Coats wonders why the Rams haven't re-signed the versatile backup. Goldberg played reasonably well in relief at times during the 2008 season.

Danny O'Neil of the Seattle Times suggests former Seahawks receiver Joe Jurevicius, recently released by the Browns, might have failed a physical examination prior to his release. I can confirm that Jurevicius did indeed fail the physical. However, that doesn't necessarily tell us much about the nature of his condition. Players fail physicals associated with their releases quite routinely.
Clare Farnsworth of the Seattle Post-Intelligencer asks whether the Seahawks might consider drafting Aaron Curry even though the team has much invested in its current linebackers. The strongest quote comes from Rams general manager Billy Devaney: "Curry was the first guy we put [tape] on, and we were like, 'Wow! This guy is special.' He is really good on tape. And then we started talking about the intangibles and, to a man, everybody said he's top of the line."
John Morgan of Field Gulls lists reasons for the Seahawks to demonstrate interest in Curry, including Julian Peterson's age and salary. Peterson, who turns 31 in July, has remained durable enough to play roughly 95 percent of the Seahawks' defensive snaps since joining the team as a free agent before the 2006 season.
Also from Morgan: He thinks Howard Green's limitations will prevent the ex-Seahawk from making the desired impact for the Jets.
Mike Parker of Seahawk Addicts explains why he thinks the Seahawks will not seriously consider B.J. Raji with the fourth overall choice. Parker: "When all is said and done, if the decision at No. 4 is to be made between Raji and [Eugene] Monroe, the smart money is going to be on Monroe."

David Fucillo of Niners Nation selects Florida State's Everette Brown for the 49ers in a mock draft. For those of you unfamiliar with mock drafts, they consist of ... kidding.
Lisa Goodwin of 49ers.com checks in with Vernon Davis after the tight end spent considerable time meeting with congressmen to promote physical fitness. Rams linebacker Chris Draft also took part in the meetings.
March, 12, 2009
3/12/09
12:25
PM ET
Posted by ESPN.com staff
Baltimore Ravens
Cincinnati Bengals
Cleveland Browns
Pittsburgh Steelers
March, 11, 2009
3/11/09
11:34
PM ET
Posted by ESPN.com's Mike Sando

Clare Farnsworth of the Seattle Post-Intelligencer says the Seahawks are unlikely to bring back cornerback Ken Lucas, released by the Panthers.
Also from Farnsworth: The Seahawks surely would have signed Joe Jurevicius if the receiver had come available during the 2008 season. The chances are less likely at this point.
Danny O'Neil of the Seattle Times says the Seahawks "have to at least consider" adding Jurevicius to their roster. The Seahawks can never have enough depth at receiver after what happened last season, but T.J. Houshmandzadeh and John Carlson give the offense two strong options in the red zone.
Eric Williams of the Tacoma News Tribune looks at the zone-blocking concepts Seattle plans to adopt under new offensive coordinator Greg Knapp. Williams: "The key to zone blocking is to stretch the defense horizontally, creating vertical seams at the point of attack which allow the running back to quickly get to the second and third level of the defense. That's why it's important to have a one-cut guy at running back who sees the hole and runs downfield quickly instead of hesitating at the line of scrimmage. Both Julius Jones and T.J. Duckett fit that description."

Darren Urban of azcardinals.com says former Browns personnel evaluator T.J. McCreight joined former Broncos general manager Ted Sundquist in interviewing for a job with the Cardinals. The team does not expect to make a hire immediately. Urban also expects the Cardinals to sign former Broncos snapper Mike Leach. Urban also counts 59 players on the Cardinals' roster, one more than I've got on my downloadable roster. Hmmm.

Bill Coats of the St. Louis Post-Dispatch says newly signed Rams safety James Butler thinks new teammate Tye Hill can realize his potential beginning in 2009. Butler and Hill are friends and business partners. Also, Butler says Rams defensive backs Oshiomogho Atogwe and Ron Bartell repeatedly hit his cell phone with text messages designed to convince the former Giants safety to sign with St. Louis.
Jeff Gordon of stltoday.com develops the Butler-Hill storyline. Gordon: "If Butler can get Hill on the upward path, this signing will be like a two-for-one special. Not only will the Rams get a new safety to replace Corey Chavous, they will get a new-and-improved cornerback as well."
Rich Cimini of the New York Daily News pours cold water all over the thought of the Jets possibly landing Torry Holt once the Rams release the veteran receiver.

Matt Maiocco of the Santa Rosa Press-Democrat thinks the 49ers will draft a quarterback, but not with the 10th overall choice. Also, the 49ers aren't showing interest in Orlando Pace at this point, and they likely will not show interest in Torry Holt if the Rams release the veteran receiver. Finally, Alex Smith's new contract does not include $4 million per season in addition to his salaries. That money was owed to him as part of his previous deal.
Matt Barrows of the Sacramento Bee revisits Urban Meyer's 2005 comments about Smith. Meyer: "I think he is the best football player that I have ever been around. He is one of those guys if you take his intangibles and put him at any position you will probably get the best player at that particular position. His greatest qualities are competitiveness, intelligence and work ethic. Then on top of that, he is very talented too. I am ecstatic that he was the first player picked and I'm excited that he is in San Francisco."
March, 11, 2009
3/11/09
9:26
PM ET
Posted by ESPN.com's James Walker
The Cleveland Browns continued their trend of overhauling their roster under new coach Eric Mangini Wednesday night, releasing veteran receiver Joe Jurevicius after three years with the team.
Jurevicius was inactive all of last season when a routine knee surgery went awry when he came down with a subsequent staph infection that required multiple follow-up surgeries and kept him on the shelf.
Cleveland needed help at receiver even before this move. There is not much behind No. 1 starter Braylon Edwards. Donte Stallworth will need to have a bounce-back year as the No. 2 receiver for the offense to be successful. And it's a toss up of who will receive playing time after that.
Expect the receiver position to be a priority--although not the biggest priority--during next month's NFL draft. There is a lot of depth at the receiver position and the Browns will look to tap into that, most likely sometime after the first round.
October, 30, 2008
10/30/08
8:00
AM ET
Posted by ESPN.com's James Walker
Here are the most interesting stories Thursday in the AFC North:
Morning take: McAlister started the year fast, but his level of play dropped off and he was eventually benched. You wonder how much a banged up McAlister could help if he decides to return?
Morning take: But Rivers said the hit was clean. Most of Ward's victims contend otherwise, but Rivers is not among them.
Morning take: This is not surprising. Jurevicius' knee has been through multiple surgeries in less than a year due to a routine procedure and subsequent staph infection. The bigger question is will he try to give it a go next year?
Morning take: Maybe. But there's no point in reflecting at this juncture. It's time to look ahead and move forward.
August, 27, 2008
8/27/08
9:30
AM ET
Posted by ESPN.com's James Walker
Cincinnati Bengals head coach Marvin Lewis denied an ESPN report by Chris Mortensen that the team is shopping tailback Rudi Johnson in search of a receiver.
Morning take: Lewis also denied interest in Chris Henry and that the team was offered two first-round picks for Chad Johnson. So we know the drill.
After fumbling twice in last week's preseason game, the Pittsburgh Steelers have rookie tailback Rashard Mendenhall carry a football around the facility and offers $100 to anyone who can knock it out.
Morning take: That's a pretty good bounty. Next time I see Mendenhall in the locker room, can I take a few swipes, Mike Tomlin?
Morning take: The Browns are lacking a true third receiver without Jurevicius. But there is an available player who WANTS to fill that role in 2008 (hint, hint, wink, wink). Check out the AFC North blog later this afternoon to find out who.
July, 18, 2008
7/18/08
8:25
AM ET
Posted by ESPN.com's James Walker
Jamison Hensley of the Baltimore Sun astutely points out that the Ravens have eight unsigned draft picks and just three days to get them all under contract.
Morning take: After getting their top pick, Joe Flacco, in late Wednesday night, it's time to go to work. The biggest issue for the Ravens this weekend will be second rounder Ray Rice, considering the current confusion over the fourth year of contracts involving second-round picks and the potential for labor unrest.
Most of the recent talk in Cleveland has centered around the potential loss of Joe Jurevicius, whose recent knee surgery likely will result in the Browns receiver to miss the first six weeks of the regular season.
Morning take: The Browns were very lucky with injuries last year, which helped propel the team to a 10-6 season. With a growing list of ailments to Jurevicius, cornerback Daven Holly (knee) and guard Ryan Tucker (hip), it doesn't appear Cleveland will have the same level of luck in 2008.
Morning take: After that there was a significant gap in the AFC North with the Pittsburgh Steelers (No. 21) and Cincinnati Bengals (No. 26). I wonder if this could play a factor in close division games this season?
NFL SCOREBOARD
Sunday, 2/2
WEEKLY LEADERS