May, 29, 2013
5/29/13
2:09
PM ET
In a story that refuses to die,
Baltimore Ravens
quarterback
Joe Flacco
told the
team's official website
on Wednesday that he disagrees with his agent's comments that the team was "dumb" not to sign him before the 2012 season. His agent, Joe Linta, has already apologized to the Ravens if they were offended by his use of the word "dumb."

Story over, right? Well, it would be probably dumb to think that. In 2016, Flacco's salary-cap number jumps to $28.55 million, which means the sides will be at the negotiating table once again in three years.
Will Linta's comments have any affect on those future talks? Flacco doesn't believe so.
"I think the good thing about the whole process was that when we were negotiating the deal, there was always respect," Flacco said. "I had respect for them with the deal they offered, and I think they respected my decision to not take it. I think throughout the whole process, it's been very good."
I really can't see Linta's comments playing any role in the next round of talks. The Ravens are smart enough to know that Linta was defending Flacco against assertions that he was being greedy for signing his $120 million deal, and Linta is smart enough to know he should have chosen his words better in doing so.
In the end, it will be Flacco's play on the field that will dictate what will happen in 2016. If he continues his hot streak from the postseason, Flacco will again receive a big payday from the Ravens. If he doesn't, that's when it will get interesting, because the Ravens won't be able to carry Flacco at that salary-cap number. To think anything else will be a factor is, well, just dumb.
May, 28, 2013
5/28/13
1:38
PM ET
The
Baltimore Ravens
waited for quarterback Joe Flacco's contract to run out and got themselves a Super Bowl title.
Flacco
Ryan
That also cost them millions of dollars when they eventually re-signed Flacco to a six-year $120.6 million deal after last season. With Flacco taking up such a big part of the salary cap, the Ravens have seen an offseason purge of other veterans.
The
Atlanta Falcons
were watching all this and they should have learned something. Atlanta quarterback
Matt Ryan
is in the exact same situation as Flacco was this time a year ago -- headed into the final year of his rookie contract.
Flacco's agent, Joe Linta, recently said he has "
no sympathy
'' for the Ravens losing some veterans this offseason because they could have prevented that by locking up Flacco last year. Linta said the sides were close, but things got held up due to a dispute about $1 million late in the contract. That prompted Flacco to play out his rookie deal and the final season of that undoubtedly drove up his price tag.
The Falcons simply can't afford to do the same thing with Ryan. They need to get him locked up this offseason.
I think it will happen. General manager Thomas Dimitroff is a smart guy and he's expressed optimism about getting a deal done. He also has expressed a need to be creative with the structure of Ryan's contract.
There's nothing wrong with that. If the Falcons can get Ryan signed for the long term now, they can make the deal relatively cap friendly.
If they wait too long and Ryan goes out and delivers anything close to the season Flacco did, the price tag is going to shoot up on the quarterback and a good chunk of the roster will be forced to leave.
May, 27, 2013
5/27/13
10:00
AM ET
The agent for
Joe Flacco
criticized the
Baltimore Ravens
for
not signing the quarterback
before the 2012 season.
[+] Enlarge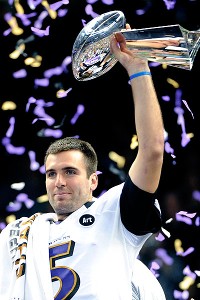 Robert Deutsch/USA TODAY SportsBy winning the Lombardi Trophy, QB Joe Flacco forced the Ravens to pay up with a lucrative deal.
"I've never in my life seen a dumber move," agent Joe Linta told
USA Today Sports
.
Was it the wrong move financially to let Flacco play out the final year of his rookie contract? Absolutely. Linta estimates the Ravens would've saved $35 million if they hadn't waited.
Was it a dumb move by the Ravens? Not necessarily. There's something to be said for dangling a big pay day in front of an athlete to get the best possible performance. The Ravens have enjoyed putting the franchise tags on players because it puts pressure on them to play well since it's essentially a one-year contract. Likewise, the Ravens put that same pressure on Flacco by letting him play his contract year.
Baltimore was really in a no-lose situation with Flacco. The only way the Ravens were either going to have to pay him more than $16 million per season, the offer before the 2012 season, was if Flacco had a Pro Bowl season or if he led them to the Super Bowl. Up until last season, Flacco had failed to do either one.
Let's put it this way: If Flacco hadn't completed that miracle throw to
Jacoby Jones
in the AFC divisional playoff game in Denver, the Ravens probably could've signed him to a deal that averaged $16 million per season. Baltimore wouldn't have had to pay more for Flacco given his solid but far from spectacular regular season (3,817 yards passing with 22 touchdowns and 10 interceptions).
But Flacco guided the Ravens to the Super Bowl title with a postseason for the ages and became the Super Bowl Most Valuable Player. The Ravens had little choice but to sign him to a deal that averaged $20.1 million per season ($120.6 million over six years). Yes, Flacco made the Ravens pay for not signing him before the season. But don't forget that the Ravens got what they wanted in the end, too, and that's their first Lombardi Trophy in 12 years. If you told Ravens owner Steve Bisciotti that it would cost him an additional $35 million to win the Super Bowl, my guess is he wouldn't think twice in opening up the check book.
I understand Linta's reasoning for what he said. Some fans think Flacco was selfish for signing that then-record deal when the Ravens lacked salary-cap room and had to part ways with wide receiver
Anquan Boldin
and safety
Ed Reed
. Linta was defending Flacco when he explained that the Ravens put themselves in this situation by not signing him earlier. They were unwilling to add $1 million more to the final year of that deal, according to Linta.
"So I have no sympathy," Linta said. "None."
Linta could've handled the situation more deftly. He should've made the point that Flacco actually helped out the Ravens' salary-cap situation by agreeing to a long-term deal rather than play under the franchise tag. His salary-cap figure for 2013 is $6.8 million. Instead, Linta chose to gloat.
The negotiations over the past two years between the Ravens and Linta were always regarded as cordial and professional. Let's see if that's the same tone when the sides will have to rework Flacco's deal in 2016 when his cap number balloons to $28.55 million.
May, 26, 2013
5/26/13
12:15
PM ET
By
ESPN.com staff
| ESPN.com
Joe Flacco
's agent told USA Today Sports that the
Baltimore Ravens
made a dumb move by not signing the quarterback before last season.
Flacco signed a six-year, $120.6 million extension this offseason after helping the Ravens win the Super Bowl. He has been criticized by some Ravens fans for the contract after Baltimore purged its roster of several high-priced veterans after re-signing its franchise quarterback.
Agent Joe Linta, however, told USA Today he has "no sympathy" for the Ravens, who could have signed his client to a much-more cap-friendly contract last year.
Read more
.
February, 7, 2013
2/07/13
12:00
PM ET

Joe Flacco's agent Joe Linta joins NFL Live to discuss why the Super Bowl MVP should be one of the highest-paid players in the NFL and the current state of contract negotiations with Baltimore.
December, 1, 2012
12/01/12
9:23
PM ET
This has been on my mind all day.
Still, after traveling 1,000 miles, I have yet to reach any comprehension. I have nothing profound to say about the horrible tragedy this morning in Kansas City that has galvanized the NFL world, other than to say I have the same feeling you probably have -- utter sadness.
I awoke this morning to a text saying a
Kansas City Chiefs
player had killed his girlfriend and then shot himself at the team's facility. The text said the player involved was linebacker
Jovan Belcher
.
Like so many at ESPN, I immediately worked the phones in search of more details of this mind-numbing event. As I traveled to Denver, I thought about what I was going to write in this story.
What could I say about this event that no one else is feeling or saying?
[+] Enlarge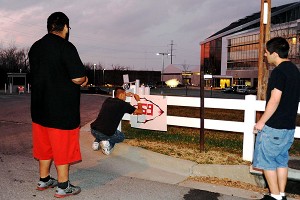 John Rieger/US PresswireChiefs fans place a sign outside the team's practice facility, site of Jovan Belcher's suicide.
Thus, I want to join the masses, and express my thoughts and grief for the family of Belcher's victim, Kasandra M. Perkins, who died at 22, and the couple's infant daughter. Lives were ended; others were ruined. So terrible.
I also feel bad for Scott Pioli and Romeo Crennel. The Chiefs' general manager and coach were talking to Belcher, according to police, just before the player walked away and shot himself.
What a terrible and emotional event to witness. This day will be with these men for the rest of their lives; they will never be able to shake it. Pioli and Crennel went to work Saturday morning to put the finishing touches on another game week in a miserable season. Then they were thrust into the middle of a crisis involving a young man they had grown to care for.
I know Pioli and Crennel are not popular figures in Kansas City these days because of the team's 1-10 season. There is a strong chance Chiefs ownership will make wholesale changes in a month.
What happens professionally will take its course.
I expect Kansas City fans to loudly support their hurting team Sunday when the Chiefs host Carolina at Arrowhead Stadium. It should go without saying that I hope there are no airplane flyovers imploring that people be fired, no fan "blackouts" at the game. The voice of the understandably angry Chiefs fan has been heard, and it has been noted.
Sunday will be about beginning the healing process and honoring those left behind from this senseless crime. Be a Chiefs fan Sunday. At the core, that's what you are.
I know some people don't understand why or how the game can be played. But the Chiefs' coaches and team captains reportedly played a major role in the decision to go ahead with it. If the Chiefs want to play, I think we all can support that choice.
I've been asked a lot Saturday about what Belcher was like. I didn't know him. I never met him or interviewed him. I knew he was an overachieving player who ended up starting 44 career games after going undrafted.
I know his agent, Joe Linta, very well. He has a well-deserved reputation for representing solid-citizen types. He had always spoken highly of Belcher to me. Linta expressed disbelief Saturday.
Disbelief. That's all you can feel when something so unspeakable happens.
March, 16, 2012
3/16/12
5:07
PM ET
Kamerion Wimbley
is a former Raider.
The pass-rusher, who signed a lucrative extension last summer, is being released, his agent Joe Litna said. He said he and the Raiders tried to come up with a creative way to keep Wimbley in Oakland and to help the Raiders' salary cap, but they were unable to come to an agreement.
"We tried feverishly to work it out, but we couldn't," Linta said. "The Raiders' salary cap and cash constraints were too great to get anything done. Oakland general manager Reggie McKenzie is a real pro and I appreciate how he handled this situation."
Keeping Wimbley on the roster through Saturday would have triggered $17.5 million in bonuses. Wimbley will be paid $6.5 million by the Raiders anyway for this year, but it will save Oakland $4.5 million. He will draw interest on the open market. While the Chargers have already spent a lot in free agency (they have re-signed two players and added four outside contracts), they need a pass-rusher and might be interested. Chicago is another team to keep an eye on.
Wimbley is the seventh salary-cap casualty in Oakland this season. He spent two years with the Raiders after being acquired in a trade with Cleveland two years ago. Wimbley had 16 sacks in two seasons with the Raiders.
March, 1, 2012
3/01/12
1:52
PM ET
In their attempt to get under the salary cap, the
Oakland Raiders
have thrown down the gauntlet with one of their high-priced players.
NFL.com is reporting
that a team source said linebacker
Kamerion Wimbley
will be cut if he doesn't take a pay cut. That ultimatum to Wimbley isn't unexpected, but I'm not sure the tactic will work. Wimbley's agent, Joe Linta, is not the type to blink. If he thinks the proposed pay cut is too steep and he thinks he can get his client a better contract on the open market, he will stand his ground and call the Raiders' bluff.
Pass-rushers are always in demand on the open market. There would be interest in Wimbley in free agency. I could see the
San Diego Chargers
taking a look at Wimbley. Four of his seven sacks last season were against the Chargers in one game. Wimbley has 42.5 career sacks in six NFL seasons and 16 in the two seasons he has spent with the Raiders since being acquired in a trade with the Browns. Wimbley created solid pressure in 2011 despite average sack numbers.
Wimbley, who signed a lucrative extension in August, is due to make $11 million this season with $6.5 million in guarantees. The Raiders are most interested in lowering Wimbley's cap number to help the team get under the salary cap. The Raiders are more than $20 million over the cap.
They may have to cut a player or two and it seems Wimbley is on that list if he is not open to restructuring. The Raiders cut cornerback
Stanford Routt
last month. Like Wimbley, Routt was given a hefty new contract last year by former owner Al Davis, who died in October. While the new Oakland regime is trying to get the team's cap in order, it is also trying to keep quality players on a defense that already needs upgrades.
Losing Wimbley would hurt the Raiders but in seems they are prepared for the possibility.
In other AFC West news:
January, 18, 2012
1/18/12
11:56
AM ET
The idea of getting a second chance has long driven Romeo Crennel.
Getting back in the head-coaching chair he fought so long and hard to get into in the first place, has fueled Crennel -- long respected as one of the NFL's best defensive minds -- since he was fired as the head coach in Cleveland in 2008 after four seasons.
[+] Enlarge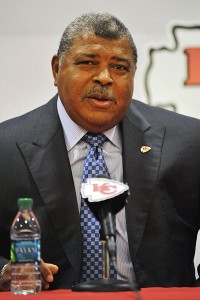 Denny Medley/US PresswireRomeo Crennel completed his stint as the Chiefs' interim coach with a 2-1 record, including a win against the unbeaten Packers.
Now that he has secured that second chance, Crennel said he hasn't had much time to reflect on the opportunity. He is too busy diving into his role as the head coach of the
Kansas City Chiefs
. Time spent congratulating himself on achieving his goal would be time wasted.
"I have 1,000 things to do to get this thing going," Crennel said. "This is an opportunity that I want to take advantage of … I am happy to get that second chance and there were times I didn't think it would happen."
Thus, when the door opened for Crennel, his determination to earn a second chance was evident. Crennel, who took a season off after being fired in Cleveland, became the Chiefs' defensive coordinator in 2010. When he was named the interim coach after the Chiefs fired Todd Haley with three games remaining this season, there was talk Crennel had a chance to become the permanent coach.
In Crennel's first game as the head coach, the Chiefs knocked off the Packers. It was Green Bay's only loss of the regular season. After losing in overtime at home to the Raiders in Week 16, the Chiefs won in Denver in a game the Broncos could have clinched the division title outright with a win. Talk about taking advantage of an opportunity.
Kansas City conducted some other interviews after the season, but the inevitable happened Jan. 9 when Crennel officially got his second chance. At the age of 64, Crennel wasn't exactly counting on being a head coach again. He is now the second-oldest active head coach in the NFL behind the New York Giants' Tom Coughlin, who is 65.
Now that he has received his second chance, Crennel is determined to prove he isn't another name in the "good coordinator, bad head coach" bin.
Crennel, who was bypassed by six teams in 2003 after interviewing for head-coaching jobs when he was the Patriots' defensive coordinator, was 24-40 in Cleveland. The Browns did go 10-6 in 2007 under Crennel, but didn't make the playoffs.
"We had a 10-win season there and I knew we did some good things there," Crennel said. "I want to prove what we can do given this opportunity."
Crennel said he has already applied lessons learned in Cleveland in his short time in Kansas City. Crennel's first act as the interim coach was to replace quarterback
Tyler Palko
with
Kyle Orton
. Crennel struggled with a quarterback controversy in Cleveland between
Brady Quinn
and
Derek Anderson
. He was determined to avoid one this time.
Another reason Crennel is fueled for his second chance is he knows he is in a better situation. He acknowledged that the talented Chiefs' roster is better than the roster he inherited in Cleveland.
"This is a passionate group of players," Crennel said. "We want to develop a good team chemistry and we think we have a good nucleus here."
It starts with Crennel. Chiefs owner Clark Hunt has said one of the reasons he hired Crennel is his competitive nature. Hunt was impressed when Crennel told him he wanted to be the Chiefs' head coach because he wanted to win the Super Bowl.
If the performance of the Chiefs' players under Crennel in the final three games of the season is any indication, they are ready to make a Super Bowl run under Crennel's guidance.
"I represent four players on the team," said Joe Linta, Crennel's agent. "All four of them are thrilled that Romeo got the job. His players love him."
Crennel is known for his genial way and his patience. Crennel is a steady hand, who is always there for an encouraging word. His four Super Bowl rings (one with the Giants and three with the Patriots) earned as an assistant coach doesn't hurt his credibility, either.
"I've been very fortune to be around some great players and great coaches like Bill Parcells and Bill Belichick," Crennel said. "I have had a long history and I wouldn't change anything as I prepare for this job."
There is a strong chance this will be Crennel's final job. It has been an incredible journey for the Lynchburg, Va., native who played offensive and defensive lineman at Western Kentucky. As he begins his second chance, Crennel reflected on the Martin Luther King Jr. holiday this week. Crennel was a 20-year-old college student when King was killed.
"It was an emotional time." Crennel said. "As a minority, I was worried about the progress Dr. King made would be stopped because of his death, but the movement kept going and I'm sure he would be very proud of it. I'm pleased it kept going and I'm very appreciative of every chance I've gotten because of his hard work."
July, 26, 2011
7/26/11
8:32
PM ET
It's not exactly the onslaught
, but there is movement in the AFC West.
The San Diego Union Tribune reports the Chargers signed right tackle Jeromey Clary for four years, $20 million. Clary was a target of the Chargers, who have plenty of cap room. The Chargers have several free agents and are working on keeping targets Eric Weddle and Kevin Burnett. Clary is an underrated part of a strong offensive line. Keeping him means continuity for a strong offensive line.
In Kansas City, center Casey Wiegmann reportedly has signed for one year. This has been expected. His agent Joe Linta, told me last week that Wiegmann, 38, wanted to play one more year in Kansas City. The Chiefs have long wanted him back. Wiegmann is an anchor to a strong offensive line. He is a leader on and off the field. Wiegmann will groom second-round pick Rodney Hudson, who can also play guard.
The Raiders brought back former Denver first-round pick Jarvis Moss. He is strictly a backup. The Raiders have plenty of high-profile free agents, but keeping Moss is just for depth reasons.
Meanwhile, keep an eye on Seattle free agent Brandon Mebane in Denver. If the Seahawks don't re-sign him, he could fit with the Broncos.
I continue to hear linebacker Nick Barnett would love to play in San Diego. I'm sure the Chargers would have interest in him at inside linebacker. Barnett has been told by Green Bay he'll either be cut or traded soon.
Oakland guard Cooper Carlisle was at the Raiders' facility Tuesday. There has been reports that he could be cut as Oakland tries to get under the salary cap. Oakland has been working on contract restructuring to get under the salary cap.
Ohio State has made a decision that could help Terrelle Pryor get a spot in the supplemental draft. There had been questions whether or not he'd be eligible. Pryor has been connected to Oakland.
San Diego also brought back tight end Randy McMichael for one year. He is a favorite of head coach Norv Turner. McMichael is a solid backup receiver and an underrated blocker. He is good insurance if starter Antonio Gates has another injury-filled season. McMichael, 32, had 20 catches for the Chargers in 2010.
June, 10, 2009
6/10/09
3:30
PM ET
Posted by ESPN.com's Bill Williamson
The agent for Denver center Casey Wiegmann said the contract discussions between the Pro Bowler and the team will not become acrimonious.
"No, that will not happen," agent Joe Linta said Wednesday. "We've had a very good experience with the Broncos and that will continue."
Linta has expressed a desire to redo Wiegmann's contract since the player decided not to retire in February. Wiegmann signed a modest two-year contract last year. After starter Tom Nalen couldn't play because of a knee injury, Wiegmann, who'll turn 36 next month, made the Pro Bowl.
Wiegmann told the Colorado Springs Gazette on Monday that it would be "tough" for him not to retire before training camp starts late next month if he isn't given a new contract. Linta said that Wiegmann and the Broncos are on the same page and are communicating.
Linta said it is a tribute to both parties that they said they want to do it "the right way." Wiegmann has participated in all of Denver's offseason activities.
"This has all been above board," Linta said. "Casey is doing it the right way. He is not staying away. He is showing up and doing it the right way. I'm certain the Broncos will, in turn, do the right thing. Both Josh McDaniels (Denver's coach) and Brian Xanders (Denver's general manager) are professionals. We feel good about dealing with them."
While anything can happen, I'd be surprised if this situation got out of control. I don't believe the two sides are far apart. Wiegmann wants to play or he wouldn't be laboring this spring the way he has been and Denver needs him. Because both sides are being civil, I expect some type of accord within the next month.
March, 15, 2009
3/15/09
3:40
PM ET
Posted by ESPN.com's Bill Williamson
The agent for Denver center Casey Wiegmann said Wiegmann will report to the team's offseason workout program Monday.
"Casey will be there and is looking forward to working with Josh McDaniels," Wiegmann's agent Joe Linta said. "Casey is looking forward to showing the Broncos he is in great shape and ready for a couple of more seasons of excellent play."
The Broncos and Wiegmann have talked about a contract extension. He has one season remaining on his contract. Wiegmann has in the past worked out on his own but his participation in Denver's program is looked at as a good faith move on his part. The two sides will likely discuss a contract extension in the summer.
Meanwhile, Linta confirmed another client, tight end Jeb Putzier, has agreed to a new contract with Denver. He signed with Denver late last season. He will be a backup.
March, 13, 2009
3/13/09
8:23
PM ET
Posted by ESPN.com's Bill Williamson
The Chiefs have settled on their defensive coordinator.
The team named Clancy Pendergast as defensive coordinator on Friday. He was fired in Arizona after the Super Bowl. He worked with new Chiefs head coach Todd Haley in Arizona, where Haley was the offensive coordinator.
Pendergast was hired several weeks ago in an unnamed role. In an unusual move, Kansas City waited before making Pendergast the defensive coordinator. It was reported that the team was waiting to hire former Cleveland head coach Romeo Crennel as defensive coordinator. But his agent, Joe Linta, said last week that Crennel would not be joining the Chiefs at this time.

So Pendergast is now in charge of turning around one of the youngest and weakest defenses in the NFL. Haley believes he's up to the challenge.

"Clancy was instrumental in the Arizona Cardinals run at the end of last season that led to our appearance in the Super Bowl," Haley said in a statement released by the team. "The fact that we have experience working together along with Clancy's previous experience working with Gary Gibbs will be a big factor in our continuity as we move forward."

NFL SCOREBOARD
Thursday, 9/4
Sunday, 9/7
Monday, 9/8