June, 18, 2014
Jun 18
11:00
AM ET
Veteran defensive tackle
Kevin Williams
told ESPN.com NFL Nation Vikings reporter Ben Goessling that he
took a little less money
to sign with the
Seattle Seahawks
than the
New England Patriots
. With the specifics of Williams' contract now known, there is some added context on how far the Patriots were willing to extend financially.
Williams
Via colleague Field Yates, Williams' deal breaks down this way:
Term/total value:
One year, $2.1 million
Signing bonus:
$250,000
Base salary:
$1.5 million ($250,000 guaranteed)
Incentives:
Up to $350,000 in per-game roster bonuses
With Williams electing to sign in Seattle, here is a snapshot look at the Patriots' defensive tackle depth chart, with a quick-hit thought on each player:
Vince Wilfork (6-2, 325):
Captain and 11-year veteran is making progress in his return from a ruptured Achilles last September. Looks to be moving well.
Tommy Kelly (6-6, 310):
Another 11-year veteran, he took another step in his return from a torn ACL by participating in 11-on-11 drills Tuesday.
Dominique Easley (6-2, 288):
First-round draft choice is coming off two torn ACLs over the past 22 months, suffered in college, and has yet to take the field this spring.
Chris Jones (6-1, 309)
Second-year player was claimed on waivers last year and led all Patriots defensive tackles in snaps played in 2013. Best when penetrating.
Sealver Siliga (6-2, 325):
After a slow start to his career, the run-stuffer looks like he has built some momentum as a developmental prospect behind Wilfork.
Armond Armstead (6-5, 305):
The former Southern Cal and Canadian Football League standout has been sidelined for most of spring camps after missing all of last season with an infection.
Joe Vellano (6-2, 300):
Hard-working second-year player from Maryland is a lunch pail type of guy who plays with top effort.
Marcus Forston (6-3, 305):
Second-year player has spent multiple seasons on the practice squad and has filled in when injuries hit.
L.T. Tuipulotu (6-1, 305):
Undrafted free agent from Utah is on the developmental track.
Seali'i Epenesa (6-1, 310):
Undrafted free agent from UCLA was signed on Tuesday.
November, 7, 2013
11/07/13
12:00
PM ET
The
New England Patriots
have received significant contributions from their rookie class this season. In Bill Belichick's 14 years as head coach, this season ranks near the top of the list, if not at the top, in this area.
Following up Field Yates'
progress report
on second-year players from this morning, here is a rookie breakdown (alphabetical order):
Allen
Punter Ryan Allen:
The undrafted free agent ranks 10th in the NFL with a 46.4 average and 16th in net punting (39.9) as he's proven to be up to the task of replacing veteran
Zoltan Mesko
. He's also the holder on field goals, and
Stephen Gostkowski
is 22 of 23 this season. Allen's eight touchbacks are tied for the NFL high, which is an area for improvement.
Guard Chris Barker:
Claimed on waivers from the Dolphins at the final roster cutdown, the undrafted free agent from Nevada dressed for the first three games of the season as veteran backup
Will Svitek
was working his way back from a knee injury, but hasn't played on offense. This looks like a red-shirt year for him as the Patriots have avoided the risk of another team claiming him on waivers (Dolphins?) should they try to move him to the practice squad.
Linebacker Steve Beauharnais:
The seventh-round draft choice from Rutgers has dressed for three games, but hasn't played on defense. This appears to be more of a red-shirt year for him.
Receiver Josh Boyce:
The fourth-round draft choice from Texas Christian played in the first five games (1 catch, 24 yards) but has been inactive for the past four as veteran
Austin Collie
was viewed as a more consistent option. Boyce is one of the fastest receivers on the team, but appears to need a little more time to put it all together.
Defensive end Michael Buchanan:
The seventh-round pick from Illinois opened the season as the primary right defensive end in sub packages, but a few struggles with rush-lane integrity (Oct. 6 vs. Bengals and Oct. 20 vs. Jets) led to the signing of veteran
Andre Carter
, who has since taken over that role. Buchanan contributes on special teams and is now No. 4 on the overall defensive end depth chart, with obvious upside.
Linebacker Jamie Collins:
The second-round pick from Southern Mississippi has been a core special teams player and was integrated a bit more defensively after linebacker
Jerod Mayo
was lost to a season-ending injury Oct. 13. But after flashing a bit Oct. 20 vs. the Jets, he was pushed around in the first half against the Dolphins on Oct. 27 and has played sparingly on defense since. He has all the tools, but appears to need a bit more time.
Dobson
Receiver Aaron Dobson:
The second-round pick from Marshall has come on strong in recent weeks, elevating to the top spot on the depth chart as the X outside target. He has 31 receptions for 454 yards with four touchdowns, and at 6-foot-3 and 200 pounds gives the Patriots a combination of size and speed that they haven't had at the position since Randy Moss.
Safety Duron Harmon:
Considered a reach as a third-round pick, the Rutgers product has been a top backup behind starters
Devin McCourty
and
Steve Gregory
, playing in some sub packages. He also filled in on special teams when core player
Tavon Wilson
was out with a hamstring injury. Teammates have talked about his smarts and his professional approach.
Defensive tackle Chris Jones:
Claimed on waivers from the Buccaneers on Sept. 11, he earns our vote for Patriots "rookie of the first half" with five sacks in six games played. At 6-foot-1 and 309 pounds, his quickness has been an asset as an interior rusher, and he's been competitive from a strength/physical standpoint on run plays. Waived by the Texans, who drafted him in the sixth round, he briefly landed in Tampa before the Buccaneers let him go and the Patriots pounced. He has proven to be a steal.
Ryan
Cornerback Logan Ryan:
The third-round pick from Rutgers has made some big plays, such as an interception return for a touchdown against the Jets on Oct. 20, as he's been thrust into a top reserve role in recent weeks with
Aqib Talib
out. At 5-foot-11 and 195 pounds, he has mostly been competitive in coverage and shown a willingness to play the run.
Receiver Kenbrell Thompkins:
The undrafted free agent from Cincinnati has slid down the depth chart the past two weeks after serving mostly as the primary X option on the outside (23 catches, 334 yards, 4 TDs) through the first seven games. He made the big game-winning catch against the Saints on Oct. 13, but has since been passed on the depth chart by Dobson.
Defensive tackle Joe Vellano:
The undrafted free agent from Maryland is one of the surprises of the season. After opening the season as the No. 3 option behind
Vince Wilfork
and
Tommy Kelly
, he has been thrust into a starting role as both veterans have been lost to season-ending injuries. At 6-foot-2 and 300 pounds, he might be viewed as undersized by some, but he wins with technique and scrappiness.
October, 7, 2013
10/07/13
1:20
PM ET
CINCINNATI -- A review of four hot issues following the
New England Patriots
'
13-6 loss
to the
Cincinnati Bengals
:
[+] Enlarge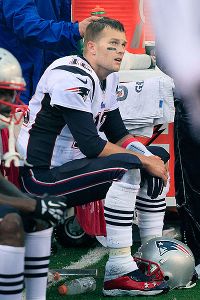 AP Photo/Tom UhlmanPatriots QB Tom Brady finished Sunday's Week 5 game in Cincinnati with 197 yards, no TDs and one interception.
Offensive struggles:
In a script that has been flipped from recent years, it's the defense carrying the offense at this point. Quarterback
Tom Brady
was held to fewer than 200 yards passing for the second time this season, as the Bengals defense controlled the game at the line of scrimmage. "We scored six points; I don't even remember the last time we've done that," Brady said Monday morning on sports radio WEEI. The last time the Patriots scored fewer points was a 21-0 shutout loss at Miami on Dec. 10, 2006. Looking for a place to start when it comes to turning around the fortunes of the offense? Start up front with the offensive line, where all five starters return and a better performance than what was put forth Sunday in Cincinnati is expected.
Rob Gronkowski's potential return:
The tight end has missed the first five games of the regular season, but he could return Sunday against the Saints. The Patriots couldn't convert in their one trip inside the red zone Sunday, and Brady threw incomplete to left tackle-turned-eligible tight end
Nate Solder
in the end zone. Gronkowski, who figures to be managed upon his return to the field, could at least help in the red zone.
Tommy Kelly and defensive tackle depth:
The veteran defensive tackle left Sunday's game with a right knee injury in the fourth quarter and didn't return. Kelly said after the game that "everything was good" with the knee, and he wasn't walking with a limp or with the aid of crutches, although it's still a bit unclear what that means. The Patriots are thin at defensive tackle after losing
Vince Wilfork
to a season-ending Achilles injury, and if Kelly is sidelined for any period of time, it would further deplete the ranks. Rookies
Joe Vellano
and
Chris Jones
are the only other defensive tackles on the roster, while
Marcus Forston
and A.J. Francis are on the practice squad.
Banged-up running back group:
With veteran
Leon Washington
leaving Sunday's game with an ankle injury and not returning,
Shane Vereen
on short-term injured reserve, and
Stevan Ridley
sidelined Sunday with a knee injury, the Patriots were down to just two running backs --
LeGarrette Blount
and
Brandon Bolden
. Both had miscues that hurt the team -- Blount a second-quarter fumble and Bolden two drops. As the passing game struggles to produce consistent results, it would help to be able to turn to the running game. But it's a depleted group and we'll be interested to see if Washington's injury leads the team to consider injured reserve as an option.
August, 31, 2013
8/31/13
3:07
PM ET
Sharing non-
Tim Tebow
-based thoughts on some of the Patriots' roster moves today:
1a. The change at punter, with
Zoltan Mesko
out and rookie
Ryan Allen
in, has many layers. Both showed this preseason that they are deserving of punting in the NFL this season and that's why I took the unconventional approach of keeping both on a
final 53-man roster projection
(the idea being that maybe it would have been easier to slide Allen to the practice squad after a few weeks). Allen's upside is obvious; his leg is a bit stronger than Mesko's. But Mesko's control and directional punting seemed a notch above over the course of training camp and the preseason. However, Allen's three second-half punts on Thursday might have been the clincher, which showed his potential when it comes to control and directional punting.
Mesko
Allen
1b. Economics shouldn't have been the primary reason for the decision to go with Allen over Mesko, but it has to be a consideration. Mesko was due to earn $1.3 million in the final year of his contract. Allen has a three-year contract and is due to earn $405,000 this season.
1c. There is a trickle-down effect when it comes to the field-goal operation, as Mesko has served as the primary holder for kicker
Stephen Gostkowski
. Allen didn't hold at Louisiana Tech, but he's worked on the skill since joining the Patriots. Allen will likely become the primary holder, although backup quarterback
Ryan Mallett
could also be a consideration for the role.
1d. In 2005, the Patriots released rookie kicker
Robbie Gould
after an impressive camp and later regretted it when
Adam Vinatieri
departed in free agency the following year. I wondered how much that experience might have played a factor in this decision.
1e. Mesko goes down as one of the players who was most fun to cover. He also seemed most genuine and his farewell message to fans was most classy. One of my favorite personal memories of Mesko was how he was brought to tears after receiving the team's community service award in 2012. It meant so much to him and the emotions took over.
2. The biggest surprise has come among the reserves at defensive end, with
Justin Francis
,
Marcus Benard
and
Jermaine Cunningham
all being cut. They projected to the 3-4-5 spots on the depth chart. Health was likely a factor with Francis and Cunningham, as they have been sidelined. There is always the possibility for them to return if not picked up elsewhere, but an initial thought is that 2013 seventh-round pick
Michael Buchanan
(
previous film breakdown
) has impressed to the point that the coaching staff felt comfortable letting go of more experienced depth at the position.
Buchanan was impressive on Thursday
.
3. Tight end
Michael Hoomanawanui
was scheduled to earn $1.3 million, but he's agreed to reduce the salary this year with the chance to recoup some of the earnings in incentives, which helped him stick on the roster. Hoomanawanui's smarts, professionalism and dependability made an impression on the coaching staff last season. That he was the last tight end standing among the group of himself,
Jake Ballard
and
Daniel Fells
is a minor surprise.
4. The release of defensive tackle
Marcus Forston
was a mild surprise from this viewpoint. This could mean that rookie defensive tackle
Joe Vellano
is the top backup behind
Vince Wilfork
and
Tommy Kelly
.
Vellano caught the eye early in training camp
, but still didn't think he'd top Forston at this point.
5. Still waiting to hear the fate of presumed bubble players like Vellano, safety
Adrian Wilson
, running back
Leon Washington
, linebacker
Jeff Tarpinian
, cornerback
Marquice Cole
, fullback
James Develin
and linebacker
Steve Beauharnais
.
August, 26, 2013
8/26/13
2:09
PM ET
FOXBOROUGH, Mass. -- A few thoughts on today's roster moves by the Patriots:
1. The team now has 77 players on the roster. Two more moves must be made by Tuesday at 4 p.m. ET.
2.
Tim Tebow
survives ... for now. This is one of the notable storylines of the week, as it appears that Tebow is fighting for a job. Bill Belichick told 98.5 The Sports Hub before last Thursday's preseason game that he had about 80 percent of the 53-man roster set. Tebow, based on his performance in the preseason, would seemingly be part of the other 20 percent, which means Thursday night's preseason finale against the Giants could be big for him.
3. None of the moves are a surprise. A player like veteran linebacker
Niko Koutouvides
, whose primary contributions come as a core special-teamer, could always return during the season if the need arises (similar to last year).
4. With defensive tackle
Armond Armstead
landing on the reserve/non-football illness list, he isn't eligible to start practicing until after the sixth week of the season. So this adds a little more context as to where things stand with his health after he had surgery for an infection at some point before training camp. He remains under contract to the Patriots but won't count against the roster. The Patriots had been counting on Armstead to be a big part of their plans and depth remains thin behind starters
Vince Wilfork
and
Tommy Kelly
.
5. Rookie defensive tackle
Cory Grissom
(South Florida) was a strong practice squad candidate, but with him landing on injured reserve, it opens the door for another rookie tackle to stick on the practice squad (
Joe Vellano
,
Anthony Rashad White
the top candidates). It also led to the re-signing of defensive tackle Scott Vallone to the roster to address a depth shortage.
6. At receiver, third-year player
Kamar Aiken
was competitive early in camp but an injury derailed him. Also, rookies
Kenbrell Thompkins
,
Aaron Dobson
and
Josh Boyce
seemed to generate more momentum and were a bit more consistent over the course of camp.
7. We didn't have offensive tackle/guard
Markus Zusevics
making the final roster, but others did, which reflected his standing as a bubble blocker around No. 8 on the depth chart. There seems to be a pretty big drop-off after the top six or seven offensive linemen so this remains an area the Patriots figure to explore on the waiver wire and free agency.
August, 22, 2013
8/22/13
11:02
PM ET
DETROIT -- Rapid reaction from the the
New England Patriots
'
40-9 loss
to the
Detroit Lions
at Ford Field:
Ugly offensive football
. This was a step back for the Patriots' offense. When the clock reads 11:38 remaining in the second quarter, and a team already has three lost fumbles and thrown an interception, that pretty much says it all. Rookie free-agent tight end
Zach Sudfeld
and running backs
Brandon Bolden
(second year) and
Shane Vereen
(third year) had the fumbles, while the interception came on a
Tom Brady
-to-
Aaron Dobson
slant in which Dobson got caught up before getting to the spot. This performance had similarities to the Patriots' 34-10 loss to the Lions in the third preseason game in 2011. The Patriots went on to win 13 games that season, which is a reminder to keep preseason results in context.

Encouraging defensive football
. If there was one positive that trumped all for the Patriots, it was the team's situational defense. The Lions were 2-of-9 on third down in the first half when the top defense was on the field, and three of the stops came at the Patriots' 5-, 19- and 13-yard lines. It could have been much worse for New England if the defense didn't stiffen like it did (it was 16-3 Lions at halftime). Yes, it helped that the Lions were without receiver
Calvin Johnson
, but it's also notable that the Patriots didn't have starting defensive tackle
Vince Wilfork
(he was seen getting stretched out by the team's strength coach before the game) and linebacker
Jerod Mayo
played only in the dime defense.
Brady's preseason workload
. Brady played the entire first half, totaling 46 snaps (including penalties, but not a half-ending kneel-down). He was sacked twice and threw the one interception. It wouldn't be a surprise if this is the last we see of the Patriots quarterback this preseason, as he's played a total of 87 preseason snaps -- 16 against the Eagles, 25 versus the Buccaneers and the 46 against the Lions. Brady had been nearly flawless entering this game (18-of-20); this performance wasn't as decisive as we saw the team's promising young pass-catchers all have their struggles at times.
Amendola doesn't suit up; Edelman fills his role
. Receiver
Danny Amendola
remained home in Foxborough, not making the trip to Detroit. Amendola has been hobbled, but it is not known if his injury is to his ankle or foot. A source previously said that the Patriots don't have long-term concerns with Amendola and he is fully expected to be ready to go Sept. 8 when the Patriots visit the Bills in the regular-season opener. In Amendola's place, fifth-year receiver
Julian Edelman
played every snap in the first half except for a fourth-down, short-yardage run. He had three catches for 18 yards.
No action for Tebow
. No. 3 quarterback
Tim Tebow
did not play, with Brady going the entire first half and No. 2 quarterback
Ryan Mallett
staying on for the second half. The crowd at Ford Field was chanting "Tebow! Tebow! Tebow!" in hopes of seeing him in the fourth quarter. Before the game on 98.5 The Sports Hub, Bill Belichick said he had an idea of about 80 percent of the team's 53-man roster. Tebow would seemingly fall in the other 20 percent, and with him not playing, there was no action to analyze to potentially sway the decision at this point.
Injury report
. The Patriots had one significant injury -- rookie free-agent defensive tackle
Cory Grissom
left the game early in the fourth quarter and was having trouble putting pressure on his left leg as he was helped to the locker room. That is a position where the Patriots are thin depth-wise. ... Lions running
Montell Owens
, the former Maine Black Bear, injured his knee and did not return. Starting safety
Glover Quin
left in the first half with a hip injury and did not return.
Quick hits
. Starting right guard
Dan Connolly
, who suited up for the first time coming back from offseason shoulder injury, played the team's second, third and fourth series (11 snaps total). ... Starting safety
Devin McCourty
, who also suited up for the first time since offseason shoulder surgery, started and played the entire first half (16 snaps). ...
The following players didn't suit up for the game
. ... The Patriots got a long look at rookie free-agent defensive tackle
Joe Vellano
(Maryland), who started in place of Wilfork. ... Kicker
Stephen Gostkowski
, who entered 2-of-5 on field goals (with misses from 44, 50 and 53 yards), converted on his lone attempt, a 31-yarder. ... Lions tight end
Joseph Fauria
, the nephew of former Patriots tight end
Christian Fauria
, scored a touchdown in the third quarter and followed it with a patented Fauria spike through his legs. ... Summing this one up: One of the ugliest Patriots preseason games in recent memory.

NFL SCOREBOARD
Thursday, 9/4
Sunday, 9/7
Monday, 9/8