October, 26, 2014
10/26/14
11:20
PM ET
GLENDALE, Ariz. --
Larry Fitzgerald
had already done his part.
By the time
Arizona Cardinals
quarterback
Carson Palmer
gave rookie receiver
John Brown
a secret signal on third-and-5 late in the fourth quarter that led to the winning touchdown, Fitzgerald had already had the third-best receiving game of his career.
With a running game that yielded only two plays of 10 yards or longer, Palmer turned to the pass to get Arizona by the
Philadelphia Eagles
24-20
.
"We were a little stagnant offensively," Fitzgerald said. "Not just in the second half but throughout the course of the first half.
"I've been saying this for a couple weeks, but we have to do a better job."
Andre Ellington
, who had 24 carries last week, had 23 carries for 71 yards and a touchdown on Sunday as Arizona's lone rusher.
Fitzgerald finished with 160 yards on seven receptions, which included an 80-yard touchdown catch and run that proved the 31-year-old isn't out of gas just yet.
"I haven't lost anything," Fitzgerald said. "That's all I'm saying. No, I haven't lost anything."
The play was sprung by a
Ted Ginn
block that was a tick away from being a flagged as a pick. Fitzgerald made the catch, cut back to his right and took off. As he was sprinting down the right side of the field toward a 14-7 lead, he saw he was pulling away from Eagles defensive backs when he looked up at the videoboard.
"It was nice and clear," Fitzgerald said. "So, I was able to see where the guys were behind me and not look back."
Fitzgerald and Brown showed how dynamic Arizona's passing game can be with Palmer leading it. After Fitzgerald's touchdown, Palmer, who threw for 329 yards and two touchdowns on 20-for-42 passing saw the Eagles start keying on the Pro Bowl receiver more often, which, in the end, may have helped give Brown the opportunity he needed.
On third-and-5 from the Arizona 25 with 1:33 left and the Cardinals trailing by three, Palmer saw the coverage he wanted and gave a signal to Brown. He faked an in route, made a double move and took over. As soon as he saw the defensive back flat-footed, Brown said he knew he had him beat. After splitting Philadelphia's
Cary Williams
and
Nate Allen
, Brown initially thought Palmer overthrew him, but Palmer had seen Brown's extra gear before and knew the rookie would catch up to it.
"We're a pretty well-built offense," Palmer said. "I think we have a lot of things you can't key on. There are a lot of guys you have to worry about. Obviously, Larry is going to get a lot of that key from a defense that is going to be very keen on where he is in a formation because his motions and adjustments are right before the snap."
Brown's touchdown capped his first career 100-yard game. He finished with 119 yards on five catches.
"He's had that opportunity for that catch twice and didn't quite make it," coach Bruce Arians said. "Now, it's more time at practice.
"It was a great throw, but again, it was a great, great catch of him adjusting to a Willie Mays' catch over his shoulder."
October, 26, 2014
10/26/14
10:00
PM ET
GLENDALE, Ariz. -- Observed and heard in the locker room after the
Arizona Cardinals
'
24-20 victory
over the
Philadelphia Eagles
:
Brown

Wide receiver John Brown has been compared to some of the best small receivers in league history, but linebacker Sam Acho went one step further: "People compare him to Marvin Harrison. I think he's better and I loved watching Marvin Harrison, but [Brown]'s unbelievable."
When Cardinals coach Bruce Arians took the podium Sunday, he wanted to keep his comments to a minimum for a reason. "I'll be brief so you can get to the guys that actually won the game, not the one that almost lost it," Arians said.
On their winning touchdown hookup, Brown said quarterback Carson Palmer gave him a signal that the ball was coming to him after seeing a favorable coverage. But Palmer refused to give the signal, even after being pressed for it a couple of times. "We have a lot of signals," Palmer said. "Some are dummy signals, some are live signals. I guess it's too late to call it a dummy signal."
September, 21, 2014
9/21/14
10:10
PM ET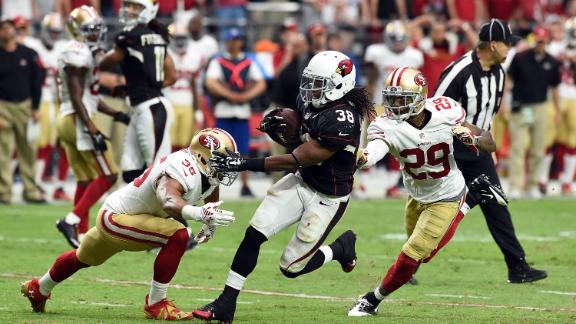 GLENDALE, Ariz. --
John Brown
wasn't supposed to be the
Arizona Cardinals
receiver with whom
Drew Stanton
clicked.
That was supposed to be the other Brown.
Jaron Brown
and Stanton were automatic during training camp and in the preseason. That's why Arizona coach Bruce Arians dialed up a deep ball from Stanton to Jaron Brown early in the fourth quarter. Arians, like anyone who watched the two this summer, expected the play to work. Until the ball hit the turf, it looked like the countless other bombs Stanton launched to him during camp.
[+] Enlarge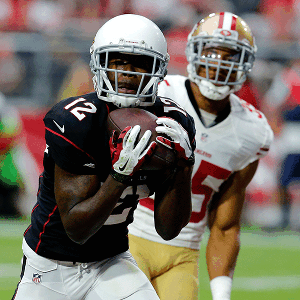 AP Photo/Rick ScuteriThe chemistry that WR John Brown has built with QB Drew Stanton paid dividends for Arizona on Sunday.
"I know he wants that one back to Jaron because they never miss," Arians said. "They haven't missed the entire preseason, and he kind of got a little bit excited with that one."
Stanton had to settle for rookie John Brown. As it turned out, there could have been worse options. The pair connected for two second-half touchdowns and propelled Arizona past the
San Francisco 49ers
23-14
Sunday at
University of Phoenix Stadium. It was the Cardinals' first win over the 49ers since
2011.
On the first touchdown, Stanton hit Brown cutting through the middle of the Niners' secondary, almost ignored.
"They just forgot me on [that] play because we had a route coming in, and the cornerback jumped it, and the safety flew all the way, and I was just open down the middle," said Brown, whose mother, Cassandra, was in the stands from Florida on Sunday.
At that point, Arizona was down 14-13. In his second start since 2010 -- the first coming this past week -- Stanton had a chip on his shoulder. Stanton made his first career start with the
Detroit Lions
against San Francisco in Week 15 of 2009. He was benched almost seven minutes into the fourth quarter after he threw his third interception. He never forgot that feeling.
"I've never been a guy that's been worried about my stats," Stanton said. "I think I care much more about a team and about winning, but that one stung me. It'll test you in this league, and you have to constantly go out there and prove yourself. I feel like a little bit of a weight came off my shoulders today, without a doubt."
On the next drive Sunday, Stanton got pummeled on consecutive plays. On the first, linebacker
Dan Skuta
hit Stanton when he began his slide after scrambling. On the next play, Niners linebacker
Patrick Willis
knocked Stanton with the crown of his helmet. Both plays drew 15-yard penalties and set the Cardinals up for the winning touchdown.
The touchdown pass again went to Brown, this time on a pump fake, but almost to the exact same spot.
"The timing, it's always perfect, even though I got a lot of work with
Carson [Palmer
]," Brown said. "I took time out with both of them because I run with the ones and the twos, so it helped me out big time."
Stanton and Brown's chemistry was built during camp, when Brown split his time working with the starters and the backups, but Brown has spent most of his time during the season working with Palmer. That helped Brown learn the wrinkles of the offense, from which Stanton reaped the benefits Sunday.
"You almost want to tell him to slow down at times because he runs through zones," Stanton said. "You're like, 'If it's man, run away from that guy. If it's zone, then find that zone and stay there.' He's getting it, and he understands it, but sometimes he just needs to slow down because the game is fast."
And it's not like the two are strangers.
A lot was made earlier this season about Brown's locker being right next to Palmer's. But who's on the other side of Brown? Stanton.
September, 21, 2014
9/21/14
8:55
PM ET
GLENDALE, Ariz. -- Observed and heard in the locker room after the Cardinals'
23-14
victory over San Francisco:
Foote

Linebacker Larry Foote sat at his locker in an undershirt and ripped jeans, bruised from another physical outing but optimistic. The 34-year-old had just experienced his first NFC West game and was excited about how the defense rebounded from two first-half drives in which they allowed San Francisco to go 80 yards and score on each. "Something's brewing in this locker room, and hopefully we keep going," he said.
Antonio Cromartie, who left the game in the third quarter with a left knee injury, was standing on it at his locker after the game. "Everything's OK," Cromartie said. "I will find out what's going on with it tomorrow."
Rookie wide receiver John Brown said he woke up Sunday morning and told roommate rookie safety Deone Bucannon he felt a touchdown coming. Brown scored two Sunday.
September, 21, 2014
9/21/14
7:06
PM ET
GLENDALE, Ariz. -- A few thoughts on the
Arizona Cardinals
'
23-14 win
at University of Phoenix Stadium.
What it means:
This is a team that knows how to scrap together a win. It was tough at halftime to believe the Cardinals could come back, but whatever Cardinals coach Bruce Arians said worked. The second-half Cardinals looked nothing like the first-half Cardinals. (However, some credit has to be given to the 49ers for imploding for a third consecutive second half.) And that's good news for this team, which might be without starter
Carson Palmer
for a while. Arizona figured out a way to slow down 49ers quarterback
Colin Kaepernick
in the second half, and on offense, the Cardinals were able to convert on third down and turn scoring opportunities into touchdowns instead of field goals. If Arizona can start putting together full games, it could be a dangerous squad.
Stock watch:
Ted Ginn Jr
.'s ability in the return game and as a receiver were well known, which is why Arizona signed him during free agency. But what he's added in other facets has been a bonus. He threw a pass Sunday -- 10 yards to
Michael Floyd
for a first down -- and he was used on a jet sweep that he cut inside.
Second-half shutdown:
After Kaepernick ran at will in the first half, Arizona held him to 9 rushing yards on four carries and 102 passing yards in the second half. Arizona also held San Francisco to six first downs in the second half and just 16 rushing yards as a whole.
Game ball:
Quarterback
Drew Stanton
took the hits and kept on ticking. He threw for 244 yards on 18-for-33 passing. His two touchdown passes to
John Brown
gave Arizona the lead for good.
What's next:
The Cardinals are off next week before traveling to Denver in Week 5.
September, 9, 2014
9/09/14
3:04
AM ET
Observed and heard in the locker room after the Cardinals'
18-17 victory
over San Diego.
September, 4, 2014
9/04/14
1:25
PM ET
TEMPE, Ariz. -- At first,
John Brown
thought
Carson Palmer
was kidding.
About a week before the final preseason game, the
Arizona Cardinals
quarterback mentioned to the rookie wide receiver that Brown's locker wouldn't be near the other receivers. It was going to be in between Palmer's and backup quarterback
Drew Stanton
's.
[+] Enlarge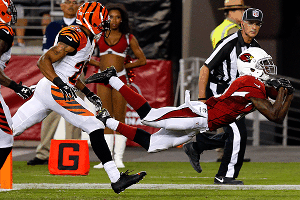 AP Photo/Ross D. FranklinArizona rookie WR John Brown has developed a strong working relationship with QB Carson Palmer.
It took Brown about 10 minutes to find his locker when he arrived at the Cardinals' Tempe training facility on the first day after the preseason.
"I thought it was a joke," Brown said, sitting in front of his locker. "When I came in and really saw it, I could see he was dead serious.
"I never checked over here. I checked over where all the receivers were and I couldn't find my locker. I asked them, 'Where's my locker?' And everybody pointed me to this direction. I never came this way."
Palmer wanted his rookie speedster next to him to continue building the bond they developed from spending a week together at Palmer's San Diego home this summer. Now Palmer has direct access to Brown to discuss routes, plays and practices.
"He's over here in the suburbs with us," Palmer said. "He's a guy that I like to kind of be talking through certain situations as practice comes up. He and I have had a great working relationship and this gives us a chance to go over some things during practice that we can cover after practice in different situations like that."
Brown said Palmer, whose locker is to the left of Brown's, didn't waste any time talking about practice and various scenarios.
But Stanton, Brown's neighbor to the right, doesn't want to oversaturate the rookie with plays and minutiae. He and Palmer have already discussed trying to temper themselves on the football talk but it's easier said than done, especially with Palmer having a better understanding of the offense this year than last season.
"Hopefully it's not sensory overload; we're telling him too much," Stanton said. "I think a player like John, you just have to let him go out and play. Let him use his God-given ability and natural talent to go out there and just play fast.
"I think too much, it's paralysis by analysis of guys just overthinking and especially in this offense."
Having Brown just inches away can be helpful to both Palmer and Stanton, especially when they devise new wrinkles in the offense. Brown will also benefit just from listening to the quarterbacks talk.
He can get a better understanding of their thinking just from sitting there and seeing how they discuss certain plays, how they see different situations.
"I think it's great because it gives you an opportunity to just be in their ear a little bit more," Stanton said. "I think there's not enough credit given to this down time that we can really pick up those little pieces."
But the quarterbacks shouldn't expect Brown to be picking up their coffee and donuts. That role goes to rookie quarterback
Logan Thomas
.
"He's in a good spot because here we have Logan Thomas who is a rookie quarterback, so he'll be providing breakfast on Fridays, donuts on Thursdays and lunch on Saturdays on away trips," Palmer said of Brown. "Smokey [Brown's nickname], he's allowed to jump in on that if he wants, but he's not going to have any duties from me.
"You're going to have to talk to [receiver]
Larry [Fitzgerald
] and see what he's got you doing over there. You're home free, man."
Brown said he doesn't feel like he's missing out not having his locker closer to Fitzgerald,
Ted Ginn
,
Michael Floyd
and
Jaron Brown
-- the first time in Brown's football career that he remembers not being near the receivers.
He's been a go-between for the quarterbacks and receivers.
"When they talk about something I miss out on, they come back and let me know," Brown said. "I'll go and tell them what Carson is talking about and what he's thinking. It's kinda like I'm the person that is translating, talking back and forth.
"I think it helps us all out."
August, 10, 2014
8/10/14
1:35
AM ET
GLENDALE, Ariz. -- The
Arizona Cardinals
may want to ask UPS if they can borrow their slogan.
They found out that
John Brown
and
Jaron Brown
can do quite a bit.
The pair of receivers was thrust into the starting lineup when
Michael Floyd
and
Ted Ginn
were sidelined for Saturday's preseason opener against the
Houston Texans
with injuries, and they responded by playing like starters. Jaron didn't have a monster game but he was methodic and accurate with his receptions, one of which went for a touchdown.
John, however, played the role of star in his first NFL action.
He was targeted 10 times, catching five of them, for 87 yards, displaying his speed and quickness on nearly every one of them.
"I just knew I had to step up," John Brown said. "So, it's basically showing those guys in case anything happens I can be the person to fill those shoes."
John and Jaron will get to stay in their roles a little longer. Cardinals coach Bruce Arians said Floyd tweaked his groin late Thursday and will miss six to 10 days while Ginn, who banged knees with a gunner while returning punts early in Thurdsay's practice, will miss "maybe" three days.
It has been a while since he took the field for an actual game, John Brown said. He claimed he wasn't nervous Saturday night but once he saw the defensive back drop back on
Carson Palmer
's first pass attempt, he it was coming his way.
He may have bobbled his first NFL catch but John kept his eyes on it until he secured it, and the play went for 25 yards.
Palmer, who completed all five of his pass attempts in eight snaps Saturday night -- two of which went to the Browns -- was impressed with the composure of both receivers.
"It's great when the day before, they find out 'Oh, wait, I'm starting? I'm in there with Larry [Fitzgerald] and those guys?' And to see the way they handled the situation, they weren't scared, they weren't nervous, there was no, 'Man, this is the NFL.' There was none of that going on. To see those guys react to just being in the game and making plays and doing their jobs was really good. I'm very happy and excited to see that."
For the past week, Arians raved about Jaron Brown's rapport with backup quarterback
Drew Stanton
. It seemed like Stanton found Brown on every deep route he called during training camp.
When Stanton hit Jaron on third-and-goal from the 5-yard line late in the first quarter, it wasn't quite a deep ball but it resulted in a touchdown.
"I felt like we're finally starting to get some kind of rhythm with the quarterbacks," Jaron Brown said. "That's one thing we work in training camp.
"With camp that's one thing we try to work on and eliminate the mental errors."
Only if there was a reward for the opposite. On first down near midfield with 7:20 left in the first quarter, Stanton targeted the other Brown, John, on a deep route. But 39 yards later, Houston cornerback
Brandon Harris
got tangled with the receiver as he tried to come back for the pass, prohibiting him from making another big catch. Arizona got the ball at the Texans' 19 and scored six plays later.
To Arians, it was just John Brown doing what John Brown does.
It's one thing to come in as a rookie, play like a starter and start laying roots on your standing on the roster. It's another for the defense to start taking notice.
"Oh man, he's a beast," defensive tackle
Darnell Dockett
said of John Brown. "He's good. He plays every day like he's hungry. He practices the same way. You can't expect him anything but greatness from him. He's been working his tail off and I'm very impressed with him. Real low key. Take some pressure off the other guys. He doesn't surprise me with his performance on the field because he does it in practice, too."
July, 29, 2014
7/29/14
9:05
PM ET
GLENDALE, Ariz. -- A daily review of the hot topics coming out of
Arizona Cardinals
training camp:
• He's been one of the talks of camp, but
Michael Floyd
put his offseason improvement on display Tuesday. On one pass, Floyd got a step behind cornerback
Patrick Peterson
for a touchdown that sailed in just beyond Peterson's reach. Floyd then hauled in another score over cornerback
Justin Bethel
. Earlier Tuesday, quarterback
Carson Palmer
praised Floyd's size and his ability to overpower cornerbacks, which was the case Tuesday. Bethel is listed as 6-0 and Peterson 6-1, but Floyd played taller and bigger than the 6-2, 220 pounds he's listed as.
• Arizona got a look at a few backups that were called upon in a pinch. With RB
Andre Ellington
(neck) and CB
Antonio Cromartie
(pectoral) out Tuesday, RB
Stepfan Taylor
and CB
Jerraud Powers
were inserted into their respective first-team spots. NT
Christian Tupou
(groin), who was already replacing
Dan Williams
, was replaced by a combination of players, including
Anthony McCloud
.
≺ Taylor filling in for Ellington was telling in terms of the battle for the second running back job. It's between Taylor and
Jonathan Dwyer
, but with head coach Bruce Arians' decision to run Taylor with the starters, it appears that he's leading the backup running back race. The importance of winning the second spot this year is greater than past years because of Arians' decision to use more two-back sets.
• Arians got what he wanted when it came to adding speed to the offense. On at least two occasions,
Ted Ginn
and
John Brown
had to slow down to haul in a Carson Palmer pass. That speed could be a blessing and a curse. Last season, Palmer had a knack for slightly underthrowing receivers, forcing them to come back for passes. Ginn and Brown will have to learn how to time their runs perfectly with Palmer's passes.
• Rookie safety
Deone Bucannon
secured an interception that got the crowd riled up.
• Rookie kicker
Chandler Catanzaro
, who Arians praised Tuesday morning for being perfect through camp, missed three kicks in row during the afternoon practice. The three he missed were end-over-end kicks, different from his regular kicks. By my count, Catanzaro went 7-for-10, missing field goals from 41, 47 and 48 yards.
• After Catanzaro came off the field, special teams coordinator Amos Jones pulled his young kicker off to the side for a short talk near a water cooler. By Catanzaro's body language, it was clear he wasn't happy with himself.
May, 10, 2014
5/10/14
1:30
AM ET
TEMPE, Ariz. -- For months, the message from Arizona Cardinals general manager Steve Keim was the same.
Arizona would use its 120-man draft board to pick the best player available, regardless of need. And if you asked Cardinals coach Bruce Arians, the team didn't have any glaring needs. But with three rounds of the NFL draft in the books, the Cardinals have four new players and each addressed a specific need.
[+] Enlarge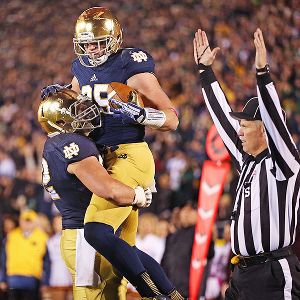 Jonathan Daniel/Getty Images)Troy Niklas is expected to solidify a Cardinals tight end corp that is the foundation of Bruce Arians' offense.
Safety. Tight end. Pass rusher. Speed receiver.
Coincidence? I think not. And Keim all but said it was a smokescreen.
"I told you we were the only two you can believe," Keim said with a smile.
To which Arians followed: "Truth kills, baby."
But this was a draft in which Arizona could get away with picking for need. The work done over the last 16 months has put the Cardinals in a position in which they were a few specific positions away from turning a long-term corner. They addressed a handful -- left tackle, third receiver, kick returner and cornerback -- in free agency. The rest, as Keim would prefer it, would be found through the draft.
"I think that's the emphasis you put into building that board," Keim said. "We saw best player available but there is an emphasis on who impacts our football team the most. We are never going to leave a good player on the board to the side, but we do want to find guys who are going to impact us the most."
Sometimes who that is and who's atop their boards may not match up.
Arizona's first-round pick,
Deone Bucannon
, plugged a hole at strong safety. Second-round pick
Troy Niklas
solidified a tight end corps that is the foundation of Arians' offense. The Cardinals used their first third-round pick on
Kareem Martin
, who can provide relief on the defensive line while evolving into a pass rusher, and their second third-round pick on
John Brown
, a small-school speedster who can take the top off defenses and return kicks.
Of the group, Bucannon and Niklas probably were among the best players available when Arizona went on the clock. But Martin was a pick with the future in mind. And Arizona was high on Brown from the start.
"You have to almost look at it with a three-year view and understand that when we are talking about certain positions, they may not be the biggest need right now but in 2015, that may be our biggest need," Keim said a week before the draft. "So, if you can continue to have rollover and develop players, young players that can replace those guys when either their contracts are up or players move on, I think that's the way that ultimately you'd love for it to go."
That didn't seem committed to best-player available, rather than to picking for need. By late Friday, Keim said, the Cards' board was starting to look a little picked over.
"There are still quite a few players that we covet that are left," Keim said. "Rounds four, five and six should be fruitful for us. It has been picked pretty good."