August, 4, 2012
8/04/12
8:11
PM ET
CANTON, Ohio -- Former
Pittsburgh Steelers
cornerback Jack Butler had us worried for a moment when he stared into the Fawcett Stadium crowd without saying anything for several seconds.
Stage fright? Hardly.
Butler, 84, soon made it clear he was on his game for the 2012 Pro Football Hall of Fame enshrinement.
"OK," he said while Pittsburgh Steelers fans cheered, "that's enough."
Butler rose to the occasion. He was poised and measured. He spoke with purpose. His son, John, spoke of Jack Butler's discipline and work ethic. It was clear Butler was in control.
Butler finished his speech with panache when he thanked various family members for attending, then, in a nod to his age, rejoined with, "Heck, I'm thankful I'm here."
August, 4, 2012
8/04/12
7:46
PM ET
CANTON, Ohio -- Jack Butler stood and waved to the crowd while hundreds of fans wearing the Pittsburgh Steelers' throwback jerseys rose and cheered. The big screens at Fawcett Stadium showed Butler, 84, rising and soaking in their adulation.

That brought the first goosebumps of the 2012 Pro Football Hall of Fame enshrinement ceremony, at least for me.

Butler waited 50 years for his enshrinement. He and his oldest son, John, have been quite visible in Canton over the past few days. They've been so appreciative, so gracious, so humbled.

In speaking with John Butler at a reception Friday night, he said something about getting a couple football cards featuring his father and giving them to my young sons. A couple hours passed and that part of our conversation had faded from my mind. It was the sort of thing a lot of people would have said without really meaning it.

Our family left the reception, returning only briefly a couple hours later in hopes of seeing a couple more Hall of Famers. The younger Butler found us and presented the two football cards -- both signed by Jack Butler, with "2012 HOF" written on them.
August, 4, 2012
8/04/12
11:07
AM ET
CANTON, Ohio -- Sights and sounds from a magical first 30 hours in Canton for festivities relating to the upcoming 2012 Pro Football Hall of Fame enshrinement ceremony:
Batting 1.000

[+] Enlarge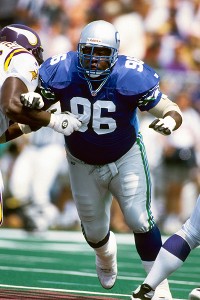 US PresswireNo doubt, Seattle's Cortez Kennedy was one of the most dominant defensive players of his era.
Cortez Kennedy was the person I hoped to see first Thursday night after unloading bags for check-in at the McKinley Grand Hotel. He was the 2012 enshrinee I'd covered years ago and gotten to know while presenting his case to the other Hall selectors. Having the retired Seattle Seahawks great step from the hotel's entrance before I could get my bags to the curb foreshadowed good fortune.
A trip to the hotel bar a couple hours later found the place mostly empty except for a couple reporters from Minnesota. I sat down with them and soon discovered Hall of Famer John Randle, Kennedy's teammate on the 1990s All-Decade team, seated across the way. Two-for-two and three full days in Canton still to come.
I'm not much of a drinker -- a six-pack lasts a year in our house -- so when tequila shots appeared unexpectedly on our side of the bar, visions of "
Frank the Tank
" from Old School came to mind.
My hesitance must have been easy to spot. Randle rose from his chair and looked my way.
"Hey, you in?"
Enjoying the ride(s)
Trip One to the elevator produces a five-story ride with Thurman Thomas and his wife, Patti.
Leroy Kelly, Elvin Bethea and Roger Wehrli are along for the ride on a subsequent trip.
By then, my wife, Kim, and our two sons, Derek (10) and Cade (7), have arrived via red-eye flight from Seattle to Cleveland. We'd decided to make this a family trip, a mini-vacation for them, upon learning months earlier that Kennedy had earned enshrinement.
"We were just in the elevator with Gale Sayers!" Derek announced upon entering our room.
Heading to the Hall
The lobby was packed with Hall of Famers, most wearing their gold jackets, as they assemble for bus rides (police escorts included) to the Hall for a dedication ceremony. Buffalo Bills owner Ralph Wilson Jr. will be there when NFL commissioner Roger Goodell and Hall officials cut red ribbon for the new Pro Football Research and Preservation Center in Wilson's name.
Another chance meeting with Kennedy produces a lucky break. He graciously invites me to ride along in his car, along with Mark, an off-duty police officer from Las Vegas and Kennedy's friend since 1994.
The weather is already sizzling when we arrive, but it doesn't get much cooler than this: Hall of Fame corner Lem Barney, who averaged five picks per season for 11 years with the Detroit Lions, practically intercepts us as we get out of the car. He shakes Kennedy's hand. Mark and I get handshakes, too. Kennedy follows the red carpet to the special seating area for Hall of Famers.
All in the family
Mark and I wind up sitting next to Patti Thomas, Thurman's wife, in the front row of the general-seating area. Sayers and Joe Greene sit across the rope divider about six feet away. She's moved when Wilson, 93 and a World War II veteran, delivers a speech marked by self-deprecating humor after initially needing assistance to stand.
The Hall experience can be as much for the families as for the enshrinees themselves.
"I'm his wife and I'm blown away," Patti Thomas said. "These guys that you grow up watching ... my brothers come. They are huge sports fans. They're like kids in a candy shop. They've met 'em all and they're still like that, over and over again. Ninety-five percent of the guys are very outgoing. It's been an amazing thing. What a huge blessing."
Ray Nitschke Luncheon
From the Hall, it's off to the annual initiation luncheon, a chance for the new class to socialize with existing Hall of Famers in a private setting. Goodell is there, as are Hall officials, Class of 2012 presenters and some selection committee members. There are no wives or family members. And when lunch is served, enshrinees head into their own private room. No one else is allowed inside.
A microphone gets passed around, but the current class only listens. What happens beyond that, no one can say for certain.
"Thurman has so much fun when we come," Patti Thomas said. "He tells me his favorite thing of all is the Ray Nitschke Luncheon because it's only Hall of Famers, just the guys in there. And he said that is the coolest event because it's just us. Nobody else is allowed to come in there and he loves it."
A Butler and a dentist
Former Pittsburgh Steelers cornerback Jack Butler waited 50 years for enshrinement, a record. His son and presenter, John, would give a guy the shirt off his back. John Butler did just that Friday. When one of the Hall of Famers showed up with the wrong shirt -- all were supposed to wear official blue Hall polos -- the younger Butler gave up his.
While the Hall of Famers were enjoying their privacy and camaraderie at the Nitschke luncheon, John Butler and Willie Roaf's father, Clifton, a retired dentist, sat down at the table I'd chosen in our less exclusive luncheon room.
What an honor it was for me, a first-time visitor to Canton, and the two other Hall selectors seated at our table.
I'd approached Jack Butler in the hotel lobby earlier in the day, congratulating him on his enshrinement. With Ted Hendricks, James Lofton and several other Hall of Famers gathering nearby, the elder Butler said "it's starting to have a meaning to it all."
"It's amazing, just incredible," John Butler said. "You think about it in the past, we would look at his numbers, ever since I was a kid, and say, 'Wow, his numbers match up.' But it's not like an expectation he'll get in. When it happens, it's overwhelming."
Gold Jacket Dinner
[+] Enlarge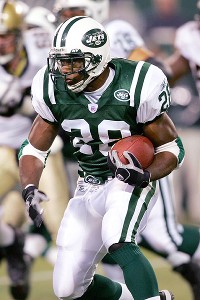 Linda Cataffo/NY Daily News Archive/Getty ImagesBeing steady in his career and patient with his rushing attack earned Curtis Martin a Hall of Fame induction.
Kennedy, Roaf, Butler, Dermontti Dawson, Chris Doleman and Curtis Martin received their gold jackets during an emotional ceremony at the local civic center Friday night.
Our family purchased tickets and arrived with a group featuring Greene, Dave Casper, Tom Mack and others.
"Is that the ghost-to-the-post guy?" Cade, our youngest, asked later.
That was him. Of course, Casper accomplished much more for the Oakland Raiders than his famed overhead grab for a 42-yard gain against Baltimore on Christmas Eve 1977. A 7-year-old raised on NFL Films drama might not know that yet.
Dozens of previously enshrined Hall of Famers took their turn walking an aisle through guest tables before greeting the 2012 class on stage. My wife heard our oldest, Derek, gasp when Marshall Faulk's name was called.
The boys craned to see Warren Moon make his entrance.
The video highlight packages are what got me.
Dawson pulling from his center position and flattening the same defender twice on one play. Doleman forcing fumble after fumble with blind-side hits on quarterbacks. Kennedy beat the center and then dragging the guard into the backfield to stop a runner in his tracks. Roaf collapsing one side of the formation with devastating power. Martin setting up his runs with patience and accelerating away from trouble. Butler picking off passes, scoring as a receiver and lighting up opponents (I feared Goodell might fine him retroactively).
There were poignant moments, too. The elder Roaf hugged his son and wouldn't let go. When he finally walked away, leaving his son to sport his new jacket alone on the stage, Clifton Roaf squeezed the bridge of his nose between finger and thumb, as if to stop the tears.
The after party
Once the Gold Jacket Dinner broke, Hall of Famers and their families returned to the hotel for a reception.
My kids headed straight for the ice cream sundae bar, of course.
Not to worry, a nearby bartender offered. Bill Parcells, presenter for Martin, had done the same thing. A weekend such as this one makes all of us feel like kids.
December, 31, 2009
12/31/09
4:56
PM ET
ORCHARD PARK, N.Y. -- My initial reaction when I heard the
Buffalo Bills
had promoted national scout Buddy Nix to general manager was, "This won't go over well with the fans."
[+] Enlarge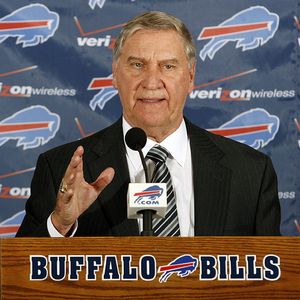 Kevin Hoffman/US PresswireBuddy Nix might not be a splashy hire, but he has been successful in front-office roles before.
The Bills went oh-for-the-aughts when it came to the postseason, but there was promise of new beginnings, with talk of hiring a Mike Shanahan or a Bill Cowher. A sad organization seemed on the verge of a desperately needed systemic change.
Then they not only hired from within, but owner Ralph Wilson revealed at a news conference the organization's short list of candidates produced two finalists -- and both of them were already on the payroll.
How depressing.
On the surface.
There's one important fact that is being overlooked in the immediate reaction to Nix's promotion: His fingerprints aren't on this train wreck. At least not yet.
Nix rejoined the Bills less than a year ago. He'd been a key member of the Bills' front office under general manager John Butler from 1993 through 2000. But when the Bills fired Butler, he took Nix with him to the
San Diego Chargers
, where they, along with A.J. Smith, ran one of the finest organizations of the past decade.
Nix wasn't here when the Bills drafted Mike Williams,
J.P. Losman
and
John McCargo
in the first round. He didn't anoint
Trent Edwards
the franchise quarterback. He didn't hire Dick Jauron.
I'm not predicting Nix will draft a
LaDainian Tomlinson
or swing a blockbuster trade to bring a
Philip Rivers
and a
Shawne Merriman
, but at least he has been around winning in the past decade, something that can't be said for many folks at One Bills Drive.
"I can see a little disappointment on your face that one of the geniuses is not standing up here," Nix told the assembled media Thursday. "I know this isn't quite what you expected.
"But I'm going to tell you this. It's kind of like getting up the morning after the draft and reading the newspaper and seeing where you got an A-plus, and two years later, with that same class, you're getting your tail beat and you get fired.
"It doesn't matter what kind of splash we make today. What matters is two years or three years down the road, that we got this thing turned in the right direction and we're winning."
There was symbolism the Bills called this news conference on New Year's Eve (and, truth be told, that was the disappointment Nix recognized in the reporters' faces).
A new decade begins at midnight. As Bills icon Jim Kelly noted, decades are marked by the teams that dominate them. The Bills dominated the AFC in the 1990s, then went dark for the 2000s.
"It is the end of the year. It is the end of a decade," Kelly said. "We're moving on to a new era. When you talk about the
Pittsburgh Steelers
, the
New England Patriots
, the
Green Bay Packers
, the decade teams, this is where we start the decade team for the Buffalo Bills.
"You have to think positive."
Nix declared the Bills are not that far away from being competitive, but Wilson added "I don't think it's going to come immediately because I think you build a football team through the draft."
When Nix joined the Chargers as director of player personnel, they were coming off of a 1-15 season. He claimed the Bills have more to work with now than the Chargers did then.
"We were further away at San Diego when we went in there," Nix said. "We had very few players in house. We had some luck along the way and were fortunate enough to draft guys that got better through teaching and good coaching."
Based on the message boards and reactions on talk radio, Bills fans already are disgusted with the Nix appointment.
I'm willing to wait and see. I don't see this as the same old, same old.
This move just might work.
December, 31, 2009
12/31/09
2:02
PM ET
[+] Enlarge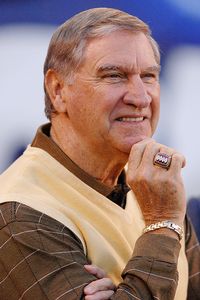 Kirby Lee/NFLBefore returning to the Bills, Buddy Nix served as the San Diego Chargers' assistant GM.
ORCHARD PARK, N.Y. -- The
Buffalo Bills
will
introduce Buddy Nix
as their general manager at a 2:30 p.m. news conference.
Nix rejoined the Bills as a college scout just before the 2009 draft after a year away from football. He left the club in 2001 when former Bills GM John Butler took over the
San Diego Chargers
in 2001. Nix was the Chargers' director of player personnel for two seasons and GM A.J. Smith's assistant for six years.
The Nix appointment is the first significant step in a front-office reorganization that could doom the futures of vice president of pro personnel John Guy and vice president of college scouting Tom Modrak. The Bills haven't gone to the playoffs for 10 straight seasons.
The Bills complied with the Rooney Rule, which mandates a minority candidate be considered for every GM or head coaching vacancy, by interviewing Guy.
Nix's first major decision will be naming a head coach. The Bills fired Dick Jauron on Nov. 17 and promoted defensive coordinator Perry Fewell to interim head coach.
June, 4, 2009
6/04/09
8:05
PM ET
Posted by ESPN.com's Tim Graham
Buffalo Bills owner Ralph Wilson has chosen ESPN's Chris Berman to present him for induction into the Pro Football Hall of Fame.
Berman will introduce Wilson during ceremonies Aug. 8 in Fawcett Stadium. Former Bills defensive end Bruce Smith, also in this year's class, recently revealed he will have his old defensive coordinator, Ted Cottrell, introduce him for induction.
Wilson's choice will be well-received in Buffalo, but probably wouldn't be the same had he been inducted sooner. He was particularly fond of local boy and "Meet the Press" host Tim Russert. The Bills' most famous fan died in June 2008.
Legendary Bills quarterback and U.S. congressman Jack Kemp died last month. A few days earlier, Wilson's daughter passed away. Linda Bogdan was the NFL's only active female scout.
Wilson explained his choice in a press release:
"Chris has been a friend of mine for many years and I thought he would be a great person to introduce me if he would do so. He acknowledged that he would, and I thank him very much, and he will be in Canton with me. Chris really embodies the Bills fans, who have played such an important role in my career in professional football. Professional football is all about the fans and having Chris as my presenter follows that thought."
Berman has endeared himself to Bills loyalists over the years. He would pick their team to win the Super Bowl every preseason. "Nobody circles the wagons like the Buffalo Bills" is one of his popular sayings. Berman used to quote an anonymous cab driver (the late general manager John Butler) who would correctly identify the Bills' first-round draft choice before it was made.
Berman, the host of "Sunday NFL Countdown" and "Monday NFL Countdown," also released a statement.
"Fifty years in sports, there's only one constant: Ralph Wilson is the owner of the Buffalo Bills. What Mr. Wilson has done for pro football and for the city of Buffalo and Western New York, it's hard to put into words. He remains in it for the same reasons he got into it in 1959: He loves the game of football, and that's apparent in everything he does. It will be an honor to have a bird's eye view to watch him be inducted in the Pro Football Hall of Fame, especially this year, in the 50th year of the old American Football League. He's a man I admire very much and I'm honored to just be there."
NFL SCOREBOARD
Thursday, 9/4
Sunday, 9/7
Monday, 9/8