April, 27, 2013
4/27/13
12:46
AM ET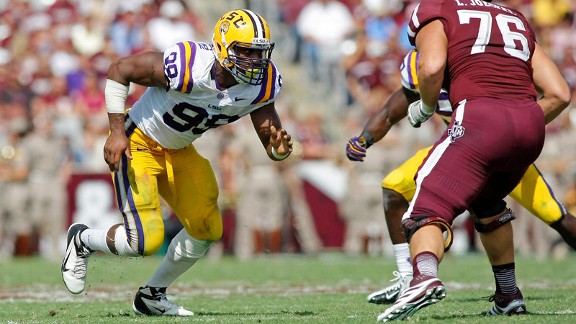 Brett Davis/USA TODAY Sports"I'm sure with the right coaching I will be fine," Sam Montgomery said of questions about his effort.
During his time at the NFL scouting combine,
Sam Montgomery
addressed concerns about the consistency of his effort as a college player.
The problem is that he admitted there were concerns about his effort as a college player.
He's now a member of the
Houston Texans
, who Friday used their second third-round pick, 95th overall, on Montgomery, the LSU defensive end.
If there is an effort issue, it will fall on defensive coordinator Wade Phillips and linebackers coach Reggie Herring to get week-to-week and snap-to-snap effort from Montgomery. He seems to be a more complex character than they discussed.
At the combine, Montgomery said he didn't play all-out because weak opponents allowed for some respite.
"You know, some weeks when we didn't have to play the harder teams, there were some times when effort was not needed," Montgomery said in Indianapolis. "But when we had the big boys coming in, the Bamas or the South Carolinas, I grabbed close to those guys and went all-out.
"Of course, this is a new league, the NFL, and there are no small teams, small divisions. It is all Alabamas and LSUs every week. It's definitely something I have to get adjusted to, but I'm sure with the right coaching I will be fine."
In a conference call with Houston media, Montgomery said his best quality is his relentlessness -- contradicting the idea that he didn't give his all against teams like North Texas, Idaho and Towson.
Herring suggested that Montgomery got caught up in entertaining the media, given that he likes to talk, and that his film didn't show a lack of effort -- something general manager Rick Smith has said he cannot accept from a player.
"If anything, the young man is guilty of being a bit na´ve," Herring said.
A scout I asked about Montgomery didn't reply with an effort question.
"He plays very hard," he said. "Good pick."
The Texans plan to start Montgomery out as a strongside linebacker, so their first four picks have addressed three areas of concern.
DeAndre Hopkins
should be the No. 2 receiver,
D.J. Swearinger
could play a lot as a nickel or dime safety, tackle
Brennan Williams
could win the right-side job from the recovering
Derek Newton
and Montgomery should be part of a rotation.
Houston hopes he'll be part of a three-man gang, along with
Brooks Reed
and
Whitney Mercilus
, that splits up the work at outside linebacker.
Last season, when the Texans drafted Mercilus in the first round, they said the same thing about using him with
Connor Barwin
and Reed.
But Reed's playing time only really dipped when he missed four games hurt. Barwin, who's since gone to Philadelphia as a free agent, played 93.8 percent of the defensive snaps last season. Even with four starts, Mercilus was on the field only 46.6 percent of the time.
The Texans will have to learn how well Montgomery can drop and cover, something he wasn't doing as a college defensive end in a 4-3 scheme under LSU coordinator John Chavis.
"He's big, strong, powerful, explosive individual," Herring said. "The one thing that he will have to learn is that he will have to learn to drop a little bit and things that he hasn't done as a defensive end at LSU -- understanding that they don't cultivate OLBs in college, so we have to pull from the defensive end position.
"Basically, you have to give and take with their ability to drop out in space, something they haven't done. That remains to be seen. That's something we'll have to work on. As far as playing the run and having pass rush skills and having the play strength that's above average in college, he has a foundation to be a good outside backer for us."
One thing that might have hastened the draft drop by Montgomery, once rated as a first-round prospect, was his inclusion on a list of 10 players by LSU strength and conditioning coach Tommy Moffitt.
Moffitt posted the names for scouts and said they were athletes who "miss workouts and
always have an excuse
."
"They lack the self discipline and motivation to take care of their responsibilities," the sign on an office door in the Tigers' facility said. "I will not answer questions regarding their performance numbers or character, as they care only about themselves."
ESPN.com scout Matt Williamson said he likes the idea of Montgomery as a strongside linebacker in Phillips' system.
"They really play a 5-2, so strongside 5-2 defensive end/outside linebacker," Williamson said. "Supposedly had some
awful
interviews at combine, though."
Williamson is the second person in one night who mentioned that to me.
Clearly, Montgomery's interview with Houston was fine, but a guy who bombed in multiple other opportunities seems concerning.
Perhaps what Montgomery said about playing with
Antonio Smith
hints that he can qualify as wacky to some, wacko to others.
Montgomery said he knows Smith, the Texans defensive end who calls himself the "ninja assassin."
"I'm willing to take the ninja's teaching," Montgomery said, "and make ninjasonic out of it."
April, 5, 2012
4/05/12
1:00
PM ET
LSU defensive coordinator John Chavis seeks out the cameras and microphones the way a vampire does daylight.
But when it comes to having his players' backs, Chavis is going to be there all day and every day.
So when he heard the fallout from former LSU cornerback
Morris Claiborne
's reported score of four on the Wonderlic Test, Chavis was eager to set the record straight.
"I've heard what's out there about that test, but I also know the kid, who he is and what he did for us," Chavis said. "We run a very multiple scheme. You don't just line up and play in our scheme. You have to know what's going on and be able to make adjustments.
"You have to be able to think and move and do those things, and let me tell you: I've coached a lot of great players, and Mo Claiborne had no problem picking up anything in our system and doing all the things we wanted him to do."
Claiborne, who gave up his senior season to enter the draft, is rated as the No. 5 prospect overall on Mel Kiper's latest Big Board. He won the Thorpe Award last season as the top defensive back in college football.
However, it leaked out earlier this week that he scored a four on his Wonderlic Test at the NFL combine. The NFL average on the test is 21.
"I don't know how many defensive backs I've coached that have gone on and played and been successful in the NFL, and Mo will handle it as well or better than any of them that we've had," said Chavis, who was the defensive coordinator at Tennessee for 14 seasons before moving to LSU in 2009.
Chavis pointed out that two-thirds of LSU's defensive calls in the season opener against Oregon last season were made on the field. Furthermore, Claiborne moved inside to nickel the week of the Arkansas game after
Eric Reid
was injured and unable to play.
"If we had asked him to play safety, he would have and could have done that," Chavis said. "He had three days to get ready at the nickel spot, which is a totally different animal, and was going against some talented Arkansas receivers in the slot and was able to do that with no problem at all.
"The bottom line is that Mo Claiborne can make adjustments and understands concepts, and obviously, people know that he can play the game."

NFL SCOREBOARD
Thursday, 8/28
WEEKLY LEADERS