August, 5, 2012
8/05/12
10:11
AM ET
JACKSONVILLE, Fla. -- If you care to think the Jaguars are a mess and going to be in the running for the No. 1 pick in the 2013 draft, they're fine with that.

As they worked through the early days of Mike Mularkey's first training camp, they repeated the new coach's mantras (like, "we just want to get a little bit better every day"), fell in line with his policies (like potential $10,000 fines for answering media inquiries about injuries) and gave team-first answers to questions about the absence of their two biggest names --
Maurice Jones-Drew
(holding out for a new contract) and
Justin Blackmon
(unable to strike a rookie deal).
Sure, they don't have much choice but to buy in, but there is an undertone that suggests they have a secret to spring on the league in a couple of weeks.
Every team at this stage of camp thinks it can be good. In Jacksonville, a significant improvement from 5-11 is certainly possible, no matter what the popular storylines are. Honest.
Theirs is a defense loaded with quality, front-line talent. Beyond middle linebacker
Paul Posluszny
, most of it remains largely unknown. But if you don't know linebacker
Daryl Smith
or cornerback
Derek Cox
or defensive tackle
Terrance Knighton
, that's not the Jaguars' concern.
"If anyone feels we are not in a proper place or we have problems, that's OK," Posluszny said. "We feel like inside these walls we're doing everything that we can to be a very successful team.
"Mularkey's done a great job for us. He's a former player who's been through it. To me, that all means a ton, because he knows exactly what we are going through and what it takes to be successful."
While the offense is being revamped, and Mularkey and his assistants are trying to reformat quarterback
Blaine Gabbert
after a horrific rookie season, the defensive system and bulk of the staff have been in place for a while now.
Gabbert has nice moments, but his overall inconsistency at practice halts any proclamations that he made a significant offseason jump.
No matter how much players and coaches talk about his gains in leadership, no matter how much faith the organization has in him, no matter how patient they are, it comes down to making throws under pressure.
The early snapshot says the defense can be really good, but that a limited offense could be the obstacle to the surprise the Jaguars would so like to produce. There is a lot of time to work on what's been installed, to find what works and to run it better than it's been run so far.
THREE HOT ISSUES
[+] Enlarge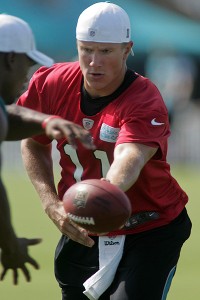 Phil Sears/US PresswireBlaine Gabbert finished his first season with 12 TD passes, 11 interceptions and a 50.8 completion percentage.
1. Is Gabbert good enough?
He folded under pressure too often last season, but the rush wasn't all he was facing. The team drafted him 10th overall intending for him to sit and learn for a season, but that plan didn't pan out and Gabbert was hurried into the starting role for 14 games during which he had poor pass protection and very limited receivers.
There were big distractions off the field, too: Jack Del Rio got fired and the team was sold.
Mularkey was hired in large part because he's developed quarterbacks, and he, coordinator Bob Bratkowski and quarterbacks coach Greg Olson have to get steadier play from Gabbert and get his arrow pointing up. His good moments look very nice, but there are still too many bad ones that leave you shaking your head. A kneel-down would seem less disheartening in many of those instances.
It's a slow process, installing a new offense and rebuilding a quarterback's confidence. Exactly how slow is the question we need answered.
Mentions of mechanical or technical adjustments by his coaches have been well-received, and he acts on them quickly. That's great, but when the rush turns live and the pocket starts collapsing, will he have open people he can stand in and find? We simply can't know yet.
2. The missing pieces.
Jones-Drew is demanding a new contract. The Jaguars have said they won't give him one with two years left on the old one. Boom -- a stalemate. I can't see the team altering its stance unless he holds out into the season and it struggles horribly without him. He's got an ego that will make it hard for him to return without any contract alteration, so this could drag on.
Blackmon is a rangy target who can go get the ball, and missing early camp is helping no one. He got a DUI after being drafted fifth overall, and the team wants insurance against any further troubles. Blackmon's unwilling to give the Jaguars what they are looking for, though.
So we're seeing second-year man
Cecil Shorts
work in the Z spot where Blackmon will eventually be, with veteran addition
Laurent Robinson
at the X.
Rashad Jennings
is the lead back without Jones-Drew in camp, and is a bigger guy who also ranks as a power runner. I liked what I saw and heard from him.
3. Will there be enough of a pass rush?
The Jaguars had 31 sacks last season, and to reach their potential on defense they need more in 2012. More consistent pressure and more sacks will come with improved coordination from the defensive linemen.
Their line coach, Joe Cullen, said they just missed on a bunch of chances last season, and another season together and the work they are doing now will result in better communication. The Jags face
Tom Brady
,
Aaron Rodgers
,
Matthew Stafford
,
Jay Cutler
and
Andy Dalton
in addition to two games against
Matt Schaub
and two against hotshot rookie
Andrew Luck
this season, and they won't win many of those without consistent pressure.
The relentless
Jeremy Mincey
promises the production will increase.
Andre Branch
was drafted in the second round to help, and looks like a quality player. Depth off the edge remains a concern.
Austen Lane
suffered yet another injury while I watched practices, during which
John Chick
walked the width of a practice field dragging heavy weight as he rehabilitated his knee.
REASON FOR OPTIMISM
[+] Enlarge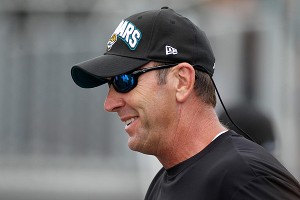 AP Photo/John RaouxNew head coach Mike Mularkey and his staff have made a positive impression on the players.
Mularkey and his staff. There is planning and logic to everything going on here, and the new staff has genuine concern for players on and off the field. Players are being told what the plan is and the right way to execute it. They felt that was lacking with the previous regime, and welcome it.
Position coaches like Olson, receivers coach Jerry Sullivan and one of the key holdovers, linebackers coach Mark Duffner, are true teachers, and they have guys under them who want to learn. That leadership and teaching faltered in many areas at the end of Del Rio's tenure. It's present in full force now. If guys follow and doing so produces results, it'll snowball.
REASON FOR PESSIMISM
A lot more is in place for Gabbert, and everyone has a stake in his performance: the GM who traded up to draft him needs him to succeed; the new coach who was hired to polish him needs him to succeed; the high-priced free-agent receiver and first-round draft pick receiver need him to succeed; the talented defense needs him to succeed.
Gabbert's saying the right things and working hard, and you can see improvement on some drop backs. But there are still enough dud plays sprinkled into practices to make you wonder if he can succeed. The team wants him to avoid turning the ball over -- staying away from the worst-case scenarios -- and it's a smart goal, but will it make Gabbert too cautious?
Can you ask him to be careful and function as a game-manager type when the best attribute he has is a big arm that can get the ball into tight windows? It might turn out to be complicated.
Also, there is not great roster depth. I have particular concerns about the offensive line, defensive end and safety if someone goes down.
OBSERVATION DECK
The team appears to be high on undrafted rookie linebacker Julian Stanford out of Wagner. With Clint Session's future in doubt because of post-concussion issues, Russell Allen is likely to start opposite Daryl Smith outside. Stanford could make the team as a special-teamer who can provide depth. Brandon Marshall, a fifth-round pick, also has what looks to be an NFL-ready linebacker frame.

Mike Thomas needs Blackmon signed, in camp and taking the bulk of the snaps at one of the two outside receiver spots. I'm convinced that to get his head right, Thomas needs to be given the slot role and allowed to focus on it exclusively. His snaps were cut down during my visit, with Shorts working at the front of the line in Blackmon's Z spot. The slot is what Thomas is best suited for, and his performance has slipped when he's been expected to do more. He had a lot of drops early in camp, and Mularkey agrees with the potential for less to be more with Thomas.

Josh Scobee has the leg to get a lot of touchbacks and Bryan Anger has the leg to force a lot of fair catches. The Jaguars obviously still have to work on covering kicks and punts, but how often will they actually be covering kicks and punts? If the offense can produce some first downs, we should see more scoring, and more scoring will mean more kickoffs from Scobee and less work for Anger.

The depth at tight end is interesting after No. 1 Marcedes Lewis. Colin Cloherty got a lot of work as the No. 2 early on, and Zach Miller is another move guy who's very intriguing, though Miller is rarely healthy. Zach Potter is giant, but hasn't earned a lot of time, and undrafted rookie Matt Veldman is also extra large.

Posluszny is the centerpiece of this defense. He covers a ton of ground and makes big hits. He's a model for doing things the right way, which is a major point of emphasis for Mularkey and his staff. Posluszny was a solid signing last season, and continues to deliver just what the team hoped for. That helps offset the fact Session, who also came to Jacksonville for a big contract in 2011, might not be on the field any time soon, or ever again.

The cornerbacks look good. Cox is really solid, and Aaron Ross and Rashean Mathis will be effective as the Nos. 2 and 3. The depth grew with last season's injury onslaught, and William Middleton and Kevin Rutland can play, too.

Branch, the rookie pass-rusher, came into the league facing questions from many teams about his ability to stand up against the run. The Jaguars have no such concern at this point. He's got to be an effective part of a four-man group at end with Mincey, Lane and Chick. Branch certainly looks the part, but so did former Jaguars bust Derrick Harvey, so we can't put much on the early eyeball test.

Along with Stanford, running back Jalen Parmele caught my eye. He's spent time with Miami and Baltimore.
June, 7, 2012
6/07/12
6:28
PM ET
Aaron Kampman
's no longer a member of the Jacksonville Jaguars.
But if some of his teammates picked up on his professionalism, his influence will linger.
And Twitter gives us a couple indications that will be the case.
Aaron Kampman is THE best teammate I ever had. Hate to see him go.

— Terrance Knighton (@Yougotroasted96) June 7, 2012
Sad to see Kampman go..I'm grateful for the things he taught me on the field but more importantly about life. I wish him the best of luck!

— Austen Lane (@A_Train_92) June 7, 2012
Some thoughts on Kampman on the day the Jaguars released him.
As Mark Long of AP points out, giving up on Kampman at this stage surely indicated the team's feeling good about second-round pick Andre Branch, and Austen Lane, who's was on IR last year after six games. You can also include John Chick here. Those three should be the guys beyond Jeremy Mincey to take the defensive end snaps.
The first time I spoke with Kampman, when he was recovering from the first of two ACL tears, he spoke of the recovery in a way I've never heard another player talk of it. He said he found the experience "purifying," an outlook that's struck me as healthy and always stuck with me.
He certainly will go on the negative side of Gene Smith's GM ledger. But I don't like to hold big injury guys at positions of need against teams who go for it. The Jaguars needed a pass- rusher, they needed leadership, and they made a move to get it. They got unlucky. (The Titans did that at receiver twice, memorably, with Yancey Thigpen and David Givens.)
I hope Kampman gets healthy and gets one more look somewhere. But if he doesn't, I hope he's satisfied with what he did as a player.
September, 3, 2011
9/03/11
6:41
PM ET
Check
here
for a complete list of the Indianapolis Colts' roster moves.

Surprise moves:
Tommie Harris
seemed to play well enough to stick, but the former first-round defensive tackle apparently wanted to be treated like the team's top defensive linemen and the team didn't like the attitude. Defensive end
John Chick
had solid games but couldn't get past
Jerry Hughes
. Undrafted rookie tight end
Mike McNeill
made it, as did four others who were not April selections: running backs
Darren Evans
and
Chad Spann
, linebacker
Adrian Moten
and safety
Joe Lefeged
.
No-brainers:
Veteran additions on defense made good impressions in the preseason and are sticking around -- ends
Jamaal Anderson
and
Tyler Brayton
and linebacker
Ernie Sims
.
Anthony Gonzalez
may be injury prone, but none of the other options at receiver is a better player.
What's next:
They've got only four defensive tackles in
Fili Moala
,
Antonio Johnson
,
Eric Foster
and
Drake Nevis
. It could be a spot where they look to add or upgrade on Foster. Offensive linemen
Mike Pollak
and
Jamey Richard
will have to prove they deserved to stick ahead of
Kyle DeVan
.
September, 3, 2011
9/03/11
3:12
PM ET
A running list of Saturday cuts around the AFC South so far, per reports from people in the know…

Houston
Indianapolis
Jacksonville
Tennessee
September, 5, 2010
9/05/10
5:25
PM ET
Roster and practice-squad news so far Sunday:
Indianapolis Colts
Signed quarterback
Tom Brandstater
, defensive end
John Chick
, receiver
Brandon James
, defensive back
Mike Newton
and receiver
Blair White
to the practice squad.
Jacksonville Jaguars
Were awarded defensive tackle
Landon Cohen
off waivers from the
Detroit Lions
. Released offensive lineman
Paul McQuistan
.
Signed offensive tackle
Daniel Baldridge
, tight end
Mike Caussin
, receiver
John Matthews
, and defensive tackle Kommonyan Quaye to the practice squad.
Tennessee Titans
Were awarded linebacker
Tim Shaw
from the
Chicago Bears
and linebacker
Patrick Bailey
from the
Pittsburgh Steelers
off waivers. Released linebackers
Stanford Keglar
and running back
LeGarrette Blount
.
Signed defensive lineman
Hall Davis
, receiver
Dominique Edison
, cornerback Pete Ittersagen, center
Kevin Matthews
, safety
Myron Rolle
and linebacker
Patrick Trahan
to the practice squad.
September, 4, 2010
9/04/10
10:10
PM ET
Check
here
for a full list of Indianapolis' roster moves.

Biggest surprises:
Undrafted running back/returner
Devin Moore
, undrafted offensive tackle Jeff Linkenbach and undrafted cornerback
Brandon King
all won roster spots. Defensive tackle
Mitch King
, who also ranked as a long shot when camp started, survived. So did
Gijon Robinson
, the primary blocking tight end in recent years who figures to lose snaps to rookie
Brody Eldridge
.
John Chick
, a CFL star, lost out to
Keyunta Dawson
in his bid to be the fourth defensive end.
No-brainers:
Two out of three of the return candidates were going, and those turned out to be
Brandon James
and seventh-rounder
Ray Fisher
.
What's next:
The team traded an undisclosed pick to Washington for defensive back
Justin Tryon
, so it appears more settled with cornerback depth. Despite fan desires for a change from
Curtis Painter
, I'd expect he's locked in as the backup quarterback to
Peyton Manning
. The team is currently 10 deep on the offensive and defensive lines, but there doesn't seem to be a spot screaming out for help at the expense of a lineman right now.
August, 18, 2010
8/18/10
10:56
AM ET
As the Indianapolis Colts' first-round pick,
Jerry Hughes
will draw the focus. A third edge pass rusher to go with
Dwight Freeney
and
Robert Mathis
is something Bill Polian's been searching for.
[+] Enlarge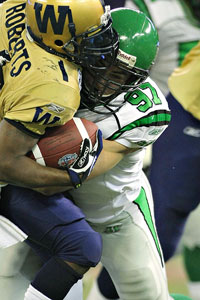 Harry How/Getty ImagesJohn Chick won the 2009 CFL most outstanding defensive player award with the Saskatchewan Rough Riders.
But during my recent visit to Colts camp, Polian stressed that rushers take some time to develop. Perhaps lowering expectations can help Hughes as he adjusts to the NFL.
And Indy's got an alternative who fits their mold, looks pretty rugged and has been tested at the pro level already: former CFLer
John Chick
.
"He's far, far ahead experience-wise of Jerry Hughes," Polian said. "Dwight Freeney didn't play for eight weeks in his rookie year.
Bruce Smith
took two years to really become a factor.
Polian likes to point out that anytime the Colts have had Freeney and Mathis healthy together through the playoffs, the team's won the Super Bowl. Of course by "anytime," he means "the only time" -- 2006.
"It's obviously a critical position in our defense, so we have been searching for guys, plural, who can come in and spell them and back them up and be ready over the course of 19 or 20 games to be ready to rush at a high level. When we got and opportunity to get Chick we jumped at that. When we got the opportunity to get Hughes, we jumped at that. Hopefully it'll pay off."
Chick, 27, went to Utah State and was an undrafted free agent with Houston in 2006 but didn't stick, then played for the Saskatchewan RoughRiders from 2007-09.
Chick said he feels like a fit with the Colts and is optimistic about his chances.
"The defense we ran up there was pretty crazy too, an untraditional attack but it seemed to work," he said. "What I had been doing helped prepare me for what I am doing now quite a bit. They told me they need another end who can help rush the passer. It sounded exciting especially with a team the caliber of the Colts.
"It's been very welcoming. They want the best guys to play. Their secret to success really isn't that big a secret, they do things right… It's not about who you are, what size you are or anything like that. It's about how you can contribute. From what I saw they want to play their best players."
August, 12, 2010
8/12/10
12:09
PM ET
ESPN.com NFL Power Ranking
(pre-camp): 1
ANDERSON, Ind. -- They could have made a bid at an undefeated regular season and their hopes for a Super Bowl win were snuffed out by an onside kick and an untimely pick.
So it should concern the rest of the AFC South that the 2010
Indianapolis Colts
appear to be better than last year's version.
They get two high-quality players, who were injured for most of last year, back in safety
Bob Sanders
and receiver
Anthony Gonzalez
. The Colts added a third edge rusher and a blocking tight end in the draft.
"Coach [Jim] Caldwell wants us to be a consistent team and not one that plays really well one week and not one that goes into a slump the next couple of games and then comes back,"
Peyton Manning
said. "I think we have been pretty consistent. Our offseason work, our execution and our attention to detail in training camp make a difference.
"But what has happened in the past doesn't guarantee you anything for this 2010 season. We have some new players, new coaches and it is up to us to go out and form the identity of his team and to go out and try to win games this season."
THREE HOT ISSUES
[+] Enlarge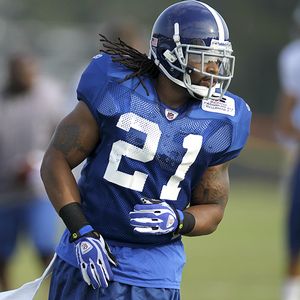 AP Photo/Darron CummingsBob Sanders doesn't plan on changing his style to avoid injuries. "It's a physical game," he said. "I make tackles."
1. Can Sanders stay on the field?
The thing that makes him so good is the same thing that makes him so injury prone. He throws himself around like a torpedo, and suffers the consequences. He's upbeat and happy right now to be spending his time on the field and with coaches and teammates instead of in the training room with medical staff.
"I don't think you can put yourself in less danger on the field," Sanders said when I asked if there was any way he could be less reckless to try to preserve himself. "We're football players so we're going to be physical. It's a physical game. I make tackles. You just never know what's going to happen. You just have to play your best, hope for the best, I pray and put it in God's hands and just try to do my job."
When he's out there, he'll be more creative than when we last saw him playing consistently. Second-year defensive coordinator Larry Coyer is much more willing to blitz than Ron Meeks was.
As good as
Melvin Bullitt
's been as Sanders' replacement, Sanders is a game-altering presence when he's out there. Sanders is making plays in camp. If he's out there, the Colts' defense could be fantastic.
2. Will offensive line changes amount to an upgrade?
Left guard
Ryan Lilja
was let go, so at least one spot will be filled by someone new.
Tony Ugoh
looked like the early choice, but he's been pulled back to tackle to work for the injured
Charlie Johnson
, so
Jamey Richard
is in play. Richard might shift to center while
Jeff Saturday
recovers from a knee scope, which could open the door for rookie
Jacques McClendon
, if he's healthy, or someone like
Jaimie Thomas
.
The talent pool now includes McClendon and tackle
Adam Terry
, but there was no overhaul. Pass protection combined with Manning's ability to get the ball out quick meant few sacks, but the team needs to run better for balance. Short-yardage bugaboos have been a factor in season-ending losses the past two years.
New offensive line coach Pete Metzelaars has a chance to make minor alterations that could have a bearing, and a quality-blocking tight end like
Brody Eldridge
could even help revive the once bread-and-butter stretch play.
[+] Enlarge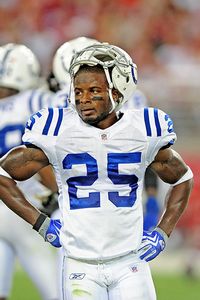 Mark J. Rebilas/US PresswireSecond-year cornerback Jerraud Powers had 66 tackles, a forced fumble and an interception during his rookie season.
3. Will secondary depth hold up?
Bill Polian purged the roster of some injury-prone corners, then saw third-round pick
Kevin Thomas
go down shortly after the draft with a serious knee injury.
Kelvin Hayden
,
Jerraud Powers
and
Jacob Lacey
should be a fine top three, but if one gets hurt,
Deshea Townsend
or
Marcus McCauley
, who were available recently, could be the next option.
If the Colts have to go that deep down the depth chart, their pass rush will be even more vital. But how many teams would love for the fourth cornerback to be a primary issue heading into a season?
BIGGEST SURPRISE
It's hard to find them with a very low-key team that drafts and grooms the bulk of its players. Polian's harped on short-yardage failures, but then the team didn't add a sure fire starter to the line with
Andy Alleman
(already gone), Terry and McClendon.
BIGGEST DISAPPOINTMENT
Before the Colts could start to sort things out, injuries dictated they move offensive linemen around. Saturday is out 2-6 weeks after a knee scope, and Johnson and McClendon are sidelined. It would have been nice to see Metzelaars have a full deck for a long stretch in order to best hold competitions and compare and contrast players. The sooner they resolve the lineup and start to build cohesion, the better. Now it's probably going to be later than would be ideal.
OBSERVATION DECK
[+] Enlarge

AP Photo/Darron CummingsExpect more surprises out of Larry Coyer's defense this season.

In Year 2 of Coyer's tenure as defensive coordinator, I expect the Colts will be more exotic with an occasional surprise look or package -- perhaps most often utilizing their depth at safety where Sanders, Antoine Bethea and Bullitt make for three starting-caliber players.

While the defensive line shows fantastic speed and strength, Mitch King looked the least smooth during the drill in which linemen weave through blocking dummies, turn a corner and try to strip a quarterback. For those excited about him, an adjusted timetable might be advisable.

As the punter and kickoff man, Pat McAfee is electric. But teams in the market for a kickoff specialist might want to keep an eye on Garrett Lindholm, who looks like he can regularly put the ball in the end zone.

Powers carries himself exceptionally well. During a break in one practice, as most guys went to the cool-down tent or took themselves out of football mentality for a minute, he picked the brain of Reggie Wayne. Powers already has become a media favorite, too.

Manning could make good money if his only job was to put on clinics about how to best loft red-zone passes to the pylons in the back corners of the end zones.

Joseph Addai knows what he's doing on every play, and Donald Brown is smart enough to follow his lead, though Brown doesn't shine in pass protection one-on-ones versus linebackers. The Colts will be just fine if the line can block for the runners, and maybe even if it can't. Brown's had more than a year to get pass protections down. If that keeps him off the field any this year, it's no one's fault but his.

Better didn't mean great for the interior defensive line in 2009. Daniel Muir and Antonio Johnson continue to improve, and Fili Moala will make for a third 300-pounder in there. He appears to be comfortable and ready to contribute.

The Colts haven't emphasized the return game and, at times, it's felt almost like they de-emphasized it. But undrafted rookie Brandon James is a miniature speedster who is in position to win at least the punt-return job. He could give Manning and the offense a short field once in a while.

John Chick, who joined the Colts from the Canadian Football League, could win the fourth defensive end spot if he shows a good learning curve and durability.
July, 8, 2010
7/08/10
1:00
PM ET
»
NFC On the Radar
:
East
|
West
|
North
|
South
»
AFC
:
East
|
West
|
North
|
South
A player, coach or issue that should be on your radar as training camp approaches.
[+] Enlarge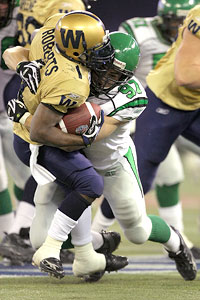 Harry How/Getty ImagesWill the Colts' John Chick, right, be the next CFL import to succeed in the NFL?
All the talk about the Colts' edge rush this offseason has revolved around how first-round pick
Jerry Hughes
can give the team a legitimate third guy to go with
Dwight Freeney
and
Robert Mathis
. Bill Polian said it's one of the things the team's had the toughest time finding.
But a little further down the depth chart, might Polian have found another quality end candidate?
A quiet signing way back on Jan. 8,
John Chick
was defensive MVP of the Canadian Football League in 2010. In three seasons with Saskatchewan RoughRiders he recorded 68 tackles, 19 sacks, six forced fumbles and three fumble recoveries.
Could he be the next
Cameron Wake
, a CFL standout who had 5.5 sacks last season for the Dolphins?
That's probably a stretch. He was an undrafted free agent for Houston in 2006 and didn't make it to camp.
But Chick looks to fit the Colts' mold and is the kind of guy they like to coach up and give a chance. Mel Kiper had him as his 45th-rated defensive end coming out of Utah State, where he was a four-year starter who also saw time at linebacker. If he comes along, he could compete with someone like
Ervin Baldwin
for the team's fifth defensive end spot.
Chick's a long shot for sure, but just the sort of guy to keep an eye on early in camp.
NFL SCOREBOARD
Thursday, 10/16
Sunday, 10/19
Monday, 10/20
WEEKLY LEADERS