September, 4, 2013
9/04/13
4:24
PM ET
DAVIE, Fla. – The
Miami Dolphins
had an important Wednesday practice in preparation for the
Cleveland Browns
.

Here are some notes and observations from Miami's session:
Third-string quarterback Pat Devlin remained out of practice with an undisclosed injury. The last we saw of Devlin was in the preseason finale against New Orleans. Devlin made the 53-man roster but hasn't practiced since. The Dolphins must release their first injury report of the season later this evening to clarify Devlin's situation.
Also on the injury front, rookie cornerbacks Jamar Taylor and Will Davis did not practice, instead continuing to work with trainers. Both rookies have missed every practice this week, and it seems unlikely either will play Sunday against the Browns. Long-snapper John Denney also returned to practice.
No. 3 overall pick Dion Jordan fully participated in practice and appears all set to play Sunday. Jordan also is getting work on special teams this week. Browns coach Rob Chudzinski said in a conference call that Cleveland is preparing this week for the rookie to play.
Finally, I've been monitoring the progress this week of Miami's two newcomers: fullback Tyler Clutts and guard Danny Watkins. Both are trying to pick up a new offensive system. One early impression is that Clutts has caught the ball well. Watkins has quick feet and appears to be moving well; he will be the backup behind starting guards John Jerry and Richie Incognito.
The Dolphins have an off day Thursday. The team will return to the practice field on Friday for a walk-through.
March, 3, 2011
3/03/11
11:54
AM ET
With the NFL's collective bargaining agreement hours from expiring, I thought it would be a good time to provide a rundown of the NFL Players Association representatives for each AFC East team.
These players essentially are the shop stewards, the 32 liaisons who are in closest contact with union executives and the ones responsible for keeping their teammates abreast on all developments.
Three of the four AFC East representatives are free agents, but that's not uncommon. In these cases, union responsibilities often are maintained until players have new teams or retire. Teams cannot sign or trade players until a new CBA is negotiated.
Buffalo Bills
Representative: Safety
George Wilson
. He's the only AFC East rep under contract, having re-signed Tuesday. Wilson is known as one of the hardest-working and classiest players in the game. The two-time captain entered the NFL in 2004 as a receiver and switched positions to stick around.
Alternates: Outside linebacker
Chris Kelsay
, punter
Brian Moorman
.
Miami Dolphins
Representative: Running back
Ricky Williams
. A running joke in the Dolphins' locker room is that Williams is a good choice because nobody has met with the commissioner more often than he has. Williams just completed his 10th season and is a free agent.
Alternates: Quarterback
Chad Pennington
, receiver
Brandon Marshall
, long-snapper
John Denney
.
New England Patriots
Representative: Left tackle
Matt Light
. He's one of the Patriots' most charitable and entertaining players. Light just finished his 10th NFL season and was chosen for his third Pro Bowl. He also is a free agent.
Alternates: Quarterback
Tom Brady
, tight end
Alge Crumpler
.
New York Jets
Representative: Fullback
Tony Richardson
. He has played 16 NFL seasons and also sits on the NFLPA's 11-man executive committee. He recently wrote an
op-ed piece for the Huffington Post about the looming lockout
.
Alternates: Right guard
Brandon Moore
, safety
Jim Leonhard
.
October, 5, 2010
10/05/10
2:21
AM ET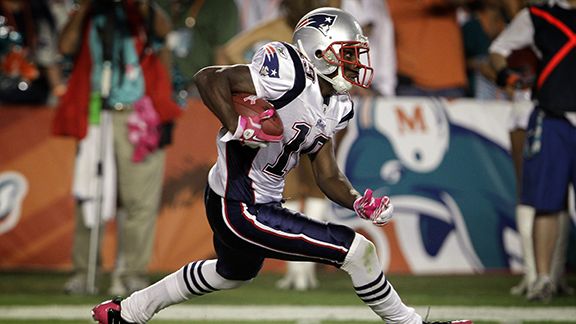 AP Photo/Lynne SladkyNew England's Brandon Tate returned the opening kick of the second half 103 yards for a score.
MIAMI -- With nearly a full quarter left to play Monday night,
Miami Dolphins
fans started shuffling up the Sun Life Stadium steps and out the tunnels.
The Dolphins had been ahead at halftime yet were down by only 20 points. It might as well have been 200.
A victory was hopeless at that point. Forget their big-armed quarterback. Never mind their superstar receiver. Their potent backfield pair was moot. Their respected defense didn't matter either.
There was no reason to have an ounce of faith in the Dolphins with 14:05 still on the clock against the
New England Patriots
.
In reality, the Patriots' lead was conquerable. How they accumulated it, however, was completely demoralizing.
In the first 15:55 of the second half,
Brandon Tate
returned a kickoff for a touchdown, Patrick Chung blocked a punt to set up a quick touchdown and
Kyle Arrington
returned Chung's blocked field-goal attempt for a touchdown to thrust them toward a
41-14 throttling of the Dolphins
.
"It was a mess," Dolphins head coach Tony Sparano said. "It's embarrassing, and these fans deserve better than that."
Special teams doomed the Dolphins so badly you have to wonder if coordinator John Bonamego can keep his job. (
Update:
Bonamego was fired Tuesday
.)
The Dolphins had little shot to be competitive once they surrendered game-breaking after game-breaking after game-breaking play in the kicking game.
"It's just one strike, one big play that just deflates your team," said Dolphins cornerback
Nolan Carroll
, who was on the field for Tate's 103-yard kickoff return to open the second half. "It takes the air out of you."
Dolphins quarterback
Chad Henne
wasn't exactly
Dan Marino
.
Scott Mitchell
maybe. Henne threw three bad interceptions, one of which Chung -- you can easily imagine Sparano throwing his head back and shouting to the heavens "Chuuuuuuuuung!!!" -- returned 51 yards for a touchdown to complete the scoring.
But he had a hot start, completing his first seven passes for 93 yards and a touchdown. The Dolphins had a 7-6 lead at the intermission.
"We had momentum coming into the second half," Carroll said. "We felt pretty good about our defense going out on the field and stopping them."
The Dolphins' defense played a solid game. Although it was hardly on the field in the second half, it limited
Tom Brady
to one touchdown pass and
Randy Moss
to zero catches for only the fifth time in his career.
About the only thing the Patriots didn't spring on special teams was a fake kick for a touchdown, but that at least would have incorporated the element of surprise.
"It seemed like they drained us," Dolphins linebacker
Tim Dobbins
said of the special-teams breakdowns. "We tried to fight back, and they just kept making plays and making plays."
Sparano spat out a laugh when asked whether the special teams coach or his players were to blame.
[+] Enlarge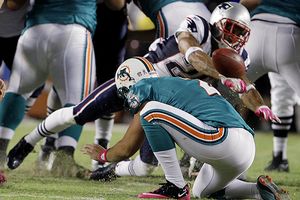 AP Photo/Lynne SladkyPatrick Chung's block of this Miami field-goal attempt was scooped up by Kyle Arrington and returned 35 yards for a touchdown.
"Next question," he eventually muttered.
The Dolphins stagger into their bye week with a 2-2 record after opening the season with a pair of road victories. That seemed encouraging, a 2-0 start against the
Buffalo Bills
and the
Minnesota Vikings
and with all of their home games left. You had to like the Dolphins' chances to make the playoffs.
They're 0-2 at home and facing a rugged second quarter of the schedule. Their next four games are at the
Green Bay Packers
, versus the
Pittsburgh Steelers
, at the
Cincinnati Bengals
, and at the
Baltimore Ravens
.
Miami has much to think about on special teams, many flaws to correct.
Perhaps the week off will help Bonamego work through some issues. Perhaps it's the perfect time to bring in somebody else.
"It's not him, not at all," Carroll said in defense of Bonamego. "It starts with the players on the field. He can only do so much for us. It's our job to execute. He knows exactly what he's doing. He does his job to a 'T.' Now it's on us to execute."
Brandon Fields
, who had two punts blocked in the preseason, had one stuffed for the second straight week -- and on a similar crisscross ploy each time. The
New York Jets
pulled it off eight days earlier in roughly the same spot on the field. The Dolphins even released linebacker
Erik Walden
for blowing his assignment.
Sparano said they worked all week on preventing the block from happening again.
On the blocked field goal, a 53-yard attempt by Pro Bowl kicker
Dan Carpenter
that could have drawn the Dolphins within 10 points, Chung split linemen
Lydon Murtha
and
Joe Berger
on the left side.
Sparano said Chung's blocks were unrelated in terms of scheme or philosophy, which, to me, is worse than if there'd been a common thread. That means the Dolphins had two glaring weaknesses Patriots special teams coach Scott O'Brien exploited.
Answers are in short supply.
Fields, Carpenter and long-snapper
John Denney
weren't interviewed after the game and had cleared out of the locker room by the time Sparano's postgame news conference ended. The Dolphins don't allow assistant coaches to be talk to the media after games.
"It's a bad taste in your mouth," Sparano said, "but we put ourselves in this position. So we're going to have to deal with it. We're going to have to taste it now for the next couple weeks."
October, 3, 2009
10/03/09
1:00
PM ET
| | |
| --- | --- |
| | |
| | AP Photo/David Duprey |
| | Many NFL players, like the Bills' Donte Whitner, show their support for breast cancer awareness by wearing pink. |

Posted by ESPN.com's Tim Graham
The moment his father called a family meeting,
Ryan Denney
knew something was wrong.
The Denney clan had gathered in their hometown of Thornton, Colo., for a happy occasion in March 2008. Brett Denney, a defensive end for Brigham Young University and little brother to
Buffalo Bills
defensive end Ryan Denney and
Miami Dolphins
long-snapper
John Denney
, was getting married.
The wedding was Saturday. The meeting was called for Sunday morning at their parents' home.
"I had a bad feeling," Ryan Denney said.
There, in the living room, patriarch Craig Denney delivered the sobering news to his children. Their mother had breast cancer. Two lumps had been found. Both were malignant.
"People were tearing up. It was quiet," Ryan Denney said recently in front of his stall in the Bills' locker room. "You need a minute to take it all in.
"Then our first reaction was 'What can we do to try and fight it? What are the options?' Fortunately, it was early enough that there was a good plan of attack."
Surgeons removed the lumps and some lymph nodes. She endured four months of radiation. But Sheri Denney survived.
"It's a touchy subject," Ryan Denney said, "but for us it's been very positive."
So often, breast cancer isn't discovered soon enough. Reminders to get mammograms are critical.
The NFL will use its influence -- and acquiesce some of its manliness -- to support National Breast Cancer Awareness Month in a highly visible way during this weekend's games.
As part of a campaign called "A Crucial Catch: Annual Screening Saves Lives," players will wear pink in an effort to drive home the importance of yearly mammograms for women 40 and older.
Players will wear pink cleats, pink wristbands, pink gloves, pink ball caps. Captain patches will be pink. So will the towels quarterbacks tuck into their waistbands. Coins used before the games will be pink. The padding around the goal posts will be pink.
"I'm more than comfortable with my manhood to wear pink shoes," Dolphins outside linebacker
Joey Porter
said. "I know we're going to auction them off and send the money from the proceeds of that. So whatever I can do to help in that situation is good. And I think it's a good cause."
New York Jets
quarterback
Mark Sanchez
is expected to wear pink cleats and throw spirals into receiver
Jerricho Cotchery
's pink gloves.
New England Patriots
running backs
Laurence Maroney
and
Fred Taylor
also have signed up for the pink gloves.
Others expected to wear pink cleats this weekend are quarterbacks
Brett Favre
and
Drew Brees
, receiver
Chad Ochocinco
and defensive end
Osi Umenyiora
.
"I think it's a great statement by the league and by the players and all of us that are putting our support behind something that hopefully can be better for everybody going forward," Patriots coach Bill Belichick said.
"I don't think I'll be in a pink hoodie, though, no."
Bills safety
Donte Whitner
won't be on the field Sunday because of a thumb injury, but he has clamped onto a pink mouthpiece since training camp. He does so to honor his grandmother, Rosetta, who died from lung cancer in March.
NBCAM.org, the Web site for National Breast Cancer Awareness Month, states an estimated 40,170 women will die from breast cancer this year, but there are about 2.5 million breast cancer survivors in the U.S.
The objective of "A Critical Catch" is to raise awareness and urge regular checkups. The flashes of pink amid all the testosterone-clouded action certainly will stand out.
"The NFL is a national stage," Ryan Denney said. "A lot of people will tune into the game, mostly men. But maybe those are the guys that need to be made aware if they have a wife, a mother, a loved one that they can ask 'Hey, mom, have you been checked out lately?' "
NBCAM.org cites two of the most common reasons women don't get checked are because their doctors don't mention it or because it simply never dawned on them.
Sheri Denney learned she had cancer because a friend badgered her into going along to a mammogram screening.
The fear that cancer might be discovered often causes women to procrastinate on getting a mammogram or to avoid one completely.
"That was one of the reasons my mom was hesitant to go get tested: The only thing you're going to find out is that you have a problem," Ryan Denney said. "So if you don't get tested, you don't have a problem.
"You hate to think that in six months or two years down the road she gets sick and goes in to the hospital. Then it's maybe too late."

NFL SCOREBOARD
Thursday, 12/18
Saturday, 12/20
Sunday, 12/21
Monday, 12/22
WEEKLY LEADERS