March, 11, 2013
3/11/13
1:37
PM ET
Tuesday is the deadline for teams to put tender offers on restricted free agents, guys who have played for three years and have expiring contracts.
There are three levels of tenders:
$2.879 million comes with a first-round draft pick attached as compensation
$2.023 million comes with a second-round draft pick attached as compensation
$1.323 million comes with an original-round draft pick attached as compensation
If another team negotiates an offer sheet with a restricted free agent, the original team can choose to match the offer or let the player go for the corresponding draft pick. Tender numbers count against the cap, so teams must have the room carved out and ready for a player to sign the offer.
Here's a team-by-team look at RFAs and their status as we know it.
Houston
OT
Andrew Gardner
(status unknown)
Indianapolis
LB
A.J. Edds
(not tendered), G
Seth Olsen
(not tendered), CB
Cassius Vaughn
($1.323 million), G
Jeff Linkenbach
($1.323 million)
Jacksonville
DE
George Selvie
, FB
Brock Bolen
, C
John Estes
, WR
Jordan Shipley
, LB
Kyle Bosworth
, TE
Zach Potter
Ryan O'Halloran of the Florida Times-Union has reported
none will be tendered
.
Tennessee
C-G
Fernando Velasco
($2.023 million
per Jim Wyatt
of The Tennessean).
August, 13, 2012
8/13/12
2:45
PM ET
One of my arguments against the Jaguars selection of punter
Bryan Anger
in the third round of the draft was that it was an area of the draft where the team could likely have upgraded its depth on the offensive line.

See the previous year, when the Jaguars found
Will Rackley
, the starting left guard when healthy, in the third round.
It has not taken long for the Jaguars depth on the line to come into play.
Rackley's recovering quickly from a high ankle sprain, but is out at least another week.
Rackley's backup,
Jason Spitz
, is now out for about six weeks with a foot injury.
Backup center
John Estes
(knee) is a having surgery, which means right guard
Uche Nwaneri
is the emergency third option at the spot.
The Jaguars moved right tackle
Eben Britton
to left guard and inserted
Cameron Bradfield
at right guard for their preseason opener, and that construct remains in place on the revised, unofficial depth chart released Monday in advance of preseason game No. 2 on Friday in New Orleans.
"That's a difficult thing when you get (multiple injuries at) the same position," coach Mike Mularkey told Jaguars reporters. "We've got some guys that can move around though, and not totally put you in a bind. It's not the same as having the guys."
Drew Nowak
played defensive tackle at Western Michigan and was on the team's first depth chart as a defensive tackle. He's now a backup guard.
"He played fifty plays the other night," Mularkey said Sunday. "He's been a guard for five days. He wasn't perfect. He had five mental errors. But you talk about a guy that has a chance to be a player. He's smart, he's tough, it's just amazing what he did. There's another one. And he can work at center."
While Britton is versatile, the team is looking to play better on the line, and his return from a back injury that cost him most of last season was the most significant change. Now he's not where they had planned for him to be.
The Giants might be the best defensive front the Jaguars see, but they got pushed backwards a lot.
Jacksonville's line is a better run blocking group than it is in pass protection, and pass protection has got to be better for quarterback
Blaine Gabbert
to be better. Gabbert has to be better for the Jaguars to be better.
General manager Gene Smith believes in foundation building, and his early high picks were left tackle
Eugene Monroe
and Britton in 2009, and defensive tackles
Tyson Alualu
and
D'Anthony Smith
in 2010.
He took Rackley in the third round last year, and Rackley quickly moved into the starting lineup.
But the Jaguars started out camp with Bradfield, Spitz, Estes,
Daniel Baldridge
and
Guy Whimper
as their primary backup linemen.
Spitz was originally a third-round pick in Green Bay in 2006, and Whimper originally a fourth-rounder by the Giants in 2006. The rest were undrafted.
Did Smith give the Jaguars enough depth and enough options to get better at protecting Gabbert if their first five aren't all in place?
It's an early second-guess, but it sure would have been nice if they'd found one more lineman to have in the mix back in the draft.
June, 4, 2012
6/04/12
12:07
PM ET
Outside of a guy who's hurt or who gets in trouble, it's hard to find anything that's not thoroughly sugar-coated at this time of year.
As the NFL has turned itself into a year-round deal, I don't think it calculated that OTA and minicamp season would be such a happy time. But the league and its teams certainly enjoy it.
How, then, can this cynic, find something to pick at?
Here's how:
Our look at the most unreasonable causes for optimism around the division.
Houston: The young receivers

It's great the Texans have replenished the unit, and it was time to move on from
Jacoby Jones
, who was released after the draft and is now in Baltimore.
But receiver might be the position that it's easiest to look good at in June and be lost at in August.
Lestar Jean
was undrafted out of Florida Atlantic last year, then missed the season with a shoulder injury. He's currently is drawing raves. Draft picks
DeVier Posey
and
Keshawn Martin
will get a lot of opportunity now with
Andre Johnson
watching from the side rehabbing.
No matter how good any of those guys look now, I'm going to need to see them on the field with
Matt Schaub
(also out now) throwing to them before I become a believer on any level surpassing the usual for guys who have yet to play in real games.
Indianapolis: The offensive line

I was going to say the cornerbacks -- but I don't know that there has been any great optimism about the group, which really says something at this time of year.
General manager Ryan Grigson and coach Chuck Pagano want to be bigger and more physical up front. Reshaping the line so far has meant the addition of right tackle
Winston Justice
, guard
Mike McGlynn
, center
Samson Satele
and, most recently, tackle
George Foster
.
As the Indianapolis Star recently wrote, there were reasons these guys were all available and affordable. Right now it seems holdovers
Anthony Castonzo
(left tackle) and
Joe Reitz
(left guard) will be joined on the starting line by Justice, McGlynn and Satele.
It's a bit of a patchwork group, but for a team with financial restrictions and needs all over the place, it might not be bad. Grigson is leaning heavily on two guys he knew from his time with the Eagles in Justice and McGlynn. We'll need to see if these guys are good enough and how they jell.
Jacksonville: The pass protection

I like right tackle
Eben Britton
a lot. And I understand why the team is optimistic about what his return from a back injury can mean for a group that run-blocked great, but didn't fare nearly as well as pass protectors.
Still, is getting one guy back and changing scheme a guaranteed route for keeping
Blaine Gabbert
upright? I can be convinced, but I am not yet.
And they didn't even add outside depth. Tackle
Guy Whimper
was very inconsistent last season and got a new deal.
Cameron Bradfield
,
John Estes
,
Daniel Baldridge
and
Mike Brewster
are an unproven lot as reserves.
Guard
Uche Nwaneri
said the running backs will be more involved in protecting the edges. When the top running back,
Maurice Jones-Drew
, is your best player, is that a good thing or a bad one?
Tennessee: The interior offensive line

It's clear the Titans were not satisfied with the way center
Eugene Amano
played last season. They brought a parade of centers through Nashville during free agency, but failed to land any of them.
Now they appear content to go forward with Amano as the favorite to win the job over
Kevin Matthews
and, perhaps,
Fernando Velasco
. Amano is recovering from knee and ankle surgeries. He will be playing next to free agent addition
Steve Hutchinson
, who the team expects to have a very positive influence on him.
But Amano has never faced this kind of scrutiny and heat before, and I wonder if he will rise to meet it or melt.
Leroy Harris
, also out right now while he recovers from shoulder surgery, will move from left guard to right guard. Harris wasn't great in 2011 either, and will have to hold off Velasco.
April, 30, 2012
4/30/12
11:06
AM ET
The draft is over, the rosters are filled up.
But what areas weren't sufficiently addressed and where can we expect to see the teams of the AFC South continue to seek help?
Some thoughts.

Houston Texans
Veteran corner
Jason Allen
left as a free agent. He helped the Texans cover for
Kareem Jackson
, who played just 55.73 percent of the team's defensive snaps in 2011.
Brandon Harris
was a second-round pick out of Miami last year, but didn't show anything. The Texans look to be counting on him to contribute more. They like
Brice McCain
, but he's a situational guy.
But corner is a spot where the Texans need some additional depth at the very least.

Indianapolis Colts
The Colts loaded their roster with offensive players -- eight of 10 draft picks went on that side of the ball.
The defensive picks were on the defensive line.
Which means the Colts still have a ton of work to do in the defensive backfield.
Jerraud Powers
is a quality corner and a good leader. But after him, there are no proven corners on the roster. Is the second starter
Chris Rucker
?
Kevin Thomas
?
Mike Holmes
?
Brandon King
?
That's not a great group to be choosing from. Look for team to give some undrafted rookies a chance and grab a veteran or two as guys come free during camp cuts.

Jacksonville Jaguars
The Jaguars believe a healthy
Eben Britton
will help fortify their offensive line and he should.
But they don't have sufficient depth on the offensive line and should create a situation where there is more real competition.
They re-signed
Guy Whimper
, who is a swing tackle at best and had some bad stretches last season. They like
John Estes
as a reserve center, but it would be nice to have someone to compete with him for the right to take over for
Brad Meester
.

Tennessee Titans
The team has sent major mixed signals about its offensive line.
Tennessee courted all the top centers in free agency but did not land one. And then they didn't draft an offensive lineman. Coach Mike Munchak said it wasn't a dire need and the team can win with what it has.
Jim Wyatt of The Tennessean reports that among the team's undrafted rookies is
William Vlachos
. Perhaps the center from Alabama can scramble the mix. But the Titans should still be adding options on the interior.
June, 3, 2010
6/03/10
1:00
PM ET
By
Scouts Inc.'s Matt Williamson
| ESPN.com
»
NFC On the Radar
:
East
|
West
|
North
|
South
»
AFC
:
East
|
West
|
North
|
South
A player, coach or issue that should be on your radar as training camp approaches.
Jacksonville needs better play from the center position, and undrafted rookie
John Estes
from Hawaii has a shot to make an impact in the middle of the Jaguars' offensive line.
[+] Enlarge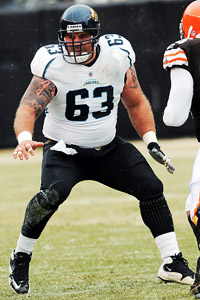 Tom Cammett/Getty ImagesBrad Meester, above, may need to fight off undrafted free-agent center John Estes at center.
Brad Meester
, 33, has battled a lot of injuries. But even when he was on the field last season, Meester's run blocking was a problem. Replacing him makes a lot of sense, but at the minimum, Jacksonville needs to put pressure on its current starting center's hold on the job.
If Meester is replaced, the most likely scenario would be for
Uche Nwaneri
to move from guard to the pivot. Considering the volatility of this offensive line last year, Nwaneri -- while far from spectacular -- should be considered rather dependable. Plus, Jacksonville did just trade for
Justin Smiley
, creating is a bit of a logjam at guard with
Vince Manuwai
and
Kynan Forney
. So moving Nwaneri seems like a logical move after the acquisition of Smiley.
But where does Estes fit in -- and, to a lesser extent,
Cecil Newton
, who is a year older than Estes? If Nwaneri can prove that he is the best option for the starting center spot, Meester could be shown the door, which would open up a possibility for one of these youngsters. Estes is the guy I would expect to take advantage of that opportunity.
Estes isn't a particularly big offensive lineman and Jacksonville certainly does value size up front, but he moves well and is tough and durable while playing the game with a bit of a mean streak. He isn't extremely powerful, but was a four-year starter, is very aware in protection and has a good feel for maximizing his leverage advantage. There are tons of examples of offensive linemen who enter the league and prove very difficult for their coaching staff to cut from the roster. Estes might just be next.

NFL SCOREBOARD
Thursday, 9/18
Sunday, 9/21
Monday, 9/22
WEEKLY LEADERS