April, 14, 2010
4/14/10
1:06
PM ET
»
NFC decision-makers
:
East
|
West
|
North
|
South
»
AFC
:
East
|
West
|
North
|
South
»
Draft Watch
:
Biggest needs
(2/17) |
Busts/gems
(2/24) |
Schemes, themes
(3/3) |
Recent history
(3/10) |
Needs revisited
(3/17) |
Under-the-radar needs
(3/26) |
History in that spot
(3/31) |
Draft approach
(4/7) |
Decision-makers
(4/14) |
Dream scenario/Plan B
(4/21)
Each Wednesday leading up to the NFL draft (April 22-24), the ESPN.com blog network will take a division-by-division look at key aspects of the draft. Today's topic: The decision-makers.

Buffalo Bills
Several key members of the Bills' front office will be in unfamiliar roles for the draft. Rookie general manager Buddy Nix has been a consigliere for decades, but he has never overseen a draft. Assistant general manager Doug Whaley will be in Buffalo's war room for the first time after handling pro personnel for the
Pittsburgh Steelers
. Chan Gailey hasn't gone into a draft as the head coach for 11 years. The most prominent holdover is vice president of college scouting Tom Modrak. The Bills fired pro personnel chief John Guy after last season.

Miami Dolphins
This will be the third Dolphins draft for football operations boss Bill Parcells, general manager Jeff Ireland and head coach Tony Sparano. There's little doubt whose voice is most authoritative in the command center. Parcells handpicked Ireland and Sparano. Each is beholden to him. But that doesn't mean they're "yes" men. One of the qualities Parcells values most from his support staff is the ability to proffer a dissenting opinion. With that in mind, it's interesting Miami's director of college scouting is Chris Grier, son of former Patriots and Texans executive Bobby Grier. Parcells eventually left the Patriots after a disagreement with Bobby Grier about drafting receiver Terry Glenn. Parcells didn't want Glenn. Grier did. Patriots owner Robert Kraft sided with Grier, instigating Parcells' infamous "buy the groceries" lament.

New England Patriots
Patriots overlord Bill Belichick is entering his second draft without right-hand man Scott Pioli, who is now running the show in Kansas City. Belichick manages every personnel move within the organization. He receives help from senior football adviser Floyd Reese (the former
Tennessee Titans
general manager) and director of player personnel Nick Caserio, but Belichick has the first, second and final say. We've already noted Kraft reserves the right to get involved. But he won't go against a coach who has brought him three Lombardi trophies.

New York Jets
Parcells protégé Mike Tannenbaum is entering his fifth draft as general manager and his second with Rex Ryan. The opinionated coach has considerable say on whom the team selects, especially when it comes to defensive players. Tannenbaum isn't afraid to make moves on the fly, executing several trades to move up and select key players: quarterback
Mark Sanchez
, running back
Shonn Greene
, cornerback
Darrelle Revis
and linebacker
David Harris
. Tannenbaum and Ryan lean on top college scout Joey Clinkscales, who interviewed to be Dolphins general manager before Ireland got the gig.
April, 7, 2010
4/07/10
1:00
PM ET
»
NFC Approach
:
East
|
West
|
North
|
South
»
AFC
:
East
|
West
|
North
|
South
»
Draft Watch
:
Biggest needs
(2/17) |
Busts/gems
(2/24) |
Schemes, themes
(3/3) |
Recent history
(3/10) |
Needs revisited
(3/17) |
Under-the-radar needs
(3/26) |
History in that spot
(3/31) |
Draft approach
(4/7) |
Decision-makers
(4/14) |
Dream scenario/Plan B
(4/21)
Each week leading up to the NFL draft (April 22-24), the ESPN.com blog network will take a division-by-division look at key aspects of the draft. Today's topic: Draft approach.
Buffalo Bills

Buffalo's draft decision-makers have changed and morphed so often over the past decade there's no track record to suggest their strategy this year. Buddy Nix has been influential in past Bills' drafts, but this is his first go-round as general manager. We're not sure how much input new assistant GM Doug Whaley or new head coach Chan Gailey will have. But the front office is exuding a sense of direction it hasn't had in years. In their previous four drafts, nobody really knew who made the decisions and nobody would admit it. Former head coach Dick Jauron, top college scout Tom Modrak, former pro personnel director John Guy and former chief operating officer/GM Russ Brandon all were involved, but to what degree? Of that muddled group, only Modrak remains in his role.
Miami Dolphins

Maybe they're ready to loosen up now that a foundation has been established, but the Dolphins' modus operandi was pretty simple for the first two years under football operations czar Bill Parcells. They were coming off a 1-15 season and needed to be rebuilt carefully. Parcells, general manager Jeff Ireland and head coach Tony Sparano set out to make the safest picks. Because left tackles are surer things than quarterbacks, the Dolphins chose left tackle
Jake Long
first overall in 2008 and not
Matt Ryan
, for instance. Then the Dolphins came back in the second round for quarterback
Chad Henne
. In the first three rounds of the past two drafts, the Dolphins drafted a left tackle, two quarterbacks, two cornerbacks, two defensive ends and a wide receiver.
New England Patriots

Perhaps no club drafts with value in mind more than the Patriots do. Unlike the Jets, who'd rather shoot up in the order, the Patriots are more content to backpedal and collect more picks. In last year's draft, they started out with the 23rd selection, backed up to 26th and eventually ended up with the 41st, 73rd and 83rd. Dissatisfied with the talent pool and reluctant to invest first-round money in anybody on the draft board, the Patriots traded out of the first round completely and took four players in the second. The Patriots have an embarrassment of bargaining chips this year. New England is the only team with four choices in the first two rounds and already holds two selections in the 2011 first round. New England also led the league in compensatory picks, but those cannot be traded.
New York Jets

The Jets own the 29th selection of the draft, but it would be a stunner if they actually pick there. General manager Mike Tannenbaum is intrepid when it comes to making trades, famously moving up to nab cornerback
Darrelle Revis
, linebacker
David Harris
, quarterback
Mark Sanchez
and running back
Shonn Greene
within the past three drafts. Tannenbaum, however, might abandon the maverick approach this spring. The Jets have traded away so many draft choices, they need to replenish their depth for developmental purposes. That could mean moving back into the second round to collect more picks, or, at the very least, holding onto the ones they have. But if presented another chance to pounce, it'll be interesting to see if Tannenbaum succumbs to temptation.
February, 3, 2010
2/03/10
4:25
PM ET
The
Buffalo Bills
chose to operate without a football-minded general manager until a little more than a month ago.
Now they're trying to give their new football-oriented GM a football-oriented assistant GM.
In his blog on NFL.com, Jason La Confora writes the Bills have asked
Pittsburgh Steelers
pro scouting coordinator
Doug Whaley to be the assistant general manager
to Buddy Nix.
Whaley presumably would fill the void created when the Bills
fired vice president of pro personal John Guy
two weeks ago.
Whaley has been with the Steelers for 13 seasons, the past 10 as pro scouting coordinator.
A bit of trivia for Bills fans: The previous men who held the pro scouting coordinator for the Steelers before Whaley?
Tom Donahoe and Tom Modrak.
The Bills hired Donahoe as general manager after the 2000 season and fired him in January 2006. The experience soured Bills owner Ralph Wilson so much that he didn't hire another general manager until Nix.
Modrak is the Bills vice president of college scouting, but has been the target of fan disdain for drafts that have produced zero playoff teams for 10 years running.
November, 19, 2009
11/19/09
8:53
AM ET
There was one specific problem that doomed Dick Jauron with the
Buffalo Bills
.
It wasn't installing the no-huddle offense. It wasn't signing
Terrell Owens
. It wasn't firing the offensive coordinator 10 days before the regular-season opener. It wasn't
Leodis McKelvin
's fumble or
Roscoe Parrish
's bobble.
[+] Enlarge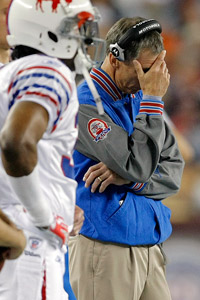 David Butler II/US PresswireProblems at offensive tackle helped lead to Dick Jauron's demise in Buffalo.
What sunk Jauron and led to his dismissal Tuesday can be directly attributed to the Bills' organizational approach at offensive tackle. Jauron certainly had a voice in how they handled it, but vice president of pro personnel John Guy had input and chief operating officer Russ Brandon signed off on it.
Fitting that Jauron was fired the same week "The Blind Side," a major motion picture about the life of
Baltimore Ravens
rookie tackle
Michael Oher
, will hit theaters.
The movie is based on the book by Michael Lewis, author of "Moneyball." Oher was the central character in Lewis' book, but the real subject of "The Blind Side: Evolution of a Game" was about how left tackle had evolved into the second most important position in football.
The problem in Buffalo is that they don't have a tackle. Or they've had too many. Either way, it has been a disaster.
What follows is a timeline of how the Bills went from having a respectable pair of tackles to the most abominable group in the NFL.
April 17:
Unable or unwilling to negotiate a contract extension, the Bills trade two-time Pro Bowl left tackle
Jason Peters
to the
Philadelphia Eagles
for draft picks.
April 25 and 26:
Bills decline to select a tackle in the 2009 draft.
April 26:
I asked Jauron what the Bills intend to do at tackle.
"We went into the draft having discussed that after the trade of Jason, saying 'Do we feel like we have to have a tackle?' And I think we all agreed ... we're
not going to stray far from our grades
just to take a tackle," Jauron said.
"We felt like we have guys that can play there. So there's no sense in passing up a guy we think is significantly better at another position just to feel like we've plugged a number in. We weren't going to do that."
Shortly after the draft:
Jauron informs right tackle
Langston Walker
they are moving him to left tackle and right guard
Brad Butler
they are switching him to right tackle.
May 14:
Scouts Inc. analyst Matt Williamson observes "Buffalo might have the
worst offensive tackles in the NFL
."
Aug. 28:
A team source tells me
Demetrius Bell
, despite a back injury, has overtaken Walker as the Bills' left tackle of choice. Bell is entering his second year and hasn't played in an NFL game.
Sept. 5:
Bills cut tackle
Kirk Chambers
, who started four games in 2008.
Sept. 8:
Bills cut Walker, re-sign Chambers. Jauron is asked if he overestimated Walker's ability.
"Probably," Jauron replies. "We clearly felt we could move him in, and he'd do the job. He just
wasn't playing up to our expectations
. So we felt like it was time to make that move."
Sept. 14:
Bills start the season with Bell at left tackle and Butler at right tackle. Their entire opening-night offensive line has 47 career starts among them.
Sept. 20:
Butler suffers a season-ending knee injury against the
Tampa Bay Buccaneers
.
Sept. 22:
Rather than pursue veteran help such as
Jon Runyan
or
Damion McIntosh
, the Bills pluck rookie tackle
Jamon Meredith
off
Green Bay Packers
' practice squad.
Sept. 27:
Jonathan Scott
starts for Butler at right tackle against the
New Orleans Saints
. It's Scott's seventh career start in four seasons. ... Bell suffers a groin injury.
Oct. 4:
Chambers, inactive the two previous games, starts at right tackle against the
Miami Dolphins
and gives up 2.5 sacks to first-year outside linebacker
Cameron Wake
. ... Scott starts at left tackle for Bell.
Oct. 18:
Meredith makes his first NFL start at right tackle against the
New York Jets
.
Nov. 1:
Meredith suffers a knee injury against the
Houston Texans
.
Nov. 15:
Bell suffers a right knee injury against the
Tennessee Titans
. Rookie guard
Andy Levitre
finishes the game at left tackle.
Nov. 16:
Through Week 10, Bell is the NFL's most penalized player regardless of position.
Nov. 17:
Bills fire Jauron, name defensive coordinator Perry Fewell interim head coach.
April, 24, 2009
4/24/09
10:58
AM ET
Posted by ESPN.com's Tim Graham
New York Jets
Buffalo Bills
Miami Dolphins
New England Patriots
February, 21, 2009
2/21/09
7:50
PM ET
Posted by ESPN.com's Tim Graham
INDIANAPOLIS -- Dick Jauron seemed alone in the crosshairs at the end of 2008 until Buffalo Bills owner Ralph Wilson released a statement the head coach would be retained despite three straight 7-9 seasons.
Jauron, though, was not alone in overseeing Buffalo's despair. He has been around for only the last third of a nine-year stretch without a playoff appearance.
One of the most influential managers of Buffalo's roster is vice president of college scouting Tom Modrak, who admitted he and the rest of the front office have to do a better job.
"Dick taking all the heat, he's taking it for me and [vice president of pro personnel] John Guy and everybody else that does the personnel work because we've got to get more players," Modrak said Saturday afternoon at the NFL scouting combine in Lucas Oil Stadium.
"If you start thinking it's a one-man operation, then I think you make a mistake. The personnel's got to be good enough to do it in all areas, and I think we're pretty good, but we have to be better.
"If you won a Super Bowl we'd be having the same conversation. You still have to get better."
True, but nobody in Buffalo would be listening because the city would be on a two month bender. They'd still be partying in Niagara Square.
Although Modrak declared he hasn't done enough to build a playoff-caliber roster, he has made some terrific picks over the past few years. The Bills have a youthful core that includes quarterback Trent Edwards, running back Marshawn Lynch, linebacker Paul Posluszny and safety Donte Whitner.
"I think it is a good core," Modrak said. "In my mind, we are better than we showed. Now, we have to do that and prove that. I can say all I want to, but we have to show it with W's."
One of Modrak's biggest busts has been defensive tackle John McCargo, who they traded up to select 26th overall three years ago. McCargo has started zero games and has 2.5 sacks.
The Bills thought they unloaded him to the Indianapolis Colts last year, but the trade was voided because McCargo failed his physical.
"He still has the physical talent," Modrak said. "It's not like he's gotten to be an old man overnight or he isn't as quick as we thought he was. He's still quick. He still has the talent. Obviously, he has to do it. This is a big time for him."

NFL SCOREBOARD
Thursday, 12/18
Saturday, 12/20
Sunday, 12/21
Monday, 12/22