May, 22, 2013
5/22/13
10:15
AM ET
The "Ground Chuck" nickname for Chuck Knox fit the former NFL coach's old-school reputation even if it sometimes misrepresented his approach to offensive football.
Quarterbacks John Hadl and Dave Krieg went to Pro Bowls with Knox as their head coach. Steve Largent retired as the NFL's all-time receiver and landed in the Pro Football Hall of Fame largely for what he accomplished under Knox.
Not that I would question Knox's conservative reputation entirely. Football Outsiders ranked the former Los Angeles Rams,
Buffalo Bills
and
Seattle Seahawks
coach 84th out of 84 qualifying coaches on its "
Aggressiveness Index
" showing fourth-down tendencies from 1991 through last season. Knox was least likely to go for it on fourth down outside situations when teams were obviously playing from behind.
Football Outsiders also produced a chart showing where coaches ranked in 2012 alone. The
St. Louis Rams
' Jeff Fisher and the
Arizona Cardinals
' Ken Whisenhunt fell on the more aggressive side. The Seahawks' Pete Carroll, ranked 13th out of 84 coaches from 1991 to present, appeared to be less aggressive last season even though his team famously
executed a fake punt
while leading the Bills by 30 points.
The
San Francisco 49ers
' Jim Harbaugh was slightly less aggressive than average while Bruce Arians, now in his first season with Arizona, was further down the list while serving as the
Indianapolis Colts
' interim coach.
Sample size is key in these studies and I'm not sure one season tell us how these NFC West coaches approach fourth down.
Seattle went for it twice on fourth down while leading the
Minnesota Vikings
by 10 points in the final 3:09. The Seahawks converted on fourth-and-1 from the Minnesota 32 a few plays before converting on fourth-and-4 from the 15. Were those aggressive plays?
I have some ideas on this front and will pursue them in the future.
Research
suggests coaches too frequently mistake punting or kicking field goals as "safer" decisions when going for it would actually make more sense. It can be a tough sell, like convincing a card player to disregard hunches no matter how much money is at stake or what happened in a similar situation previously.
These discussions will become more prevalent in football as the percentages become more commonly known. Coaches could have more direct access to that information as the NFL
incorporates technology
into its game-day experience. The NFL already plans for coaches to have playbooks on tablets beginning in 2014. How long before coaches have access to
fourth-down calculators
or other tools to aid in the decision-making process?
Aaron Schatz, who wrote the Football Outsiders piece, suggests there is considerable progress to be made on that front:
"One thing I have learned in talking to a lot of front office people who are interested in analytics is that there is very little correlation between how much analytical work is being done in a front office and how much the head coach's on-field decisions seem to reflect the general precepts that have developed in the football analytics community over the last decade.

"For most teams doing analytics, the impact is coming in draft and free-agency decisions, and the difference that analytics can make between one free-agent signing and another can be very subtle. Eventually we'll get to the point where a lot of head coaches have buy-in, but we aren't there yet, even on teams where the salary cap analyst is regularly reading Football Outsiders and fully understands Brian Burke's fourth-down calculator."
June, 24, 2010
6/24/10
9:15
AM ET
Notable players:
QB
Kurt Warner
, RB
Marshall Faulk
, WR
Isaac Bruce
, WR
Torry Holt
, LT
Orlando Pace
, WR/PR
Az-Zahir Hakim
, DE
Kevin Carter
, DE
Grant Wistrom
, DT
D'Marco Farr
, CB
Todd Lyght
.
[+] Enlarge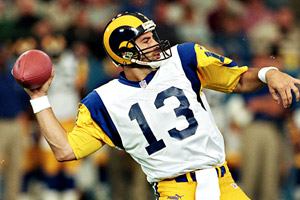 Tom Pidgeon/Getty ImagesKurt Warner threw for 4,353 yards and 41 touchdowns during the 1999 season.
Analysis:
The 1999
St. Louis Rams
were tied with the
Tennessee Titans
in the final minutes of the Super Bowl.
Conventional wisdom called for a clock-killing drive to the winning field goal, but convention didn't appeal to the 1999 Rams. They had shrugged off losing their starting quarterback during the preseason. They had knowingly backed Warner without much evidence to suggest he would succeed. They passed the ball first when tradition called for establishing the run. They pushed the ball downfield when West Coast schemes were favoring shorter timing throws.
And so with the 2-minute warning approaching in a 16-16 game, the Rams went deep to Bruce for a 73-yard touchdown. The aggressiveness came with a price when the Titans, armed with plenty of time, moved within a yard of the tying touchdown. But the Rams won their way -- defiantly and with an offense few teams in NFL history could challenge for pure multidimensional flair.
The only team in Rams history to win a Super Bowl gets my vote for best team in franchise history. The 1951 version also won an NFL title, but that team finished the regular season with an 8-4 record. It played only one postseason game. Chuck Knox's Rams of the early 1970s were very good. John Robinson had some solid Rams teams in the 1980s. The 2001 Rams had a chance to be the best in franchise history, but the 1999 team separated itself by becoming the only Rams team to win a Super Bowl.
Dick Vermeil was coach of the year. Warner was MVP and Super Bowl MVP. Faulk was offensive player of the year.
This was a team of signature players and also signature plays:
Ricky Proehl's dramatic juggling catch to beat the Tampa Bay Buccaneers in the NFC title game (he hadn't caught a touchdown pass all season);

Bruce's daring 73-yard touchdown grab in the Super Bowl;

Mike Jones' game-saving tackle of the Titans' Kevin Dyson at the 1-yard line as time ran out in the Super Bowl.
Most impressive win:
For years the Rams had watched the
San Francisco 49ers
dominate them and the NFC West. That's what made the Rams' Week 5 victory over the 49ers so meaningful that season. Bruce caught four touchdown passes during a 42-20 victory as the Rams improved to 4-0. Fans wanted to believe after a 38-10 victory over the
Cincinnati Bengals
a week earlier. The blowout against San Francisco provided validation (no one knew the 49ers would finish with a 4-12 record that season).
Return to sender:
Offense wasn't the only way the 1999 Rams found the end zone. Hakim averaged 10.5 yards per punt return with one touchdown.
Tony Horne
averaged 29.7 yards per kickoff return with two touchdowns. The Rams scored seven touchdowns on interception returns and one more on a fumble return.
Honorable mention
2001:
The Rams rebuilt their defense and made another run to the Super Bowl.
Tom Brady
and the
New England Patriots
kept St. Louis from winning another title and challenging for the title of best team in Rams history.
1973:
First-year head coach Chuck Knox turned around the Rams quickly, leading them to a 12-2 record with No. 1 rankings in total offense and total defense. John Hadl tossed 22 touchdown passes with 11 interceptions in his only full season as the Rams' starter.
1951:
The Rams won a championship for Los Angeles thanks to Bob Waterfield, Norm Van Brocklin and Elroy Hirsch. Four-time Pro Bowl fullback Dan Towler averaged 6.8 yards per attempt.